Phase Eight Wedding Guest Outfit Competition Entry
I was recently contacted by Phase Eight about their Blogger Wedding Guest Outfit Competition.  The aim of the competition is to browse the Phase Eight website and put together an outfit fit for a fabulous wedding guest, using your favourite pieces from the site, and the lucky winner will win a £250 Phase Eight voucher!  I always love a styling challenge so I jumped at the chance of creating a wedding look, and I had a lot of fun doing so.  I decided to choose an outfit that I would wear myself, which would be suitable for all weathers, and here is what I went for…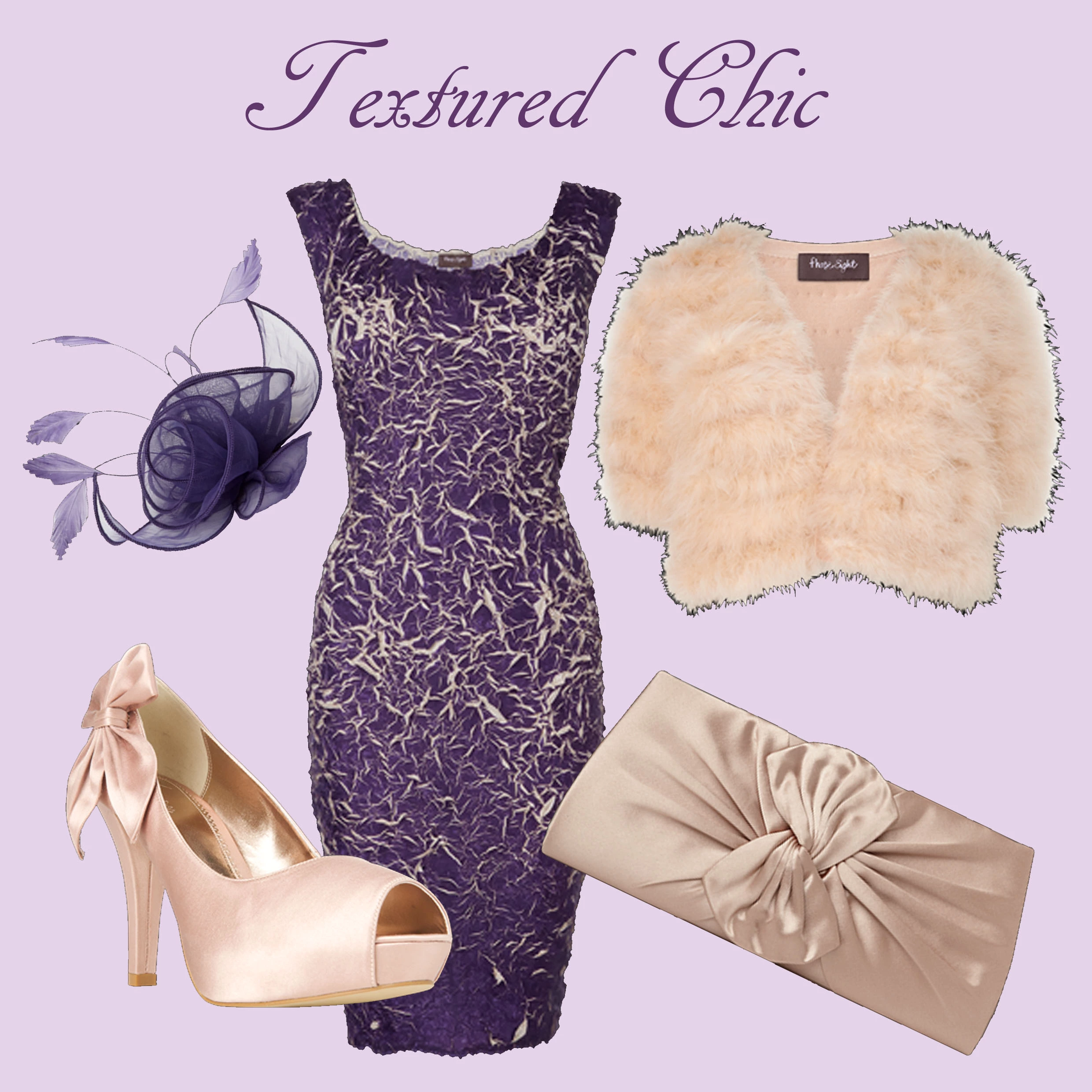 Shop this look:
- Katrina Crush Dress (£99.00) – Madeline Shrug (£35.00) – Hope Bow Platform Peep Toe Shoes (£99.00) – Organza Rose Hair Clip (£25.00) – Hope Bow Clutch Bag (£49.00) -
Total: £307.00

The main reason I chose these individual pieces was for their textures.  The crinkle effect of the dress combined with the feather shrug and satin and organza accessories is unusual, but that's what I love about it.  After all, everyone wants to stand out from the crowd!  The fabrics are all so beautifully feminine too, which would really make you feel wonderful on a loved one's special day.
I chose purple as the main colour as it's my favourite colour and one which I'm told suits me well.  It's one of this year's popular wedding colours as well, apparently, so it's also bang on trend.  I think the pale pink/shell accenting accessories add a soft, demure element to the boldness of the purple, as befits a wedding scenario.  They're all incredibly elegant, especially the shoes which I absolutely adore.  The hair clip would look amazing with a side swept hair style too.
The Madeline Shrug I included is absolutely gorgeous and one of the highlights of the outfit – I think it adds a vintage-inspired glamorous touch to the look.  It's also a versatile piece, as it can be removed if the weather's warm or during the evening reception, or snuggled into if it's a rainy day or there's an evening chill.
Overall, I love this outfit as the colours and textures are stunning and the whole look is just so chic.  What do you think?
Naomi x
9 comments