Race for Life 2013
On June 30th I will once again be running the Race for Life in order to raise money for Cancer Research UK.  The Race for Life is a big event which runs every year, where women of all ages come together to run, jog or walk a 5k or 10k distance, and the funds raised through sponsorship go towards research to help beat all 200 types of cancer.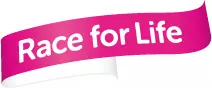 My sister Freya and I have decided to run the course together, and will be completing the 5k track in memory of those we have lost to cancer, and in celebration of those who have overcome it.  The day is always a lot of fun, full of music, colour, fancy dress and positivity, and I am really looking forward to taking part.  I am absolutely determined to run most if not all of the track (rather than walking it), so I am hoping to get a bit of training in before the big day!
My fundraising target for this year is £100, so if you can spare a few pennies and would like to sponsor me, you can do so via my online fundraising page.  It's safe to use and all money goes directly to Cancer Research UK, and can be Gift Aided too.  Thank you so much in advance!
Naomi x