Braun ExactFit 5 Blood Pressure Monitor
Having had minor health issues in the past, I now make a conscious effort to live as healthy a lifestyle as possible; eating well, exercising more and making sure my vital signs are tip-top.  Not obsessively so, but just enough to know that I'm in good condition!  An important piece of equipment in helping me check that I'm healthy is my blood pressure monitor – the new Braun ExactFit 5.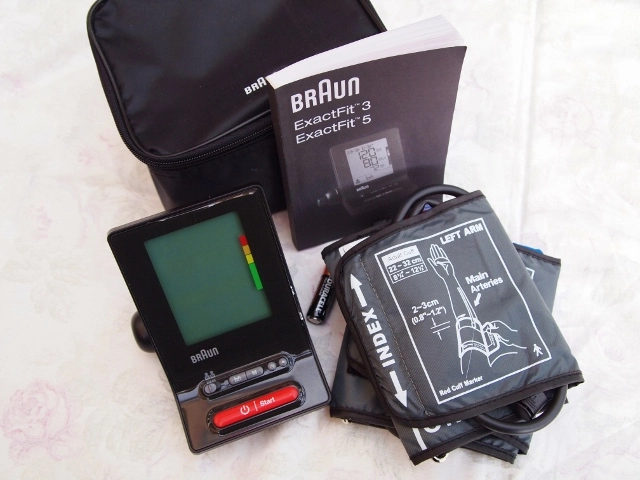 The Braun ExactFit 5 monitor comes with everything you need to check your blood pressure and heart rate – the monitor, two arm cuffs, an owner's manual, four AA batteries and a handy black storage pouch.  The arm cuffs come in two different sizes, S-M for arms measuring 22cm to 32cm, which is the size I use, and L-XL, measuring from 32cm up to 42cm, so everyone is catered for.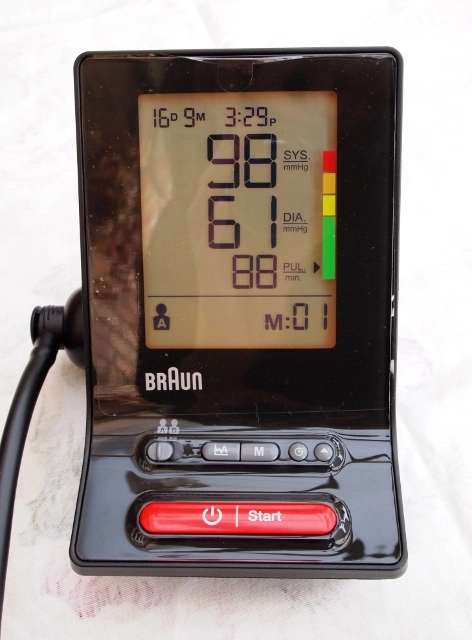 The monitor itself is sleek and compact for easy storage and transportation, and is a very intelligent piece of kit.  After the initial simple task of inputting the time and date, very little interference is needed, but the monitor can do so much.  It has a memory function and a multiple user option, so two people can use the monitor to store up to sixty results each, whilst remembering the exact time and date of each measurement, and after seven days it can calculate your full day, morning and evening average using your most recent readings.  As it takes your blood pressure reading, the monitor also measures your heart rate, and has the very useful feature of being able to detect and highlight an irregular heartbeat.  Furthermore, the coloured bar indicator down the side of the screen is compliant to the World Health Organisation, and gives guidance on whether your blood pressure is normal or too high.  Despite its complex abilities, however, it is easy to understand, as the on-screen information is displayed clearly, in simple terms.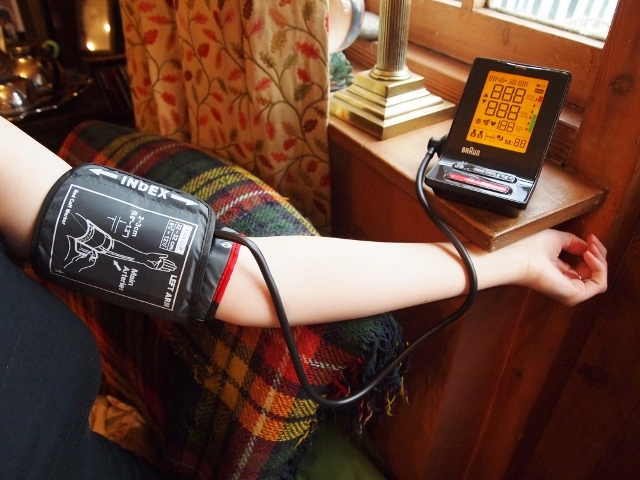 The ExactFit 5 is really easy to use, as the cuff depicts exactly how to fit it, with the red section and circular symbol having to sit over your main artery.  Once you've got the cuff right, you just press the start button and the cuff will inflate.  I have used home blood pressure monitors in the past which have felt uncomfortable and taken a long time to take and display a reading, but this one is surprisingly comfortable and quick.  After a reading is taken, it deflates quickly and the result is accurate and displayed immediately, unlike some less sophisticated monitors where you have to wait a while for the reading to show whilst the cuff remains tight.
Whether you want to check your blood pressure quickly every now and then, or regularly, the Braun ExactFit 5 is invaluable.  I imagine I'll find it very useful when I eventually get pregnant, and it would also be ideal for the elderly or anyone with an existing health condition that requires regular checks.
The Braun ExactFit 5 has an RRP of £99.99.  For further details visit www.braunbloodpressuremonitors.co.uk.  Packed full of information and advice, Braun's new microsite includes tips on controlling your blood pressure, as well as practical videos showing you how to fit your Braun blood pressure monitor and understand your measurements.  The Braun blood pressure monitors are available nationwide at selected Boots stores.  Visit the microsite for further information.
Naomi x
*This Braun ExactFit 5 Blood Pressure Monitor was sent to me for review purposes.  All opinions expressed are honest and my own.*
2 comments