Posts tagged
£10
2
One product I've always struggled with is face primers.  I have an allergy to salicylates, and for some reason almost every primer I've ever seen or tried has had some form of salicylate in, and has brought me out in red rashy spots – not a good look!  I'd just about given up looking for a primer suitable for my skin when, whilst browsing MUA's online sale, I came across FashionistA's Fashion Secret Flawless Primer.  MUA are currently selling off loads of FashionistA products at heavily discounted prices, and at £3 down from £10 I thought I might as well give this one a go.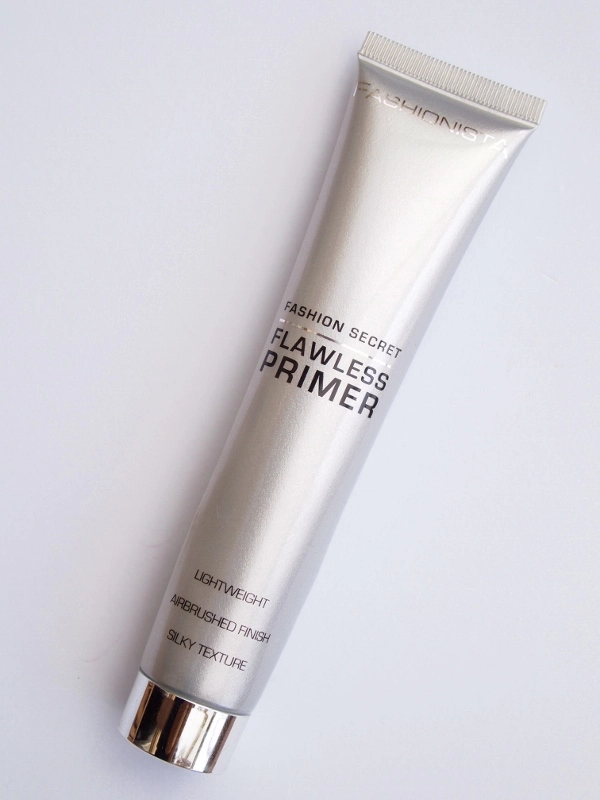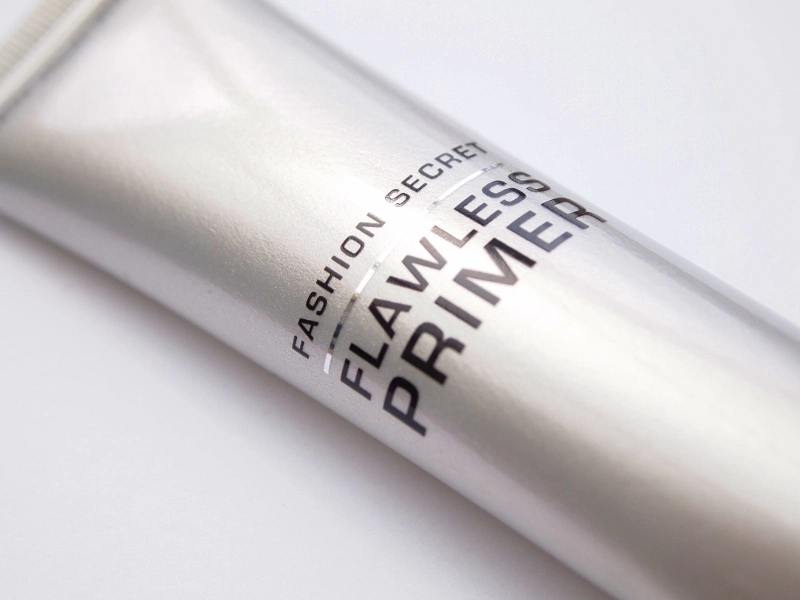 Going by aesthetics, this primer isn't especially exciting.  Just a simple grey tube with a wide nozzle which, quite frankly, makes quite a bit of mess as it lets out far more product than you actually need.  But as they say, it's what's on the inside that counts, and what's inside this IS special.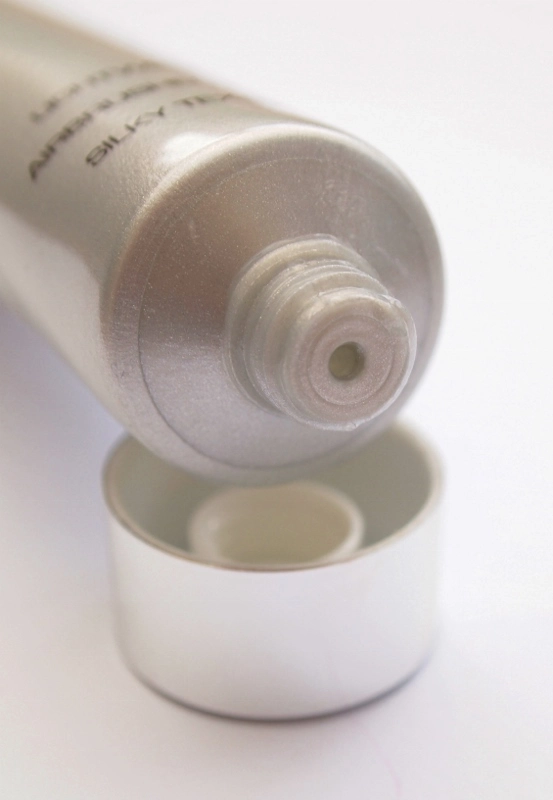 Almost every other primer I've encountered has had a heavy, creamy consistency, so I was quite surprised to find that this one is a clear, lightweight gel.  At first I was a little put off as I expected it to be a bit greasy, like hair gel, but a little goes a long way and it actually glides on perfectly and forms a silky finish which is the perfect base for make up.  My skin always feels so soft and smooth when I'm wearing this, which is lovely, but it does leave an odd residue on your hands after application which needs washing off.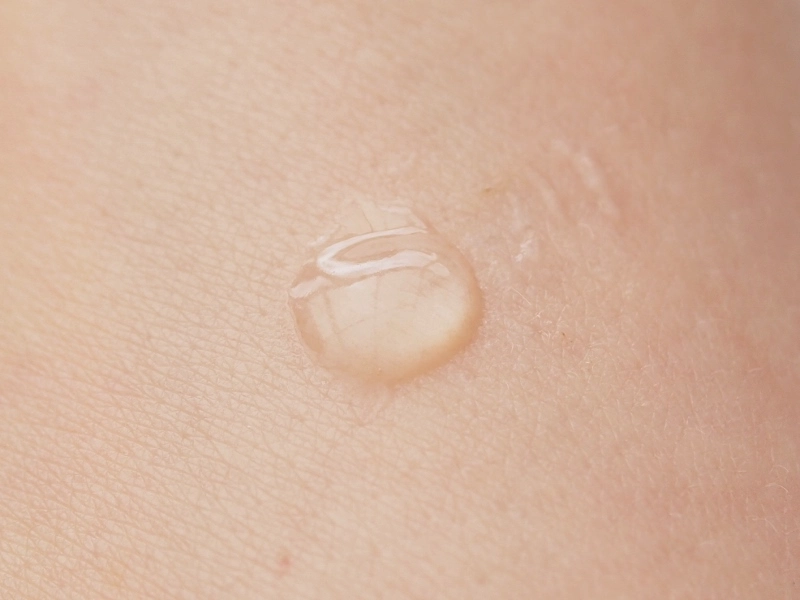 In my experience, both liquid and powder foundations apply easily over the top of this primer to create an even, flawless finish, and quite impressively one application keeps your make up in place all day, which for me is the sign of a very good primer!  Furthermore, I've been using this for over two weeks now and have had no sensitivity to it whatsoever, so this is a great little product for allergy prone skin (although check the ingredients first, obviously!)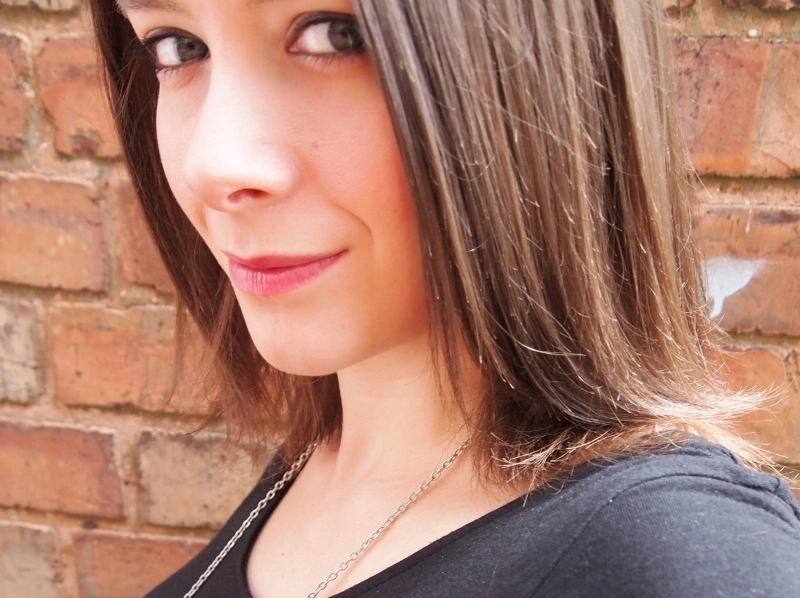 Make up over primer.
Without a doubt, FashionistA's Flawless Primer is worth every penny I paid for it, and I'll definitely be stocking up before it sells out.  It is available online from MUA here, and costs £3 for 30ml.
Will you be trying it?
Naomi x
1
2013 has been a quiet year for BeTrousse so far, with only a sale to their name since December, but towards the end of March I received their first beauty kit of the year, the Glitz & Glamour box.  I was beginning to worry that they had run out of ideas so I was pleased to receive another kit unexpectedly, especially as it's a good one!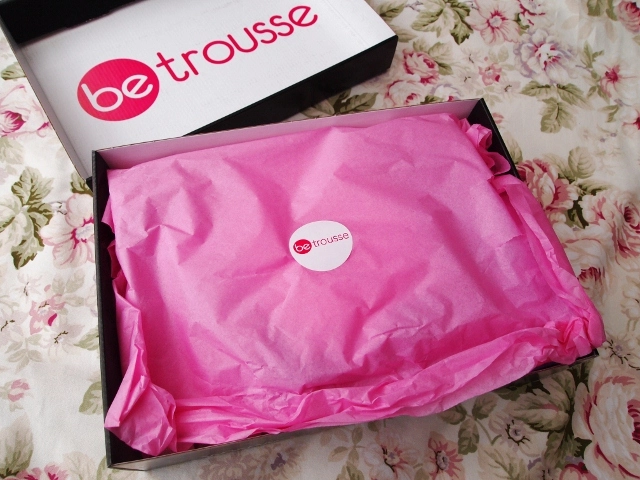 The Glitz & Glamour beauty kit contains five full-size products to help you 'get gorgeous', and so far they haven't disappointed.  Every item in the box is different this time, with no repeats from past boxes, and no similar products within the box!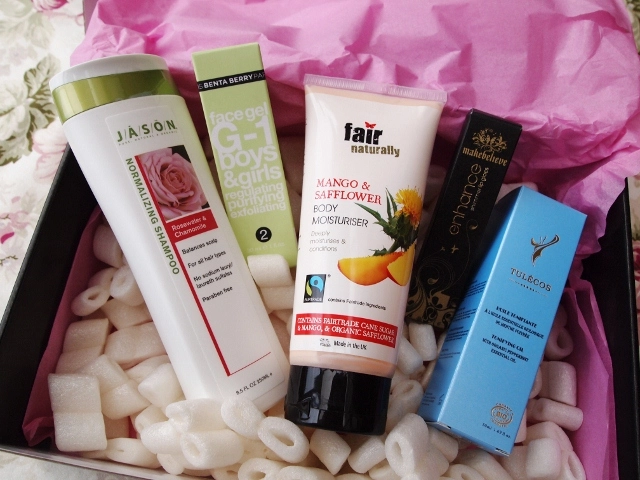 From Left to Right:
Jason Rosewater & Chamomile Normalising Shampoo
Benta Berry G-1 Exfoliating Facial Cleanser
Fair Naturally Mango & Safflower Body Moisturiser
Make Believe Enhance Shimmer Lip Gloss
Tulecos Tonifying Oil
As usual, BeTrousse provide full-size products so you can get a real feel for each one before deciding whether to repurchase, so for now I will give my first thoughts on each product and review a few, if not all of them, at a later date.
Jason Rosewater & Chamomile Normalising Shampoo – 255ml – RRP £7.29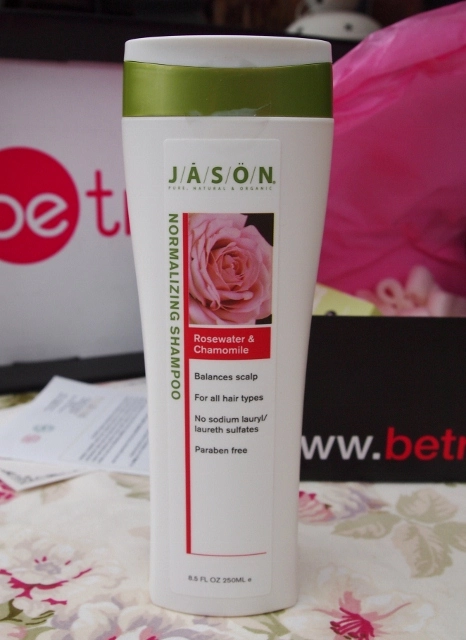 This is the first shampoo to appear in a BeTrousse box and I absolutely love it.  It is delicately scented with rosewater and chamomile (no parabens!), which help to soothe and balance the scalp, as the natural ingredients remove dirt without stripping away moisture.  As such, it leaves hair feeling incredibly soft and clean, and also adds volume.  A definite winner!
Benta Berry G-1 Exfoliating Facial Cleanser – 30ml – RRP £14.00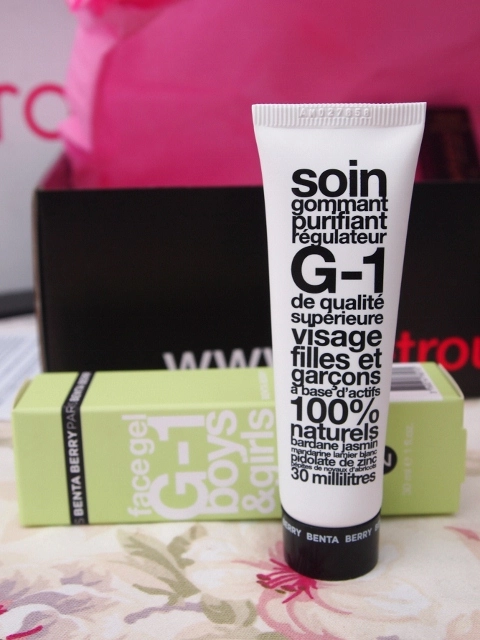 I haven't yet tried this G-1 Exfoliating Facial Cleanser, but it is 100% natural and claims to remove impurities from the skin.  I've used a Benta Berry moisturiser in the past and it was quite pleasant, so if this is anything like its cousin I expect it will do its job well!
Fair Naturally Mango & Safflower Body Moisturiser – 200ml – RRP £3.99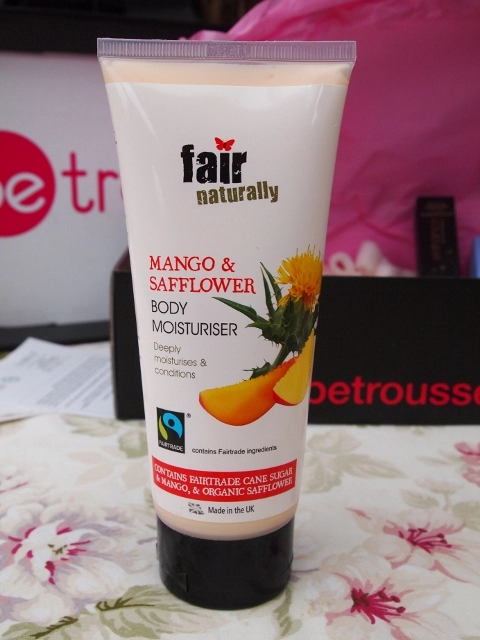 Fair Naturally's Mango & Safflower Body Lotion is the cheapest product in the box, but also my favourite.  It smells absolutely delicious, like peach yoghurt, and has a rich, creamy texture which massages in well, leaving skin feeling soft but not greasy.  It's organic, fair trade and made in the UK too – three things I always look for in products.  I will be repurchasing this one!
Make Believe Enhance Shimmer Lip Gloss – 15ml – RRP £10.00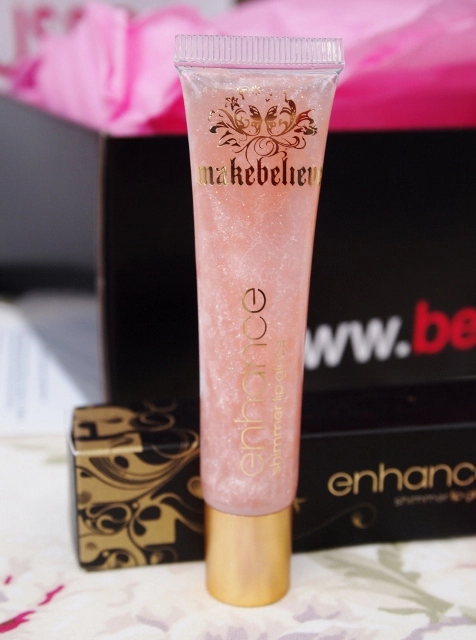 Make Believe are known best for their tanning products, and this lip gloss is supposed to enhance your tan.  It is very sheer, but has a slight pink colour to it and a beautiful shimmer.  It smells a bit like watermelon, but the scent soon turns a bit plasticky which isn't great.  I'm not usually a fan of tube glosses as they tend to be quite sticky, but this one feels lovely on the lips – almost like a lip balm.
Tulecos Tonifying Oil – 50ml – £33.00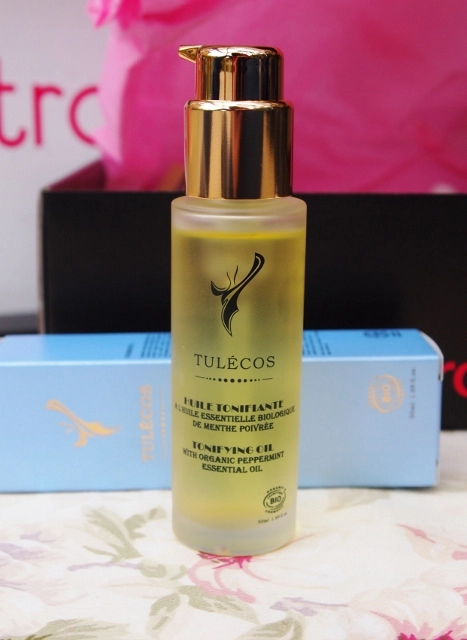 I wasn't familiar with Tulecos before receiving this box, but I have since learnt that they are an organic French brand who use essential oils to create luxury products.  This tonifying oil contains peppermint oil, and is for use on the feet.  It feels silky soft on the skin, has a relaxing, cooling effect, and softens any rough bits almost instantly.  A fab little addition!
BeTrousse's Glitz & Glamour beauty kit is available online and costs £10, which is well worth it considering you get five full-size products with a total RRP of £70, especially as with most beauty boxes you're lucky if you get one full-size product for the same price!  The box is full of unfamiliar brands and everything in it is great quality, so if you want to try something new for less then this is the box for you.
Naomi x
*This BeTrousse Glitz & Glamour Beauty Kit was sent to me by BeTrousse for review purposes.  All opinions expressed are honest and my own.*
63
I've always wanted to join in with a blogger swap, but on the odd occasion that I've stumbled across one the price limit has always been a little bit too much for my meagre student budget.  So, considering Bewitchery believes that you don't have to spend a lot of money to get something good, I thought I would organise a Budget Beauty Blogger Swap, so that we can share our favourite budget beauty brands with our fellow beauty bloggers from around the world!
Here's how it will work…
*The budget for this swap is

£10/$16/€12

excluding postage, and is open to beauty bloggers in the

UK, Ireland, USA, Canada and Europe

*
If you're a beauty blogger from one of the above places and would like to join in, please comment below to let me know, including your name, blog and email address.  Alternatively, if you want to keep your email address private, leave it out of your comment and email it to me at bewitcheryblog@gmail.com.
After a week or so, or when I feel enough people want to join in, I will pair everyone up and give your partner your email address.  I will try to pair everyone with a person from a different country, so that you both have the chance to try different products and brands to the ones you can buy at home.
Once you have your partner's contact details, it is up to you to get in touch with them and exchange postal addresses.  It might also be a good idea to tell each other your colour preferences and what types of products you like and dislike, to ensure that your partner can choose products that are suitable for you.
It's then time to shop – I hope you all have fun choosing budget beauty products for your partner!
Once you have put together a nice little collection of products, package them up and pop them in the post to you partner (if sending abroad you may need to declare what's in the parcel, so make sure you know the guidelines of the country you're sending to). Please obtain proof of postage when posting and email an image of it to your partner, just to prove that it's on its way. Then wait!
When you've received your parcel, please blog about what you've been sent and then link me to it so I can share everyone's posts.
To make sure the swap runs smoothly, please only join in if you genuinely intend to send out a package, and please spend the full amount of the budget!  It'd also be nice if everyone could have their parcels posted within 2 or 3 weeks, if possible.
I hope you all think this is a great idea.  I'm really looking forward to swapping with someone and I hope a lot of you will join me!
Enjoy!
Naomi x
Disclaimer: I am organising the swap, but once I put people in touch with their partners I cannot be responsible for anything that goes wrong, so please play fair!