Posts tagged
America
8
When I hit my 20s I decided to create a bucket list, and though I've managed to tick a few things off over the last few years, my list is still growing.  Quite a few of the things on my list involve travel, and though I'm not yet very well travelled, I've been lucky enough to tick a couple of them off fairly recently, albeit the ones that are close to home.  In 2013 My fiancé and I flew to Dublin for a fun-packed mini break, and last year we went to the Edinburgh Fringe Festival – something I'd been wanting to do for years.  However, I'm still saving up to go on my three big bucket list holidays, so I thought I'd share them with you today.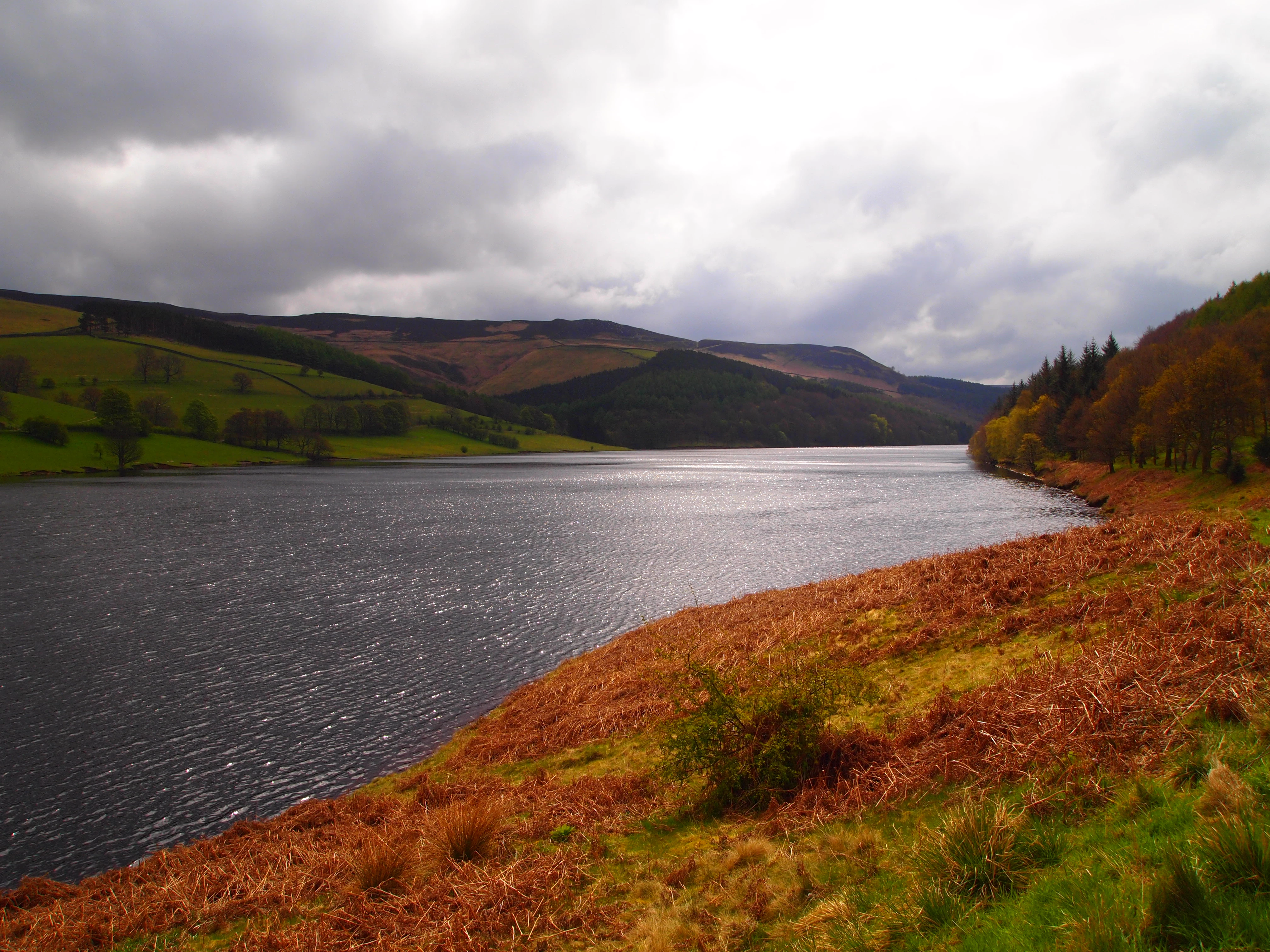 (Copyright Naomi Willett, 2012)
1. Ontario, Canada
When he was young my dad lived in Ontario in Canada, and his stories of the hot summers and snowy winters of his childhood have had me longing to visit there for years.  I'm a sucker for a beautiful landscape, and from what I hear Ontario has an abundance of them, especially during Autumn, when the rust coloured trees transform the mountainsides into glowing dunes.  I'm a keen photographer and hope one day to hike through Canadian woods, and take a boat trip over Ontario's lakes, so that I can photograph the natural beauty of the land.
I'd also like to visit Toronto whilst I'm there, as I'm not averse to the bustling city vibe either.  I can just picture myself grabbing some poutine from a little independent café, before wandering the streets and browsing shops full of books and trinkets, before stopping for dinner in Hogtown Vegan, a fab little vegan restaurant that I've heard nothing but good things about.
2. Pennsylvania, USA
California, Florida and New York tend to be the American holiday destinations of choice for most people, but I feel more drawn to Pennsylvania.  As well as Ontario, my dad spent some of his childhood in Pennsylvania, so one day I want to take a trip there to see where he grew up.  I'd love to stay for a while, and treat the state more as a home than a holiday spot, blending in rather than doing the tourist thing, so that I can really get a feel for what life is like for the people who live there.  I want to visit all the spots that my dad has told me about, and eat the food he used to eat.  I'd also like to go to some NFL games, as my fiancé is a big NFL fan.  It would be great if we could see his team (Minnesota Vikings) playing my team (Philadelphia Eagles)!
3. Oslo, Norway
Last but certainly not least is my ultimate bucket list travel destination, and that's Norway.  Or any Scandinavian country for that matter.  Ever since I was a toddler I've been fascinated by space, and one thing that's always intrigued me is the Northern Lights.  Every time I see a photograph of clear night skies lit up with smudges of green, pink, purple and blue, like an oil painting, my heart skips a beat at the sheer, phenomenal beauty of it.  It's been a dream of mine for a long time to stay in a humble log cabin, in the snow, under the stars, next to a roaring fire, under a blanket with my fiancé, eating toast and watching as the magic of the sky dances above us.  It would be amazing.  Truly amazing.
Visiting Norway would also be a great opportunity to pack in some action, and create lifelong memories with activities like husky sledding, snowmobiling, reindeer spotting, and trekking through vast forests.  Imagine the stunning photographs that I could take!

This post is my entry into Transun's #TransunLights Blogger Competition, and the prize is to win a trip for two to see the Northern Lights.  Winning would help me tick a trip off my bucket list, which would be incredible, so I'm keeping everything crossed!
What destinations are on your travel bucket list?
Naomi x
9

Early last month I launched my Budget Beauty Blogger Swap.  The budget for the swap was £10/€12/$16, and the aim was to buy your swap partner as many beauty products as you could within the budget – quite a challenge, but not impossible!  So far, I have already seen quite a few posts from bloggers sharing their swap parcels, and everything sent and received has been brilliant.
Today it was my turn to receive my parcel all the way from Beverly Hills in LA.  My swap partner was the lovely India, a US beauty blogger who runs beautynthbrains.  I answered the door to the postman this morning to see him holding a box with the US postal logo on it, and I knew what it was straight away.  As I'm sure you can imagine, I was really excited to see what was inside the parcel so I opened it in a hurry, and was met by this pretty pink, spiralled package, packed full of amazing products.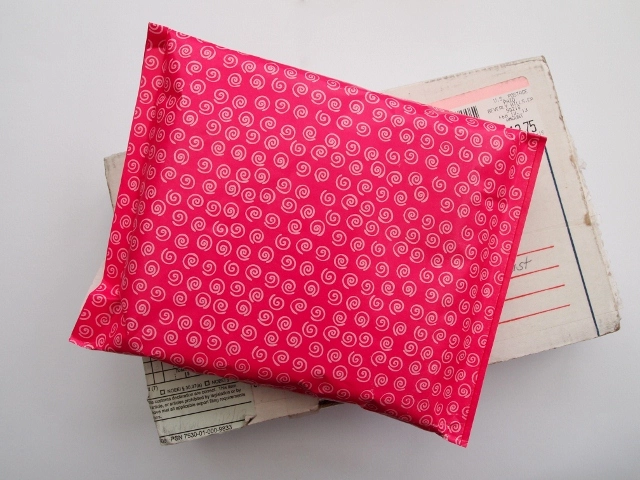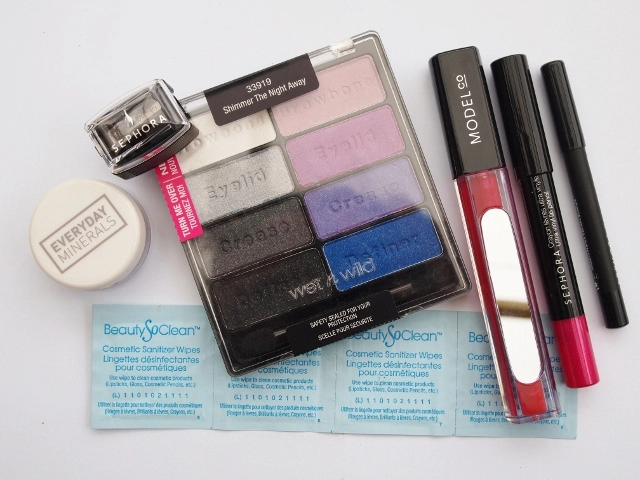 When I saw this little haul I was over the moon!  Everything India sent is exactly my colour, and I was really happy to receive products from so many brands that we don't have in the UK.  I will be reviewing each of the products separately in the coming weeks once I've had a chance to use them properly, but here are my first thoughts on everything…
Wet n Wild Color Icon Eyeshadow Collection in Shimmer The Night Away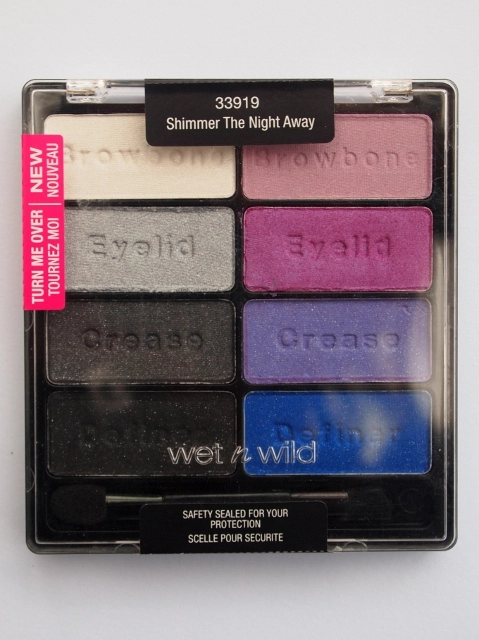 I was incredibly happy to receive a Wet n Wild eyeshadow palette, as I have heard a lot of good things about them and they are highly sought after in the UK.  The palette I received is Shimmer The Night Away, which features eight shimmery shades – four suitable for a smoky eye look, and four pinks and purples which are my go-to colours – perfect.
Everyday Minerals Stay Cool Matte Eyes Eyeshadow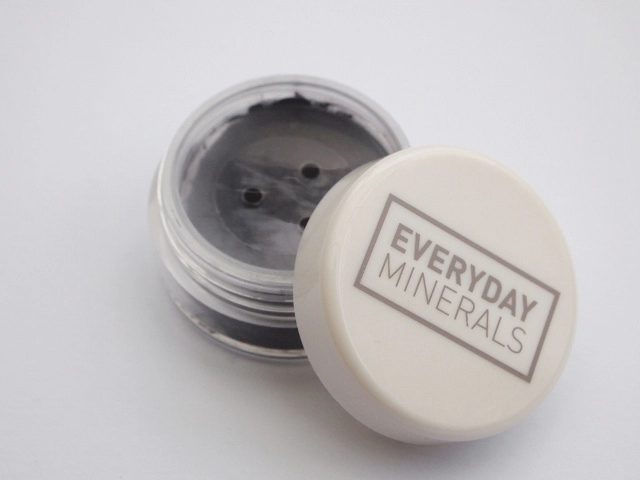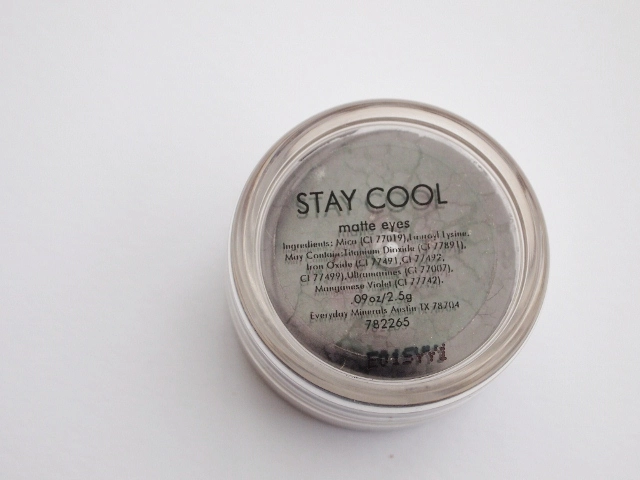 Everyday Minerals isn't a brand that I'm  familiar with, and I don't own many mineral eyeshadows, so I'm really looking forward to experimenting with this.  The colour is a deep grey with a lovely violet undertone, which will incorporate well into my usual colour palette.
Sephora Nano Eye Pencil in Midnight Black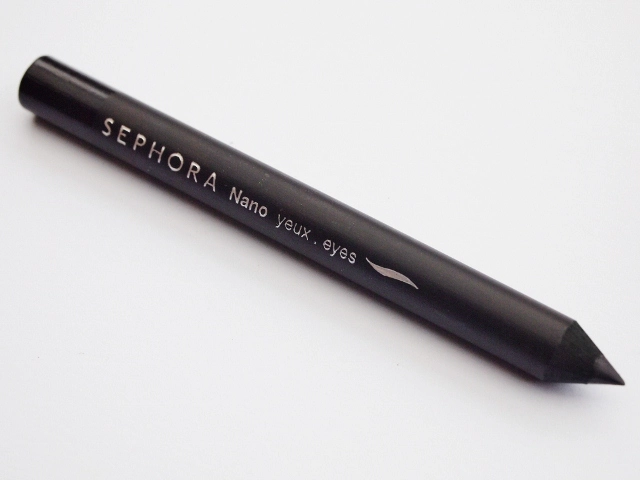 India and I told each other a few items that we had been lusting after, and Sephora Nano Eyeliner was one of mine.  I adore bold, black eyeliner looks so this is ideal for me.  I've swatched the liner on my hand and, as the Sephora website says, it is highly pigmented and glides on easily as it's enriched with shea butter.
Sephora Ultra Vinyl Lip Pencil in Fuchsia Pink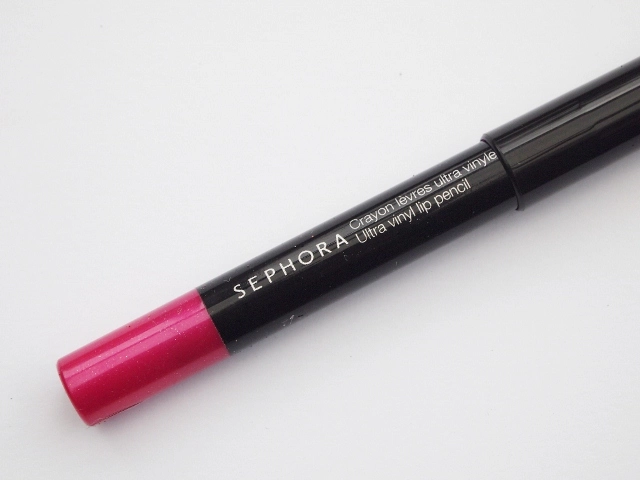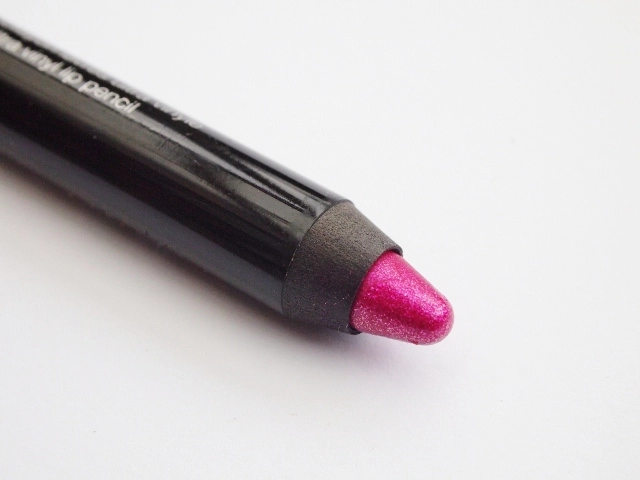 Sephora's Ultra Vinyl Lip Pencil in Fuchsia Pink was another of my requests, and it hasn't disappointed.  I wore this today and it applies smoothly and lasts a very long time.  The bright pink shade is absolutely stunning, and the micro-glitter finish gives incredibly shine.  I think it's reminiscent of Barry M's Lip Lacquer Crayon in Party Pink.  Gorgeous!
Sephora Pencil Sharpener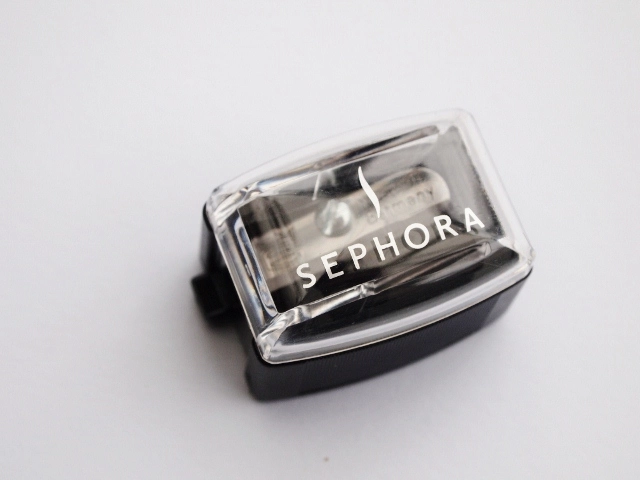 I've been meaning to buy a new pencil sharpener for ages now as my old one is on its way out, so this was a great little accessory to find in my swap parcel.  India must have read my mind!
Model Co Lip Gloss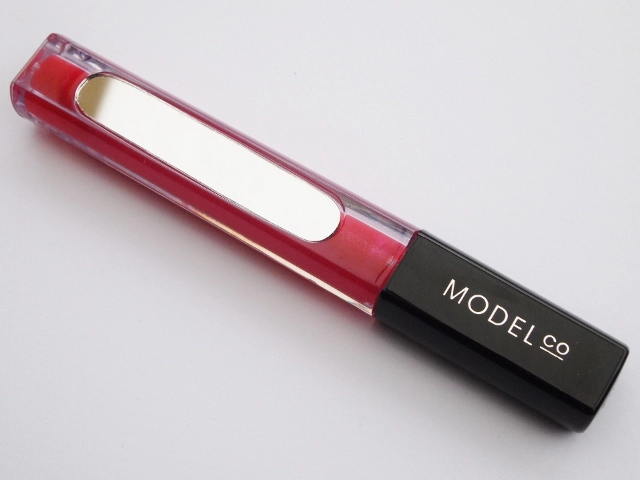 Model Co is another brand that I've never used before.  The gloss doesn't have a name or colour labelled on it, but it's a bright shimmery pinky red with a sheer finish.  I didn't find the gloss overly sticky when I tried it on earlier, and it has an intense strawberry scent and flavour which I love.  The mirror on the tube is so handy too.  I'll definitely be using this gloss on a regular basis.
Beauty So Clean Cosmetic Sanitizer Wipes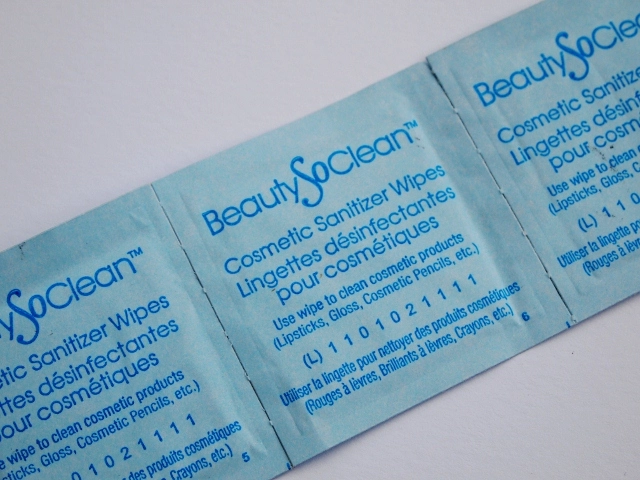 India also sent me four cosmetic sanitizer wipes which are for cleaning cosmetics before or after use.  Another nice little addition which will be carried in my make up bag for cleansing on the go.
Overall, I couldn't be happier with what I received in my swap parcel.  I imagine India went over the budget with her buys, so thank you India for being so generous and sending me so many fantastic treats.  I feel well and truly spoilt today!  Unfortunately, I forgot to photograph everything I sent, but hopefully India will share everything in a post of her own when her parcel arrives.  I posted almost two weeks ago so fingers crossed it will reach the US soon!
I plan on linking to everyone's swap parcel posts in a blog post very soon, so if you've received your parcel and have blogged about it please let me know!
Naomi x
4
I have great news for my overseas readers… I am now shipping Avon orders to the rest of Europe and the USA!
As with my UK readers, you can now browse the latest UK Avon brochure by visiting the 'Order Avon From Me' page, or the Avon tab to the right of the main page, and follow the link provided.  When you have decided what you want, just email bewitcheryblog@gmail.com with your order details.  I will then place your order and post it to you when it arrives!  Easy as that.
Postage will be charged at standard Airmail rates, which will be calculated when I have weighed your order, and posted the same day.  I suggest not ordering heavy items such as bubble bath and shampoo as this will bump the postage up, but make up items don't weigh much at all luckily, so postage will cost as little as possible.  Payment is to be made via PayPal (sent as a gift, so neither of us get charged :D).
So, overseas readers, if you don't have an Avon Representative or you want to try any of the UK only Avon products, now's your chance!
Naomi x