Posts tagged
Basic
2
Today my fiancé and I decided to go out for lunch, to one of my favourite bars (the Orange tree in Leicester – they serve a cracking veggie roast!)  Afterwards, we went for a leisurely wander around town, did a spot of shopping and checked out the new Richard III monuments near the cathedral.  A lovely casual day called for a casual outfit, so I threw on this gorgeous draped hoodie with a basic tee, and my favourite pair of jeans.  I love anything acid wash and polka dots, and these jeans combine the two, and are made of light, stretchy denim so are incredibly comfortable.  They're a real wardrobe staple and have seen me through Spring and Summer, but will also be great for Autumn, worn with a pair of chunky boots.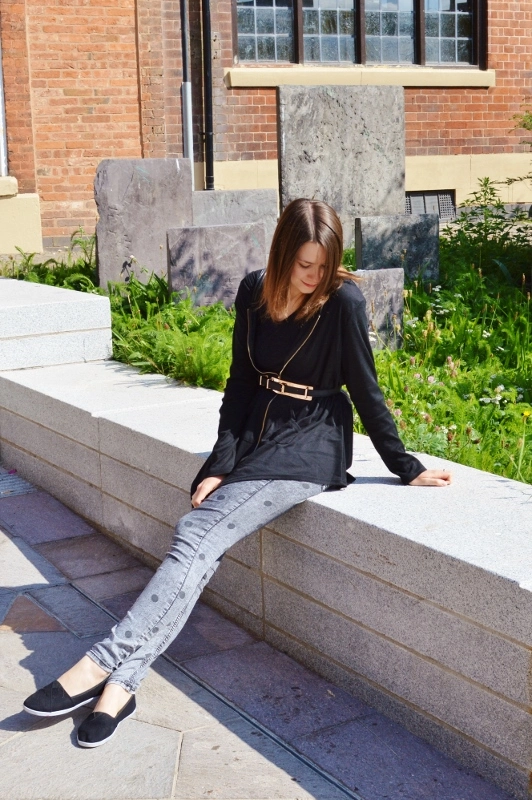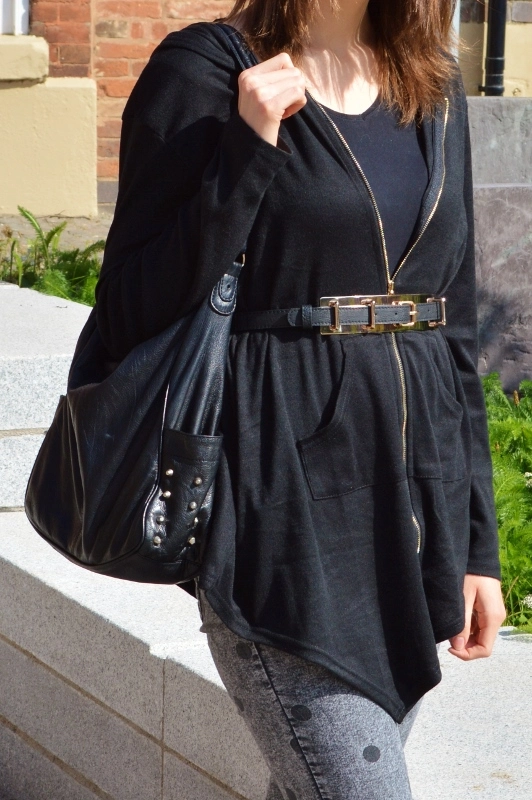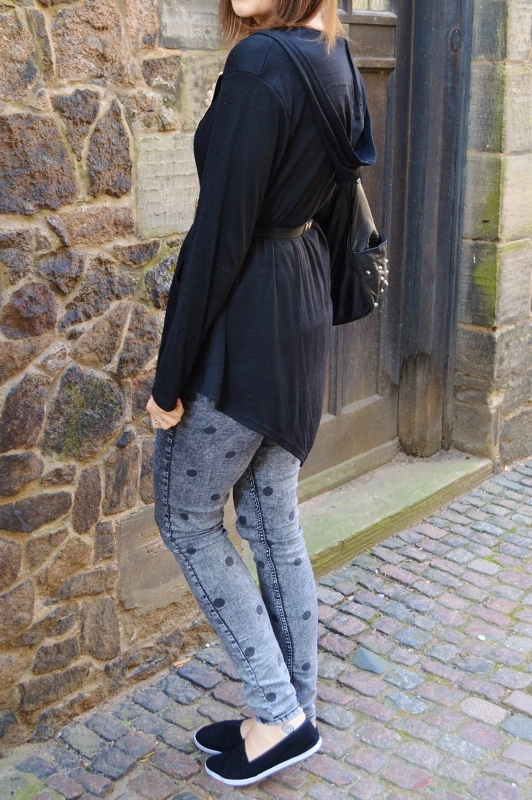 DressLink.com Draped Hoodie / H&M Polka Dot Acid Wash Jeans / Primark Basic T Shirt / Primark Metal Waist Belt / Primark Canvas Shoes / Thrifted Topshop Leather Stud Bag
I ordered this oversized draped hoodie from DressLink.com a few weeks ago.  It was originally intended to be for my mum, but unfortunately it doesn't quite fit her right, so she let me have it.  Believe it or not, this is an XXXL, but Asian sizes are a LOT smaller than our Western sizes, so it fits me, a size 10/12, like a baggy hoodie.  There's no way it's a UK size 20 like the website suggests!
Tops like this are absolutely perfect for this time of year.  It was sunny today, so too warm for a coat, but there was a hint of Autumnal coolness in the air, so it kept me nice and cosy, and the hood is great for when you want an extra bit of warmth.  I also really love the length and draped style of the hoodie as it gives it a slightly witchy edge, and though it looks good baggy, I adore the more tailored shape of it when worn with a waist belt over the top.
What pieces will be seeing you through the Summer to Autumn transition?
Naomi x
6
Tomorrow morning I am heading off on a camping trip until Sunday.  This obviously means that I probably won't be posting anything on Bewitchery for a few days, but worry not!  I have plenty of things to share with you once I get back.  In the meantime, I thought I would show you all what I will be taking with me in my make up bag.  I usually carry quite a big make up bag, but when I'm camping I only ever wear basic make up so I have downsized somewhat for this trip, as you can see below.  Foundation, a bit of blusher, eyeliner and mascara and a slick of gloss are all you need to take the rough out of roughing it!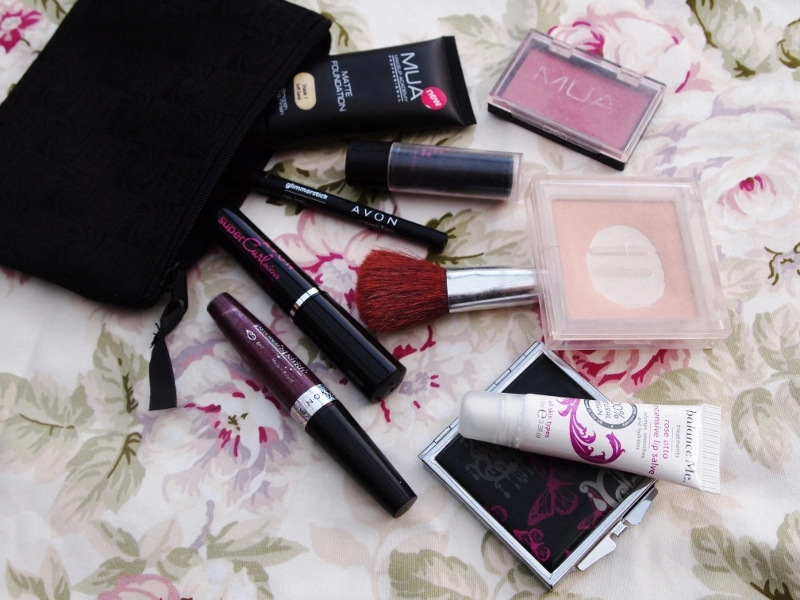 The only tools I will be taking with me are a small make up brush (for face powder and blusher) and a pocket mirror.  And the make up?
Face – MUA Matte Foundation in 'Soft Sand', MUA Pressed Powder in 'Shade 1′, MUA Blusher in 'Shade 2′ and Avon Colortrend Perfect and Hide Concealer in 'Light'.
Eyes – Avon Glimmerstick Eye Liner in 'Blackest Black' and Avon SuperCurlacious Mascara in 'Black'.
Lips – Avon Glazewear Lip Gloss in 'Violetta Sparkle' and Balance Me Rose Otto Intensive Lip Salve.
Have a great weekend everyone – see you when I get back!
Naomi xx