Posts tagged
Birthday Cake
9
Yesterday was not only Valentine's Day but my 23rd birthday, and I was lucky enough to have the day off work to celebrate!  As is tradition, I woke up early to open my cards and presents, and in the afternoon I went for a lovely lunch with my family and partner, Charles.  After lunch, Charles and I walked into town for a wander round and to see the Richard III exhibition at the local museum, before heading home for birthday cake and a game of Balderdash.  It was a relaxed day, but I enjoyed it as I got to spend time with the people I love, and I was given some amazing gifts which I am extremely grateful for!  Here are a few photos from the day…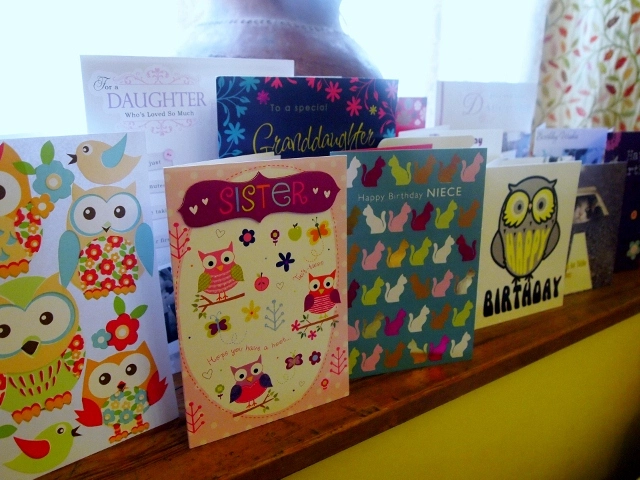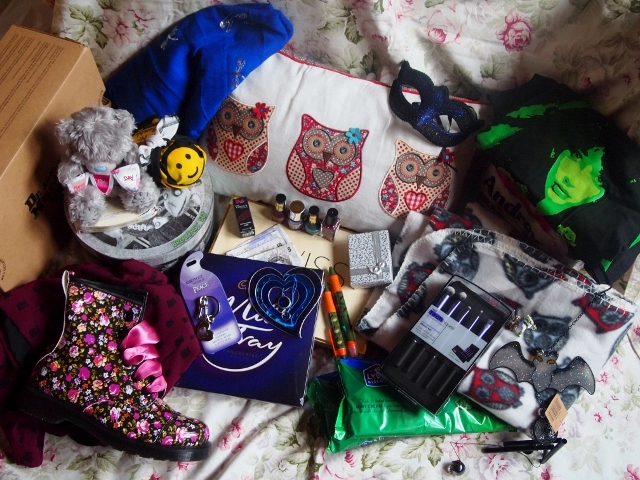 I was lucky enough to receive everything on my Birthday Wish List this year, and more!  Everything I was given is very 'me', and I have quite a few fashion and beauty items to review for you, including Layla, Miss Sporty and Barry M nail varnishes, Sleek Lipstick and Real Techniques make up brushes.  There was also a strong owl theme in my cards and gifts this year…  My mum even bought me a packet of owl print toilet roll as a joke!  Haha.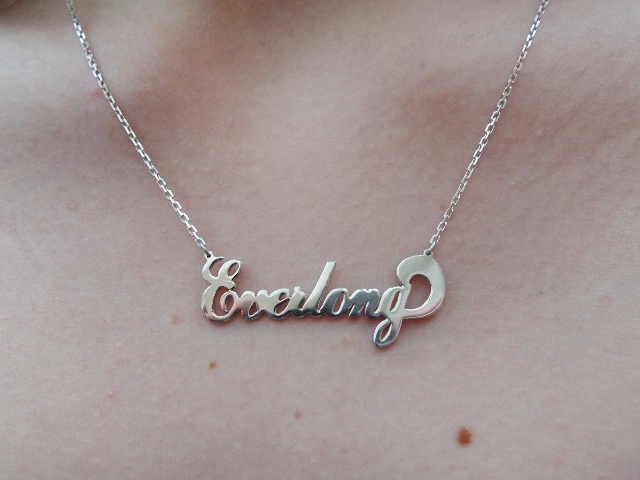 Charles surprised me with this absolutely beautiful silver necklace which says 'Everlong'.  Everlong by the Foo Fighters has been my favourite song for years, and when Charles and I got together it became 'our' song, so when I saw this I very nearly cried.  I love it so much and I'm going to treasure it forever!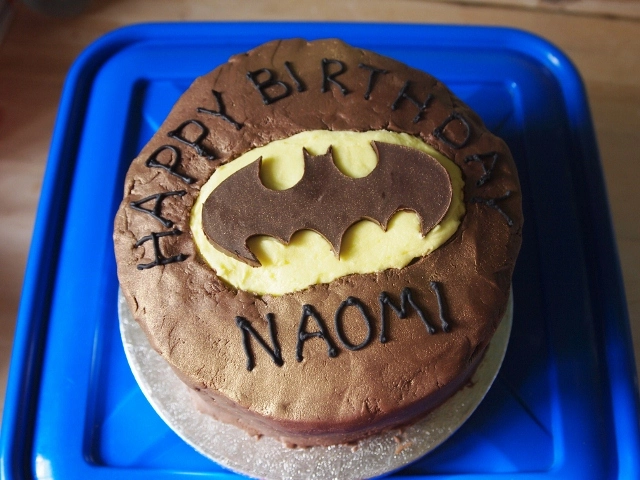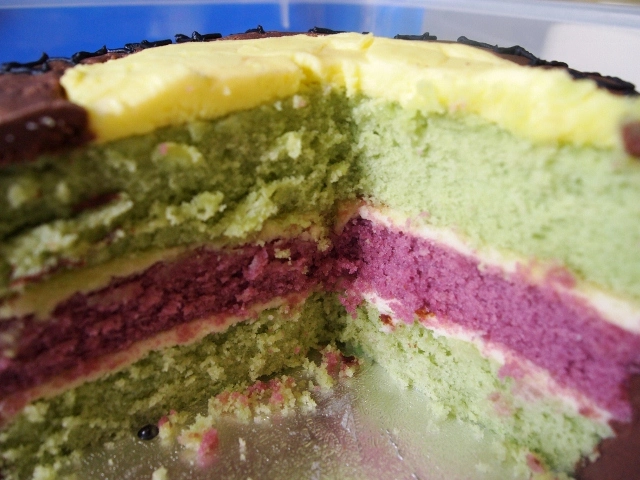 I'm a massive fan of Batman, and Charles' mum and sister baked me this amazing Batman cake.  The bat is made from dark chocolate, the icing is vanilla and chocolate buttercream, and the sponge inside is coloured green and purple like the Joker.  How cool is that?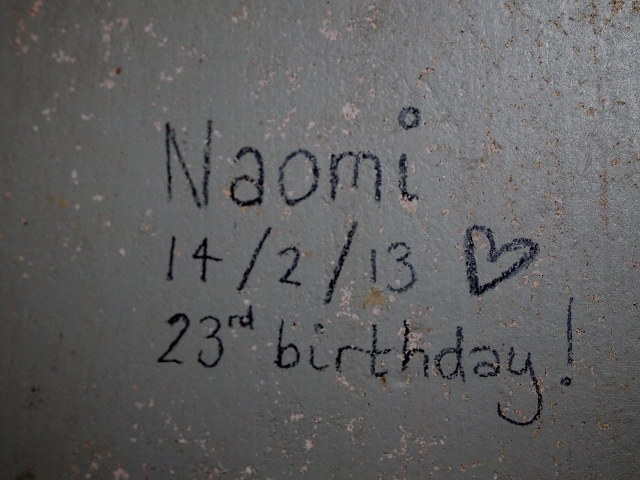 We are currently decorating our hallway and the walls were completely bare yesterday, so I decided to write a little note on the plaster for future generations to find one day when I'm old and grey.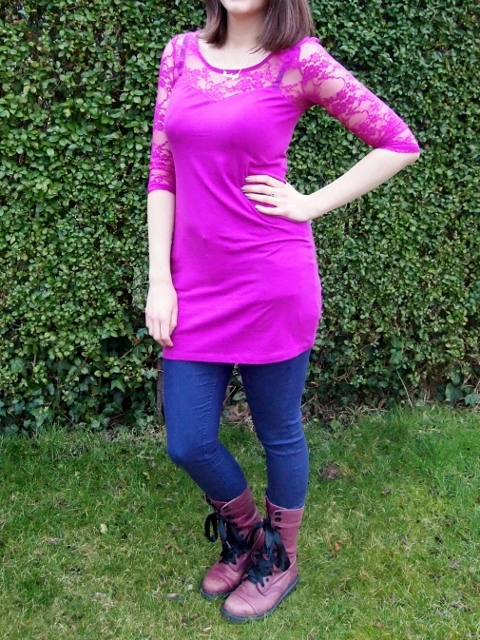 Seeing as I had a casual day, I decided to wear a casual outfit for my birthday.  I settled for a pink dress top with romantic lace sleeves and purple skinny jeans, both from H&M, and my trusty purple Dr Martens.  Oh, and my Everlong necklace of course!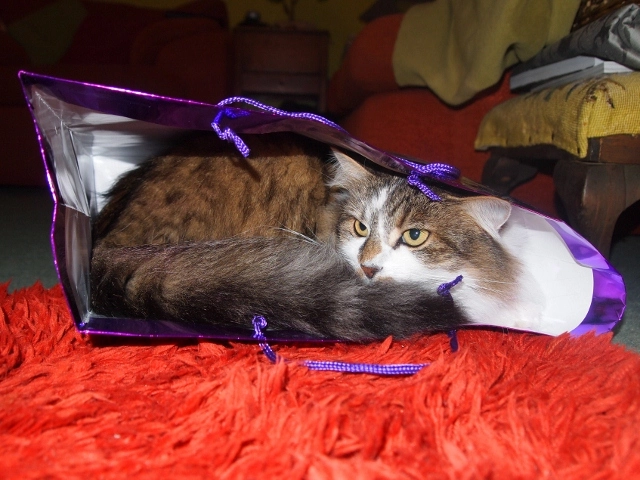 And true to kitty form, my cat Moth loved playing with all the wrapping paper and gift bags!
What did you do for Valentine's Day this year?  Did you get anything nice from your loved one?
Naomi x