Posts tagged
Blonde + Blonde
1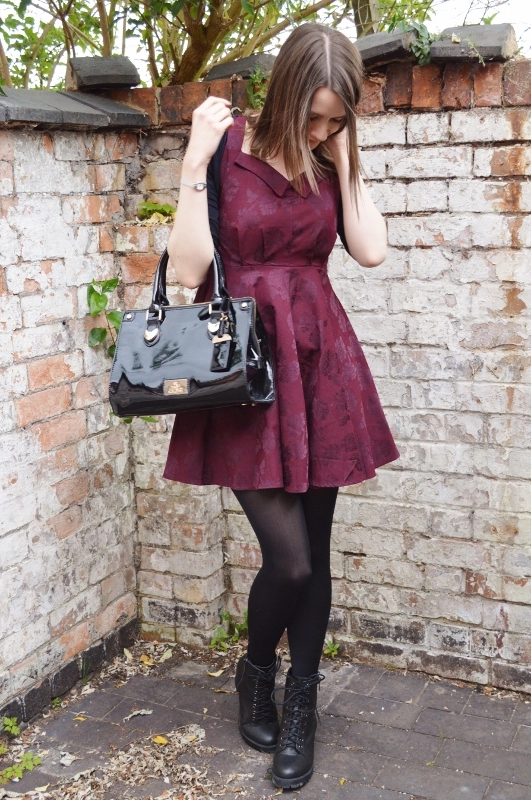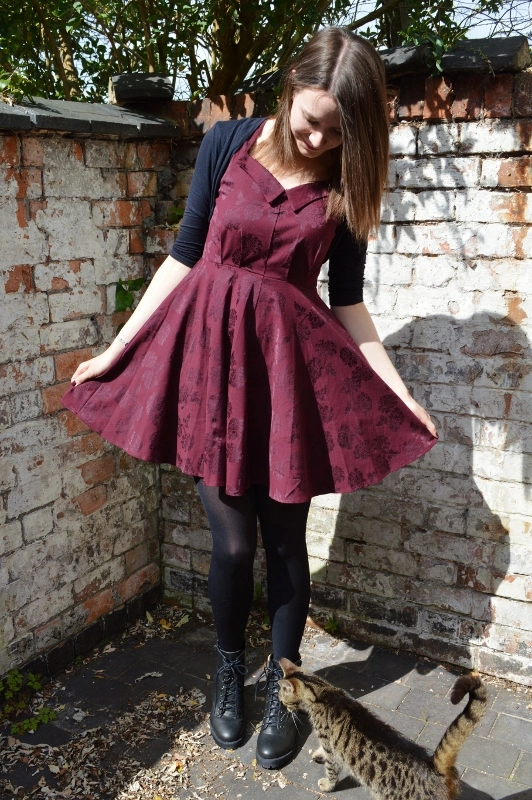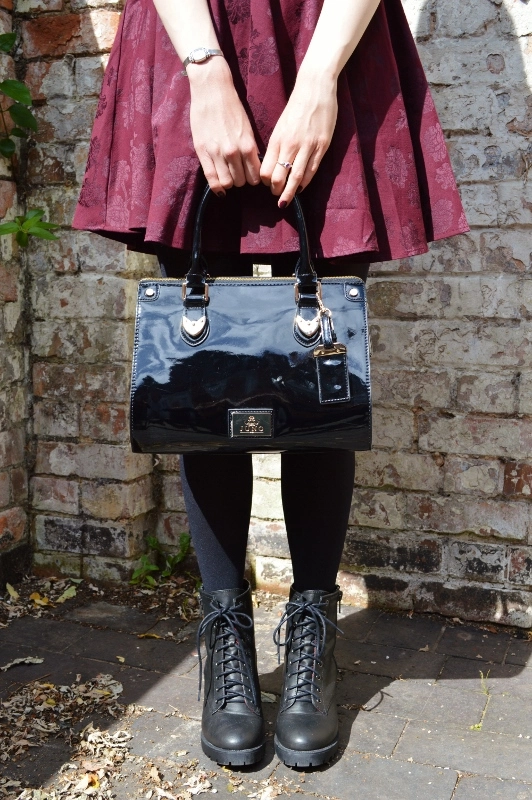 Connection Burgundy Dress / George Black Shrug / Primark Tights / Blonde + Blonde Lace Up Block Heel Boots / Juno Black Patent Grab Bag / Le Chat Marcasite Watch
On Sunday I went out for a lovely meal with my in-laws, to celebrate Charles' Grandma's 90th birthday.  We went to The Grey Lady in Newtown Linford, and had a private room for twelve to enjoy our delicious three course lunch.
I decided to wear something colourful for a change, so I went for this gorgeous burgundy dress that I bought from Everything5Pounds a little while ago.  Considering it was so cheap the quality is fantastic, and I adore the subtly patterned floral fabric.
Of course, I had to get some black in there somewhere, so I teamed it with black tights and a black shrug from George (it was a bit chilly out!), my Blonde + Blonde boots, which are becoming a wardrobe staple of mine, and one of my favourite bags.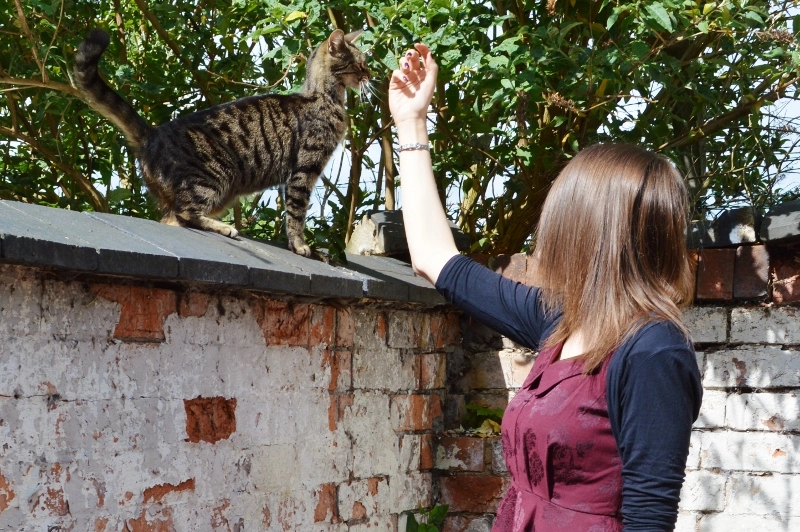 You might have also spotted our neighbour's little kitty, who likes to photobomb when I take outfit photos!  She's the cutest.
Naomi x
2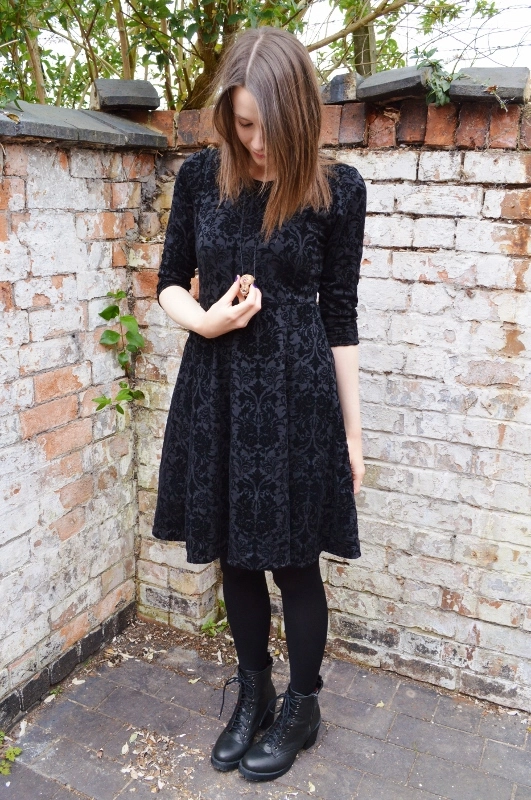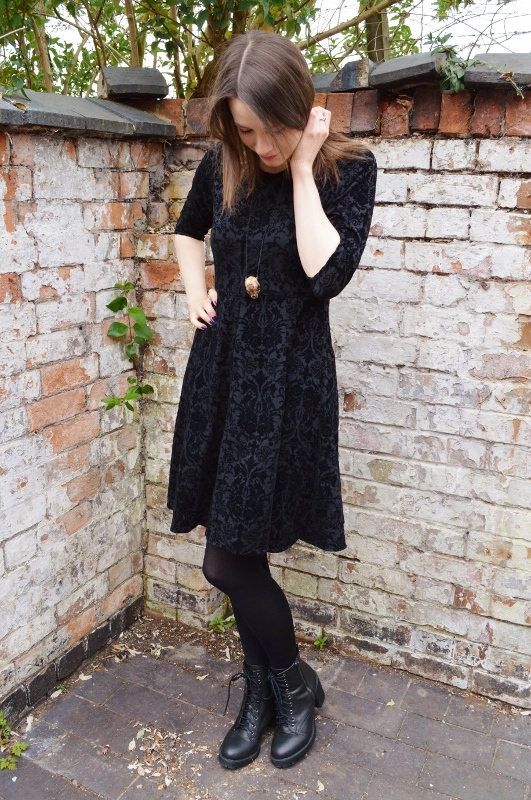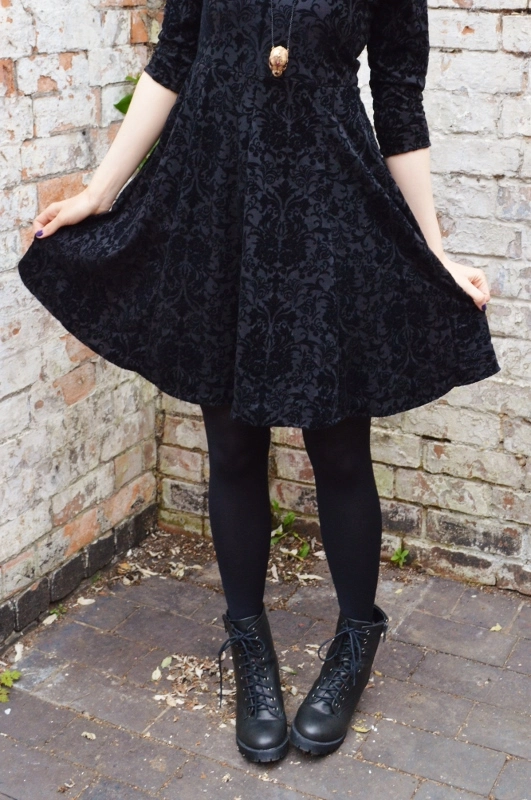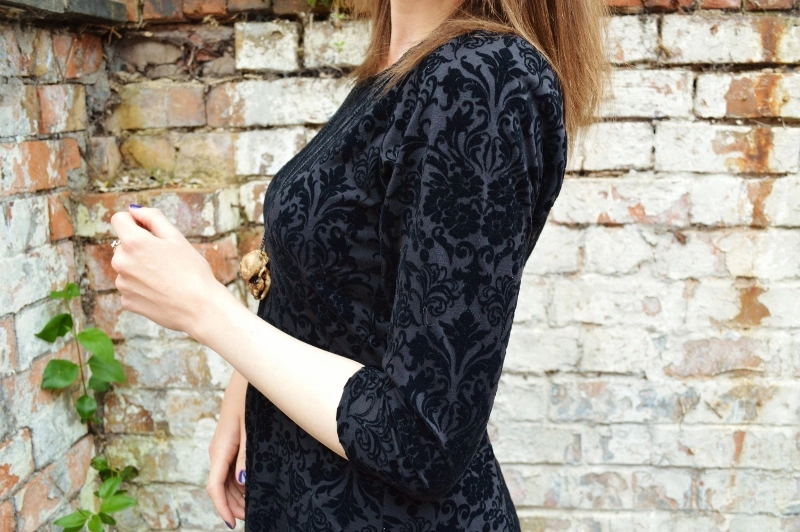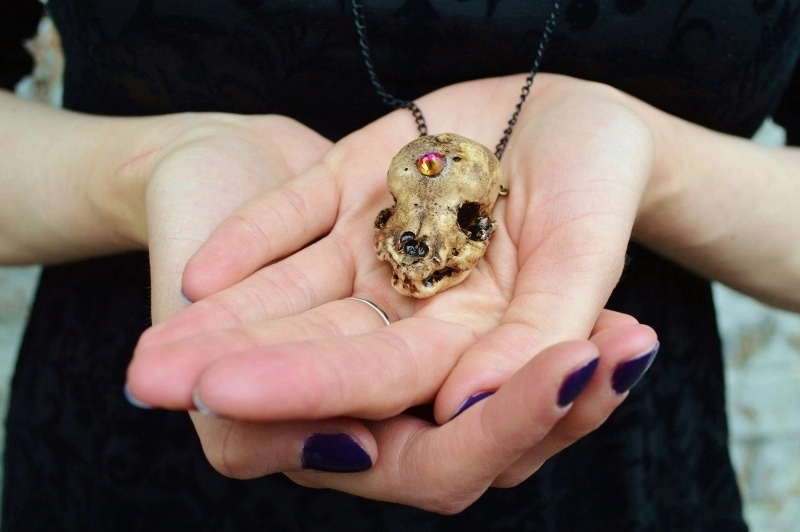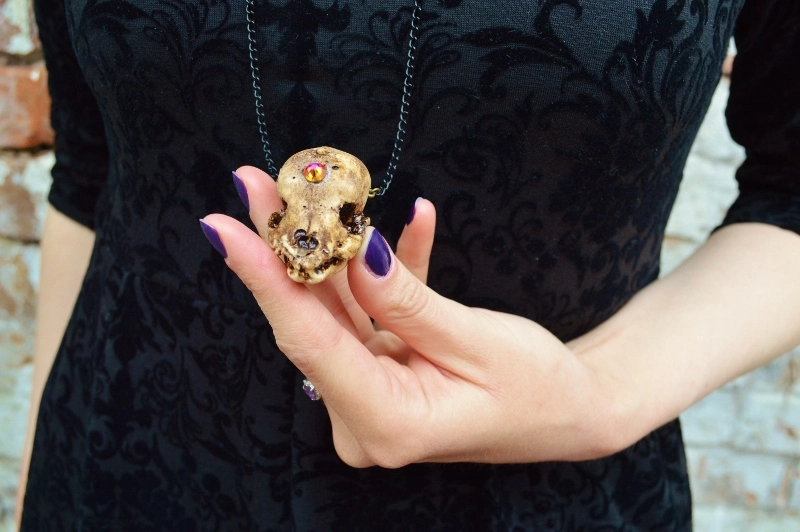 Handmade Flocked Skater Dress / MortiisM Vegan Skull Necklace / Blonde + Blonde Lace Up Block Heel Boots / Primark Tights
Today's outfit post is also a Thrifty Finds post, as my beautiful flocked skater dress was handmade by my very talented mum, using fabric that we got from a carboot sale.  And the best part is the fabric only cost £1!  My mum drafted the pattern for this herself, using the bodice from one of my dresses, and the skirt from another, so it turned out the exact fit, shape and length I was hoping for.  I'm so impressed by mum's work, especially as this was the first adult dress she ever made.  The stitching is so neat, it's comfortable, and it fits me really well – quite an achievement considering I tried the bodice on once whilst she was making it, and that's it!  Needless to say I'll be asking her to make me another dress very soon, as I'm so pleased with this one.
My necklace is also a craft piece, by the lovely MortiisM, who makes vegan skull and metal jewellery, antlers, and homewares.  I won this piece in a giveaway on Instagram, and I adore it.  I love the length, and the quality of the piece is really high.  It looks so real, and the Swarovski adornment is like the icing on the cake.  Stunning!
Naomi x
P.S. Check out how else I styled these boots!
5
Per Una Crochet Long Top (Thrifted) / Primark Basic Vest / Primark Black Skinny Trousers / Blonde + Blonde Lace Up Block Heel Boots / Four Beautiful Keys Moon Necklace
The last few days have been warm enough to go out without a coat or jacket, so today when Charles and I headed out for lunch, I decided to wear something with a bit of detail that wouldn't be covered.  I'm still not quite over my winter passion for layering, so this long crochet top by Per Una seemed like the perfect transition item.  I picked this up for £1 from a carboot sale a few weeks ago, as you probably saw in my latest thrifty finds post, and it's so comfortable and light.  I adore the long bell sleeves with their mandala-type crochet patterning, and the length of the top is really flattering.
I needed some new black skinnies for Spring, but wanted something lighter than denim, and these Primark trousers are ideal.  I found them in the jeans section, but they're actually made of a soft stretchy fabric.  They fit really well too, which is a big thing for me as I have long legs so usually struggle to find trousers that are long enough for me, but these are fine!
The lace up boots are also new, and were an amazing find.  I was strolling through the local shopping centre a few weeks ago, with no intention of buying anything, but happened to spot them in the window of BANK.  The shop was having a closing down sale, and these babies were discounted from £38 to just £7.60!  Lucky for me, despite the shop being almost empty, there was one pair left in my size, so it was meant to be, especially as I've been after some laced block heel boots for MONTHS.  Winner!
Naomi x