Posts tagged
Colour Reviver
1

Hello everyone!  Today's Chocolate Treat Week post will focus on chocolate coloured and scented hair care products.  I have spent a lot of time recently trying to improve the look and feel of my hair, as it tends to switch between being dull and dry or lank and greasy depending on the weather and how often I wash it.  In my search for products suited to my hair I happened to discover two fantastic ones which are also chocolatey, and as such are perfect for this post.  Allow me to share them with you…
Wash with… Toni & Guy Chocolate Brown Colour Reviver Shampoo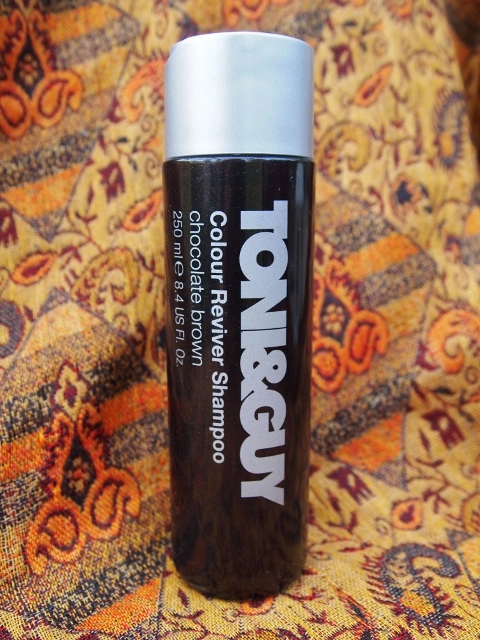 I've always been somewhat thrifty when it comes to shampoo, but when I found this Colour Reviver Shampoo by Toni & Guy I decided to invest as it looked and sounded too good not to.  This particular Colour Reviver, in 'Chocolate Brown', is intended for use on natural or dyed brown hair, and claims to 'extend the richness and depth of tone'.  As a proud brunette, I like to accentuate the colour of my hair as much as possible without the use of hair dye, so I was keen to try it out.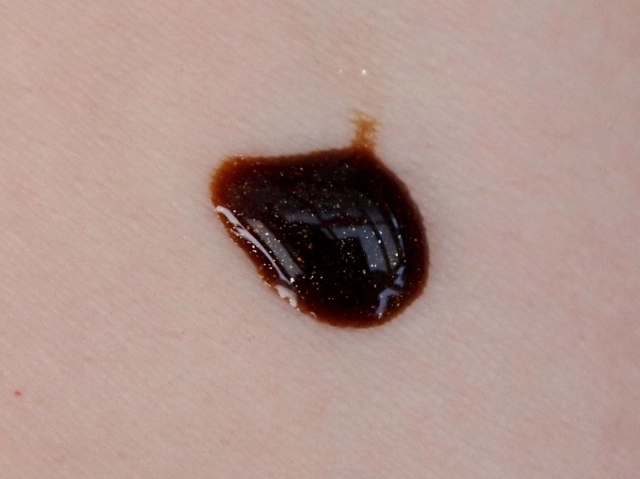 The shampoo itself has a very thick consistency, and is speckled with bronze and golden glittery deposits, which cling to the hair to give it that 'depth of tone'.  Unfortunately, it doesn't smell like chocolate (it has a fairly standard shampoo scent) but I suppose that makes it suitable for those who dislike strongly scented hair products.
Due to the thickness of the shampoo, it is slightly difficult to work into the hair at first, but with a bit of persistence a nice lather can be built up.  The bottle says to rinse the shampoo out thoroughly to avoid staining, and that it can be used for every wash on natural hair and every other wash on dyed hair.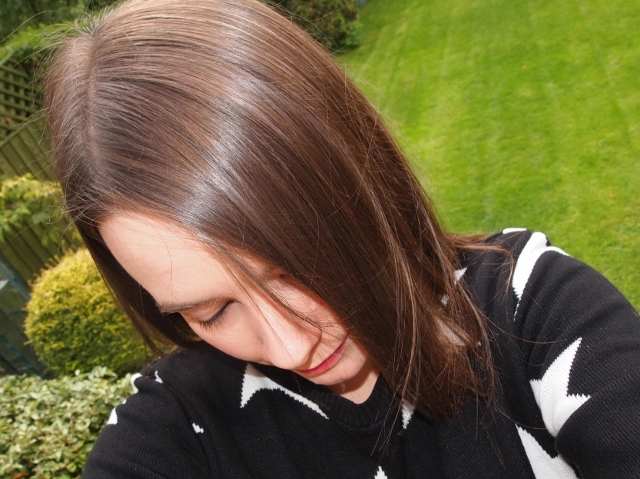 I use Colour Reviver with my usual Avon conditioner, and then blow dry my hair as normal.  After using the Colour Reviver, my hair always has a rich, intense colour to it, is fantastically soft and shiny and moves fluidly…  Almost like melted chocolate!  I couldn't get a photograph that shows just how nice this shampoo makes my hair look, but you can clearly see how shiny it makes it!  It really is quite impressive.  The results are hardy too…  I washed my hair before going swimming today, and even after getting it wet in the pool it still looked great after it dried.
The only thing I don't like about this product is the packaging, but that's personal choice…  I'm just not that keen on the flip lid design!
Toni & Guy's Chocolate Brown Colour Reviver Shampoo retails at £5.80 for a 250ml bottle, but is currently on offer on Amazon for £4.06.  It's hard to find this shampoo in shops these days so the internet is probably your best bet if you want to try it for yourself!
Freshen Up with… Superdrug Chocolate Brownie Dry Shampoo

I usually wash my hair every day, but sometimes I don't have the time or I just can't be bothered, and that's when dry shampoo becomes an essential.  In the past I have used Batiste dry shampoo, but to be honest I never really got on with it…  It didn't seem to make much difference to my hair, other than leaving behind a white residue.  So, when I picked up some of Superdrug's Chocolate Brownie Dry Shampoo instead, I was very happy.
Like Toni & Guy's Chocolate Brown, Superdrug's Chocolate Brownie is for use on brunette hair as it is lightly coloured, and as such doesn't make your hair look powdery and white!  The spray has a very strong chocolate scent which doesn't smell at all artificial – it literally smells like warm chocolate brownies in the oven!  Delicious.
To use the dry shampoo you just need to spray it onto dry hair from about 30cm away, then gently brush it through, et voila!  Freshened hair.  A word of warning with this one though…  The spray is VERY strong.  I have asthma and used this in my bedroom last week with the windows closed and could barely breathe afterwards, so make sure you use it in a well ventilated area!
Superdrug's Dry Shampoo makes unwashed hair look less greasy and gives it a bit of volume, and the results last a good few hours before you need to tse the spray again.  I actually bought this on offer recently at three cans for £2.99, which is an absolute bargain as one 150ml can lasts for ages.  If you're quick, you can take advantage of this offer too as it's still running, but even at £1.99 full-price it's amazing value for money.  Chocolate Brownie Dry Shampoo can be found in Superdrug stores, or online here.

The Last Rolo…
The Last Rolo is where I hand over the last few words of each Chocolate Treat Week blog post to another blogger.  In the run up to Chocolate Treat Week I asked five of my favourite bloggers a couple of questions about their favourite chocolate treats, and today's answers come from Tianna of Storybook Apothecary.
Can you recommend any chocolate scented, flavoured or themed beauty/fashion products?
Intrinsic Organics has a chocolate mint lip balm that is lovely! I also love using cocoa powder and honey as a face mask to get glowing skin, does that count? Lol.  I've posted about the lip balm on my blog here.
What is your favourite chocolate treat to eat, and why?
My favorite chocolate is Godiva dark chocolate with raspberry sauce filling. It is sooo good. The rich bitter flavor of the dark chocolate with sweetness of the raspberry is to die for!
I hope you have enjoyed today's post, and thanks for reading!  Do you use any chocolate scented or coloured hair products?
Naomi x
PS. Please don't forget to check back tomorrow for my next Chocolate Treat Week post, which will focus on makeup!