Posts tagged
Colourful
9
I recently came across a great little Etsy store called ResinSparkles, which is owned by the lovely Sara.  Sara creates unique pieces of jewellery out of resin and glitter, a lot of which have a fab geek-chic theme, with Dr Who, Star Wars, steampunk and comic books regularly featuring in her designs.  Sara very kindly offered to send me a couple of pieces to review, and after browsing her store the magpie in me chose a Sparkly Ring and a Steampunk Clockwork Pendant.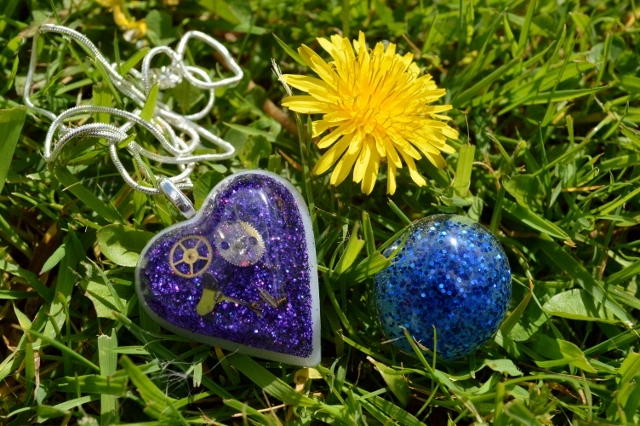 Both pieces are really well made, and they are both very generous on the glitter.  They're so eye-catching, especially in the sun, and both make a real statement.  They came packaged in cute matching gift bags too – perfect if you want to give them as a present (and trust me, the receiver would not be disappointed with their sparkly surprise).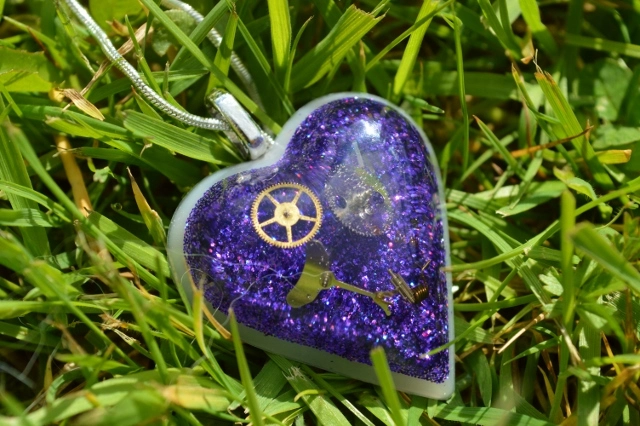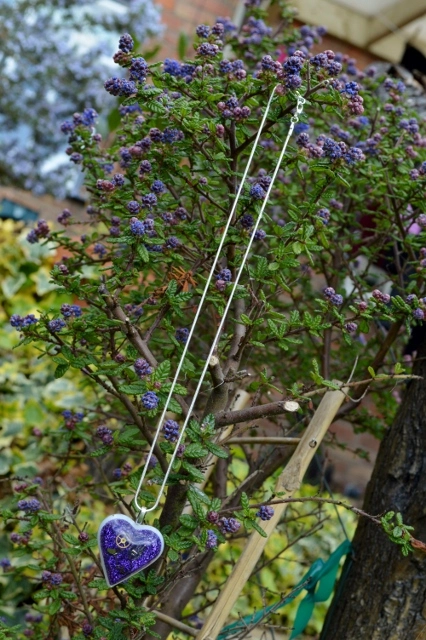 The pendant comes on an 18″ silver coloured chain and is nice and lightweight, so though it's a fairly big piece, it's incredibly comfortable to wear and hangs well.  I chose purple as it's my favourite colour and this particular shade is stunning, but these pendants are available in a wide range of colours.  I absolutely love the steampunk theme too, as the little cogs and metal bits suspended in the resin give it an added edge.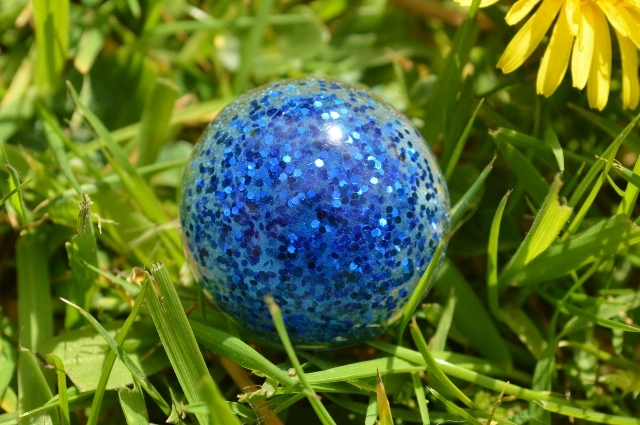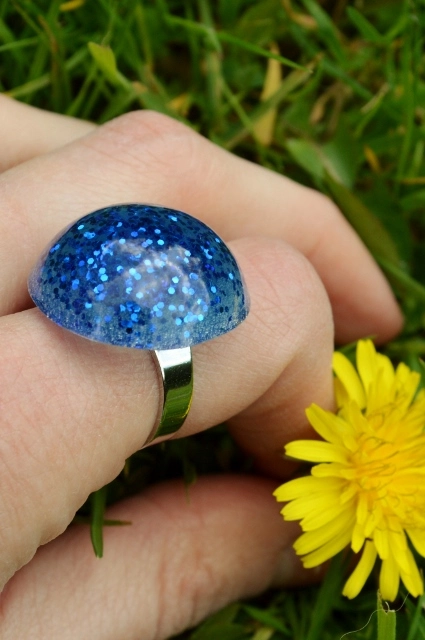 The ring I received has come to be known as my mermaid ring, as the layers of bright blue glitter are so pretty and remind me of a mermaid's tail, or the surface of the sea sparkling in the sun (how romantic!).  Like the pendant, the dome of the ring is quite large so really stands out, and it sits securely on a silver coloured adjustable metal band.  I have quite slim fingers so it best fits my index or middle fingers, which is where I prefer to wear rings anyway.  These are also available in a wide range of shades, with some combining two different glitters.
Considering all of Sara's pieces are handmade and great quality, they're also very affordable.  The pendants are £7.50 each including the chain, and the rings are just £3.50.  So, if you're a fan of sparkle, or know someone else who is, be sure to check out ResinSparkles on Etsy, and on Twitter.
Naomi x
*These pieces were sent to me by ResinSparkles for review purposes.  All opinions expressed are honest and my own.*
4
The lovely folks over at natural skin care company Montagne Jeunesse recently launched their latest face mask collection, Exotic Fruits, and I was lucky enough to be offered the chance to try the range for myself.  There are three Exotic Fruit Face Masks available; Dragon Fruit Sauna, Paw Paw Peel Off and Prickly Pear Peel Off, all of which are animal friendly and suitable for vegetarians like me.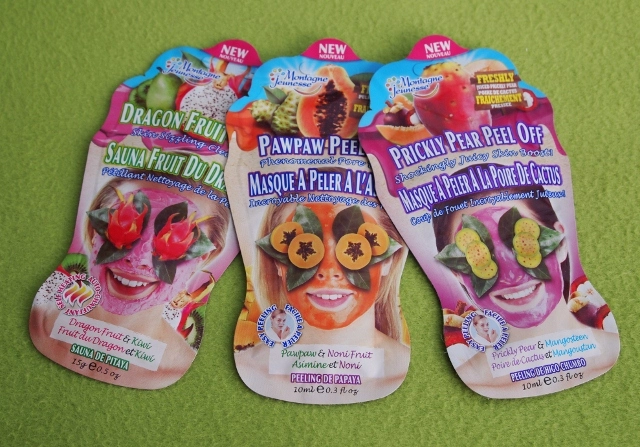 The first thing that struck me about these masks when I received them, other than the eye-catching, colourful packaging, was the size of the sachets.  They are slightly smaller in size to the Montagne Jeunesse sachets that I'm used to, but they still contain a generous amount of product which is more than enough for one application, so you're not getting ripped off!
As soon as I saw it I really, really wanted to try the Dragon Fruit Sauna mask as it is self heating, and I absolutely love Montagne Jeunesse's self heating Hot Chocolate mask, but this one contains kiwi which I'm allergic to, so I will be passing this mask on to a lucky someone at some point.  So, the mask I will be featuring in this post is the Prickly Pear Peel Off.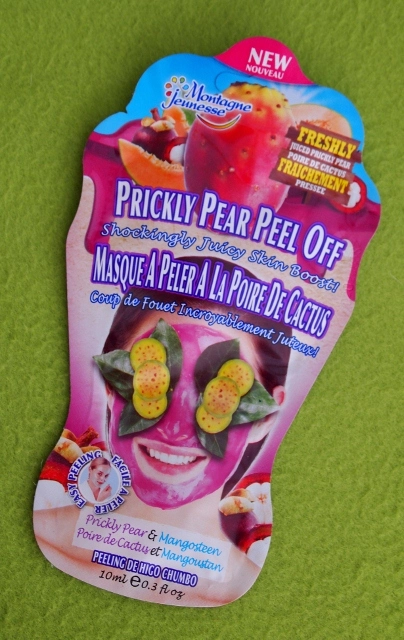 The Prickly Pear Peel Off is described as being a 'Shockingly Juicy Skin Boost', and contains nourishing, natural ingredients from unusual fruits which are included to tackle blemishes.  The Prickly Pear extracts are rich in minerals and Vitamin C, which help to soften and smooth the skin, and the second fruity ingredient, Mangosteen, is known for its antibacterial and anti-inflammatory spot fighting properties.  The mask also contains Melon, which is rich in Vitamin A and cleansing antioxidants.
The product itself is really quite pleasing to the eye, as well as the nose.  It is a bright pinky purple colour which, in all honesty, I would LOVE as a nail varnish shade, and it smells absolutely divine.  The sweet smell of pear comes through really strongly, but not overwhelmingly, and other fruits such as the melon come through too.  It smells and feels so light and fresh – it's just lovely, and a nice little flashback to summer!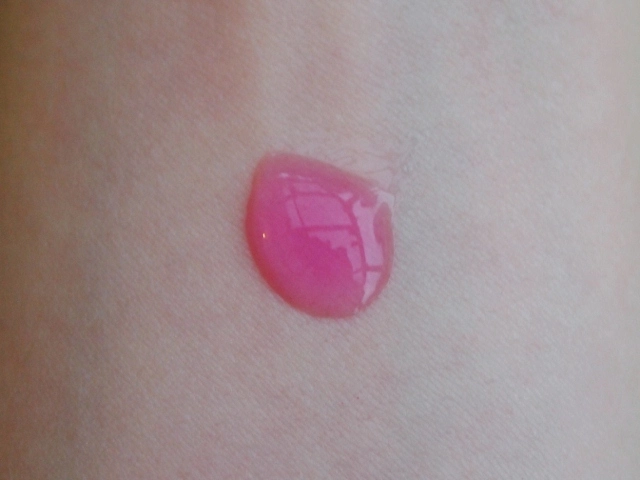 As with all Montagne Jeunesse masks, application is simple.  After washing your face with warm water, you simply smooth it on with clean hands and then relax for 15-20 minutes whilst it dries.  I found that the smaller size of the sachet meant that, for some reason, it was a lot easier to squeeze the mask out of the sachet without making a mess.  It's really important to create an even layer of mask on your face when applying so it dries evenly, and this was also very easy to do as the thicker areas showed up darker, so I just evened these areas out whilst it was still wet.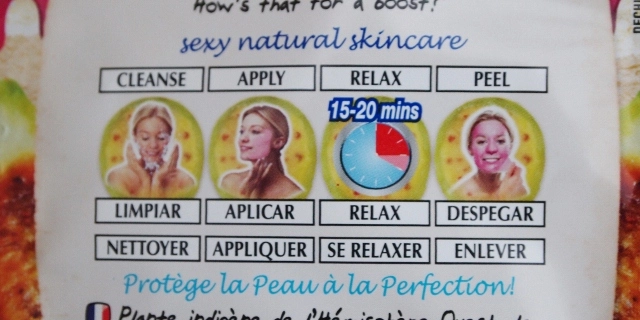 When I first applied the mask it made my skin burn slightly, which obviously worried me a little bit, but after 5 minutes or so the burning sensation calmed down and my face was left feeling cooled and invigorated.  I'm not sure what caused the burning sensation but I have been using medicated gel on my face lately, which can make my skin feel quite sore, so it could have been down to that.
After 20 minutes the mask was completely dry but it didn't go tight at all like some masks do, which is great.  It also peeled off really easily (but unfortunately not in one piece so I wasn't left with a ghost face to scare anyone with!).  After use my skin felt amazingly soft and I didn't need to use any moisturiser afterwards as it added moisture to my skin rather than taking it away.  In fact, the next morning my face still felt as soft as it did after using the mask, which is pretty good going.
The whole Exotic Fruits Collection is available on Montagne Jeunesse's website, as well in Asda and Boots, and each sachet costs just £1.29 – a small price to pay for such a fruity little treat!
Have you tried this range yet?
Naomi x