Posts tagged
Confetti
1
Rustics is a small subscription box company with a difference, as most of the items in the box are lovingly handcrafted using eco-friendly materials, by the very talented Nic. She also tries to source products locally where possible, and all boxes are packaged from her home studio.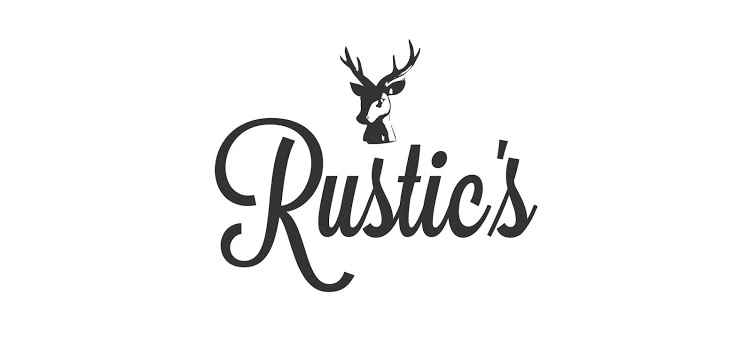 Every box contains around seven to ten items, such as stationery, craft kits and gift items, with an approximate value of £30. The items inside the box are kept as a surprise, but Nic releases sneak peeks of the contents on her website and social media (you can find her on Facebook, Twitter and Instagram).
A limited number of boxes are launched at 8pm on the 1st of each month. The first box – a heart themed Love It Box – was launched in June, and I was lucky enough to receive one through my letter box (the boxes are the perfect size to fit through, so you don't have to worry about missing a delivery!)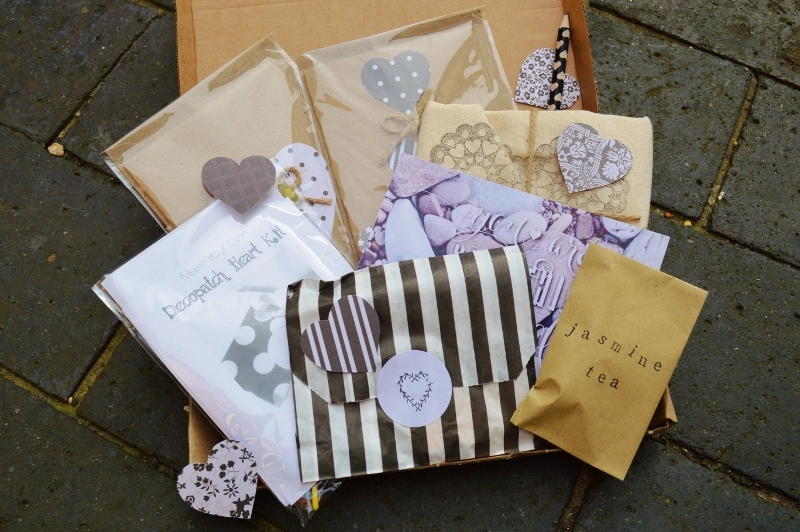 The first thing that struck me when I opened the box was how nicely it was packaged. The box was sealed with monochrome heart washi tape, and the contents inside were carefully wrapped with tissue paper. The monochrome heart theme continued with the items inside, and there was far more crammed into that little box than I was expecting!
So what did I get? Well, inside was two handmade heart greetings cards, a hand printed cotton tote bag, a decopatch wooden heart craft kit, two mini wooden heart tags, a heart pencil, a handmade jasmine tea bag, a 'You Are Something Special' print, and some heart-shaped confetti.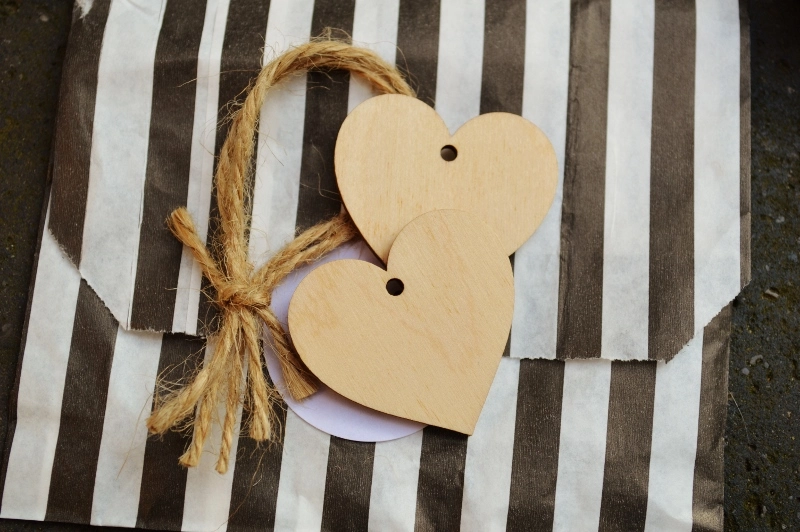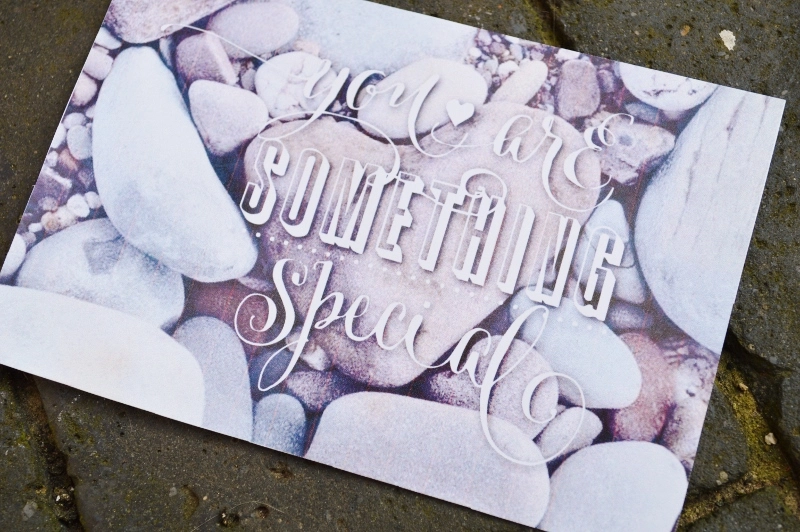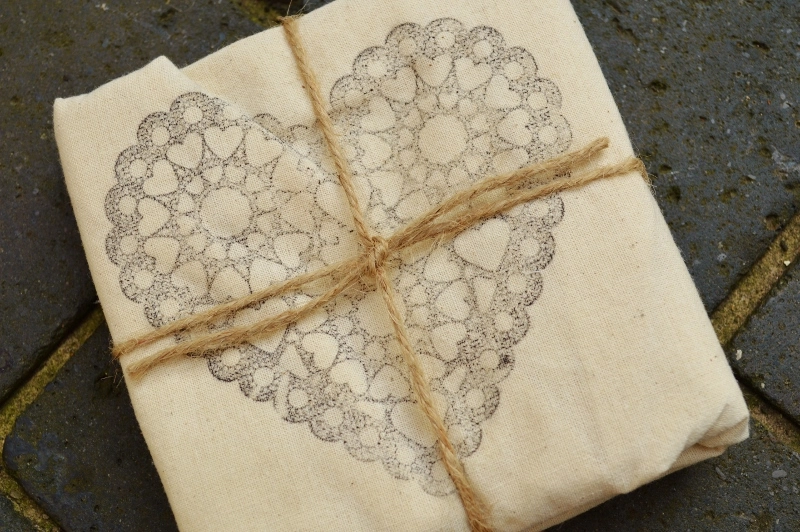 Everything in the box is fantastic quality, and the theme is impressively consistent and carried off well. There's nothing in the box that I don't like, and it's hard to pick a favourite item, but I must say I'm really looking forward to having a go at the decopatch kit when I have a free weekend!
There are three payment options for the boxes – a buy now single payment is £17, a monthly subscription is £15 a month, or a three-month single payment is £40 – and all come with free delivery. But however you choose to pay for your subscription, Nic will donate £1 from each box to a different charity each month.
I'm so impressed with Nic's boxes as they're so different from any I've seen before, and it's obvious how much love and thought goes into every single item. If you want to bag one for yourself, check out the Rustics website.
Naomi x
8
Over the last couple of months I have been noticing the growing trend for 'Flakie' nail varnish.  All the Flakie swatches I've seen have all looked beautiful, and I recently spent a good while online and in shops looking for my very own Flakie, but I could not find any anywhere!  I had just about given up on my search when out of the blue I spotted this GOSH 546 Rainbow nail varnish in a blog sale, used once, for just £2!  As you can imagine, I snapped it up (along with a £5 MAC Eyeshadow, which I'll review at a later date) and it arrived in the post this morning.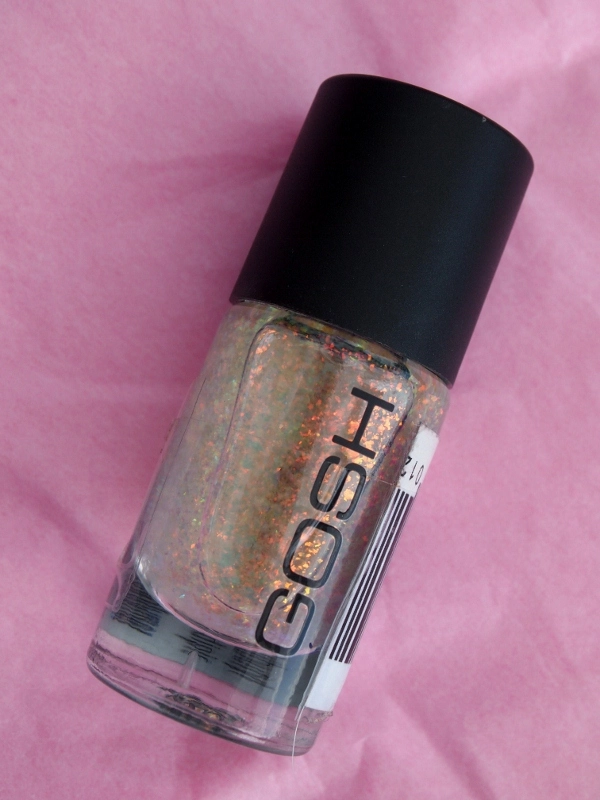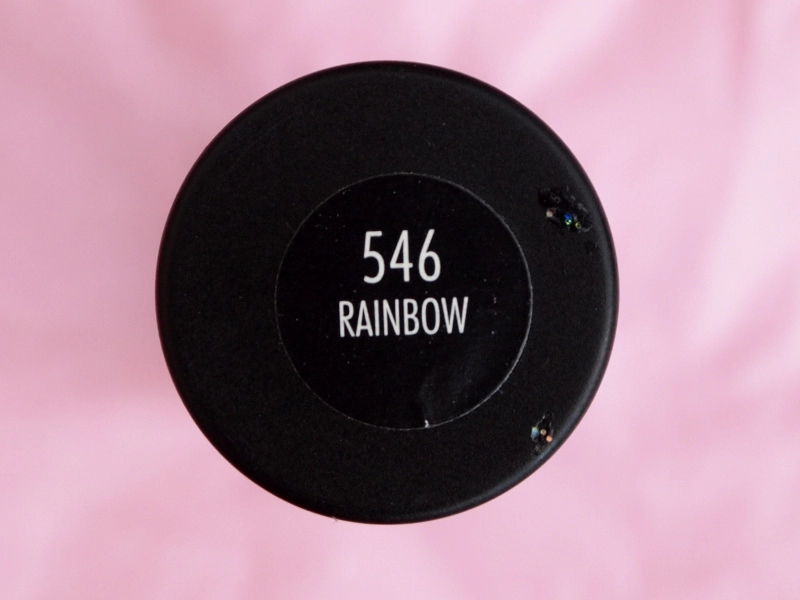 The first thing I did when I received this was Google it…  I wanted to know whether GOSH still make/sell Rainbow, and from what I can see they don't!  In fact, I could only find a few of these online, and every one of them said it was rare.  I found one site selling a bottle this size for £42, and one on eBay which is currently at $12, but that's it.  Needless to say I got a very good bargain at £2.
My research taught me that Flakies work best over dark nail varnish.  Since it is a clear varnish with the flakes suspended in it, I painted one coat of GOSH Rainbow as a top coat over two coats of No7 Violetta.  The varnish is a great consistency and packed full of flakes so you get a fairly even spread.  I'm also really impressed with the quality of the brush, and though the varnish takes a little longer to dry than most top coats, it is well worth the wait.  Now the moment you've all been waiting for – the final result…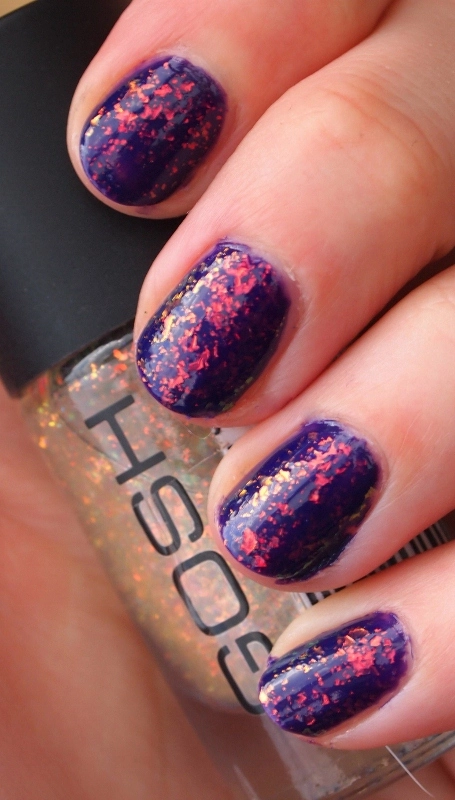 Just look how pretty it is!  I really can't get over how absolutely stunning I find the Flakie look.  In both natural and unnatural light, the flakes shine bright in firey oranges and reds, and at some angles (as you can see below) the flakes turn gold and green.  I can't stop staring at my nails.  I think the effect looks a bit like dichroic glass or peacock ore.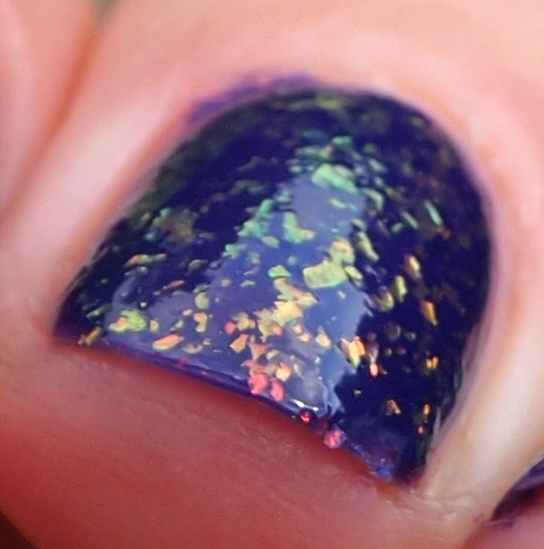 Though it may not be for everyone (my mum isn't impressed with this look at all), I am completely in love with GOSH Rainbow and the Flakie look in general, and it's made all the better because I got a bargain!  It looks like gold dust, and it's as hard to find as gold dust, so I'll be using this sparingly and saving it for best so it doesn't run out!
What do you think – do you like the Flakie look or not?
Naomi x