Posts tagged
Everlong
4
During one of my recent Twitter browses, I noticed that fashion brand AngelEye were looking for bloggers to style some of their pieces, so I got in touch and they kindly sent me a jacket to feature.  I actually already own a really pretty dress by AngelEye which I wore constantly throughout the summer (you can see it in the background of my nail photo in this post), so I couldn't wait to see whether their Autumn/Winter items were just as lovely!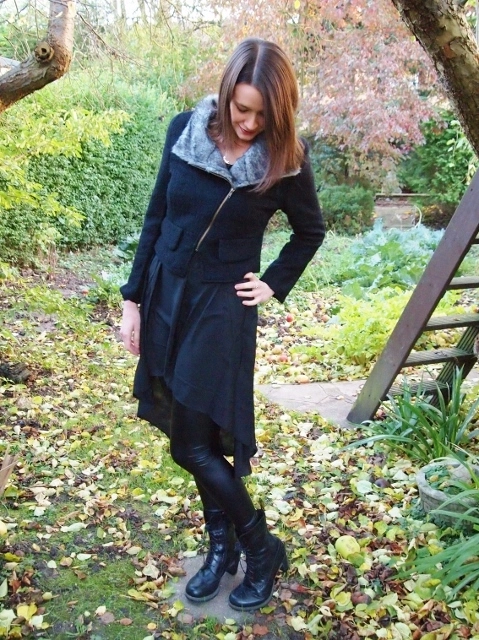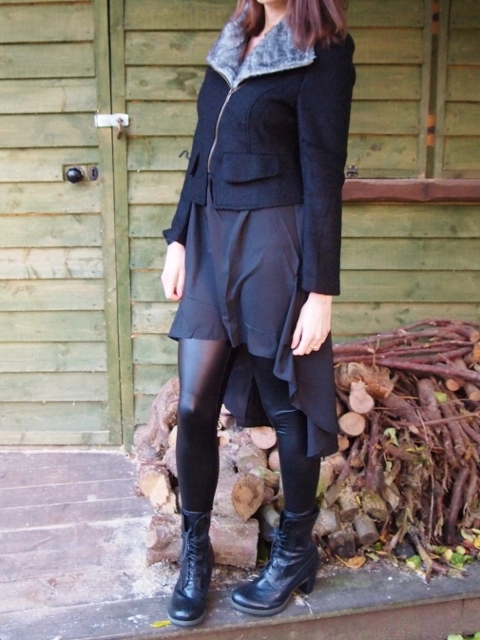 AngelEye Cropped Jacket / Everything5Pounds Dip Hem Dress / Primark Leather Look Leggings / Dr Martens Regina Boots / Custom-made Everlong Necklace
When I received the jacket, I instantly fell in love.  Based on the photo I saw of it online, I thought it was going to be fairly flimsy and more for 'show' than functional, but I was wrong.  It is made of thick, wool-like fabric so does a very good job at keeping you warm.  In fact, today was one of the coldest days of the year so far and I wore this jacket over a sleeveless dress, but I was kept nice and toasty, and didn't feel any chill whatsoever.  The jacket also has a silky lining and wide faux fur collar, which is my favourite thing about it as it looks and feels so luxurious, and is absolutely perfect for this season.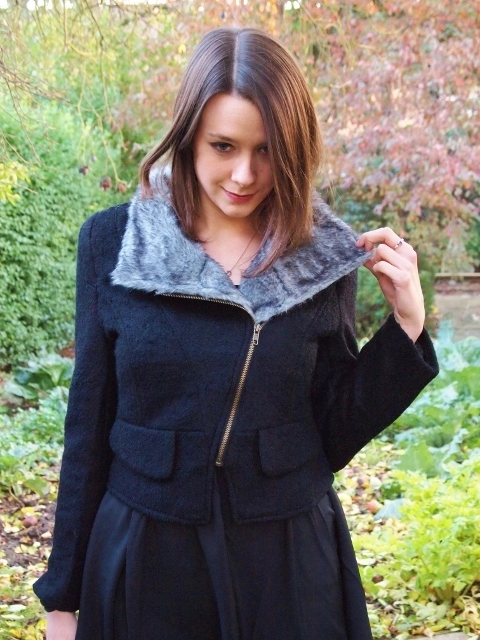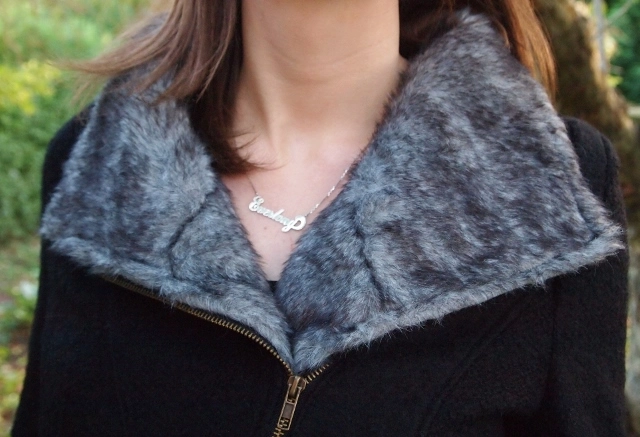 The cut of the jacket is also really flattering.  It is cropped, but fitted at the waist so even over chunky winter knits it gives a nice shape.  The asymmetrical zip is also bang on trend, and the pocket flaps add a bit of extra detail.
The jacket is extremely versatile, as it can be worn casually, but also styled up for a formal or evening look.  Today I wore it with a dip hem dress, leather look leggings and my heeled Dr Martens boots, but it would also look amazing with a pencil skirt and stilettos for a classic office look, with skinny jeans and a pair of black Converse for a day-to-day look, or worn over a gorgeous little dress on a winter night out.  An all-round fab little jacket that I know I'll get a lot of wear out of this season!
To view AngelEye's full range of clothing, you can visit their website here, or follow them on Facebook and Twitter.  I'll also be launching an exciting AngelEye fashion giveaway within the next day or so, so keep an eye out for that!
Naomi x
*This cropped jacket was sent to me by AngelEye for review purposes.  All opinions expressed are honest and my own.*
9
Yesterday was not only Valentine's Day but my 23rd birthday, and I was lucky enough to have the day off work to celebrate!  As is tradition, I woke up early to open my cards and presents, and in the afternoon I went for a lovely lunch with my family and partner, Charles.  After lunch, Charles and I walked into town for a wander round and to see the Richard III exhibition at the local museum, before heading home for birthday cake and a game of Balderdash.  It was a relaxed day, but I enjoyed it as I got to spend time with the people I love, and I was given some amazing gifts which I am extremely grateful for!  Here are a few photos from the day…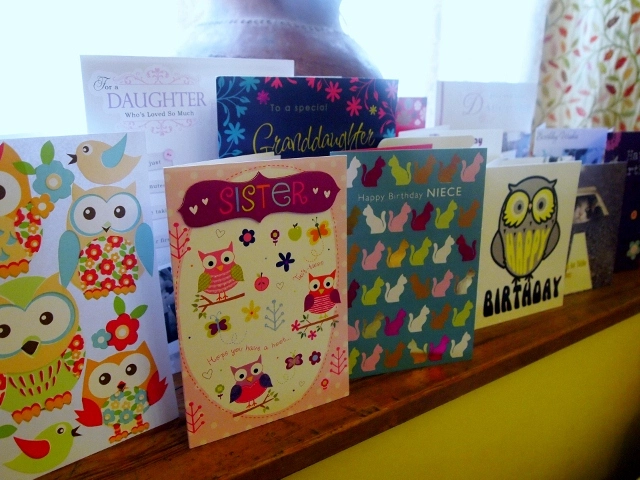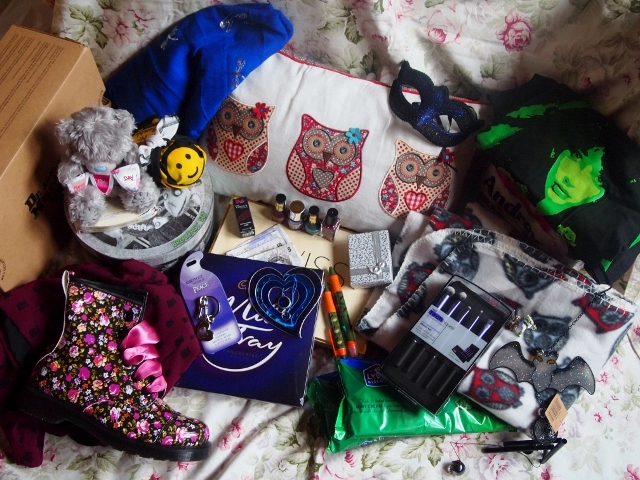 I was lucky enough to receive everything on my Birthday Wish List this year, and more!  Everything I was given is very 'me', and I have quite a few fashion and beauty items to review for you, including Layla, Miss Sporty and Barry M nail varnishes, Sleek Lipstick and Real Techniques make up brushes.  There was also a strong owl theme in my cards and gifts this year…  My mum even bought me a packet of owl print toilet roll as a joke!  Haha.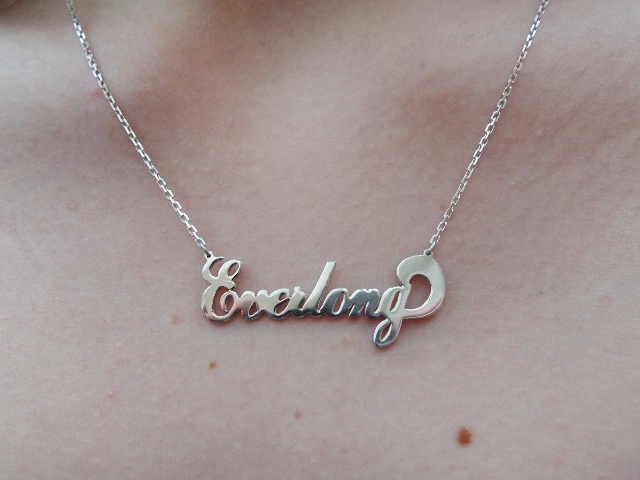 Charles surprised me with this absolutely beautiful silver necklace which says 'Everlong'.  Everlong by the Foo Fighters has been my favourite song for years, and when Charles and I got together it became 'our' song, so when I saw this I very nearly cried.  I love it so much and I'm going to treasure it forever!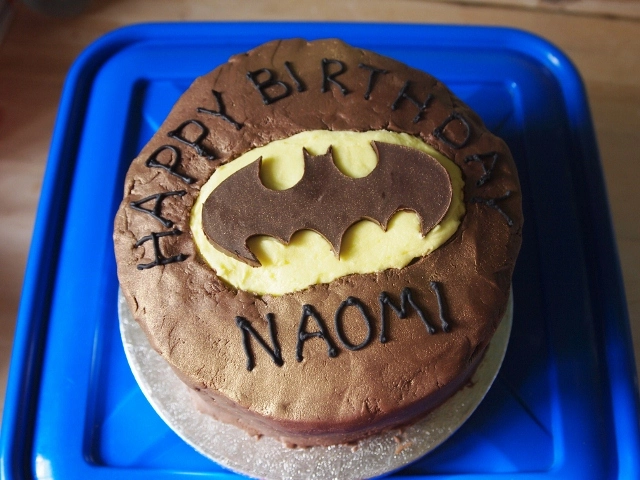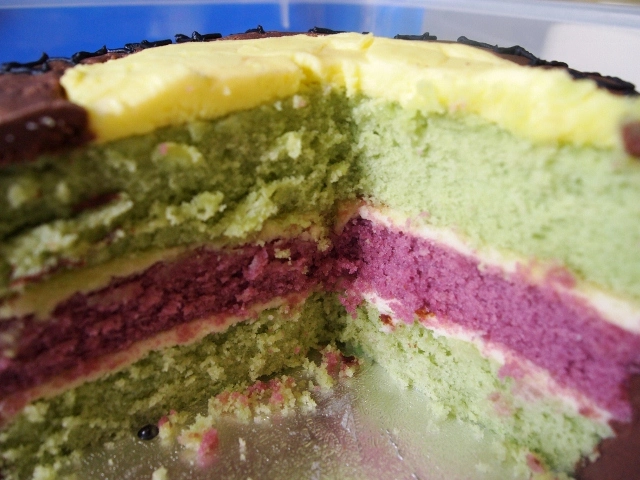 I'm a massive fan of Batman, and Charles' mum and sister baked me this amazing Batman cake.  The bat is made from dark chocolate, the icing is vanilla and chocolate buttercream, and the sponge inside is coloured green and purple like the Joker.  How cool is that?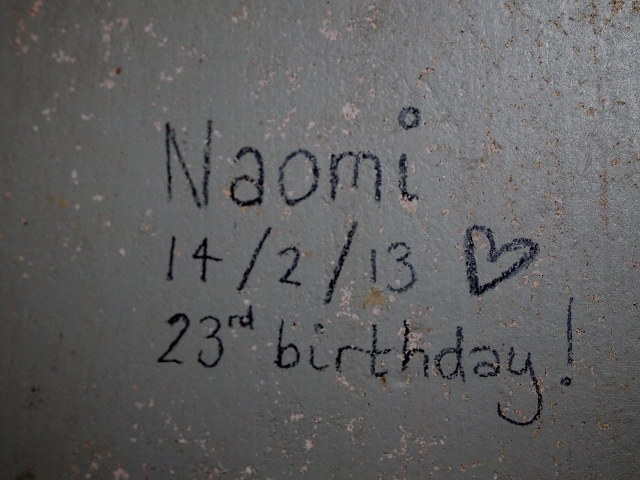 We are currently decorating our hallway and the walls were completely bare yesterday, so I decided to write a little note on the plaster for future generations to find one day when I'm old and grey.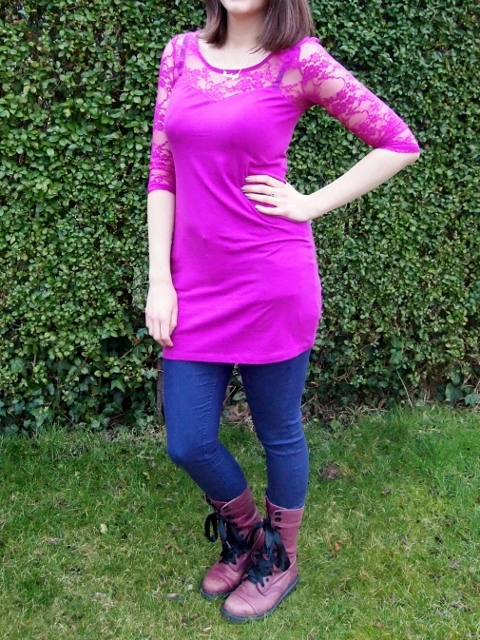 Seeing as I had a casual day, I decided to wear a casual outfit for my birthday.  I settled for a pink dress top with romantic lace sleeves and purple skinny jeans, both from H&M, and my trusty purple Dr Martens.  Oh, and my Everlong necklace of course!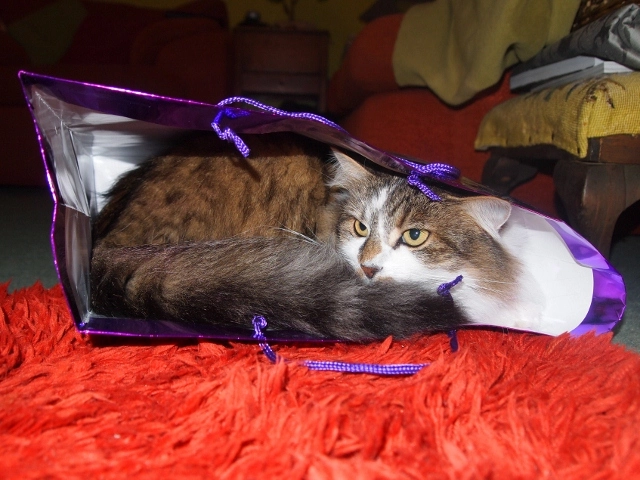 And true to kitty form, my cat Moth loved playing with all the wrapping paper and gift bags!
What did you do for Valentine's Day this year?  Did you get anything nice from your loved one?
Naomi x