Posts tagged
Facial
1
Not so long ago the lovely folks from Aldi's Health and Beauty team set me a challenge – to Swap & Save with Aldi.  I am currently saving for a deposit on a house, which means I have far less disposable cash to spend on beauty products, so I was more than happy to accept Aldi's challenge!  I received three skincare products to try out in place of my usual lot, all from the Lacura range; their Aqua-Complete Moisturiser, Aqua-Complete Multi Intensive Serum, and a large tube of Nourishing Hand Cream.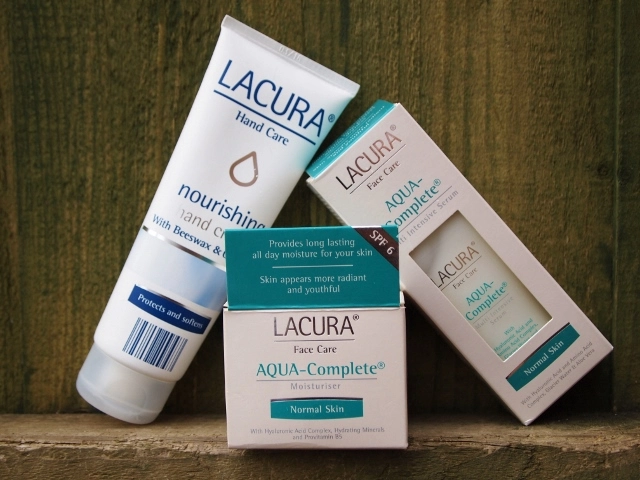 Here's what Aldi have to say about the Lacura range:
Lacura products are carefully formulated with the finest ingredients to provide the perfect daily skincare routine.  You can trust Lacura to gently care for your skin as each product is dermatologically tested.
I've been using all three products for over a month now, which I feel is enough time to comment on their effectiveness, so here are my thoughts on each.
With Hyaluronic Acid Complex, Hydrating Minerals and Provitamin B5.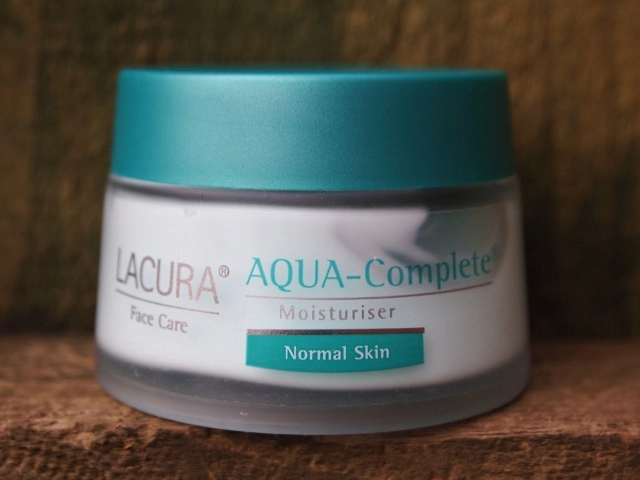 Aldi's Lacura Aqua-Complete Moisturiser has become my staple facial moisturiser for my morning routine. It has a lovely fresh scent and a light gel consistency, and I find that it creates an even base for make up, that keeps it in place all day.  It's actually quite similar to Nivea's Express Hydration Primer.
When I first started to use the cream it seemed slightly greasier than what I'm used to, which worried me as my T Zone can get quite oily. However, it absorbs quite nicely and leaves my skin looking and feeling healthy and dewy, rather than shiny.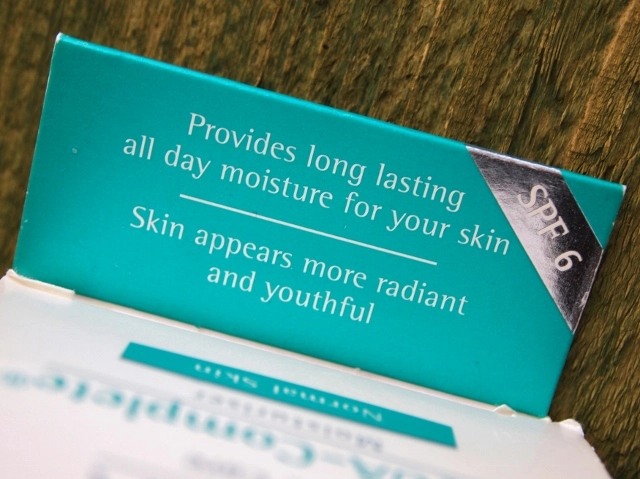 It has also been a great help to my skin throughout the winter months. I often get dry cheeks during the cold weather, but the moisturiser has kept that at bay this year, and as the packaging states it 'provides long lasting all day moisture'. I'm interested to see how it will work with my skin in the summer now, as it has an SPF of 6 so will provide some protection from the sun.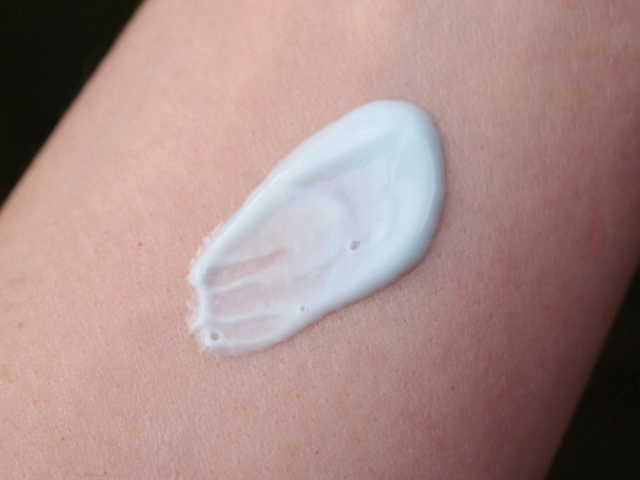 I think I'll be adding this one to my repurchase list, and I may even give the Lacura RENEW Night Cream a go too!
With Hyaluronic Acid and Amino Acid Complex, Glacier Water and Aloe Vera.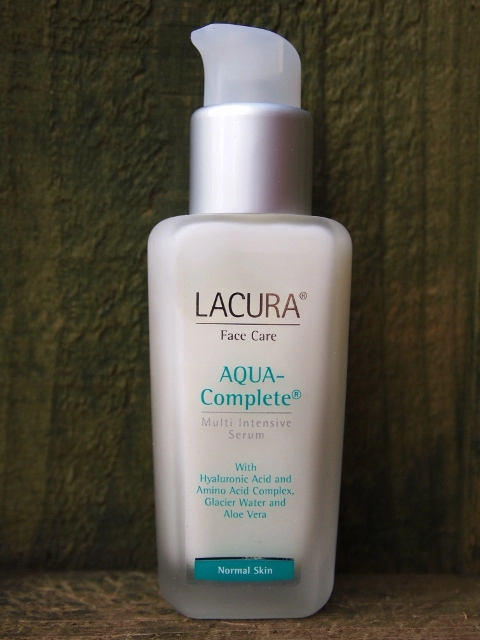 I'm fairly new to using serums and hadn't been wowed by any I'd tried… until this one.  At £3.49 the Lacura Aqua-Complete Multi Intensive Serum is the most expensive product of the bunch, but it's still amazingly affordable.  I mean, where else can you buy a good face serum for less than a fiver?!  The serum is aimed at people aged between 20-35, so it's perfect for my 24 years, and is supposed to make the skin appear 'more radiant and youthful'.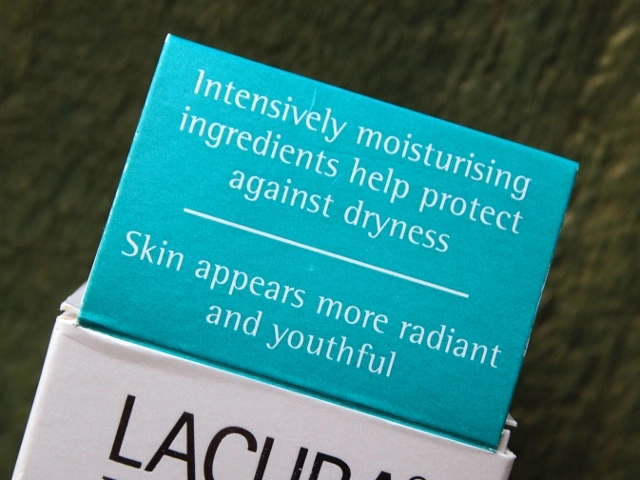 The serum itself has a strange formula.  It looks light, but feels rich, and it transforms into the silkiest, smoothest layer on the skin, and is quickly absorbed.  It really is an absolute pleasure to use, and feels comfortable, leaving your skin visibly smoother and plumper.  In that respect, it definitely gives a more 'youthful' appearance.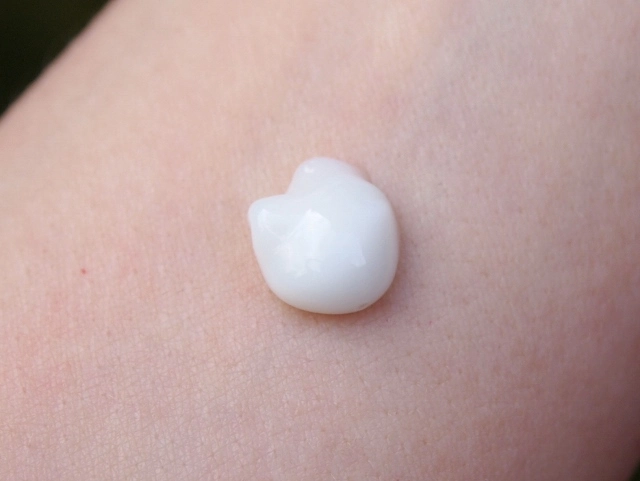 I have combination skin, so I was slightly dubious about trying a serum made for normal skin, but it actually seemed to create a balance; moisturising the dry areas whilst mattifying the oily areas.  Two pumps of product is all it takes to cover the whole of my face, neck and chest as well.  I think I'll be repurchasing this one.
With Beeswax and Glycerine.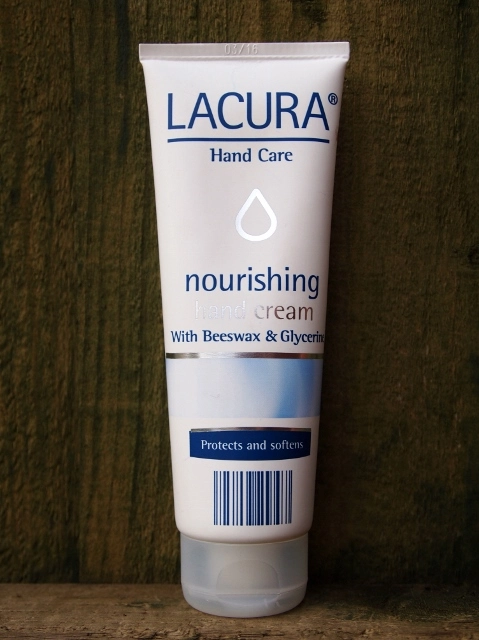 I suffer from very dry hands in the winter, and it has taken me a long, long time (literally years) to find a product that actually helps, so I was a bit reluctant to give it up for this.  Aldi's Nourishing Hand Cream is a basic beeswax and glycerine lotion, but it's surprisingly silky, and not in the slightest bit greasy.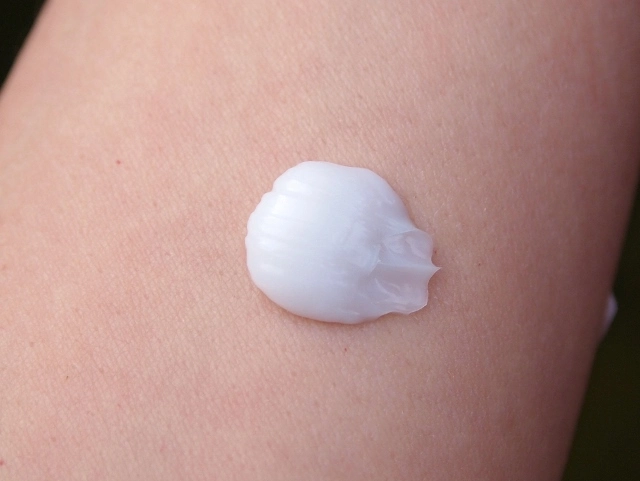 The cream absorbs nicely, and is quite softening, but it just isn't intensive enough for my skin.  Having said that, at 75p I'm still quite impressed, and I'd perhaps use it more as a summer hand cream when my hands aren't as dry.  I'd definitely recommend it if you have skin that isn't overly troublesome though.
Overall, I think I've been convinced to Swap & Save with Aldi when it comes to facial moisturisers and serum, but unfortunately the dry skin on my hands means I need something a little bit more intensive at the minute than the Lacura hand cream.
If you want to check out the Lacura skincare range for yourself, you can visit Aldi's website here, or visit your local store!
Naomi x
*These Lacura Skincare products were sent to me by Aldi for review purposes.  All opinions expressed are honest and my own.*
0
A few weeks ago I was very kindly offered a product to try from a natural skin care brand called sienna wood.  The product I was sent is called Rhassoul Clay Regenerating Facial Treatment – something I wasn't familiar with before, but I am now using on a regular basis when I want to give my skin a deep treatment.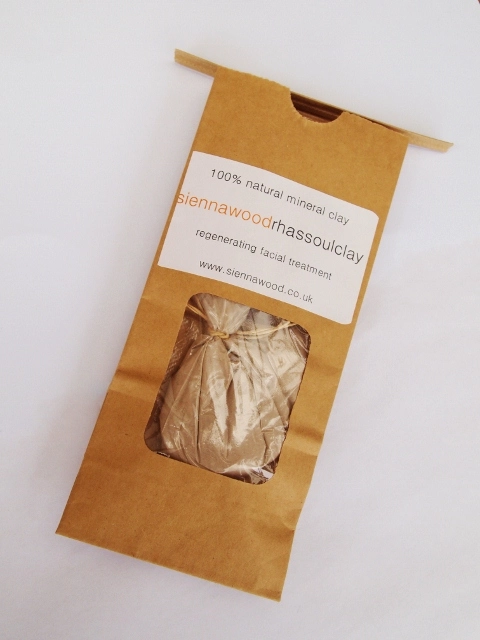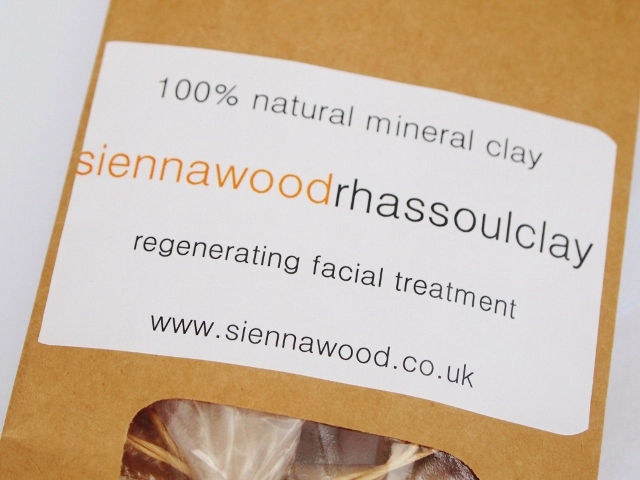 The clay comes packaged in an uncomplicated brown paper bag which suits the natural simplicity of the clay itself, and can also be recycled, so it's ethical too.  Rhassoul Clay is a light reddish-brown, and comes in a fine powder form so it can be easily mixed with water.  It is sourced in Morocco, and contains a combination of minerals, such as silicon and magnesium, which makes it perfect for making skin healthier.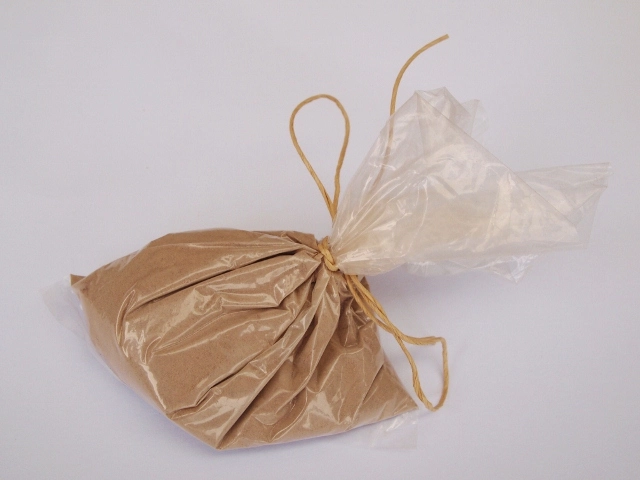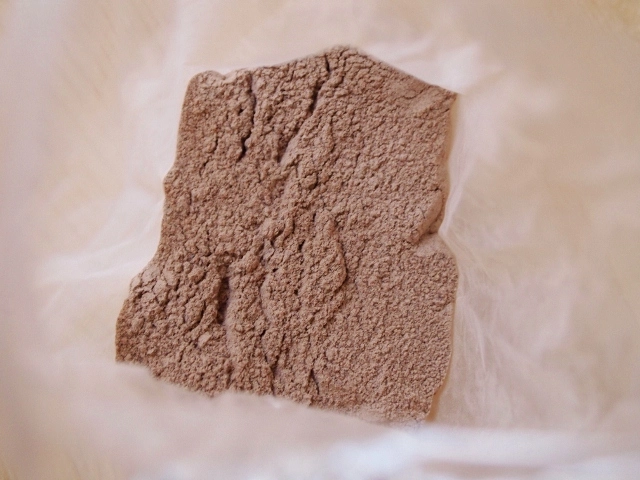 Rhassoul Clay can be used as a cleanser or face mask when mixed with water, or rosewater.  I initially found it really difficult to get the clay to the right consistency, but I've found that a little goes a long way and, as a rule, a quarter of a teaspoon mixed with a couple of teaspoons of water is ideal as a cleanser.  Or, for a mask, use a full teaspoon of powder with a similar quantity of water.  Once mixed, leave the paste to hydrate for a few minutes before using.
My favourite way to use sienna wood's Rhassoul Clay is as a cleanser, as it's fuss free but gives amazing results.  All you need to do is massage the cleanser in to damp skin before rinsing off with warm water.  The clay has a silky smooth texture that is a pleasure to use as it feels luxuriously lovely on the skin, and it does its job incredibly well.  After use, my skin always feels really refreshed and clean, and very soft, but without the tightness I usually experience with unnatural cleansers.  Furthermore, the clay has no scent and contains no nasty chemicals, so it is really gentle on my sensitive skin.
Sienna Wood Rhassoul Clay is available online and costs £3.49 for a 50g bag.  Considering the small amount you need for one use, a bag will last a fairly long time (at least a few months), so it is excellent value for money.  Sienna Wood also sel Argan Oil Hair Treatment and Face Treatment, both of which cost just over £5.00 each, so they're definitely worth checking out too.
Have you ever used Rhassoul Clay?  What did you think?
Naomi x
*I was sent this sienna wood Rhassoul Clay by sienna wood beauty for review purposes.  All opinions expressed are honest and my own.*
8
A few weeks ago I started to experience unsightly breakouts on my face, particularly around my jaw line, and nothing I tried seemed to make them go away.  Even the medicated gels that my doctor prescribed did nothing but make my skin feel sore and dry!  So, when I received a set of face care products in the post from Purity Organic Skincare I didn't expect them to do much for me, but two weeks on my skin has improved more than I could have hoped.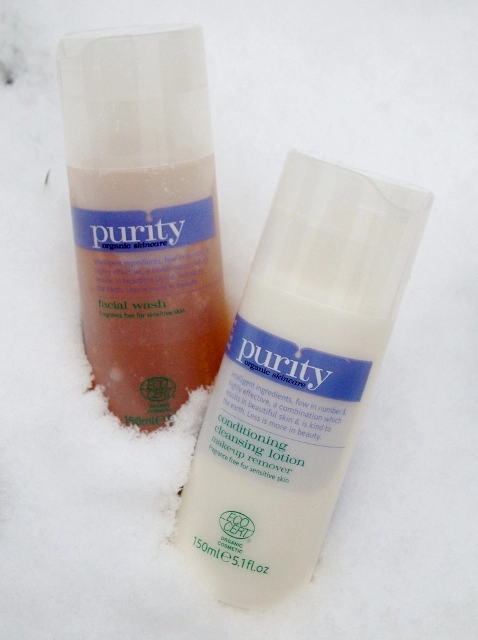 Purity Organic Skincare are a British brand who focus on using hard-working and sustainably grown ingredients to create gentle but effective skincare products, which are also affordable, using the tagline 'Less is more in beauty'.  Most of their ingredients are organic, and the brand is officially EcoCert certified, vegetarian and does not support animal testing, so they are all round skin, animal, environment and purse friendly – what more could you ask for?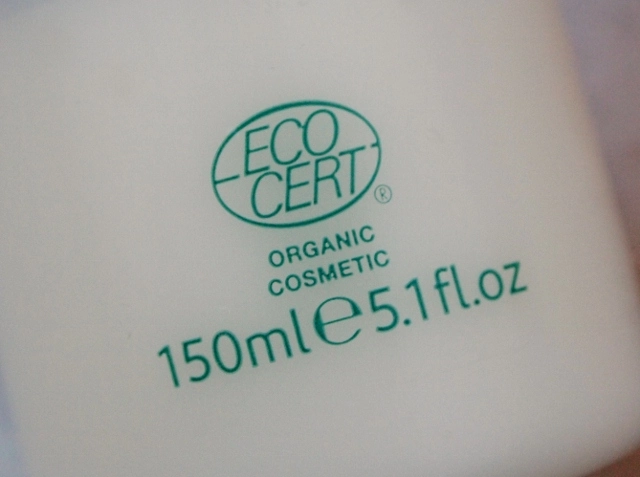 The two products that I was sent to review are Purity's Facial Wash and Conditioning Cleansing Lotion, which both come in Purity's characteristically simple packaging.  Here are my experiences of both so far…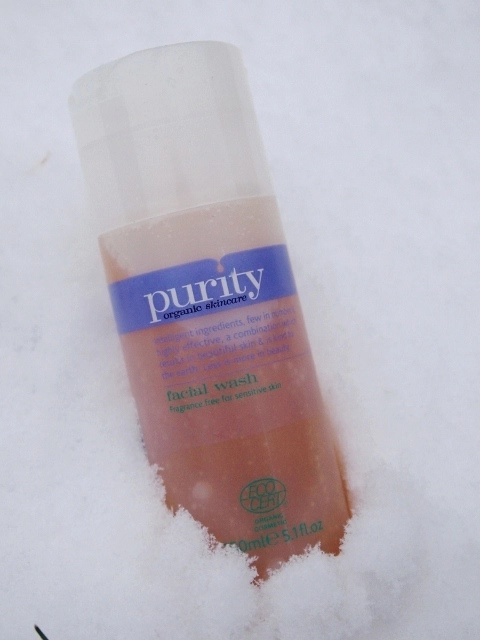 I use Purity's Facial Wash every morning whilst in the shower, and it adds a lovely bit of luxury to my morning routine.  The wash contains a mixture of natural ingredients, including sweet almond oil for moisturisation and aloe vera to soothe the skin, and is fragrance free so is suitable for sensitive skin, which is excellent news for me!  I find that the wash has quite an oily consistency, but if you rub a coin sized amount between your hands before use it warms up and develops into a light foam which is enough to cover your whole face, and feels gorgeously silky when massaged into the skin.  Despite the oil, the wash washes off with no trouble and leaves no greasy residue on the skin, and doesn't go the other way and dry the skin out either.  Rather, it leaves the skin feeling refreshed, clean and incredibly soft.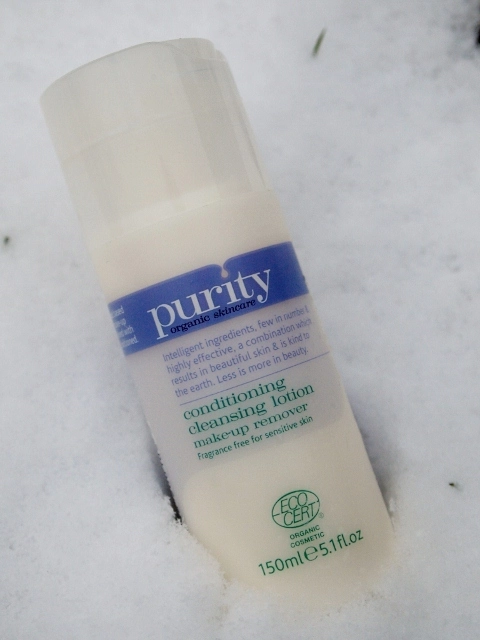 Every evening, before I go to bed, I remove my make-up using Purity's Conditioning Cleansing Lotion.  The cleanser has a creamy texture which acts as a moisturiser and, like the facial wash, has no fragrance.  The main ingredients derive from coconut and avocado oil which cool the skin, and were specifically chosen for their abilities to break down make-up and dirt.  To use, you just need to massage a small amount of the cleanser onto the face and neck before removing it with a clean cotton pad, and believe me when I say it does its job very well!  The cleanser I used to use never fully removed everything from my face, so when applying toner there would still be make-up coming off on the cotton pad, but this gets rid of everything in one go.  The only downside is that it can't be used to remove eye make-up, so I've had to continue using my usual one, but I would switch to Purity straight away if they did launch an eye make-up remover!
Combined, these two products have worked miracles on my problem skin.  I put the breakouts down to the overuse of scented products packed full of harsh chemicals which irritated my skin, and the gentle but effective ingredients in the facial wash and cleansing lotion have sorted that right out.  Though my skin still isn't perfect, it looks a LOT clearer and feels a lot smoother, which has seriously boosted my confidence.
Purity Organic Skincare's products are available online and in Superdrug stores across the UK, and are extremely affordable, ranging from £4.99 to £8.99 each.  I really can't recommend the brand highly enough as their products actually work and have sorted my skin out in no time at all – thank you, Purity!  I am definitely going to be repurchasing both the facial wash and cleanser, and will be investing in the moisturiser too.
Naomi x
*The Purity Organic Skincare Facial Wash and Conditioning Cleansing Lotion were sent to me by Purity Organic Skincare for review purposes.  All opinions expressed are honest and my own.*