Posts tagged
Gloves
6
Well!  After weeks of preparation – shopping, cooking and decorating – Christmas Day has been and gone, and we're all probably a few pounds heavier than we were this time last week!  I hope you all had a wonderful time, celebrating in your chosen way with the people you love, and I hope Santa brought you everything you wished for.  I personally had a great time!  The highlight of Christmas for me is playing games and doing quizzes with my family, and they were definitely done in abundance.
Christmas isn't just about the presents, but I got some really lovely fashion and beauty related things this year, so I thought I would share them with you today.  I also got a lot of chocolate, baking equipment, geeky stuff (including a bat detector which I've been wanting for AGES) and books – my friends and relatives know me well!
So, here are some of my Christmas gifts.  Apologies for the strange colouring in a few of the photographs…  They were taken in bad lighting!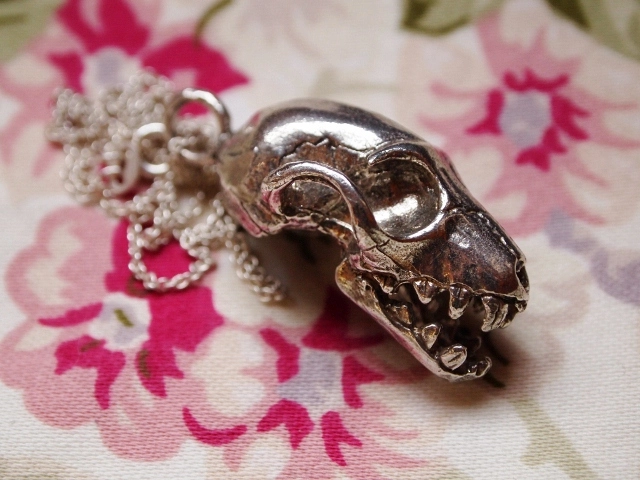 My dad bought me this absolutely beautiful sterling silver Bat Skull necklace.  He mentioned that he got it from Etsy and it was handmade in New York by an obviously very talented maker.  I instantly fell in love with it when I opened the box, and in my surprise I ended up dropping the box in my mug of tea, woops!  I adore bats so I am going to treasure this piece.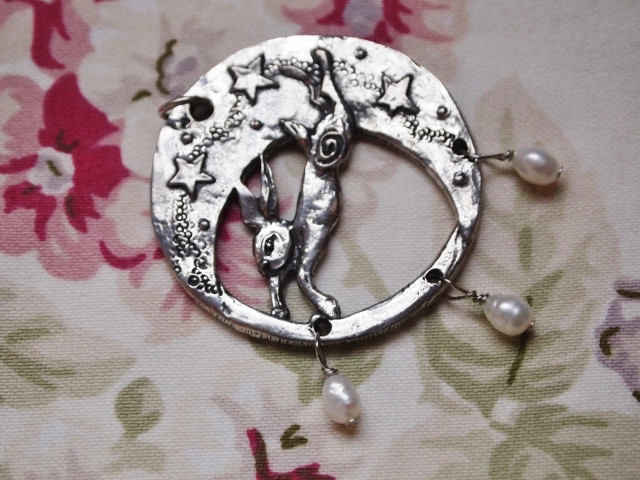 I also love hares, so my dad gave me this large pewter moon hare pendant as well.  Isn't it stunning?  I need to find a chain for this pronto so I can start wearing it.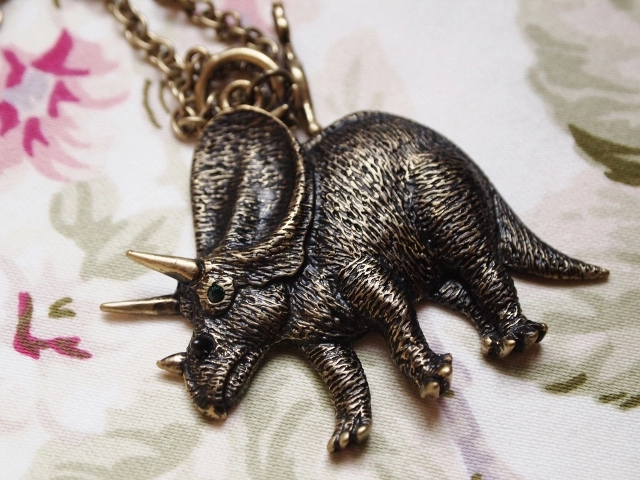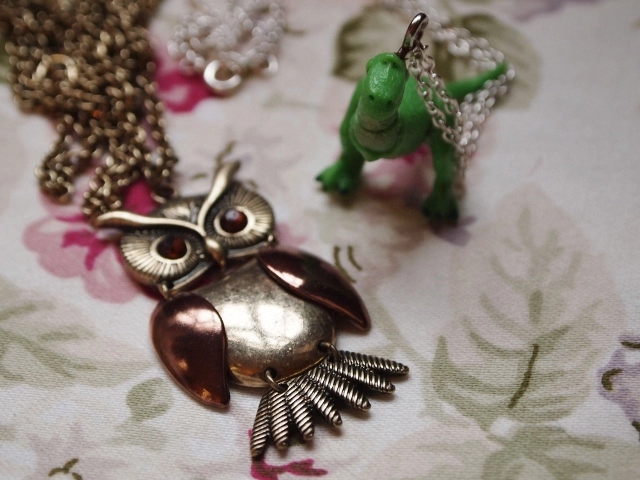 The dinosaur at the top was from my sister, Rex from Toy Story was from my fiancé, and the owl was from my fiancé's sister.  Owls, dinosaurs and necklaces are a few of my favourite things, so I was very pleased to receive all three of these beauties.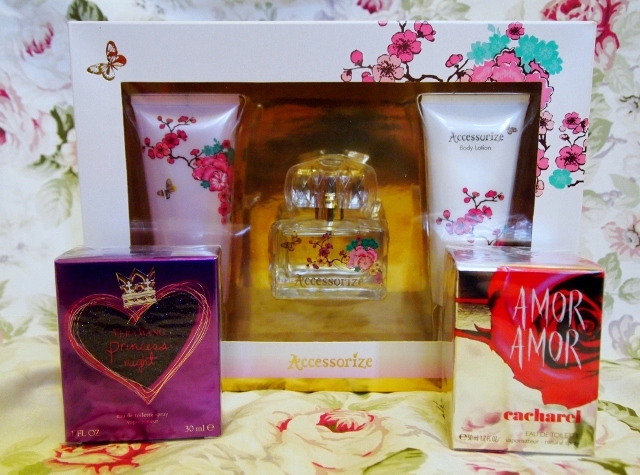 I received three different perfumes this year, all of which are replacements for perfumes I already have.  Cacharel's Amor Amor (one of my all time favourites), Vera Wang Princess Night, and an Accessorize Gift Set.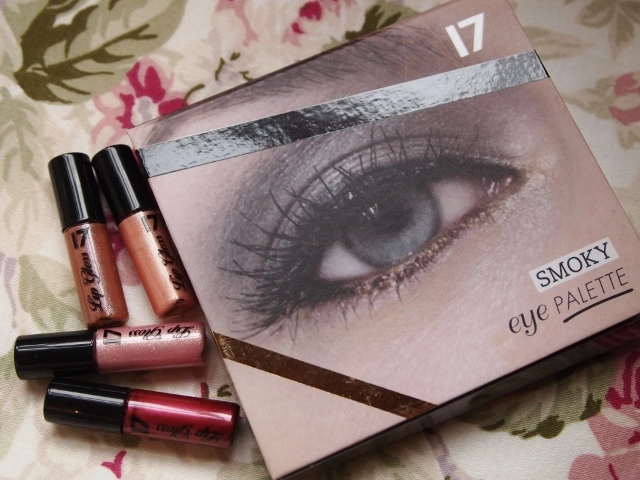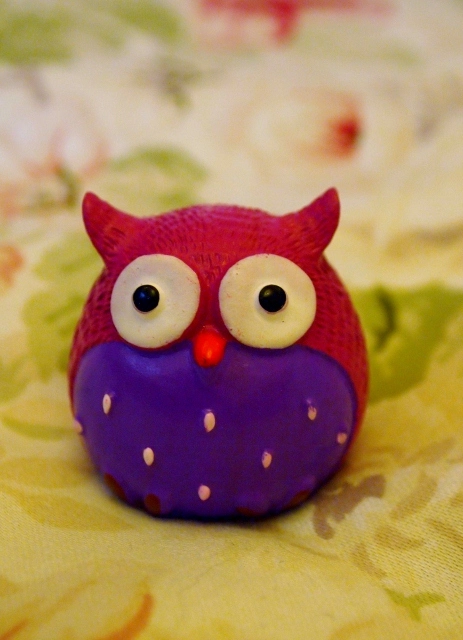 I didn't get much make up this year, but my cousin gave me 17's Smoky Eye Palette and a few little 17 lip glosses.  The red gloss is gorgeous!  The guy at the bottom is a rather cute owl lip balm.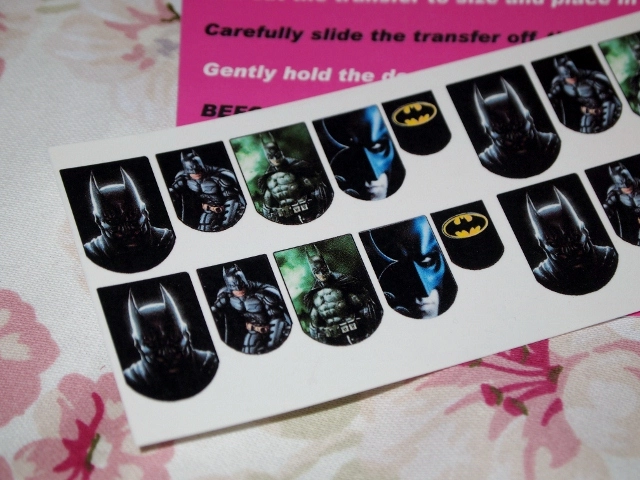 How amazing are these?!  My fiancé's sister gave me these Batman nail transfers.  I was so excited when I opened them and I cannot wait to give them a go.  Definitely expect a review of these soon.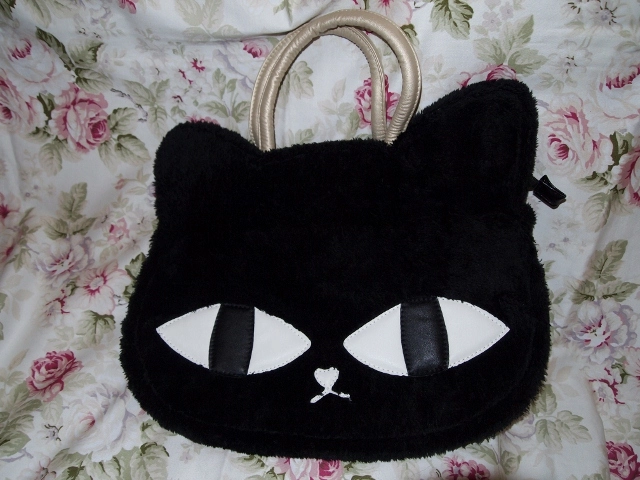 This cat bag from my mum was one of my favourite gifts this year.  It's big and furry and very soft – it needs to stop raining now so I can use it!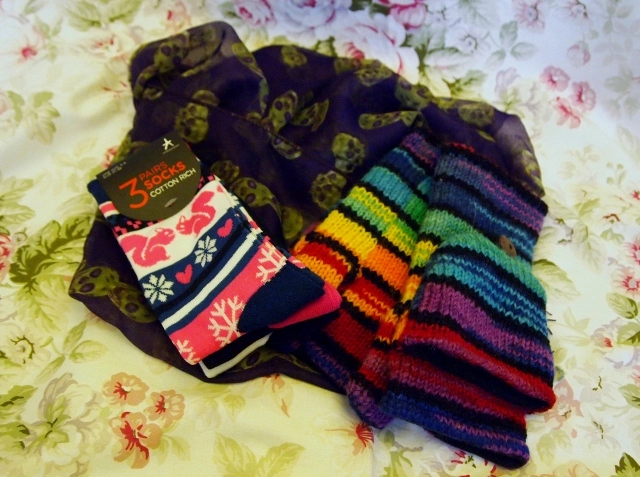 Christmas wouldn't be Christmas without a scarf, gloves or socks, and this year I got all three.  The scarf is purple with green skulls and is nice and light – ideal for spring.  The socks have squirrels on them, one of my favourite animals, and the rainbow mitten gloves are SO SNUGGLY – win!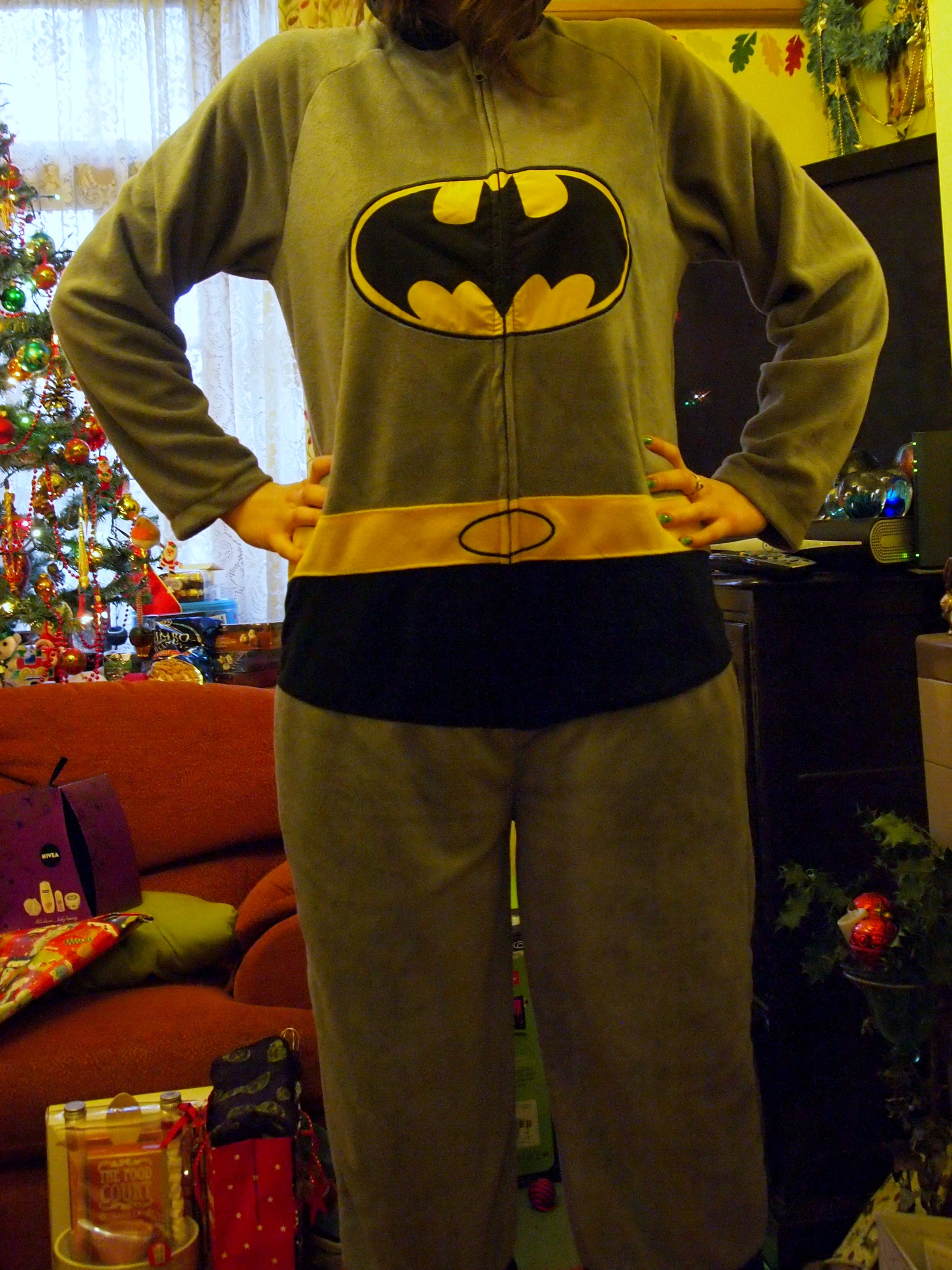 Not the best photo in the world but my mum got me a BATMAN ONESIE!  Amazing, right? <3
A massive thank you to everyone who spoilt me this year, I am extremely grateful.  Did you get anything fashion and beauty related for Christmas this year?  I'd love to see your hauls too!
Naomi x
1
After months of moisturising my hands several times a day using Avon Care's Intensive Moisture Dry Skin SOS Hand Cream and Skin So Soft Soft & Renewed Age-Defying Overnight Corrective Hand Treatment, I decided that it just wasn't enough.  My hands were definitely feeling a lot softer, but the creams just weren't getting to the root of the problem.  A combination of cold winter weather, regularly cleaning the house and washing my hands with liquid soap had left the backs of my hands really quite rough, and once the hand cream had washed or rubbed off, my hands still felt dry.  I decided that further action was needed so I bought a pair of basic moisturising gloves, or dermatological cotton gloves, from eBay for £1.85.
Moisturising gloves are thin, cotton gloves which are worn overnight, after moisturising, to help with the absorption of lotion.  On my first night of use, I applied a generous amount of the previously mentioned Skin So Soft treatment, donned the gloves, switched off the lights and went to sleep.  I was expecting the gloves to be uncomfortable and I thought I'd end up taking them off in the middle of the night, but surprisingly they stayed on (although I did look a little bit like Michael Jackson, circa 1985)!  Rather disappointingly, my hands didn't feel much different the next morning, but I didn't give up.
The next night I went through the same routine, but rather than using the Skin So Soft cream, I used the Intensive Moisture SOS Hand Cream as it is a very rich emollient so takes longer to absorb.  I wasn't expecting miracles but, amazingly, my hands looked and felt so much better after just one treatment.  For the next three nights I used the gloves and SOS cream religiously.  Admittedly, I ended up taking the gloves off once or twice in the early hours as my hands were too hot, but that didn't change the fact that THESE GLOVES ACTUALLY WORK!!!!
I am so impressed by these simple cotton gloves.  After less than a week of use, my hands are in much better condition than they have been for months, if not years.  They no longer look chapped and rough and they feel silky soft morning until night, whether I use any cream or not throughout the day.  My knuckles often used to look red and sore but they're pretty much normal now.  I'm slightly annoyed that I don't have any before and after photos as I want you all to see the difference they have made to my skin.  Who would have thought such a cheap and easy product and routine could have such an outstanding effect?  Cotton moisturising gloves are my new beauty miracle and I urge you to try them!  Just make sure you choose a rich hand cream and apply liberally.
Have you had any success with moisturising gloves?
Naomi x
1
I've been on a bit of a spending ban lately (mainly out of necessity!) but I've still managed to acquire quite a few bits and bobs!  Admittedly, most of them have been freebies… They seem to be coming at me from all angles at the minute and, hey, I'm not complaining 😀  Here are some pictures of all my new stuff…
Avon

Being one of my absolute essentials, I bought a couple more pots of Avon Care Renewing Moisture Firming Face Cream as they were on offer for 99p to all Reps!
The Lip Gloss is from the Glazewear Sparkle range, in the amazing purple shade of 'Violetta Sparkle'.  This was in the clearance section for just £2.00 and I am SO disappointed that it has been discontinued as it is gorgeous.  I don't usually wear dark lip colours but this looks really lovely on, lasts for ages and moisturises your lips nicely.  It is full of micro-glitter too for added twinkle!
The foundation is Avon's Ideal Shade Cream to Powder Foundation in 'Ivory'.  I already have this a shade darker but I have quite a pale complexion so this is more suited to my skin.
The little tube on the end is my go-to concealer, Colortrend Perfect and Hide Concealer in 'Light'.
Purchases

The Dermatological Cotton Gloves were £1.85 from eBay.  I'm trying my damn hardest to sort out the dry skin on my hands and these will be my next experiment!
The Star Gazer Nail Varnishin the middle was a little present from my dad whilst we were out shopping yesterday.  It was £1.25 from a local hippy shop, and is black with silver glitter.  I have swatched this and will be reviewing it tomorrow!
Again, I bought the Vaseline Healthy Hand & Nail Conditioning Lotion in order to sort out my hands and nails.  It was £2.62 in Wilkinsons, which is a lot cheaper than anywhere else!  Also, the small 50ml tube of this was £2.48 so you're getting a bargain for the price.
I bought the Daisy Belts at the bottom of the photograph yesterday from New Look, and they were on offer… £3.00, down from £4.99.  Bargain!
Freebies

I was handed a full sized packet of new Andrex Washlets in the local shopping centre recently.  I then joined the Andrex Clean Campaign via Facebook and ended up winning 3 prizes!  My Dirty Works Shower Gel and Kleenex Make Up Remover Wipes are yet to arrive, but the bottle of Fenjal Creme Bath Oil that you can see was one of my prizes
The Decleor Aroma Cleanse with Cloth is my favourite freebie of recent weeks.  To get one, all you had to do was share their link on Facebook and then email them your address.  I did that and received the sample a couple of days later.  The tube is a generously sized 15ml and I was surprised to receive the cloth too.  Facebook really is the place for free stuff, it would seem!
I was also sent a sample of Garnier's BB Cream, a half sized tube ofSensodyne Rapid Relief anda 3 day trial of Nivea Q10 Pore Refining Day Cream.  I've also been sent samples of other foundations, moisturisers and BB creams lately but I can't find them at the minute!
I hope you've all had a great week!
Naomi x