Posts tagged
Leather
2
I was recently given the opportunity to choose a pair of boots to review from a brand called DUO Boots.  DUO Boots specialise in 'beautifully tailored design', selling high quality, women's boots and shoes, all of which are hand crafted and made-to-measure, to bring you perfect fitting boots whatever your size.  I practically live in boots, whether they're shoe boots, ankle boots, chunky boots or high boots, so I was really excited to take my pick of the site!  After much deliberation and changing my mind, I finally settled for a pair that are unlike any other pair of boots I have ever owned, the Helvin Fitted Knee High boots in granite black, and I am extremely pleased with my choice.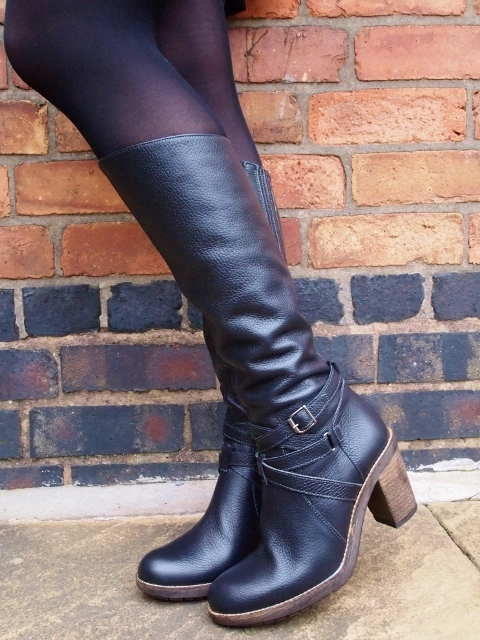 What first drew me to the Helvins was their shape and unusual ankle detail.  They are cut asymmetrically at the top which looks really elegant on the leg, and the criss cross buckle straps give them that Gothic, Edward Scissorhands-esque look that I absolutely love.
The boots are crafted from granite black leather which, from its soft, supple texture to its flawless appearance, oozes quality.  I'm really into black and leather this season, and have been having a lot of fun experimenting with textures rather than colours, and these boots have been (and will continue to be!) a fantastic addition to my Autumn/Winter wardrobe.  They're warm, stylish and very versatile, looking great with short or long dresses, but also with skinny jeans.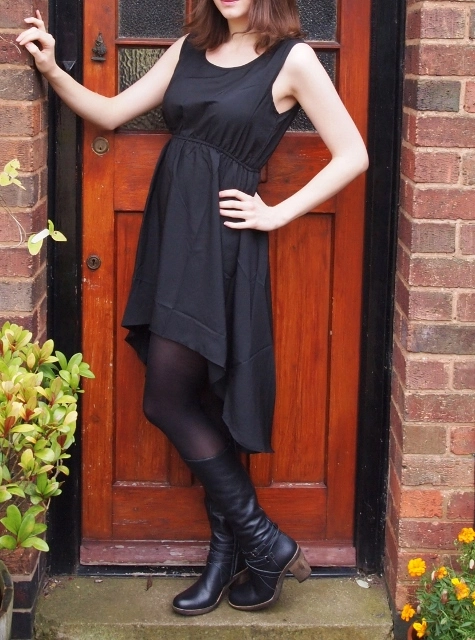 The heel height on these boots is 7.5cm, so they're extremely easy to walk in, aided too by the fact that they have a block heel, and cushioned insoles.  They also fit perfectly as they (and all of the other boots on the site) come in a range of shoe sizes and calf fittings.  There's even a video guide available to help you measure your calves, so you'll always get the right size – ideal when you're ordering online and can't try them on!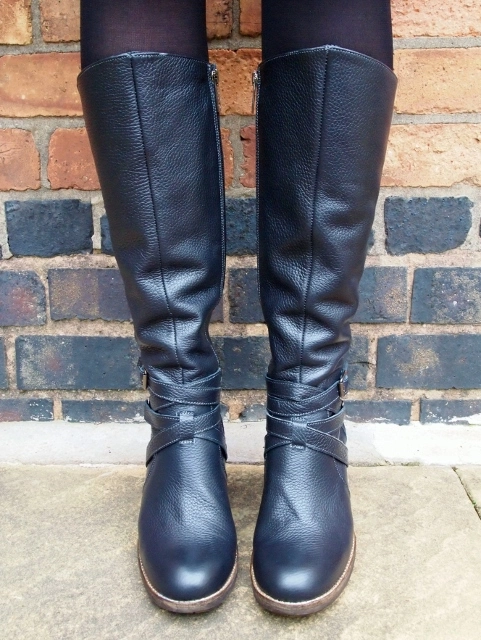 Being leather, it's essential to care properly for your DUO Boots, and they came boxed with a leaflet of care instructions.  I spray all of my leather boots with a leather protect spray to prevent them scuffing or fading, but they also need a polish every now and then to keep them looking new.  In terms of storage, I like to keep my shoes and boots in their boxes, but DUO sell boot trees for knee high boots so you can store them upright so they keep their shape.
Overall, I am incredibly impressed with my Helvins from DUO Boots.  They're classy, beautiful and versatile, I feel amazing when I wear them, and they feel that extra bit special as they're tailored to fit me.  The Helvin boots are available in black or rust brown, and retail for £185, which for such a quality pair of boots is an excellent price.  You can check out the rest of DUO's wonderful range of boots here.
Naomi x
*These Helvin Fitted Knee High boots were sent to me for review purposes.  All opinions expressed are honest and my own.*