Posts tagged
Outfit
0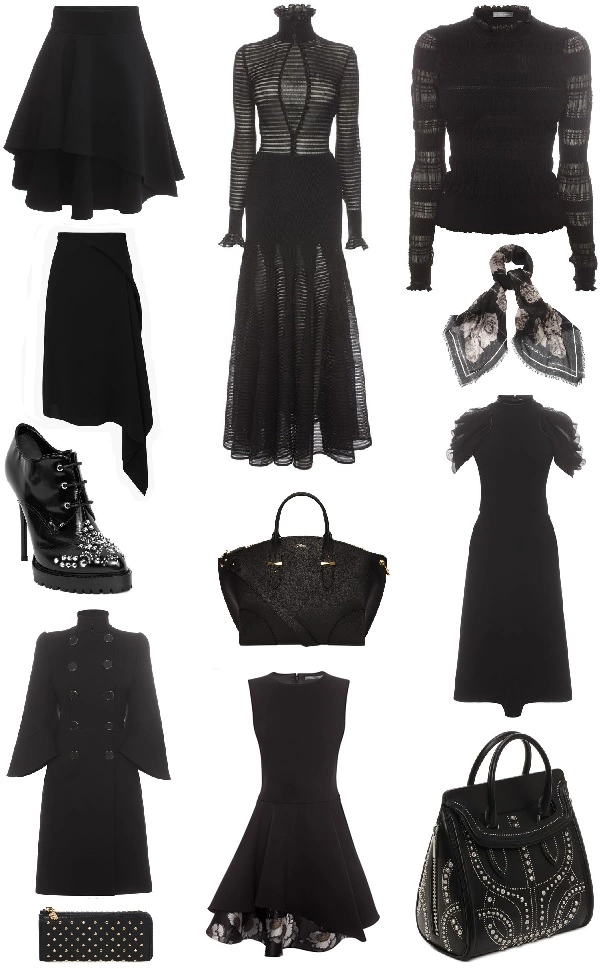 Folded Drape Mini Skirt / Ladder High Neck Dress / Rouched Knit Crew Neck Jumper / Long Handkerchief Skirt / Silk Chiffon Creased Roses Scarf / Studded Heeled Bootie / Legend Bag / Draped Sleeve Flare Dress / Petal Sleeve Double Breasted Coat / Studded Continental Wallet / Folded Drape Mini Dress / Studded Heroine Bag
I've always been more of an Autumn/Winter fan than a Spring/Summer one (which is probably just as well considering I live in chilly little England!), so although I'm enjoying the longer days, blue skies and lush landscapes of the current months, I can't help but get a little bit excited about the up and coming Autumn/Winter collections from my favourite shops and designers.  Walking around the Highcross last week, I've already started to notice a slow trickle of thicker fabrics and darker colours coming in and, much to my delight, Alexander McQueen have also just launched their Pre Autumn Winter 2015, and Autumn Winter 2015 collections.  There are some absolutely stunning pieces in both collections, but unfortunately I'm far too poor to afford any of it!  So I thought I'd share with you my McQueen Autumn/Winter wishlist, so that you can see how beautiful it all is, but also so I can come back to it during the end of year sale to remind myself of what I want, in the hope that I will then be able to afford it!
Which is your favourite piece?
Naomi x
1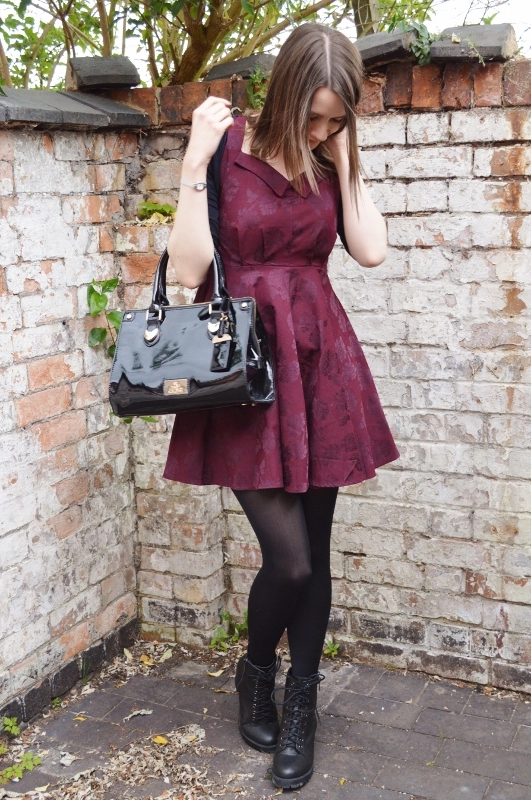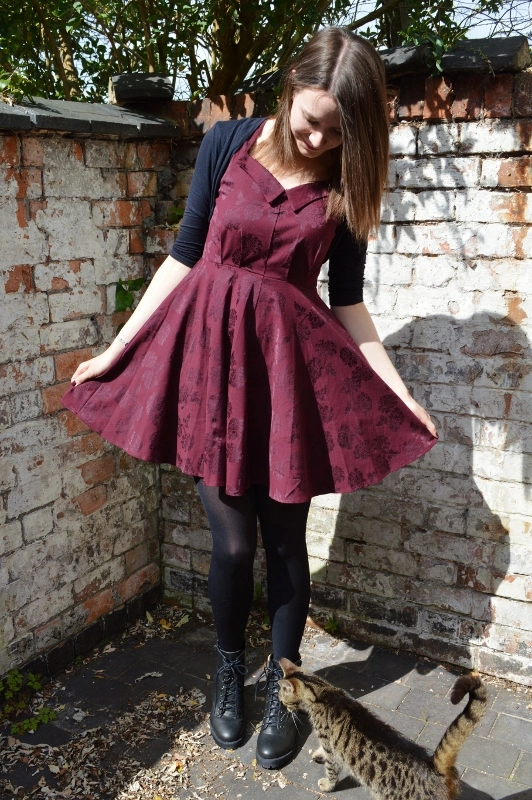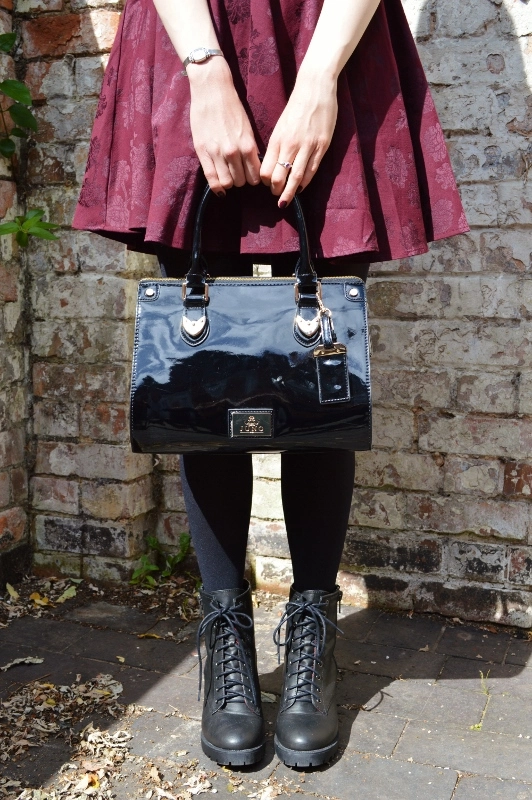 Connection Burgundy Dress / George Black Shrug / Primark Tights / Blonde + Blonde Lace Up Block Heel Boots / Juno Black Patent Grab Bag / Le Chat Marcasite Watch
On Sunday I went out for a lovely meal with my in-laws, to celebrate Charles' Grandma's 90th birthday.  We went to The Grey Lady in Newtown Linford, and had a private room for twelve to enjoy our delicious three course lunch.
I decided to wear something colourful for a change, so I went for this gorgeous burgundy dress that I bought from Everything5Pounds a little while ago.  Considering it was so cheap the quality is fantastic, and I adore the subtly patterned floral fabric.
Of course, I had to get some black in there somewhere, so I teamed it with black tights and a black shrug from George (it was a bit chilly out!), my Blonde + Blonde boots, which are becoming a wardrobe staple of mine, and one of my favourite bags.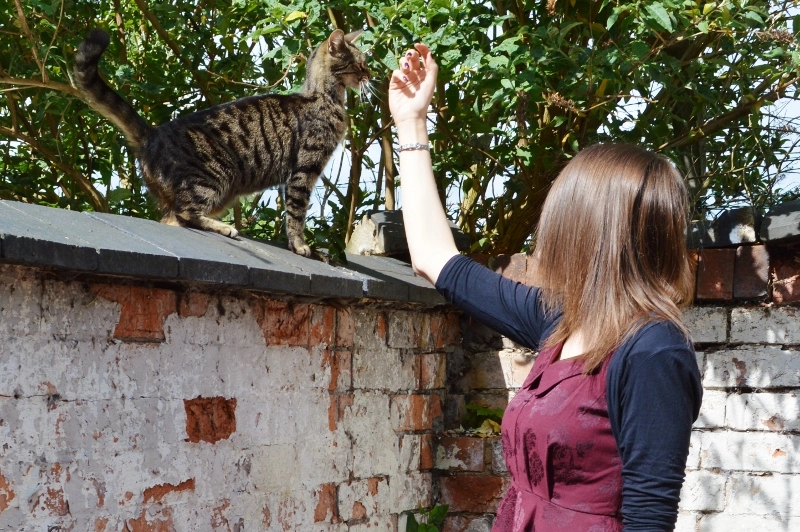 You might have also spotted our neighbour's little kitty, who likes to photobomb when I take outfit photos!  She's the cutest.
Naomi x
5
Per Una Crochet Long Top (Thrifted) / Primark Basic Vest / Primark Black Skinny Trousers / Blonde + Blonde Lace Up Block Heel Boots / Four Beautiful Keys Moon Necklace
The last few days have been warm enough to go out without a coat or jacket, so today when Charles and I headed out for lunch, I decided to wear something with a bit of detail that wouldn't be covered.  I'm still not quite over my winter passion for layering, so this long crochet top by Per Una seemed like the perfect transition item.  I picked this up for £1 from a carboot sale a few weeks ago, as you probably saw in my latest thrifty finds post, and it's so comfortable and light.  I adore the long bell sleeves with their mandala-type crochet patterning, and the length of the top is really flattering.
I needed some new black skinnies for Spring, but wanted something lighter than denim, and these Primark trousers are ideal.  I found them in the jeans section, but they're actually made of a soft stretchy fabric.  They fit really well too, which is a big thing for me as I have long legs so usually struggle to find trousers that are long enough for me, but these are fine!
The lace up boots are also new, and were an amazing find.  I was strolling through the local shopping centre a few weeks ago, with no intention of buying anything, but happened to spot them in the window of BANK.  The shop was having a closing down sale, and these babies were discounted from £38 to just £7.60!  Lucky for me, despite the shop being almost empty, there was one pair left in my size, so it was meant to be, especially as I've been after some laced block heel boots for MONTHS.  Winner!
Naomi x
0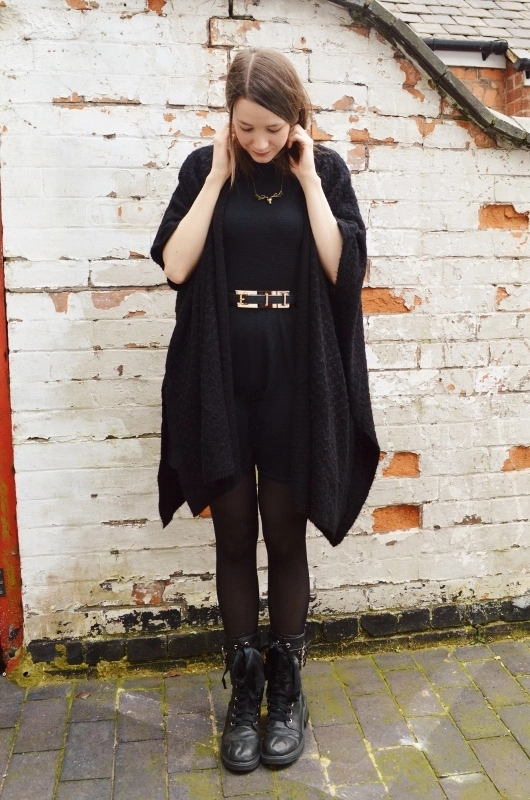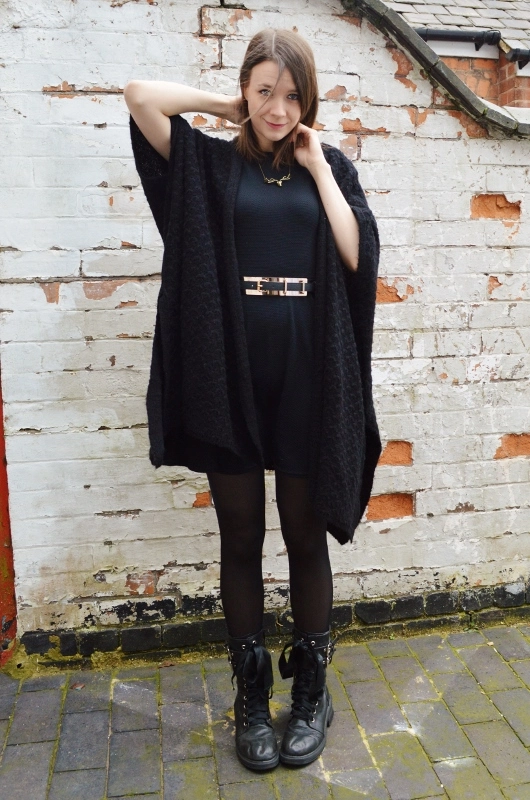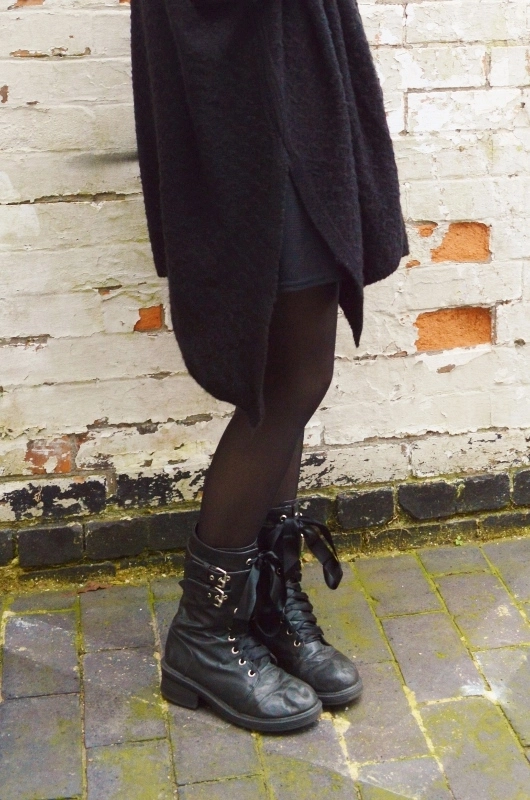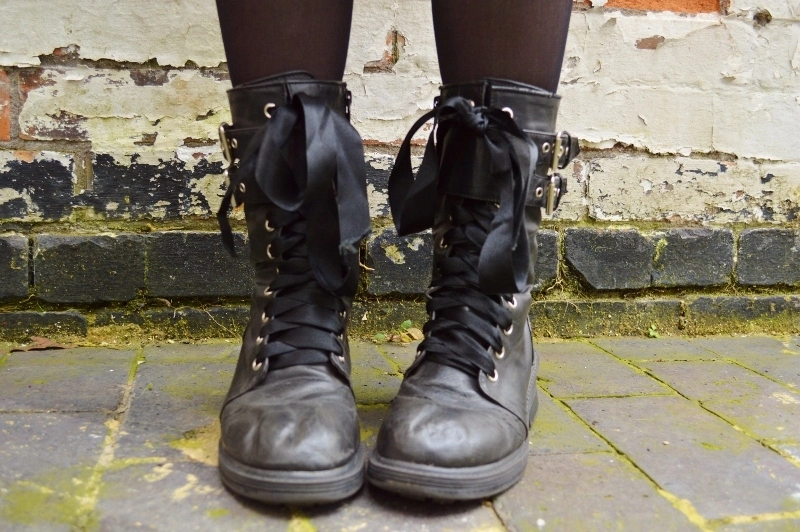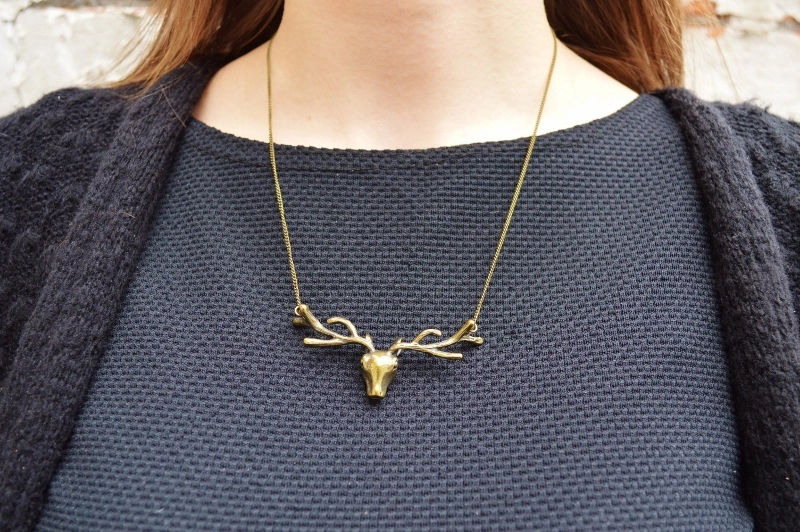 Primark Skater Dress / Primark Light Knit Cape / Primark Metal Waist Belt / Unbranded Stag Necklace / Schuh Biker Boots
After my foray into brightly coloured floral last week, today's outfit post is back to my usual 'black on black'.
I can't get enough of my new Primark cape at the minute.  It's lovely and light so is perfect for every day wear during spring, and looks great with pretty much anything.
The dress is one of my wardrobe staples, and has already seen me through a couple of years of wear.  I'm not usually a fan of high necks as I find them irritating, but this one is surprisingly comfortable and flattering.  Team it with a statement necklace, like this antique gold stag head, and a waist belt, and you're good to go.
I found the boots lurking at the back of my wardrobe last week.  I haven't worn them for years, and they were a bit battered when I pulled them from the depths of my closet, but I think they look all the better for it.  They were originally from Schuh, but I replaced the laces with black ribbon when I first bought them.
Naomi x
1
 Primark Light Knit Cape / Primark Floral Skater Skirt / Primark Basic T Shirt / Primark Tights / Gifted Cloudbusting Silver Necklace
It would seem that Spring is finally here, and brighter weather calls for brighter clothing!  I've been trying to add a few more colourful pieces to my mostly black wardrobe lately, and this skater skirt from Primark is a good start.  It's floral and made of crepe, two things I'm not usually a fan of, but at £3 in the sale I thought I'd give it a go, and was pleasantly surprised.  It's a lovely shape and very comfortable, and though I bought it to with the intention of wearing it to work, I can see it becoming an all round favourite this season.
The black cape was also in the Primark sale, half price at just £7.  It's a lovely soft lightweight knit, so is perfect for keeping covered during the spring months, when it isn't quite warm enough for bare arms.
As you may have seen in my 25th Birthday Haul post, this gorgeous necklace was gifted to me by my fiancé for my birthday.  It's made of 925 silver and was personalised especially for me.  Cloudbusting by Kate Bush is one of my favourite songs, and holds many special memories, so I absolutely adore it.
Have you been enjoying the warmer weather this weekend?
Naomi x
2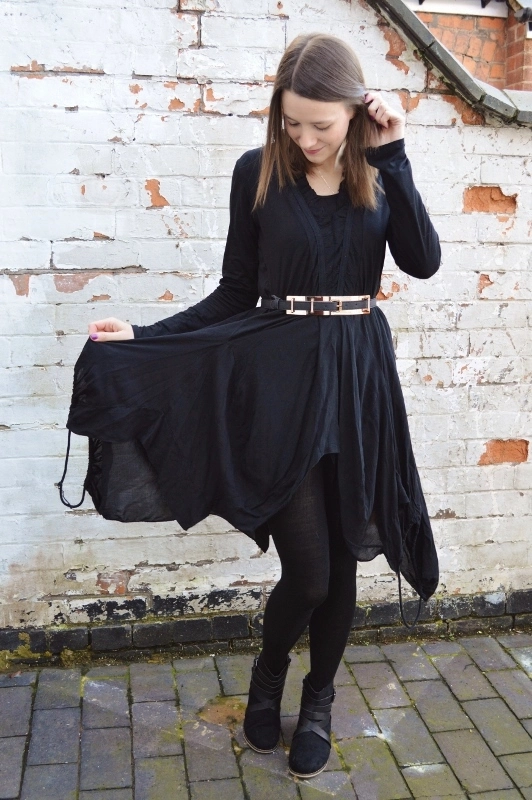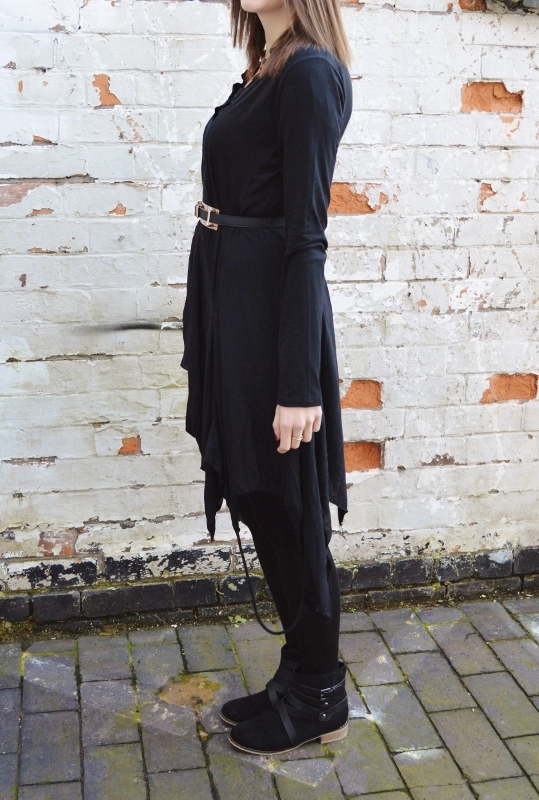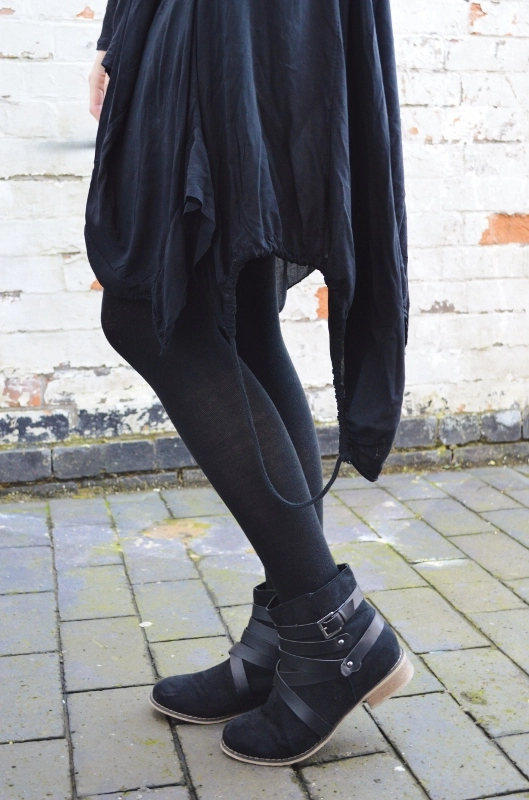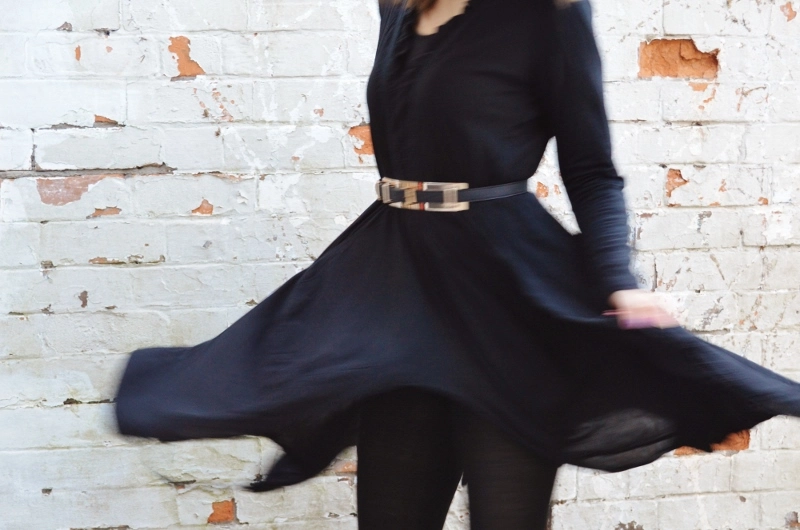 Thrifted Witch Hem Dress / Primark Metal Waist Belt / Primark Long Sleeve Top/ Primark Tights / New Look Strap Ankle Boots / Four Beautiful Keys Moon Necklace
I get so bored of wearing the same ol' stuff every day for work, and though today's outfit is simple, it's nice to be able to wear something that feels more my style.
I have no idea where this dress came from.  I certainly don't remember buying it, and it has no labels in it, which makes me think it was either thrifted or gifted.  Floaty dresses are perhaps more associated with summer, but layered over a long sleeve top with a pair of thick tights and boots, this one has a wintry feel to it.  I absolutely love the witch hem and loose strings, which are made all the better by the fact that the dress is slightly oversized, so the fabric hangs and drapes nicely.  It reminds me of bat wings, and it's also great for spinning and swishing!
I wanted the dress to be the centre of attention, so I kept the accessorising to a minimum.  I added my favourite metal waist belt to cinch the dress in and give a more flattering shape, my new New Look ankle boots, and my favourite Moon Necklace from Four Beautiful Keys.
What do you think of this look?
Naomi x
1
Have you ever found an item of clothing that is just so perfect it could've been made with you in mind? Well for me, this t shirt is one of those items. I love rats, I love Batman, I love black clothing, so what better than a black 'Rat Fan', Batman-style t shirt?!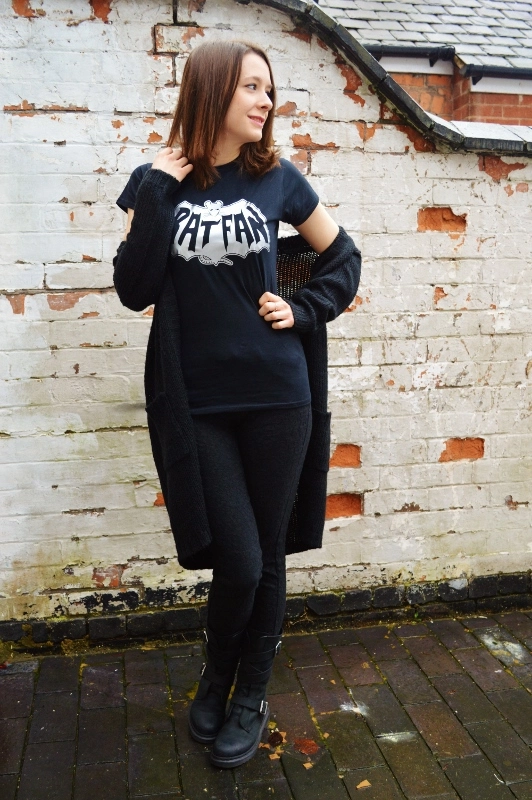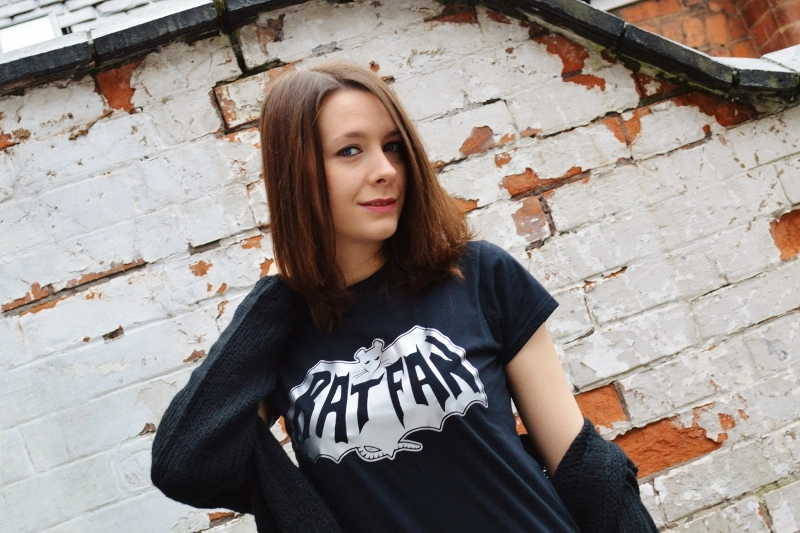 ratsratsrats Rat Fan T Shirt / Primark Long Black Cardigan / Blue Rags Black Ornate Embroidered Trousers / Dr Martens Lauren Boots
I bought this t shirt for £14.99 from an online store called ratsratsrats, which specialises in rat-themed clothing, accessories and gifts.  I've ordered a couple of t shirts from them now and I'm always really impressed with the quality.  The fabric is really soft and comfortable, the fit is great and the print is always high quality.  I also like the length of ratsratsrats tees as they sit below the hip, which I prefer.
I teamed the t shirt with my favourite winter cardigan, and a pair of Blue Rags black embroidered trousers, which are so warm and comfy.  They're also patterned with a beautiful embroidery-style damask, which you can see clearer on the red pair I styled here.  My Dr Martens Lauren Boots make an appearance too, of course.
This outfit is pretty much my go-to outfit for cosy, lazy weekend days, and is perfect for nipping out to the shops, or slouching around the house in.
Naomi x
0
The festive season is just around the corner, and I've already been invited to a few Christmas parties and meals out.  As such, I've started to do some online window shopping for the perfect party outfits for this season, and I've found that George at Asda have some really gorgeous women's dresses in their Autumn/Winter collection.  I'm a sucker for a classic LBD, and George have two in particular that I've been eyeing up.  It's been a while since I put together a wishlist type post, so I thought I'd do one to show you how I'd style these two dresses.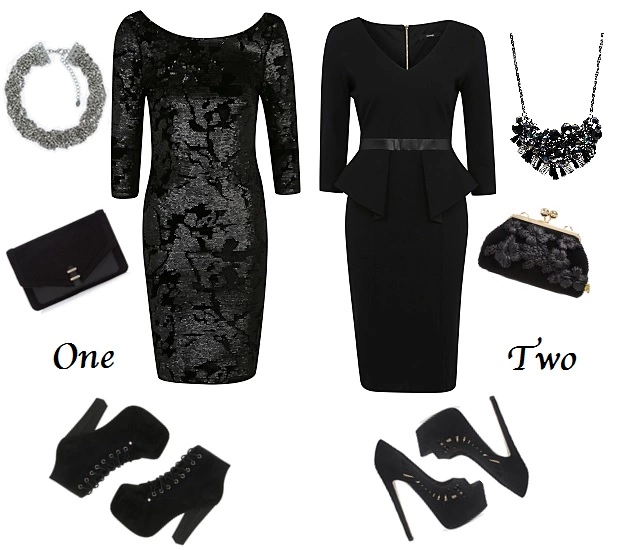 Outfit One
George Sequin V-Back Dress / New Look Pony Hair Structured Clutch / Jeffrey Campbell Lita Ankle Boots / Zara Interwoven Chain Necklace
Outfit Two
George Peplum Bodycon Dress / Irregular Choice Stitch In Time Clutch / ASOS POETIC Platforms / George Bobble Bead Necklace
Outfit One features George's Sequin V-Back Dress, which retails for an incredibly affordable £28.  Sequins and a V-Back would both make a huge statement at a glitzy Christmas party, so this dress doesn't need a huge amount of accessories.  A simple structured clutch would be ideal to offset the sparkle, and a chunky chain necklace would add a bit more texture and depth.  It's not always easy to find a pair of shoes to go with sequins, but I quite like the look of a chunky heel with this kind of dress, hence why I chose a classic pair of Litas to go with it.
Outfit Two features George's Peplum Bodycon Dress, which costs just £30.  I absolutely adore this dress as it's classic and feminine, but has a bit of an edge with its faux leather waist detail.  To enhance the waist, I chose a pretty floral clutch by Irregular Choice which has a similar black on black look.  An elegant pair of stilettos and a beaded necklace finish off this look, but I think it'd look just as stunning without the necklace.
Which of these two looks do you like best?
Naomi x
*This post is a collaboration.*
3
The last couple of months have been ridiculously busy and stressful for Charles and I, what with us both starting new jobs and moving house.  This weekend was the first in many that we had time to spend on ourselves, doing whatever we wanted, so that's exactly what we did!  Seeing as Friday was pay day, we spent Saturday shopping, eating in our favourite bar, and in the evening we went to the annual bonfire and fireworks display at the local park.
A relaxed weekend called for a relaxed outfit, and as there is finally an autumn chill in the air, and I was spending most of the day (and evening) outside, it had to be warm too!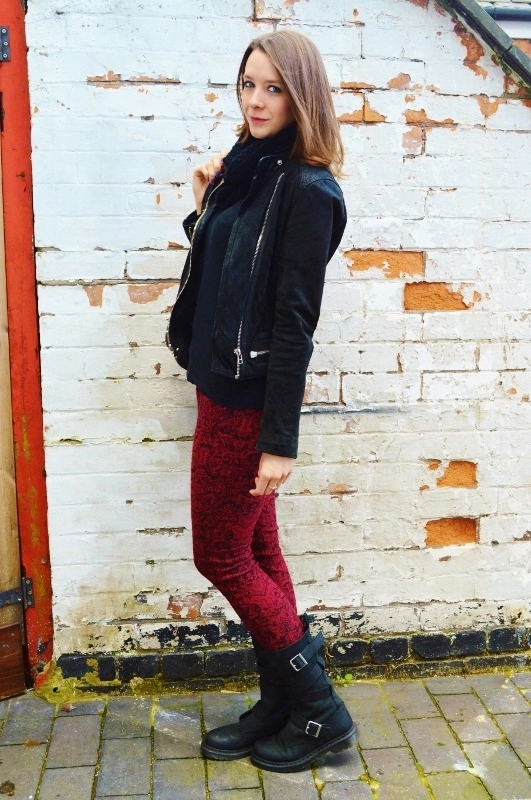 New Look Leather Biker Jacket (Thrifted) / Primark Crew Neck Top / Blue Rags Red Ornate Embroidered Trousers / Dr Martens Lauren Boots / DressLink Cowl Scarf / Topshop Leather Bag (Thrifted)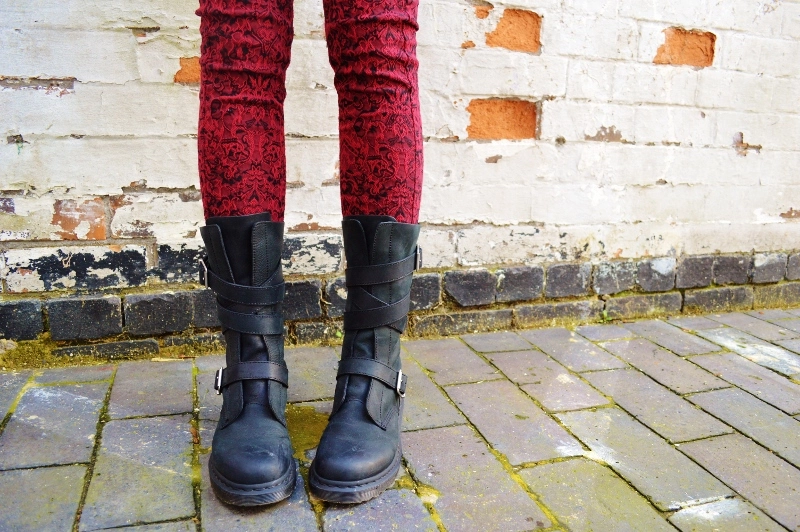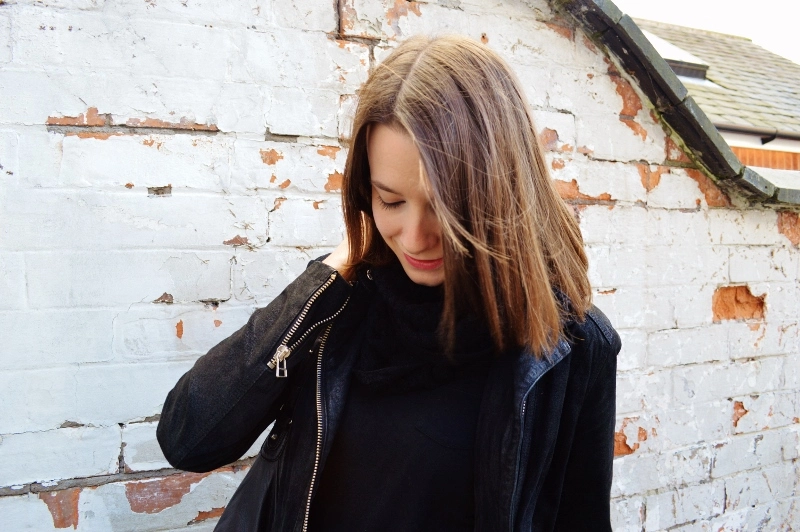 These red embroidered trousers are a new purchase of mine.  They're by a French label called Blue Rags, but I actually got them from Everything5Pounds.  Most of my wardrobe is black, but I like to add a splash of colour here and there, and these trousers are the ideal shade for Autumn.  They're incredibly soft and comfortable and the detail of the embroidery is stunning.  I also ordered a pair in black and I'm so glad I did as they're a real statement piece.
My Dr Martens Lauren boots are another new purchase.  They have that buckled biker look that I adore, so they match my biker jacket, but they're not as clumpy as a lot of my other Dr Martens.  I've been wearing these a lot over the last few weeks, casually with jeans, but also with my work dresses, and I think they look great.  I walk to work so it's essential that I have a warm, comfy, waterproof, sturdy pair of boots for the winter, and these tick all the boxes.
Naomi x
0
Autumn is my favourite time of year for so many reasons… the weather, the colours of the trees, Halloween, Bonfire Night, the cosy nights in, the homely cooking, and of course the fashion!  So, when I found out that Leicester's biggest shopping centre, Highcross, was putting on an Autumn Fashion Fix catwalk show, I booked my tickets straight away!
My mum and I headed into town this morning for the 11:30am show, and we were lucky enough to get front row seats.  Everyone who'd booked seats also got a little goody bag which was nice.
The show itself was really enjoyable.  There were six models in total, four female and two male, and the show was split into six scenes – The Cosmo Edit, Faux Fur, Tapestry Folk, Shades of Red, New Pastels, and Metallics.  Every single scene featured some really gorgeous pieces, but the Metallics section was my favourite, as it mixed colours and textures that I love.  Think leather biker jackets and chunky heels, mixed with gunmetal sequins.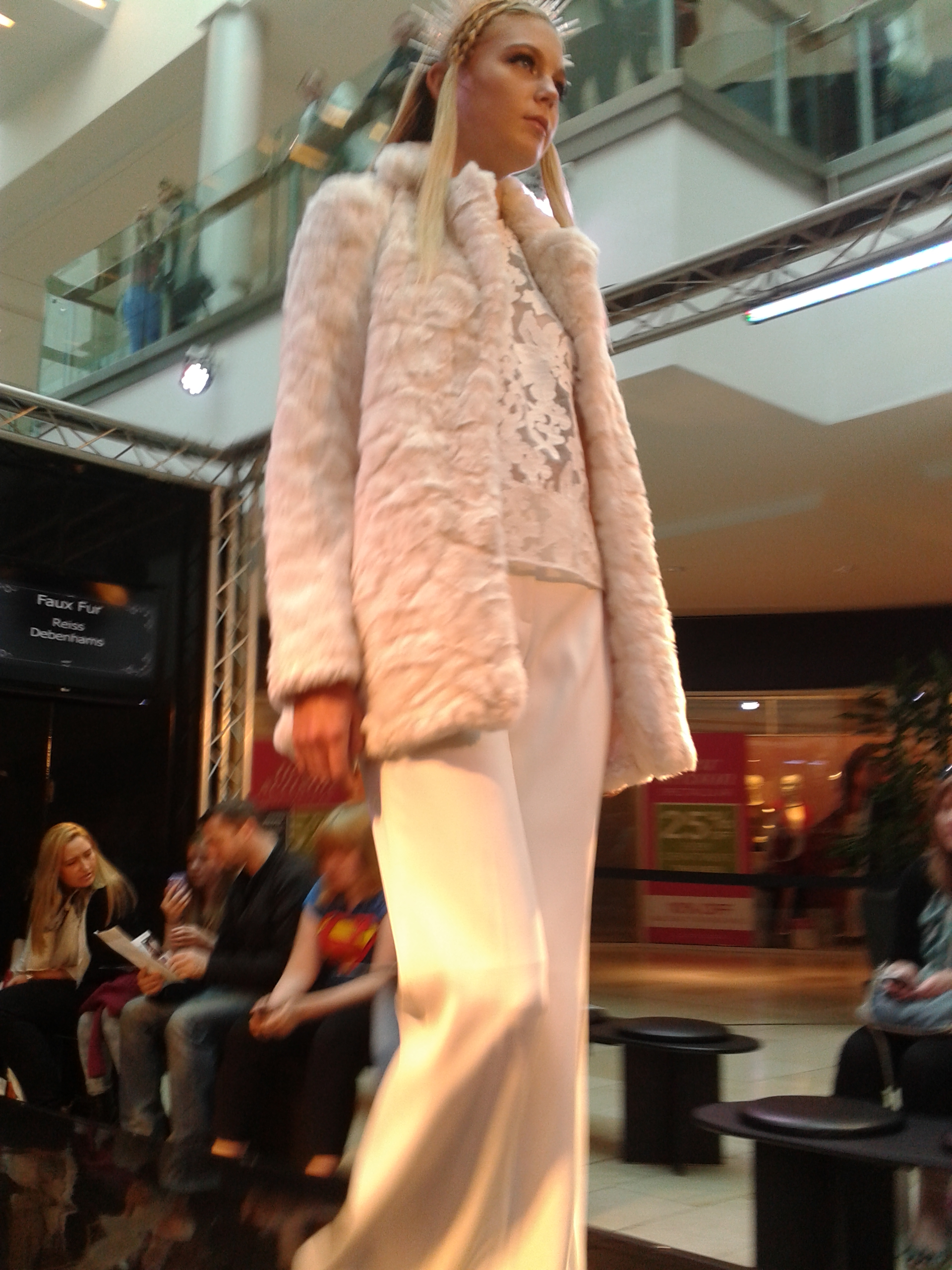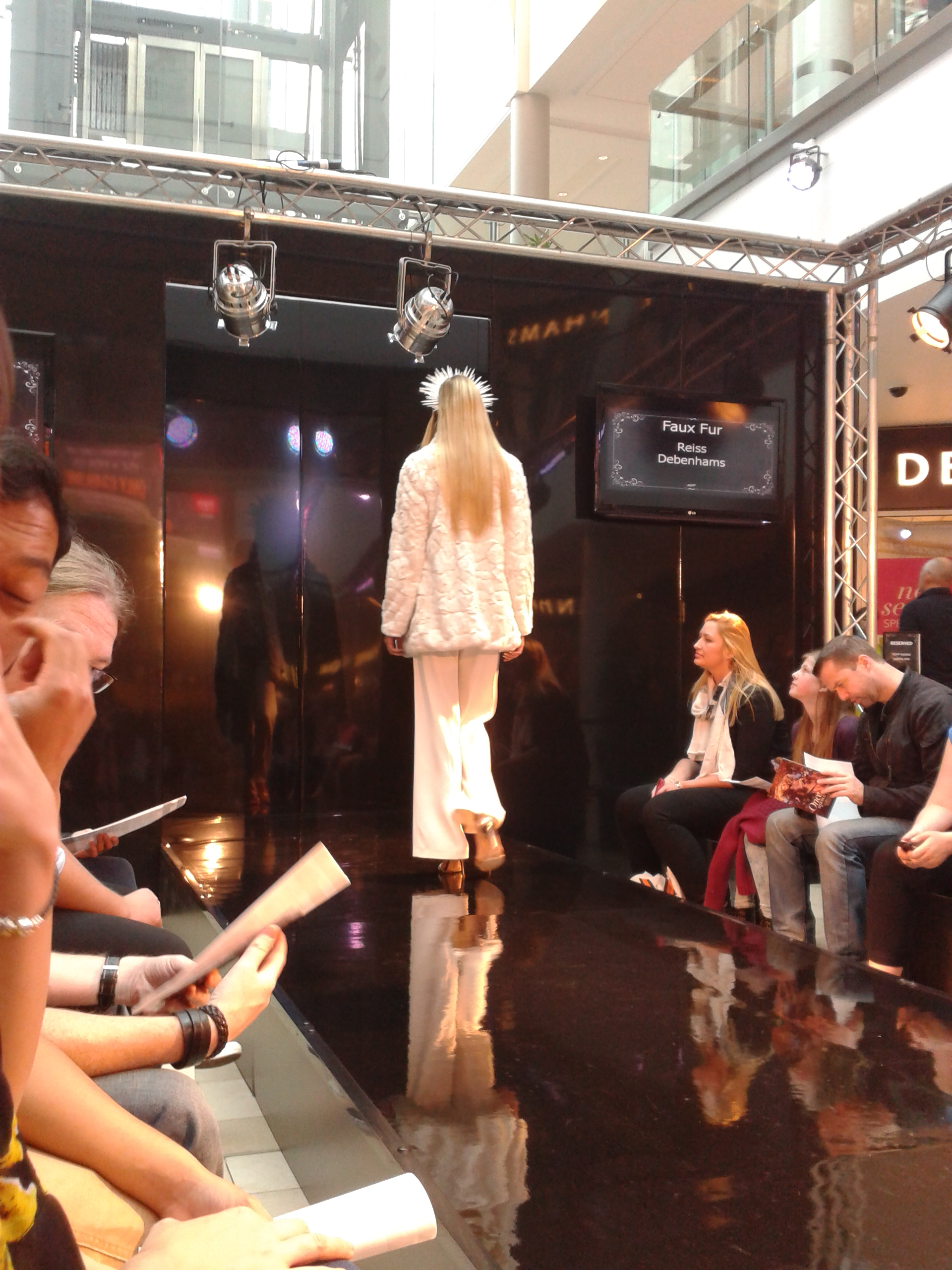 Reiss Semi Sheer Embroidered Top £110 / Reiss Wide Leg Culotte Trousers £129 / Red Herring Ivory Faux Fur Coat £79 / Reiss Rose Gold Strappy Stiletto £139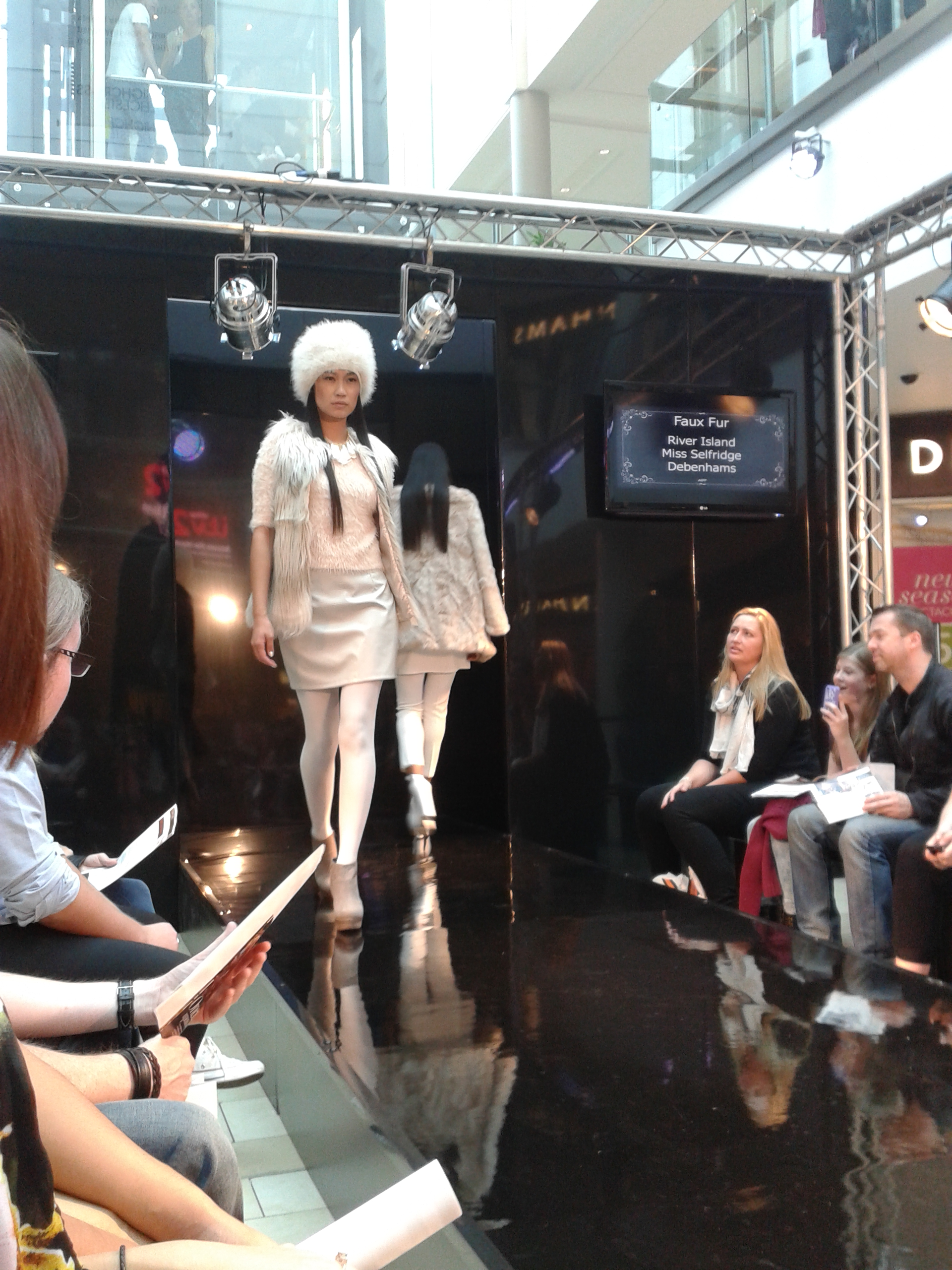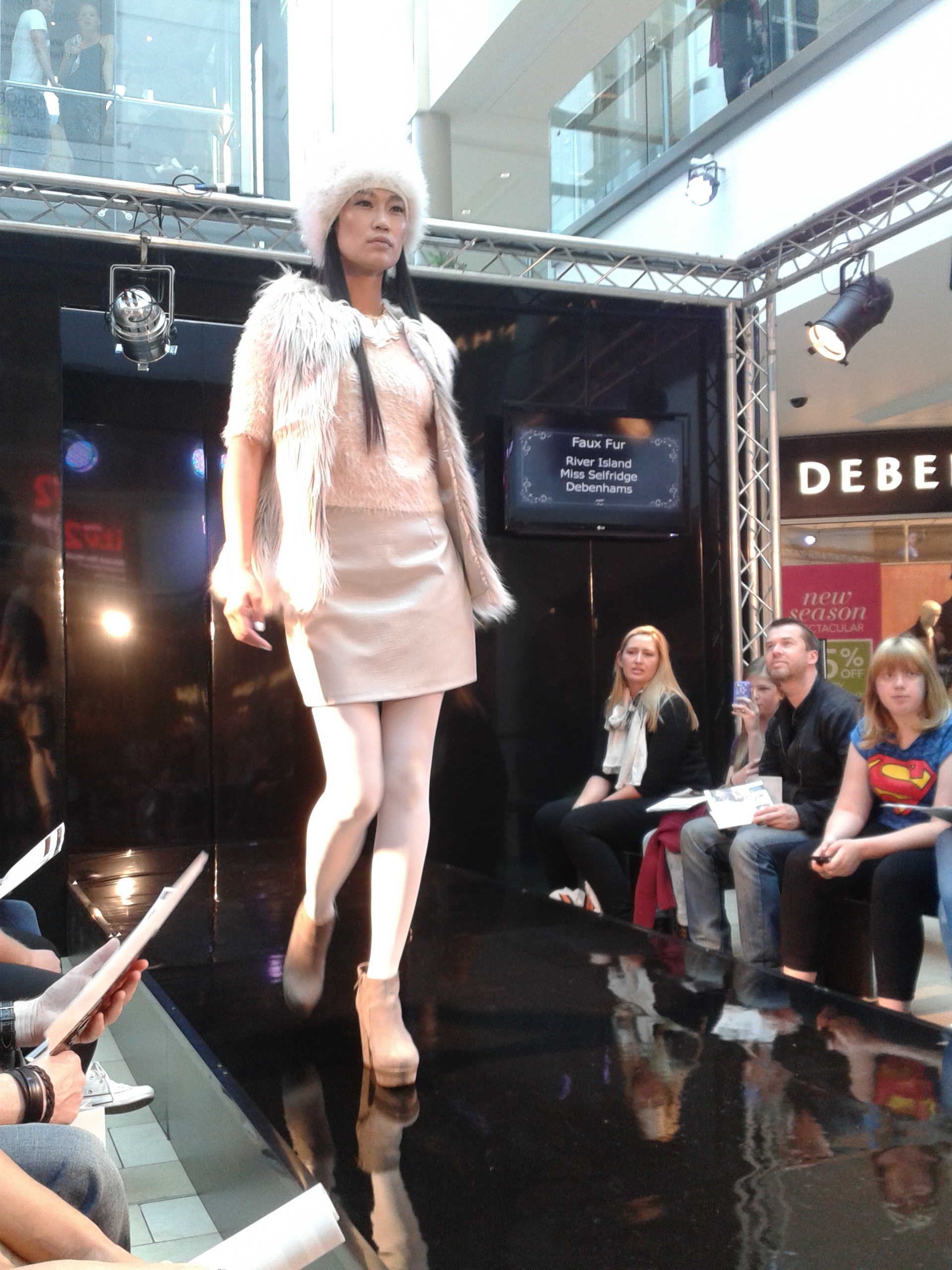 River Island Fluffy Knit Jumper £30 / River Island Reptile Faux Leather Miniskirt £28 / River Island Plastic Origami Necklace £12 / Miss Selfridge Faux Fur Gilet £55 / Jasper Conran Ivory Maribou Cossack £40 / River Island Taupe Suede Ankle Boot £50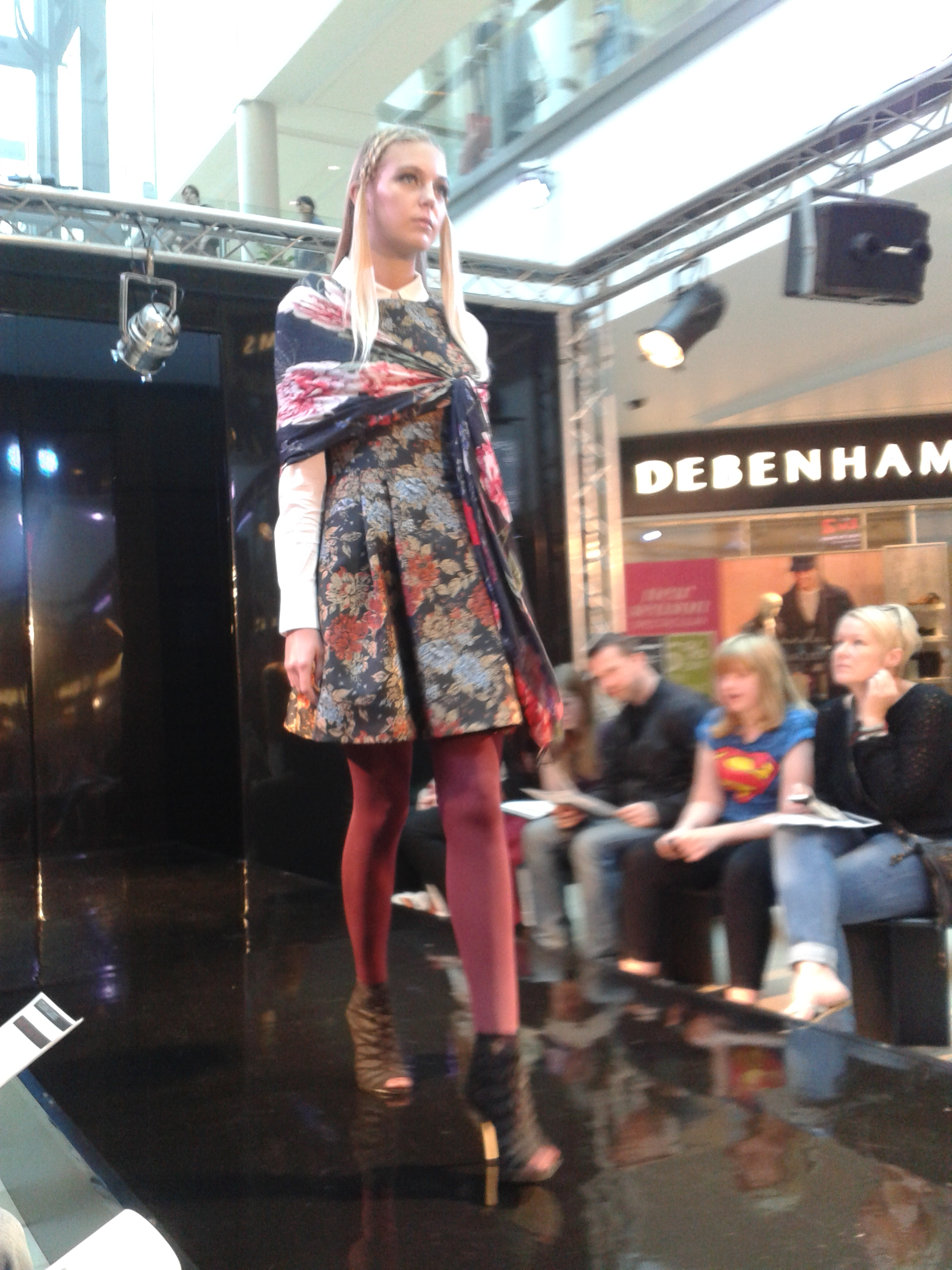 Karen Millen Floral Tapestry Dress £199 / Karen Millen White Pleated Front Cotton Shirt £110 / Karen Millen Black and Floral Print Scarf £99 / Karen Millen Lace Black Shoeboot £155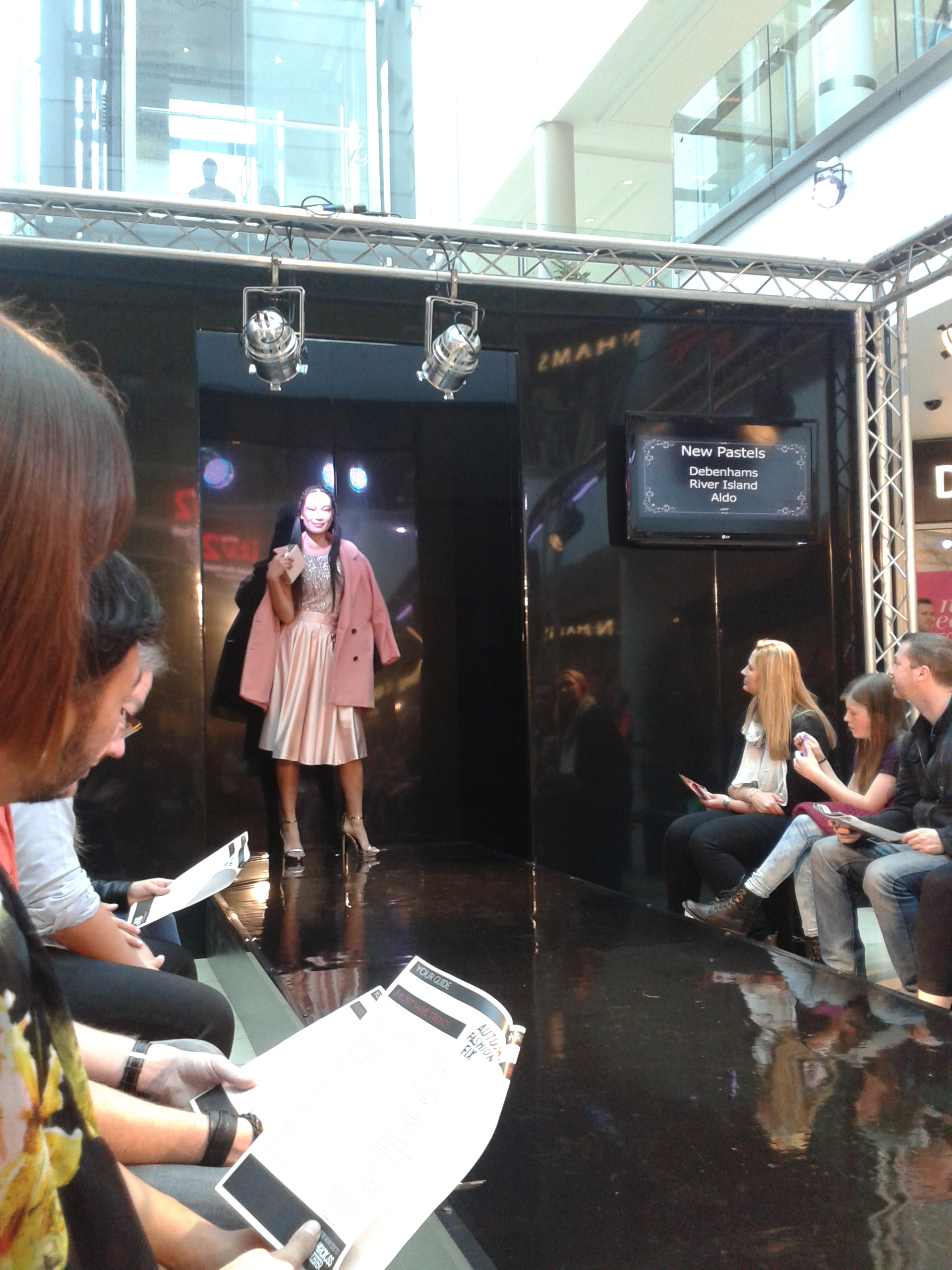 Monsoon Embellished Chiffon Top £69 / Monsoon Blush Satin 50s Skirt £69 / Betty Jackson Oversized Double Breasted Coat £159 / River Island Gold Open Toe Stiletto £50 / Aldo Pill Box Bag £35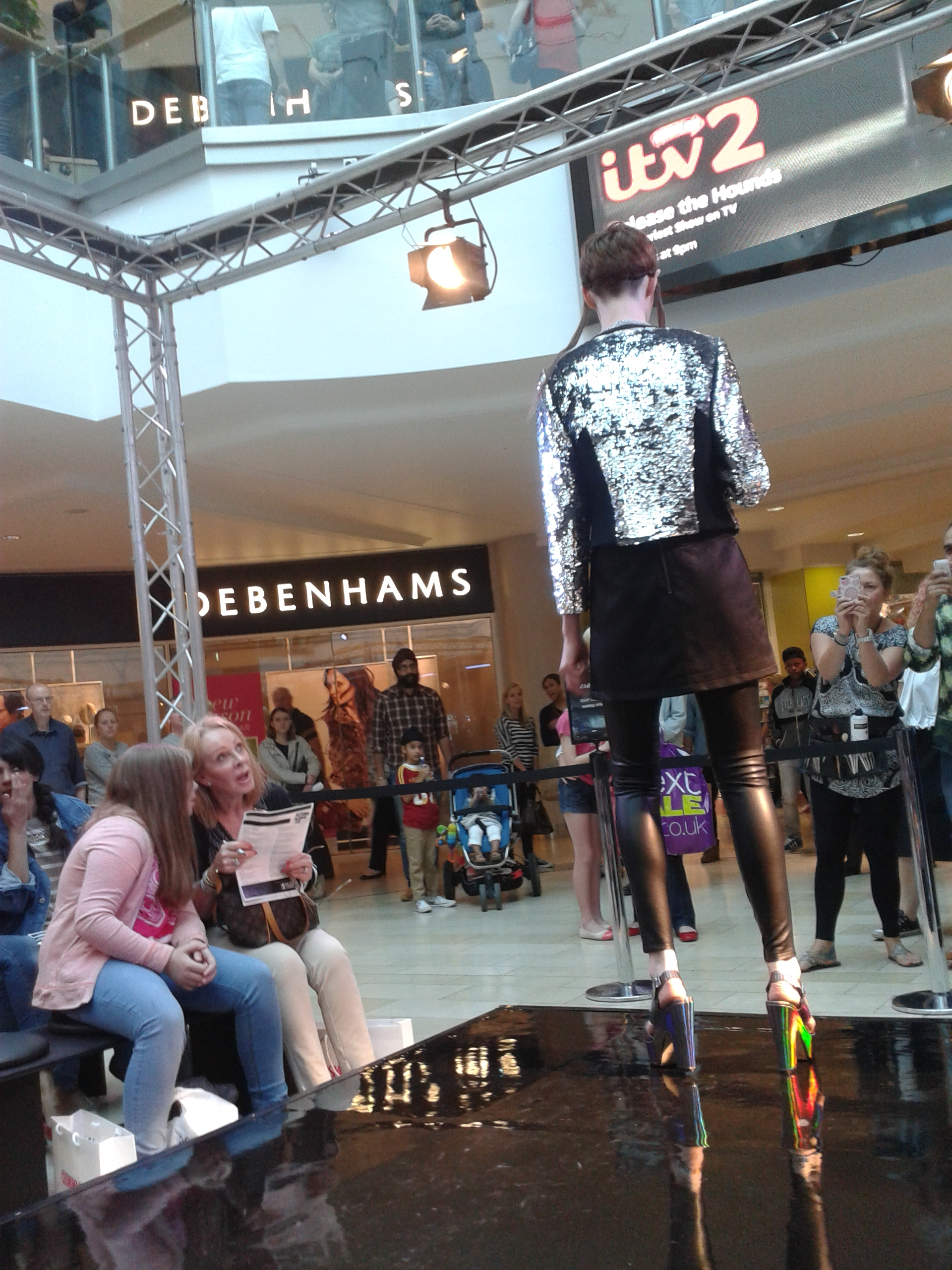 Warehouse Leather A-Line Mini Dress £48 / Warehouse Leather Slim Trouser £38 / Ted Baker Silver Sequin Jacket £299 / Aldo Teardrop Chain Necklace £20 / Simply Be Metallic Reptile Clutch £25 / Office Holographic Open Toe Heels £50
I also filmed an Instagram video of the Shades of Red scene…
It was nice to see affordable, high street pieces on a catwalk, and a lot of this year's trends and colours are right up my street.  The soundtrack to the show was great too!
What do you think of this season's fashion trends?
Naomi x