Posts tagged
Skinny Jeans
6
Hi everyone!
Today I thought I'd share with you what I wore on New Year's Day.  My outfit of choice consisted of a gorgeous new pair of jeans that I purchased from ASOS in their winter sale, which I paired with a simple black zip back jumper from Primark.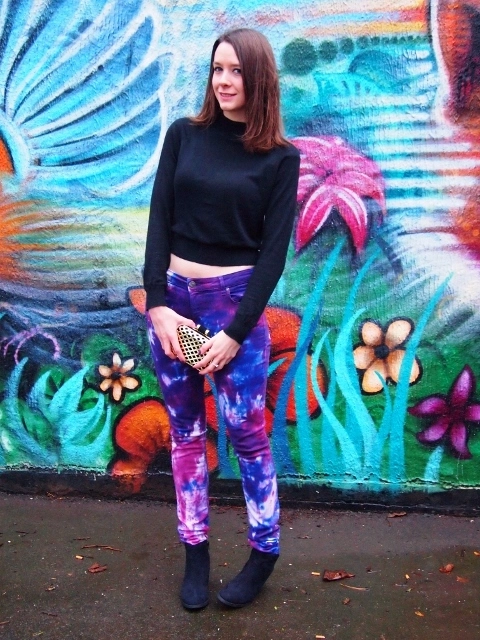 Primark Black Zip Back Jumper / ASOS Only Batik Skinny Jeans / H&M Black Ankle Boots / H&M Black and Gold Clutch Bag
I seem to have collected quite a few black tops over the past few months, so I decided to invest in some colourful pieces to wear with them, and these Batik Skinny Jeans by Danish brand Only do not disappoint.  Purple is my favourite colour, and I've always been a fan of batik/tie dye style prints, so as soon as I saw these I knew I had to have them.  They're an excellent fit as well.  The sizing is accurate, and they have a range of leg lengths to choose from, so they are plenty long enough for my 36″ inside leg!  These jeans cost me £12.50, down from £60.00, and they've now been reduced even further to £11.00, so I have ordered another pair as I love them so much.
To finish the outfit, I went for more black.  A few weeks ago I received a couple of fashion items from BLOGGERS[edit] to review, so I decided to give them a whirl with this outfit.  Despite only expecting one item from them, BLOGGERS[edit] actually sent me two (thanks!) – a gorgeous pair of black ankle boots, and a surprise black and gold clutch bag, both from H&M.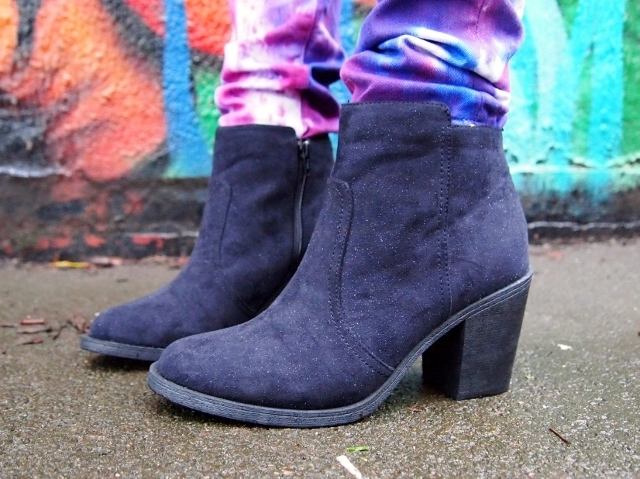 Those who read my blog regularly will know that I have a thing for black, and a thing for boots, so these Black Ankle Boots are right up my street.  They're made of imitation suede which looks and feels almost real, and they have a sturdy but flexible rubber sole so they're easy and comfortable to walk in.  One thing I always look for in simple black footwear is a little bit of a twist to make them a bit more interesting, and these pass that test.  The boots have a curved panel on the front, and a lip at the top that sits higher than the back, giving them a slightly more unusual shape.  At £24.99 these are a real bargain!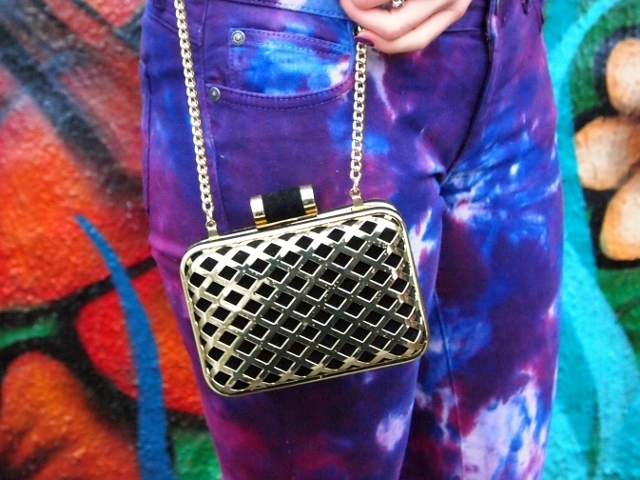 This Black and Gold Clutch Bag is a little beauty, and even comes with a chain strap hidden inside, so you can wear it over your shoulder if you so wish.  The bag has a sturdy gold metallic shell, which is underlaid with soft black suedette, and it fastens with a large clip on top.  Despite only costing £14.99, the bag oozes quality, and adds a touch of glamour to any outfit.  It's not the biggest bag in the world, but it's roomy enough for your phone, keys, money, lipstick and chewing gum, which is just about everything you need on a night out.
What do you think of this outfit?
Naomi x
*These Black Ankle Boots and Black & Gold Clutch Bag were sent to me by BLOGGERS[edit], on behalf of H&M, for review purposes.  All opinions expressed are honest and my own.*