Posts tagged
Tramp
16
Every woman needs a good quality red lipstick in her life to emphasise her confidence, and without a doubt, Illamasqua's Tramp is mine.  I bought Tramp last month in Illamasqua's January sale for just £5 and instantly fell in love with it, and here's why…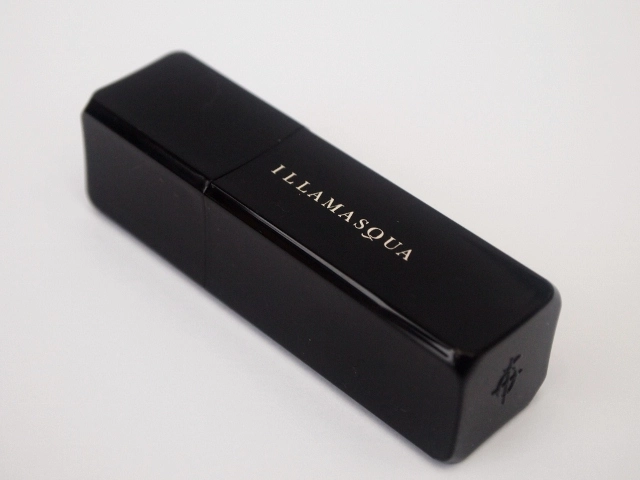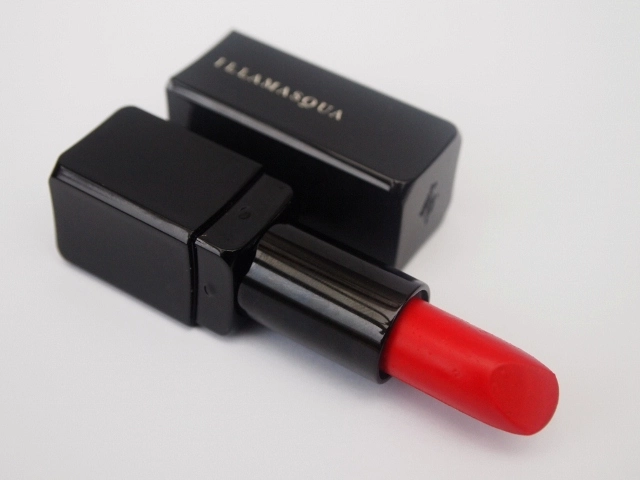 Firstly, how gorgeous does this lipstick look?  I've always been a fan of Illamasqua's classy black packaging, and this is a fine example of such.  The packaging is practical too, as the lid is quite large and clicks firmly into place so there's no chance of it coming off in your bag, which we all know can lead to a messy disaster!
The first thing that hit me when I opened this lipstick was its scent.  It doesn't smell plasticky or chemically like some cheap lipsticks do, rather, it smells exactly like Krispy Kreme doughnuts – delicious, AND without the calories!  I honestly spent a good minute smelling it before I even applied it.  It's just that good.
In terms of application, Tramp has it all.  I can honestly say this is the creamiest lipstick that I own, which to me is the sign of a high quality lipstick.  It smooths on effortlessly and feels extremely moisturising on the lips, and believe me when I say that the feeling lasts…  Not once have my lips felt dry whilst wearing this.  In fact, they feel noticeably softer after use, and there's no need to apply a lip balm underneath or over the top.  Illamasqua lipstick has decent staying power too.  It always survives numerous drinks throughout the day, but it doesn't stay put completely after eating, so does need a bit of touching up every now and then.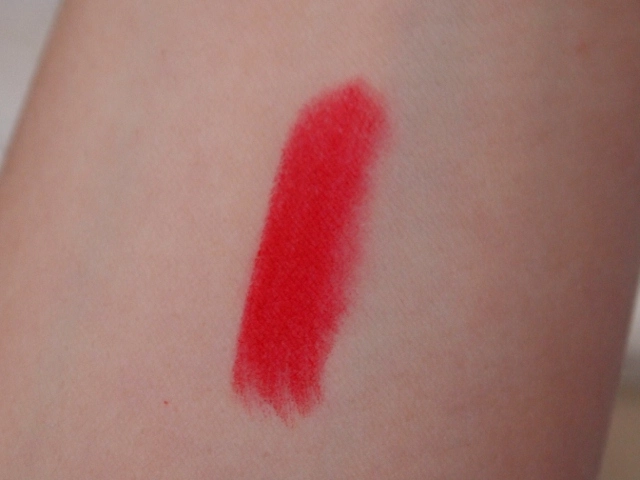 Tramp is a bright rose red, with an undertone of blue – a beautiful, classic shade that makes me feel sophisticated and sexy.  Ideal for Valentine's Day!  I have experimented with several red lipsticks in the past and have found that blue reds look best against my pale skin tone and, though it doesn't really show in the picture above, Tramp really brings out my blue eyes!  My eyes are my favourite feature, so I'm always happy when I find a product which shows them off.  Tramp also has a matte finish, which I prefer in red lipsticks as I don't think bold colours need shine as they're already eye-catching enough.
Unfortunately, I have just discovered that Tramp has been discontinued, which is really disappointing as I have lost it as soon as I found it!  So, for now, I will be keeping this beauty for best, and in the meantime I will attempt to find a duplicate, or an Illamasqua replacement shade.  Any suggestions?
To find your perfect Illamasqua lip product, you can check out their full range here.
Naomi x
*I bought this Illamasqua Lipstick in Tramp myself.  All opinions expressed are honest and my own.*