Posts tagged
United Kingdom
1
As promised in my National Vegetarian Week post, here is the latest addition to my series of Vegetarian Eateries posts, this time focusing on Nottingham.  Though I don't live in Nottingham, I do visit regularly for gigs and shopping trips, and I have two favourite places to eat when I'm there.  I'm sure there are other places in Nottingham to get great veggie food, but I'm yet to discover them, however when I do they'll be added to this post.
1a Cannon Court, Long Row W, Nottingham, NG1 6JE
Good for: Creative, tasty dishes and vegan options
Alley Café is slightly hard to find (down an alley, as the name suggests, and easy to miss), but once you're there it's a real veggie haven.  The atmosphere is very relaxed – chilled music and friendly staff, and the menu is even better.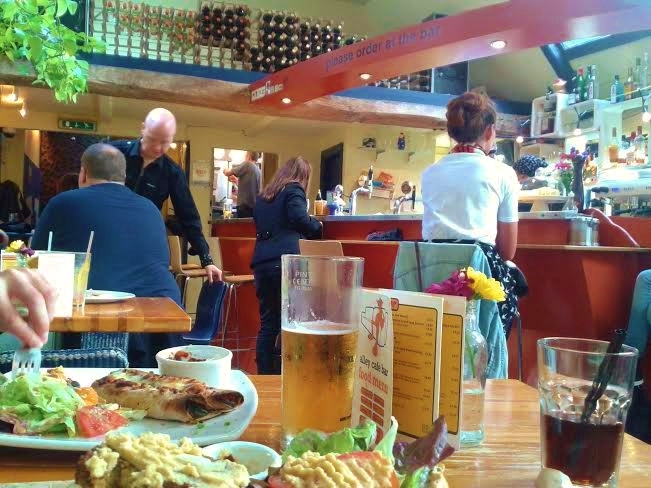 Their main menu features a range of light bites/sides, sandwiches (with quirky names and a choice of breads), burgers, and various creative mains.  They also boast different specials every day, and an array of delicious desserts and homemade juices and smoothies.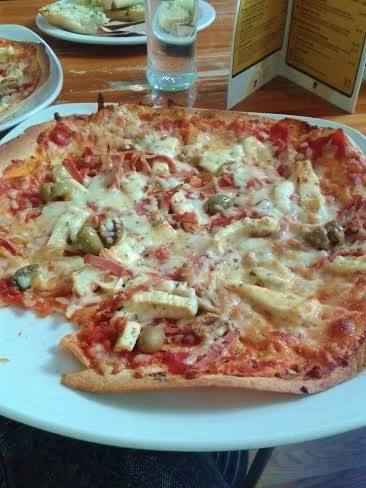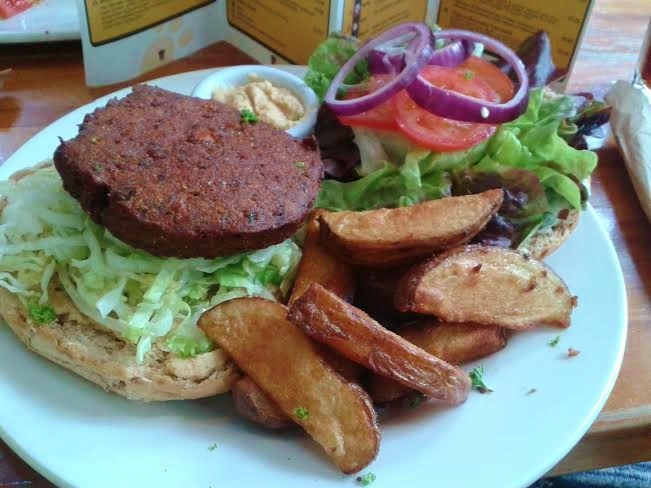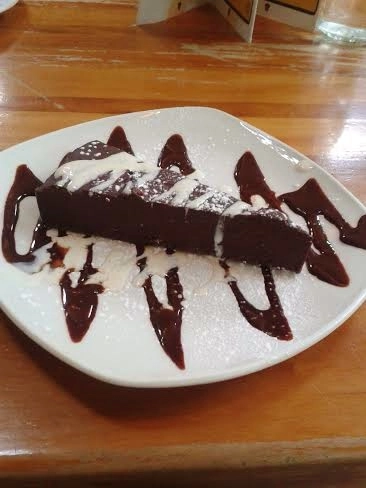 A lot of the menu is vegan, and everything I've ever had there has been so flavoursome and filling.  I can highly recommend the Alfie (halloumi, houmous and mint yoghurt in your choice of bread – I usually go for a wrap), the falafel burger (above) and the pizzas (try it with smoked tofu, baconesque and olives as seen above, perfect).  The vegan chocolate torte is also AMAZING.  Meals average at about £7, most desserts are between £3 and £4, the portions are generous, and the quality of food is very high.  Definitely worth a visit if you appreciate an inclusive, non-judgemental veggie vibe!
17 Goldsmith Street, Nottingham, NG1 5JT
Good for: Delicious handmade burgers and double cooked chips
Spanky Van Dykes is located right next to my favourite small gig venues, so I usually fill up here before a gig.  The bar has an alternative, music themed vibe which really gets you in the mood for a live band, and they even host gigs themselves (although I'm yet to go to one there).  What most people come for though is the handmade burgers.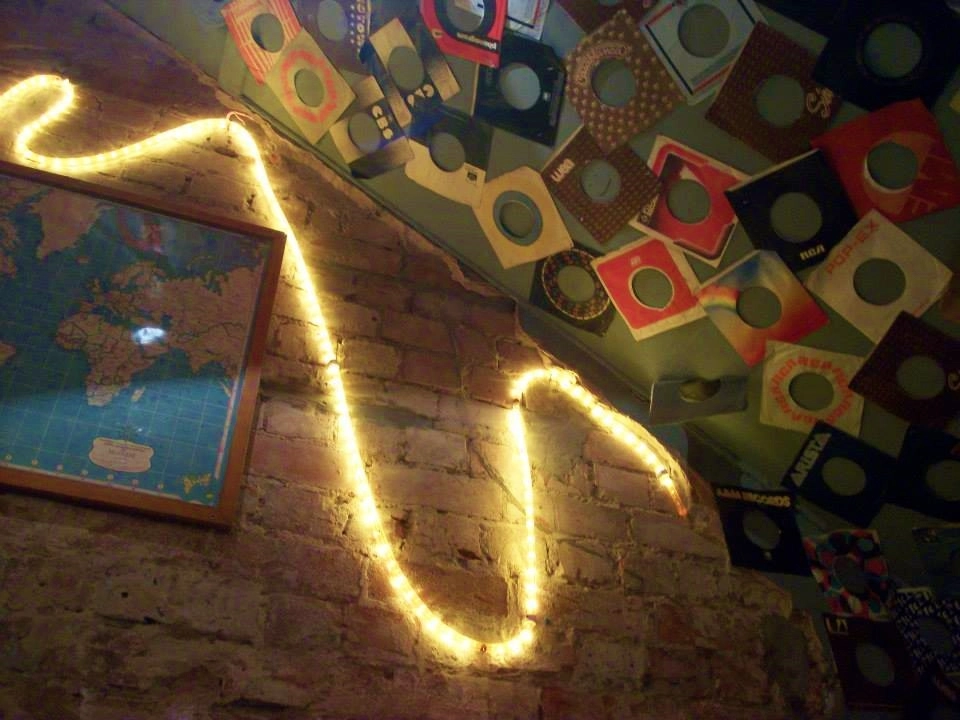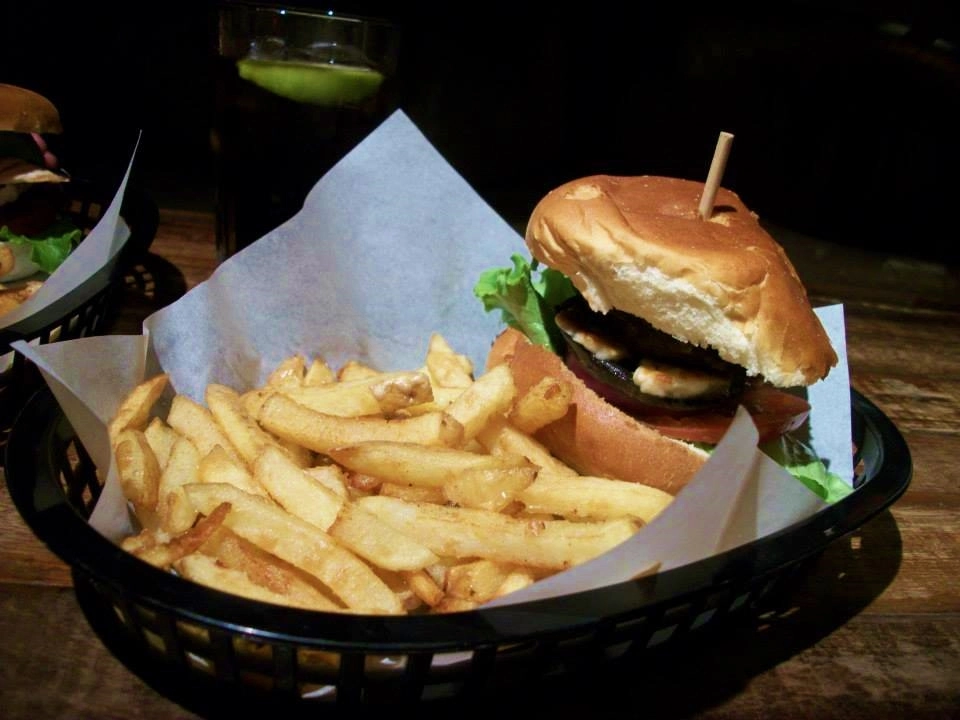 With an American diner style menu, Spanky's sell burgers galore, with three veggie options.  My particular favourite is the Shroomaloomi, which is stacked high with halloumi cheese and flat mushrooms, served with the best double cooked chips I've ever tried.  A bit more interesting than the usual veggie offering of a dry bean burger I must say.  Their tempura vegetables are also worth a mention, as are their desserts.  Cookie ice cream sandwich anyone?  Yes please!  A burger and chips comes in at just over £7, and desserts are around £3, so you can get a full meal for around a tenner.  Although they do two for one on all burgers on a Tuesday, which is definitely the best time to go!
Do you know anywhere else in Nottingham that sells amazing veggie food?  If so, leave a comment below and let me know!
Don't forget to check out my first Vegetarian Leicester post too!
Naomi x