Posts tagged
Winner
117
Hello everyone!
I am very happy to announce that BeTrousse have kindly donated yet another BeTrousse box for me to give away to one lucky winner, and this time you have the chance to win their latest beauty kit, the Pretty Beauty Box, which I reviewed yesterday.
The Pretty Beauty Box is their biggest and best box yet, as it contains NINE full size products, worth a total of £122!  The products inside the box are…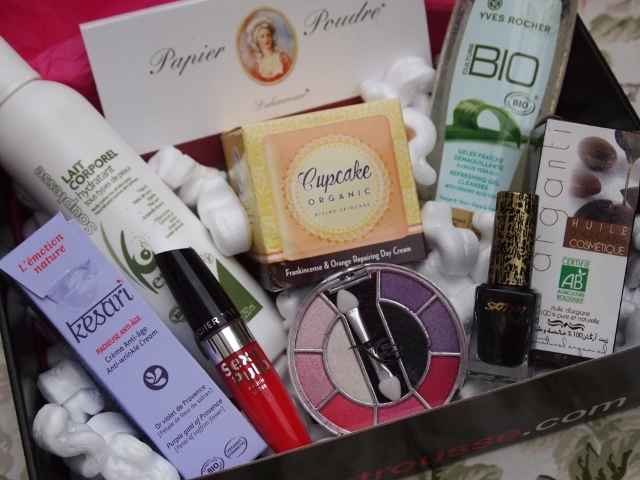 Clockwise from the top:
Papier Poudre Gift Pack of 3 Booklets
Cupcake Organic Frankincense & Orange Day Cream
Yves Rocher Organic Refreshing Gel Cleanser
Arganti 100% Pure Argan Oil
Saffron London Cracking Nail Polish
Vera Valenti Eyeshadow in Pink
Yves Rocher Sexy Pulp Volume Gloss in Pink
Kesari Radieuse Anti-Age
Essyta Cosmetics Body Moisturising Lotion
Amazing right?  If you want to know what I think of everything in the box before you enter, you can check out my review here.
If you'd like to enter to win a BeTrousse Pretty Beauty Box, please follow the rules below:
Mandatory:
Follow Bewitchery, either as an email subscriber or WordPress follower: +1.
Comment with the blog name/email you follow with.
Optional:
'Like' BeTrousse on Facebook here: +1
'Like' Bewitchery on Facebook here: +1
Comment with your Facebook name.
Follow BeTrousse UK on Twitter here: +1
Follow Bewitchery_ on Twitter here: +1
Comment with your Twitter name.
Tweet about the giveaway: +1 (this can be done daily)
PLEASE TWEET: 'Check out @Bewitchery_'s giveaway to win a @BeTrousseUK Pretty Beauty Box! http://wp.me/p2ctcs-wB'
Blog about the giveaway: +4
Comment with a link to your blog post.
Invite a Friend to Enter: +5
Comment with your friend's name, and if they enter you gain 5 extra entries.
That's 15 potential entries in total, plus an extra one for every day you Tweet about the giveaway!  Once you have earned all of your entries, please comment below with the information detailed above.  Please note that all entries will be checked before the winner is chosen.
Unfortunately, this giveaway is open to UK residents only (sorry!), but I'll hopefully be launching an international giveaway very soon.  The giveaway closes on the 4th of December, and the winner will be notified within 24 hours.  The winner will then have 24 hours to provide a postal address via email – failure to do so will mean a different winner will be chosen at random.  I will then pass your details on to BeTrousse who will ship your Pretty Beauty Box out to you, from France, as soon as possible.
Good luck!
Naomi x
PS. You can find BeTrousse online at…
Website: http://www.betrousse.co.uk
Facebook : http://www.facebook.com/pages/Betrousse/171316132911121
Twitter : https://twitter.com/BeTrousse
Google+: https://plus.google.com/101335812317013293785/
Youtube : http://www.youtube.com/user/betrousse
Pinterest:  http://pinterest.com/betrousse/