Old Wives Tail Jojoba & Clove Organic Oil Hair Treatment
Over the last few months I've been trialling a hair treatment from a small hair care company called Old Wives Tail.  Old Wives Tail specialise in luxury organic hair treatments, all of which are handmade, vegetarian and vegan, and free of gluten, parabens and sulfates.  They're also animal friendly and aim to eradicate animal testing in the beauty industry, so 10% of their profits go to charities which save animals from being tested on.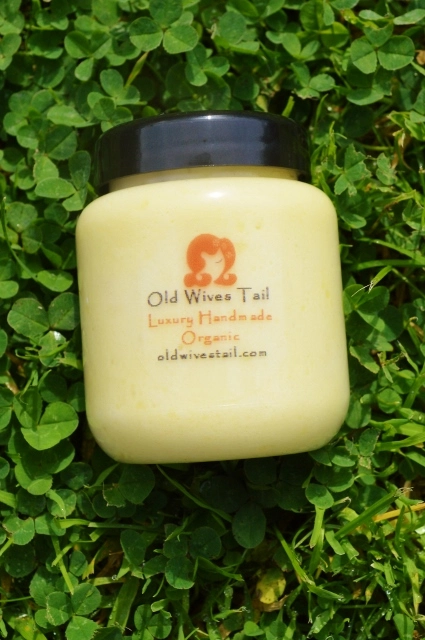 The treatment I've been using is the Jojoba and Clove Organic Oil Treatment, which retails for £13.99 for a 100ml jar.  The treatment is described as a 'hydrating, natural and balancing hair treatment for dull, thinning, brittle or broken hair'.  My hair is quite unusual in that, though it can get quite oily at the roots, the ends get very dry and split easily, especially during colder months, and the overall look is very limp, lifeless and damaged.  I opted for this particular treatment as, according to the Old Wives Tail website, 'jojoba oil gets to work at penetrating every hair follicle to add strength, volume and texture to weak, lifeless hair', which is just what I want.
The treatment has a very strong aroma of cloves, which hits you as soon as you open the jar, but it isn't too overpowering as it is offset with a slight sweetness.  It's also quite a dense treatment, with a slightly waxy texture, but as it warms in your fingers it melts into a smooth oil that glides through damp hair incredibly easily.
The directions for use say to massage the product into your scalp, and to leave it on for one hour before washing out with shampoo and water, and conditioning the ends of your hair.  As a 'wash and go' kinda girl, an hour is quite a long time to wait, so this isn't a treatment I would use on a daily or weekly basis, but it's great for a fortnightly or monthly pamper session at the weekend.  Especially as it gives quite an intense treatment.
I've used the treatment a few times now and the results are brilliant.  A little goes quite a long way, so though the jar is small, it will last a good while.  The product massages in nicely and feels lovely and soothing on the scalp.  When I first used it I was slightly worried that, being an oil, it would leave my hair feeling greasy, but it washes out well with shampoo, although I find it takes a little while to wash out completely.  After blow drying and straightening my hair, the difference is really noticeable.  It leaves my hair looking silkier and fuller, and the result is also long-lasting.
Unfortunately, as I've had an incredibly hectic couple of months, I haven't yet managed to get any before and after photos of my hair, but I will be updating this post within the next week or two, so check back soon.
All Old Wives Tail products are available online here, and they cater for all hair types.  They offer free worldwide delivery on any order too!
Naomi x
*This Jojoba & Clove Organic Oil Hair Treatment was sent to me by Old Wives Tail for review purposes.  All opinions expressed are honest and my own.*