Posts tagged
Luxury
2
With only a week left to go until Valentine's Day, I thought I'd share a gift idea with you which puts a luxurious twist on the traditional bunch of red roses – Jurlique's Rose Essentials.  If you have a beauty-obsessed loved one to buy for this year, or even if you want to treat yourself to a pampering session, then Jurlique's rose scented skin care products are ideal.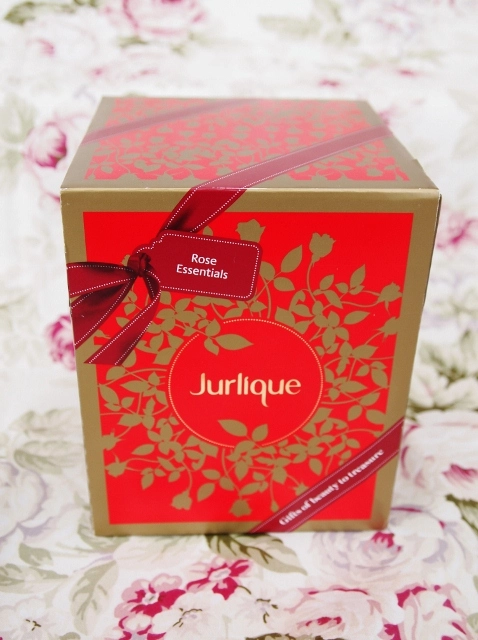 The Jurlique Rose Essentials set contains three luxe rose scented products, and they come packaged in a beautiful gift box, which definitely makes this set a pleasure to receive!  Once you remove the red and gold cardboard wrap, the box you are met with looks like a gorgeous gold treasure chest, patterned with delicate roses and leaves, which fits the Jurlique tagline perfectly – 'Your gift of beauty to treasure'.  It is even sealed with a sticker that looks like a lock, which makes the set feel that little bit more special, and builds the anticipation as to what you will find inside.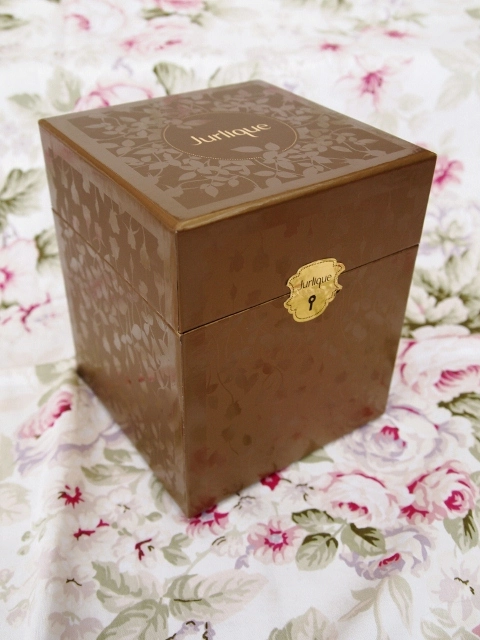 The three products inside the box are wrapped with red tissue paper, and the gold ribbon and embossed brand logo all add an extra touch of luxury.  The products are a 100ml bottle of Rosewater Balancing Mist, a 300ml bottle of Rose Shower Gel, and a 150ml tube of Rose Body Cream.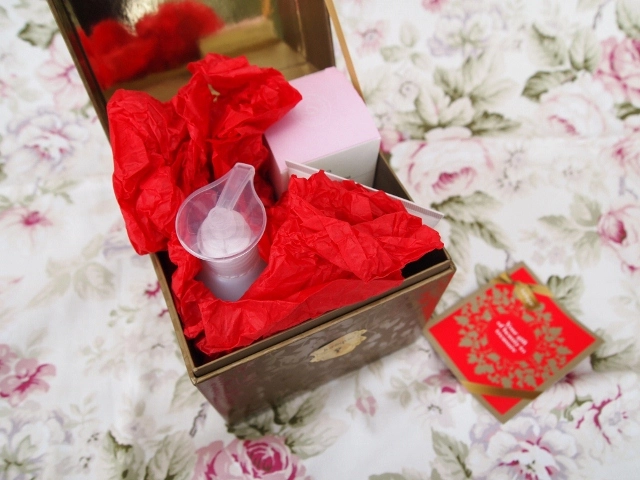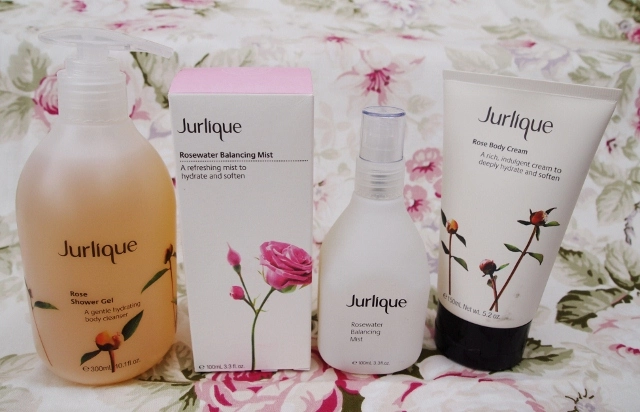 Here is a brief review of each product to give you an idea of what they are like…
Rosewater Balancing Mist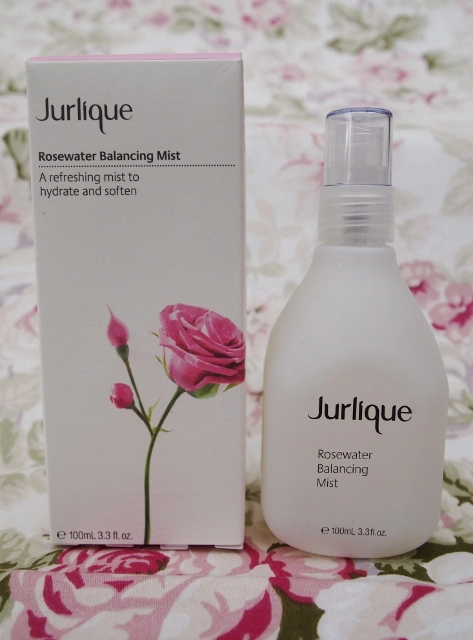 Jurlique's Rosewater Balancing Mist contains Rose Essential Oil, Marshmallow and Aloe, which combine to form a hydrating mist which improves and balances skin tone.  I like to spray this on to my face after a long day, as it refreshes tired skin and, unlike some mists, is delicately moisturising so it doesn't dry your skin out or leave it feeling greasy.  The packaging the mist comes in is very plain in contrast to the gift box, which is slightly disappointing as I like a bit of colour, but the glass bottle makes it look and feel a bit more impressive than if it were plastic.
Rose Shower Gel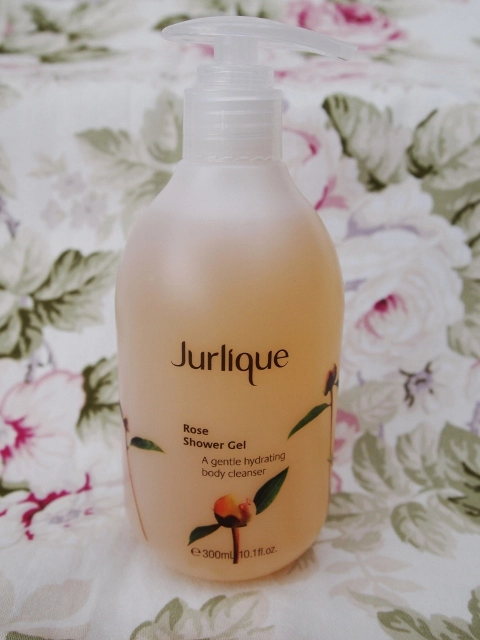 This pinky orange coloured shower gel contains a mix of natural essential oils, and like the mist leaves your skin feeling fresh, and extremely clean.  I usually use shower creams as normal gels sometimes dehydrate my skin, but Jurlique's Rose Shower Gel is actually quite moisturising, which is lovely, and can be used all over the body.  The lather that one pump of this gel gives is impressive, and a little goes a long way.
Rose Body Cream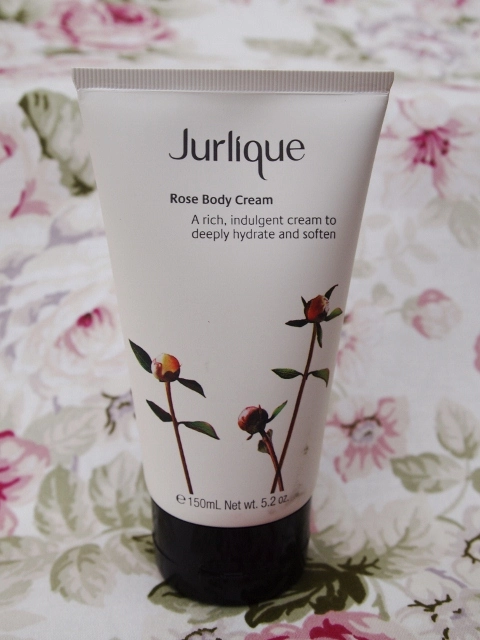 The Rose Body Cream is my favourite product in the set.  It is enriched with Jojoba Oil, Shea and Cocoa Butter, so as you can imagine it is intensely moisturising, but it is also a lot lighter than some body butters.  The cream doesn't sit on the skin making a greasy mess either, rather, it is easily and quickly absorbed and is very kind to the skin.  I suffer from dry hands so have been using this as a hand cream, and so far the results are good, and my hands feel a lot softer!
All three products have a very sweet but authentic scent of roses, which is reminiscent of an English garden on a summer's day (how corny and romantic!)  It's a very feminine scent, and isn't at all overpowering, so the products can be layered for a long-lasting, gentle aroma.
This whole set just oozes quality.  The products are all generously sized and feel amazing on the skin, and the packaging is incredible.  The Jurlique range is a bit of a splurge (products start at £10 each, ranging up to around £30), but sometimes these things are worth it, right?  You can view Jurlique's range of skin care products here, at LookFantastic.com.  Or, if Jurlique isn't for you or your loved one, LookFantastic also stock a wide selection of other Valentine's Gifts, including Nails Inc Bling It On Leather & Skulls, which I reviewed here.
Naomi x
*This Jurlique Rose Essentials set was sent to me by LookFantastic.com/The Hut Group for review purposes.  All opinions expressed are honest and my own.*