Naomi
This user hasn't shared any profile information
Posts by Naomi
0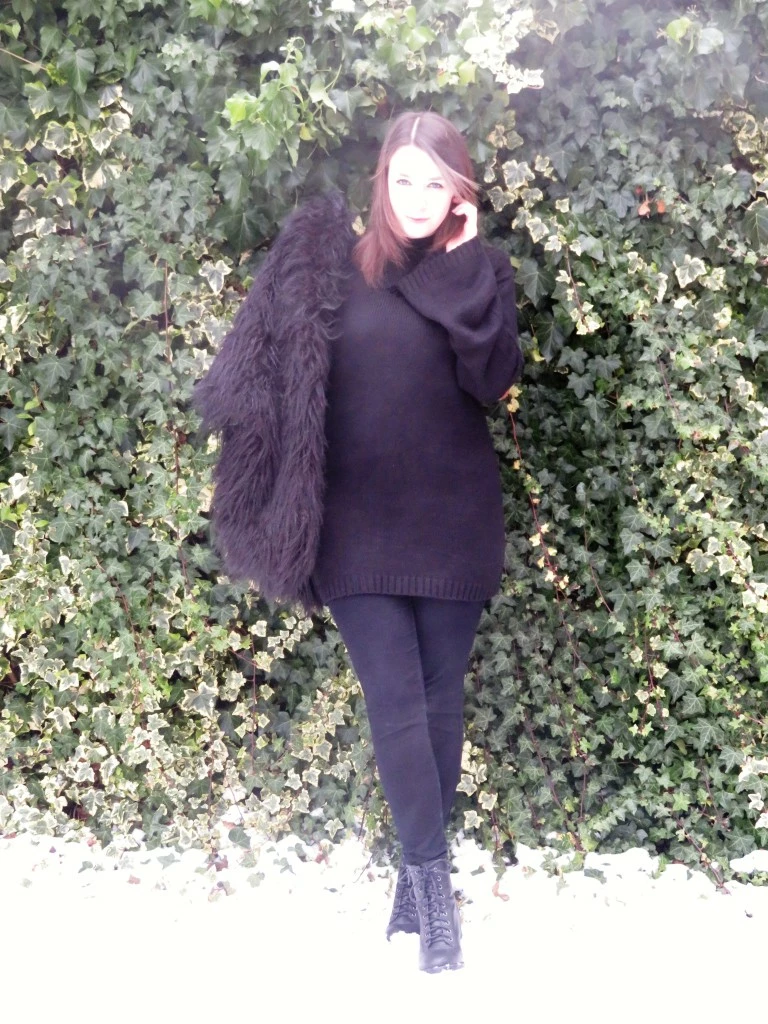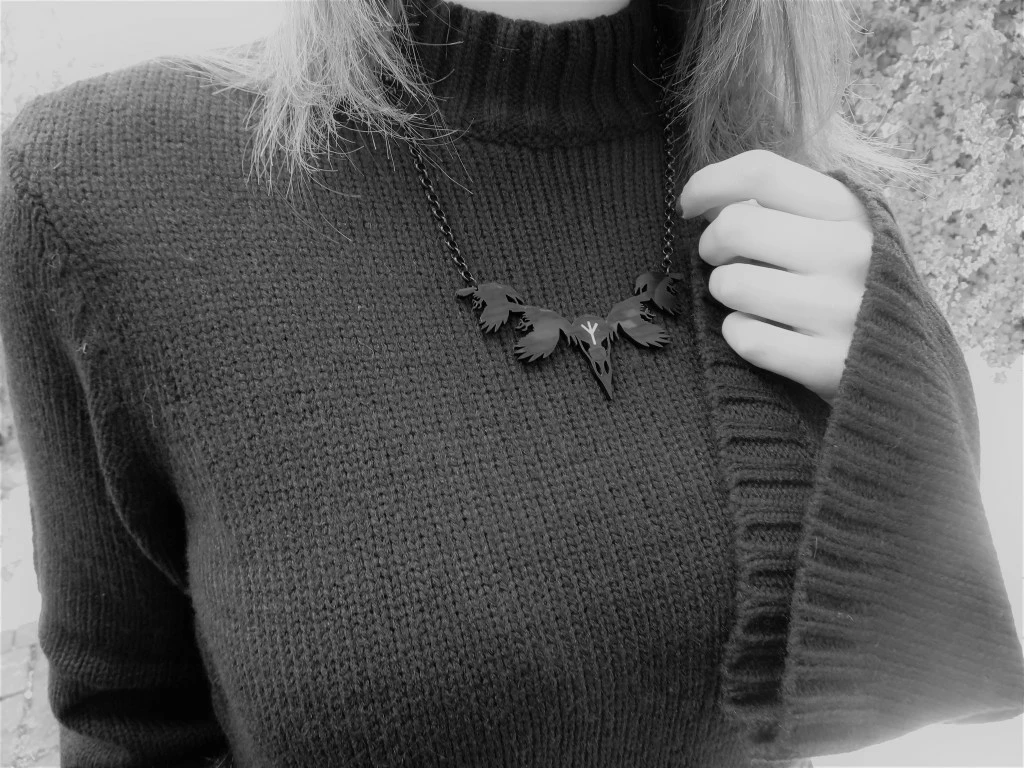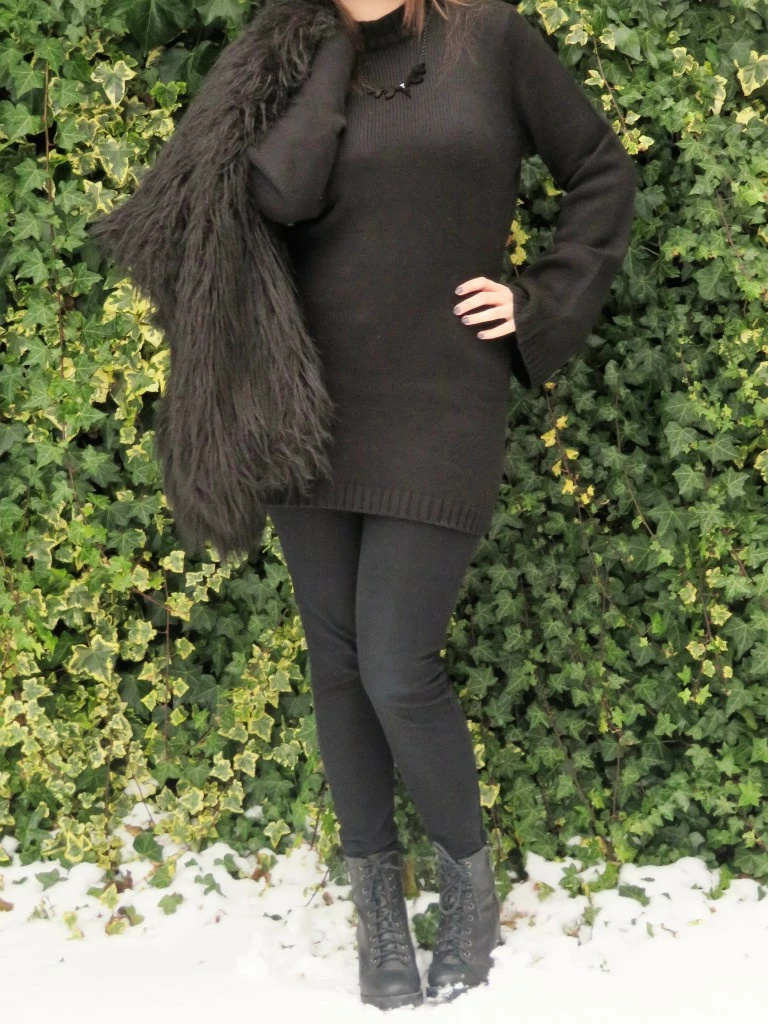 Tobi Warm Nights Bell Sleeve Sweater Dress / Primark Black Skinny Jeans / Handmade Faux Fur Jacket / Blonde + Blonde Lace Up Block Heel Boots / Curiology Necklace
Charles and I decided to brave the snowy, cold 'Beast from the East' yesterday and have a date day, starting with breakfast at our favourite local bakery, followed by a trip to the cinema to see Black Panther (which I highly recommend, by the way).  I wanted to wear something nice for our day out, but also stay warm, and I think this gorgeous sweater dress from Tobi is the right blend of both!  I absolutely adore the aesthetic of the bell sleeves and high neck, and it's just so cosy.
I teamed the sweater dress with a trusty pair of black Primark skinny jeans (which come in a 34″ leg for all you fellow tall girls out there), and my Blonde + Blonde boots.  The block heel means they were really easy to walk in in the snow, but looked a little more 'dressed up' than my usual Dr Martens.
To finish the outfit I added one of my many Curiology necklaces, and a faux fur jacket (handmade by my mum!)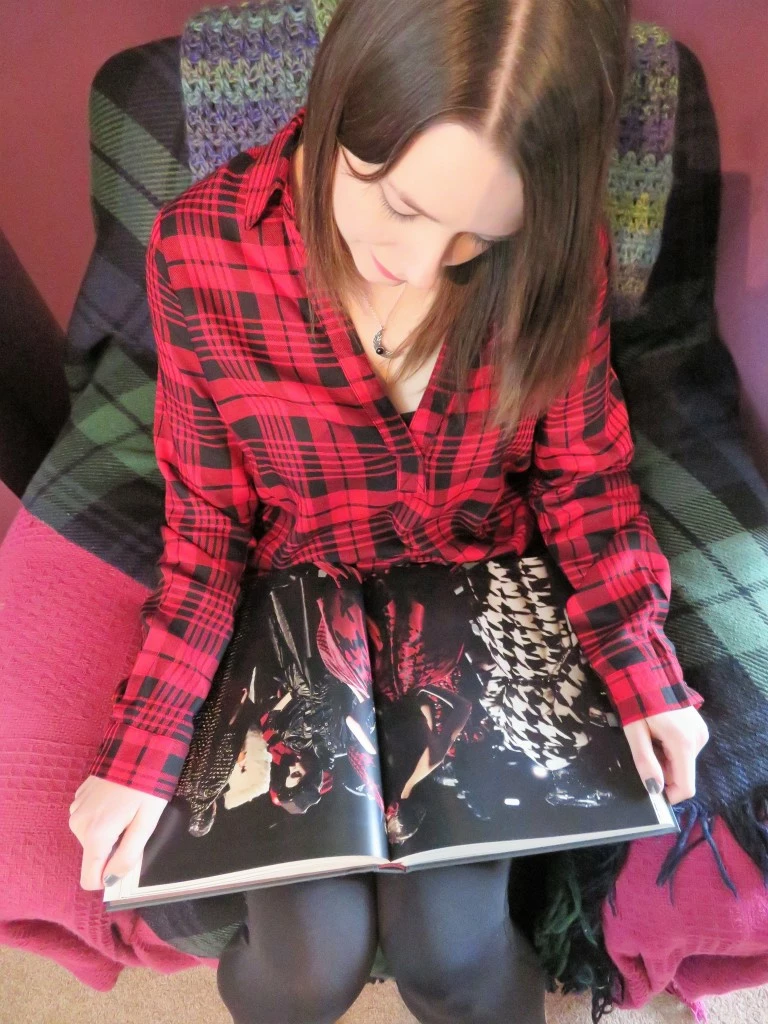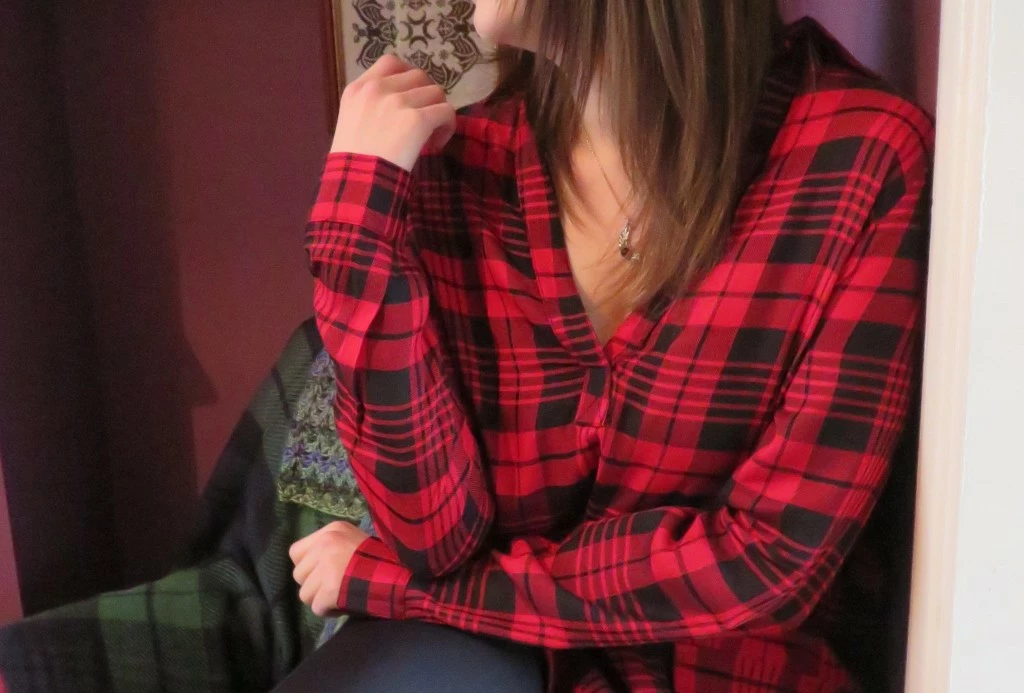 Tobi Checkmate Plaid Shift Dress / Primark Black Leggings / Sam Ryde Onyx Moon Pendant / Primark Nail Polish in 'Rock Your World' / Alexander McQueen Book by Claire Wilcox
When we got back from our day out we wanted to cosy down in the house with Netflix and some good books, so I changed into something slightly more casual.  This plaid shift dress is also from Tobi and is so loose and comfortable – perfect for lazing around the house in, but would also look amazing dressed up with a pair of skinnies and some heels.  I've been obsessed with red and black plaid ever since I saw Alexander McQueen's Savage Beauty exhibition at the V&A in London, so I'm definitely going to get a lot of wear out of this piece.
Naomi x
0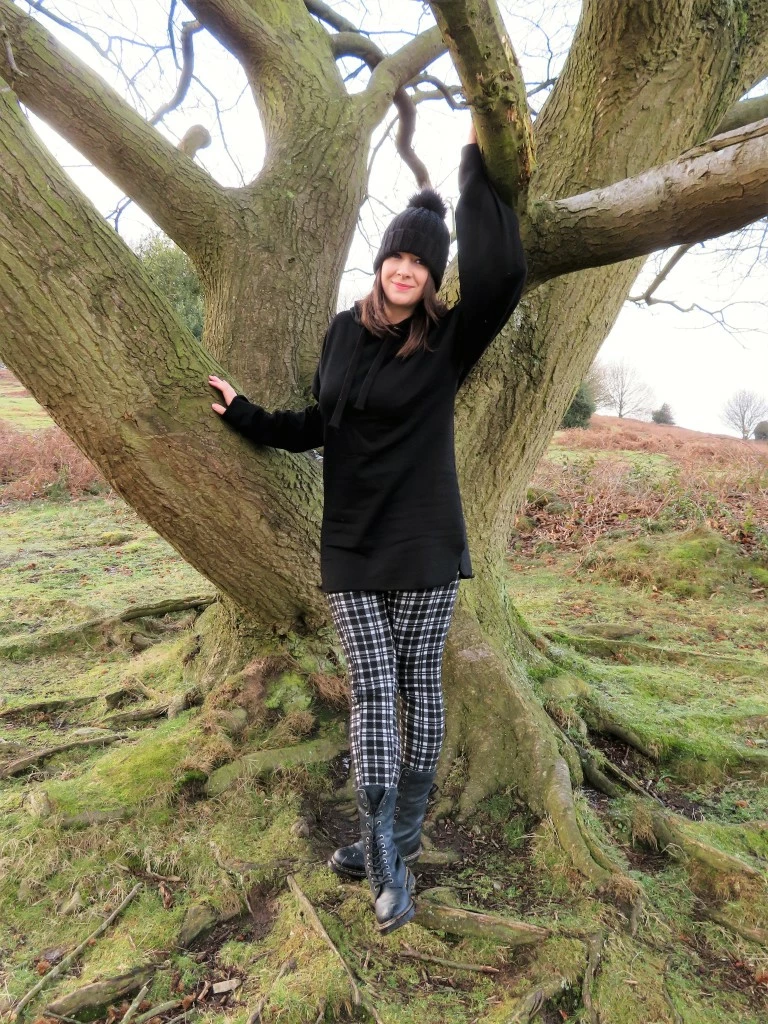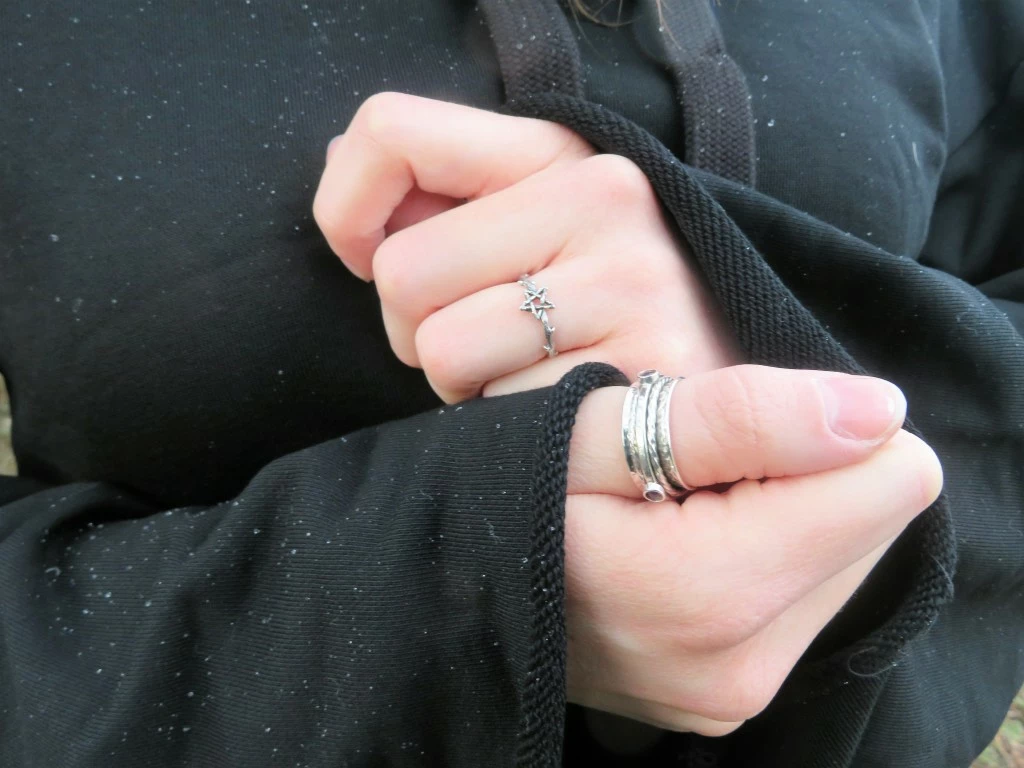 Tobi Concrete City Oversized Hoodie / Primark Plaid Leggings / Primark Bobble Hat / Dr Martens Hazil Virginia Boots / Shop Dixi Willow Magick Gothic Ring / Handmade Spinner Ring
It's getting to that time of year in the UK where one minute it feels like Spring is on the way, and the next you're in the middle of a snow shower!  That's what happened on the day the photos above were taken (as you can see from the second one…)
Of course, the best way to tackle this is by layering, and this outfit did just the job.  The oversized hoodie is from a US clothing website I discovered recently called Tobi, who also ship to the UK.  The hoodie is big enough that it's great for snuggling up in at home, but can also be layered up for an outdoor look which is cold-proof and comfortable.  I can tell this is going to become a wardrobe staple of mine.
A hilly walk also called for some thick leggings and a pair of boots, so I teamed this with my favourite Dr Martens – the trusty Hazil Virginias.  I've had these for a couple of years now and they're still going strong, and were probably the easiest pair to break in.  I'd highly recommend them and they're currently in the sale, so grab them for cheap whilst you still can!
Naomi x
0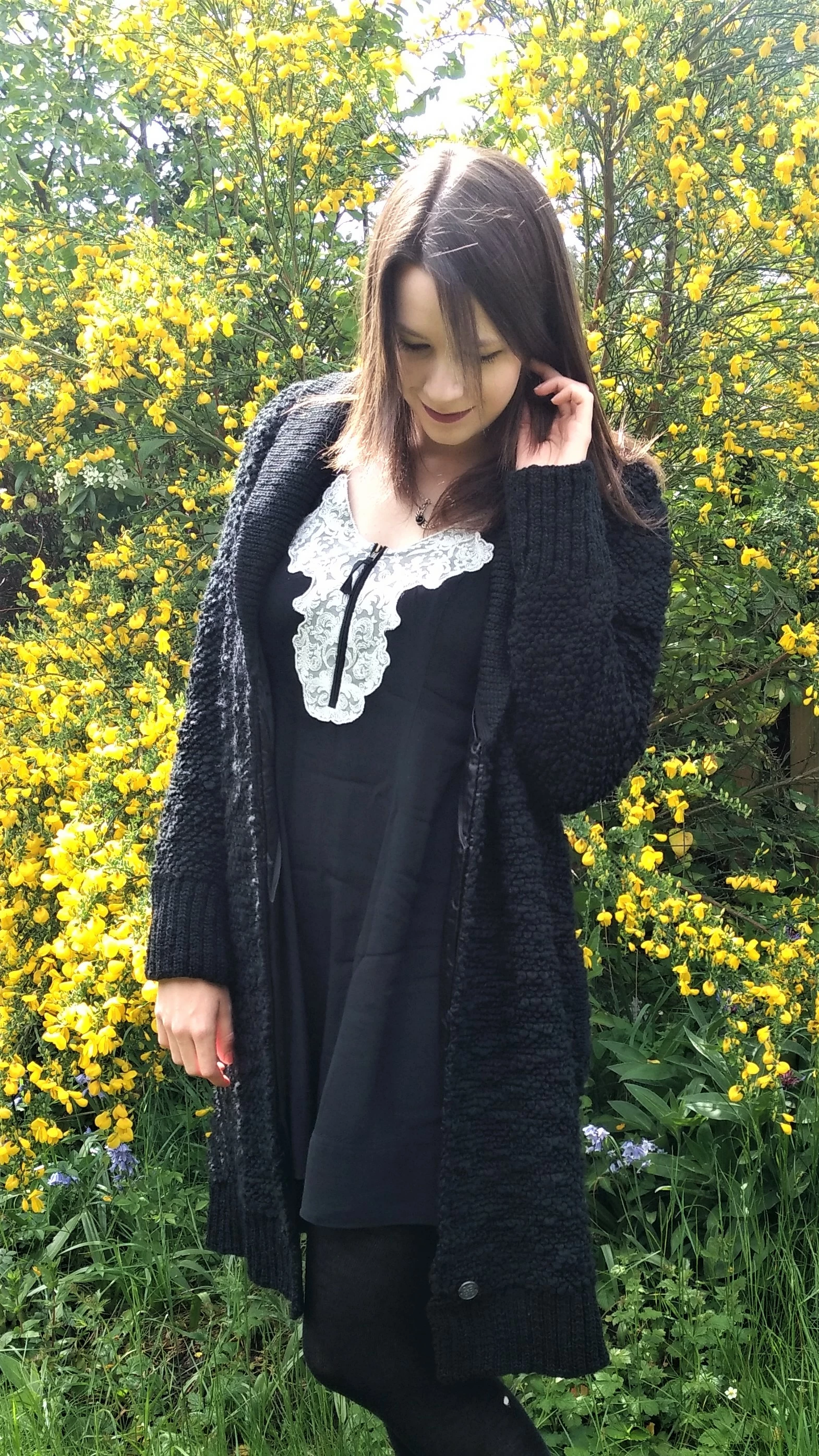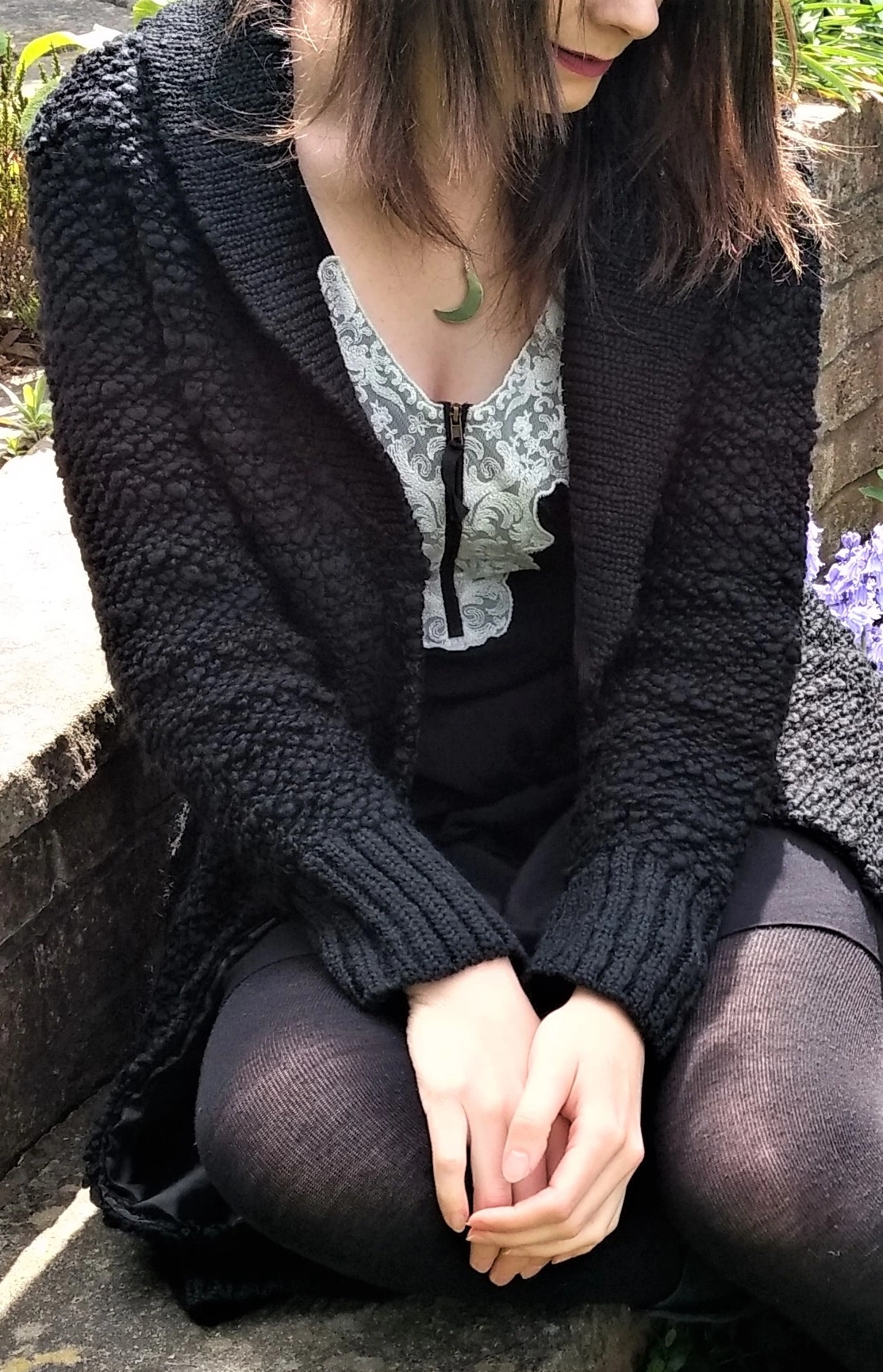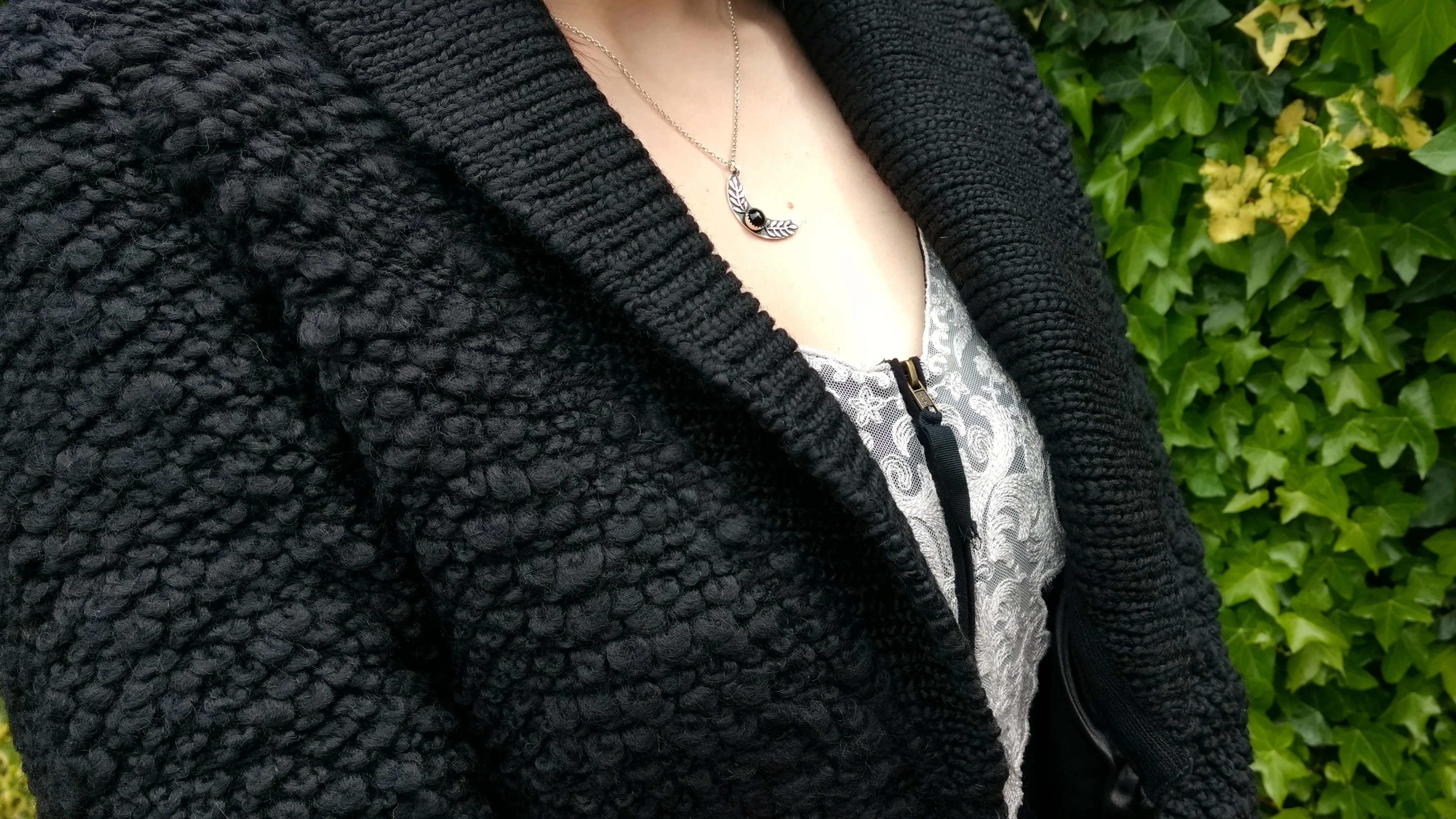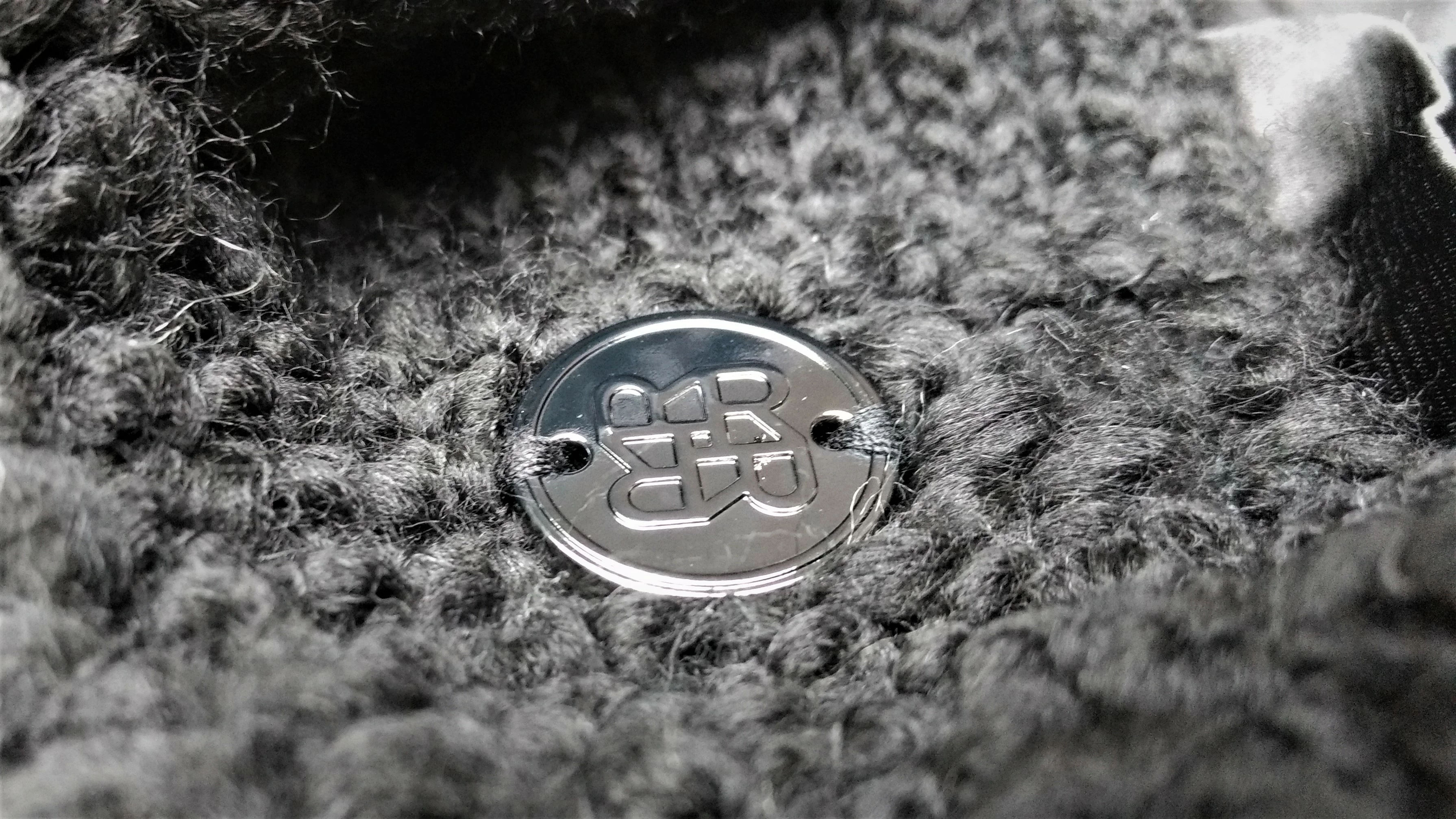 Arura Nini Heavy Knit Cardigan / Wrap London Lace Front Dress / Dr Martens Hazil Virginia Boots / Primark Tights / Sam Ryde Onyx Moon Pendant /
 If you've been following my blog for a while then you'll probably know that I like my wardrobe to have a combination of cheap and cheerful, as well as luxury investment pieces, and I feel this outfit combines the two well!
This gorgeous heavy knit Nini cardigan was recently sent to me by a local luxury knitwear brand called Arura.  Arura was founded in 2016, and specialises in creating diverse clothing and accessories, crafted on a limited basis in the UK and Europe.
The craftsmanship of the cardigan is fantastic, and it looks and feels so well made, as the wool is top quality with a softness and weight to it, and it's also lined with a silky fabric.  I just know this is going to be a staple piece in my wardrobe throughout autumn and winter as it's so comfy and cosy, but I'm also getting use out of it during Spring.  It makes for great outerwear on chilly days and evenings when a coat would be too much.
For this look I teamed the cardigan with a dress by Wrap London, which brand new would probably have cost around £100, but I managed to bag this one from a charity shop for just £3!  As my outfits tend to consist of mostly black, I like to add interest by mixing textures or flashes of colour, and I love how the lace panel looks against the knit of the cardigan.
What would you pair the Nini cardigan with?  Keep an eye out for future posts to see how else I style it!
Naomi x
0
Being the homebird that I am, one of my favourite things about Winter is spending the evening in, under a pile of blankets, with some good food and entertainment.  As such, I want to share with you some of the best things (in my opinion) to do of an evening at this time of year.
1. Watch TV
This might seem like an obvious one, but of course it had to be on the list!  After a long day at work I love nothing more than to chill out on the sofa and spend a few hours enjoying my favourite shows.  We're actually looking for a new TV at the minute, preferably a Panasonic which I know we can trust, and I have my eye on this Panasonic UHD 4K TV.  It has excellent picture quality, cinema display and Smart features, and all the reviews I've seen are really positive!  Just need to save a few pennies now.
We've been binging on Netflix lately, and I highly recommend Black Mirror, Glitch and Stranger Things.  We're currently on Season 1 of Bates Motel which I'm loving too!
2. Play Games
I actually prefer board and card games to computer or console games, and I'm a big fan of playing them with a group of friends, or just with my partner, complete with a large Dominos pizza on the side!  I find it's a great way to socialise and have fun without having to go out in the cold and rain!
At the moment I'm really into two particular card games – Fluxx (the Adventure Time version) and Sushi Go!  Both can be played in groups or pairs.  Sushi Go! is ideal if you like cute, simple, quick games, whereas Fluxx requires a little bit more commitment with its ever-changing rules!  Both are available on Amazon.
3. Read
I've had an obsession with books for as long as I can remember, and even after spending five years studying literature at University, I still get a kick out of reading.  There's just something so comforting about settling down in front of the fire, with a hot drink and a good book, exploring new worlds and characters.
I want to read a lot more this year than I did last year, and I'm already off to a good start.  My 2017 reading list is getting bigger and bigger, and as well as dipping in and out of several non-fictions, I'm also reading A Kind of Loving by Stan Barstow at the minute.  I have a soft spot for working class kitchen sink realism, so I'm really enjoying it.
What are your favourite things to do of an evening during Winter?
Naomi x
0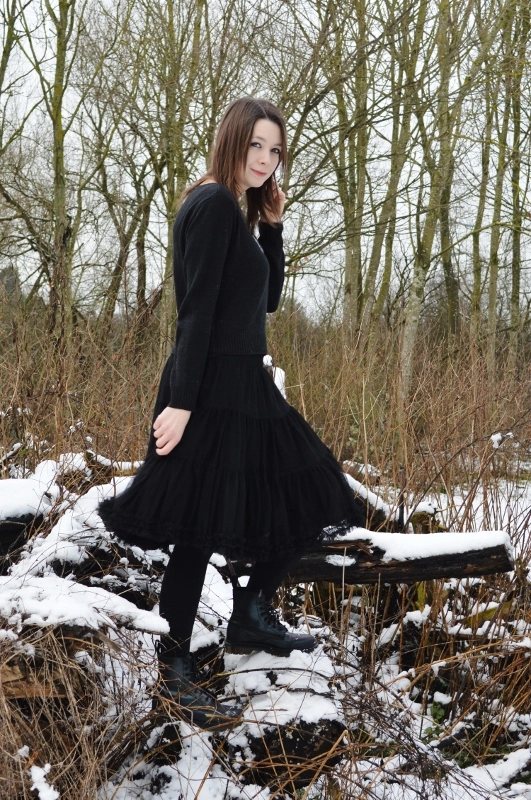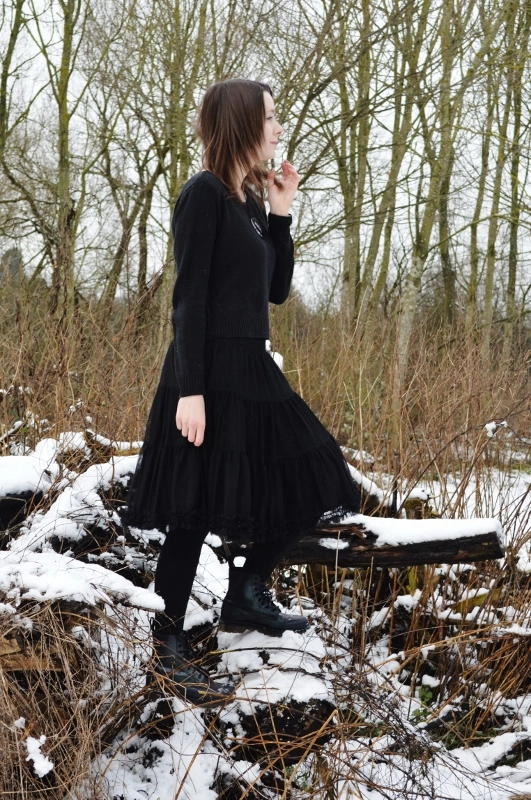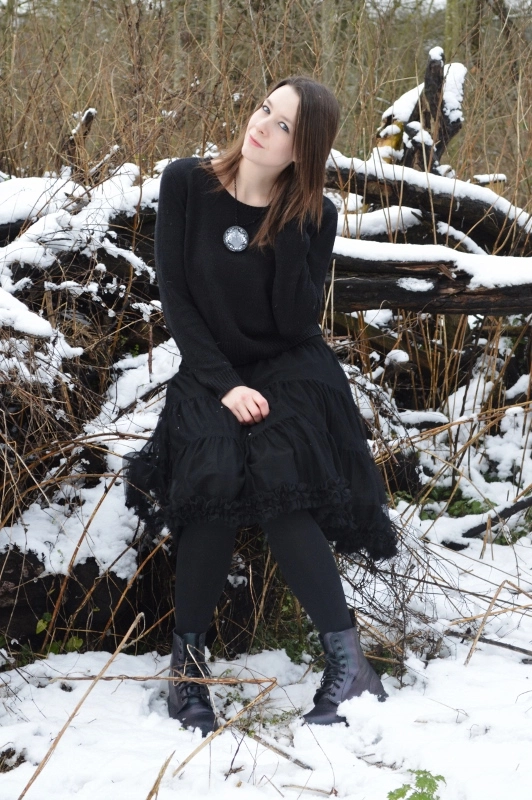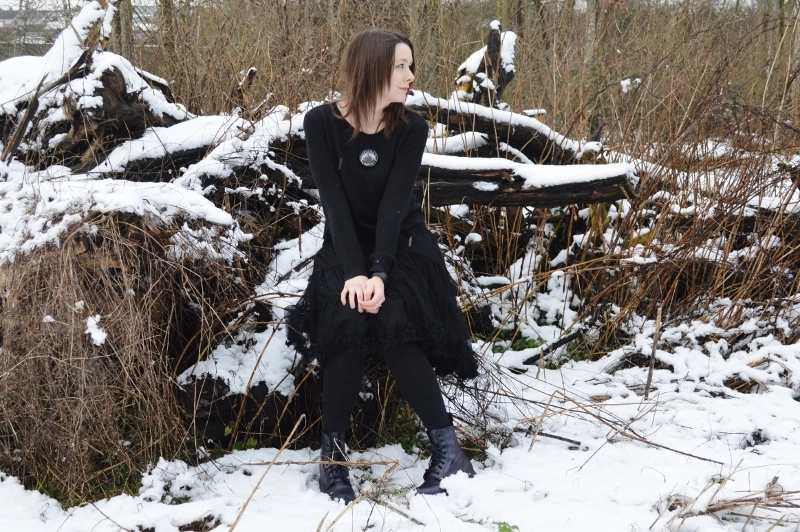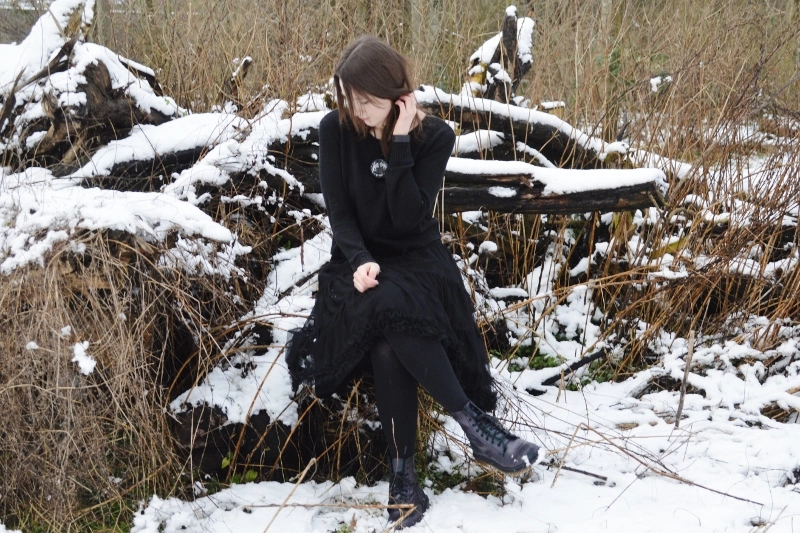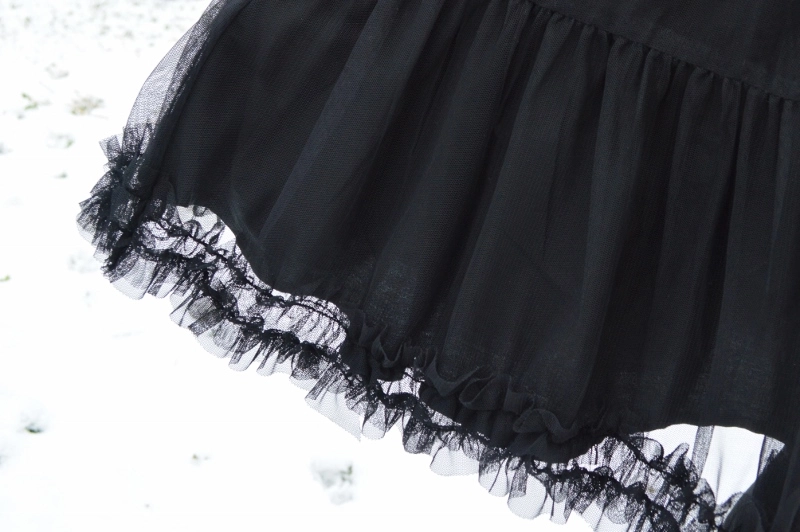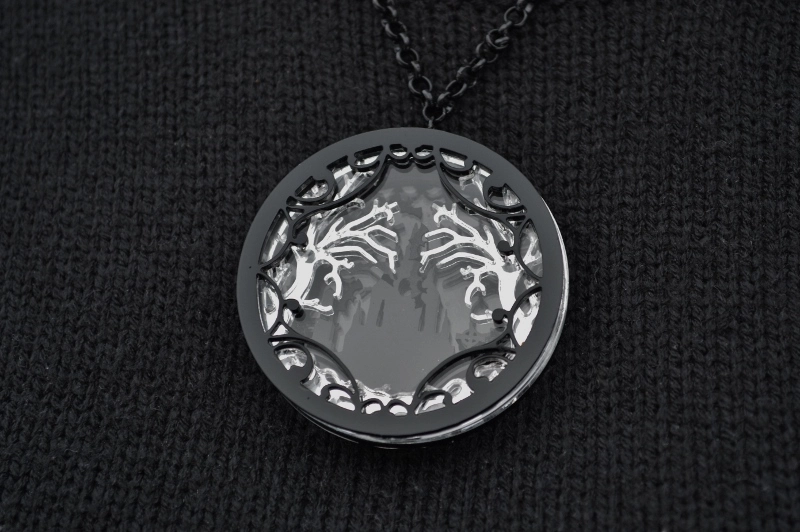 H&M Cropped Jumper / George Net Frill Skirt / Primark Cosy Tights / Dr Martens Crackle Suede Pascal Boots / Curiology Snow Globe Necklace
Well, it's been a ridiculously long time since I last posted, but I think it's about time I made a blog comeback!  The last few months have been incredibly busy, and I may do a life update post soon to share a few things, but for now I thought I'd kick back off with a good ol' outfit post – my favourite!
Last weekend we had our first snow of the season, and though there wasn't much, Charles and I went for a lovely wintry walk around the local meadows.  My outfit of choice for my snowy walk was put together around one piece – my skirt.  I actually thrifted this skirt for just £3.25 from a charity shop a few weeks ago, and I absolutely adore it.  The full tiered net looks so feminine, but still has the Gothy edge that I love, and is surprisingly warm when worn over tights.
I teamed the skirt with one of my favourite basic jumpers from H&M, and my newest pair of Dr Martens, which kept my toes toasty from the cold.  The necklace was a Christmas gift from my mum, and is pretty damn cool.  It's by Curiology, and was one of their Winter 2015 pieces.  It doesn't show up well in the photo, but the necklace is layered, and depicts a gothic castle scene, with teeny bats included.  So cute.
Did you get any snow last week?
Naomi x
2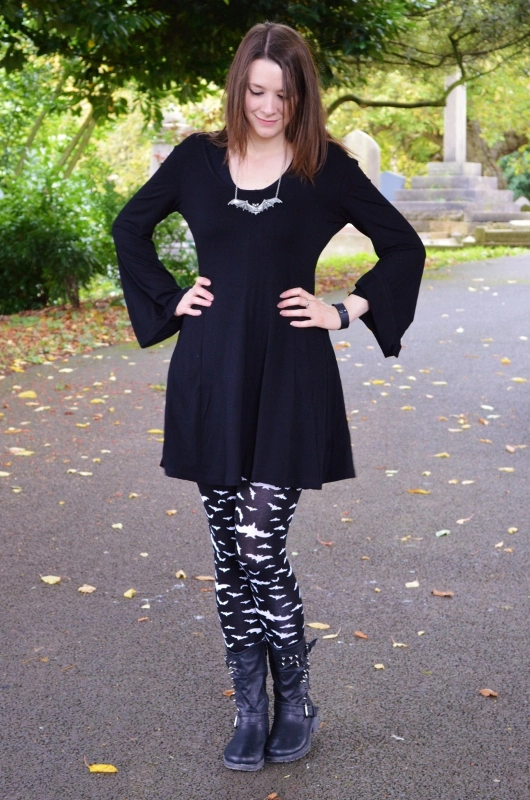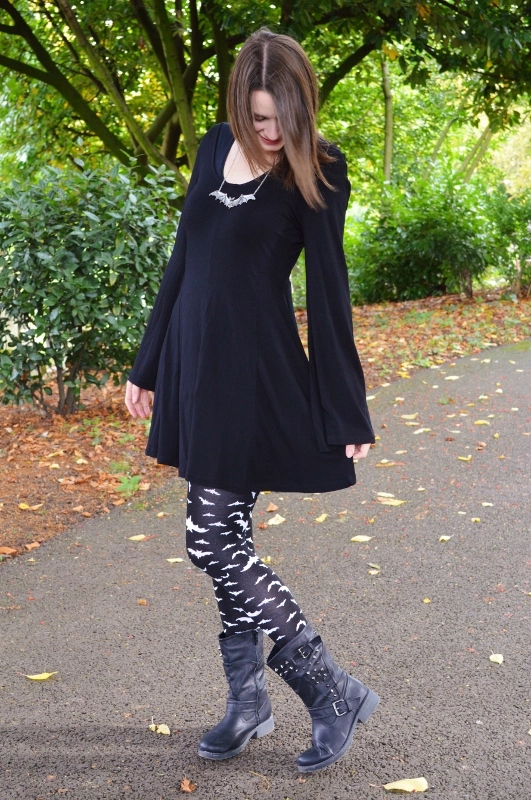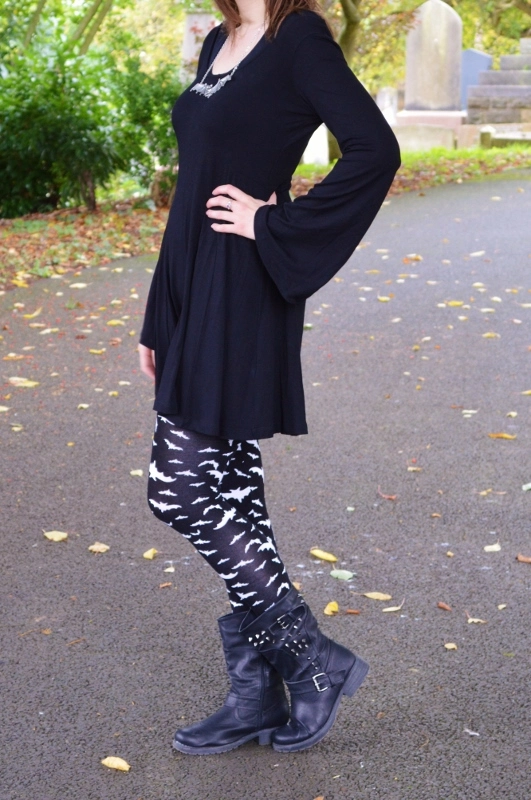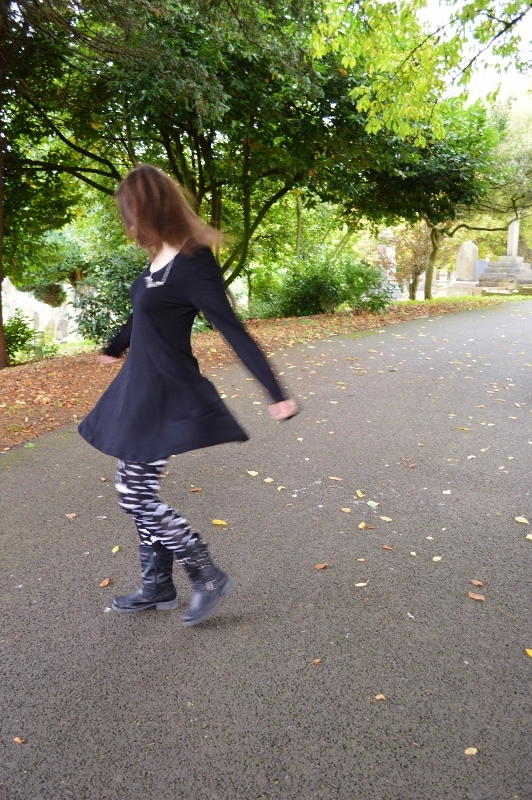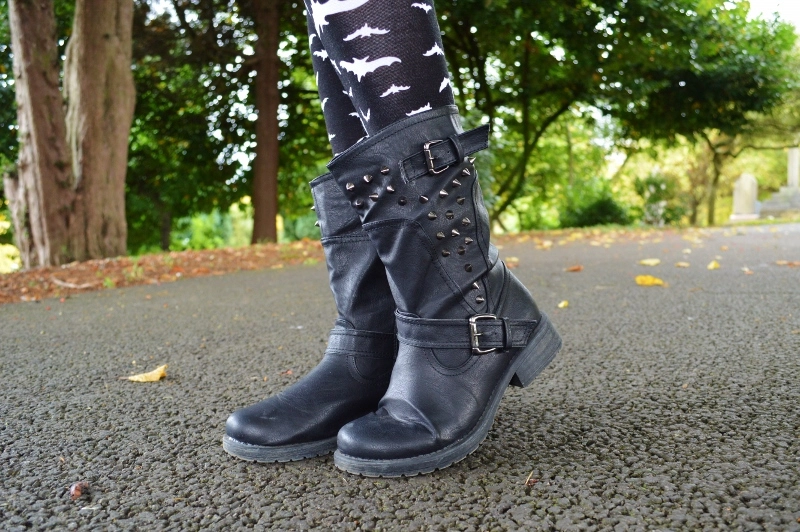 ASOS Flared Sleeve Dress / Primark Bat Leggings / Primark Stretch Tee / Everything5Pounds Stud Boots / Alchemy Bat Necklace / Fitbit Charge
Spooky season is well and truly upon us!  Which, much to my delight, means that the shops are currently full of Halloween themed goodies.  For me, Halloween is better than Christmas, so like a lot of people love to spend December wearing ugly Christmas sweaters, I like to wear Halloween clothing throughout October!
My first Halloween purchase this year is this pair of monochrome bat print leggings from Primark.  Bats are actually one of my favourite creatures, so when I spotted these they went straight into my shopping basket.  I was slightly worried that they wouldn't work for me as Primark leggings don't always fit me right, but these are pretty damn perfect.  They're true to size, and the fabric is also lovely and soft.
To continue the bat theme I threw on my Alchemy bat necklace, over this cute ASOS dress.  I actually bought this during the summer sale, but have only just started wearing it for some reason.  The long flared sleeves remind me of bat wings, and the length is perfect for showing off patterned leggings such as these.
The studded biker boots are from Everything5Pounds and were, you guessed it, only £5!  Despite the low price tag they're excellent quality, and are great for leaf kicking.
Naomi x
1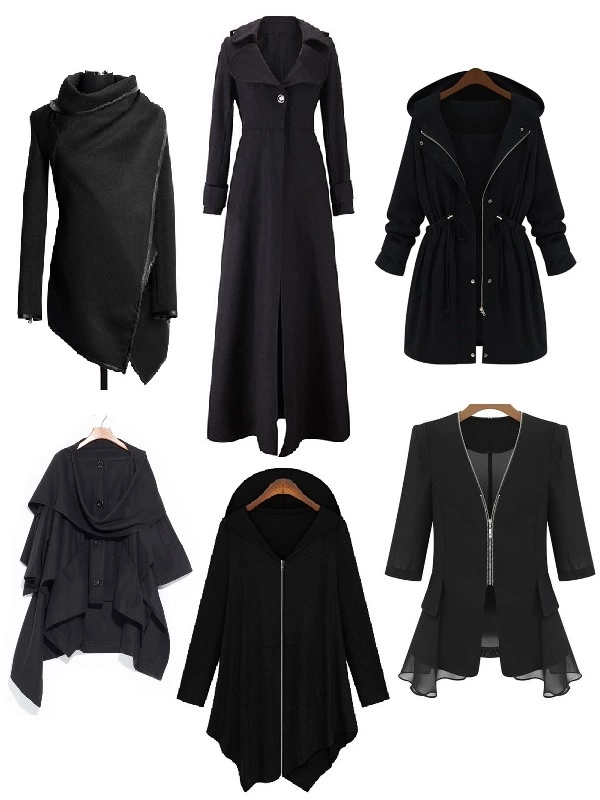 It's now officially coat weather here in the UK, and I've been trying to find a couple of new ones for Autumn, as my current coat is looking a bit worse for wear.  So, I headed to my favourite websites to window shop their collections of Jackets and Coats (here), and I was not let down by this season's offerings.
All of the above coats and jackets are from SammyDress; an incredibly affordable online store that's had everyone talking lately.  As my regular readers will know, I wear a lot of black, and in my opinion you can't go wrong with a black coat, as it will go with just about anything.  As you can see, most of them also have a draped effect, which I love at this time of year, as loose draped items are fantastic for layering and keeping warm on cold days.  My particular favourite is the maxi coat in the centre as it's so vampy and elegant.  I could easily see myself wearing this dressed down with black jeans and stompy boots for a walk through the woods, or dressed up with a beautiful dress for an evening meal out with my other half.
Every single one of these coats and jackets costs under £30 each, so even if you bought all of them you'd still probably be spending less than if you bought a coat from the high street!
Which coat is your favourite?
Naomi x
0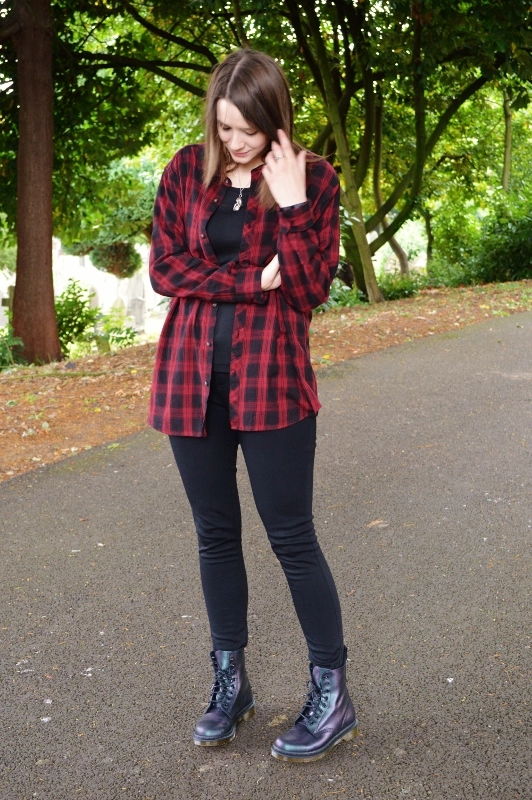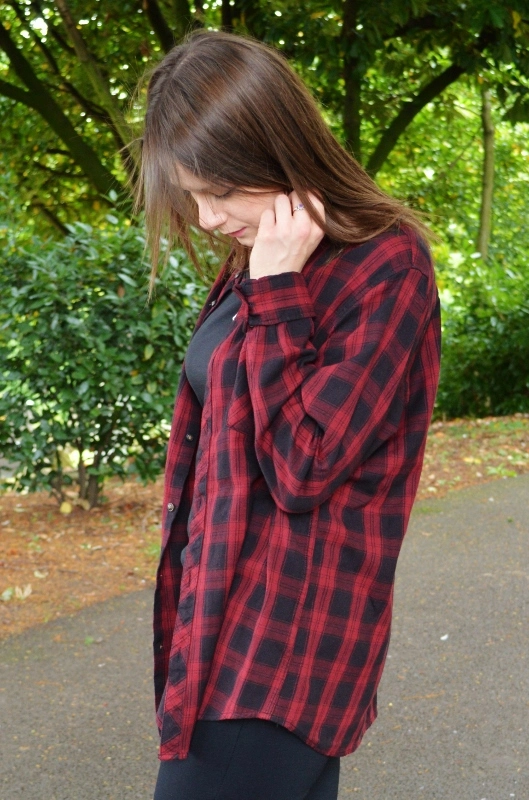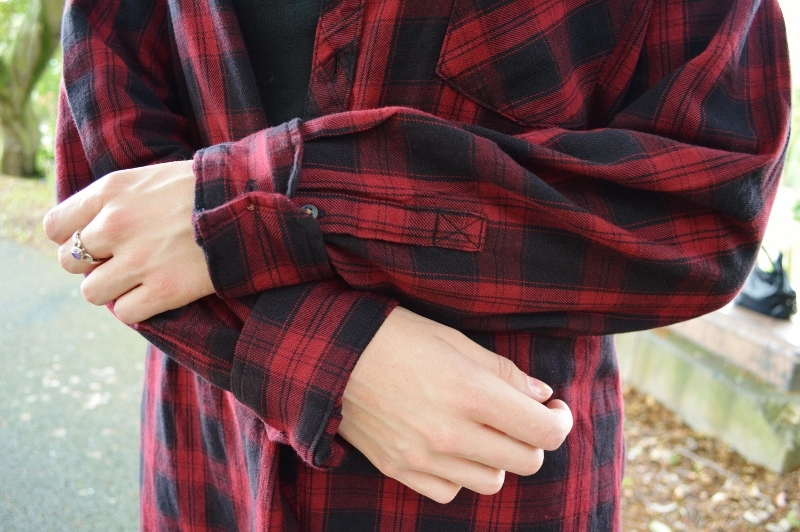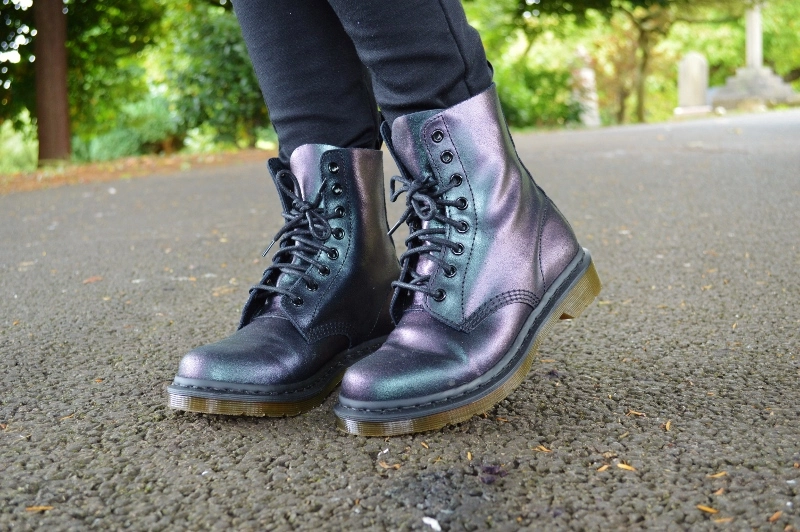 Primark Tartan Shirt / Primark Skinny Trousers / bonprix Long Sleeve Top / Dr Martens Crackle Suede Pascal Boots / Handcrafted Silver Bat Skull Necklace
My black and red tartan collection continues to grow, as I recently added this oversized shirt to my autumn/winter wardrobe.  I picked this up from the men's section in Primark for a tenner, and it perfectly fits the slouchy grunge aesthetic I tend to go for during the colder months.  I actually do a lot of my clothes shopping in the men's sections at this time of year, as I find that men's jumpers and shirts tend to be better made than those designed for women, and are also warmer, thicker, and most of the time cheaper.
I also recently invested in my annual pair of Dr Martens.  I own quite a few pairs of Docs already, and this time I wanted some basic black ones, but I decided to go for a pair with a twist.  These Pascal boots are made of crackle suede, and though they're black, from different angles they have a metallic petrol effect, shimmering purple and green in the right light.  They're ideal for adding texture and a bit of colour to dark autumn outfits, and I managed to break them in in one (painful!) outing, so they're ready to see me through the next few months.
The skinny trousers and bonprix long sleeve top are two of the core pieces from my wardrobe, that transition well all year round, as they can be paired and layered in endless combinations.  Finished with my handcrafted silver bat skull necklace, this simple outfit is quick and easy for cosy autumnal days.
You can see how else I recently styled black and red tartan here!
Naomi x
*This bonprix top was sent to me for styling purposes.  All opinions expressed are honest and my own.*
0
A few weeks ago I was contacted by the bonprix team, asking me to take part in a fun fashion challenge – to style a Summer look for Autumn/Winter.  Autumn has always been my favourite time of year, and I'm quite partial to layering up my summer dresses to keep me warm on colder days, so I was definitely up for taking part.
I was given a budget of up to £50 to choose items from the bonprix holiday shop, to be used to create a summer look so it's transitional for Autumn/Winter.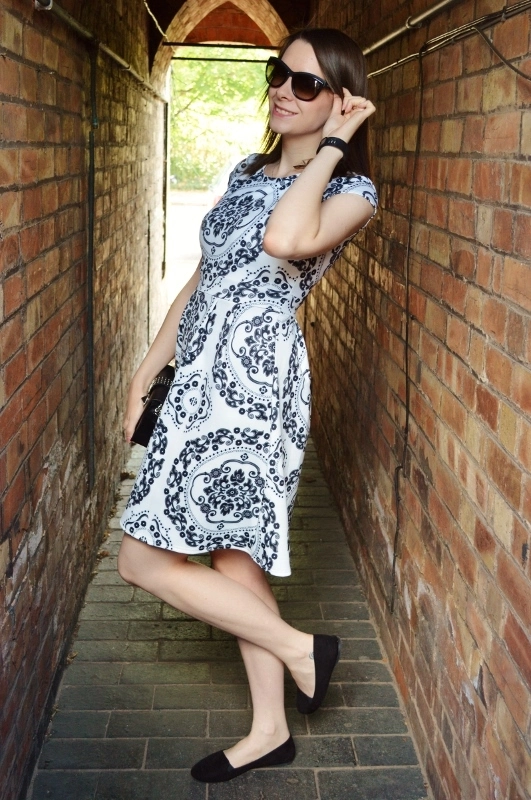 bonprix Tile Print Skater Dress / Primark Black Flats / Primark Mini Shoulder Bag / Alexander McQueen Cat Eye Sunglasses
The main item I chose was this tile print skater dress for £39.99, in the black on white colourway.  I don't often wear white, but I loved the print so much I decided to find out whether I could pull it off!  For Summer I styled it with a pair of black flats, a cute mini box bag, and my Alexander McQueen sunglasses.  Simple, but why add more than you need to when the print speaks for itself?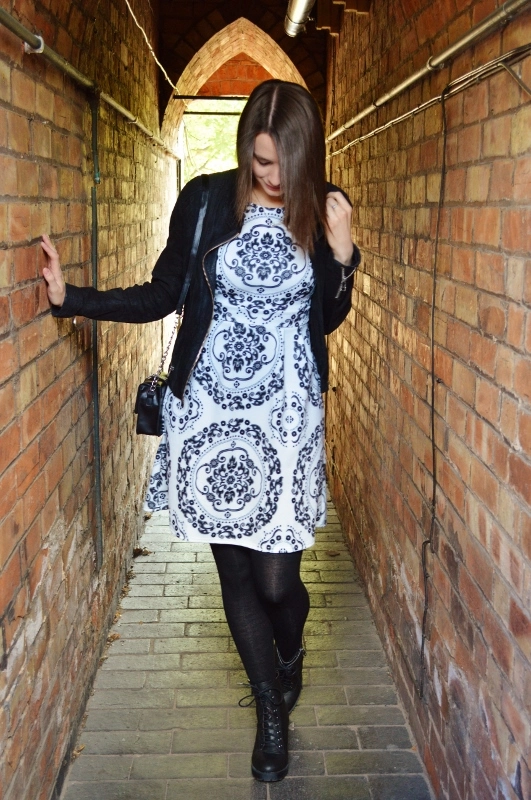 bonprix Tile Print Skater Dress / New Look Black Leather Jacket / Blonde + Blonde Lace Up Block Heel Boots / Primark Super Soft Tights / Primark Mini Shoulder Bag
And having such a bold print, it didn't take much effort to transition this gorgeous dress into an Autumn/Winter look.  To make the outfit more suitable for the cooler weather I added some super soft tights, and my trusty leather jacket.  I also removed the sunglasses and swapped the flats for a pair of chunky heeled boots, which are far more rain-resistant – very important at this time of year!
The dress is incredibly comfortable as the scuba fabric is stretchy and soft, and the classic fit and flare cut is ideal for day or night, dressed up or down.
How would you style a summer dress for Autumn/Winter?
Naomi x
*This Tile Print Skater Dress was sent to me by bonprix for style challenge purposes.  All opinions expressed are honest and my own.*
1
It's been a while since I last signed up to a (non-edible!) subscription box, and I'd been missing that buzz of getting a nice surprise through the post each month, so lately I've been on the lookout for a new one to trial. I was looking for something featuring collectible items rather than beauty products or anything like that, and I knew exactly where to turn for recommendations. One of my favourite bloggers, Chrissie of Plus10Kapow, regularly reviews popular subscription boxes, and after seeing her publish several positive reviews about Loot Crate, I decided to take the plunge and sign up for a one-off box, just to see whether I like it or not.
Loot Crate are a US-based company founded in 2012, who each month 'ships a themed mystery box of the best geek, gaming, and pop culture gear to a subscriber base of over 100,000 Looters'.  From what I've seen their boxes are always well thought out and beautifully curated to suit a theme – something that a lot of other subscription services just don't quite manage to get the hang of. The box I signed up for was the August Villains 2 box, which is quite possibly one of the best themes for me as I do love myself a supervillain! Loot Crate released their first Villains box last year, and this one is the sequel to that.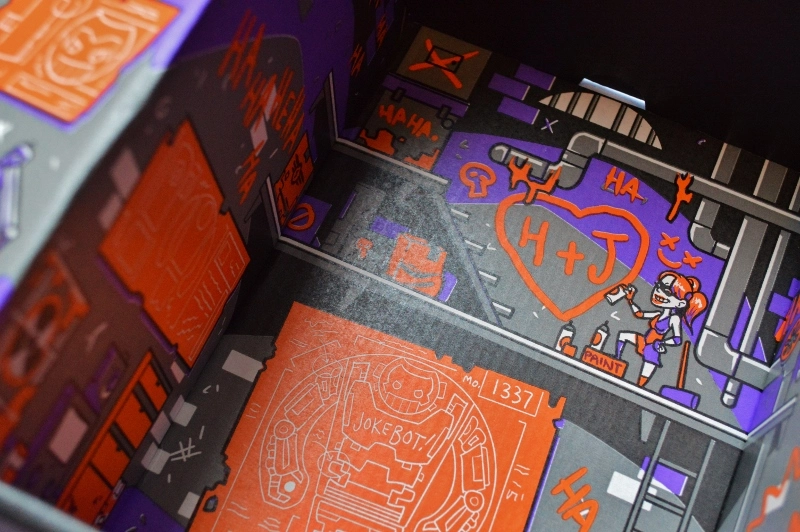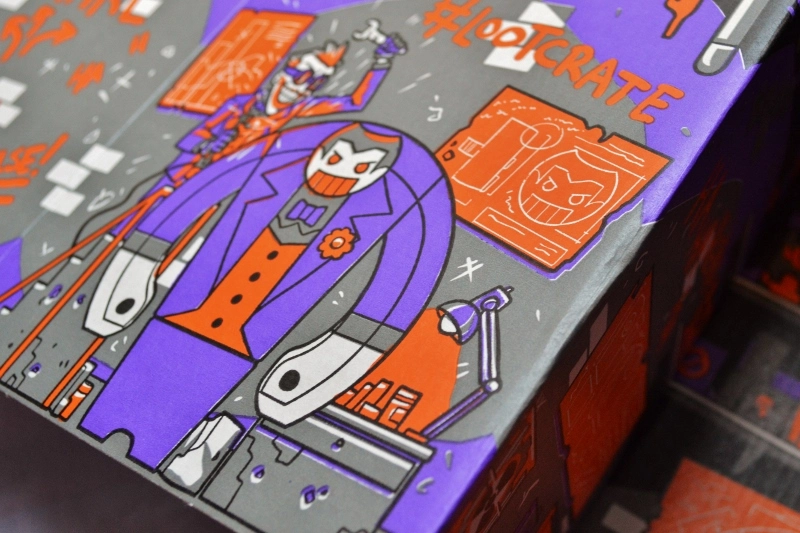 I ordered my crate on 19th August, and after much impatient waiting it finally arrived on 1st September, which was a little later than most people's, so it was incredibly difficult to avoid content spoilers online!
I was expecting to find six or seven items in the box, as this seems to be the norm according to the reviews I've seen, but this month there were only four (plus the usual magazine and badge). However, all four items are high-end and good quality, and according to Chrissie's calculations are worth a whopping £65.04 if bought separately online!
So, here's all the loot!
Captain America Hydra Pin Badge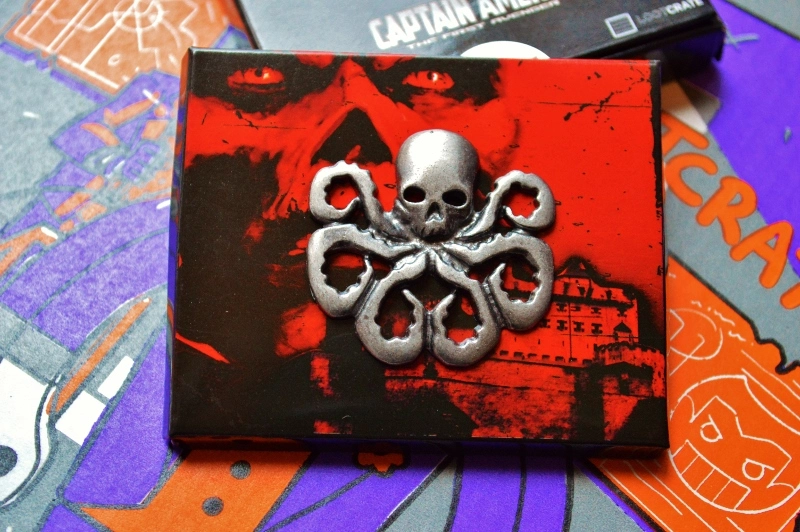 Pins and badges are one of the many things that I collect, so it was nice to find one of such great quality in the box.  This Hydra pin is very well made, and has a double pin on the back.  I reckon this would look awesome on a simple black jacket.
DC Collectibles Wooden Joker
As a lifelong Batman fan this wooden Joker figure was my absolute favourite item in the crate.  There's just something so nostalgic about it as I remember having toys like this when I was younger, and the changeable faces and poseable arms make this figure even more fun.  I can see myself collecting more of these in the future (I've got my eye on a Batman one I've seen), but this one is extra special as it's a Loot Crate exclusive.
Carnage 16oz Mug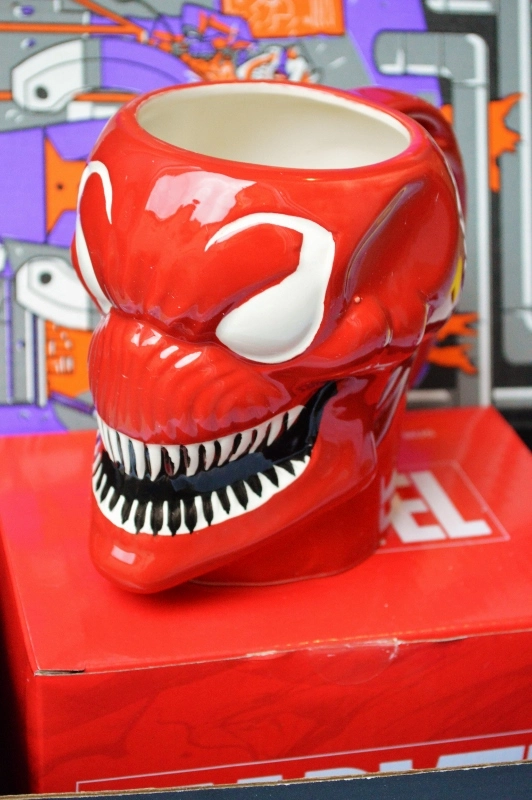 There were two villainous mug designs being sent out in this crate – Venom, and Carnage, which is the one I received.  My fiancé is more of a Marvel fan than I am (I'm a DC girl), so he was especially pleased with this.  The mug is a good size and makes a nice addition to our ever-expanding mug collection, although for some reason I can see it being used for make up brushes or pens rather than tea!
Los Pollos Hermanos Apron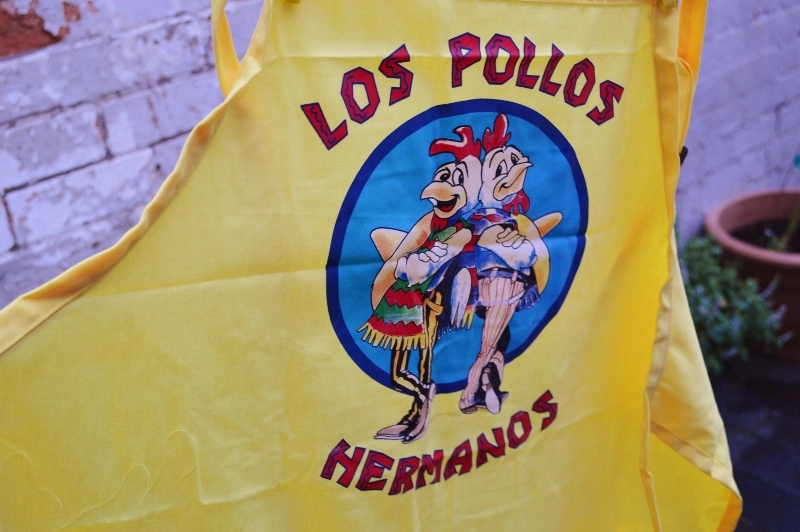 I love Breaking Bad and I do a lot of cooking, so this apron was a great addition to the box.  The quality of the apron is really high, and the colours are nice and vibrant (although you can't tell in the picture… my camera dislikes yellow for some reason!).  This is something that I'd probably buy myself, and the exact same apron is currently being sold on Amazon for over £14.
Badge and Magazine
Every Loot Crate includes a badge to match the monthly theme, and a magazine. This month's badge feature's Venom's spiky smile, and I absolutely love the Joker art on the front of the magazine. When I first saw the magazine at the bottom of the box I thought it was a print, which really excited me as I'd definitely hang this on my wall.  In fact, I was slightly disappointed that it wasn't. Perhaps something for Loot Crate to consider in the future?
So, after receiving my first Loot Crate I must say I'm impressed.  Everything about it is fantastic – the premium items, the attention to detail, even the fun design inside the box.  A monthly subscription to Loot Crate costs just under $30 (about £20), or you can sign up for 3 month, 6 month of yearly packages at a discounted rate. I had a $3 off discount code and ordered a monthly box, making this one $26.95 (a little over £18), with free delivery. For what you get, and the combined total worth of each item, the Villains 2 box was without a doubt worth the money. I'm definitely considering keeping my subscription open for longer!
Are you signed up to Loot Crate? What were your thoughts on the Villains 2 crate?
Naomi x
Naomi's RSS Feed