Posts tagged
Silver
0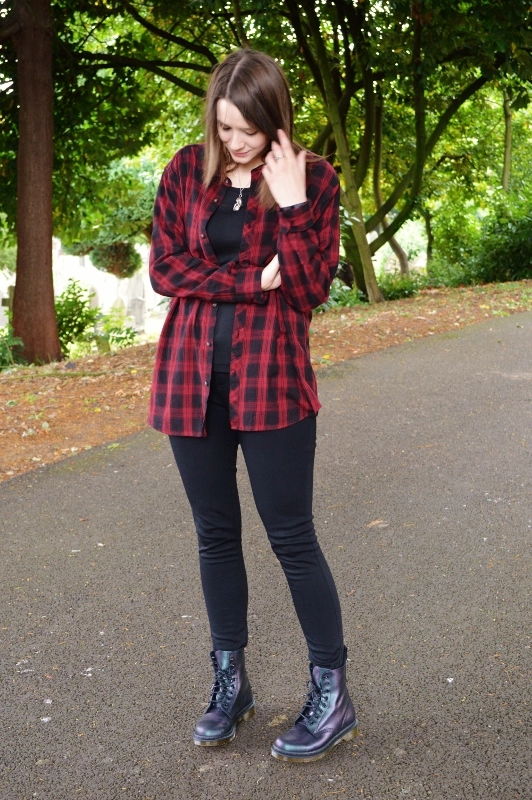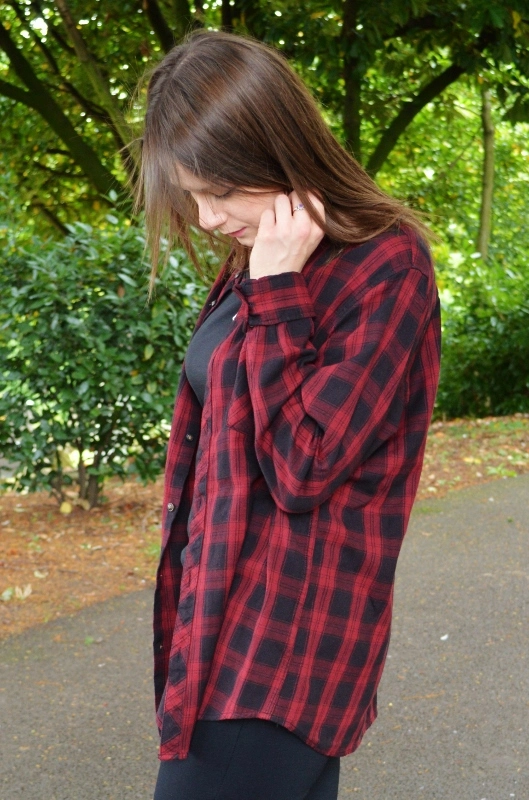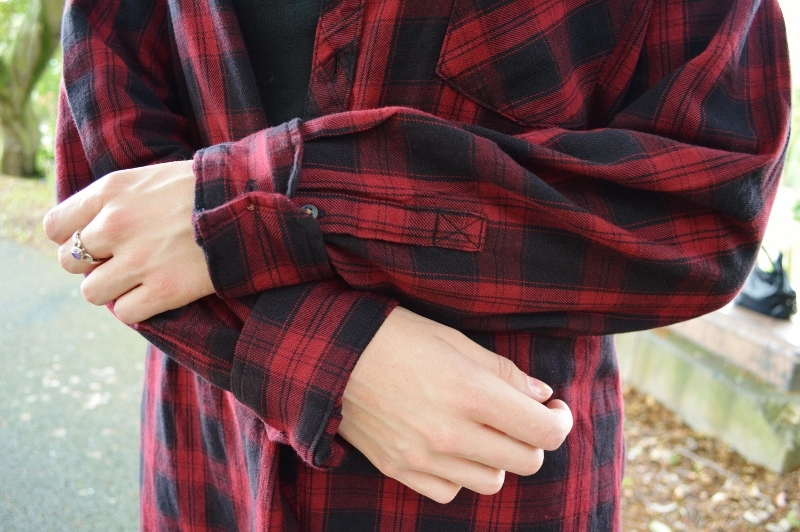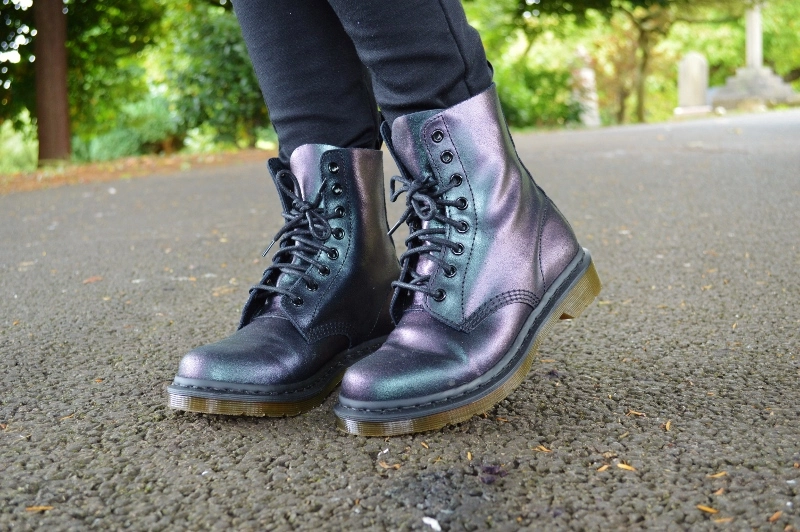 Primark Tartan Shirt / Primark Skinny Trousers / bonprix Long Sleeve Top / Dr Martens Crackle Suede Pascal Boots / Handcrafted Silver Bat Skull Necklace
My black and red tartan collection continues to grow, as I recently added this oversized shirt to my autumn/winter wardrobe.  I picked this up from the men's section in Primark for a tenner, and it perfectly fits the slouchy grunge aesthetic I tend to go for during the colder months.  I actually do a lot of my clothes shopping in the men's sections at this time of year, as I find that men's jumpers and shirts tend to be better made than those designed for women, and are also warmer, thicker, and most of the time cheaper.
I also recently invested in my annual pair of Dr Martens.  I own quite a few pairs of Docs already, and this time I wanted some basic black ones, but I decided to go for a pair with a twist.  These Pascal boots are made of crackle suede, and though they're black, from different angles they have a metallic petrol effect, shimmering purple and green in the right light.  They're ideal for adding texture and a bit of colour to dark autumn outfits, and I managed to break them in in one (painful!) outing, so they're ready to see me through the next few months.
The skinny trousers and bonprix long sleeve top are two of the core pieces from my wardrobe, that transition well all year round, as they can be paired and layered in endless combinations.  Finished with my handcrafted silver bat skull necklace, this simple outfit is quick and easy for cosy autumnal days.
You can see how else I recently styled black and red tartan here!
Naomi x
*This bonprix top was sent to me for styling purposes.  All opinions expressed are honest and my own.*
5
Per Una Crochet Long Top (Thrifted) / Primark Basic Vest / Primark Black Skinny Trousers / Blonde + Blonde Lace Up Block Heel Boots / Four Beautiful Keys Moon Necklace
The last few days have been warm enough to go out without a coat or jacket, so today when Charles and I headed out for lunch, I decided to wear something with a bit of detail that wouldn't be covered.  I'm still not quite over my winter passion for layering, so this long crochet top by Per Una seemed like the perfect transition item.  I picked this up for £1 from a carboot sale a few weeks ago, as you probably saw in my latest thrifty finds post, and it's so comfortable and light.  I adore the long bell sleeves with their mandala-type crochet patterning, and the length of the top is really flattering.
I needed some new black skinnies for Spring, but wanted something lighter than denim, and these Primark trousers are ideal.  I found them in the jeans section, but they're actually made of a soft stretchy fabric.  They fit really well too, which is a big thing for me as I have long legs so usually struggle to find trousers that are long enough for me, but these are fine!
The lace up boots are also new, and were an amazing find.  I was strolling through the local shopping centre a few weeks ago, with no intention of buying anything, but happened to spot them in the window of BANK.  The shop was having a closing down sale, and these babies were discounted from £38 to just £7.60!  Lucky for me, despite the shop being almost empty, there was one pair left in my size, so it was meant to be, especially as I've been after some laced block heel boots for MONTHS.  Winner!
Naomi x
1
 Primark Light Knit Cape / Primark Floral Skater Skirt / Primark Basic T Shirt / Primark Tights / Gifted Cloudbusting Silver Necklace
It would seem that Spring is finally here, and brighter weather calls for brighter clothing!  I've been trying to add a few more colourful pieces to my mostly black wardrobe lately, and this skater skirt from Primark is a good start.  It's floral and made of crepe, two things I'm not usually a fan of, but at £3 in the sale I thought I'd give it a go, and was pleasantly surprised.  It's a lovely shape and very comfortable, and though I bought it to with the intention of wearing it to work, I can see it becoming an all round favourite this season.
The black cape was also in the Primark sale, half price at just £7.  It's a lovely soft lightweight knit, so is perfect for keeping covered during the spring months, when it isn't quite warm enough for bare arms.
As you may have seen in my 25th Birthday Haul post, this gorgeous necklace was gifted to me by my fiancé for my birthday.  It's made of 925 silver and was personalised especially for me.  Cloudbusting by Kate Bush is one of my favourite songs, and holds many special memories, so I absolutely adore it.
Have you been enjoying the warmer weather this weekend?
Naomi x
1
On Valentine's Day I turned 25, and though I felt unwell (for the third birthday in a row!), I had a great day.  Charles treated me to a lovely breakfast in bed of Belgian chocolate waffles, hot tea, and fresh orange juice.  We then went for a long walk around Bradgate Park with my family, and had lunch at a tea room, and in the evening we had a pizza party with amazing chocolate birthday cake!
I was lucky enough to receive lots of cards, a few Highcross and Amazon vouchers from friends and family, and some gorgeous gifts, so I thought I'd do a little haul post to show you some of what I got.
My mum gifted me this watch, and it's absolutely stunning.  I love the marcasite detail and I've been wearing it every day since I got it.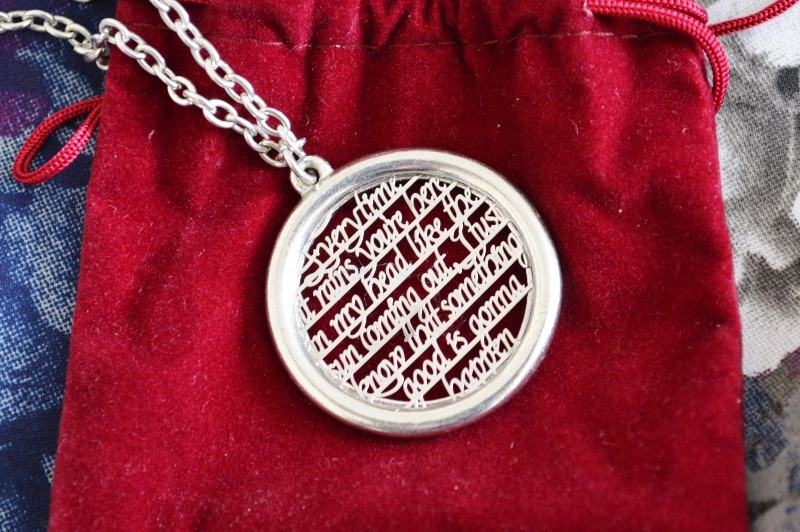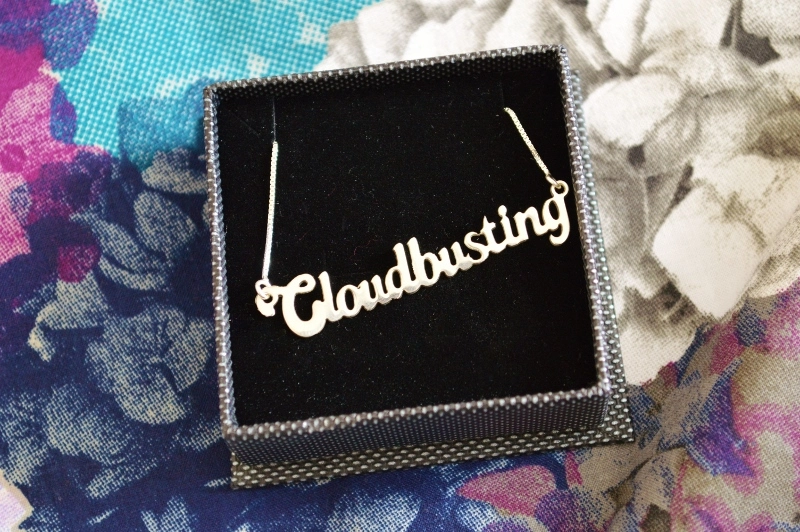 My two main presents from Charles were these Kate Bush themed necklaces.  The first one is from her official website, and features lyrics from one of my favourite songs, Cloudbusting.  I actually saw this when I went to see Kate in London last year, but couldn't afford it at the time.  I really wasn't expecting to get it for my birthday, so was so happy when I opened it!  The second necklace is made of silver and was personalised just for me.  I love it.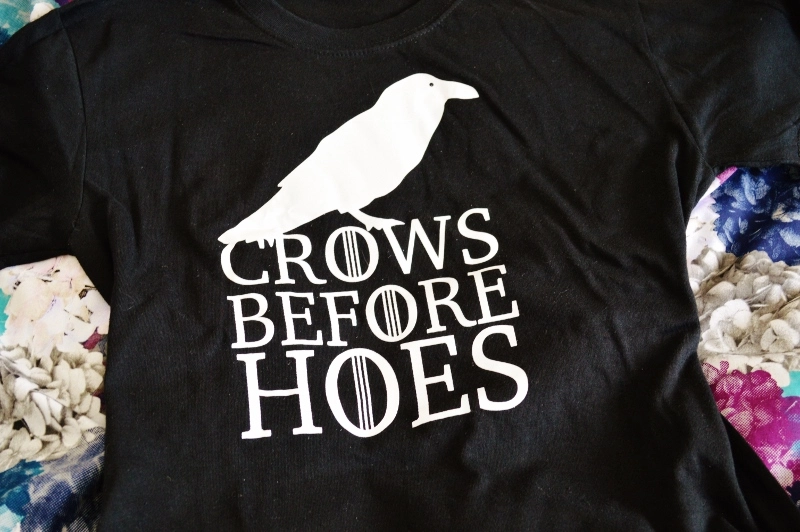 Charles also got me this awesome Game of Thrones t shirt.  I can't wait to style it for an outfit post in the coming weeks!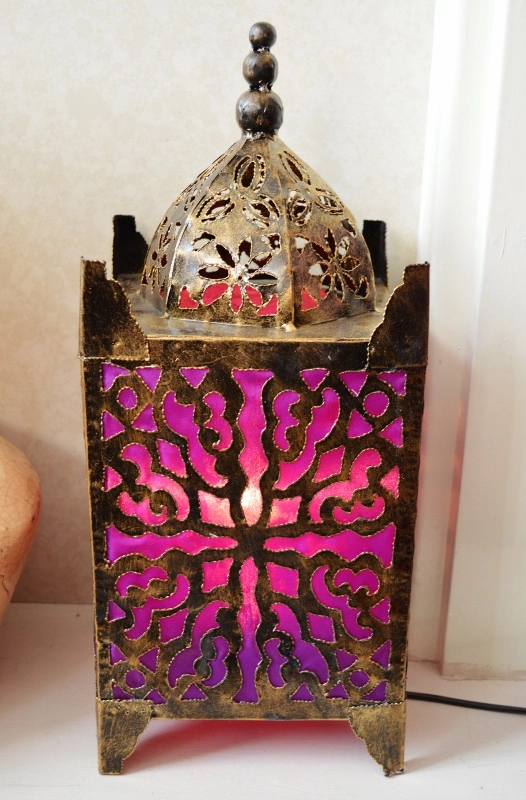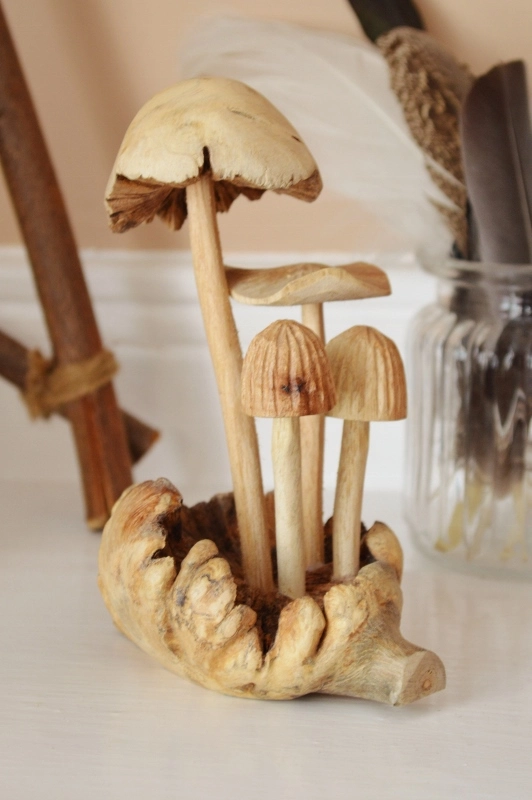 My dad gave me a few bits for the house, my favourite of which is the Moroccan lamp.  It's made of metal and is lined with purple fabric, and gives off a lovely ambient glow.  It now takes pride of place on my living room fireplace.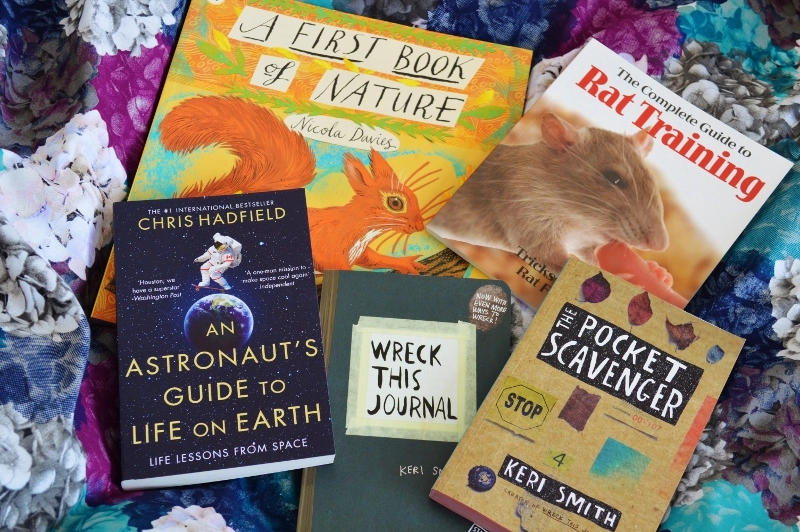 Much to my delight I get quite a few books every year, and this year was no different.  Charles gave me 'A First Book of Nature', and 'An Astronaut's Guide to Life on Earth' by my space hero, Chris Hadfield.  The rat training book was from an old school friend, and my sister gave me 'Wreck This Journal' and 'The Pocket Scavenger', both by Keri Smith.  I can't wait to start filling them in!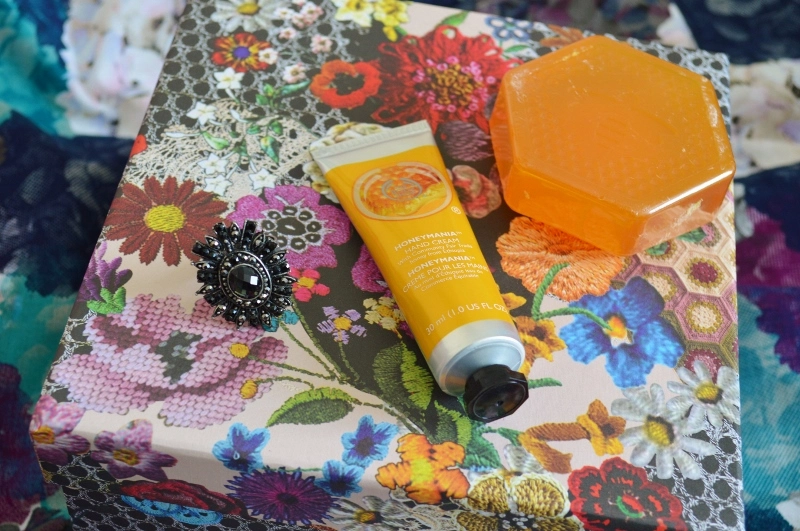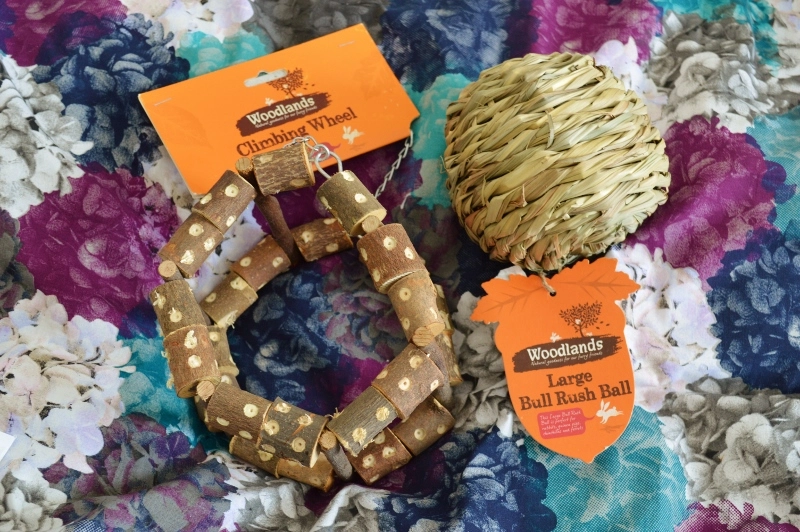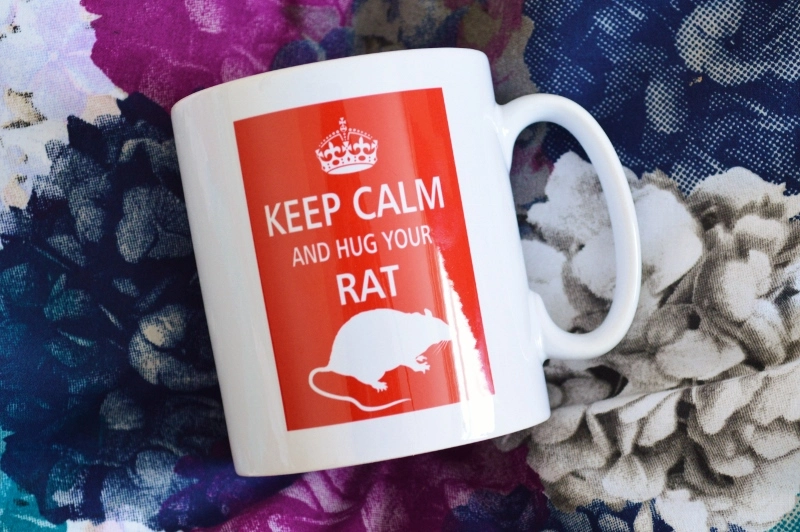 All of the above were parts of gifts from my old school friends, who I celebrated with last night at my favourite restaurant.  There was a definite rat theme to their gifts this year!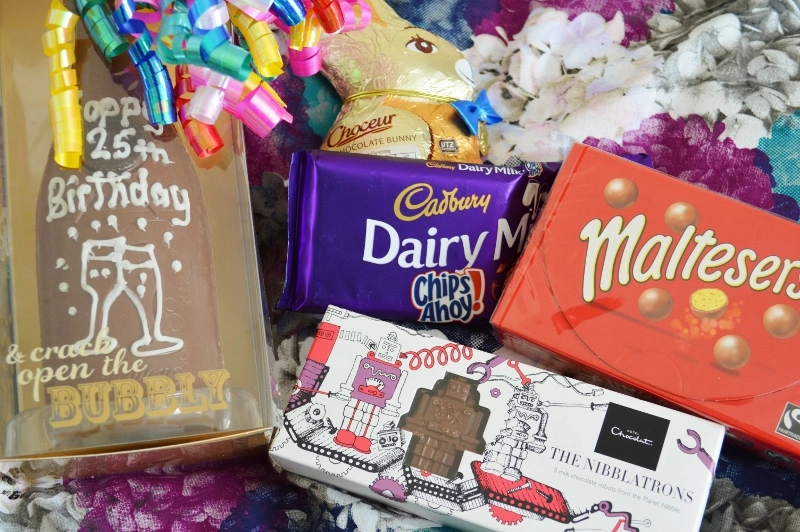 And of course, no birthday haul would be complete without an abundance of chocolate!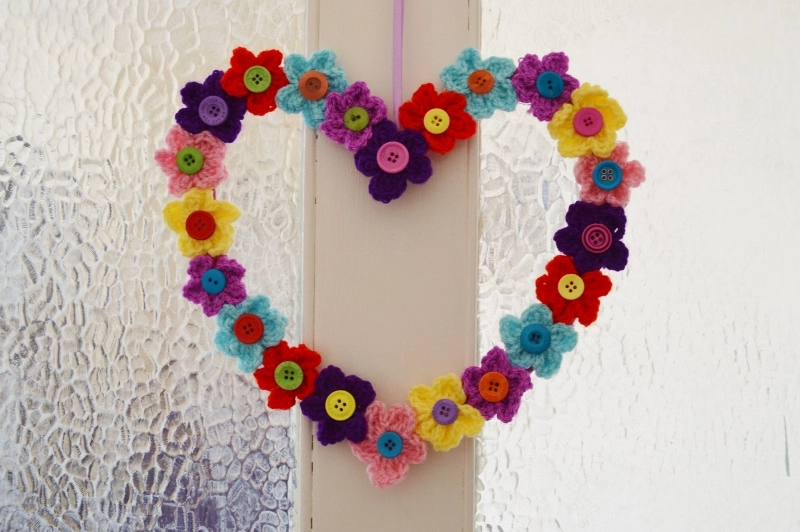 Last but not least, my talented mum made me this super cute heart wreath.  She crocheted the flowers herself, and decorated them with buttons.  This now adorns my bedroom door and it looks right at home.
Naomi x
8
Four Beautiful Keys is a Suffolk-based online jewellery boutique, specialising in unique and handcrafted pieces, created using traditional silver smithing techniques.  I have always been a fan of silver, rather than gold, jewellery, and it was the company's creative use of silver that first drew me to them when I spotted them on Twitter.  So, when Four Beautiful Keys offered to send me an item to review I was thrilled, and happily accepted.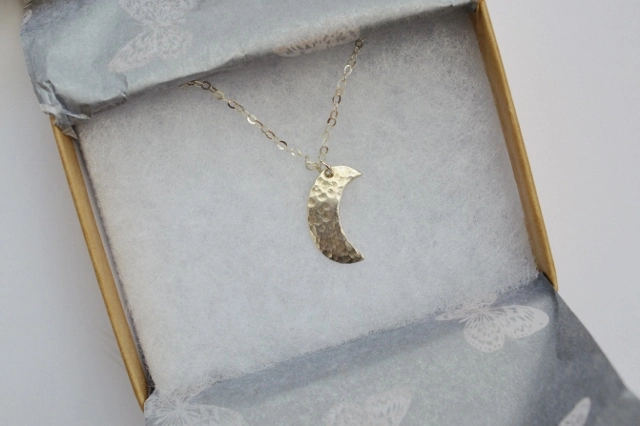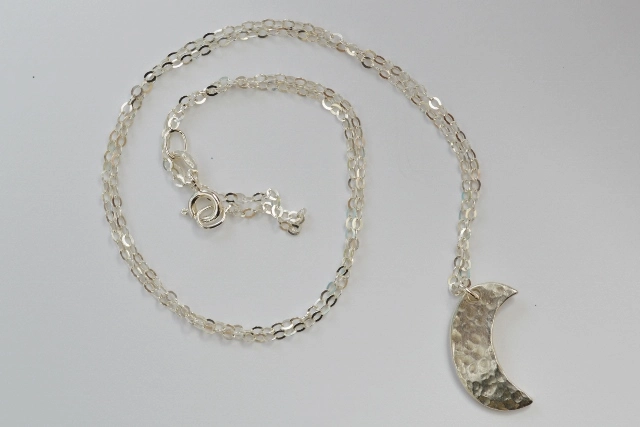 I didn't get to choose my piece, but after browsing the website I was secretly hoping for one in particular, and to my surprise it was the one I received – how lucky am I?!  Ever since childhood I have been fascinated by the moon, and this dainty moon necklace is just so perfect for me.  The pendant itself is made from hammered 925 silver, and is just under 2cm high.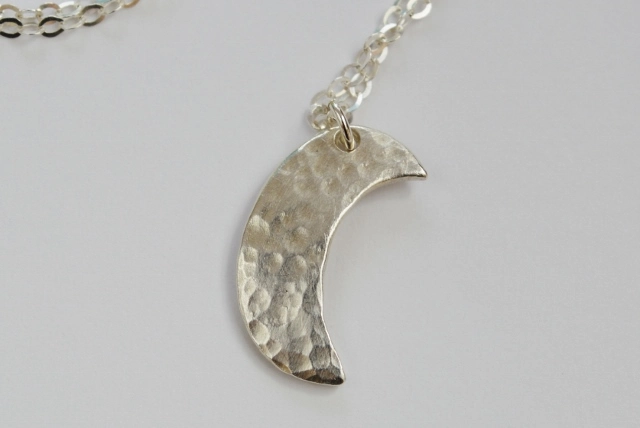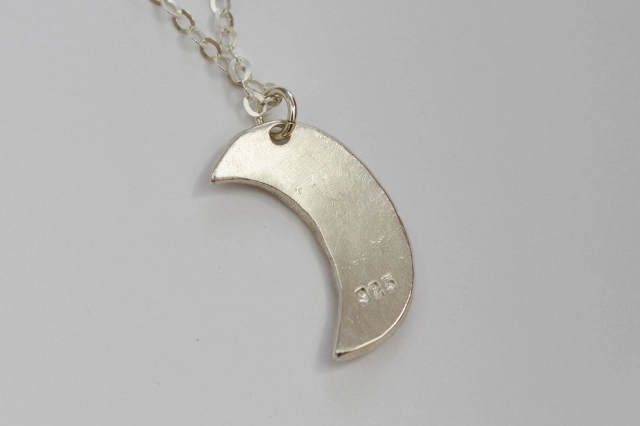 I'm a very tactile person, and I find the shape and texture of the pendant really pleasing, and I often find myself absent-mindedly fiddling with it.  That may sound odd, but to me it's a good thing as it makes it feel that little bit more special.
The moon came on an 18 inch chain, which is the ideal length for me and sits right above the neckline of most of my clothing, but Four Beautiful Keys give you the option of a variety of chain lengths, from 16 inches to 20 inches, at no extra cost.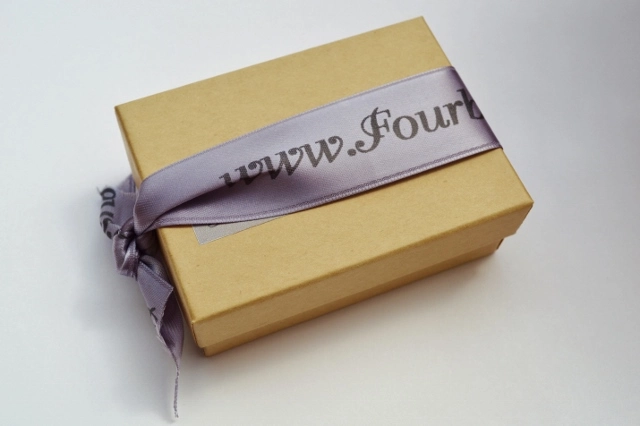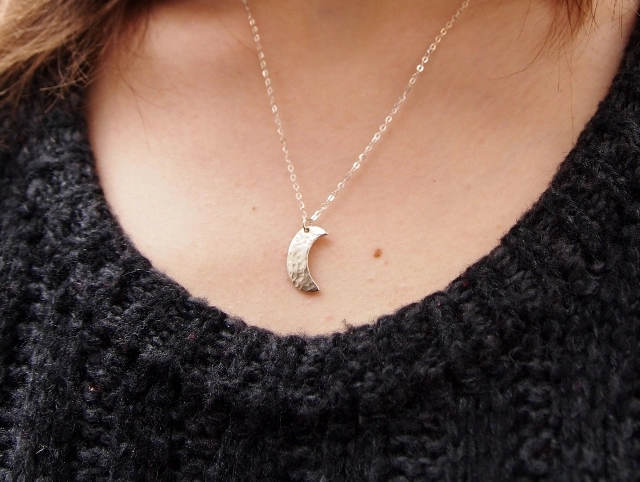 At £24.00 for a bespoke piece of jewellery, this necklace is incredibly affordable, and it even comes packaged in a cute little gift box, so would make a gorgeous gift for someone special.  It's such a versatile piece too, and I've worn it with pretty dresses, but also baggy jumpers and jeans, and it always looks great.
Four Beautiful Keys also sell a wide variety of other items, including personalised disc necklaces, jewellery gifts for mum and bridesmaids, bracelets, earrings, rings, silver charms, and an array of other silver necklaces.  To browse the full range, you can visit the Four Beautiful Keys website here, and you can also find them on Twitter and Facebook.
Naomi x
*This Moon Necklace was sent to me by Four Beautiful Keys for review purposes.  All opinions expressed are honest and my own.*
2
Last Sunday I visited my favourite car boot sale once again, and came away with yet another decent fashion haul.  I managed to find a few things that I've actually been looking for for a while, which I was very pleased about, as well as a few other unexpected items.  Here's what I bought…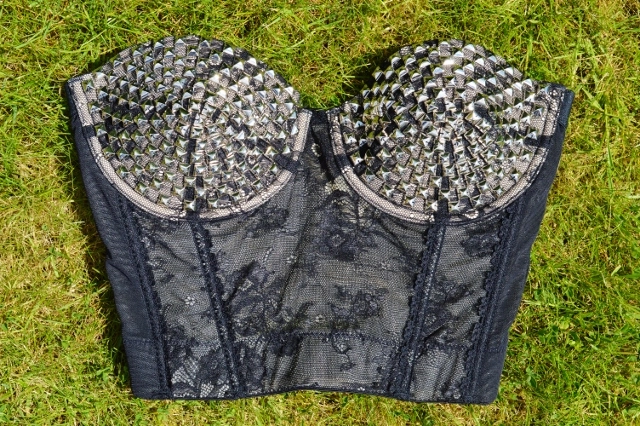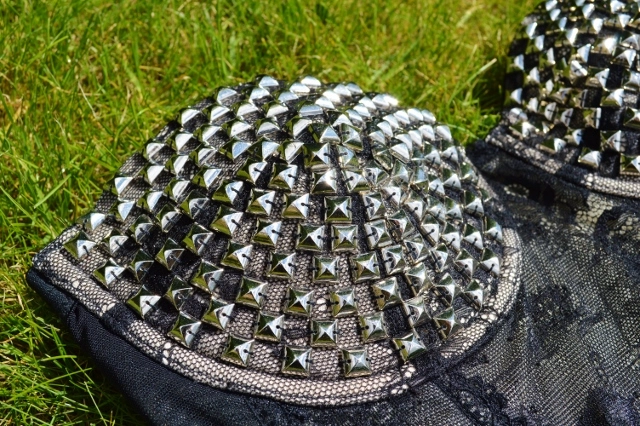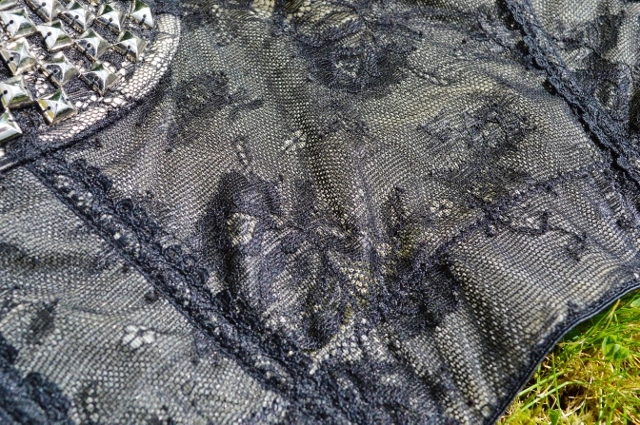 Topshop Studded Lace Bralet £5
This cost a bit more than I usually like to spend on items at a car boot sale, but I just couldn't resist the studs and lace!  Topshop bralets seem to be really popular at the moment, and this one has an RRP of £38, so I'm pleased to have found one in my size at a fraction of the price.  According to the lady I bought it from it is unworn too, other than being tried on.
New Look Cutout Heart Dress £2
I've been wanting a cut out heart dress for ages, so when I spotted this under a huge pile of clothes on one stall, I snapped it up.  It's exactly my size too!  I love it, and it looks like it's never been worn which is a bonus.
Sans Souci Polka Dot Dip Hem Blouse £2
This is one of my favourite finds of the day.  I'm currently on the look out for more summer tops, and this will be perfect for warm, sunny days.  The dip hem and button back detail are really lovely, and are what caught my eye when I saw it on the rail.  Sans Souci isn't a brand I'm familiar with, but the blouse still had a TK Maxx tag attached, and it cost £9.99 new.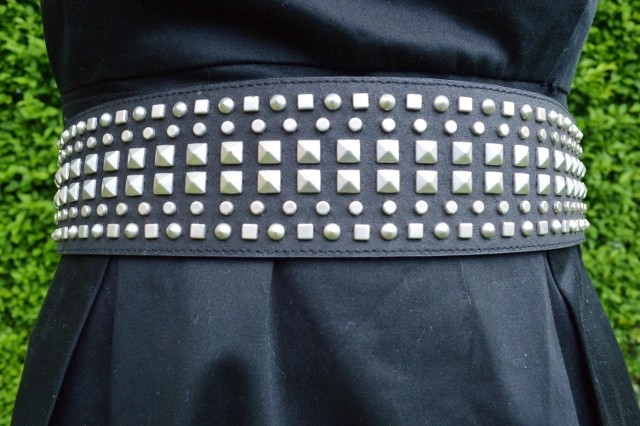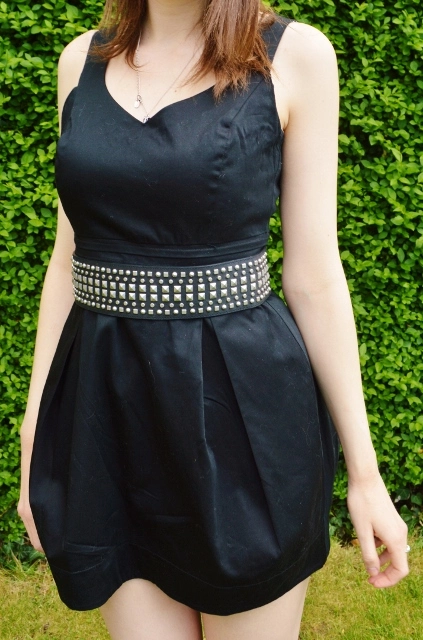 Oasis Leather Studded Waist Belt £1.50
Again, I've been trying to source a decent waist belt for a while, so this was another bargain I couldn't pass up.  The belt is made from real leather, and still had its Oasis tags attached so is brand new.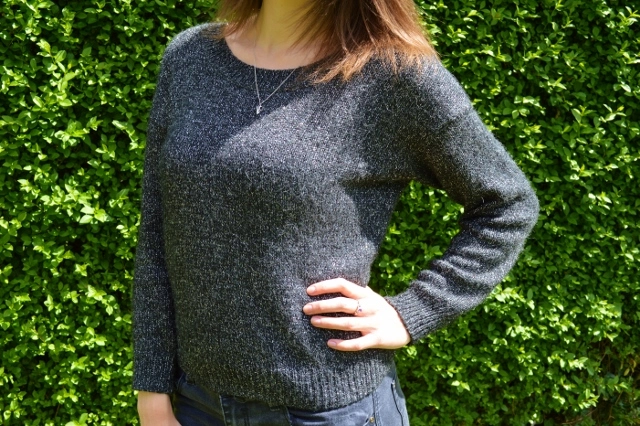 H&M Silver and Grey Jumper £1
It's not like I need another jumper, but I actually saw a similar jumper to this in H&M last season and wanted one, so I bought it anyway.  I thought it'd be itchy, but it's actually nice and soft, and I know I'll get plenty of wear out of it.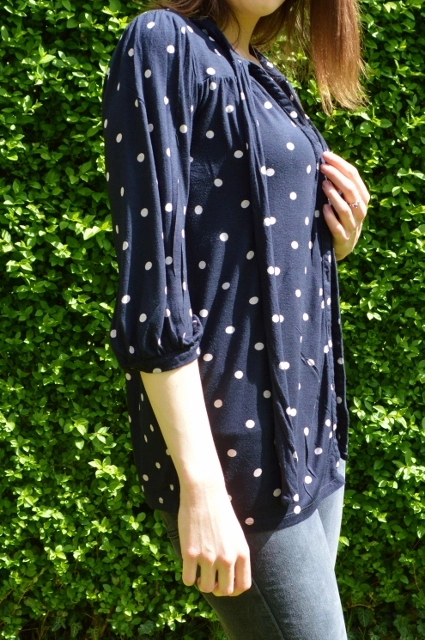 Next Oversized Polka Dot Shirt 25p
This shirt is three sizes too big for me, but I bought it to wear it as an oversized cardigan during cool summer evenings.  And anyway, at 25p I couldn't say no.
Stuart Little Soft Toy 50p
And just because I have a soft spot for cuddly toys and rodents, I brought Stuart Little home for 50p.  He has slightly tatty whiskers and was a little grubby, but after a quick bath he's now squeaky clean (excuse the pun!)
Total: £12.25
What do you think of my latest thrifty finds?  Which piece stands out for you?
Naomi x
3
When I was a teenager, my footwear of choice was always Converse.  I had bright ones, plain ones, printed ones, even tie dye ones, but for some unknown reason I stopped wearing them a few years ago, and moved on to boots and heels.  But all that changed when I spotted this pair of beauties on the John Lewis website…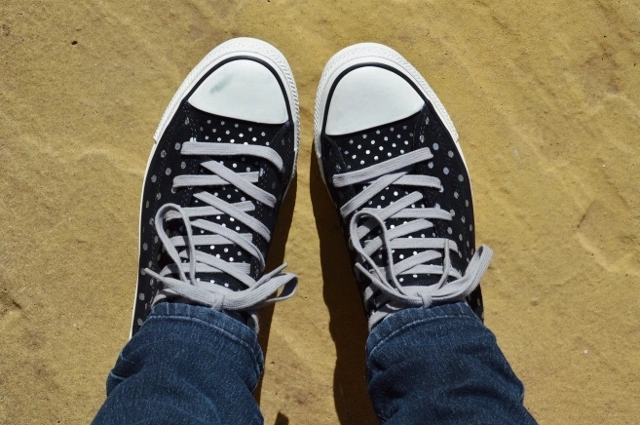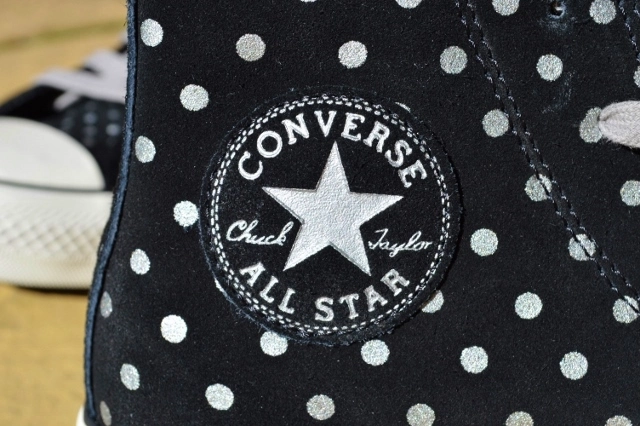 This particular pair of Hi-Tops are a new style, and are made of soft black suede, so they're a bit warmer and a bit thicker, but just as comfortable and casual as their canvas counterparts.  They also feel really soft and luxurious to the touch.  What first drew me to them was the all over polka dot print as I'm crazy about polka dots, and I love the combination of large and small silver dots. The grey laces are also a nice touch, as they blend in better than the usual glaringly white laces.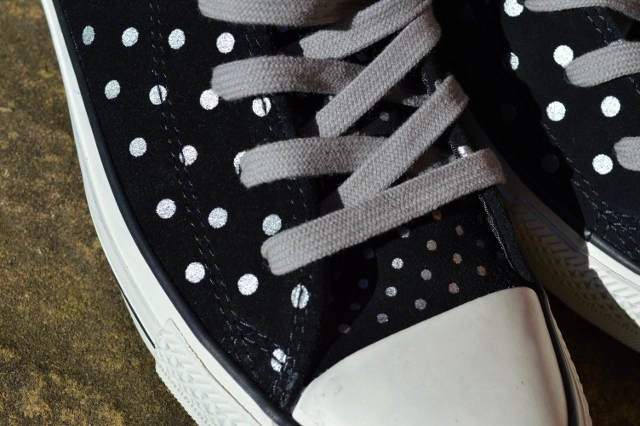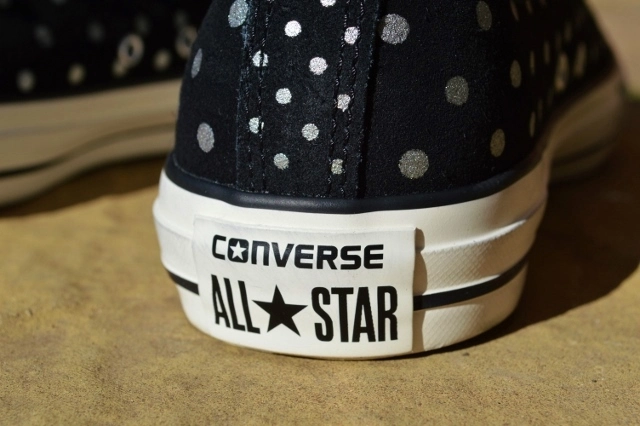 I've worn these almost every day this week, and I've had a lot of fun styling them in different ways. One day I wore them with jeans and a jumper, another day with a skater dress and leggings, and yesterday with a somewhat smarter dress, and they looked great with everything.  That's the beauty of Converse… They're just so versatile!
I've well and truly fallen back in love with Converse All Stars, and I'm looking forward to wearing my polka dot pretties all Spring long.  I have a new black mini skirt that I can't wait to pair them with!  You can find these and many other Converse styles online at John Lewis.
Naomi x
*These Converse Chuck Taylor All Star Printed Suede Hi-Top Trainers were paid for using vouchers that were sent to me.  All opinions expressed are honest and my own.*
2
After a stressful week of work, job interviews and getting caught in the rain, I fancied a bit of a day off today. Granted I had to go food shopping and do some washing, but other than that I've had a chilled day of taking photos for my blog/eBay, and writing. A relaxed day calls for a relaxed outfit, so I decided to wear my new sloppy joe jumper, which has to be one of my favourite sale buys of the season.
House of Fraser Label Lab Men's Jumper / Primark Grey Skinny Jeans / H&M Black Ankle Boots / Claire's Bird Skull Necklace
Here's a bit of advice from me… never bypass the men's department just because you're a woman! I found this little beauty in the men's section of House of Fraser, and it's by a brand called Label Lab. This was the only one left and it's a size XL, but I think it looks great as an oversized slouchy jumper.  I'd even wear it as a jumper dress over leather-look leggings.  The jumper feels incredibly soft, and is soooo comfy and warm.  I love it, and at £14.40, down from £45.00, it was an absolute bargain.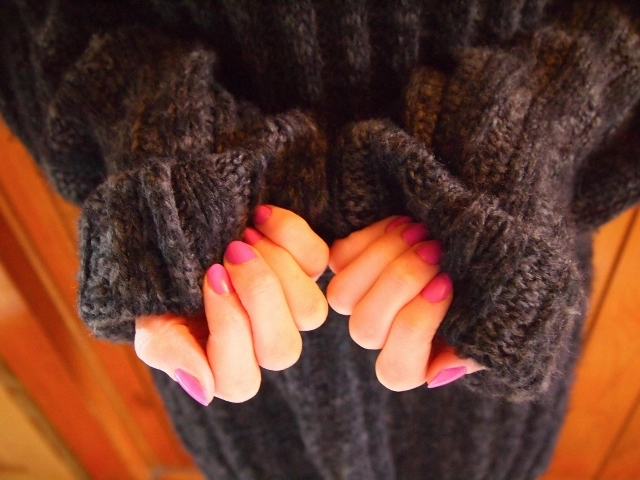 This outfit also features two other bargains from my January Sale haul.  The grey skinny jeans were a snip at just £5.00 from Primark.  I was actually surprised to find these, as Primark jeans are usually too short for me, but these are long length and fit me perfectly.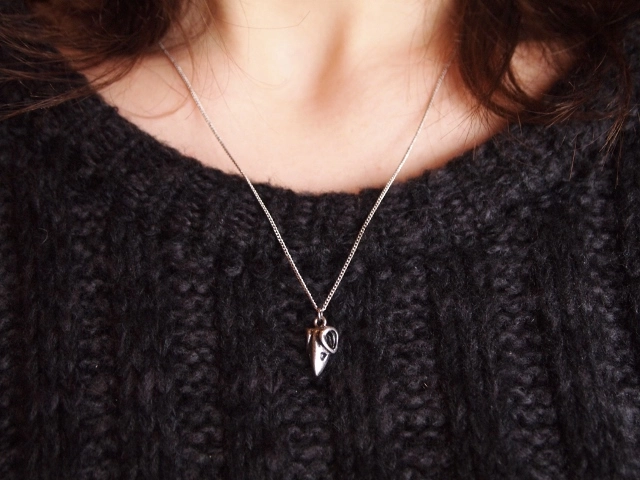 I bought this cute little bird skull necklace yesterday whilst in town.  I spotted a £1 stand in the doorway of Claire's and just had to have a look, and picked up this necklace and two others for a total of £3.  Not bad!
Do you have a sloppy joe jumper that you turn to on lazy days?
Naomi x
5
Earlier this week I nipped into Superdrug whilst shopping with my mum, and whilst browsing the make up stands I spotted this gorgeous nail varnish by GOSH. Most GOSH varnishes usually retail for £3.99 each, but the range of 'Frosted Sand' glitters, which are very similar to OPI's Liquid Sand collection, are currently discounted to £1.99. I was instantly drawn to this shade, 'Frosted Purple', as the colour looked incredible in the bottle, so I snapped it up and couldn't wait to get it home to try it out.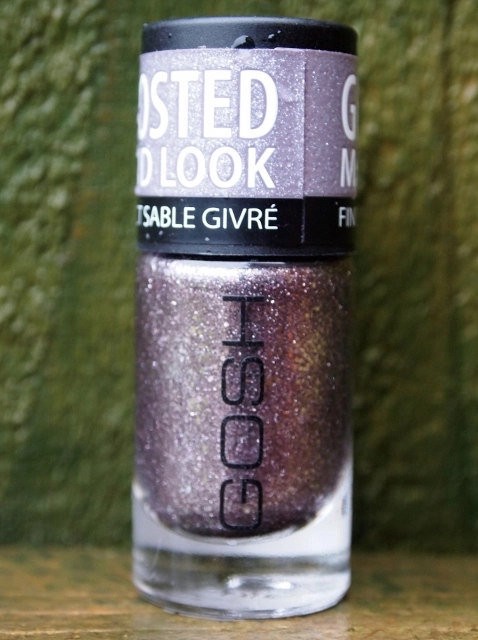 'Frosted Purple' is a simply beautiful colour, and is neutral enough to wear with just about anything.  It's a dark silver tone with a lilac tinge, and consists of two sizes of glitter – a very fine micro glitter, with larger flecks throughout. The varnish dries matte, which is quite unusual for a glitter varnish in my experience, and is textured like 'frosted sand'.  It feels slightly rough to the touch, but I've used far rougher glitters in the past.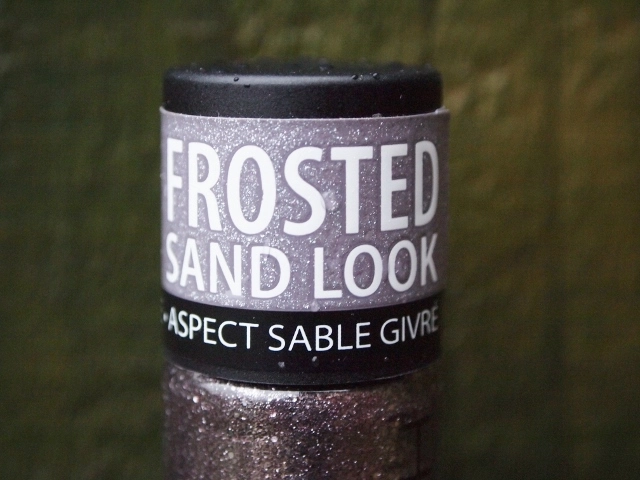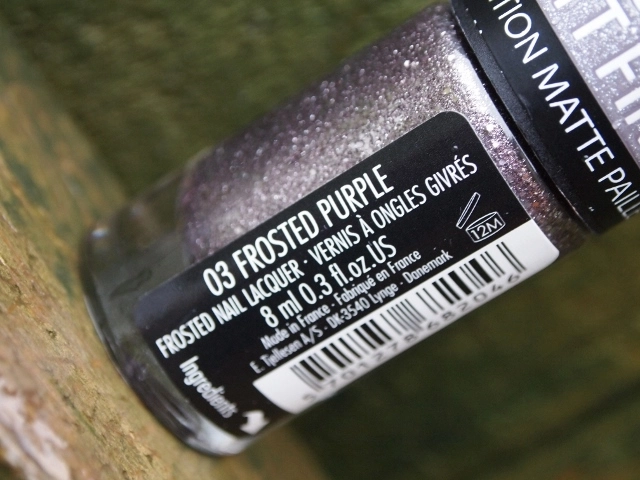 Now, I know this is a bold statement to make, but I think this varnish is the best glitter varnish that I have ever owned/tried. It even beats my trusty favourite brands, Barry M and Models Own.  Most glitters need layers and layers for full coverage, but not this one. My swatches show the coverage after just one coat. That's right, ONE COAT! And it really doesn't need any more than that, as it's completely opaque. The formula is lovely too – very smooth and not at all gloopy, so you can actually brush it on (the brush is nice and wide, yay) rather than dab it on, as is usually required with glitters. It also dries very quickly for a glitter.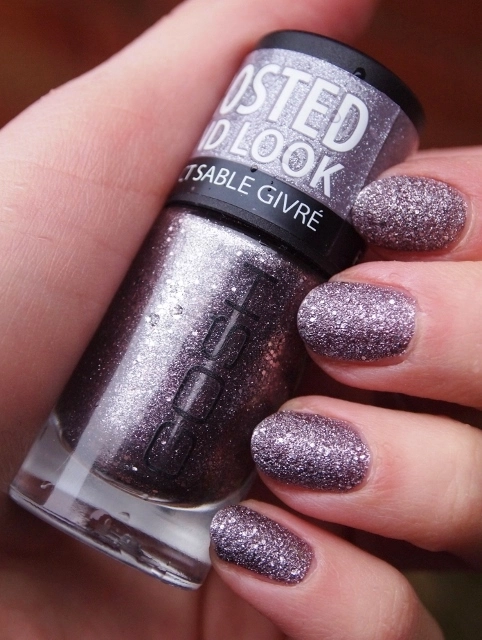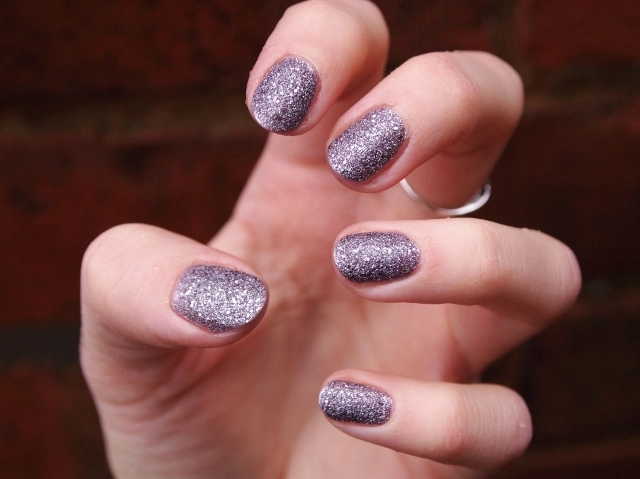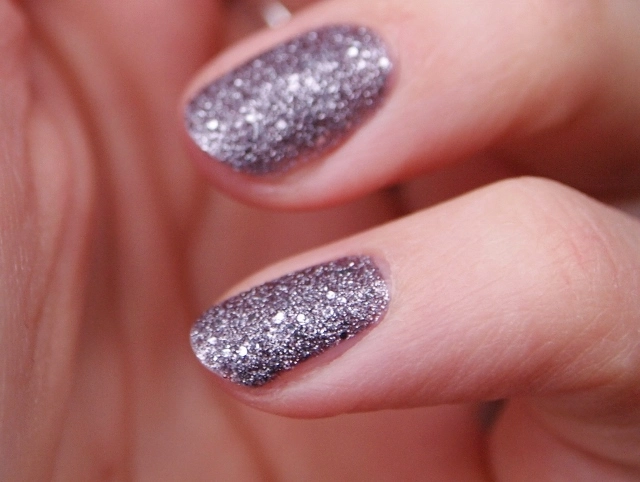 In terms of hardiness, I've been wearing 'Frosted Purple' for three days now, and the tips of my nails are just starting to show signs of wear. There are no chips or anything though.  I can tell it's going to be a pain to remove as it has the same texture as Models Own 'Northern Lights' and 'Southern Lights' which are really tough to get off, but it's a small price to pay for such a high quality glitter.
EDIT: I was wrong!  The varnish was actually really easy to remove with a normal nail varnish remover, and it barely took any soaking or rubbing to get it to budge.  I'm very, very impressed.
I spotted four shades in the 'Frosted Sand' range, all of which are Toluene-free and Formaldehyde-free.  'Frosted Silver', 'Frosted Gold', 'Frosted Purple', and 'Frosted Plum', which I think is a new addition, and is next on my nail varnish shopping list!  Will you be trying any?  If so, get on down to Superdrug quick to take advantage of the £1.99 offer!
Naomi x
2
I've been reading about jewellery candles on US blogs for a while now, and had been hoping that something similar would come to the UK, so when I saw reviews popping up all over the internet of the UK equivalent JewelCandle, I signed up via their website to review a candle myself.  JewelCandle sell handmade scented candles, each containing a surprise piece of jewellery worth between £10 and £250.  You can choose to receive either earrings or a ring, but you don't know what your jewellery will look like until you burn your candle and remove your surprise.  A nice idea on paper, but is it well executed?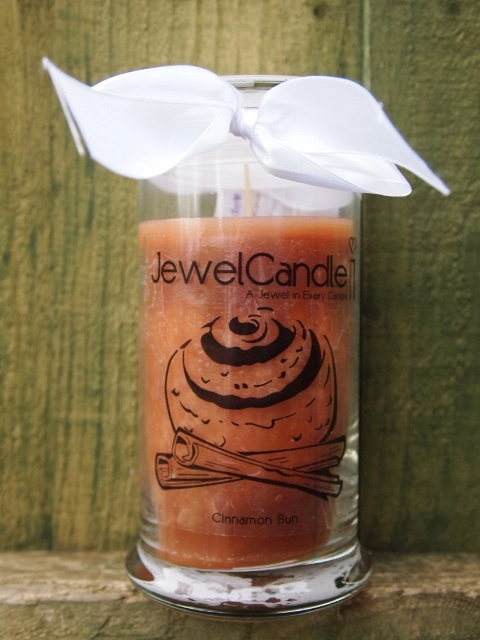 As I don't have my ears pierced, I specifically requested a candle containing a ring.  The earring candles cost £16.95 each, but the ring candles are quite a bit bigger, so cost a few pounds more at £24.95.  There are many different scents to choose from, including Sweet Cupcake, Cookies & Cream, Pina Colada, Candy Floss and Passion Fruit, but I went for Cinnamon Bun as I love the smell of cinnamon and it's suitably festive!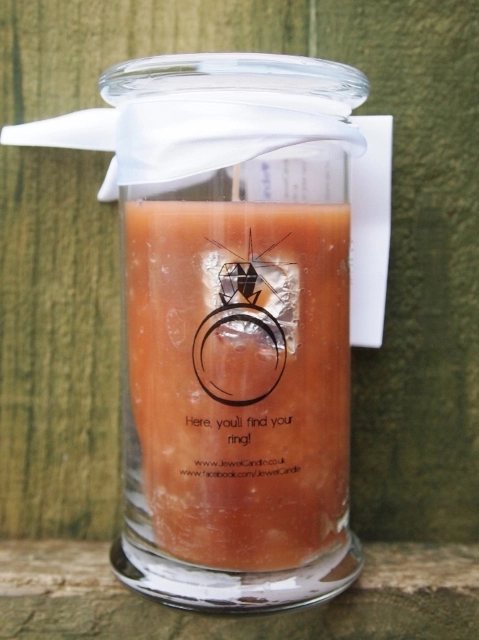 In terms of appearance, the candle looks great.  The glass jar is very high quality and has a secure lid, and is finished off with a lovely white bow.  The font and the graphics are simple, but also look quite appealing.  The ring, wrapped in foil, is also visible through the side of the jar, which is a little bit of a tease as you have to wait for the candle to burn down before you can get it out!
The scent of the candle is nice and sweet, and definitely smells like cinnamon baking.  Scented candles often smell nothing like what they're meant to, so it's always a bonus when they do!  The scent isn't overpowering and headache-inducing, but it fills the room with a pleasant smell within minutes of being lit.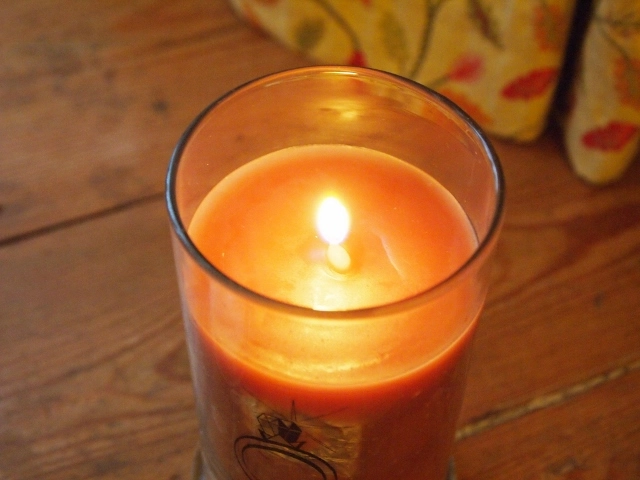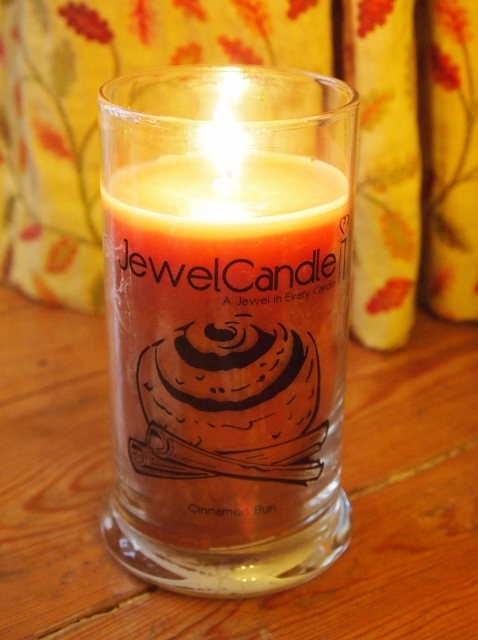 I'd read on other blogs that it takes about 3 hours for the candle to burn down enough for the ring to be retrieved, but it took mine a LOT longer, and after checking the JewelCandle site they do say it can take 10-15 hours.  The day I received it I burned it for around 4 hours, but it wasn't even close to the ring.  The next day it took another 6 or 7 hours before I could get it out, and even then I had to dig it out with a knife as I got impatient!  On the plus side, at least you know you get a good burn time out of these candles.  After 10 hours in total it was still only a quarter of the way down, and it's still going strong.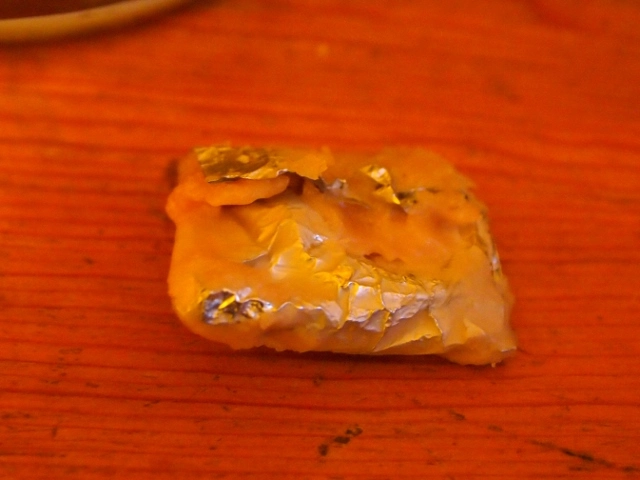 After waiting so long for the candle to burn, I couldn't wait to see my surprise piece of jewellery.  The ring itself came wrapped in foil, and also in a small sealed bag, so it was well protected from the wax, and after waiting a few minutes for the foil to cool down I opened the tiny package.  Here is what I found inside…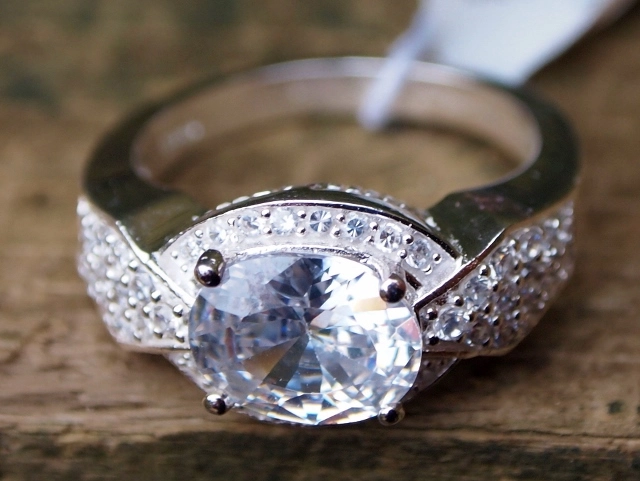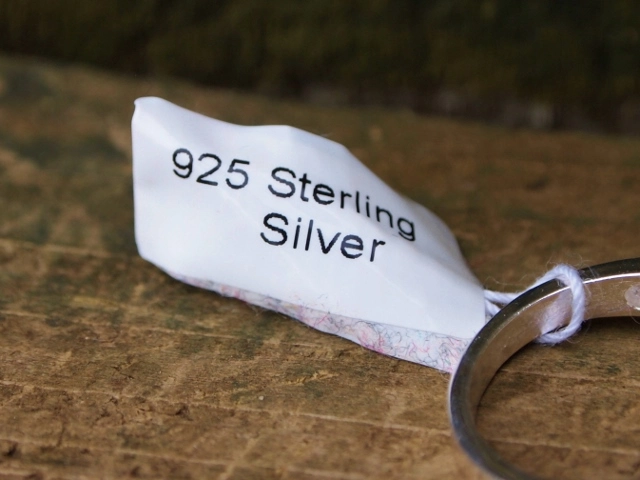 The ring itself is really pretty, and in the right light could look quite expensive, but the stone in the middle feels like plastic, and the silver isn't very thick.  However, it is labelled and stamped as 925 Sterling Silver, so at least it won't turn your skin green!  I have no idea how much the ring is worth as it isn't printed on the label like it's supposed to be, but I'm guessing it's one of the £10 rings.  Unfortunately, it's also far too big for me.  My fingers range from a K to an M in size, and the ring is extremely loose on all of them, including my thumb, so I'm unable to wear it myself.  So, if JewelCandle were going to improve anything, I'd suggest it be the sizing!  I'd definitely like to see the option to choose the size of ring inside, otherwise it becomes quite a redundant idea if you can't even wear the jewellery.  It might also be nice to see some necklaces, or even just pendants in the candles.  At least then one size fits all!
Despite the oversized ring, my overall verdict is still fairly positive.  The candle looks great, is an impressive size, smells gorgeous and burns for a long time.  Though big, the ring is quite nice, despite not being of high value.  But with a bit of improvement, JewelCandle could be even better, and I hope to see them expand in the future!
Naomi x
*This Cinnamon Bun JewelCandle was sent to me for review purposes.  All opinions expressed are honest and my own.*