Posts tagged
Avenue 32
2
One of my favourite places to look for fashion inspiration is Avenue 32, and during a recent browsing session I came across Avenue 32's new designer Chalayan.  Hussein Chayalan's unique pieces are extremely modern and adopt clean, sculptural shapes; a style that I've really come to appreciate as my interest in fashion has grown.  His current collection featured on Avenue 32 really captures the colours and forms of Autumn, my favourite time of year, and I've managed to build up a fairly extensive Chayalan wishlist!  Here are my favourite pieces from the website.  The image is clickable for a closer look.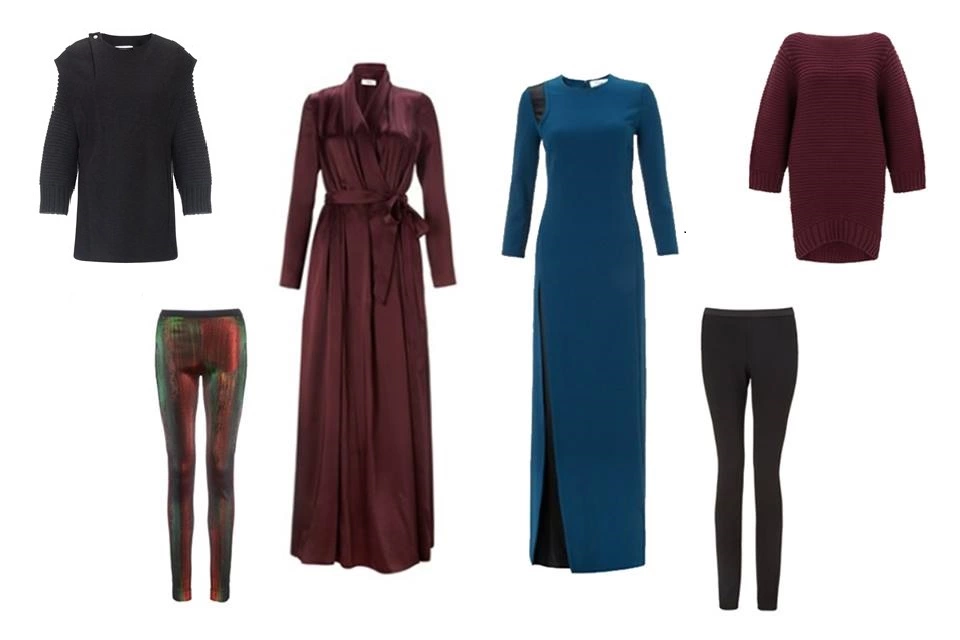 Grey Wool Knit Sleeve Coat – £1150 / Multi Metallic Signature Leggings – £680 / Oxblood Wrap Maxi Dress – £1260 / Petrol Cross Over Maxi Dress – £1020 / Black Signature Leggings – £240 / Oxblood Cup Sleeve Jumper Dress – £570
This summer was all about the maxi for me, and the two maxi dresses above are perfect for a smooth transition into Autumn without having to shed the maxi trend.  The Oxblood Wrap Maxi Dress is my favourite piece from the whole collection, as its Gothic influences and elegant shape are the style I'm aspiring to this season.  I'm also a fan of colour blocking, and the Petrol Cross Over Maxi Dress takes it into a whole new dimension by cutting into the colour with an exposed black satin lining.
One of my wardrobe staples for this time of year is leggings, mostly black as they go with anything, hence why I've included Chayalan's Black Signature Leggings in my wishlist, but his Multi Metallic Signature Leggings also really caught my eye.  The iridescent colours remind me of the backs of beautiful beetles, and would lend well to a dramatic day or evening look when worn with a simple black outfit.
Another Autumn essential has to be knitwear, and Chayalan gets it so right.  I usually struggle to find coats that I love, but I absolutely adore his Grey Wool Knit Sleeve Coat.  Its simple, angular silhouette is just stunning, and the combination of fabric textures give it an added edge.  The Oxblood Cup Sleeve Jumper Dress is also simple, but its heavy knit looks so snug.  I can just imagine it being teamed with a pair of chunky boots and a huge statement necklace.
Which Chayalan piece is your favourite?
Naomi x
*This post is a collaboration.*