Posts tagged
Designer
0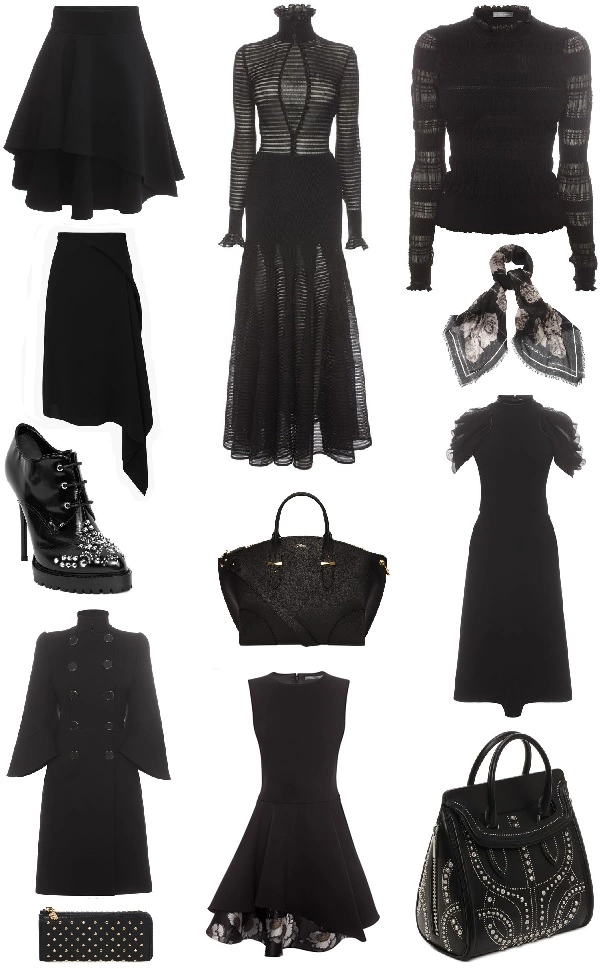 Folded Drape Mini Skirt / Ladder High Neck Dress / Rouched Knit Crew Neck Jumper / Long Handkerchief Skirt / Silk Chiffon Creased Roses Scarf / Studded Heeled Bootie / Legend Bag / Draped Sleeve Flare Dress / Petal Sleeve Double Breasted Coat / Studded Continental Wallet / Folded Drape Mini Dress / Studded Heroine Bag
I've always been more of an Autumn/Winter fan than a Spring/Summer one (which is probably just as well considering I live in chilly little England!), so although I'm enjoying the longer days, blue skies and lush landscapes of the current months, I can't help but get a little bit excited about the up and coming Autumn/Winter collections from my favourite shops and designers.  Walking around the Highcross last week, I've already started to notice a slow trickle of thicker fabrics and darker colours coming in and, much to my delight, Alexander McQueen have also just launched their Pre Autumn Winter 2015, and Autumn Winter 2015 collections.  There are some absolutely stunning pieces in both collections, but unfortunately I'm far too poor to afford any of it!  So I thought I'd share with you my McQueen Autumn/Winter wishlist, so that you can see how beautiful it all is, but also so I can come back to it during the end of year sale to remind myself of what I want, in the hope that I will then be able to afford it!
Which is your favourite piece?
Naomi x
2
One of my favourite things about summer is the storms.  The rain that cools the air down, the thunder, the lightning – it's all so exciting!  This weekend has been particularly unpredictable, with amazing storms one minute, and bright, hot sun the next, which though nice, makes it difficult to know what to wear.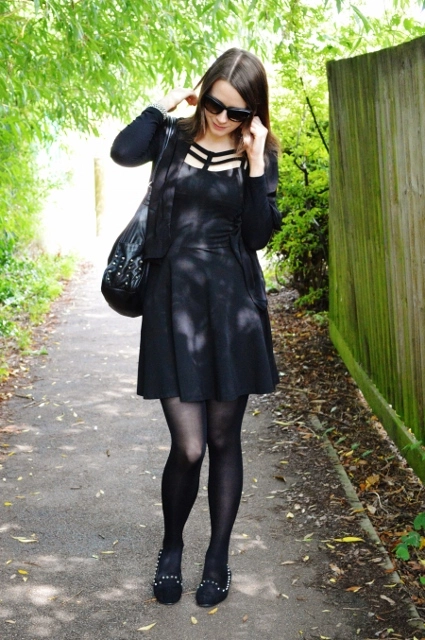 New Look Multi Strap Skater Dress / Everything5Pounds Waterfall Jacket / Alexander McQueen Cateye Sunglasses / Primark Tights / New Look Stud Pumps / Topshop Leather Stud Bag (Thrifted) / Accessories Boutique Heavy Spike Bracelet
The key for me has been light layers that can be added/removed accordingly.  A dress makes a great base for this kind of look, as it's cool enough for the sun, but can be made rain and wind proof with a jacket and tights.  I went for this New Look Multi Strap Skater Dress that I bought in the last ASOS sale, and added a pair of basic sheer black tights from Primark to avoid flashing my undies in the wind, and a lovely waterfall jacket from Everything5Pounds.  I absolutely love this jacket as it's really comfortable, and is perfect for warm weather as a cover as the fabric is so lightweight.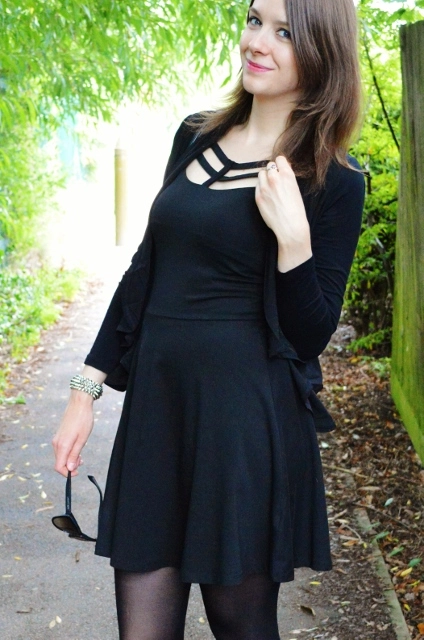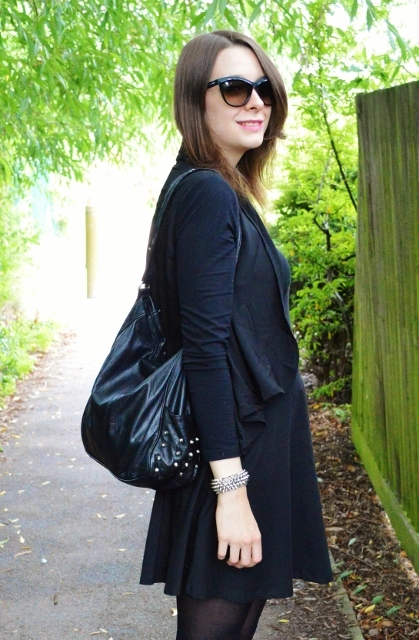 To accessorise, I wore my Alexander McQueen Cateye Sunglasses, that are an absolute essential when the sun is shining, and I also gave my New Look stud pumps a first outing.  Of course my trusty thrifted Topshop leather bag was a necessity too, and I added a heavy spike bracelet from Accessories Boutique to bring the stud theme of the outfit together.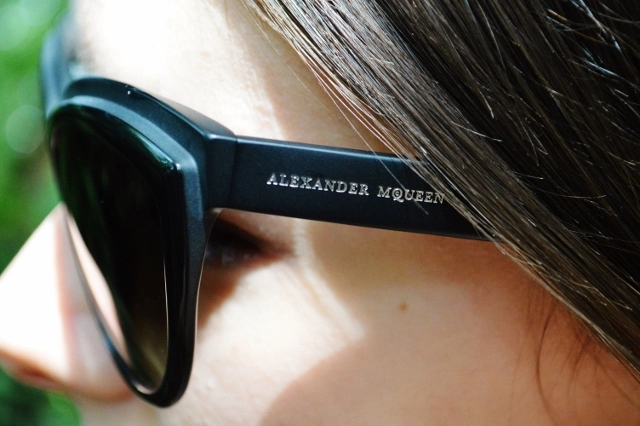 What have you been styling during this stormy summer weekend?
Naomi x
4
Though some people see it as an absolute cardinal sin to team high street with designer, I'm the opposite, and I think that mixing the two can be the perfect way to create high-end looks, without completely bankrupting yourself.  In my experience, buying timeless designer accessories that will transition from season to season, every year, can actually save you money, whilst adding a touch of luxury to a variety of high street outfits.
'But why not buy designer clothing and high street accessories?', I hear you ask.  Well, you could, but fashions and personal tastes change, and that dress you love this year might not be your thing next year, and it might not even fit you then!  But you never grow out of basic sunglasses, jewellery, bags and shoes.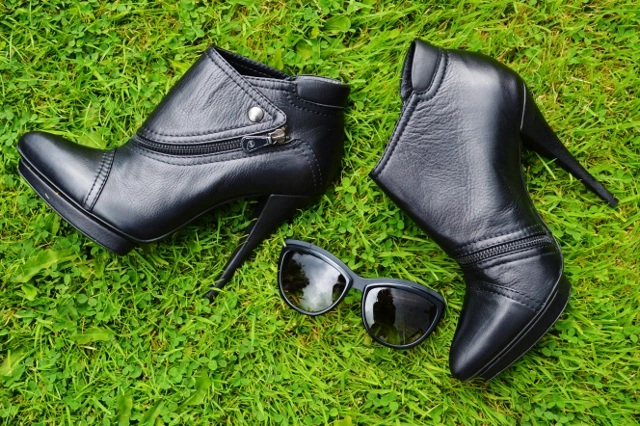 The key to choosing the right pieces is to save up, do your research on what is best for you, and spend savvily.  Not all of us, myself included, can afford to buy designer with every pay cheque, hence having to mix with high street, but if you put a little bit aside when you can and keep an eye out for a good deal, you can bag yourself a timeless piece that will last for years.  This summer I've been relying on two designer pieces in particular, both by Alexander McQueen.  I bought these zipped biker heels in the McQ online winter sale after eyeing them up for months, and they were reduced from over £500 to £159.  They're made from very high quality leather, are surprisingly comfortable, and look great with anything from smart work outfits and going out dresses, to casual jeans and a jumper or tee.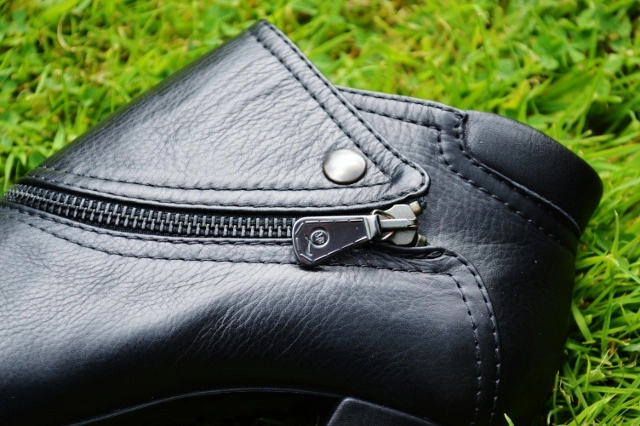 My other go-to designer accessory this summer is a pair of stunning vintage-style cateye sunglasses.  I know a lot of people wouldn't choose to splurge on a pair of sunnies, but think of it this way…  If you spend £15 on a pair of sunglasses, chances are that by the end of the summer they'll be broken.  It happens to me almost every year because, quite frankly, cheap often means badly made.  But if you save up and shell out on a more expensive pair, made from higher quality materials, they'll more than likely last a lot, lot longer, and eventually you'll have saved money by not buying a new pair every year!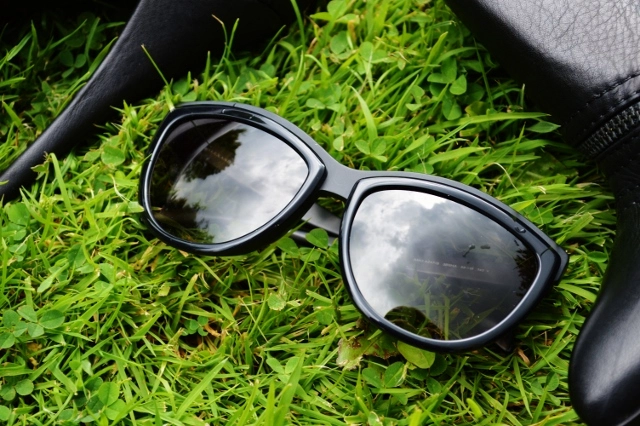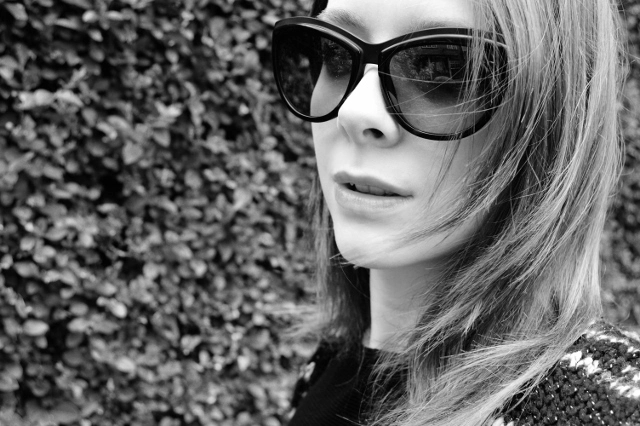 I adore these sunglasses, and have been wearing them almost every day for the past couple of months.  They're very sturdy and come in a solid protective case so can't be broken or damaged easily, and the lenses provide far better protection for your eyes than cheaper shades.  The classic cateye shape has been popular for decades, but the glossy eye frames against the matte brow, and gradient lenses, give them a modern, Gothic edge that really suits my personal style.  Alexander McQueen sunglasses don't come cheap, and I've seen these on a lot of websites for around £220, but you can get them from Red Hot Sunglasses for £180, with free delivery.
Be sure to check back soon for a series of What I Wore posts featuring these designer accessories and high street clothing!
Naomi x
*These Alexander McQueen Cateye Sunglasses were sent to me by Red Hot Sunglasses for review and styling purposes.  All opinions expressed are honest and my own.*
1
After two weeks of excitement, my giveaway to win a pair of ASOS Tortoiseshell Wayfarer Sunglasses closed last night, and the time has come for me to announce the lucky winner!  The winning entry was chosen at random via Rafflecopter, and the winner is entry number 645, which belongs to…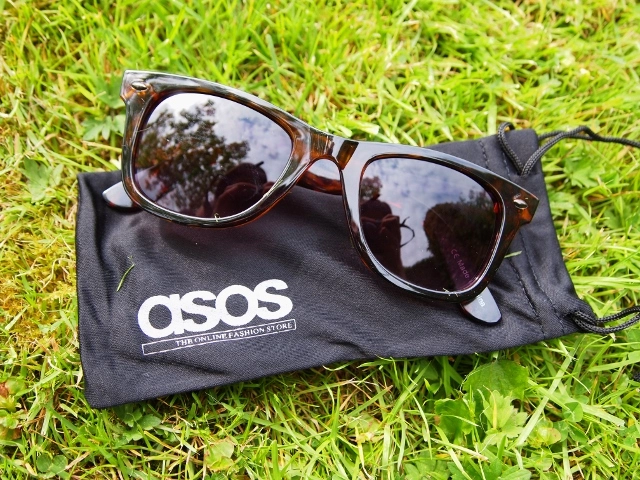 Jane of Is That You Darling!
Congratulations Jane!  This gorgeous pair of sunglasses is all yours.  Please email your postal address to bewitcheryblog@gmail.com and I will post your prize out as soon as possible.
The response to the giveaway was amazing, so I'd like to thank all of you for getting involved!  And of course, thank you to Red Hot Sunglasses for providing the prize.
Please check back soon for another giveaway (or two!)
Naomi x
1
Up until recently I would never have even considered shopping in Bonmarché.  I'd been in there a few times with my mum and grandma, but everything was just a bit too… 'mature' for my style.  But then I was offered the chance to choose an item from the Bonmarché website to review, and suddenly my opinion was changed.  The item I chose is this gorgeous black and white polka dot dress from the new David Emanuel collection.  David Emanuel was the designer who created Princess Diana's internationally loved wedding dress, and since then he has dressed countless female celebrities, and has sold collections in the likes of Harrods and Harvey Nichols.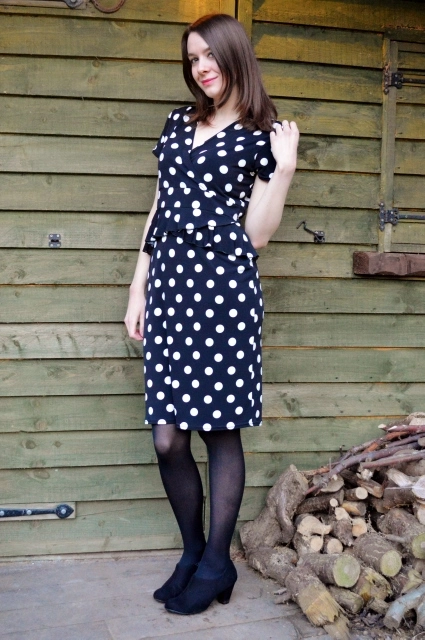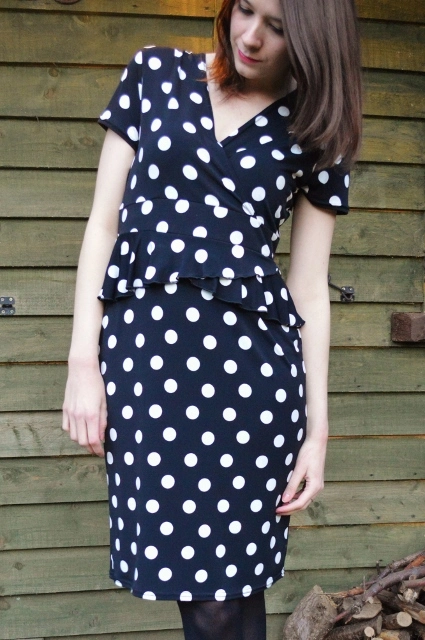 I absolutely love polka dots so it seemed only natural to go for this dress, and I'm glad I did.  The print is bold, but the cut of the dress is very sophisticated, so you can make a statement whilst still looking chic.  The front of the dress has a mock wrap effect, and a pretty peplum detail that sits just over the hip; both of which are extremely flattering, and the fabric is soft and stretchy for ultimate comfort.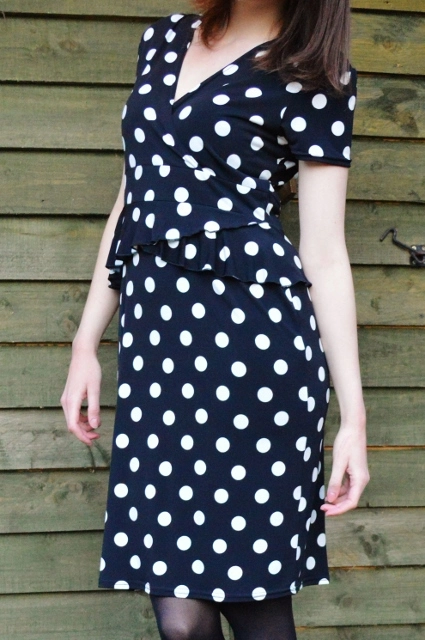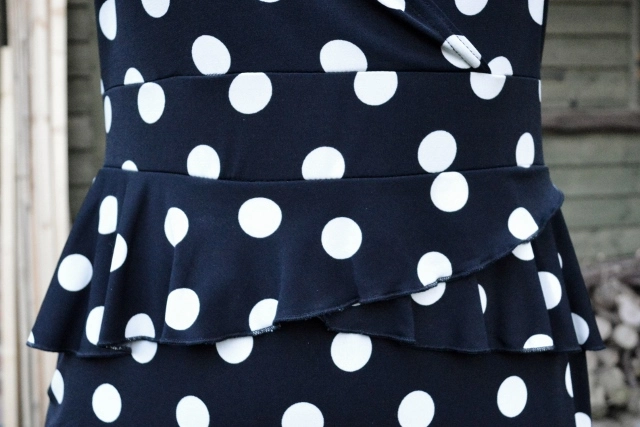 In terms of sizing, the dress is pretty generous.  I'm usually a size 10-12 and opted for a 12 in this style, but it is slightly roomy at the back so I should probably have gone for a 10.  This particular dress is available in sizes 10 to 24, and retails for £28 in all sizes.
I perhaps wouldn't wear this dress casually as it's a bit too smart for kicking around town in, but it would be absolutely perfect for the office or, as Bonmarché state, an 'elegant occasion'.  It definitely looks the business teamed with a pair of elegant black heels!
Though the majority of Bonmarché's stock is perhaps not very 'me', I've definitely learnt that you shouldn't dismiss a shop based on prejudgments.  Even the most unlikely of places can have some hidden gems lurking on the rails, so it's always worth having a browse to see what you can find!
If you like the look of this dress, or want to see the rest of David Emanuel's Bonmarché collection, click here.
Naomi x
*This David Emanuel Spot Peplum Dress was sent to me by Bonmarché for review purposes.  All opinions expressed are honest and my own.*
0
My week-long giveaway to win a Ted Baker iPad Case closed at midnight last night, and as promised I will now announce the winner!  The winner was chosen at random via Rafflecopter, and the winning entry is Number 119, which belongs to…
Emma from A Touch of Sparkle!
Congratulations Emma

  Please email your postal address to bewitcheryblog@gmail.com, and I will pass it onto Cruise Fashion who will send out your prize as soon as possible.
Thanks very much to everyone who entered – please check back later this weekend for a brand new international giveaway, with a $100 prize!
Also, thank you very much to Cruise Fashion for sponsoring this giveaway in celebration of the opening of their new Leicester store.  The store is located in the beautiful 19th Century building on the corner of Church Gate (opposite the clock tower), so stop by if you get the chance!
Naomi x
21
To celebrate the opening of the new Cruise Fashion store in Leicester, I have teamed up with Cruise to bring you another exciting giveaway!  Cruise specialise in luxury designer clothing and accessories from iconic international designers, and are offering one of you lucky readers the chance to win a pink and black Ted Baker iPad Case worth £50!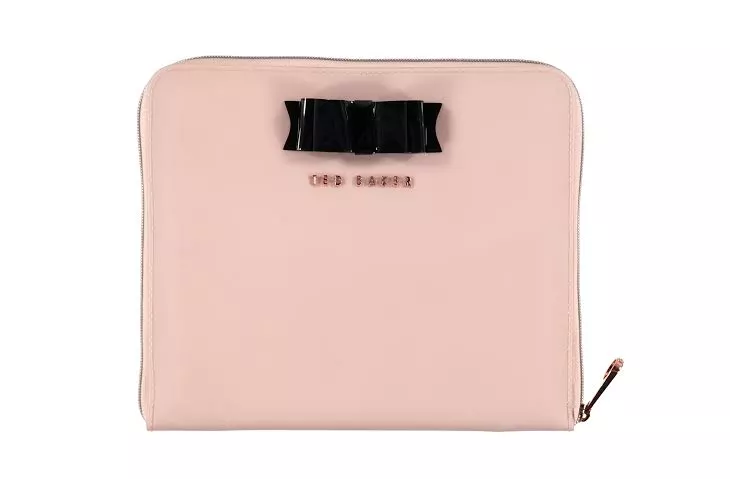 The giveaway will run for one week, starting today, and will end at midnight on 20th December, so the winner should hopefully have their prize in time for Christmas!  To enter, use the Rafflecopter form below.  The first two entries are mandatory, and your email address will be passed on to Cruise to be added to their mailing list, and there are several other optional entries to give you a few extra chances of winning.  The giveaway is open to UK residents only (sorry to my international readers!), and the winner will be chosen at random via Rafflecopter once the competition closes, and their entry has been verified.  The winner will have 48 hours to claim their prize or another winner will be chosen.  Good luck!
The new Cruise Fashion store in Leicester is located in the beautiful 19th Century building on the corner of Church Gate (opposite the clock tower), so stop by if you get the chance!
Naomi x
4
This year I have developed a real thing for black heeled ankle boots, my collection of which is rapidly expanding.  Over the last few days I have spent some time browsing Harvey Nichols' range of designer shoes online, and their range of styles and designers is incredible.  I spotted so many pairs of ankle boots that I would absolutely love to add to my hoard, so I thought I'd put together a little Harvey Nichols wishlist to share with you all, featuring some of my favourite pieces from the site.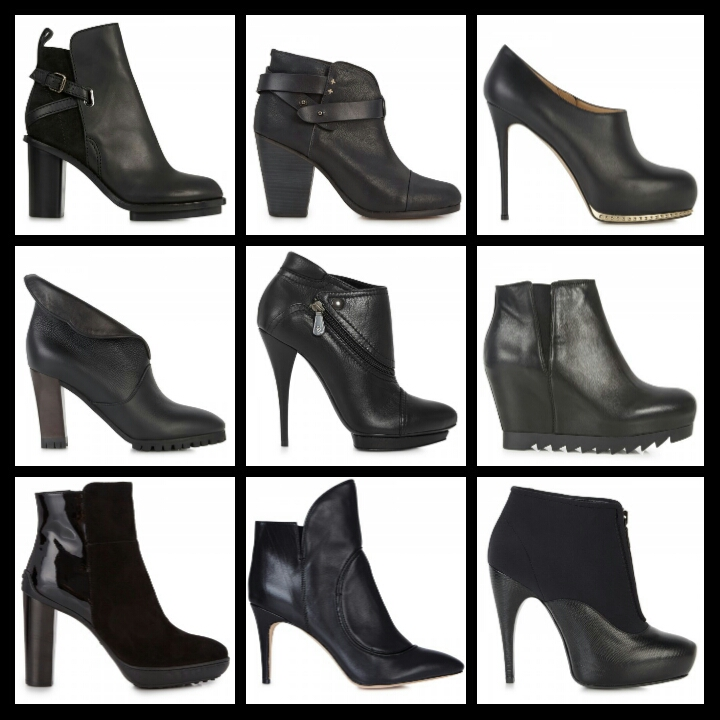 ACNE Cypress Leather and Suede / Rag and Bone Classic Harrow Leather / Valentino Studded Leather / Chloé Folded Leather / McQ Alexander McQueen Pointed Leather / Ash Hello Wedge Leather / Tod's Suede and Patent Leather / Camilla Skovgaard Flame Leather / Lanvin Lizard Effect Leather and Neoprene
Leather boots like these are just so versatile as, as we all know, black goes with anything, and the unusual details and designs featured here would make any simple outfit that little bit more interesting.  My particular favourite pair are the McQ Alexander McQueen Pointed Leather Ankle boots, which are the ones in the very centre of the grid.  Alexander McQueen is one of my favourite designers as his pieces are always so edgy and chic, and these are no different.  They'd look amazing this Autumn/Winter with tight black leggings or jeans, and big faux fur jacket.  Want!
All of the above ankle boots are available to buy on the Harvey Nichols website.  Which one is your favourite?
Naomi x
*This post is a collaboration.*
2
One of my favourite places to look for fashion inspiration is Avenue 32, and during a recent browsing session I came across Avenue 32's new designer Chalayan.  Hussein Chayalan's unique pieces are extremely modern and adopt clean, sculptural shapes; a style that I've really come to appreciate as my interest in fashion has grown.  His current collection featured on Avenue 32 really captures the colours and forms of Autumn, my favourite time of year, and I've managed to build up a fairly extensive Chayalan wishlist!  Here are my favourite pieces from the website.  The image is clickable for a closer look.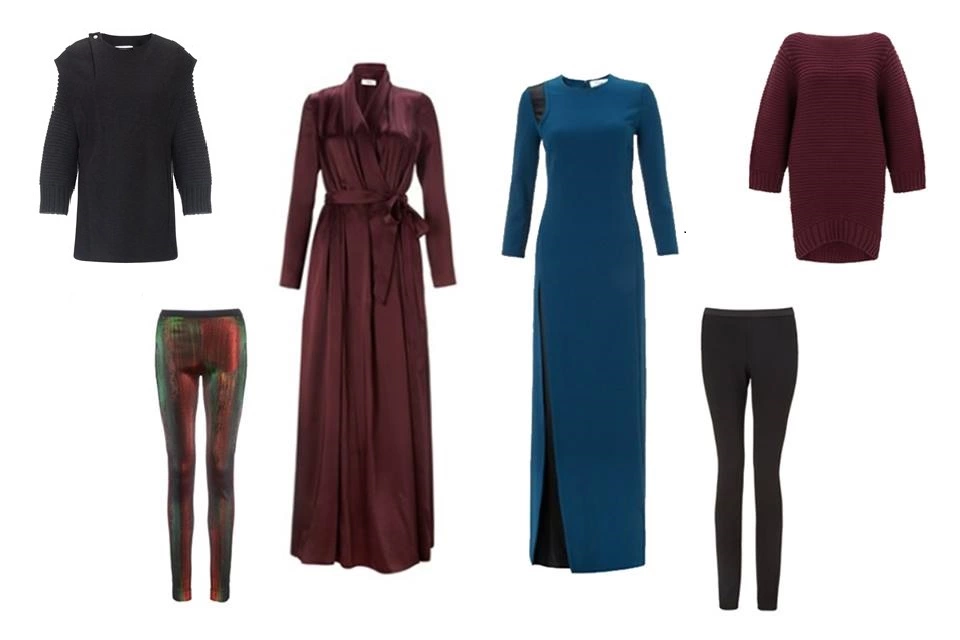 Grey Wool Knit Sleeve Coat – £1150 / Multi Metallic Signature Leggings – £680 / Oxblood Wrap Maxi Dress – £1260 / Petrol Cross Over Maxi Dress – £1020 / Black Signature Leggings – £240 / Oxblood Cup Sleeve Jumper Dress – £570
This summer was all about the maxi for me, and the two maxi dresses above are perfect for a smooth transition into Autumn without having to shed the maxi trend.  The Oxblood Wrap Maxi Dress is my favourite piece from the whole collection, as its Gothic influences and elegant shape are the style I'm aspiring to this season.  I'm also a fan of colour blocking, and the Petrol Cross Over Maxi Dress takes it into a whole new dimension by cutting into the colour with an exposed black satin lining.
One of my wardrobe staples for this time of year is leggings, mostly black as they go with anything, hence why I've included Chayalan's Black Signature Leggings in my wishlist, but his Multi Metallic Signature Leggings also really caught my eye.  The iridescent colours remind me of the backs of beautiful beetles, and would lend well to a dramatic day or evening look when worn with a simple black outfit.
Another Autumn essential has to be knitwear, and Chayalan gets it so right.  I usually struggle to find coats that I love, but I absolutely adore his Grey Wool Knit Sleeve Coat.  Its simple, angular silhouette is just stunning, and the combination of fabric textures give it an added edge.  The Oxblood Cup Sleeve Jumper Dress is also simple, but its heavy knit looks so snug.  I can just imagine it being teamed with a pair of chunky boots and a huge statement necklace.
Which Chayalan piece is your favourite?
Naomi x
*This post is a collaboration.*
15
Everyone needs a stylish, timeless bag in their collection which goes with anything, and this Embossed Leather Tote from Bailey & Quinn, which was sent to me to review, is mine.  Bailey & Quinn are a designer brand exclusive to Debenhams, and offer a wide range of handbags and purses in a variety of patterns and colours, all of which are crafted by hand from top quality leather.  With prices starting at £12 there's something to suit everyone's pocket too.  My Embossed Leather Tote sits at the top of the brand's price range, and at £179 is a bit of a splurge item, but its excellent quality means it will last forever and will soon pay for itself.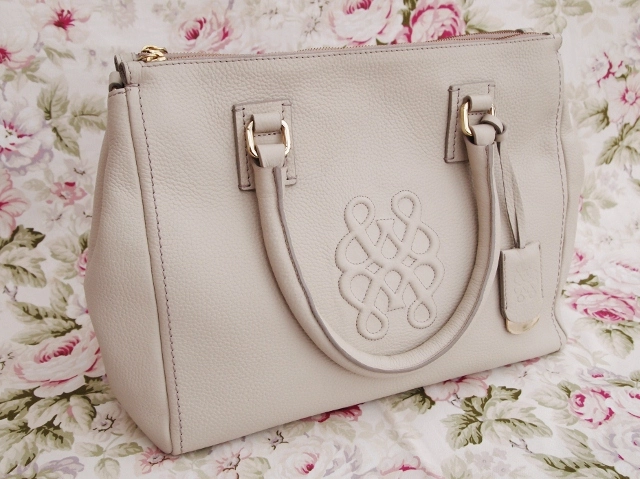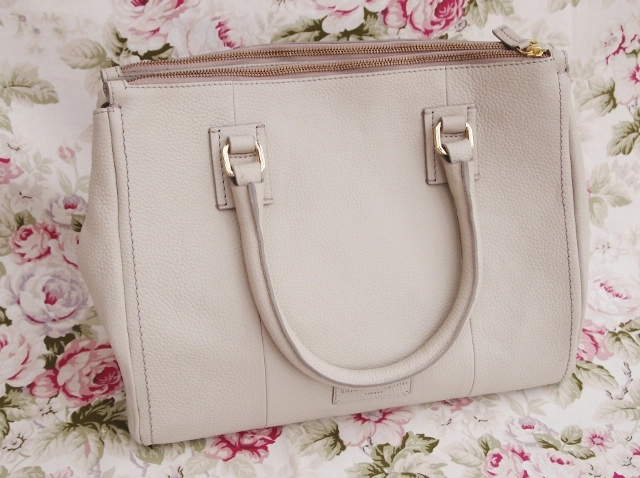 When I received my bag in the post and hurriedly unpacked it, the first thing I noticed was how lovely it looked and felt.  The whole bag is obviously well made, and the neat stitching and attention to detail reflect this.  The leather is thick, but soft and supple, and has a nice weight to it which is telling of its quality, and it also smells great!  The front of the bag is embossed with a large ampersand logo motif which looks a bit like a celtic knot, and features an engraved metal tag.  It's these little additions that make the bag stand out from the standard leather totes you find on the high street, and they certainly catch people's attention when I'm walking down the street.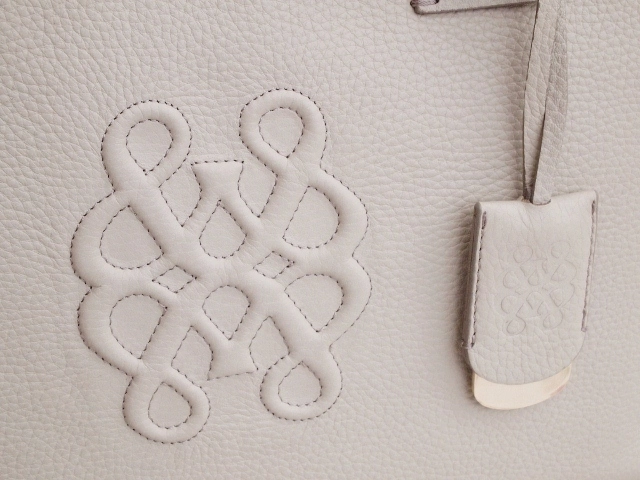 Though I'm not usually one for choosing neutral shades, I actually really like the delicately grey-tinged cream colour of this bag as it can be paired with almost any other colour without clashing, making it a very versatile piece when it comes to coordinating outfits.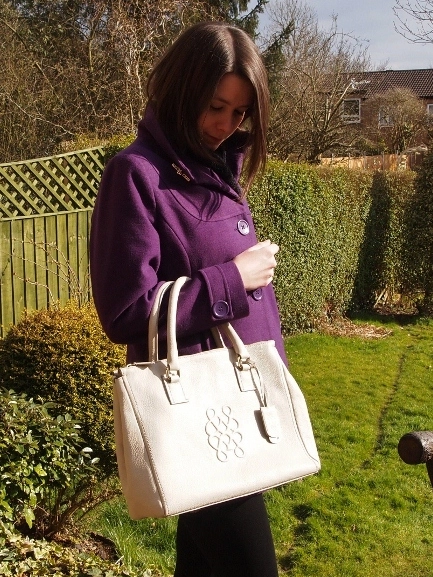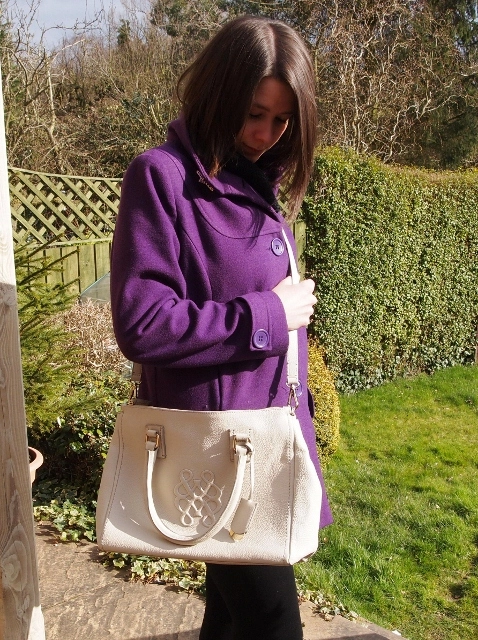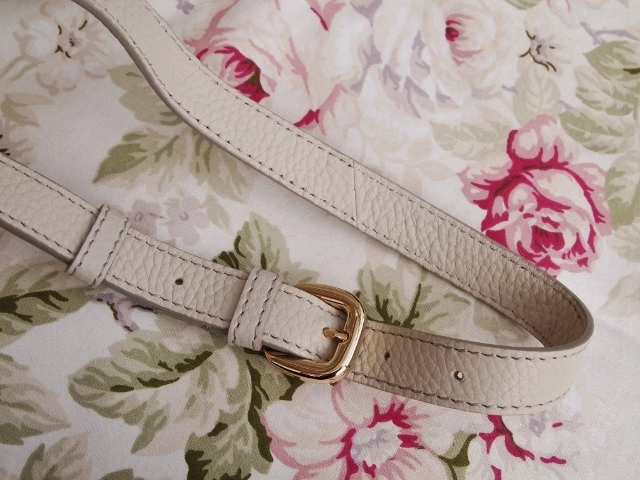 The Embossed Tote can be carried in several ways as well, making it even more versatile.  It has two strong, padded handles so it can be carried in comfort by hand, and it also comes with a removable shoulder strap.  The shoulder strap adjusts with a buckle, like a belt, meaning it stays exactly where you put it and won't slip out of place like the sliding adjustments on some cheaper bags do.  This is a real bonus for me, as I always end up unwillingly adjusting my bags by accidentally tugging on the strap, but the buckle solves that problem.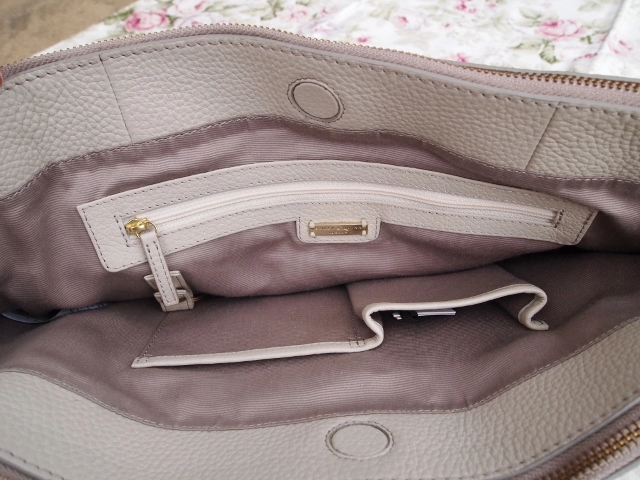 Perhaps most importantly, the trapezium shape of the bag lends to it being spacious enough to fit the essentials, and a whole lot more.  As such, it is suitable for just about every occasion, and whether you're using the bag for work, university, an evening out or for every day use, it has room for everything you need.  The bag has three main compartments, and many useful features.  The centre compartment is where I keep the items I carry with me every day, such as my hairbrush, make up bag and bottle of water.  It contains a small zip compartment for all your valuables, two open pockets, including one for your phone, and a handy key holder to keep your keys safe, and fastens with a magnetic dot.  The other two sections fasten with secure zips, and it is in these pockets that I keep my diary, books and folders for work and university, and my purse, as I feel it's safer when zipped away.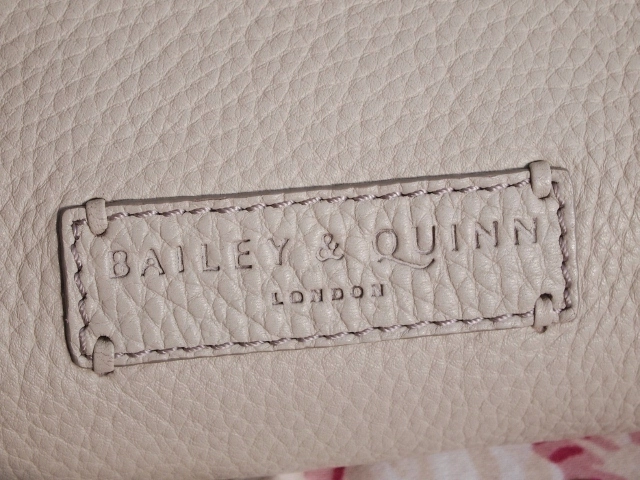 Since receiving this bag, it has become an integral part of my daily wardrobe.  Its size, space, appearance and quality are all top-notch, and I will be using my Bailey & Quinn Embossed Leather Tote Bag with pride for many years to come.  As will my mum and grandma too, I imagine, as they keep asking to borrow it!  The bag is available to purchase online for £179, although it currently has 20% off and is on sale for £143.20, so grab it cheaper while you can!  You can also view the black version of this bag and the rest of the Bailey & Quinn range online here.
Naomi x
*This Bailey & Quinn Embossed Leather Tote Bag was sent to me on behalf of Debenhams for review purposes.  All opinions expressed are honest and my own.*