Posts tagged
Jeggings
0
For years my personal style has featured a lot of black, so I've really been embracing this season's trends for black and the leather look, as they're letting me revive my teenage love of the Gothic, but with a bit more sophistication.  In my search for new clothes to add to my hoard of black, I have been browsing the internet, and have found that French Connection's current range has some amazing pieces that would look right at home in my wardrobe.  So, I thought I'd put together a little wishlist featuring a selection of my favourite French Connection clothing.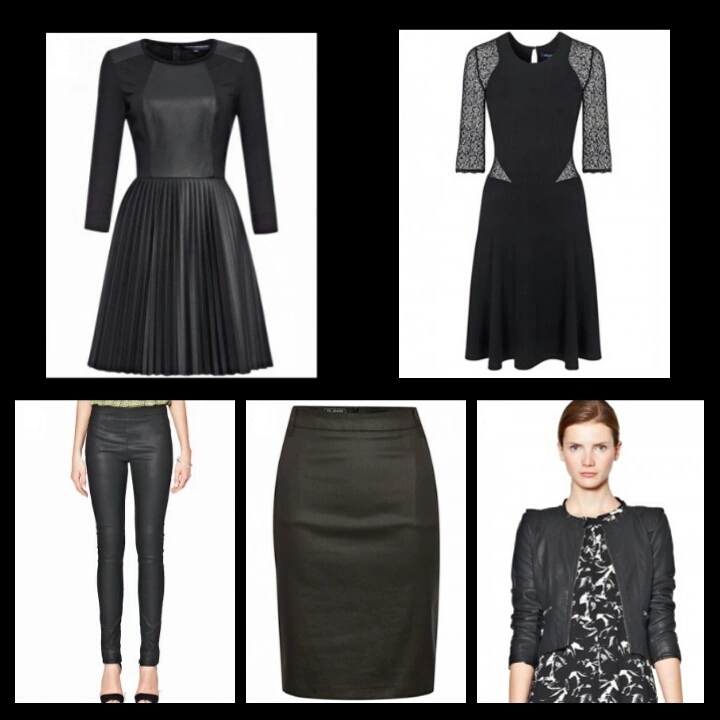 T-Solar Dress / Vienna Dress / Judy Jegs Jeggings / Judy Jegs Pencil Skirt / Riot PU Jacket
These two French Connection dresses are fine examples of what, for me, a little black dress should be.  They're classic in their shape and fit, but have a little something extra that really makes a statement.  The T-Solar's leather panels and pleated skirt are bang on trend and give it a real edge, and the Vienna dress's beautiful sheer lace sleeves and waist detail look so elegant.  Both dresses would be perfect for the upcoming party season, teamed with a contrasting necklace and heels.
The Judy Jegs Jeggings and Pencil Skirt are simple pieces that could easily become wardrobe staples for me.  Their simplicity means they could be worn to work without looking too over the top, making them the ideal way to bring the leather look into the office.  Having said that, they could also both be dressed up with a nice top, your favourite jewellery and a gorgeous bag for a glamorous evening look.
Last but not least, the Riot PU Jacket would be great for those days when you want to wear something a bit brighter, whilst maintaining that on trend edge.  It could be thrown over a colourful bodycon dress or even a t-shirt and jeans, and still look brilliant.  The cropped fit, exposed zips and emphasised shoulders are also really modern, which I love.
You can find these pieces from French Connection online at divinetrash.co.uk.
Naomi x
*This post is a collaboration.*