Posts tagged
Faux Leather
2
Today my fiancé and I visited Foxton Locks with my sister and her boyfriend.  Foxton Locks are ten canal locks on the Leicester line of the Grand Union Canal, and the whole area is so lovely and green.  I've always enjoyed visiting the Locks, ever since I was a child, but today's trip was extra special as it was the first time my fiancé had been.  We all had a nice time and had a little picnic whilst we watched the boats go by, before going for a walk along the canal paths.
As April's weather is usually unpredictable, I thought layers would be best, so I wore my favourite Primark skater dress (which is becoming a Spring wardrobe staple of mine), and teamed it with my trusty faux leather biker jacket and some basic leggings.  Over this I wore an oversized but light floral skull scarf which I thrifted last year, for an extra bit of warmth if necessary.  As it happens, the weather was gorgeous and the sun was shining, but luckily it didn't get too hot.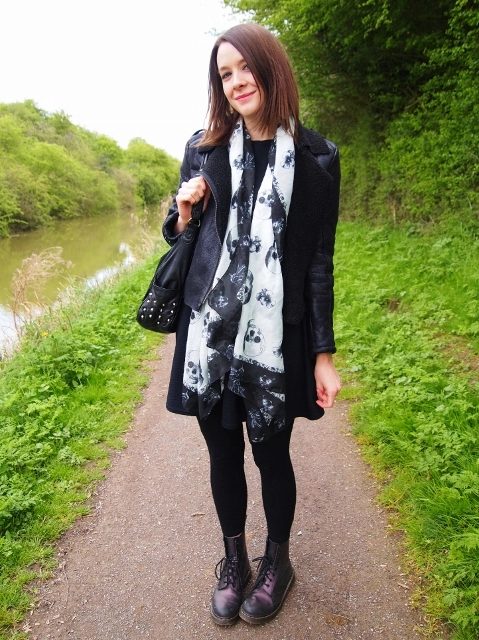 Primark Faux Leather Biker Jacket / Primark Faux Leather Cap Sleeve Skater Dress / Primark Leggings / Dr Martens 1460 W Purple Shimmer Boots / Abandon Floral Skull Scarf (thrifted) / Topshop Leather Stud Bag (thrifted)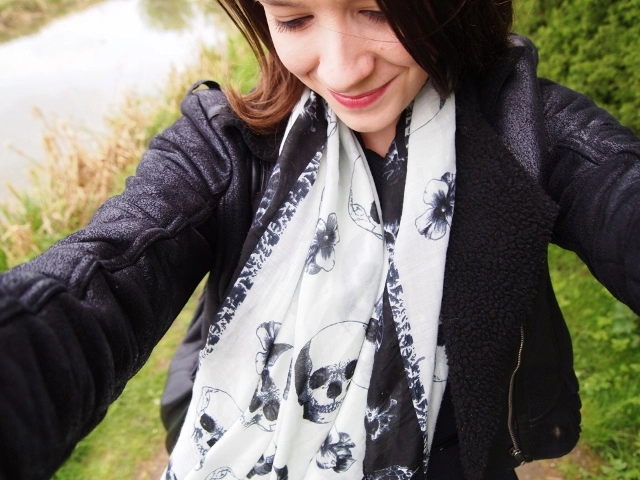 As I knew we'd be walking a lot, I thought it best to throw on my Dr Martens, which was definitely the right call, and I also took another thrifty find of mine – my Topshop leather stud bag.  The perfect size to carry my camera and picnic food.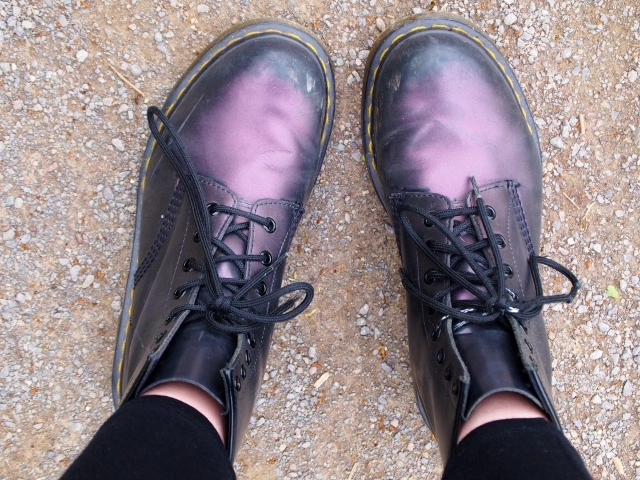 I'm so pleased that Spring is finally underway as I love being out and about enjoying the nice weather, and today was a great opportunity to do so!  Have you been taking advantage of the sunshine lately?
Naomi x
0
For years my personal style has featured a lot of black, so I've really been embracing this season's trends for black and the leather look, as they're letting me revive my teenage love of the Gothic, but with a bit more sophistication.  In my search for new clothes to add to my hoard of black, I have been browsing the internet, and have found that French Connection's current range has some amazing pieces that would look right at home in my wardrobe.  So, I thought I'd put together a little wishlist featuring a selection of my favourite French Connection clothing.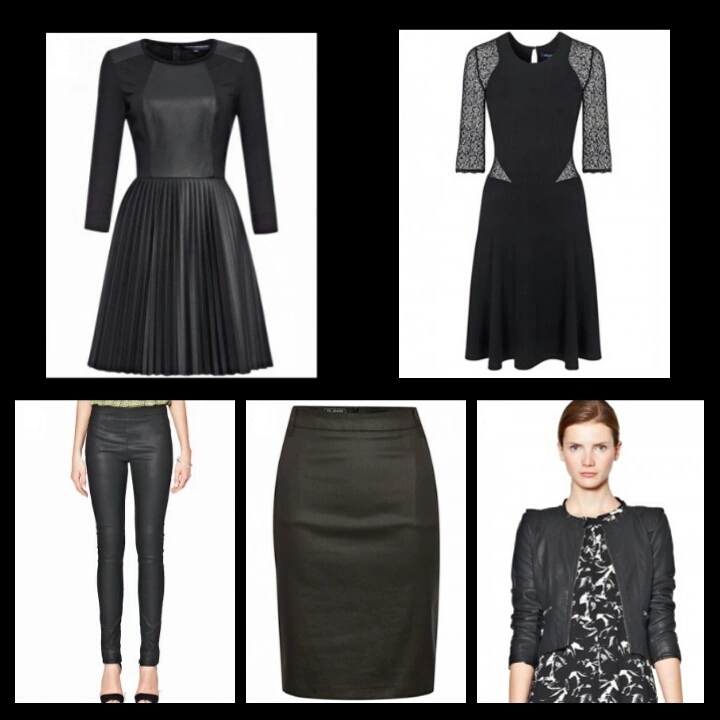 T-Solar Dress / Vienna Dress / Judy Jegs Jeggings / Judy Jegs Pencil Skirt / Riot PU Jacket
These two French Connection dresses are fine examples of what, for me, a little black dress should be.  They're classic in their shape and fit, but have a little something extra that really makes a statement.  The T-Solar's leather panels and pleated skirt are bang on trend and give it a real edge, and the Vienna dress's beautiful sheer lace sleeves and waist detail look so elegant.  Both dresses would be perfect for the upcoming party season, teamed with a contrasting necklace and heels.
The Judy Jegs Jeggings and Pencil Skirt are simple pieces that could easily become wardrobe staples for me.  Their simplicity means they could be worn to work without looking too over the top, making them the ideal way to bring the leather look into the office.  Having said that, they could also both be dressed up with a nice top, your favourite jewellery and a gorgeous bag for a glamorous evening look.
Last but not least, the Riot PU Jacket would be great for those days when you want to wear something a bit brighter, whilst maintaining that on trend edge.  It could be thrown over a colourful bodycon dress or even a t-shirt and jeans, and still look brilliant.  The cropped fit, exposed zips and emphasised shoulders are also really modern, which I love.
You can find these pieces from French Connection online at divinetrash.co.uk.
Naomi x
*This post is a collaboration.*
6
If there's one thing I absolutely hate shopping for, it's coats.  Every year I end up trailing around shops for hours, trying on coats that just don't look or feel right, before eventually settling for something that I don't particularly like.  This year, however, was different.  I walked into Primark, picked up the first coat that caught my eye, tried it on and, much to my surprise, I loved it!  And, to make things even better, it only cost £25 – a third of what last year's coat cost me.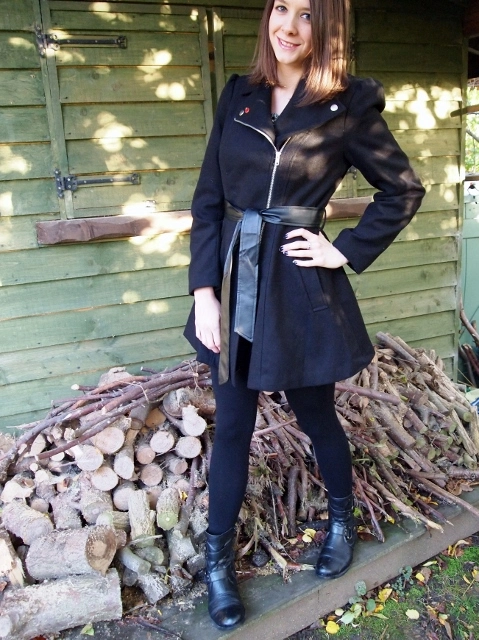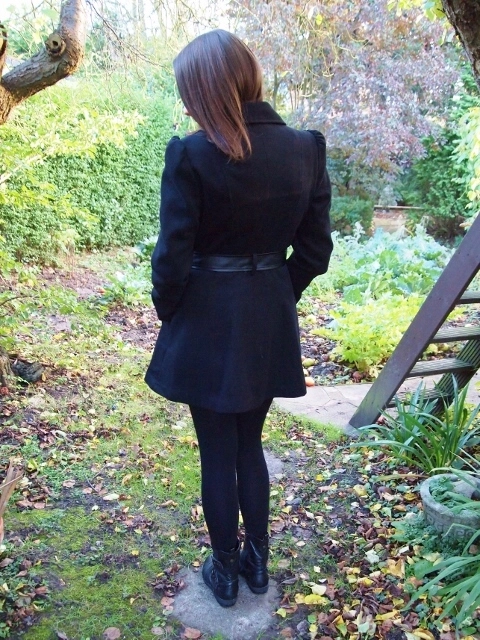 Primark Coat / Primark Leggings / Deichmann Boots / Butler & Wilson Skull Necklace / Royal British Legion Poppy Pin
I'm usually really fussy about coats as I don't like them too long or too short, and I don't like them to be shapeless either, but I absolutely love the length and shape of this coat.  It fits really nicely and the slightly puffy shoulders balance out the flared bottom.  The coat fastens with an off centre zip and a faux leather tie belt, which is perfect for this season's leather trend, and it also has a large lapel collar and good-sized angled pockets.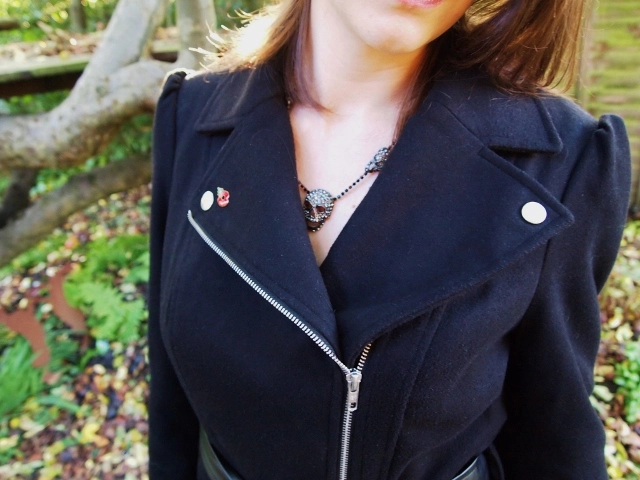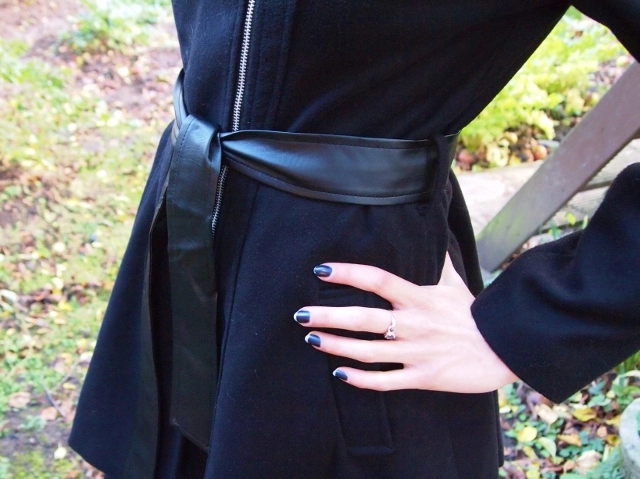 Though it's not the warmest of coats, it's been keeping me toasty on windy Autumn days, and its simplicity means it can be dressed up throughout Winter with cosy scarves, snoods, hats and gloves.  For me, that's a bonus, as bulky hoods tend to annoy me and I'd rather accessorize anyway.  I also went up a size so I could wear jumpers and layers underneath, as going one size bigger with this coat doesn't look bulky and wrong, due to its fitted shape.
What do you think of my Primark bargain?
Naomi x