Lunch Storage Ideas
It's been a while since I last posted anything lifestyle related, so I thought I'd do something a little bit different today and talk about food storage!  Not the most interesting topic I know, but I've been getting very bored lately with taking the same old things to work every day for lunch, and I think a new lunch box could be the answer.  I was recently browsing the Kleeneze website and noticed that they had some fun looking containers for sale, and they've inspired me to scrap the sandwiches and start taking healthier, more exciting food to work with me.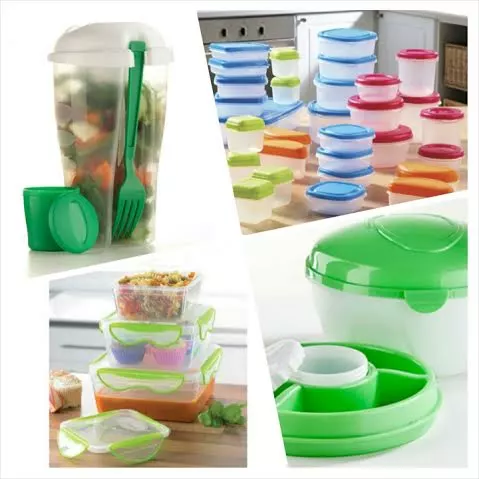 Snacks To Go £4.99 / Food Storage Set £19.99 / Fresh Food Storage Boxes £14.99 / Keep Cool Food Store £6.99
The Snacks To Go tub and the Keep Cool Food Store are what really got me thinking.  Both would be perfect for taking salads for lunch, as they both come with a little pot for salad dressing, and the Snacks To Go even has a fork which slots in the side!  The Keep Cool Food Store also has a freezable lid so your food can stay fresh.  As a vegetarian I have had a lot of practice making salads more appetising, and the idea of having feta and olive, or roast vegetable salads for lunch instead of a boring cheese roll is really rather nice.
The Food Storage Sets may look like normal plastic containers, but the different sized boxes are what I find appealing.  I love the idea of having a box within a box filled with fun little treats, almost like Japanese Bento boxes.  The small ones are perfect for dried fruit, nuts, chocolate chips, or even dips, the medium ones for veggies and crackers, cookies and cakes, and the bigger ones for pasta salads and suchlike.  Yum!
You can check out Kleeneze's full range of food storage here.
Naomi x
*This post is a collaboration.*