Posts tagged
Eateries
1
As promised in my National Vegetarian Week post, here is the latest addition to my series of Vegetarian Eateries posts, this time focusing on Nottingham.  Though I don't live in Nottingham, I do visit regularly for gigs and shopping trips, and I have two favourite places to eat when I'm there.  I'm sure there are other places in Nottingham to get great veggie food, but I'm yet to discover them, however when I do they'll be added to this post.
1a Cannon Court, Long Row W, Nottingham, NG1 6JE
Good for: Creative, tasty dishes and vegan options
Alley Café is slightly hard to find (down an alley, as the name suggests, and easy to miss), but once you're there it's a real veggie haven.  The atmosphere is very relaxed – chilled music and friendly staff, and the menu is even better.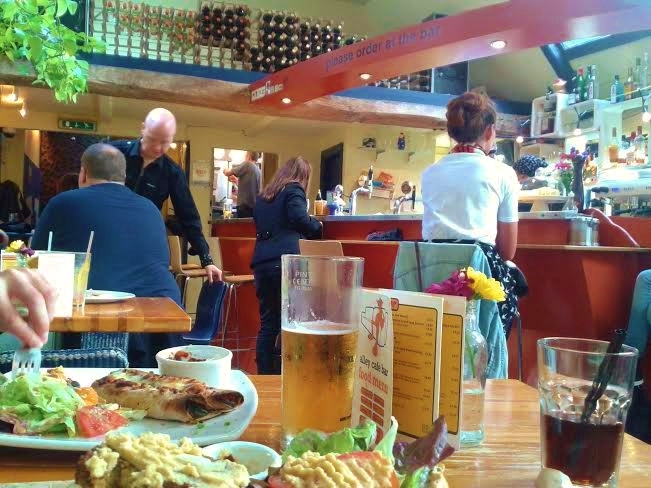 Their main menu features a range of light bites/sides, sandwiches (with quirky names and a choice of breads), burgers, and various creative mains.  They also boast different specials every day, and an array of delicious desserts and homemade juices and smoothies.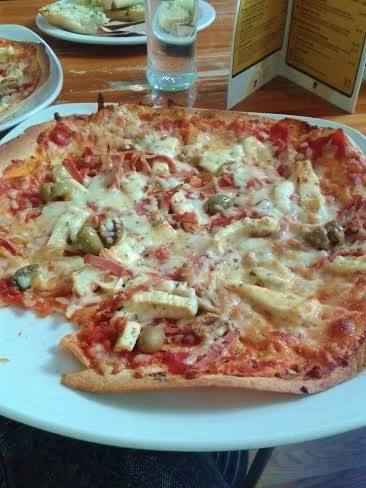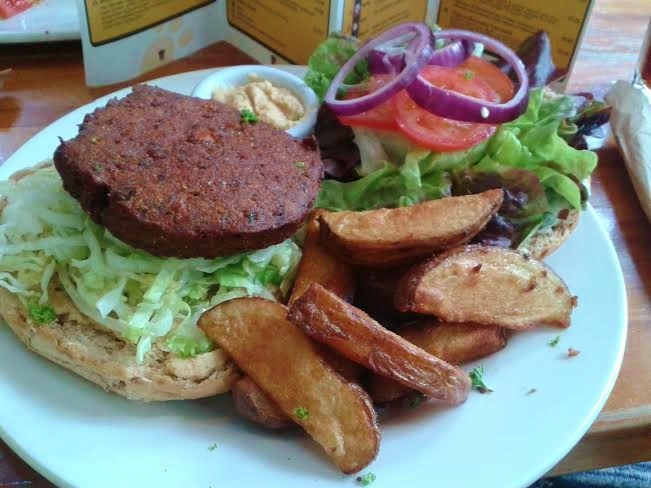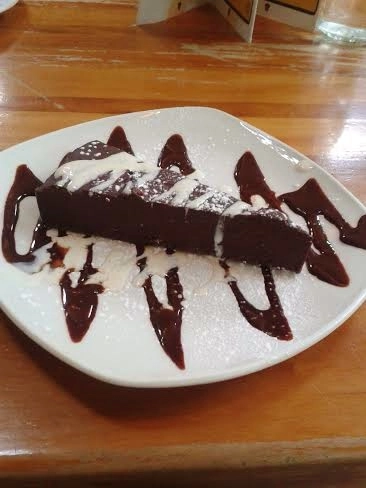 A lot of the menu is vegan, and everything I've ever had there has been so flavoursome and filling.  I can highly recommend the Alfie (halloumi, houmous and mint yoghurt in your choice of bread – I usually go for a wrap), the falafel burger (above) and the pizzas (try it with smoked tofu, baconesque and olives as seen above, perfect).  The vegan chocolate torte is also AMAZING.  Meals average at about £7, most desserts are between £3 and £4, the portions are generous, and the quality of food is very high.  Definitely worth a visit if you appreciate an inclusive, non-judgemental veggie vibe!
17 Goldsmith Street, Nottingham, NG1 5JT
Good for: Delicious handmade burgers and double cooked chips
Spanky Van Dykes is located right next to my favourite small gig venues, so I usually fill up here before a gig.  The bar has an alternative, music themed vibe which really gets you in the mood for a live band, and they even host gigs themselves (although I'm yet to go to one there).  What most people come for though is the handmade burgers.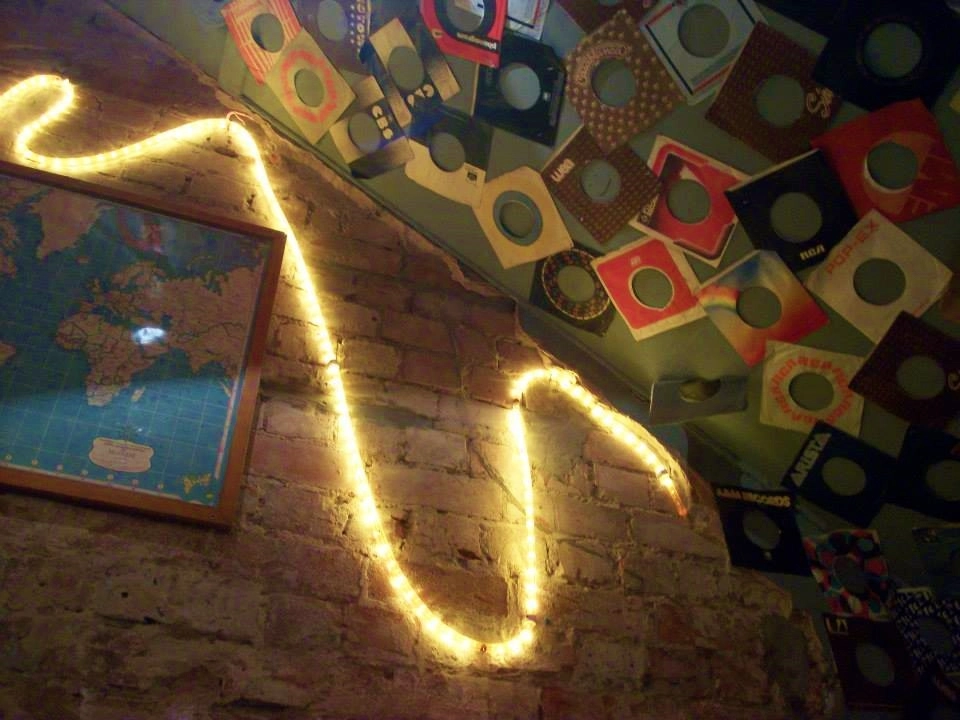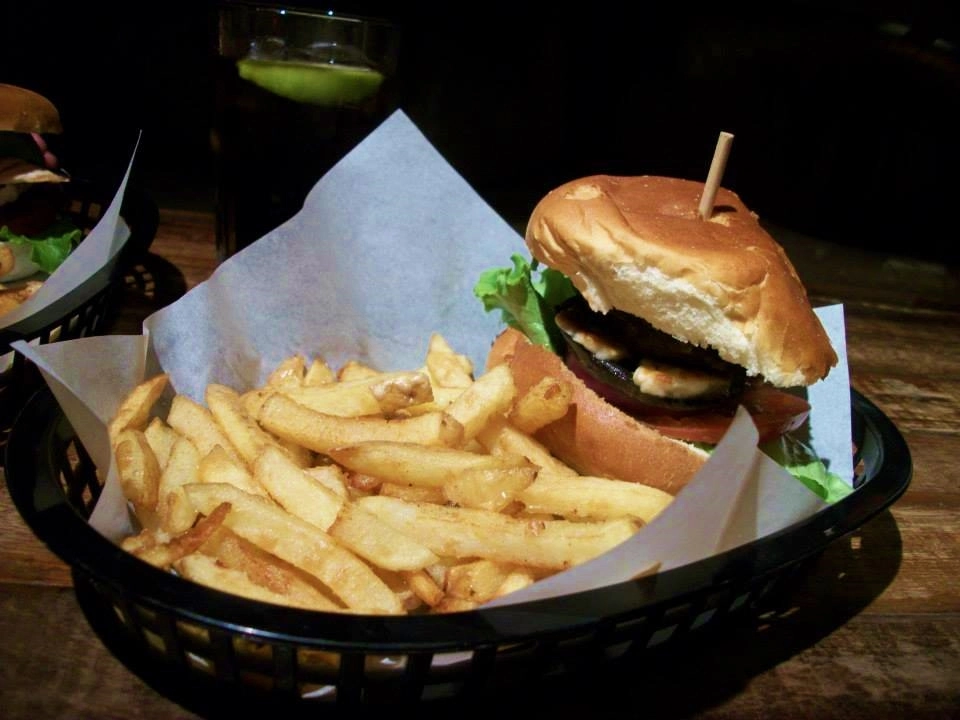 With an American diner style menu, Spanky's sell burgers galore, with three veggie options.  My particular favourite is the Shroomaloomi, which is stacked high with halloumi cheese and flat mushrooms, served with the best double cooked chips I've ever tried.  A bit more interesting than the usual veggie offering of a dry bean burger I must say.  Their tempura vegetables are also worth a mention, as are their desserts.  Cookie ice cream sandwich anyone?  Yes please!  A burger and chips comes in at just over £7, and desserts are around £3, so you can get a full meal for around a tenner.  Although they do two for one on all burgers on a Tuesday, which is definitely the best time to go!
Do you know anywhere else in Nottingham that sells amazing veggie food?  If so, leave a comment below and let me know!
Don't forget to check out my first Vegetarian Leicester post too!
Naomi x
3
Though I love going out to eat with family and friends, as a vegetarian it can be difficult to find a decent meal. In my 13 meatless years I have endured more vegetable lasagnes and dry bean burgers than I care to remember, so, for the good of Leicester-based vegetarians, I have decided to put together a series of posts about my favourite places to eat. Today's post will include a selection of the best places to go for a vegetarian lunch in the city and county, with other themed posts to follow in the coming weeks.
Good Earth
19 Free Lane, Leicester, LE1 1JX
Good for: Homemade, wholesome fare.
Good Earth is 100% vegetarian, and has a different menu every day.  You can usually expect to find quite a few hot dishes on offer, as well as fresh salads, soups, jacket potatoes, and their famous homemade rissoles. There are always lots of amazing cakes and fresh juices available too. Everything is made from scratch, and the food is some of the tastiest and most filling wholesome veggie food I've had outside of my own home.  My particular favourites are the cheesy chilli pasta, and carrot and lentil bake.  The decor is slightly dated, but don't let that put you off as it only adds to the restaurant's charm – it's like going round to grandma's for a good ol' fashioned cooked meal.  Lunches usually come in at around £6, which is pretty decent, and cakes are around £2 each.
99 High Street, Leicester, LE1 4JB
Good for: Sandwiches and Sunday Roasts.
The Orange tree is perhaps my most frequented lunch haunt, and though it isn't purely vegetarian, it never disappoints.  Their menu changes every season, and makes the most of local produce and seasonal ingredients, and they also have several specials each week, including a vegetarian one.  The main menu features a variety of different vegetarian dishes, but what I usually go for are their sandwiches and Sunday roasts.  At lunch the Orange tree do a deal where you can get a sandwich, homemade chips and a soft drink for £5.95, which is an absolute bargain, and the food is delicious.  I really like the current veggie sandwich, which is field mushroom and homemade red pepper pesto, with melted mozzarella.  Yum!  And the roasts…  I can honestly say the Orange tree's vegetarian roasts are the best I've had when eating out.  Rather than doing the usual nut roast, they like to mix it up and offer something different every week.  I've had everything from feta and pine nut stuffed peppers to brie, mushroom and cranberry parcels, and they're always incredible.  Roasts come with roast potatoes, fresh veg and a Yorkshire pudding, and cost £7.95 (or £10.95 with a dessert, which are also amazing).
Nagarjuna Buddhist Centre, 17 Guildhall Lane, Leicester, LE1 5FQ
Good for: Variety and vegan options.
Leicester's World Peace Café is located inside the Nagarjuna Buddhist Centre, and has a really relaxed and family friendly atmosphere.  They're 100% vegetarian, with a number of vegan options on the menu, and they have a variety of wraps, ciabattas, salads, and daily specials (such as tagines, quiches and bakes) available.  I usually go for a wrap and like to have something different every time, but their vegan offerings are particularly lovely.  This is a great place to go if you fancy a peaceful lunch away from the hustle and bustle of the busy city.  A meal deal comes in at around £6, and will get you a wrap or ciabatta, crisps and a drink.
1 Millstone Lane, Leicester, LE1 5JN
Good for: Quorn sausages.
Admittedly I don't go to Firebug that often for food (I'm more likely to go in the evening for a drink), and it isn't completely vegetarian, but they do serve a few veggie dishes.  The last time I went I had a Quorn sausage sandwich, with curly fries and coleslaw, and it was fab.  I love Quorn sausages, but not many eateries serve them, so it's always nice to find a place that does – especially when they come smothered in caramelised onions!  At £4.50 for a sarnie and coleslaw (or £5.50 with the fries), it's very reasonably priced, and it's usually quiet at lunchtime too which is always a bonus.
38 South Street, Barrow Upon Soar, LE12 8LZ
Good for: Celebratory lunches and impressive puddings.
The Hunting Lodge is located on the outskirts of Leicester so is a bit of a drive out of the city, but if you fancy going somewhere a bit fancy for a special lunch then this is the place.  My family and I went there to celebrate my Master's graduation and we all had a lovely time.  Their menu is rather extensive, and they have a whole page of vegetarian options, which is both exciting and daunting when you're used to having one or two things to choose from!  My favourites are the mushroom, broccoli and stilton bake, and nut roast with apricots and goats cheese, but I want to try as many dishes as I can in the future.  All of their mains come with chips or potatoes, and vegetables or salad, which can be refilled for free.  Their puddings are also very impressive, and are probably my favourite thing about the place.  The rich chocolate and peanut stack is honestly one of the nicest things I've ever tasted, but if you can't decide which dessert to have, the 'Give Me Five' is the way to go.  Mains cost around £10.00, and puddings are between £3.00 and £6.00.
Ruby Tuesdays
1A The Meadway, Birstall, LE4 4NG
Good for: Big portions and jacket potatoes
Ruby Tuesdays is a lovely little cafe in the village of Birstall.  It can get quite busy at lunchtime, but if you're in a pair you can usually find a table for two near the back.  The portions here are pretty big, but it isn't just quantity over quality as luckily the food is also very tasty!  I usually opt for a jacket potato with cheese and homemade chunky, creamy coleslaw, but there are loads of other veggie dishes to choose from, including omelettes and sandwiches.  Their veggie sausage sandwich with cranberry sauce is also quite nice.
Check back soon for more Vegetarian Leicester posts, with a focus on breakfast, dinner, and different types of cuisine and occasion, as well a Vegetarian Nottingham post! Also, if you have any recommendations or anywhere to add to the list, please leave a comment below.
Naomi x