Posts tagged
Breaking Bad
1
It's been a while since I last signed up to a (non-edible!) subscription box, and I'd been missing that buzz of getting a nice surprise through the post each month, so lately I've been on the lookout for a new one to trial. I was looking for something featuring collectible items rather than beauty products or anything like that, and I knew exactly where to turn for recommendations. One of my favourite bloggers, Chrissie of Plus10Kapow, regularly reviews popular subscription boxes, and after seeing her publish several positive reviews about Loot Crate, I decided to take the plunge and sign up for a one-off box, just to see whether I like it or not.
Loot Crate are a US-based company founded in 2012, who each month 'ships a themed mystery box of the best geek, gaming, and pop culture gear to a subscriber base of over 100,000 Looters'.  From what I've seen their boxes are always well thought out and beautifully curated to suit a theme – something that a lot of other subscription services just don't quite manage to get the hang of. The box I signed up for was the August Villains 2 box, which is quite possibly one of the best themes for me as I do love myself a supervillain! Loot Crate released their first Villains box last year, and this one is the sequel to that.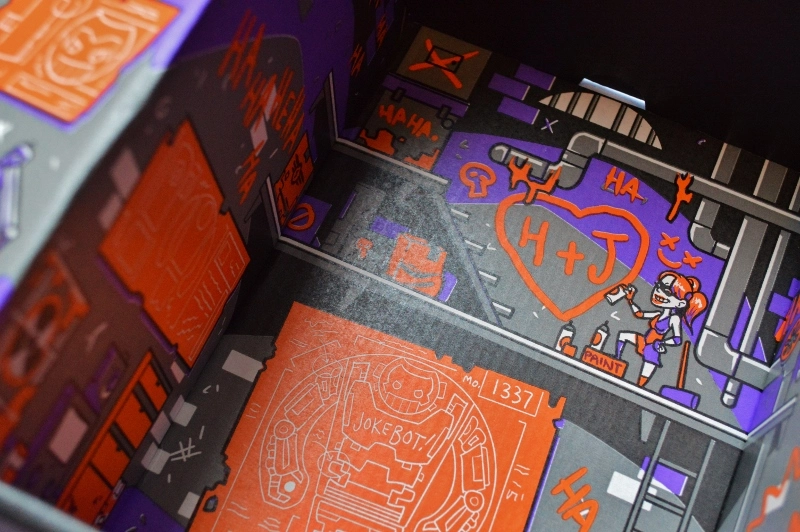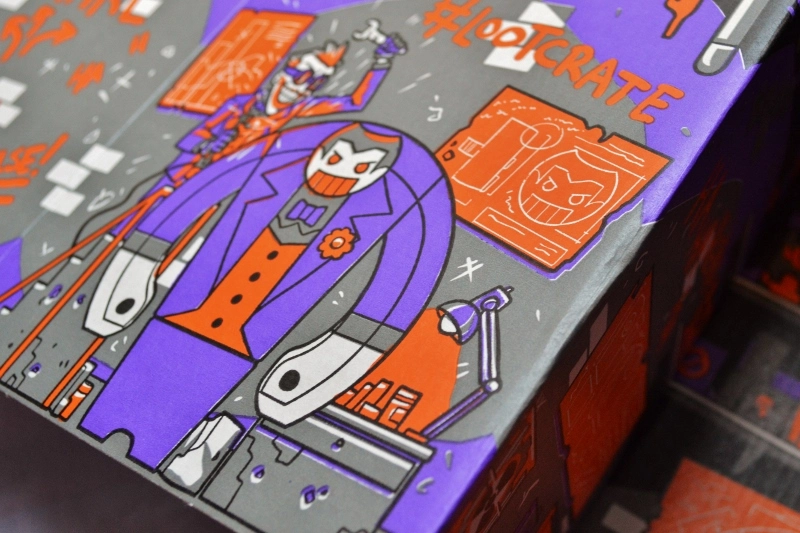 I ordered my crate on 19th August, and after much impatient waiting it finally arrived on 1st September, which was a little later than most people's, so it was incredibly difficult to avoid content spoilers online!
I was expecting to find six or seven items in the box, as this seems to be the norm according to the reviews I've seen, but this month there were only four (plus the usual magazine and badge). However, all four items are high-end and good quality, and according to Chrissie's calculations are worth a whopping £65.04 if bought separately online!
So, here's all the loot!
Captain America Hydra Pin Badge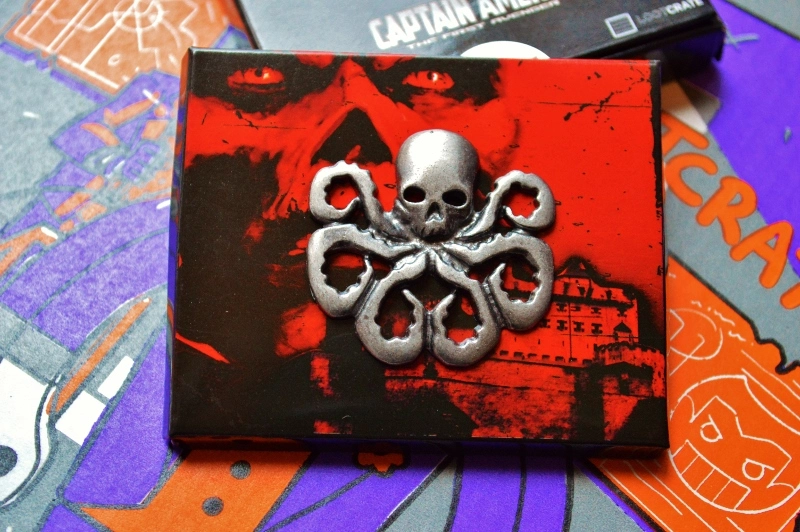 Pins and badges are one of the many things that I collect, so it was nice to find one of such great quality in the box.  This Hydra pin is very well made, and has a double pin on the back.  I reckon this would look awesome on a simple black jacket.
DC Collectibles Wooden Joker
As a lifelong Batman fan this wooden Joker figure was my absolute favourite item in the crate.  There's just something so nostalgic about it as I remember having toys like this when I was younger, and the changeable faces and poseable arms make this figure even more fun.  I can see myself collecting more of these in the future (I've got my eye on a Batman one I've seen), but this one is extra special as it's a Loot Crate exclusive.
Carnage 16oz Mug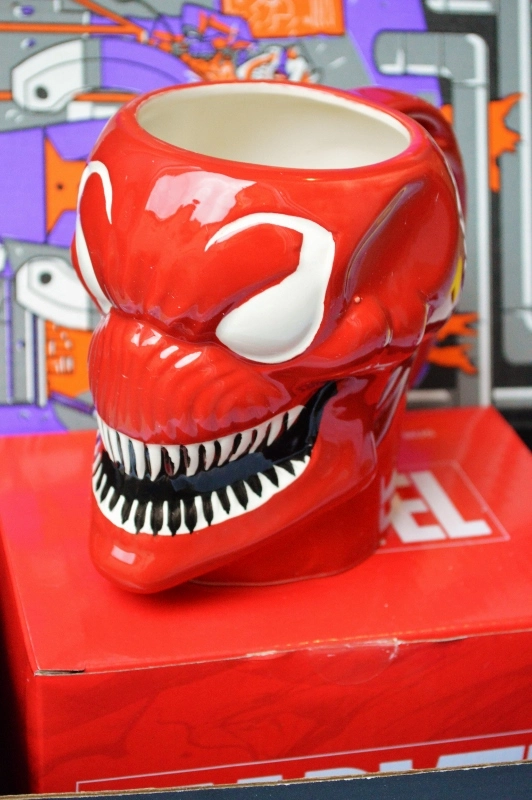 There were two villainous mug designs being sent out in this crate – Venom, and Carnage, which is the one I received.  My fiancé is more of a Marvel fan than I am (I'm a DC girl), so he was especially pleased with this.  The mug is a good size and makes a nice addition to our ever-expanding mug collection, although for some reason I can see it being used for make up brushes or pens rather than tea!
Los Pollos Hermanos Apron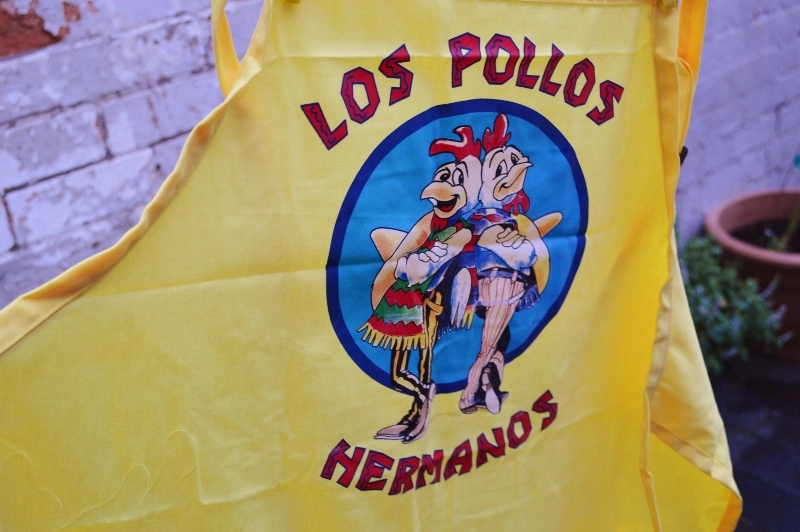 I love Breaking Bad and I do a lot of cooking, so this apron was a great addition to the box.  The quality of the apron is really high, and the colours are nice and vibrant (although you can't tell in the picture… my camera dislikes yellow for some reason!).  This is something that I'd probably buy myself, and the exact same apron is currently being sold on Amazon for over £14.
Badge and Magazine
Every Loot Crate includes a badge to match the monthly theme, and a magazine. This month's badge feature's Venom's spiky smile, and I absolutely love the Joker art on the front of the magazine. When I first saw the magazine at the bottom of the box I thought it was a print, which really excited me as I'd definitely hang this on my wall.  In fact, I was slightly disappointed that it wasn't. Perhaps something for Loot Crate to consider in the future?
So, after receiving my first Loot Crate I must say I'm impressed.  Everything about it is fantastic – the premium items, the attention to detail, even the fun design inside the box.  A monthly subscription to Loot Crate costs just under $30 (about £20), or you can sign up for 3 month, 6 month of yearly packages at a discounted rate. I had a $3 off discount code and ordered a monthly box, making this one $26.95 (a little over £18), with free delivery. For what you get, and the combined total worth of each item, the Villains 2 box was without a doubt worth the money. I'm definitely considering keeping my subscription open for longer!
Are you signed up to Loot Crate? What were your thoughts on the Villains 2 crate?
Naomi x
2
With only a few hours left of 2013, I thought I'd put together a reflective post of my 'Best Ofs' from the last twelve months, both blog-related and things that I've generally enjoyed this year.  2013 has been fairly eventful for me, what with getting starting to keep rats again after a five-year hiatus, finishing university, working more regular hours, and moving my blog to its own domain, thus growing its success.  Luckily I've also had a lot of time for leisure, and managed to fit in some exciting trips and weekends away.  So without further ado, here is my Best Of 2013.
TV Show:

Breaking Bad
Now, I'm only three seasons in to Breaking Bad, so I haven't yet seen the final one which aired this year, but Breaking Bad is easily my favourite TV show of 2013.  I'm not usually one for following series (I'm more of a documentaries kinda girl), but I started watching Breaking Bad a month or two ago, and nothing on television has ever got me as hooked as this has.  I genuinely have no idea what I'll do without it.
Film:

Alan Partridge: Alpha Papa
Out of all the films I've seen at the cinema this year, 'Alan Partridge: Alpha Papa' stands out as the best.  There's nothing like a good British film, and it had me laughing all the way through.  Admittedly, Alan Partridge as a character is an acquired taste, but I've always been a fan and I think the film did him justice (others I know would disagree, however).
Theatre:

War Horse & Sweeney Todd
I was lucky enough to go to the theatre several times this year and I found it hard to pick a winner, so there are two.  After years of wanting to see it, I saw the stage version of 'War Horse' at the Birmingham Hippodrome, and it was more beautiful than I had imagined.  The puppetry was incredible and I shed many a tear.  I would love to see it again, perhaps in London next time.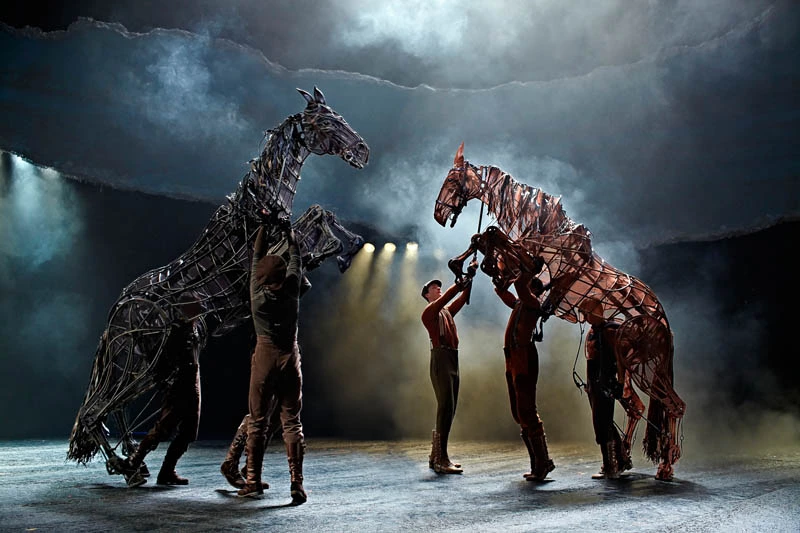 Source: Birmingham Hippodrome
I also went to see the Curve Community Production of 'Sweeney Todd' in August, at the Curve in Leicester.  I'm not usually a fan of musicals, but I love the story of Sweeney Todd, and the quality of both the acting and the set were so high that I was instantly transfixed.  My fiancé's sister was in it too!
Book:

Stonemouth by Iain Banks
'Stonemouth' by Iain Banks was actually published in 2012, but I didn't get round to reading it until this year.  I've been fond of Iain Banks' writing ever since reading 'The Wasp Factory' when I was a teenager, and 'Stonemouth' is a classic Banks story.  The characters are well developed and I couldn't put the book down, which is always a good sign!  I won't say too much about it as to avoid spoilers, but I'd definitely recommend it to those who like fiction set in the real world.  Unfortunately, Iain Banks passed away earlier this year after a short battle with cancer (RIP), and I for one am really sad that he is no longer here to write any more brilliant books, but at least he can live on in his existing literary legacy.
Gig:

Sleepwalk City by 65daysofstatic, Sheffield
I tend to go to quite a few gigs every year, and 2013 was no different, but the best gig of the year wasn't a straightforward one.  It was actually a live sound and visual installation called 'Sleepwalk City', in an art gallery in Sheffield, performed by my favourite instrumental post-rock band 65daysofstatic.  In short, the idea was to become immersed in sound, and the 30 minute performance for a select number of people was one of the most interesting and overwhelming musical experiences that I've ever had.
Celebrity:

Aaron Paul
Aaron Paul, aka Jesse Pinkman from Breaking Bad, is my absolute favourite celebrity of 2013, for many, many reasons.  As BuzzFeed quite rightly said, Aaron Paul Was The King of 2013, Bitch, so visit the article to find out why!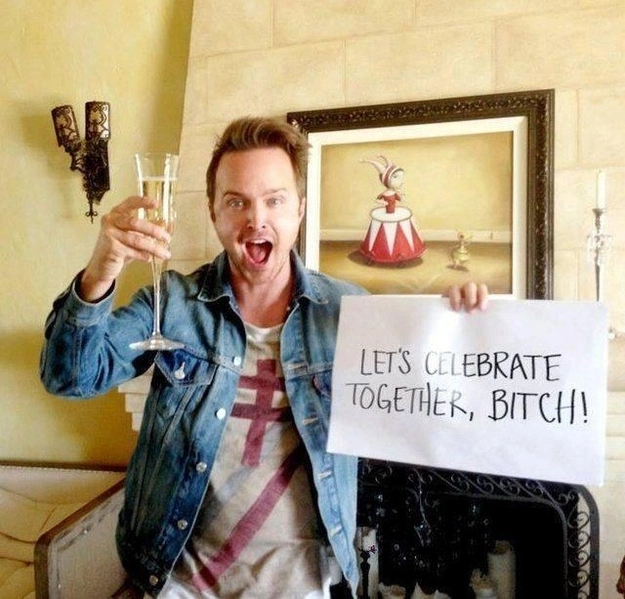 Source: Instagram
Eatery:

Spanky Van Dyke's & Cornucopia
Spanky Van Dyke's is a bar on Nottingham which sells some of the best burgers I have ever tasted.  Their homemade fries and desserts are amazing too!  I've been there countless times this year (usually before heading to a gig), and I always enjoy it.  My menu recommendation is the Shroomaloomi burger, which is stuffed full of flat mushrooms and grilled halloumi, mmmm.
Another of my best eateries of 2013 has to be Cornucopia in Dublin.  I can honestly say it is hands down the best vegetarian/vegan restaurant I have ever been to.  It's a little on the pricey side, but the atmosphere is relaxed, the food is all homemade and they experiment (and succeed) with unusual ingredients, so it's well worth the money.
City:

Dublin
In September my fiancé and I went to Dublin in Ireland for a short holiday, and we had an absolutely lovely time.  The city itself has so much to offer – so much to see and do, and I'd love to go back to see and do what we missed the first time!  Whilst there we did the touristy thing and went to Dublin Zoo, Trinity College, the Guinness Storehouse and Croke Park, but we also spent a lot of time relaxing in the local parks (and pubs!)
Achievement:

Becoming a Master of the Arts
After two years of studying hard and writing essays, and a summer spent writing my 20,000 word dissertation, I finally finished my Masters degree in Modern Literature in September.  I passed, with Merit, and I am so, so happy and proud.  Bring on graduation in January 2014!
Blog Post:

Interview Review: Superdrug Colour Rewind Hair Colour Remover

After looking at my blog stats for this year, my most popular blog post, with the most views, is the Interview Review I did with my sister about Superdrug's Colour Rewind Hair Colour Remover.
Giveaway:

JollyChic $100 Fashion Giveaway
I've ran a few giveaways in partnership with several companies throughout the year, but the one with the most entries has been the JollyChic Giveaway to win $100 to spend on fashion.  The giveaway is actually still open, and is running until January 12th, so if you want to enter click here!
PR Product:

Helvin DUO Boots
I received a lot of gorgeous PR products and samples this year, and I found it difficult to choose a favourite, but in the end these Helvin DUO Boots triumphed.  They're top quality and look fantastic on – you can read my full review here.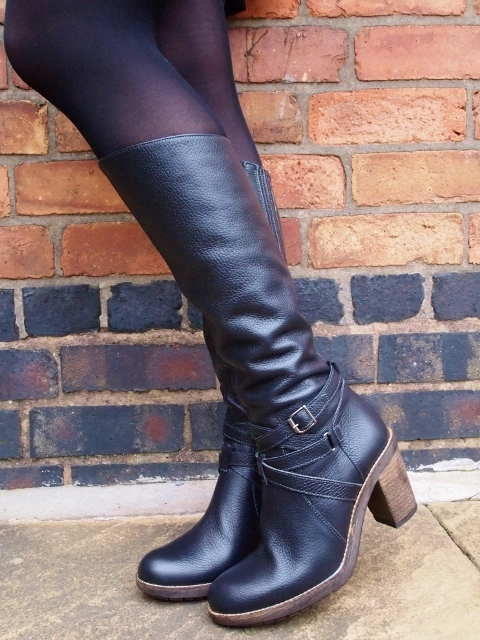 Fashion Item:

Primark Winter Coat
The best fashion item I have purchased in 2013 has to be my winter coat from Primark.  As my review says… 'Every year I end up trailing around shops for hours, trying on coats that just don't look or feel right, before eventually settling for something that I don't particularly like.  This year, however, was different.  I walked into Primark, picked up the first coat that caught my eye, tried it on and, much to my surprise, I loved it!  And, to make things even better, it only cost £25 – a third of what last year's coat cost me.'
Beauty Product:

INIKA Certified Organic Liquid Foundation
I struggle to find foundations to suit my skin tone, let alone ones that are natural, vegan and cruelty free, so when I discovered INIKA's Certified Organic Liquid Foundation I was very happy, as it fulfils all of the above criteria!  You can see my swatches and read my review here.
Skin Care Product:

Eucerin Dry Skin Intensive Hand Cream
My favourite skin care product of the year is one I haven't got round to reviewing yet – Eucerin Dry Skin Intensive Hand Cream.  Every winter my hands get so dry that they actually crack and bleed, but this year I found the cure.  At £9 for a 75ml tube it's not the cheapest, but it actually works and that's what matters!  I'll be reviewing it next month so keep an eye out if you're interested in hearing more.
What are your 2013 'Best Ofs'?  I hope you all have a happy new year!
Naomi x
3
I know I'm a few years behind the universe on this one, but I recently started watching Breaking Bad and, just as the rest of you were, I am well and truly hooked!  So much so that I just had to add something Breaking Bad related to my wardrobe.  Jesse Pinkman is my favourite character (he's just so well written), and I love the fact that he single-handedly revived the word 'bitch' from the bottom of the 90s insult bin, so this t-shirt is my tribute to Jesse and his famous catchphrase.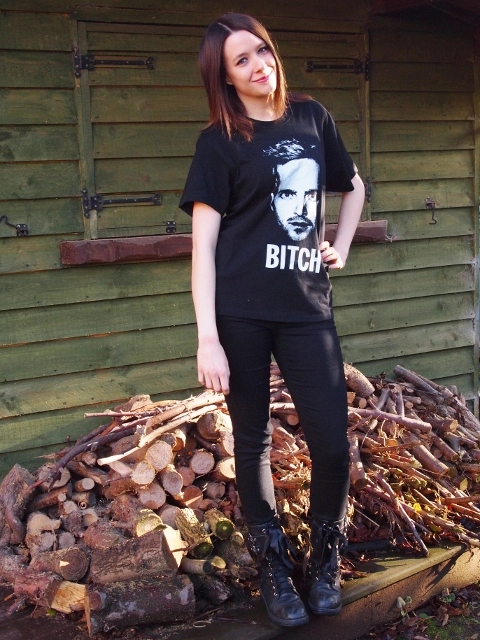 Jonny Cotton Jesse Pinkman 'Bitch' T-Shirt / New Look Black Skinny Jeans / Schuh Black Biker Boots
I ordered the t-shirt from an eBay shop called Jonny Cotton.  I was slightly worried at first as it's impossible to judge the quality of t-shirts like this on eBay, but I'm really pleased with it.  Both the fabric and the print are great quality, and at £7.99 with free postage it was an absolute bargain.  I'm usually a size 12 but I ordered a men's medium as, being 5'10", I often find women's tees to be too short in the body and I wanted something baggier, and it fits really nicely and isn't too shapeless.  I'd definitely recommend Jonny Cotton for printed tees.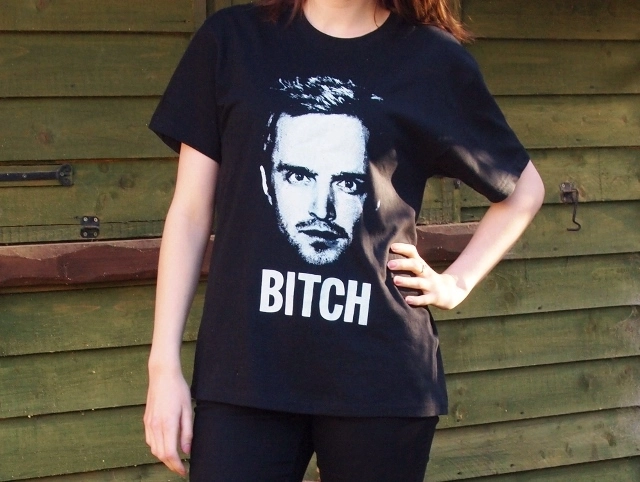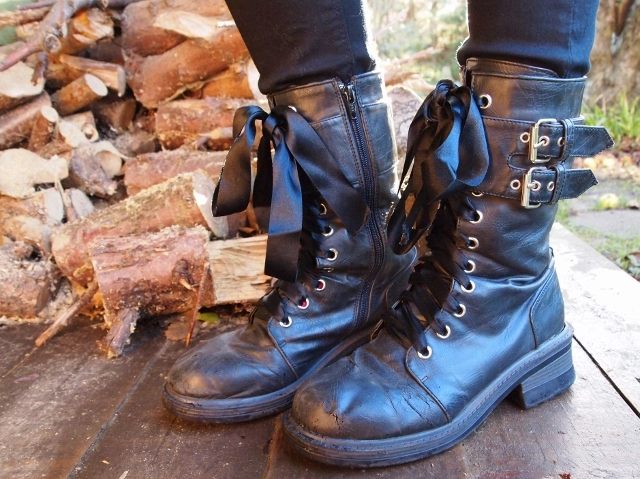 I teamed the t-shirt with my go-to black skinny jeans from New Look, and a pair of black biker boots from Schuh that I found lurking under my bed.  I must have had them for about five years now and I wasn't too keen on them at first, hence why they were under my bed, but they're starting to grow on me now.
Do you like Breaking Bad?  I'd love to hear your thoughts.  But please, no spoilers!
Naomi x