Posts tagged
Mug
1
It's been a while since I last signed up to a (non-edible!) subscription box, and I'd been missing that buzz of getting a nice surprise through the post each month, so lately I've been on the lookout for a new one to trial. I was looking for something featuring collectible items rather than beauty products or anything like that, and I knew exactly where to turn for recommendations. One of my favourite bloggers, Chrissie of Plus10Kapow, regularly reviews popular subscription boxes, and after seeing her publish several positive reviews about Loot Crate, I decided to take the plunge and sign up for a one-off box, just to see whether I like it or not.
Loot Crate are a US-based company founded in 2012, who each month 'ships a themed mystery box of the best geek, gaming, and pop culture gear to a subscriber base of over 100,000 Looters'.  From what I've seen their boxes are always well thought out and beautifully curated to suit a theme – something that a lot of other subscription services just don't quite manage to get the hang of. The box I signed up for was the August Villains 2 box, which is quite possibly one of the best themes for me as I do love myself a supervillain! Loot Crate released their first Villains box last year, and this one is the sequel to that.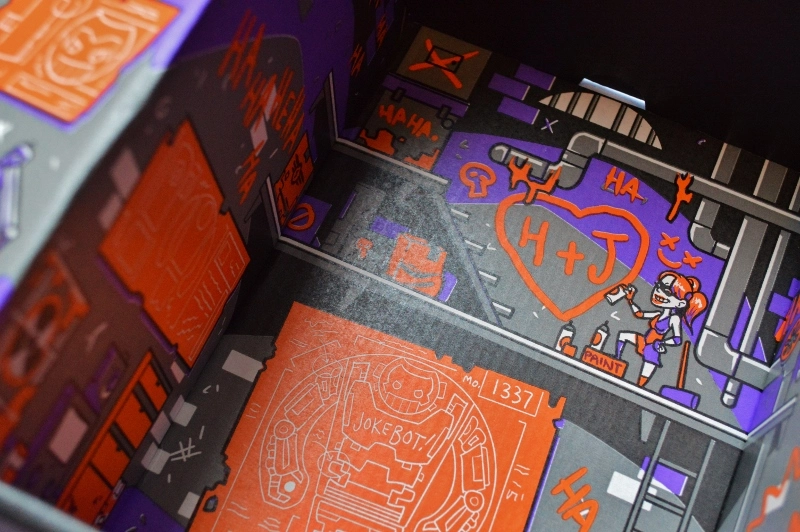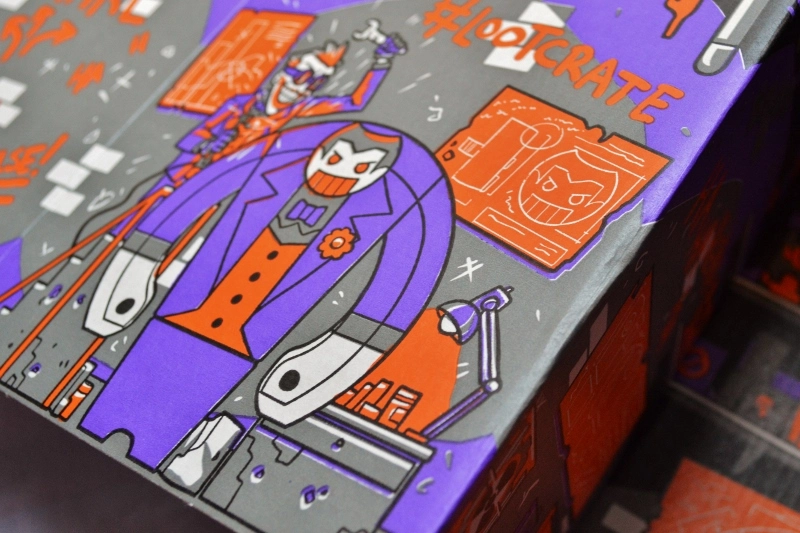 I ordered my crate on 19th August, and after much impatient waiting it finally arrived on 1st September, which was a little later than most people's, so it was incredibly difficult to avoid content spoilers online!
I was expecting to find six or seven items in the box, as this seems to be the norm according to the reviews I've seen, but this month there were only four (plus the usual magazine and badge). However, all four items are high-end and good quality, and according to Chrissie's calculations are worth a whopping £65.04 if bought separately online!
So, here's all the loot!
Captain America Hydra Pin Badge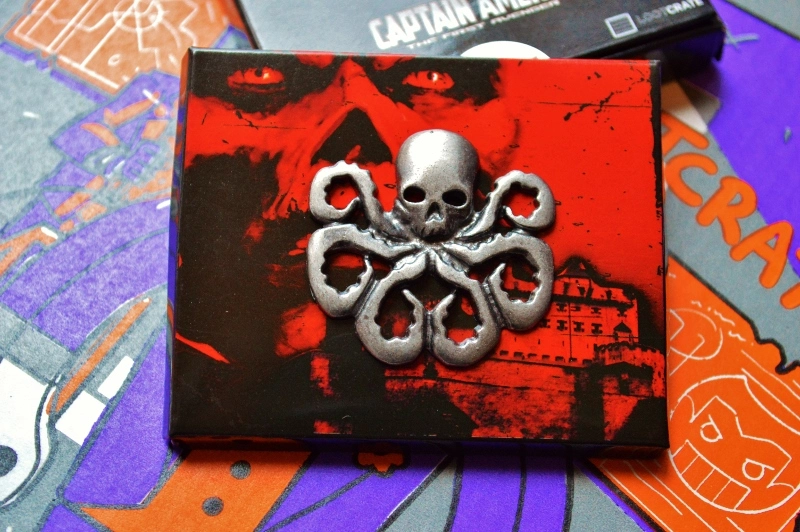 Pins and badges are one of the many things that I collect, so it was nice to find one of such great quality in the box.  This Hydra pin is very well made, and has a double pin on the back.  I reckon this would look awesome on a simple black jacket.
DC Collectibles Wooden Joker
As a lifelong Batman fan this wooden Joker figure was my absolute favourite item in the crate.  There's just something so nostalgic about it as I remember having toys like this when I was younger, and the changeable faces and poseable arms make this figure even more fun.  I can see myself collecting more of these in the future (I've got my eye on a Batman one I've seen), but this one is extra special as it's a Loot Crate exclusive.
Carnage 16oz Mug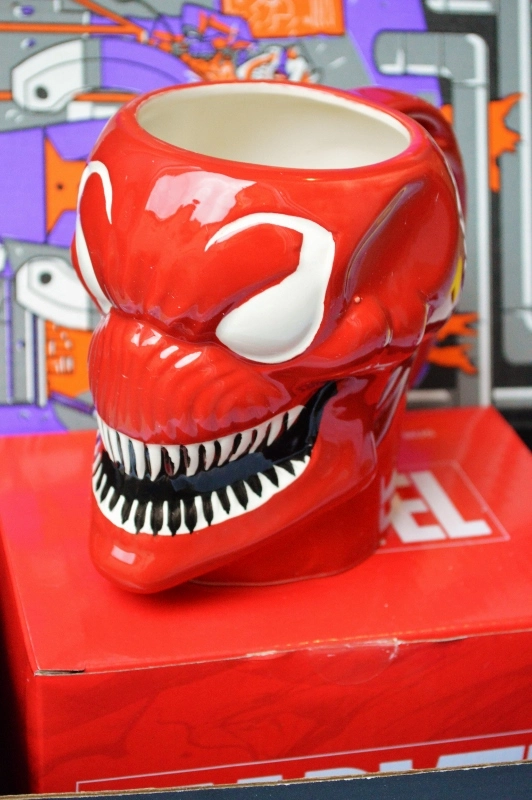 There were two villainous mug designs being sent out in this crate – Venom, and Carnage, which is the one I received.  My fiancé is more of a Marvel fan than I am (I'm a DC girl), so he was especially pleased with this.  The mug is a good size and makes a nice addition to our ever-expanding mug collection, although for some reason I can see it being used for make up brushes or pens rather than tea!
Los Pollos Hermanos Apron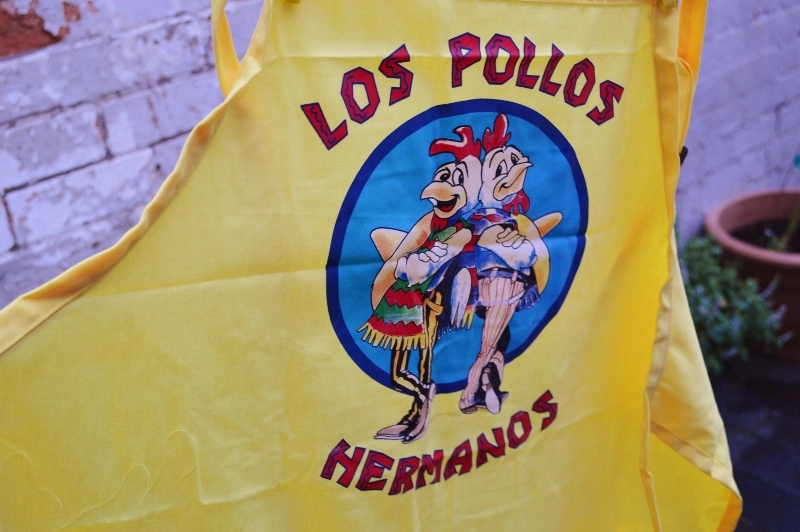 I love Breaking Bad and I do a lot of cooking, so this apron was a great addition to the box.  The quality of the apron is really high, and the colours are nice and vibrant (although you can't tell in the picture… my camera dislikes yellow for some reason!).  This is something that I'd probably buy myself, and the exact same apron is currently being sold on Amazon for over £14.
Badge and Magazine
Every Loot Crate includes a badge to match the monthly theme, and a magazine. This month's badge feature's Venom's spiky smile, and I absolutely love the Joker art on the front of the magazine. When I first saw the magazine at the bottom of the box I thought it was a print, which really excited me as I'd definitely hang this on my wall.  In fact, I was slightly disappointed that it wasn't. Perhaps something for Loot Crate to consider in the future?
So, after receiving my first Loot Crate I must say I'm impressed.  Everything about it is fantastic – the premium items, the attention to detail, even the fun design inside the box.  A monthly subscription to Loot Crate costs just under $30 (about £20), or you can sign up for 3 month, 6 month of yearly packages at a discounted rate. I had a $3 off discount code and ordered a monthly box, making this one $26.95 (a little over £18), with free delivery. For what you get, and the combined total worth of each item, the Villains 2 box was without a doubt worth the money. I'm definitely considering keeping my subscription open for longer!
Are you signed up to Loot Crate? What were your thoughts on the Villains 2 crate?
Naomi x
1
On Valentine's Day I turned 25, and though I felt unwell (for the third birthday in a row!), I had a great day.  Charles treated me to a lovely breakfast in bed of Belgian chocolate waffles, hot tea, and fresh orange juice.  We then went for a long walk around Bradgate Park with my family, and had lunch at a tea room, and in the evening we had a pizza party with amazing chocolate birthday cake!
I was lucky enough to receive lots of cards, a few Highcross and Amazon vouchers from friends and family, and some gorgeous gifts, so I thought I'd do a little haul post to show you some of what I got.
My mum gifted me this watch, and it's absolutely stunning.  I love the marcasite detail and I've been wearing it every day since I got it.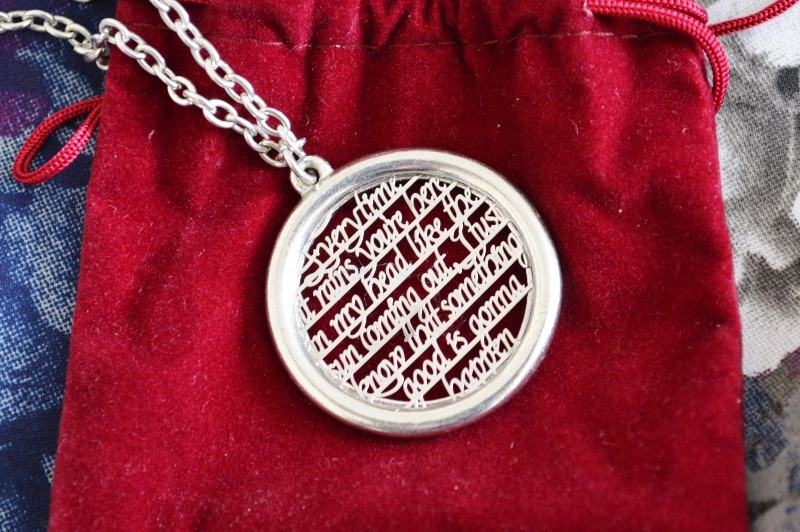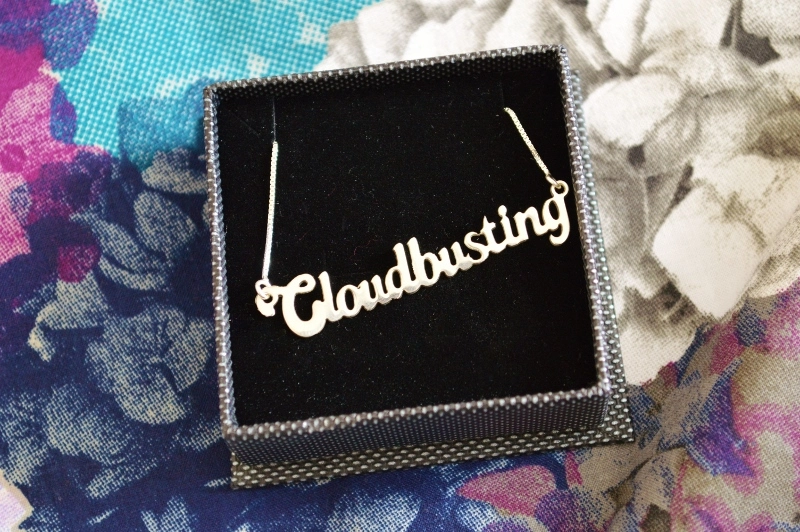 My two main presents from Charles were these Kate Bush themed necklaces.  The first one is from her official website, and features lyrics from one of my favourite songs, Cloudbusting.  I actually saw this when I went to see Kate in London last year, but couldn't afford it at the time.  I really wasn't expecting to get it for my birthday, so was so happy when I opened it!  The second necklace is made of silver and was personalised just for me.  I love it.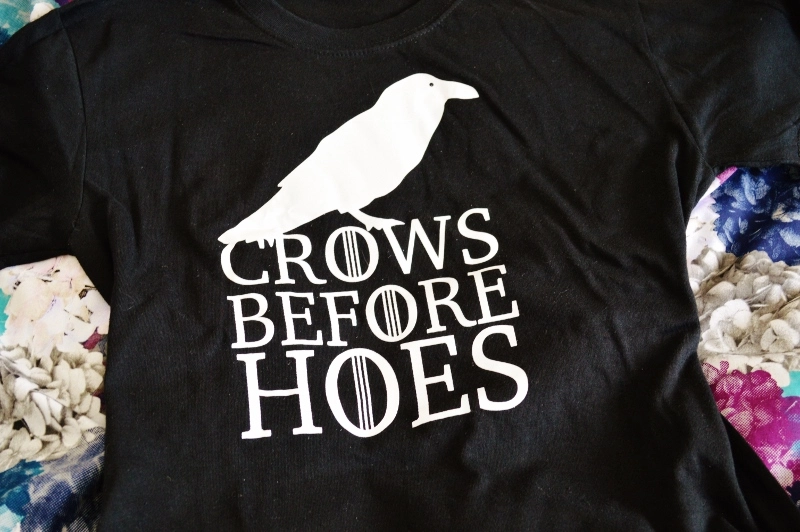 Charles also got me this awesome Game of Thrones t shirt.  I can't wait to style it for an outfit post in the coming weeks!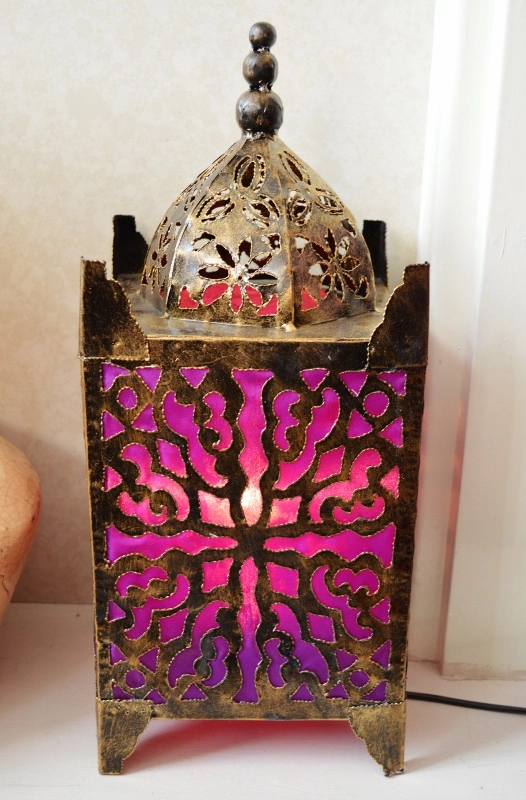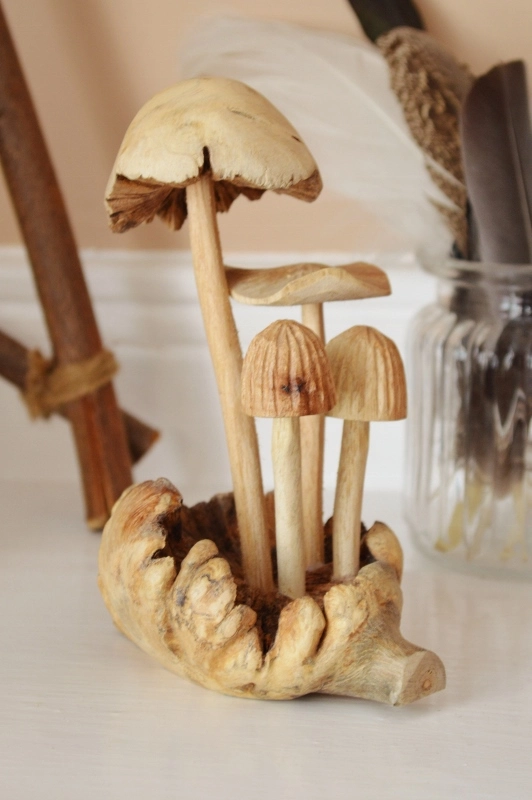 My dad gave me a few bits for the house, my favourite of which is the Moroccan lamp.  It's made of metal and is lined with purple fabric, and gives off a lovely ambient glow.  It now takes pride of place on my living room fireplace.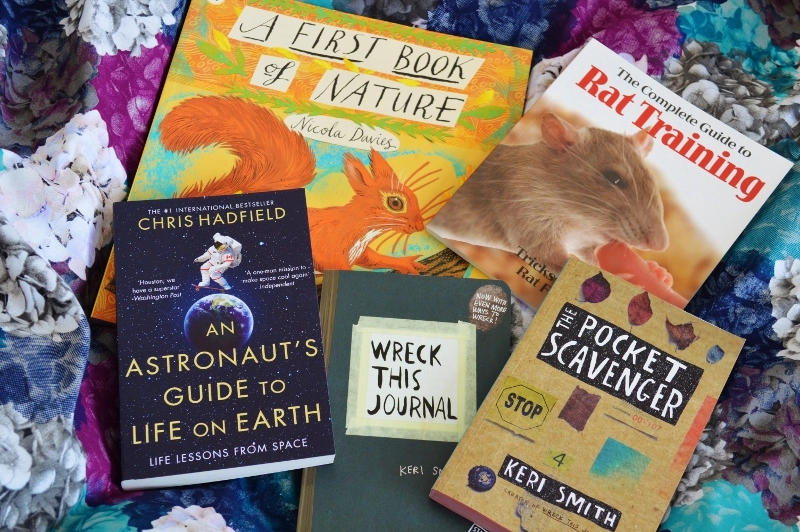 Much to my delight I get quite a few books every year, and this year was no different.  Charles gave me 'A First Book of Nature', and 'An Astronaut's Guide to Life on Earth' by my space hero, Chris Hadfield.  The rat training book was from an old school friend, and my sister gave me 'Wreck This Journal' and 'The Pocket Scavenger', both by Keri Smith.  I can't wait to start filling them in!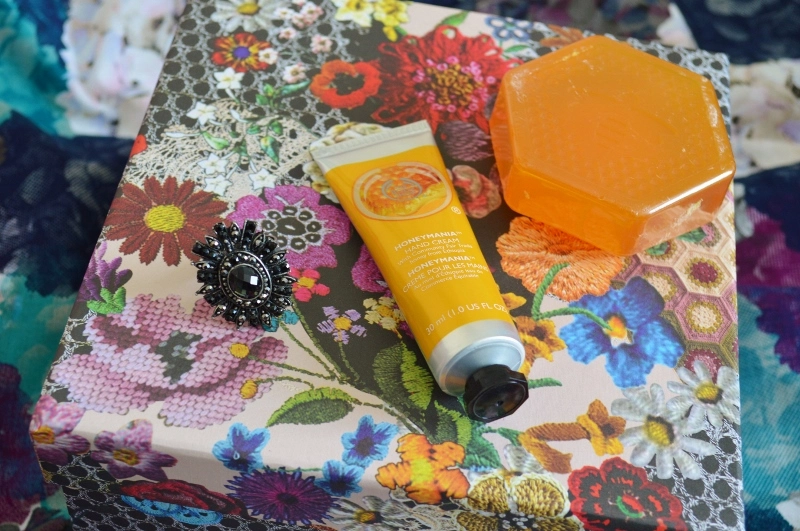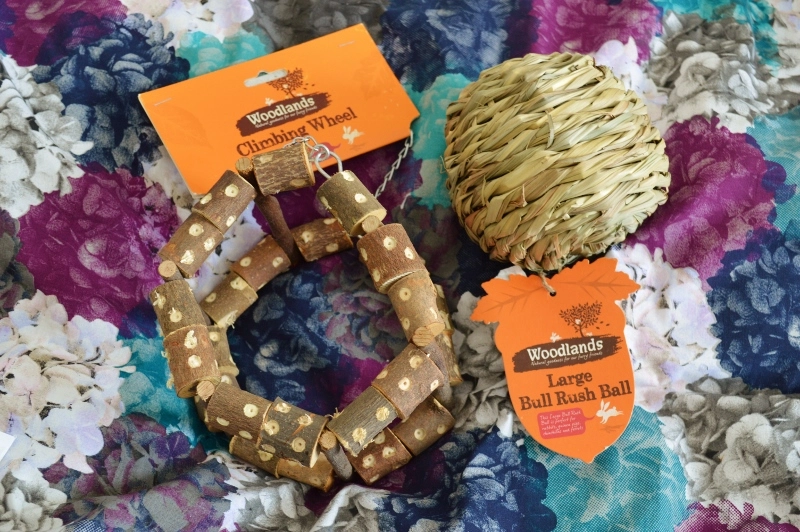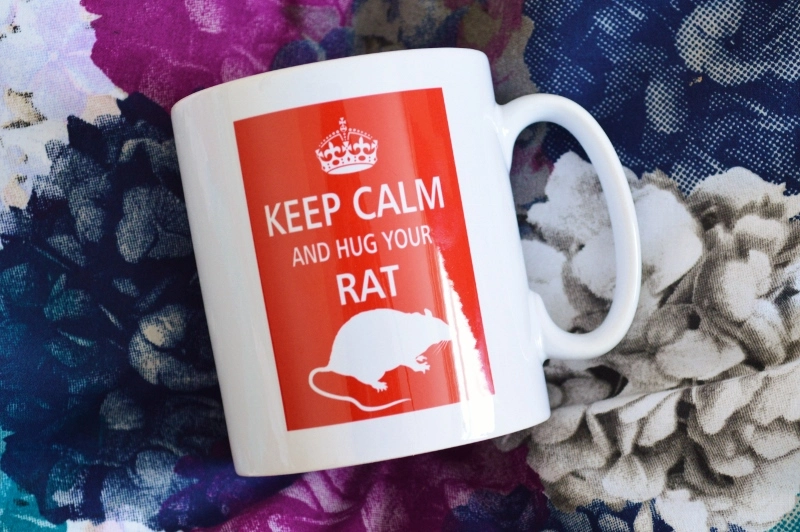 All of the above were parts of gifts from my old school friends, who I celebrated with last night at my favourite restaurant.  There was a definite rat theme to their gifts this year!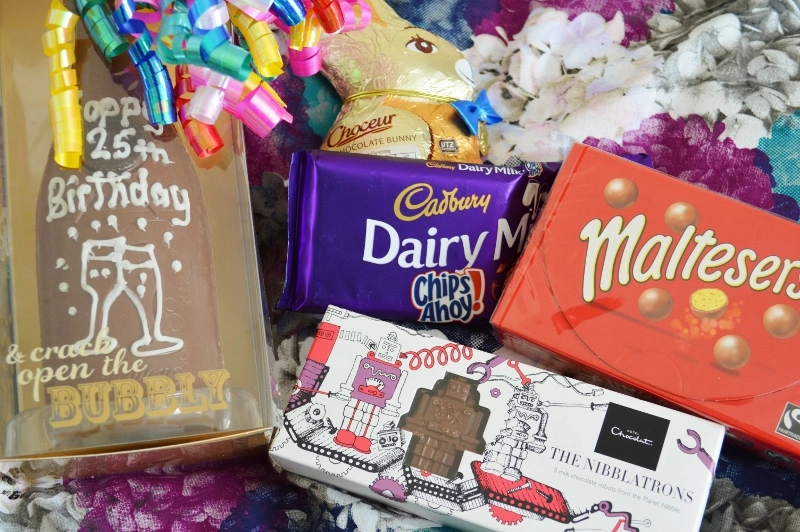 And of course, no birthday haul would be complete without an abundance of chocolate!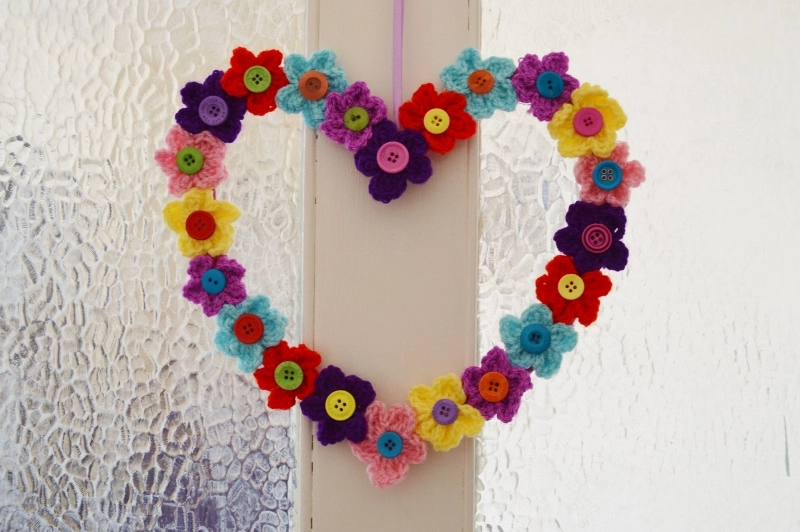 Last but not least, my talented mum made me this super cute heart wreath.  She crocheted the flowers herself, and decorated them with buttons.  This now adorns my bedroom door and it looks right at home.
Naomi x
2
As my regular readers will know, a few months ago my fiancé and I moved in together.  Since then I've slowly been trying to make the house look more like a home, and though it isn't yet complete (working full-time means very little time to nest!), we're almost there.  As such, I thought it was about time I showed you some of our decor, starting with the living room.
When we moved in the house had been freshly decorated with light brown and white paintwork, and a beige carpet throughout.  Neutral tones aren't usually my thing, but they were easy to work with when it came to adding colour.  The living room has been brightened with purple throws, cushions and curtains, and an ambient orange lamp, but it's the little extras that make it even more homely.
I've always liked small mammals and woodland creatures, and the current trend for such wildlife has meant I've managed to pick up some lovely pieces.  Here are a few of my favourites…
Comfy Cow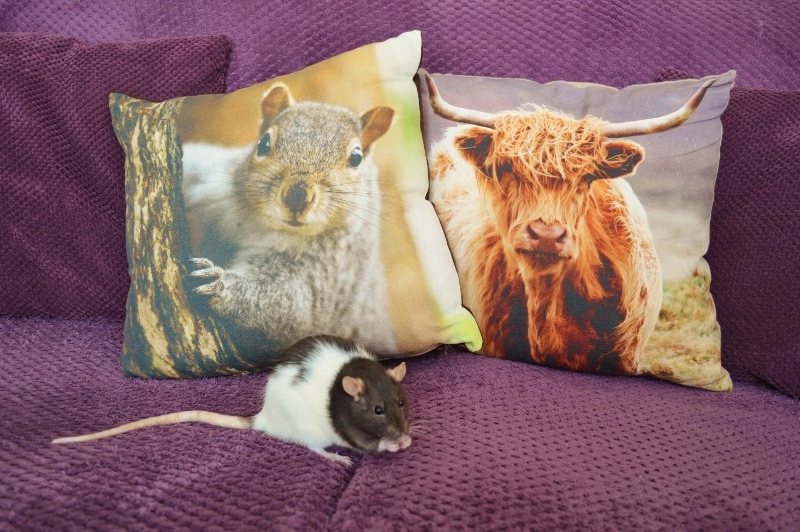 I don't usually like having an abundance of cushions everywhere, but that all changed when I found these awesome animal photo cushions in Asda, for £7 each.  There were several different animals to choose from, but I went for the squirrel, as they're one of my favourite animals, and the Highland cow, as it reminds me of a lovely time spent in the Scottish countryside a few years ago.  These take pride of place on my sofa, and as you can see Miggley approves!
Time for Tea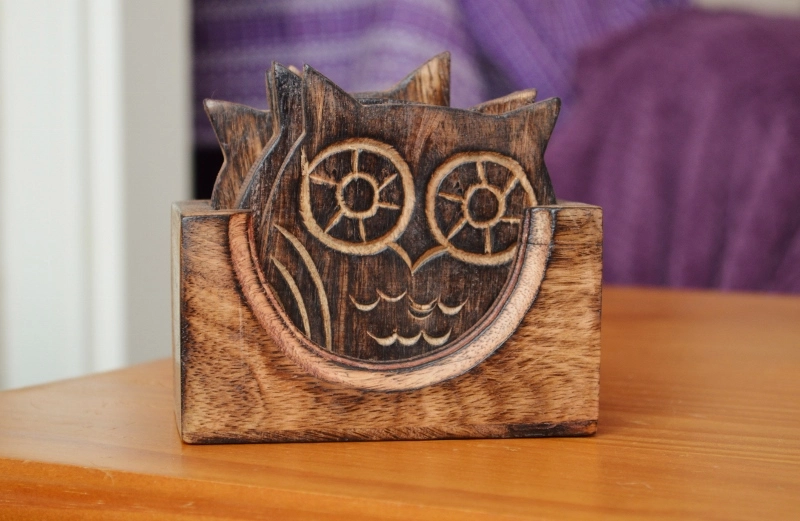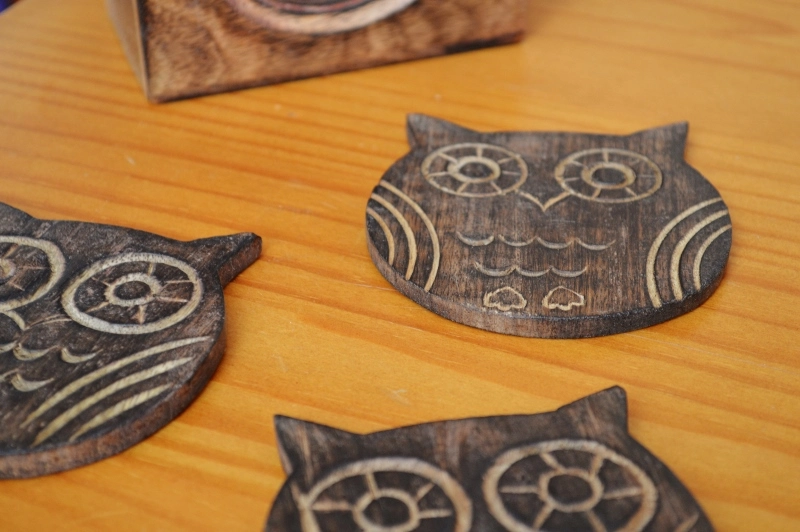 One thing I struggled to find was a nice set of coasters, and then when I was about to give up, I came across these gorgeous Sass & Belle Wooden Owl Coasters from Flamingo Gifts.  There are six coasters in the set (much better than the typical four you usually get!), and they come in a handy stand to prevent clutter when not being used.  The quality and design of the coasters is fantastic, and they look great on my coffee table.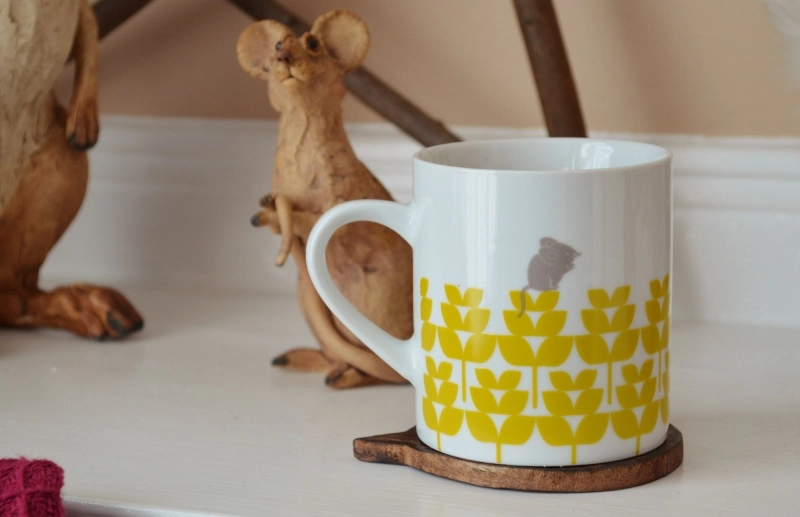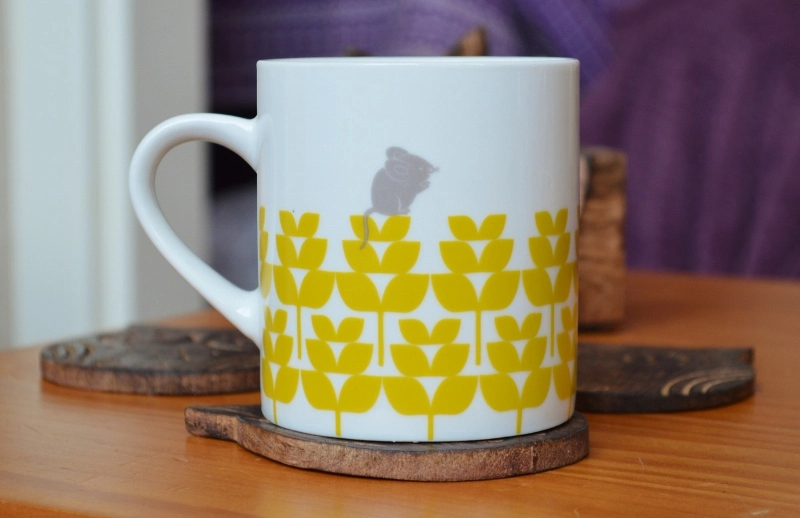 The Abode Mouse & Field Mug is also from Flamingo Gifts, and it caught my eye as soon as I saw it as the little grey mouse reminds me of my Russian Blue rat, Heather.  I prefer a mug to a cup (it holds more tea!), and this is the perfect size for my morning brew.  The simple but eye-catching geometric design is by artist Luzelle van der Westhuizen, and is a good fit for my natural theme.  It would also make a nice present as it comes in a gift box, and costs an affordable £8.50.
By the Fire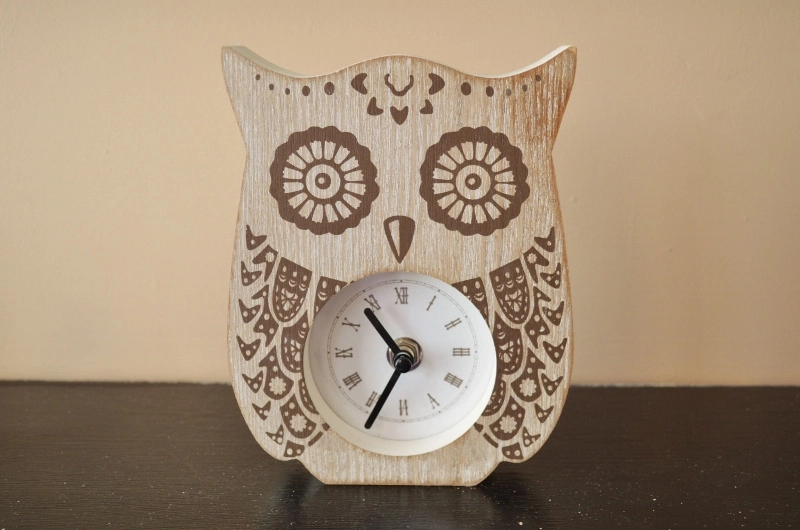 My fireplace features a lot of owls, with the main attraction being this owl clock.  My mum gifted this to me when we first moved in, and I love how it matches the wooden coasters above.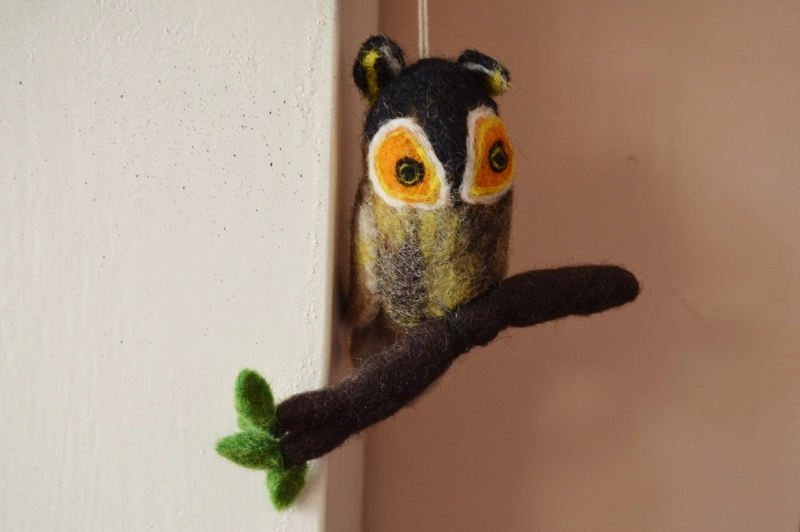 Another of my favourite owls is this lovely felted piece that I bought from a street market in Edinburgh in the summer, during the Fringe.  It took me a while to find the right place for it, but it now has a home at the side of the fireplace.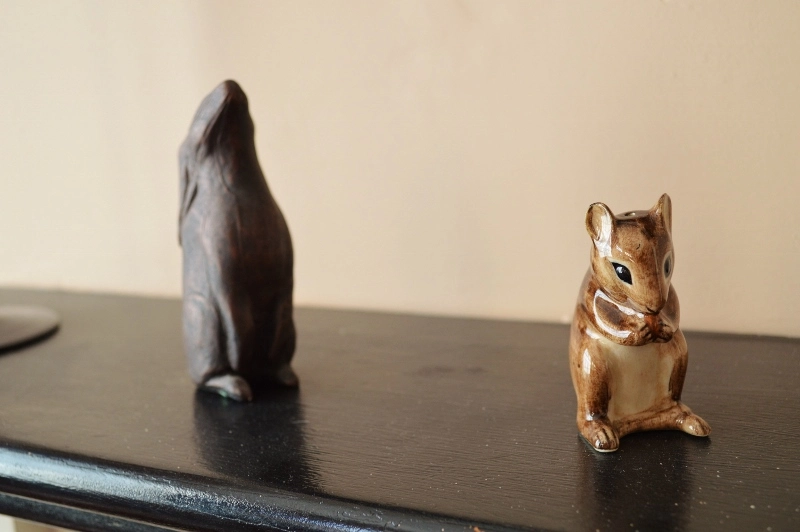 I have two of each of these hares and mice.  I have a thing for hares, and I bought these in Glastonbury about ten years ago whilst on a camping trip.  They're special to me, and it's nice to finally have them on show in my own home!  The mice are actually a salt and pepper set, but I have them on display as ornaments as they remind me of my heart rat Mog (RIP).  Aren't they cute?
The Rat & The Hare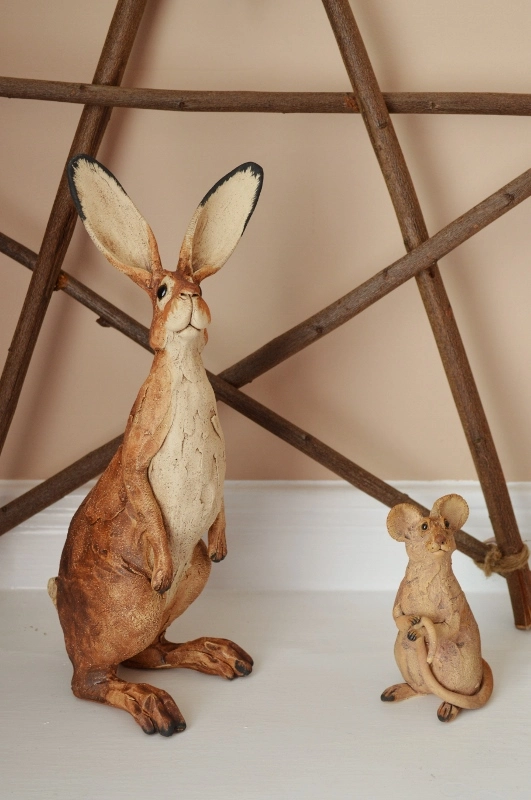 These rat and hare sculptures were Christmas gifts from my dad, and they're incredibly beautiful.  They're by Norfolk-based artist Tracy Whinray, and are wonderfully textured with such expressive little faces.  I think they look great in front of the wooden pentagram, handmade by my step-dad.
What do you think of my woodland theme?
Naomi x
*The Wooden Owl Coaster Set and Abode Mouse & Field Mug were sent to me for review purposes.  All opinions expressed are honest and my own.*