Posts tagged
Skincare
1
As a sufferer of dry, sensitive skin, I am always on the lookout for delicate skin care products that may be able to help me, so when I discovered miamoo via Twitter I was keen to give them a try.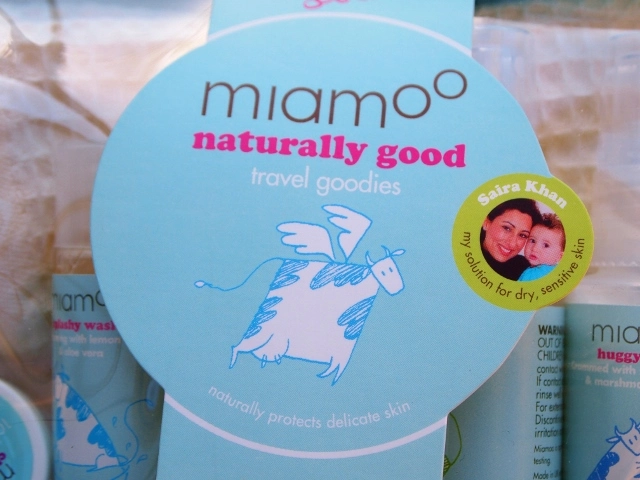 miamoo is the brainchild of 'The Apprentice' runner-up and TV personality Saira Khan, who herself struggles with very dry and sensitive skin.  After spending years trying (and failing) to find high street products to suit and soothe her skin, Saira took it upon herself to create a range that eliminated the chemicals that made her condition worse, and miamoo was born.
All miamoo products are formulated especially for those with dry, sensitive skin, and are 98% natural; only using synthetic ingredients when absolutely necessary.  As such, miamoo is free from Parabens, Petrochemicals, SLS, Synthetic colours and fragrances, and PEGS, as well as other nasties that can irritate sensitive skin.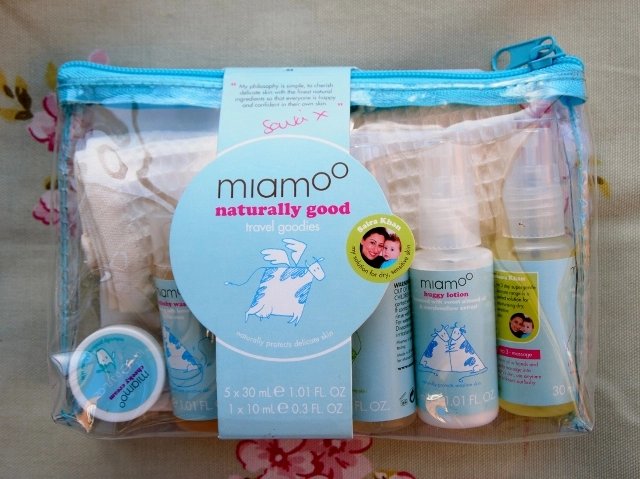 I was recently lucky enough to receive a miamoo travel goodies set to try out.  The set contains miniature versions of six miamoo products, and a lovely cotton wash cloth which is kind on the skin.  One thing that stood out to me about miamoo is the packaging.  It's simple and soft-looking, and also very cute with the little cow drawings, and though it looks like it's aimed towards children, the products are suitable for any age group.  Granted, the miamoo website says the travel set is ideal for mummy-to-be's hospital bag, and can be used for both mum and baby, but that just shows how gentle the products are!  If it's good enough for baby, it's good enough for my delicate skin too.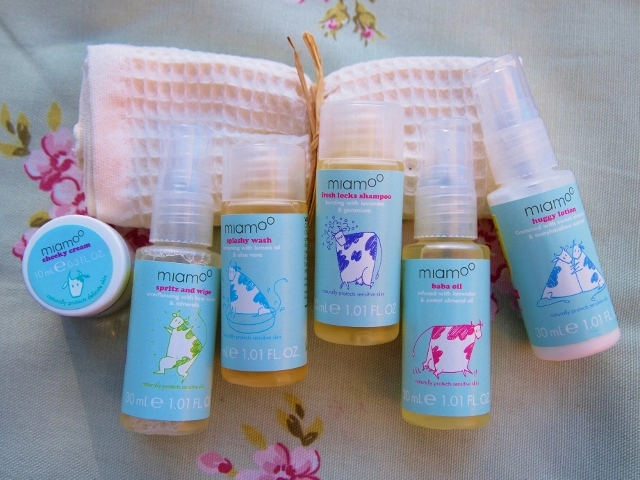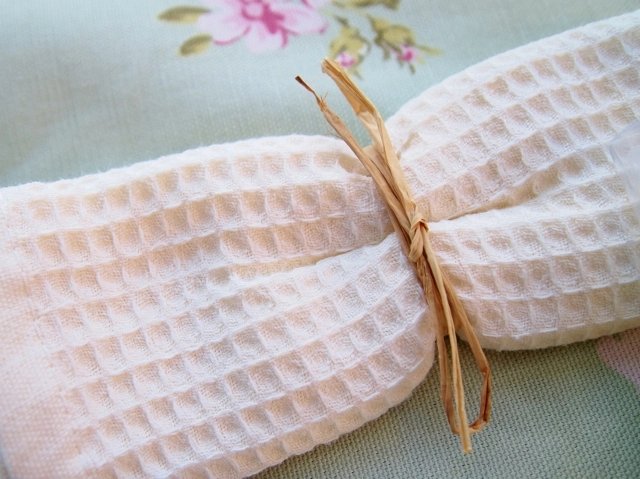 Together, the travel goodies form a 3 step skincare routine that not only moisturises dry skin, but also keeps it clean and clear.
Step 1 – Cleanse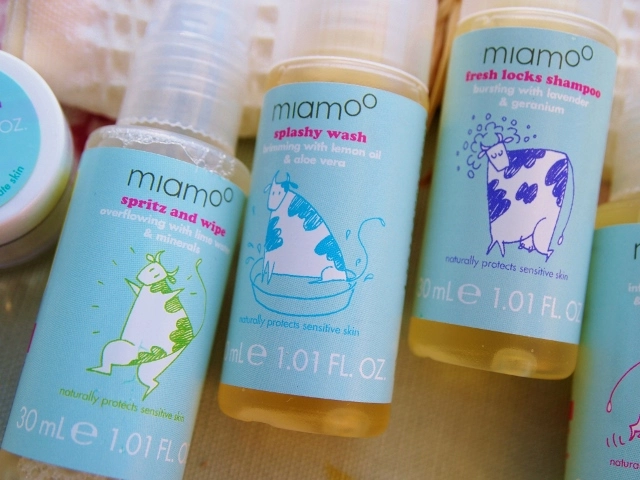 Fresh Locks Shampoo
'bursting with lavender and geranium'
My thoughts: This shampoo has a sweet, fresh scent which is nice and soothing.  It's also a pleasure to use as, unlike chemical-laden shampoos, it doesn't cling to the hair.  As such, it leaves hair feeling soft, clean and bouncy rather than heavy, and doesn't make my head itch at all!

Splashy Wash
'brimming with lemon oil & aloe vera'
My thoughts:  The lemon oil in miamoo's splashy wash gives it an invigorating citrus scent which is ideal for a refreshing morning wake up.  It has quite a runny consistency, but it foams up incredibly well and a little goes a very long way!  A lot of shower gels make my skin feel tight and dry after use, but this one does the opposite and actually leaves my skin feeling soft and moisturised.

Spritz and Wipe
'overflowing with lime water & minerals'
My thoughts:  spritz and wipe can be used to cleanse away dirt, moisturise the skin, or even just refresh and cool the skin, so it's a fab little product to carry with you when you're out and about as it covers all bases.  I personally like to use it to remove my make up and it does a pretty good job.  It doesn't have much of a scent, but it does what it says on the bottle which is ultimately what matters.

Step 2 – Moisturise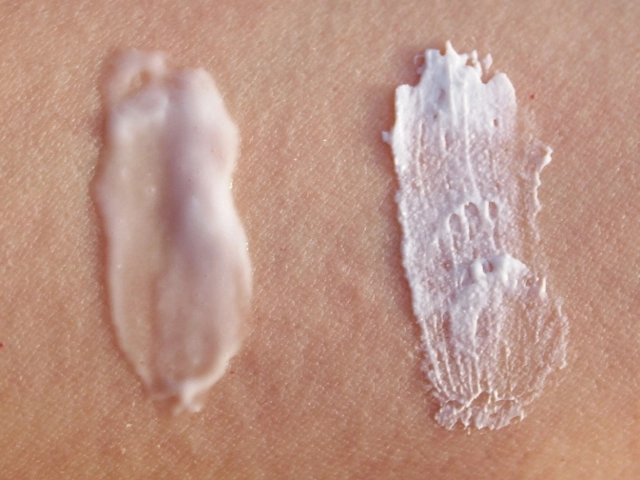 Huggy Lotion
'crammed with sweet almond oil & marshmallow extract'
My thoughts:  The huggy lotion is my favourite product from the whole set.  It's light and pretty much scentless, but it's intensely moisturising, and also has a slight cooling effect on sore, sensitive skin.  It's non-greasy and easily absorbed, but seems to create a protective barrier which is just what I need in the harsh winter weather.  This one gets five stars from me!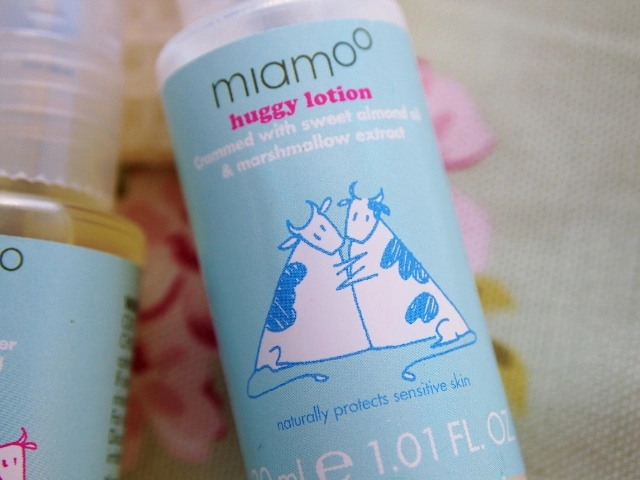 Cheeky Cream
My thoughts:  Cheeky cream is another favourite of mine.  This one has a thicker consistency than the huggy lotion and perhaps doesn't massage in as easily, but it has a lovely softening effect and is very gentle.  I'm not sure I'd use it in the morning as I found it didn't make a very good base for make up, but it's an excellent, rich night-time moisturiser.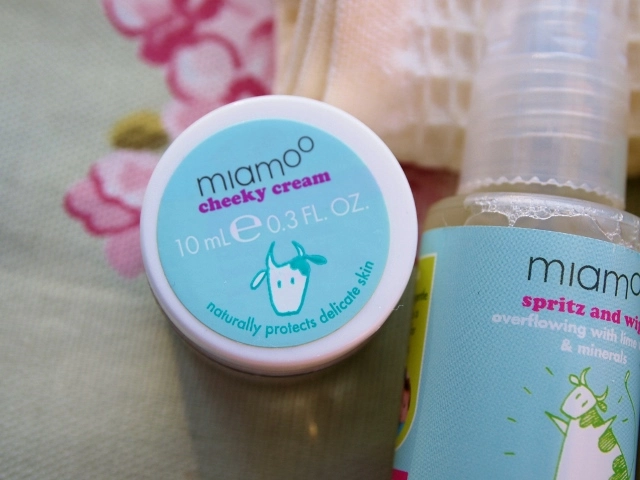 Spritz and Wipe
Step 3 – Massage
  Baba Oil
'infused with lavender & sweet almond oil'
My thoughts:  Baba oil is another versatile product as it can be used on the skin, but also as a hair treatment.  I like to use this one at night as it has a calming lavender scent which helps me to relax before I go to sleep.  The oil warms up nicely in the hands and feels amazingly silky on the skin.

This little set would be the perfect way to try out miamoo's products and see whether they suit your skin, and it would also be great for travel – just throw it in your suitcase and off you go!  I'm really impressed with the quality and effectiveness of the products, and am considering buying full-size versions of the huggy lotion and cheeky cream.
miamoo's travel goodies set costs £15, and can be purchased here.  You can also view the rest of the miamoo range here, and if you use the code 'blog13′ at the checkout, you can get 10% off all products!
Naomi x
*This miamoo travel goodies set was sent to me by miamoo for review purposes. All opinions expressed are honest and my own.*