Posts tagged
lblogger
1
It's been a while since I last signed up to a (non-edible!) subscription box, and I'd been missing that buzz of getting a nice surprise through the post each month, so lately I've been on the lookout for a new one to trial. I was looking for something featuring collectible items rather than beauty products or anything like that, and I knew exactly where to turn for recommendations. One of my favourite bloggers, Chrissie of Plus10Kapow, regularly reviews popular subscription boxes, and after seeing her publish several positive reviews about Loot Crate, I decided to take the plunge and sign up for a one-off box, just to see whether I like it or not.
Loot Crate are a US-based company founded in 2012, who each month 'ships a themed mystery box of the best geek, gaming, and pop culture gear to a subscriber base of over 100,000 Looters'.  From what I've seen their boxes are always well thought out and beautifully curated to suit a theme – something that a lot of other subscription services just don't quite manage to get the hang of. The box I signed up for was the August Villains 2 box, which is quite possibly one of the best themes for me as I do love myself a supervillain! Loot Crate released their first Villains box last year, and this one is the sequel to that.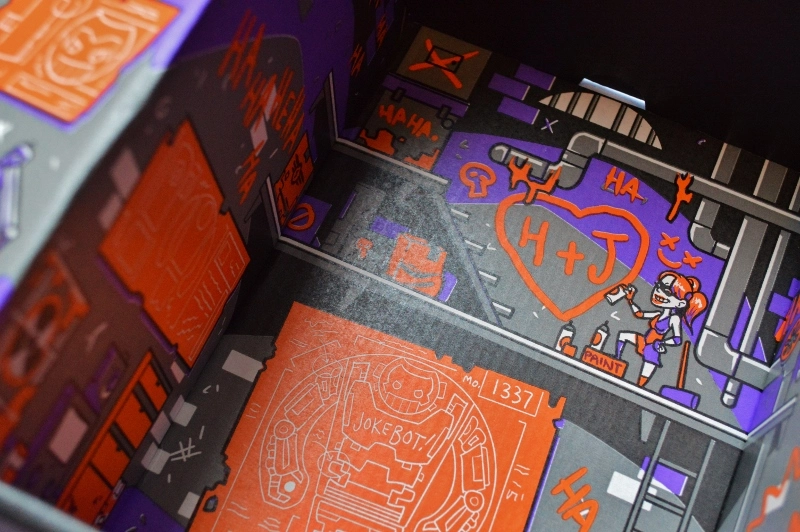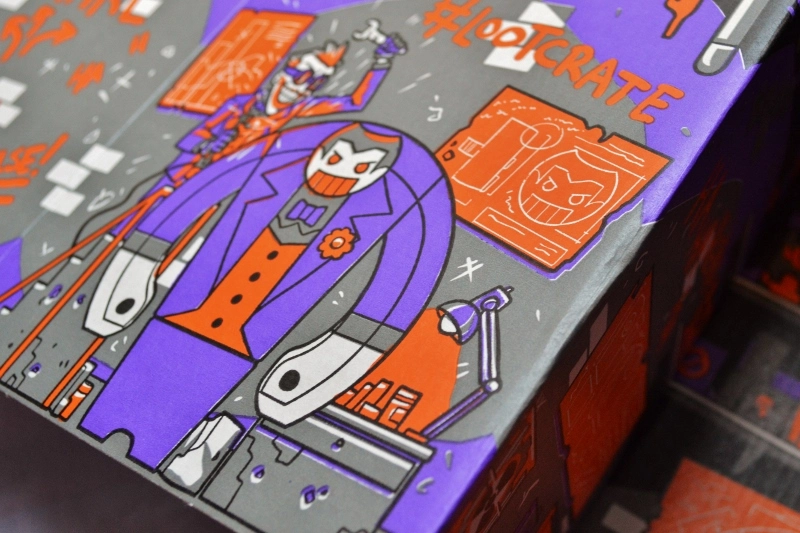 I ordered my crate on 19th August, and after much impatient waiting it finally arrived on 1st September, which was a little later than most people's, so it was incredibly difficult to avoid content spoilers online!
I was expecting to find six or seven items in the box, as this seems to be the norm according to the reviews I've seen, but this month there were only four (plus the usual magazine and badge). However, all four items are high-end and good quality, and according to Chrissie's calculations are worth a whopping £65.04 if bought separately online!
So, here's all the loot!
Captain America Hydra Pin Badge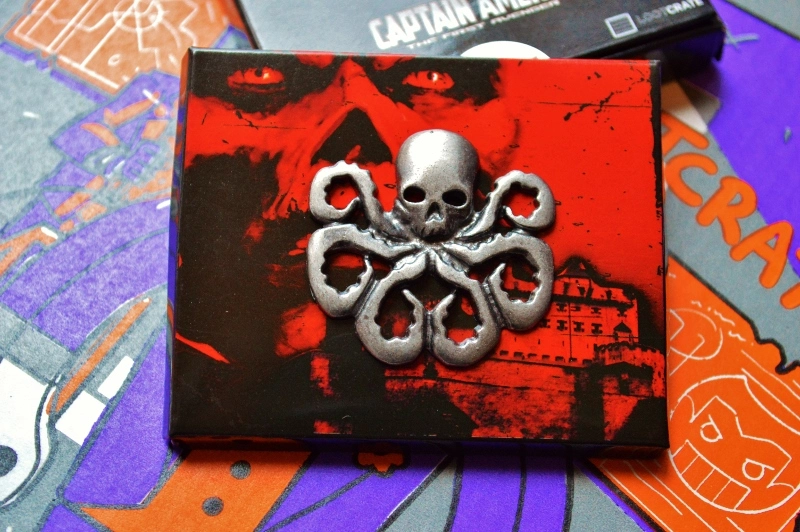 Pins and badges are one of the many things that I collect, so it was nice to find one of such great quality in the box.  This Hydra pin is very well made, and has a double pin on the back.  I reckon this would look awesome on a simple black jacket.
DC Collectibles Wooden Joker
As a lifelong Batman fan this wooden Joker figure was my absolute favourite item in the crate.  There's just something so nostalgic about it as I remember having toys like this when I was younger, and the changeable faces and poseable arms make this figure even more fun.  I can see myself collecting more of these in the future (I've got my eye on a Batman one I've seen), but this one is extra special as it's a Loot Crate exclusive.
Carnage 16oz Mug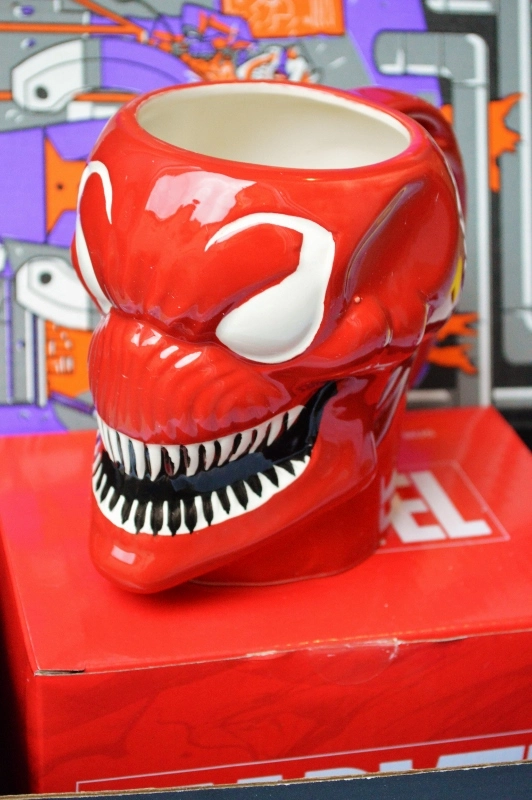 There were two villainous mug designs being sent out in this crate – Venom, and Carnage, which is the one I received.  My fiancé is more of a Marvel fan than I am (I'm a DC girl), so he was especially pleased with this.  The mug is a good size and makes a nice addition to our ever-expanding mug collection, although for some reason I can see it being used for make up brushes or pens rather than tea!
Los Pollos Hermanos Apron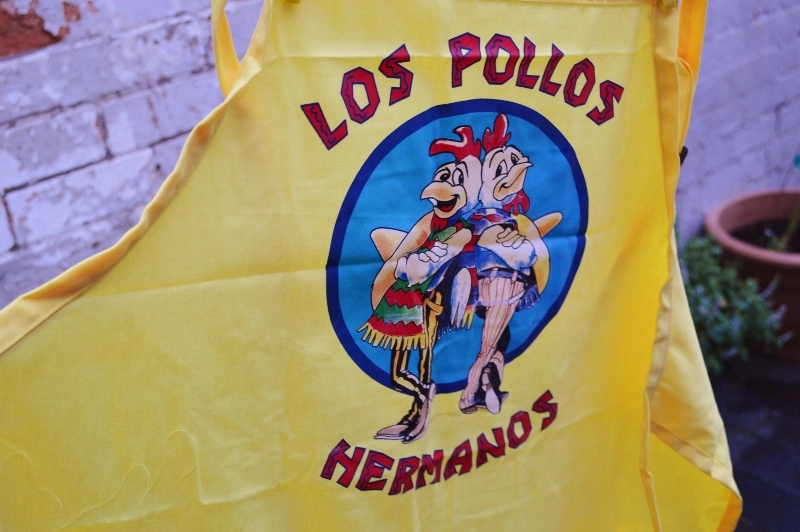 I love Breaking Bad and I do a lot of cooking, so this apron was a great addition to the box.  The quality of the apron is really high, and the colours are nice and vibrant (although you can't tell in the picture… my camera dislikes yellow for some reason!).  This is something that I'd probably buy myself, and the exact same apron is currently being sold on Amazon for over £14.
Badge and Magazine
Every Loot Crate includes a badge to match the monthly theme, and a magazine. This month's badge feature's Venom's spiky smile, and I absolutely love the Joker art on the front of the magazine. When I first saw the magazine at the bottom of the box I thought it was a print, which really excited me as I'd definitely hang this on my wall.  In fact, I was slightly disappointed that it wasn't. Perhaps something for Loot Crate to consider in the future?
So, after receiving my first Loot Crate I must say I'm impressed.  Everything about it is fantastic – the premium items, the attention to detail, even the fun design inside the box.  A monthly subscription to Loot Crate costs just under $30 (about £20), or you can sign up for 3 month, 6 month of yearly packages at a discounted rate. I had a $3 off discount code and ordered a monthly box, making this one $26.95 (a little over £18), with free delivery. For what you get, and the combined total worth of each item, the Villains 2 box was without a doubt worth the money. I'm definitely considering keeping my subscription open for longer!
Are you signed up to Loot Crate? What were your thoughts on the Villains 2 crate?
Naomi x