Nivea Express Hydration Primer (Dry & Sensitive Skin)
One of the latest additions to Nivea's huge range of skin care products is their Express Hydration Primer; a moisturiser which also acts as a make up primer, and which comes tailored for two different skin types – Normal & Combination skin and Dry & Sensitive skin.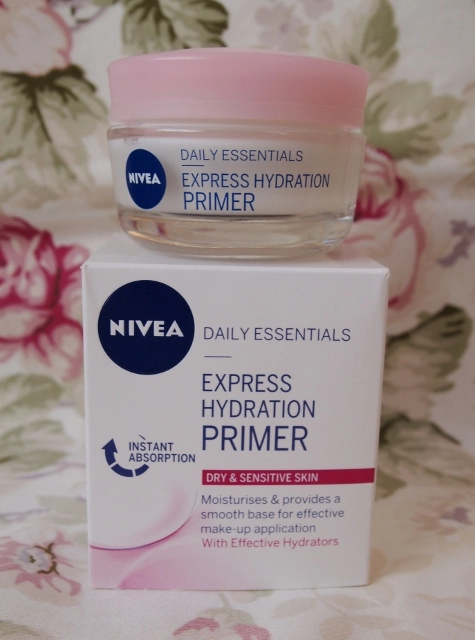 The skin on my face is fairly dry and easily irritated, especially in winter, but it can also get quite oily in places if I use heavy moisturisers, so as you can imagine it can be quite difficult for me to find primers and moisturisers which strike the right balance for my skin.  When I first heard about Nivea's new Express Hydration Primer I was very excited and highly hopeful, especially as there was one suitable for Dry & Sensitive skin, so I nipped off down to Superdrug to pick some up.  Unfortunately, my local Superdrug store was only stocking the Normal & Combination Primer at the time, so I had to order it from their website and it arrived earlier this week.
The primer is packaged in a fairly large box, which is somewhat deceptive as the pot itself is a lot smaller, and contains 50ml of product.  However, at £3.99 I'd say you get a reasonable amount of product for your money, and the pot is made of glass and very sturdy so a lot of care has been put into nice presentation.

The primer itself is light and smooth, almost like a gel, but also very creamy and white.  It has a lovely fresh scent to it too which isn't overwhelming, but leaves your skin delicately scented.

For the last few days I have been using the Express Hydration Primer in place of my usual moisturiser and I have noticed a big difference already.  It glides onto the skin effortlessly and you need to use very little at a time so, despite its small size, the 50ml pot should last a fair while. Unlike my usual moisturiser, Nivea's Primer absorbs almost instantly leaving no greasy residue behind, however, it does create a smooth base for easy make up application, and because it dries so quickly make up can be applied straight away, which is brilliant when you're in a rush!

So, 'Does it work?' I hear you cry!  Well, yes, yes it does.  As mentioned before, the primer leaves a smooth, non-greasy base on the skin, and since I've been using this I have found that my foundation smooths onto my skin far more easily and evenly than usual, without going patchy on any dry bits.  The primer keeps my powder and blusher in place too, so on the whole my make up lasts a lot longer, which I think is down to the lack of greasiness.  The primer is extremely moisturising and hydrating so my skin stays soft all day without any dryness, but it isn't oily so my face doesn't get shiny like it used to with my old moisturiser.  This means that there's no need for blotting paper!  In fact, my make up stayed looking fresh until 6pm last night, almost 10 hours after I first applied my make up, with NO touch ups throughout the day!
Thankfully, the Dry & Sensitive formula is perfect for my skin type.  So far it hasn't caused any irritation, and it seems to be working wonders on the dry areas of my face, which is highly impressive for a primer as, in my experience, primers tend to be quite drying.  I have also noticed that my complexion has been somewhat clearer and brighter since I started using this primer.  Due to the oiliness of the moisturiser I was using before I had been getting a few breakouts, but they seem to be calming down now.
I really can't recommend Nivea's Express Hydration Primer highly enough, especially if you suffer from dry, sensitive skin like I do!  I think I have found my miracle product and I will be stocking up whenever I get the chance.  I hope you believe me when I say that it truly works, but if you don't I urge you to try it and experience for yourself this amazing moisturising primer!
Naomi x
17 comments