Posts tagged
Superdrug
4
Unlike myself, my younger sister Freya is extremely experimental with her hair colour.  She's been every shade of red and brown you can imagine, but a couple of months ago she dyed her hair a shade she now regrets – black.  At first she loved it, but when her roots started to show the problems began, and no amount of touch ups would cover them properly.  So, after being told about Superdrug's Colour Rewind Hair Colour Remover by a friend, she decided to give it a go and get rid of the black for good.  Colour Rewind is designed to remove permanent and semi-permanent dark hair colours but, quite unusually for products such as this, it does not contain any ammonia or bleach.  I personally find the product intriguing and have been wanting to know whether it works for a while, so I've decided to do something a bit different for this post and review it in the form of an interview with my sister.
Unfortunately I didn't get a picture of the contents of the box, but it contains a 60ml bottle of activator, a 60ml bottle of remover, a 60ml bottle of after treatment buffer, a pair of gloves and an instruction leaflet.  The instructions, in brief, are as follows:
Empty the contents of the activator bottle into the remover bottle and shake for 30 seconds to mix.
Separate the hair into sections with a comb and apply the mixture evenly, section by section.
Leave the hair to process for 60 minutes.
Rinse out the mixture with warm water for 5 minutes (10 minutes for longer hair).  Apply half the buffer, massage in for 1 minute then rinse for 5 minutes.  Apply the rest of the buffer and rinse for a further 5 minutes.
Dry hair thoroughly.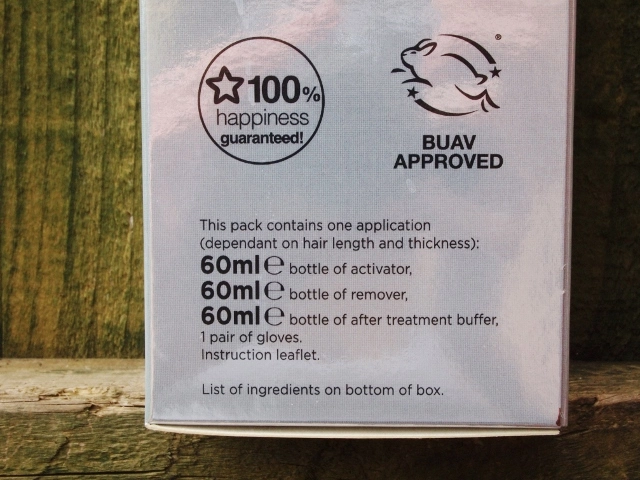 I spent the afternoon last Friday watching and helping my sister use the product, and afterwards I asked her about the experience, and here are her answers…
How easy to use was the product?
Colour Rewind is just as easy to use as a home hair dye kit, but takes slightly longer.  However, I think it is better to get someone to help with the application if you find it difficult to separate your hair into sections around the back!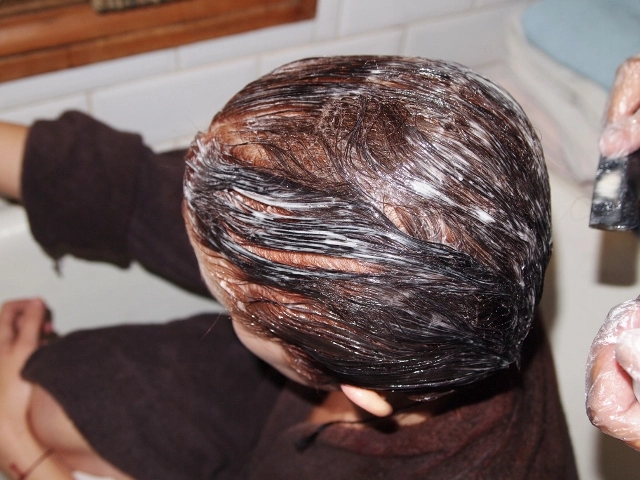 How long did the whole process take?

Including the application, I reckon it took an hour and a half.  The main solution has to stay on for one hour and the rinsing process takes a good 15 minutes, but it's all needed to get the best results.  I don't think it took too long… all I can say is make sure you have something interesting to read or watch during the wait though.
What did you like about the process/product?
Firstly, I liked the fact that this product actually exists!  I thought the only way to get rid of unwanted colour was to spend loads of money at a salon getting it stripped!  The product itself is not only affordable at £7.99 on this occasion, but does not contain ammonia or bleach, which reduces the chance of hair damage.  I also liked the fact that I got to wear a hat made out of a plastic bag (not necessary, but keeps the solution warm for better results).
What didn't you like about the process/product?
I can honestly say that the only thing I did not like about the product and process was the eggy smell.  Saying that, I was expecting a full on volcanic sulphur eruption when opening the bottle, but it was bearable!  I may have smelt like an omelette for a bit, but there were no other negatives.  No burning, no itching, no hair loss like some may expect.
Are you pleased with the results?
I am so impressed with the results!  I thought my hair may turn out quite ginger, since I have dyed it red numerous times and had read that it could affect the results, but it turned out pretty much the natural colour… maybe slightly darker with a slight copper tint, but that doesn't bother me at all.  To be able to get rid of the black has made me happy enough!
Have the results lasted?
Well the black has certainly disappeared, but I've noticed that since washing and drying it a few times, it has darkened quite a bit!  Initially it was a light brown, slightly copper colour (almost natural), but now it's a dark brown/dark mahogany colour.  I don't particularly mind as I've dyed my hair a similar colour before, but I think that it's important to know that the initial colour after the process does not stay as light.  I don't know whether this has anything to do with the heat from the hairdryer or if the initial results just seemed lighter because of the dramatic change.  Either way, the unwanted dye has definitely been 'rewound'.
How many out of 10 would you give it?
At first I would have said 10 out of 10, but after a few days I will now give it 8 out of 10.  It is a rather magical product, but the fact that my hair has darkened slightly takes the points off.
Would you recommend Colour Rewind?
Yes, definitely, especially if you can't afford to go to a salon for treatment.  I would consider using it again myself.
And now for the moment you've all been waiting for… before and after pictures!
BEFORE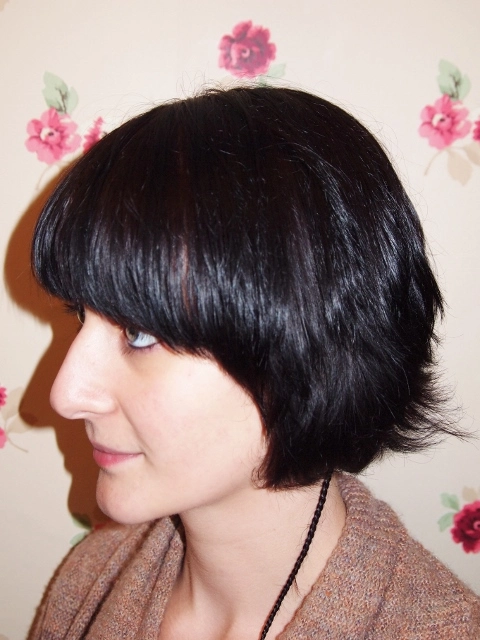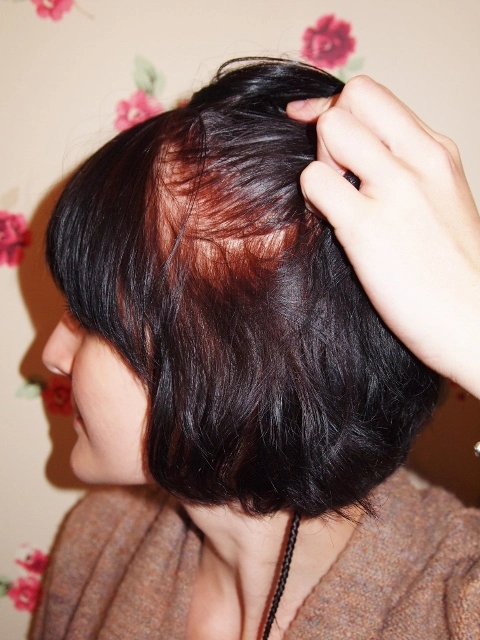 AFTER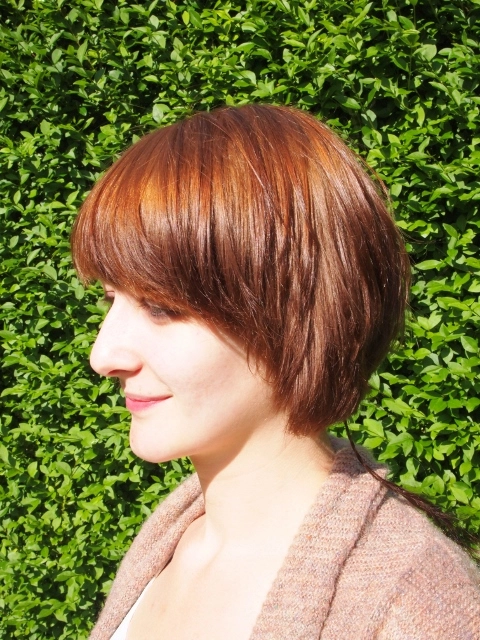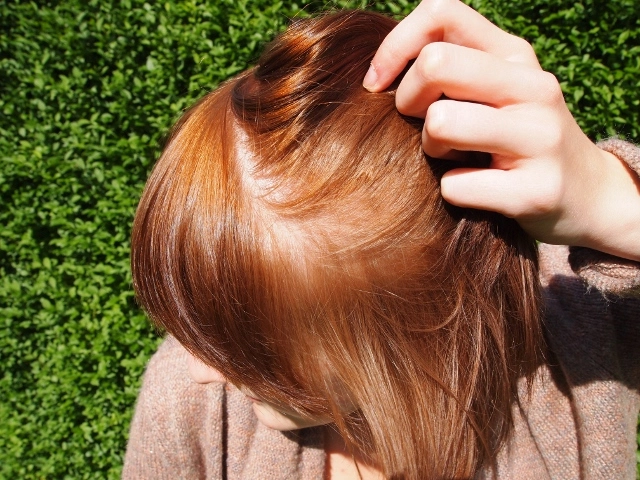 Pretty good, right?
My thoughts…
Having been there when my sister used the Colour Rewind kit, I must say that it is fairly fuss-free and easy to use.  At £9.99 (currently on offer for £7.99) it is also extremely affordable and a lot safer than using ammonia or bleach to strip your hair.  It might smell, but it is still an impressive product, and is BUAV approved which is also important.  I have noticed that Freya's hair has darkened slightly over the last few days, but it still looks a lot lighter than it did when it was black.
Superdrug's Colour Rewind Hair Colour Remover can be purchased in store or online.
Have you ever tried this?  What did you think?
Naomi x
PS. You can check out my sister's art blog here!