Barry M Gelly Hi Shine Nail Paint in Greenberry
Last week Barry M launched four more Gelly Nail Paint shades as part of their Spring collection – Lychee (nude), Dragon Fruit (pink), Greenberry (green) and Papaya (orange).  When I saw the new colours advertised on their Facebook page I instantly fell in love with Greenberry, and since I'd never tried a Gelly before I made a special trip into town to pick this up not long after the launch.  Barry M's Gellies are supposed to have a gel effect finish which is highly glossy.  I find Barry M's standard Nail Paints are already very shiny, so I couldn't wait to put the Gelly to the test to see whether it lives up to its name.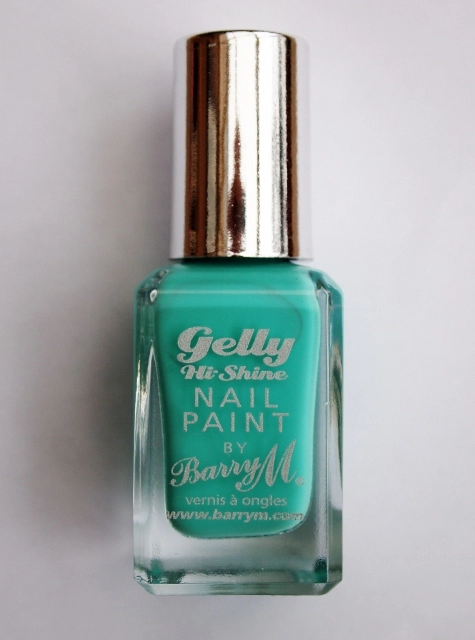 Barry M's Gelly varnish has a thick but creamy consistency, which applies extremely smoothly with no streakiness.  However, if you have too much varnish on the brush it can apply a bit too thickly, so its best to apply as thin a coat as possible and build up from there.  I made the mistake of applying fairly thick coats at first so the coverage was instantly completely opaque, but I applied a thinner second coat over the top for good measure.  As with all Barry M Nail Paints, the Gelly dries to the touch rather quickly.  I put this on not long before I went to bed, but I didn't wake up with fabric imprints on my nails, which is always a good sign with me!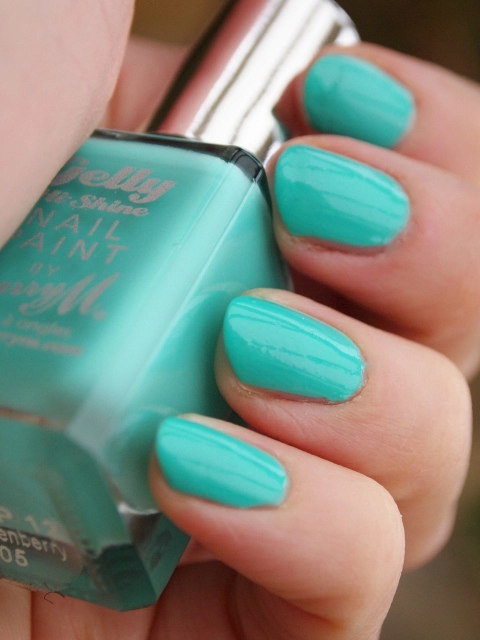 Greenberry is an extremely beautiful greeny turquoise shade, and is delicately bright.  It's almost a pastel neon if that makes sense!  It has a creme finish, and of course, an intense shine which you can almost see your reflection in.  In my experience, it's quite rare for a creme varnish to have such a shiny appearance, so it definitely lives up to its name.  It doesn't even need a top coat!
This Nail Paint lasts really well too.  I first applied Greenberry on Sunday, without a top coat, and didn't remove it until yesterday, and after four days of wear chipping was minimal.  There were a few nicks at the ends of my nails on my right hand where I caught them on the zip of my bag, but other than that the varnish still looked as bright, shiny and smooth as it did when I first applied it – just like a gel manicure!
Overall, I am suitably impressed with Barry M's Gelly Nail Paint as it looks great and lasts long, and to top it off Greenberry is a gorgeous colour.  The Gellies cost £3.99 each in Boots and Superdrug, which is £1.00 more than most Barry M's varnishes, but its well worth it for that extra shine and staying power.
Have you ever tried a Barry M Gelly?  What did you think?
Naomi x
12 comments