Alternative Snacking: Creighton's Chocolaterie
Today's Alternative Snacking post is one for those with a sweet tooth, as it features Creighton's Chocolaterie – an independent chocolaterie in Leighton Buzzard, owned by a mother and daughter team, who craft and sell their own beautiful chocolates and truffles.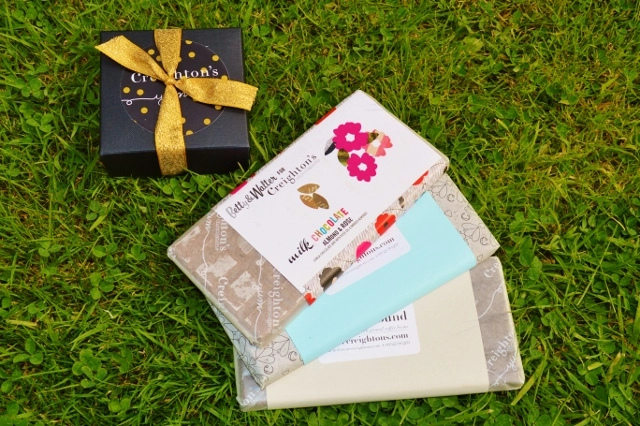 Creighton's has made it into my Alternative Snacking series as everything they sell is handmade, and though they use traditional methods and fine Belgian chocolate to create their artisan products, they pride themselves on making unique and unusual items that you won't find anywhere else.  Their packaging is also really well thought out and pretty, which is always a nice bonus.
I was lucky enough to receive three different bars and a selection of truffles from their collection to try, and will here share my thoughts on each.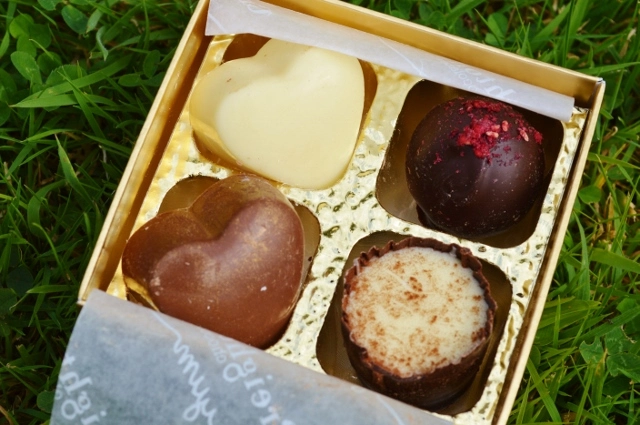 Creighton's sell a wide variety of fresh handmade truffles and chocolates, which can be purchased in various sized selection boxes from their website.  I received a Quartet Taster Selection Box which contained these four chocolates; a Lemon Heart, Raspberry truffle, Champagne Heart, and Mocha Coffee truffle.  Every single truffle was deliciously creamy with a very rich centre and fantastic flavour, but the Lemon Heart deserves a special mention.  It has a smooth, white chocolate shell, packed full of fresh lemon ganache, and it is absolutely gorgeous.  I savoured every little nibble and I'm not lying when I say it was one of the tastiest things I've ever eaten.  I could eat a box full!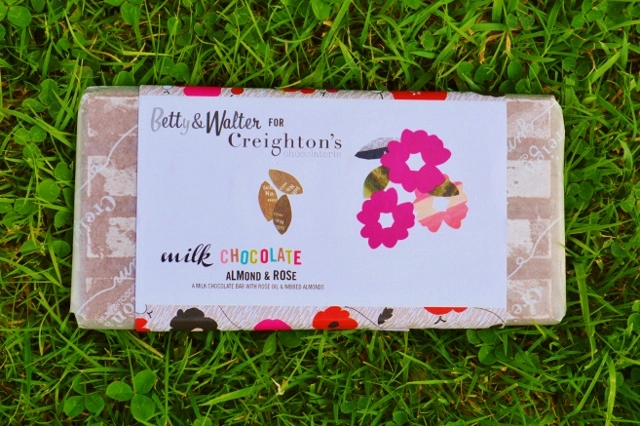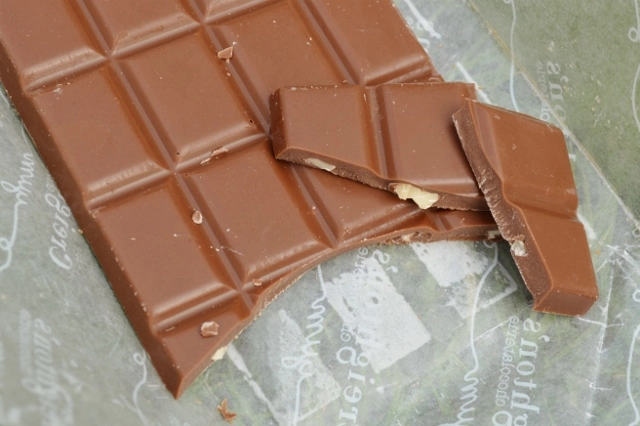 This bar was created in collaboration with fashion accessories brand Betty & Walter, and comes wrapped in a really lovely floral sleeve, designed by illustrator Lisa Levis.  I chose this bar as I'm a fan of rose flavoured foods, but they're hard to come by, and the combination of the rose and almonds sounded delicious.  And it is.  The chocolate is a very good quality milk chocolate which has a pleasing velvety texture, and the balance of rose oil is perfect.  Too much and it can taste like perfume, but this bar gets it right as it is fairly subtle, but with just enough of a kick.  The crunchy nibs of almond add an extra depth of flavour, but also texture, which ultimately make this bar a winner with me.  Yum.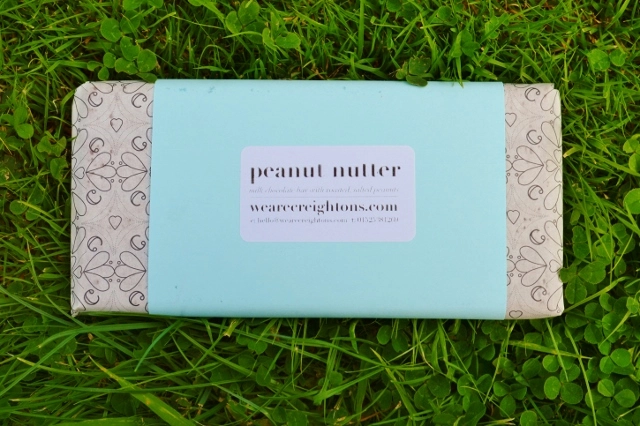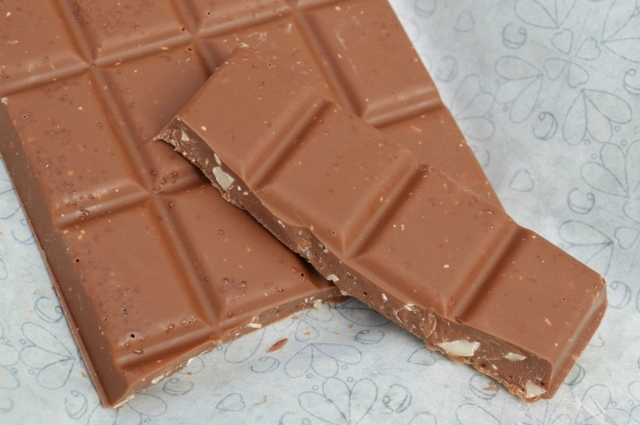 This Peanut Nutter bar is Creighton's 'grown-up' equivalent of a peanut butter chocolate bar, and is one of their best-sellers.  The bar consists of the same velvety milk chocolate as the Rose & Almond bar, but a little bit thicker, and is studded with crushed, roasted peanuts and sea salt.  What I like about this bar is that the flavours combine perfectly, so you get a hit of saltiness, the creamy sweetness of the chocolate, and a taste of peanut all at once, which makes for a deliciously moreish bar.  I could easily eat a whole one of these in one sitting!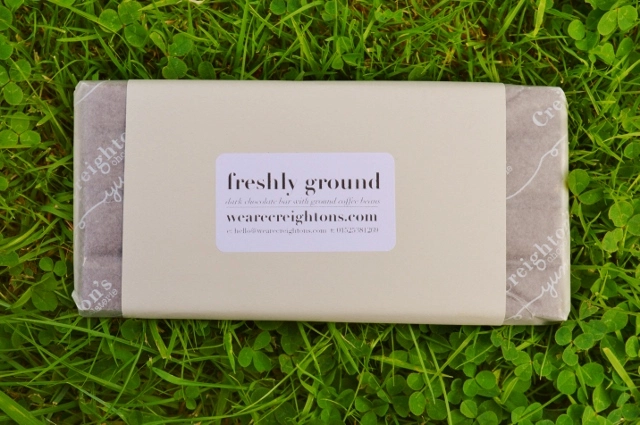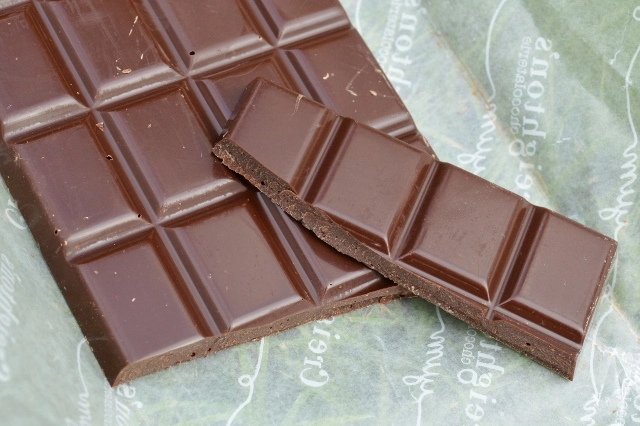 This beautifully rich Freshly Ground bar consists of high quality dark chocolate, which is mixed with freshly ground coffee beans from a local coffee roasters.  I'm not always a fan of coffee chocolate as it can taste quite synthetic, but the fact that this bar contains real coffee beans makes the flavour wonderfully authentic, and adds a slight crunch.  The depth of flavour in this bar is incredible, and my mum, whose favourite chocolate is coffee chocolate, absolutely adores this bar.  In fact, this bar is so good it won a gold star in the Great Taste Awards 2014, and it is well deserved.
Overall, Creighton's range of chocolate is exceptionally high quality and delicious, and is far more exciting than what you'd find in the supermarket.  They sell some really unusual flavours, including Liquorice Whip and Fizzy Cola, and their selection of handmade gifts, which features an edible chocolate box and chocolate tea set, is stunning.  Check out their full range here.
Naomi x
PS. Have you seen my first Alternative Snacking post, featuring Leighton Brown crisps?  If not, click here!
*These chocolates were sent to me by Creighton's Chocolaterie for review purposes.  All opinions expressed are honest and my own.*
One comment