Posts tagged
Homemade
2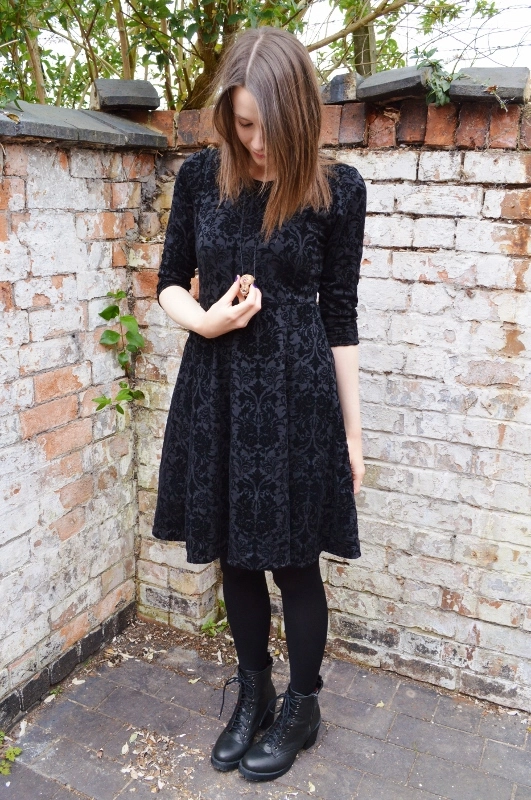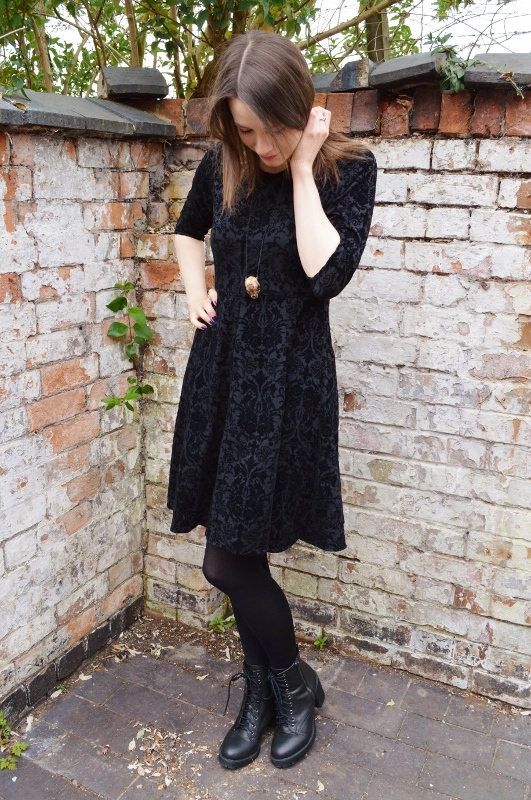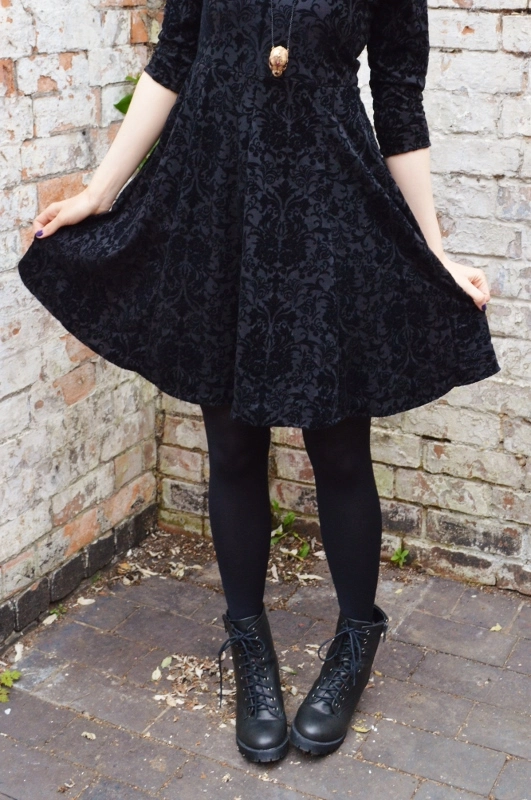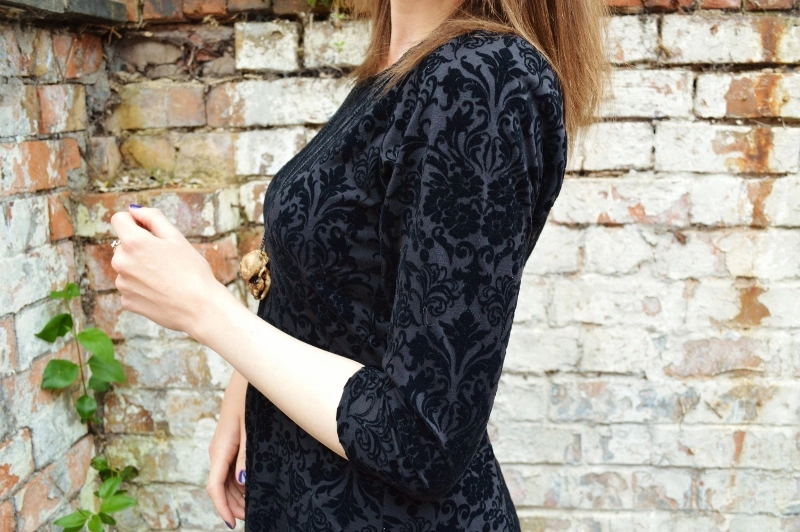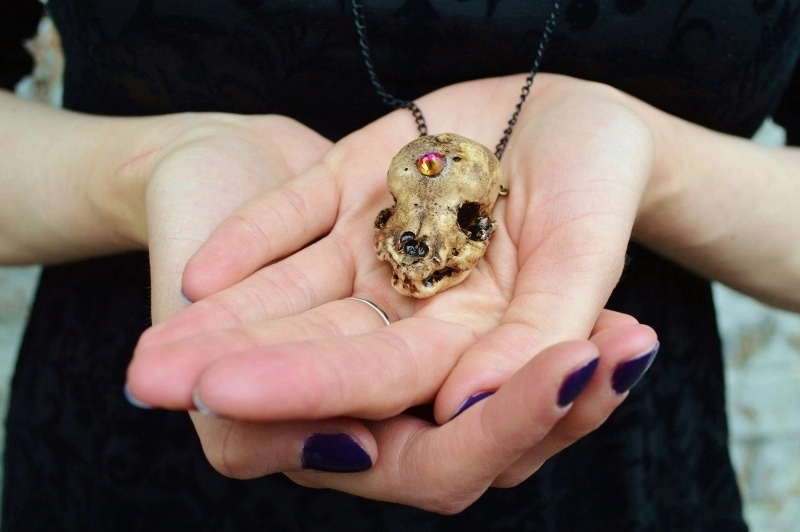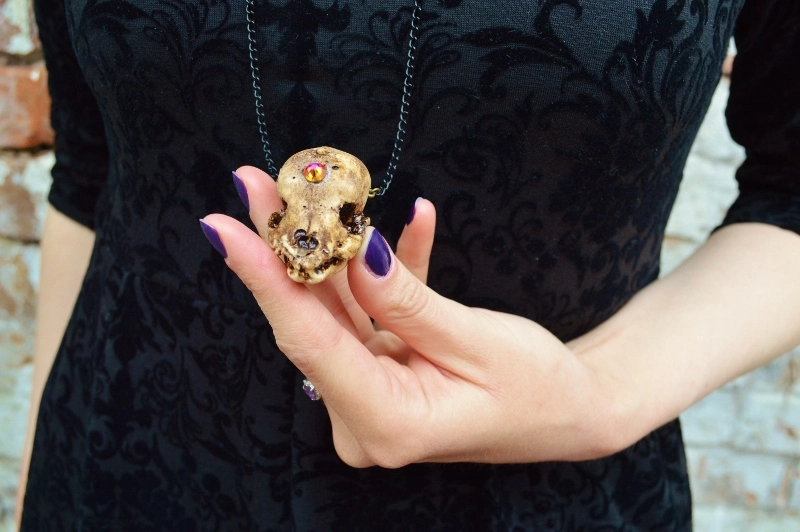 Handmade Flocked Skater Dress / MortiisM Vegan Skull Necklace / Blonde + Blonde Lace Up Block Heel Boots / Primark Tights
Today's outfit post is also a Thrifty Finds post, as my beautiful flocked skater dress was handmade by my very talented mum, using fabric that we got from a carboot sale.  And the best part is the fabric only cost £1!  My mum drafted the pattern for this herself, using the bodice from one of my dresses, and the skirt from another, so it turned out the exact fit, shape and length I was hoping for.  I'm so impressed by mum's work, especially as this was the first adult dress she ever made.  The stitching is so neat, it's comfortable, and it fits me really well – quite an achievement considering I tried the bodice on once whilst she was making it, and that's it!  Needless to say I'll be asking her to make me another dress very soon, as I'm so pleased with this one.
My necklace is also a craft piece, by the lovely MortiisM, who makes vegan skull and metal jewellery, antlers, and homewares.  I won this piece in a giveaway on Instagram, and I adore it.  I love the length, and the quality of the piece is really high.  It looks so real, and the Swarovski adornment is like the icing on the cake.  Stunning!
Naomi x
P.S. Check out how else I styled these boots!
1
Today's Alternative Snacking post is one for those with a sweet tooth, as it features Creighton's Chocolaterie – an independent chocolaterie in Leighton Buzzard, owned by a mother and daughter team, who craft and sell their own beautiful chocolates and truffles.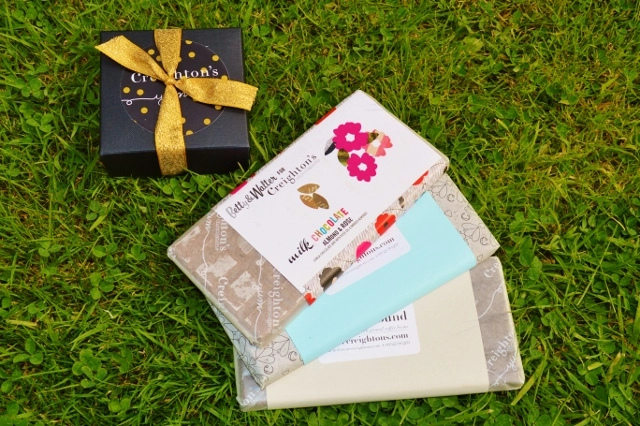 Creighton's has made it into my Alternative Snacking series as everything they sell is handmade, and though they use traditional methods and fine Belgian chocolate to create their artisan products, they pride themselves on making unique and unusual items that you won't find anywhere else.  Their packaging is also really well thought out and pretty, which is always a nice bonus.
I was lucky enough to receive three different bars and a selection of truffles from their collection to try, and will here share my thoughts on each.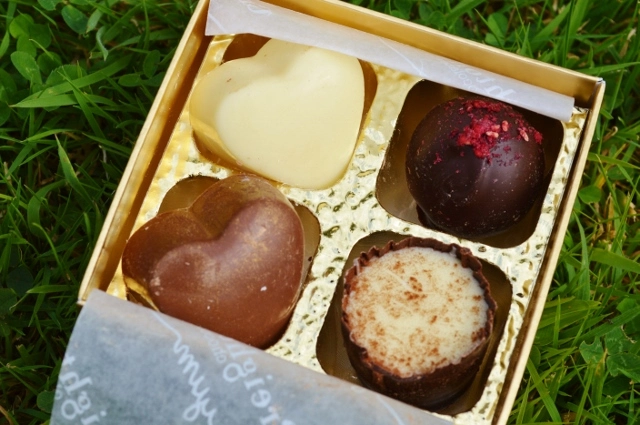 Creighton's sell a wide variety of fresh handmade truffles and chocolates, which can be purchased in various sized selection boxes from their website.  I received a Quartet Taster Selection Box which contained these four chocolates; a Lemon Heart, Raspberry truffle, Champagne Heart, and Mocha Coffee truffle.  Every single truffle was deliciously creamy with a very rich centre and fantastic flavour, but the Lemon Heart deserves a special mention.  It has a smooth, white chocolate shell, packed full of fresh lemon ganache, and it is absolutely gorgeous.  I savoured every little nibble and I'm not lying when I say it was one of the tastiest things I've ever eaten.  I could eat a box full!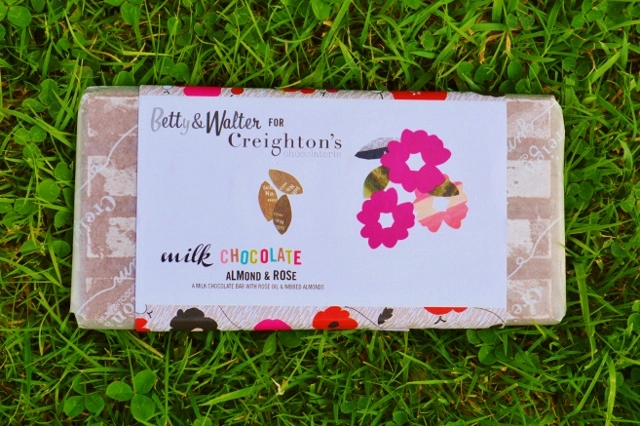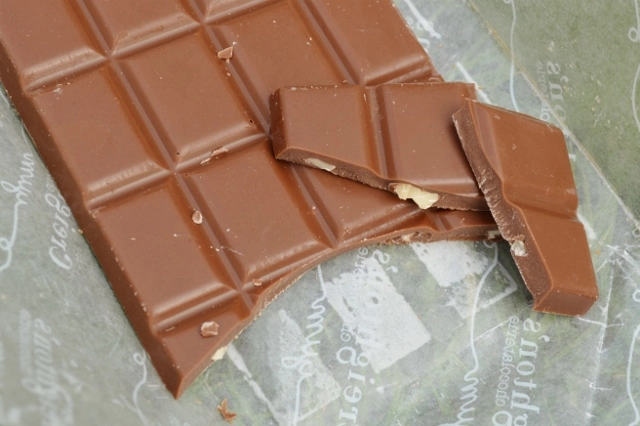 This bar was created in collaboration with fashion accessories brand Betty & Walter, and comes wrapped in a really lovely floral sleeve, designed by illustrator Lisa Levis.  I chose this bar as I'm a fan of rose flavoured foods, but they're hard to come by, and the combination of the rose and almonds sounded delicious.  And it is.  The chocolate is a very good quality milk chocolate which has a pleasing velvety texture, and the balance of rose oil is perfect.  Too much and it can taste like perfume, but this bar gets it right as it is fairly subtle, but with just enough of a kick.  The crunchy nibs of almond add an extra depth of flavour, but also texture, which ultimately make this bar a winner with me.  Yum.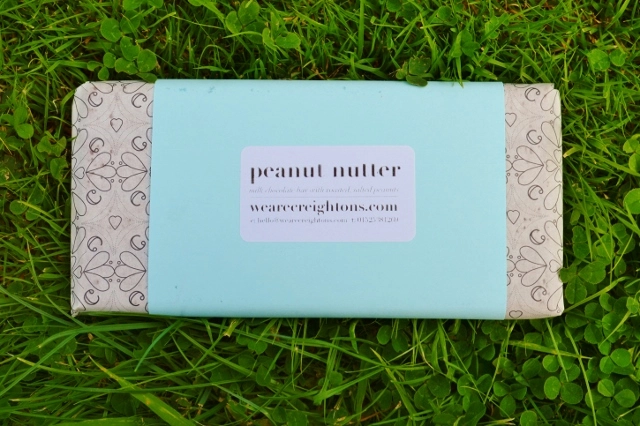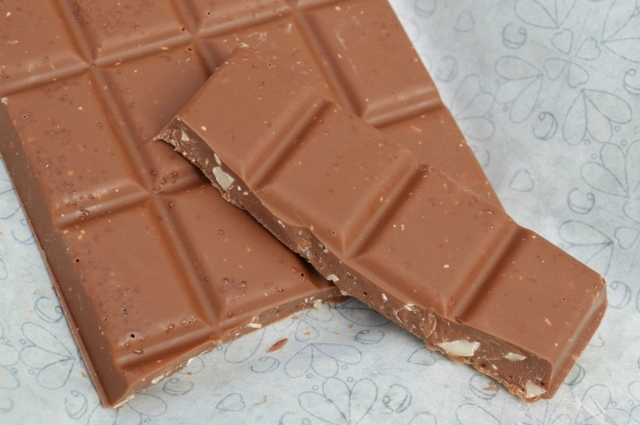 This Peanut Nutter bar is Creighton's 'grown-up' equivalent of a peanut butter chocolate bar, and is one of their best-sellers.  The bar consists of the same velvety milk chocolate as the Rose & Almond bar, but a little bit thicker, and is studded with crushed, roasted peanuts and sea salt.  What I like about this bar is that the flavours combine perfectly, so you get a hit of saltiness, the creamy sweetness of the chocolate, and a taste of peanut all at once, which makes for a deliciously moreish bar.  I could easily eat a whole one of these in one sitting!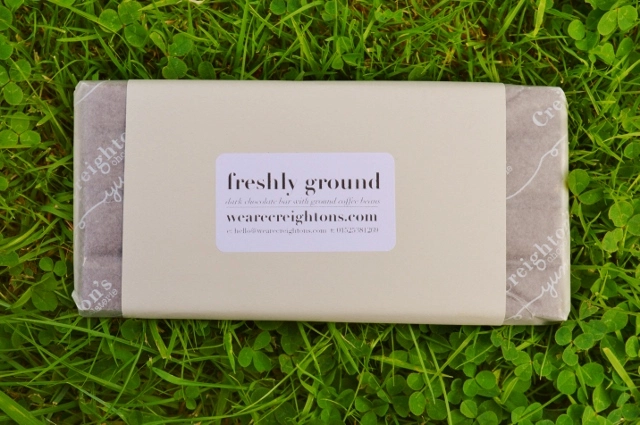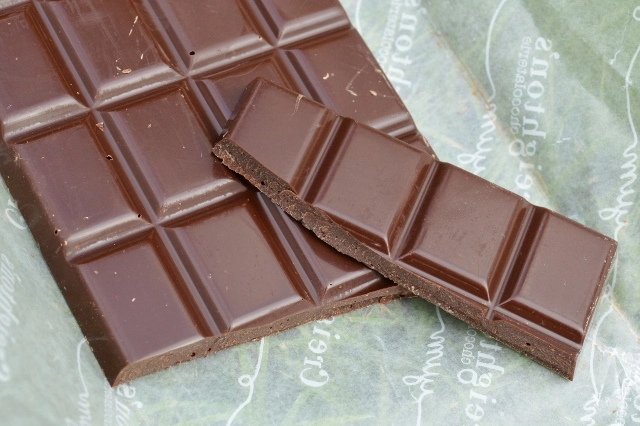 This beautifully rich Freshly Ground bar consists of high quality dark chocolate, which is mixed with freshly ground coffee beans from a local coffee roasters.  I'm not always a fan of coffee chocolate as it can taste quite synthetic, but the fact that this bar contains real coffee beans makes the flavour wonderfully authentic, and adds a slight crunch.  The depth of flavour in this bar is incredible, and my mum, whose favourite chocolate is coffee chocolate, absolutely adores this bar.  In fact, this bar is so good it won a gold star in the Great Taste Awards 2014, and it is well deserved.
Overall, Creighton's range of chocolate is exceptionally high quality and delicious, and is far more exciting than what you'd find in the supermarket.  They sell some really unusual flavours, including Liquorice Whip and Fizzy Cola, and their selection of handmade gifts, which features an edible chocolate box and chocolate tea set, is stunning.  Check out their full range here.
Naomi x
PS. Have you seen my first Alternative Snacking post, featuring Leighton Brown crisps?  If not, click here!
*These chocolates were sent to me by Creighton's Chocolaterie for review purposes.  All opinions expressed are honest and my own.*
9
I recently came across a great little Etsy store called ResinSparkles, which is owned by the lovely Sara.  Sara creates unique pieces of jewellery out of resin and glitter, a lot of which have a fab geek-chic theme, with Dr Who, Star Wars, steampunk and comic books regularly featuring in her designs.  Sara very kindly offered to send me a couple of pieces to review, and after browsing her store the magpie in me chose a Sparkly Ring and a Steampunk Clockwork Pendant.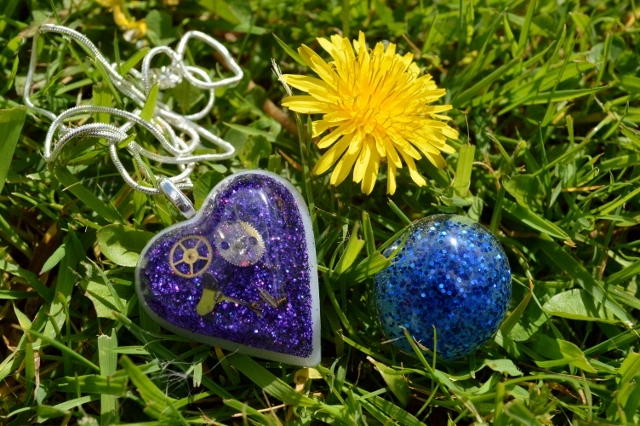 Both pieces are really well made, and they are both very generous on the glitter.  They're so eye-catching, especially in the sun, and both make a real statement.  They came packaged in cute matching gift bags too – perfect if you want to give them as a present (and trust me, the receiver would not be disappointed with their sparkly surprise).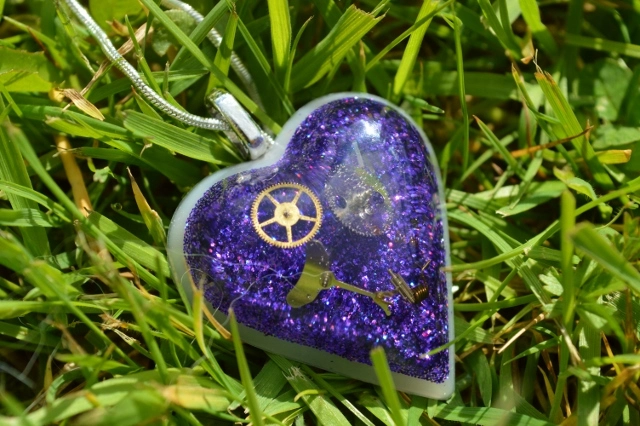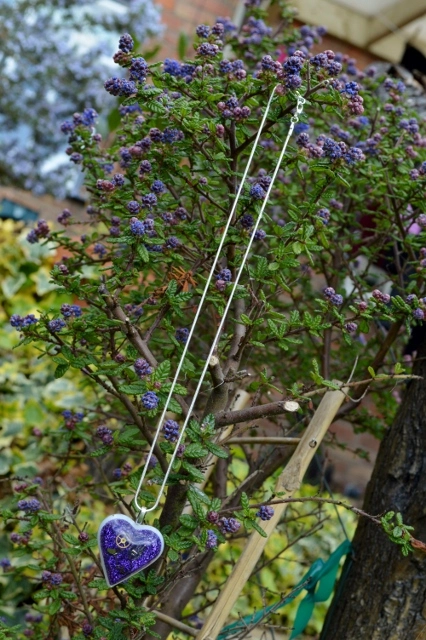 The pendant comes on an 18″ silver coloured chain and is nice and lightweight, so though it's a fairly big piece, it's incredibly comfortable to wear and hangs well.  I chose purple as it's my favourite colour and this particular shade is stunning, but these pendants are available in a wide range of colours.  I absolutely love the steampunk theme too, as the little cogs and metal bits suspended in the resin give it an added edge.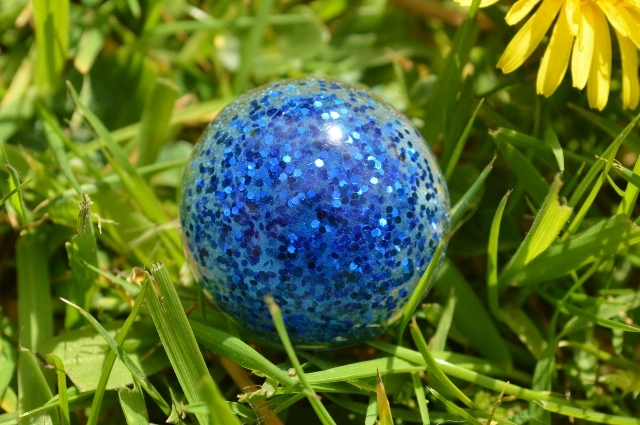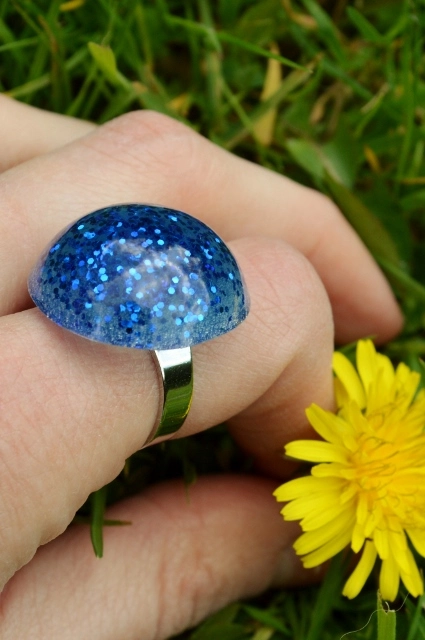 The ring I received has come to be known as my mermaid ring, as the layers of bright blue glitter are so pretty and remind me of a mermaid's tail, or the surface of the sea sparkling in the sun (how romantic!).  Like the pendant, the dome of the ring is quite large so really stands out, and it sits securely on a silver coloured adjustable metal band.  I have quite slim fingers so it best fits my index or middle fingers, which is where I prefer to wear rings anyway.  These are also available in a wide range of shades, with some combining two different glitters.
Considering all of Sara's pieces are handmade and great quality, they're also very affordable.  The pendants are £7.50 each including the chain, and the rings are just £3.50.  So, if you're a fan of sparkle, or know someone else who is, be sure to check out ResinSparkles on Etsy, and on Twitter.
Naomi x
*These pieces were sent to me by ResinSparkles for review purposes.  All opinions expressed are honest and my own.*