Posts tagged
Foodie
2
Last week I was lucky enough to receive some yummy Lindt Easter treats, via the lovely people at Degustabox.  I love Lindt chocolate, so this came as a welcome surprise!  I was sent a large classic Gold Bunny, as well as a Lindt Gold Bunny Story Book, which is absolutely adorable.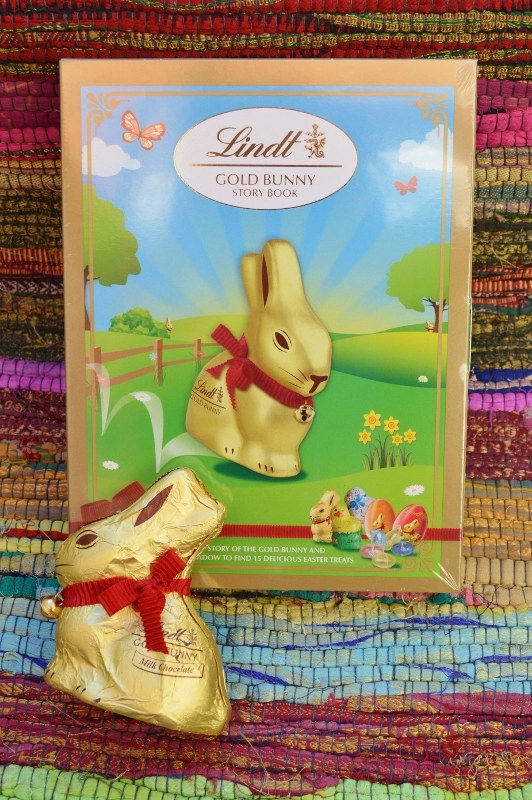 Easter wouldn't be Easter without a Lindt Gold Bunny.  The foil wrapper, red bow and little bell are iconic, and the thick, creamy chocolate is delicious.  I always think Lindt's bunnies are a little bit more luxurious than your average Easter egg, so while they're great for kids, they're also ideal for grown ups.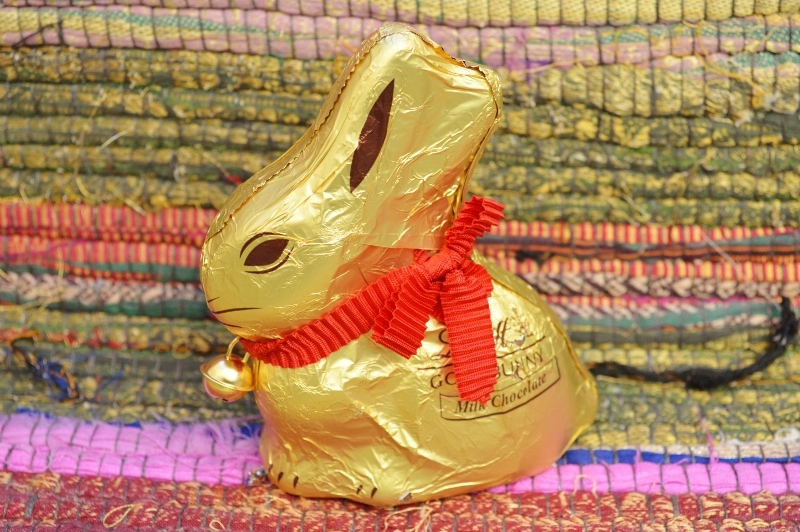 The Gold Bunny Story Book is like an Easter version of an advent calendar, but isn't dated, so you can open doors and enjoy the treats as and when you wish.  The book is quite large, and tells an interactive story whereby you have to seek out the hidden gold bunnies, and open the corresponding door when you find one.  The book has eleven doors, each with a treat behind it, and in total you get fifteen treats.  Three mini gold bunnies, two lambs, two chicks, three hollow eggs, and five small solid eggs, which is a decent amount of chocolate.  Each treat is made from Lindt's signature milk chocolate.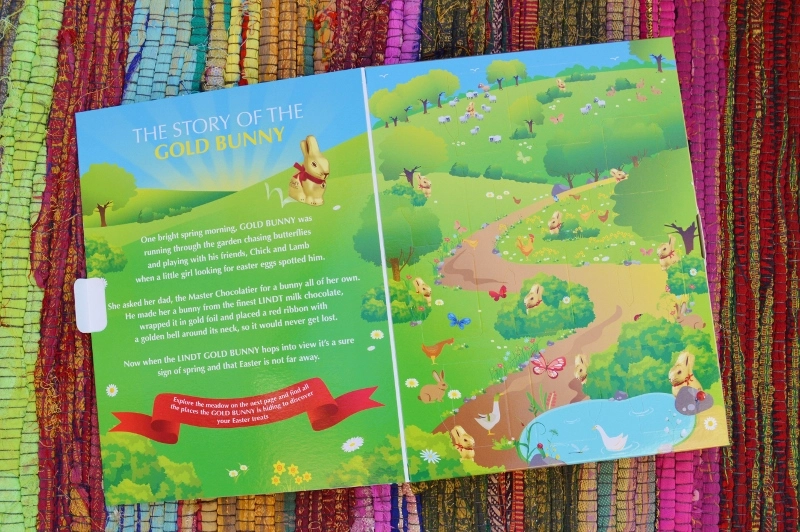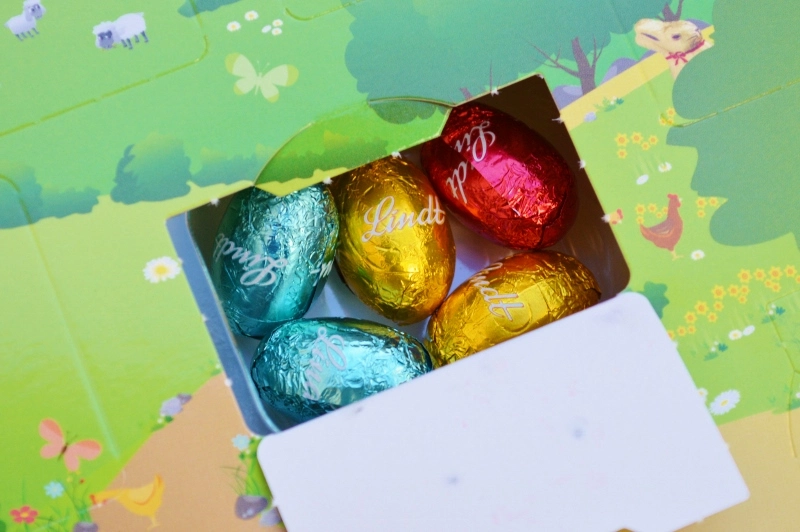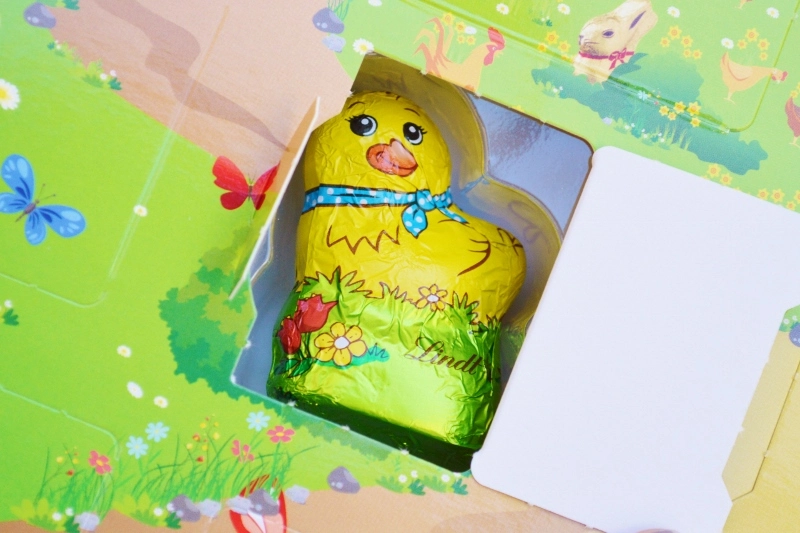 I hope you've all had a lovely Easter so far, and I hope you enjoy the bank holiday tomorrow!  What treats have you been enjoying?  Did the Easter Bunny bring you one of his gold babies?
Naomi x
*This Lindt Gold Bunny and Lindt Gold Bunny Story Book were sent to me via Degustabox for review purposes.  All opinions expressed are honest and my own.*
0
After a very hectic few weeks of trips away and caring for a poorly pet rat (long story but she's much better, thankfully!), I have finally got round to reviewing the July Degustabox!  As usual, the box arrived on time, and features eight brands and a massive nineteen individual items, many of which I'd never tried before.
Degustabox did something slightly different this month and offered one box containing alcohol, and another without.  I received the alcohol box, and the combined total value of the products is £22.19; a saving of almost £10.
Portlebay Popcorn (RRP £0.79 each)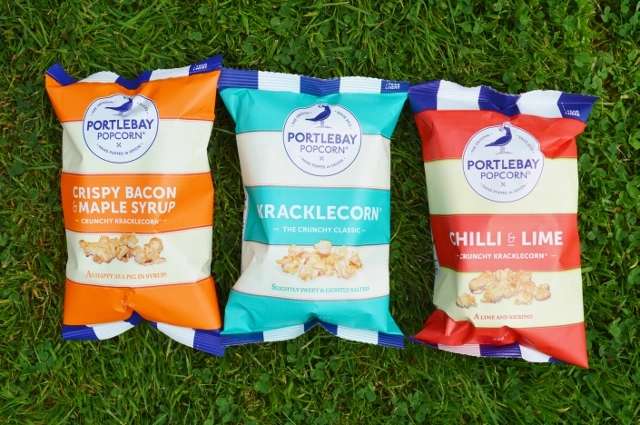 Portlebay are a small company from Devon who make 'great tasting, fun and interesting food', including these bags of Kracklecorn artisan popcorn.  I received three different flavours in the box – Crispy Bacon & Maple Syrup, which unfortunately I can't eat as it isn't vegetarian, Chilli & Lime, and a classic sweet and salty flavour.  The Chilli & Lime is particularly tasty, as the flavouring is very authentic and perfectly balanced, and is reminiscent of an Indian chutney.  The bags are a good size too and provide a very generous portion – perfect for snacking, or as part of a packed lunch.
ZEO Drinks (RRP £1.29 each)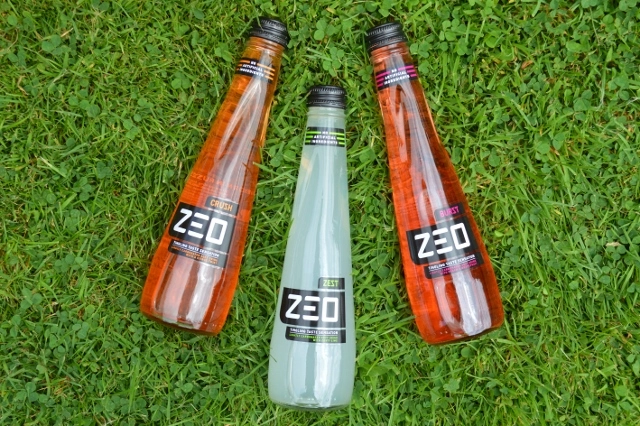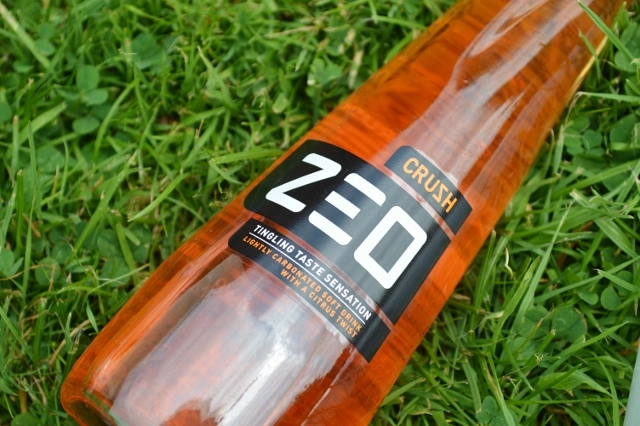 I've been seeing ZEO drinks around for a while now, so I was pleased to finally be able to try some.  ZEO pride themselves on creating low-calorie, naturally sourced soft drinks that aren't full of sugar, but are lightly carbonated with a hint of flavour.  Again, I received three flavours in the box – Burst, Crush, and Zest.  Unfortunately, they didn't quite live up to what I was expecting.  The packaging and branding are very impressive, but the drink inside isn't so much.  The flavour is very subtle, so you get more of a taste of carbonated water than anything else, and it's also quite dry.  However, it does give a cooling and 'tingling' sensation as the packaging suggests, which is quite refreshing on a hot day.  Not the best, but not awful.
Green & Black's Lemon Bar (RRP £2.29)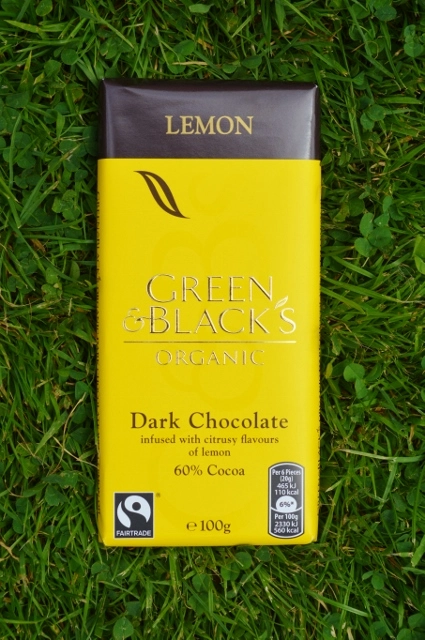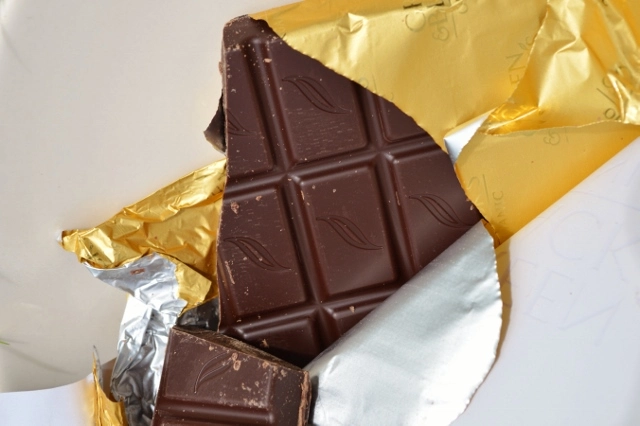 I usually love Green & Black's chocolate as it's Fairtrade and amazing quality, but I'm in two minds about this particular bar.  The chocolate contains 60% cocoa solids, so is lovely and rich, and is infused with a zesty lemon flavour.  Though I like the smooth and luxurious depth of the dark chocolate, I'm just not sure about the lemon.  It's very tangy, which doesn't seem to balance well with the bitterness of the chocolate.  Rather, it makes it taste a bit sour, which isn't really for me.  I can only eat a few squares of this at a time before wrapping it back up, to the point that I still have most of the bar left, which is unusual for me!  I personally think lemon flavours go better with sweeter white chocolate, but if you have less of a sweet tooth, then this may be for you.
The Berry Company Peach White Tea (RRP £1.49)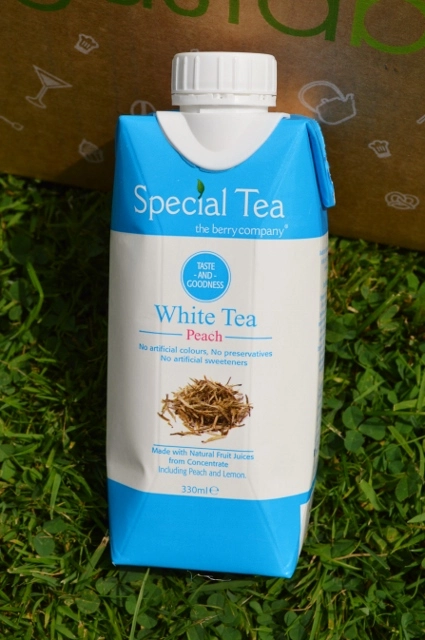 The Berry Company is a family business who produce nutritious and delicious juices and fruit flavoured teas.  These new Special Teas are available in four different flavours – Green Tea with Blueberry and Aronia, Red Tea with Hibiscus and Cranberry, Black Tea with Elderflower and Lemon, and White Tea with Peach and Lemon, which is the flavour I received, and are pleasingly healthy.  They're full of antioxidants, vegan, gluten, dairy, lactose and fat-free, and contain no artificial colourings, preservatives or flavourings.
Hornsby's Blueberry Cider (RRP £1.25 each)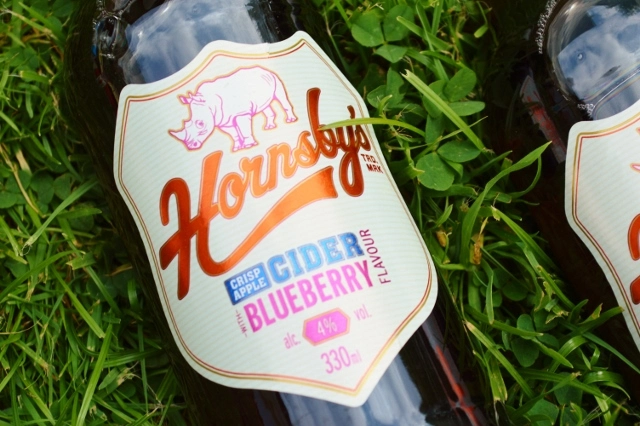 Hornsby's is one of the leading ciders in the USA, and is apparently best enjoyed straight from a chilled bottle.  This is the second time the brand has been featured in Degustabox, but this month's flavour – Blueberry – is new to me.  I'm not much of a cider drinker so I'm saving these for when I fancy it, but I like blueberries so the flavour intrigues me.  At 330ml the bottles are a good size, and great value at £1.25 each.  Degustabox recommend adding a squeeze of fresh lemon for an added kick, which sounds great for summer.
FRANK Blueberry & Chocolate Bar (RRP £0.85)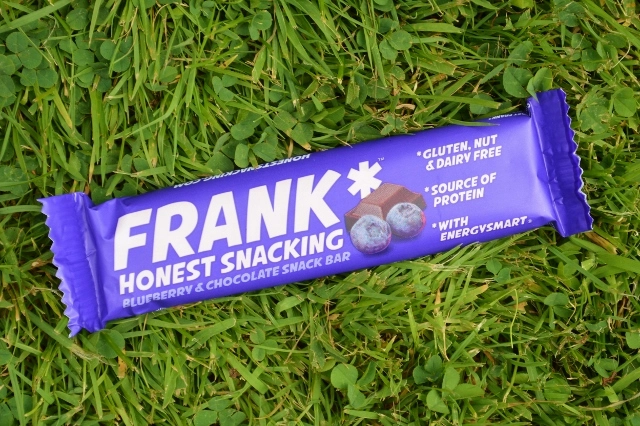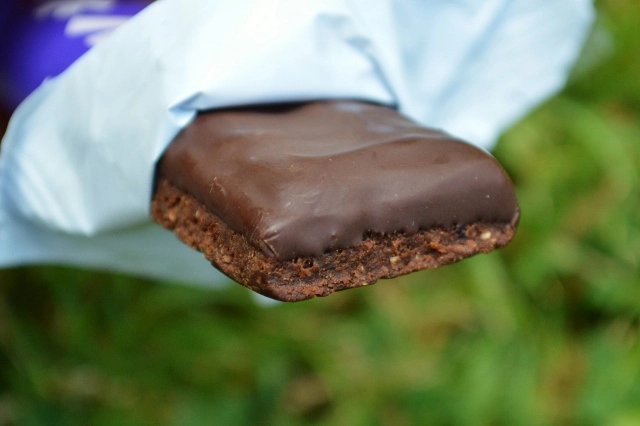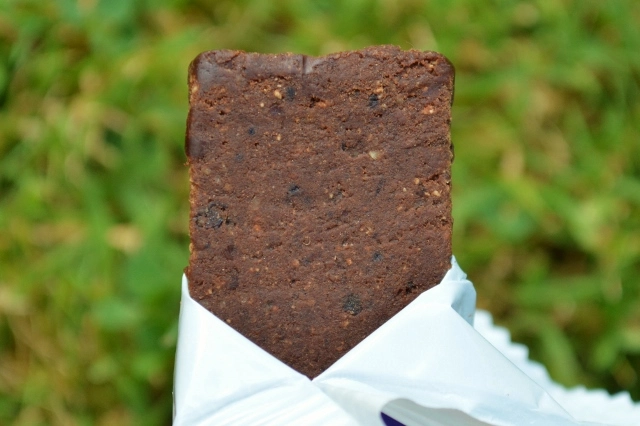 This FRANK snack bar was my favourite item in the box this month – I wish there was more than one!  I've really been getting into raw, healthier snacks lately, and this is honestly one of the nicest healthy bars I've tried.  FRANK promotes 'honest snacking' and their bars are made with 100% natural ingredients, and are vegan, gluten and nut free, and also contain no refined sugar or dairy.  This particular bar is Blueberry & Chocolate, and at first it has a slightly bitter taste of dark chocolate, but with a pleasant natural sweetness from the fruit that it contains.  It also has a firm texture, offset by the smoothness of the chocolate, which gives the perfect balance of not too moist but not too dry.  Overall, the bar is moreish and delicious, and I'll definitely be keeping my eye out for the other flavours, especially the orange one!
Dr. Oetker Violet Crystals (RRP £1.29) & Eton Mess (RRP £1.99)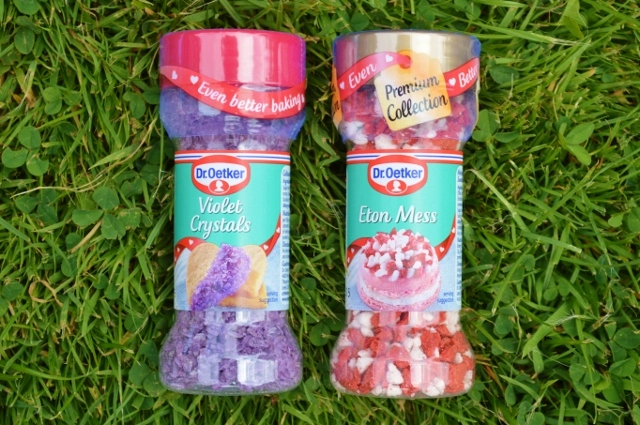 Yet another offering from Dr. Oetker.  That's four boxes in a row now!  Not that I mind, as I do like baking, but if it isn't your thing then it could get quite annoying.  These Violet Crystals and Eton Mess sprinkles are new to the range, and are inspired by the latest baking trends.  They look absolutely fab and would give any cake the wow factor, and going on my experience of other Dr. Oetker sprinkles, I'm sure they'll taste great too.  I'll keep you updated!
Maggi So Baked & So Juicy Sachets (Total RRP £5.54)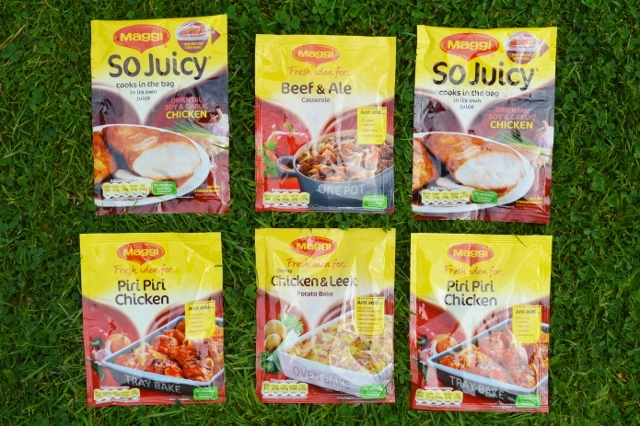 I was slightly disappointed when I saw these Maggi sachets in the box, as I assumed they weren't vegetarian, but after carefully reading the ingredients I can confirm that all but the Chicken & Leek one are!  I've used two of these so far – the Piri Piri Chicken bake, and the So Juicy Oriental Soy & Garlic Chicken, but rather than using real chicken I used Quorn fillets.  The sachets are easy to use – with the bakes you basically just chop everything up and bung it in a baking tray with the spices mixed with water, and the So Juicy ones are cooked in a plastic bag that comes in the sachet.  Both sachets worked really well with the Quorn, but with the So Juicy one I had to add water to the bag first, as Quorn doesn't give off its own juices!  The Piri Piri Chicken was incredibly tasty, and worked perfectly with sweet potato, red pepper and red onion, served with rice.  A definite repurchase on that one.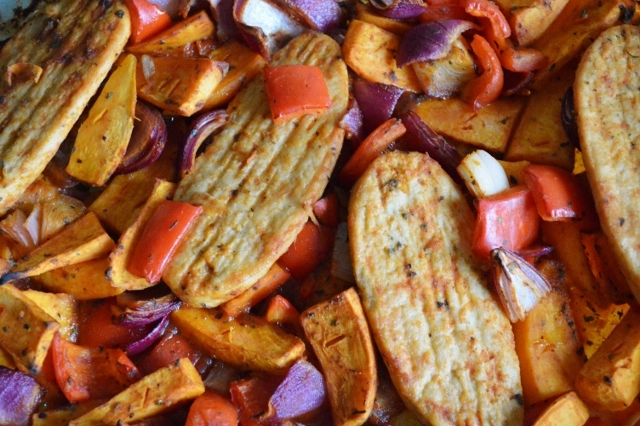 Overall, this wasn't my favourite Degustabox, but it was nice to try some new brands, and I'm especially glad to have discovered FRANK!
If you fancy giving Degustabox a go yourself, you can get a £3 discount by entering code R9CPO at the checkout.  You can also follow Degustabox on Twitter and Facebook for more exclusive offers.
Naomi x
PS. You can check out the rest of my Degustabox reviews here.
*This Degustabox was sent to me by Degustabox for review purposes.  All opinions expressed are honest and my own.*
9
Last month I was given the chance to receive a Degustabox to review, and as a lover of food and surprises, how could I say no?  Degustabox is a monthly subscription box which contains between 10 and 15 surprise food items, some of which are new to the market.  Each box costs £12.99 including delivery, and there's no obligation to keep your subscription.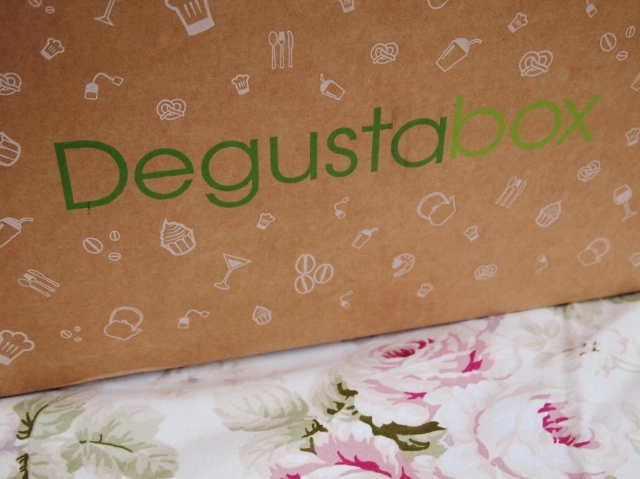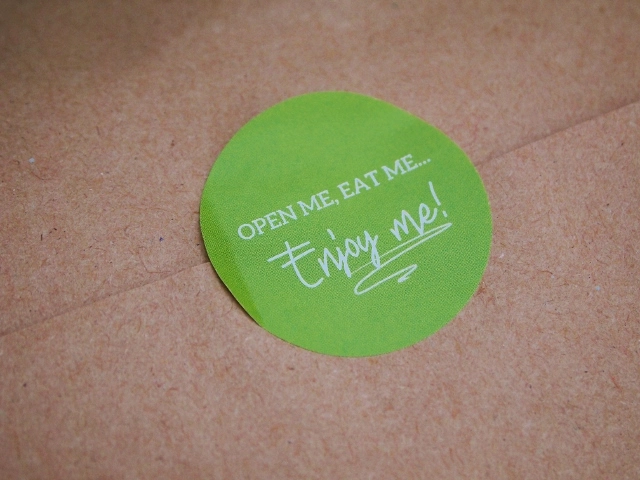 So, the March box.  My box was dispatched during the last week of March, and it arrived a couple of days later.  The service I received during the delivery process was really impressive, as I was sent a couple of texts and emails to say that my box was on its way and when it would be delivered, and when it did arrive the items inside were chilled, so you don't have to worry about anything going off in transit.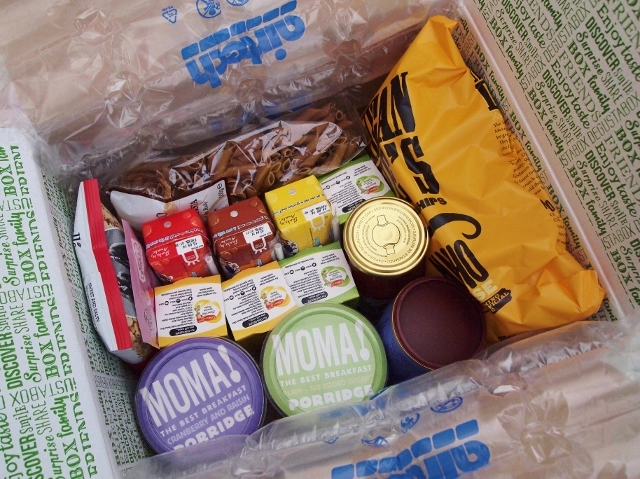 The box itself is really quite large, and comes packed full of items – I genuinely don't think they could've squashed anything more in there!  In total, I received 15 individual items, none of which are particularly high-end, but pretty much all of them were new to me, which was exciting.
Here are my thoughts on each…
Drink Me Chocolate Chai Latte (RRP £2.55) and Earl Grey Tea Latte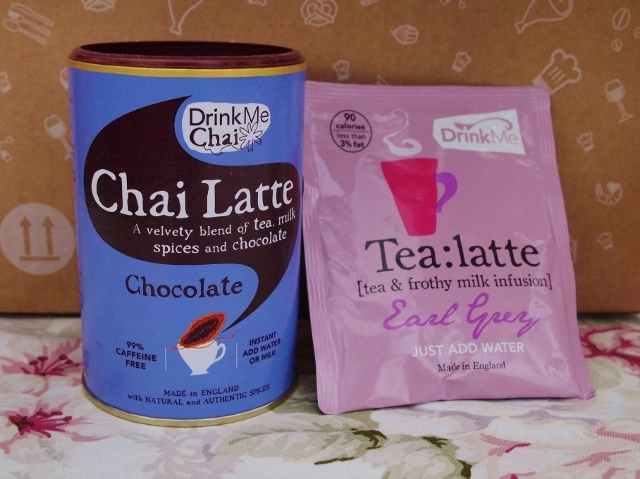 I was really excited to see these in the box as I already have Drink Me's Spiced Chai Latte and it is gorgeous.  The Chocolate Chai Latte is better though, and is my favourite thing in the whole box.  The chocolate is dark and rich and slightly bitter, and the spices give it a hint of warming sweetness.  It actually tastes exactly like Lebkuchen which are my favourite Christmas treat, so this is a definite winner for me.
I haven't yet tried the Earl Grey Latte so I can't comment on its flavour, but I have high hopes.  Degustabox list these as being £6.50 for a multipack which seems quite expensive, but I checked online and they appear to be 32p per sachet in Sainsbury's and Waitrose, which is pretty reasonable.
MOMA! Plain and Cranberry and Raisin Porridge (RRP £1.50 each)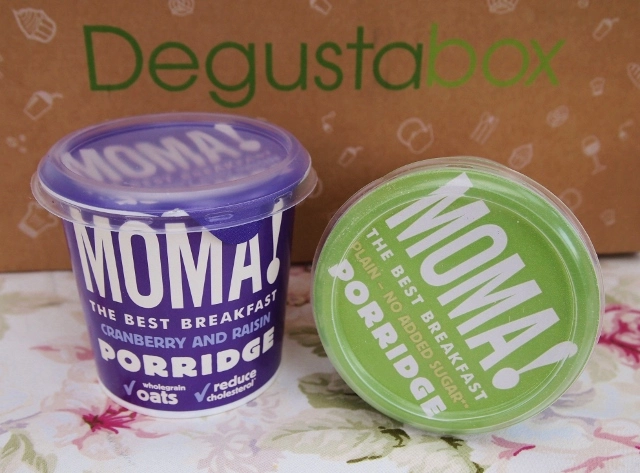 These didn't excite me at first, especially as I'm not keen on porridge made with water, but they're quite nice.  They're easy to make too and perfect for a quick breakfast on the go – just mix with boiling water, replace the lid, leave for three minutes, and voila!  Instant brekkie.  The oats are mixed with milk powder so the texture is lovely and creamy, and the overall flavour is comfortingly sweet.  The cranberries and raisins in the purple pot add a warm burst of fruitiness too.  A thumbs up from me, but at £1.50 each I don't think I'll be eating them every day of the week.
Shaken Udder Kids Milkshake (RRP £1.89 for 3)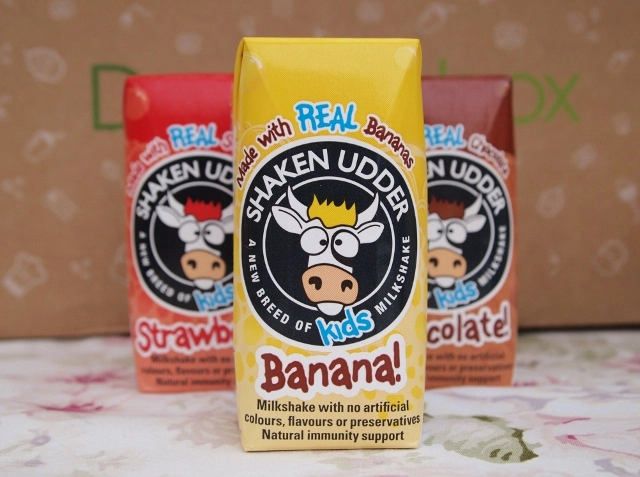 These little cartons of milkshake are perfect for kids.  The packaging is appealing, they come with a chunky straw and they're just the right size for little hands.  I usually prefer thick and creamy milkshakes and these are quite thin in consistency, but they're actually rather yummy.  I haven't tried the banana one yet, but the other two have a really authentic flavour, probably due to the lack of anything artificial.  The chocolate one is my favourite so far.  These came with a couple of vouchers for a free pack of three, as well as a free 'grown up' bottle, so I'll definitely be cashing those in.
Schwartz Italian Creamy Herb Tagliatelle and Spanish Paella Flavour Shots (RRP £1.40 each)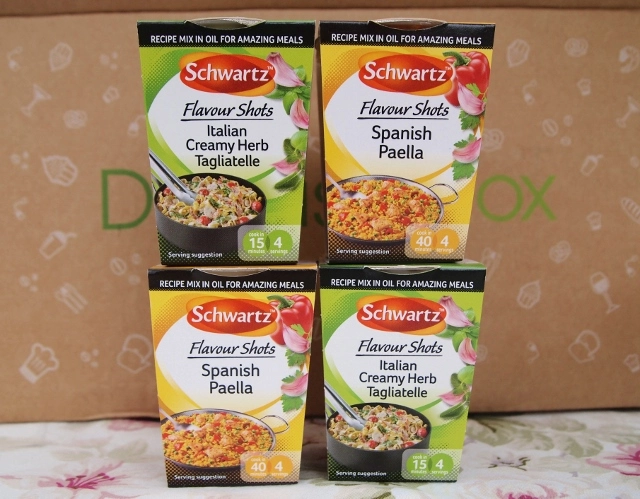 A new addition to the Schwartz family, these little pots contain a blend of herbs and spices mixed with oil, to make cooking tasty meals quick and easy.  I used the Italian Creamy Herb Tagliatelle shot earlier this week and it was so simple to use.  The packaging has a recipe printed on it, and all you have to do is fry chicken (I used Quorn) in the flavour shot before adding sliced mushrooms, cherry tomatoes, creme fraiche and rocket, and mixing with cooked tagliatelle.  The meal took about 15 minutes to make in total and was absolutely delicious.  I highly recommend these!
Organico Italian Durum Wheat Pasta (RRP £1.49) and Tomato & Basil Pasta Sauce (RRP 1.99)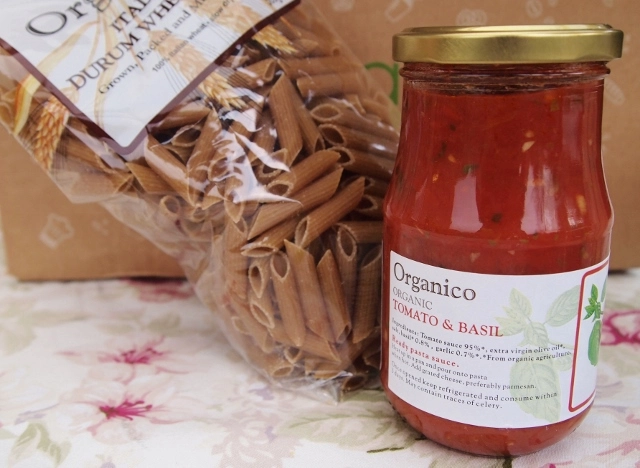 I'm yet to try these Organico products, but they're both right up my street.  Organico source organic food made with sustainable, good quality ingredients, so there are no hidden nasties to be found.  I absolutely *love* brown pasta so I'm looking forward to using this, and the sauce looks fresh and beautiful.  These are on my meal list for next week!
Mexican Dave's Nacho Cheese Tortilla Chips (RRP £1.00) and Tyrrels Sweet and Salty Popcorn (RRP £1.80 for 6)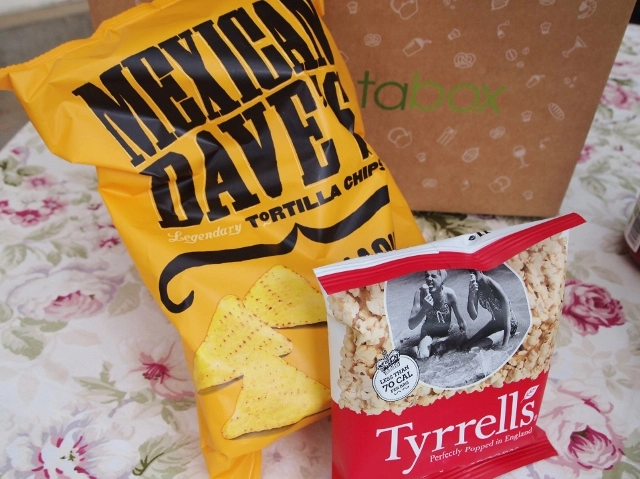 I'd never heard of Mexican Dave's before, but after trying these tortilla chips I'll definitely be looking for them again.  They're not as nice as Doritos in my opinion, but the flavour and crunch are fantastic, and they make excellent nachos!  I had these last weekend baked with spicy salsa and cheese and they were scrumptious.  In fact, I'll be having them again this evening!
Tyrrels' popcorn is a satisfying combination of salty and sweet, which may sound odd but it's amazing.  You get quite a lot of popcorn in the bag, but at less than 70 calories this popcorn is the perfect guilt-free treat.  I'd probably grab a bag as part of my lunch or as an afternoon snack.
My only quibble with the March Degustabox is that it's a bit too savoury.  I have a sweet tooth and was hoping for some sweet treats to munch on, but the only sweet things in the box are drinks and porridge.  Oh well, maybe next month.  Other than that I'm really pleased with the box, and luckily for me everything in it is vegetarian, and all of it is yummy, so nothing will go to waste and everything will be enjoyed!  As a current saver I probably wouldn't buy a box every month, but as an occasional treat when you fancy some food inspiration, £12.99 isn't bad.  I definitely prefer Degustabox over the more costly yet smaller Flavourly box that I've tried once before.
If you want to know more about Degustabox and this month's products, you can visit their website here.  You can also find them on Twitter and Facebook.
Will you be subscribing to Degustabox?
Naomi x
PS. You can check out the rest of my Degustabox reviews here.
*This Degustabox was sent to me by Degustabox for review purposes.  All opinions expressed are honest and my own.*