Posts tagged
Jewel Candle
2
I've been reading about jewellery candles on US blogs for a while now, and had been hoping that something similar would come to the UK, so when I saw reviews popping up all over the internet of the UK equivalent JewelCandle, I signed up via their website to review a candle myself.  JewelCandle sell handmade scented candles, each containing a surprise piece of jewellery worth between £10 and £250.  You can choose to receive either earrings or a ring, but you don't know what your jewellery will look like until you burn your candle and remove your surprise.  A nice idea on paper, but is it well executed?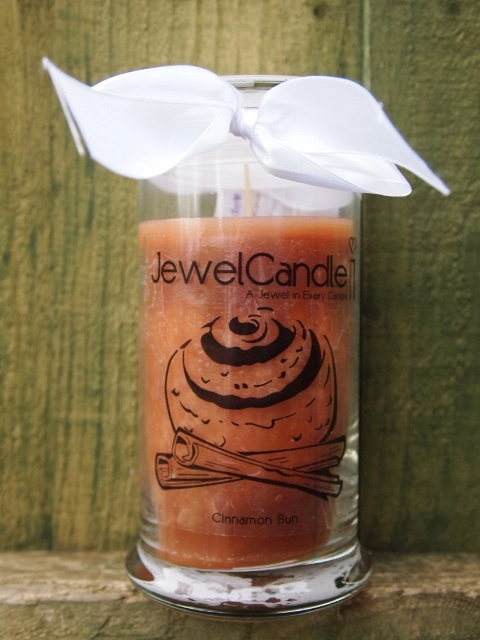 As I don't have my ears pierced, I specifically requested a candle containing a ring.  The earring candles cost £16.95 each, but the ring candles are quite a bit bigger, so cost a few pounds more at £24.95.  There are many different scents to choose from, including Sweet Cupcake, Cookies & Cream, Pina Colada, Candy Floss and Passion Fruit, but I went for Cinnamon Bun as I love the smell of cinnamon and it's suitably festive!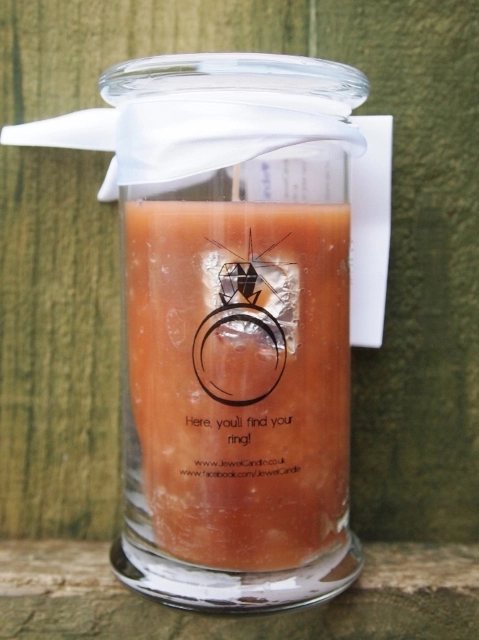 In terms of appearance, the candle looks great.  The glass jar is very high quality and has a secure lid, and is finished off with a lovely white bow.  The font and the graphics are simple, but also look quite appealing.  The ring, wrapped in foil, is also visible through the side of the jar, which is a little bit of a tease as you have to wait for the candle to burn down before you can get it out!
The scent of the candle is nice and sweet, and definitely smells like cinnamon baking.  Scented candles often smell nothing like what they're meant to, so it's always a bonus when they do!  The scent isn't overpowering and headache-inducing, but it fills the room with a pleasant smell within minutes of being lit.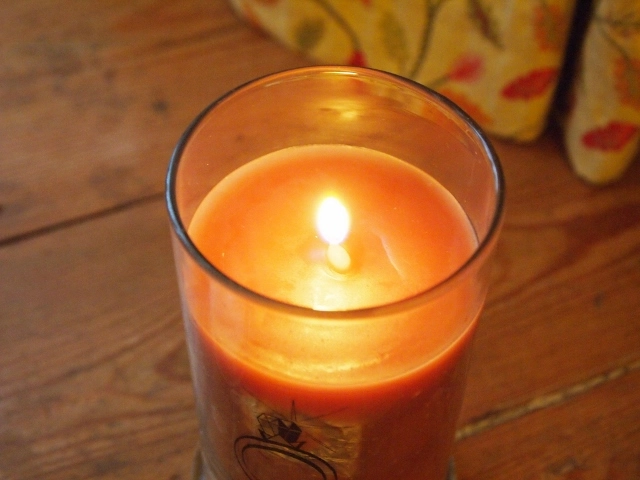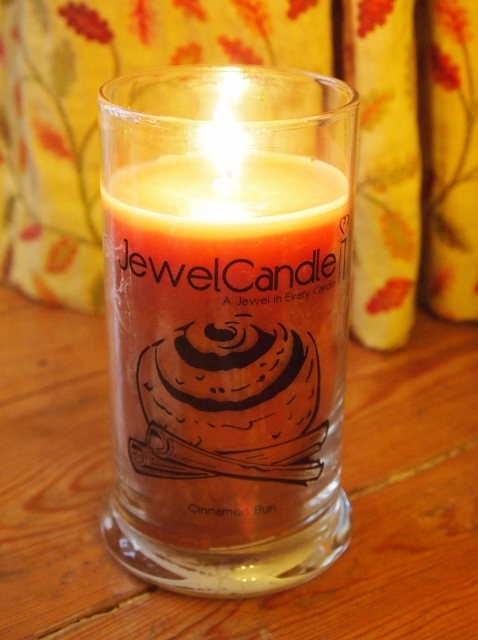 I'd read on other blogs that it takes about 3 hours for the candle to burn down enough for the ring to be retrieved, but it took mine a LOT longer, and after checking the JewelCandle site they do say it can take 10-15 hours.  The day I received it I burned it for around 4 hours, but it wasn't even close to the ring.  The next day it took another 6 or 7 hours before I could get it out, and even then I had to dig it out with a knife as I got impatient!  On the plus side, at least you know you get a good burn time out of these candles.  After 10 hours in total it was still only a quarter of the way down, and it's still going strong.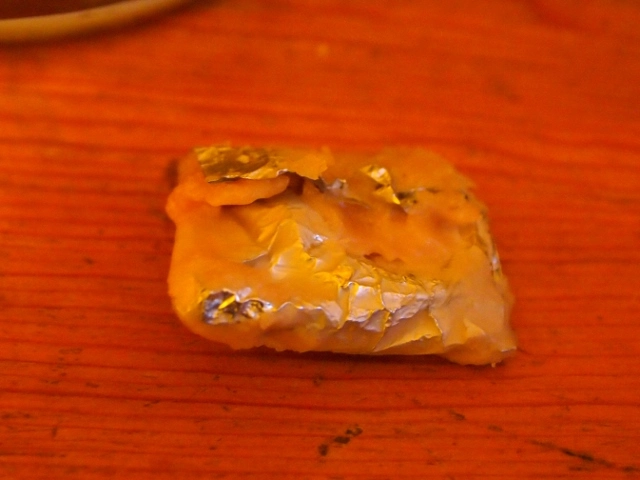 After waiting so long for the candle to burn, I couldn't wait to see my surprise piece of jewellery.  The ring itself came wrapped in foil, and also in a small sealed bag, so it was well protected from the wax, and after waiting a few minutes for the foil to cool down I opened the tiny package.  Here is what I found inside…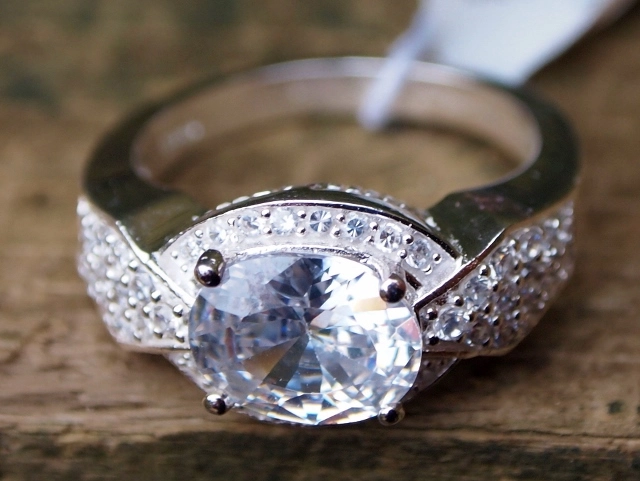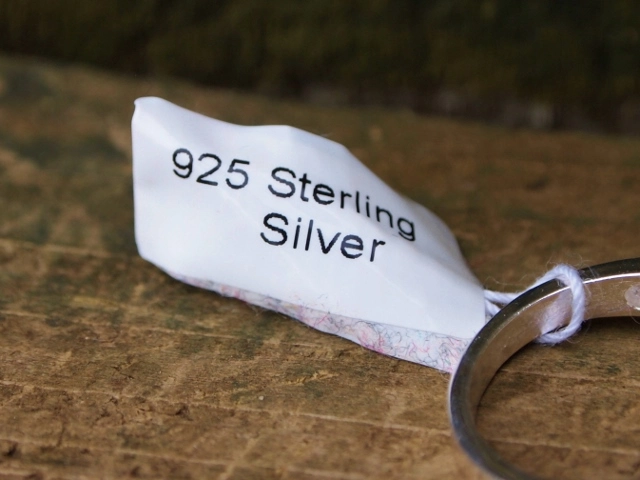 The ring itself is really pretty, and in the right light could look quite expensive, but the stone in the middle feels like plastic, and the silver isn't very thick.  However, it is labelled and stamped as 925 Sterling Silver, so at least it won't turn your skin green!  I have no idea how much the ring is worth as it isn't printed on the label like it's supposed to be, but I'm guessing it's one of the £10 rings.  Unfortunately, it's also far too big for me.  My fingers range from a K to an M in size, and the ring is extremely loose on all of them, including my thumb, so I'm unable to wear it myself.  So, if JewelCandle were going to improve anything, I'd suggest it be the sizing!  I'd definitely like to see the option to choose the size of ring inside, otherwise it becomes quite a redundant idea if you can't even wear the jewellery.  It might also be nice to see some necklaces, or even just pendants in the candles.  At least then one size fits all!
Despite the oversized ring, my overall verdict is still fairly positive.  The candle looks great, is an impressive size, smells gorgeous and burns for a long time.  Though big, the ring is quite nice, despite not being of high value.  But with a bit of improvement, JewelCandle could be even better, and I hope to see them expand in the future!
Naomi x
*This Cinnamon Bun JewelCandle was sent to me for review purposes.  All opinions expressed are honest and my own.*