Posts tagged
Sterling Silver
2
I've been reading about jewellery candles on US blogs for a while now, and had been hoping that something similar would come to the UK, so when I saw reviews popping up all over the internet of the UK equivalent JewelCandle, I signed up via their website to review a candle myself.  JewelCandle sell handmade scented candles, each containing a surprise piece of jewellery worth between £10 and £250.  You can choose to receive either earrings or a ring, but you don't know what your jewellery will look like until you burn your candle and remove your surprise.  A nice idea on paper, but is it well executed?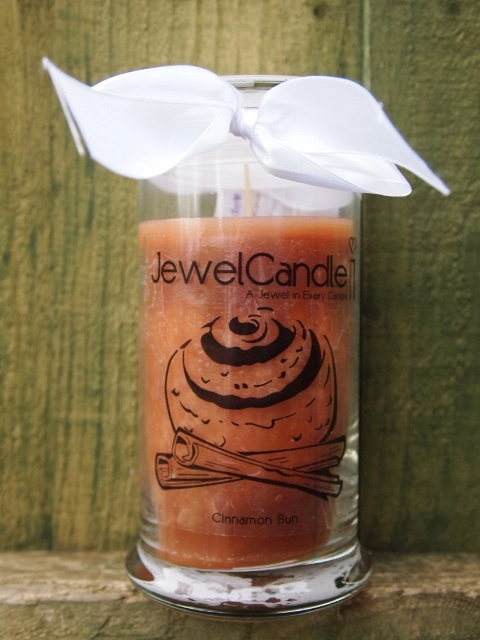 As I don't have my ears pierced, I specifically requested a candle containing a ring.  The earring candles cost £16.95 each, but the ring candles are quite a bit bigger, so cost a few pounds more at £24.95.  There are many different scents to choose from, including Sweet Cupcake, Cookies & Cream, Pina Colada, Candy Floss and Passion Fruit, but I went for Cinnamon Bun as I love the smell of cinnamon and it's suitably festive!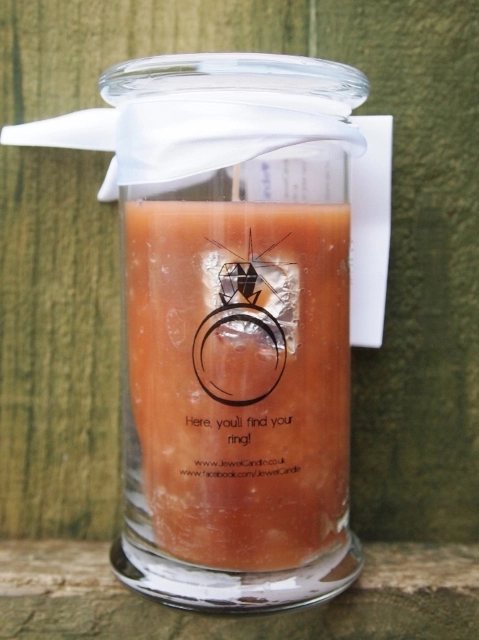 In terms of appearance, the candle looks great.  The glass jar is very high quality and has a secure lid, and is finished off with a lovely white bow.  The font and the graphics are simple, but also look quite appealing.  The ring, wrapped in foil, is also visible through the side of the jar, which is a little bit of a tease as you have to wait for the candle to burn down before you can get it out!
The scent of the candle is nice and sweet, and definitely smells like cinnamon baking.  Scented candles often smell nothing like what they're meant to, so it's always a bonus when they do!  The scent isn't overpowering and headache-inducing, but it fills the room with a pleasant smell within minutes of being lit.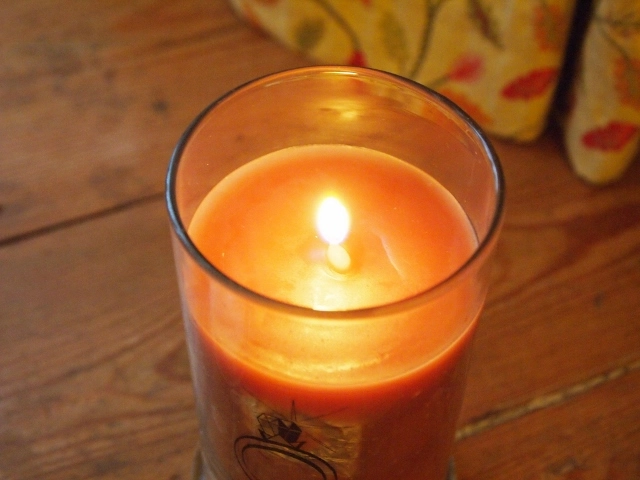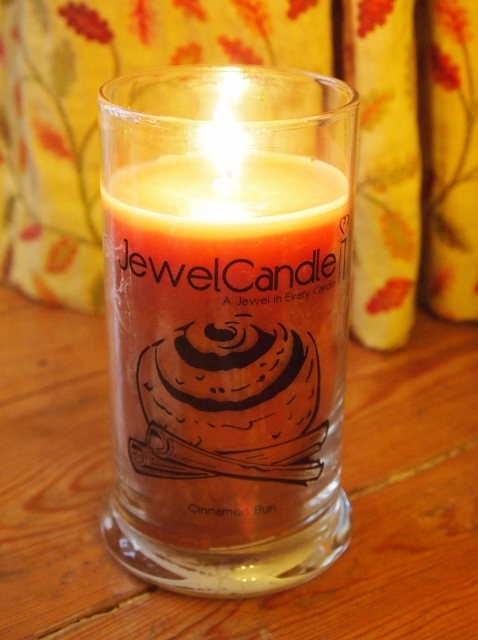 I'd read on other blogs that it takes about 3 hours for the candle to burn down enough for the ring to be retrieved, but it took mine a LOT longer, and after checking the JewelCandle site they do say it can take 10-15 hours.  The day I received it I burned it for around 4 hours, but it wasn't even close to the ring.  The next day it took another 6 or 7 hours before I could get it out, and even then I had to dig it out with a knife as I got impatient!  On the plus side, at least you know you get a good burn time out of these candles.  After 10 hours in total it was still only a quarter of the way down, and it's still going strong.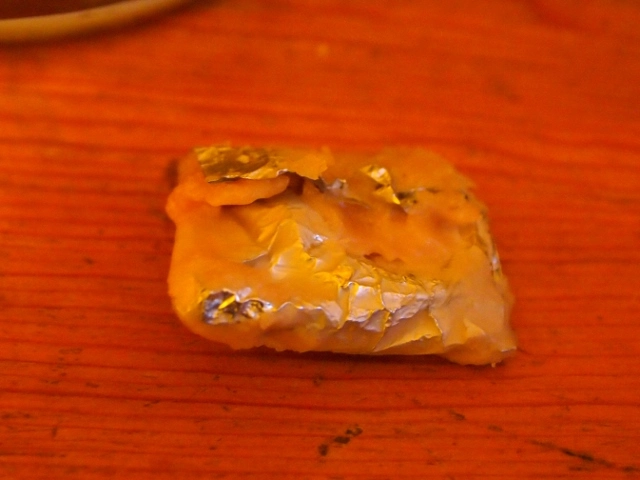 After waiting so long for the candle to burn, I couldn't wait to see my surprise piece of jewellery.  The ring itself came wrapped in foil, and also in a small sealed bag, so it was well protected from the wax, and after waiting a few minutes for the foil to cool down I opened the tiny package.  Here is what I found inside…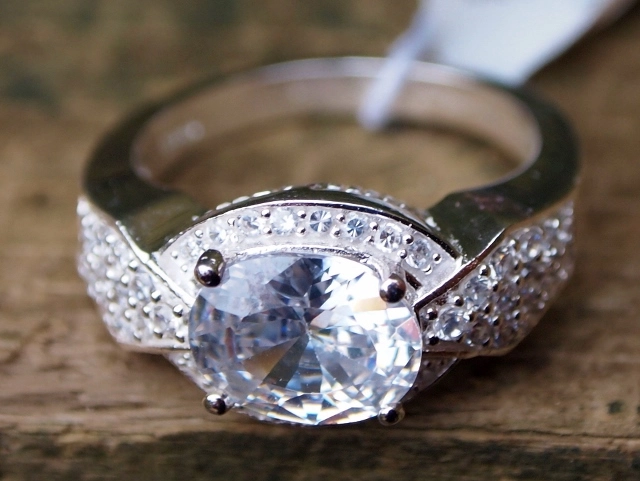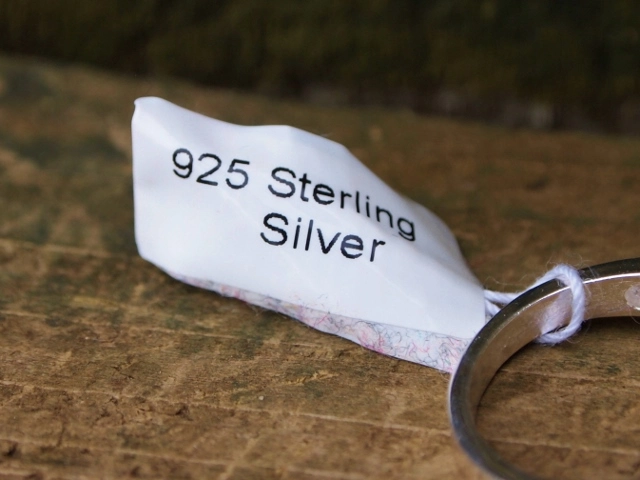 The ring itself is really pretty, and in the right light could look quite expensive, but the stone in the middle feels like plastic, and the silver isn't very thick.  However, it is labelled and stamped as 925 Sterling Silver, so at least it won't turn your skin green!  I have no idea how much the ring is worth as it isn't printed on the label like it's supposed to be, but I'm guessing it's one of the £10 rings.  Unfortunately, it's also far too big for me.  My fingers range from a K to an M in size, and the ring is extremely loose on all of them, including my thumb, so I'm unable to wear it myself.  So, if JewelCandle were going to improve anything, I'd suggest it be the sizing!  I'd definitely like to see the option to choose the size of ring inside, otherwise it becomes quite a redundant idea if you can't even wear the jewellery.  It might also be nice to see some necklaces, or even just pendants in the candles.  At least then one size fits all!
Despite the oversized ring, my overall verdict is still fairly positive.  The candle looks great, is an impressive size, smells gorgeous and burns for a long time.  Though big, the ring is quite nice, despite not being of high value.  But with a bit of improvement, JewelCandle could be even better, and I hope to see them expand in the future!
Naomi x
*This Cinnamon Bun JewelCandle was sent to me for review purposes.  All opinions expressed are honest and my own.*
5
Whilst browsing Twitter a few weeks ago, I noticed that an independent jewellers called Biggley were looking for bloggers to review some pieces from their new range.  As a fan of silver jewellery, which they specialise in, I jumped at the chance of applying, and was lucky enough to be chosen as one of the few bloggers to receive a piece.
Biggley are based in Glasgow, and are made up of a small team of qualified jewellers and designers, who handcraft a variety of beautiful, bespoke jewellery.  They make a wide range of pieces for women, men and children, from necklaces and bracelets, to rings and earrings, most of which is made of high quality sterling silver.
The piece I received is the D Shaped Ring from Biggley's latest collection.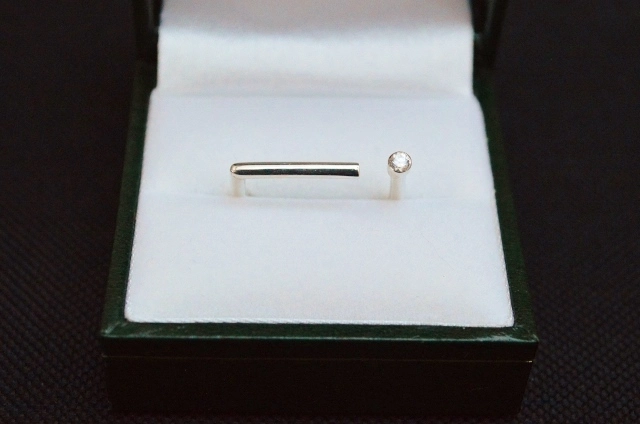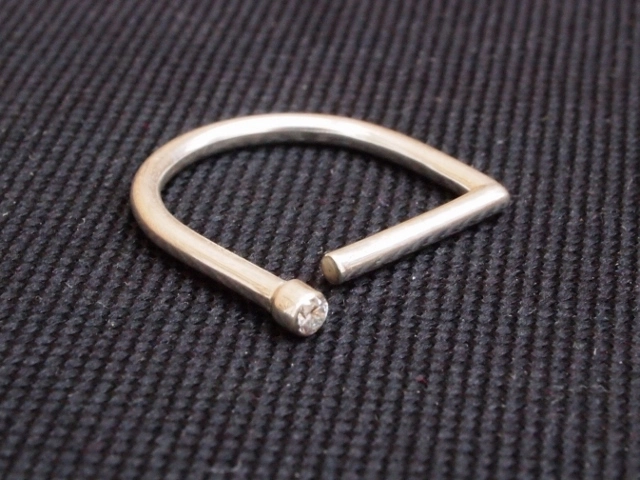 The ring is really unusual as it breaks away from the typical circular design of a ring, with a straight bar which sits across the top of the finger.  The ring is crafted from sterling silver, and is set with a single cubic zirconia stone, which has a brilliant shine to it.  As soon as I saw the ring I was really taken with how unique it is, and I think it's absolutely stunning.  Unsurprisingly, my mum does too, and she keeps asking me for it, so I keep having to hide it from her!
The ring also fits really nicely, and is an absolute pleasure to wear as it goes with any outfit, and due to its shape doesn't spin round, so feels comfortable on the finger.
Biggley's jewellery is all bespoke as every single piece is crafted by hand to a high standard, and is made to order.  This doesn't mean you have to wait a long time for your item though, as they aim to have all pieces ready to post within seven days of the order being placed.  I am genuinely impressed by just how perfect this ring is.  It's flawless, and has obviously been made with care and attention to detail, by an extremely skilled and precise jeweller.  I love it.
The D Shaped Ring costs £40, which for a quality piece which is made especially for you, is extremely affordable.  To view Biggley's current jewellery collections, click here.  You can also follow them on Twitter and Facebook, where they will soon be launching an exciting giveaway, so keep an eye out for that!
Naomi x
*This sterling silver ring was sent to me by Biggley for review purposes.  All opinions expressed are honest and my own.*
6
Well!  After weeks of preparation – shopping, cooking and decorating – Christmas Day has been and gone, and we're all probably a few pounds heavier than we were this time last week!  I hope you all had a wonderful time, celebrating in your chosen way with the people you love, and I hope Santa brought you everything you wished for.  I personally had a great time!  The highlight of Christmas for me is playing games and doing quizzes with my family, and they were definitely done in abundance.
Christmas isn't just about the presents, but I got some really lovely fashion and beauty related things this year, so I thought I would share them with you today.  I also got a lot of chocolate, baking equipment, geeky stuff (including a bat detector which I've been wanting for AGES) and books – my friends and relatives know me well!
So, here are some of my Christmas gifts.  Apologies for the strange colouring in a few of the photographs…  They were taken in bad lighting!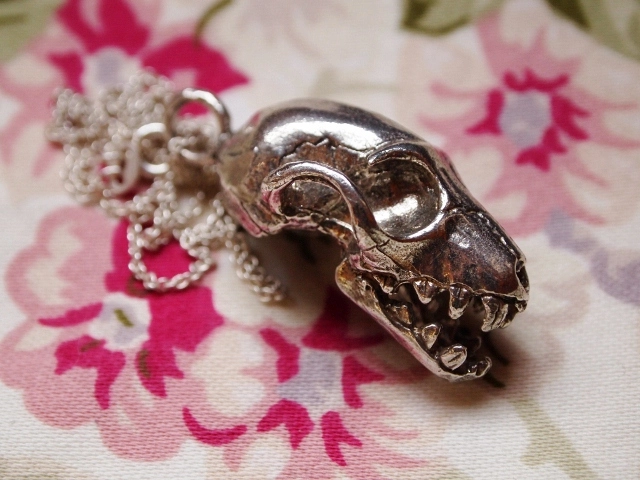 My dad bought me this absolutely beautiful sterling silver Bat Skull necklace.  He mentioned that he got it from Etsy and it was handmade in New York by an obviously very talented maker.  I instantly fell in love with it when I opened the box, and in my surprise I ended up dropping the box in my mug of tea, woops!  I adore bats so I am going to treasure this piece.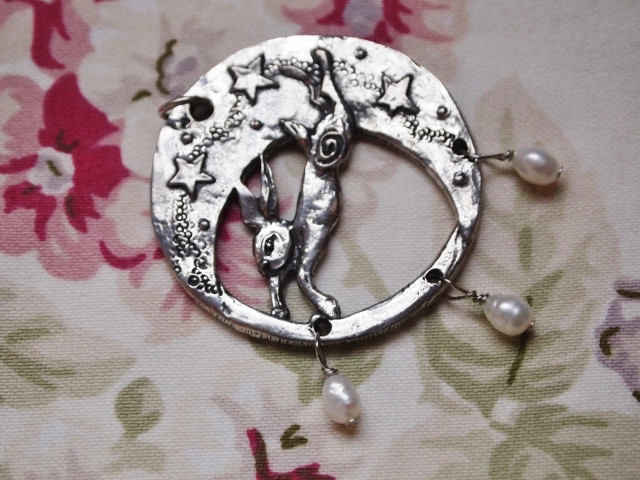 I also love hares, so my dad gave me this large pewter moon hare pendant as well.  Isn't it stunning?  I need to find a chain for this pronto so I can start wearing it.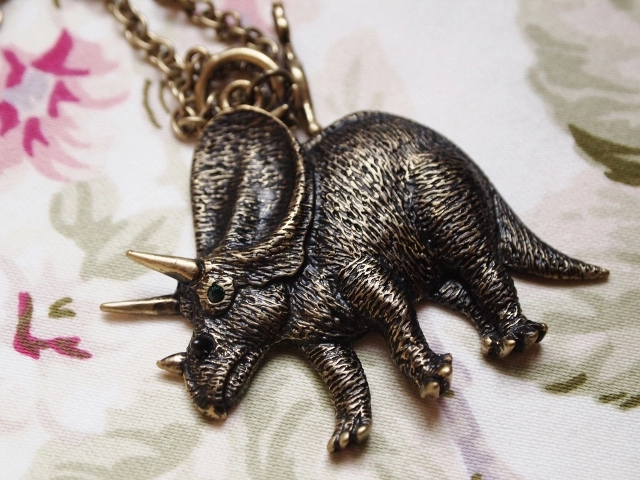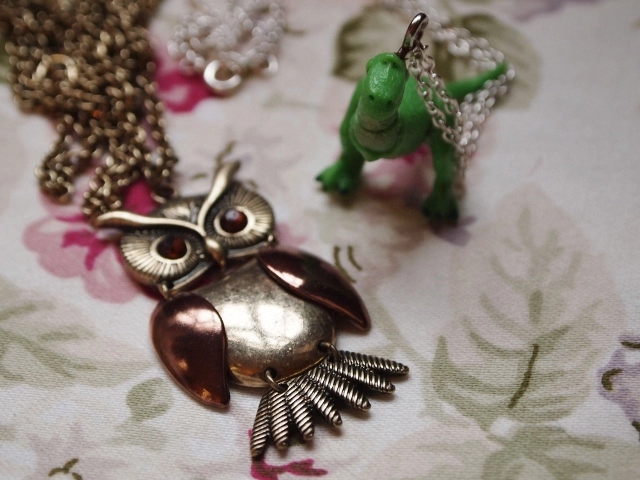 The dinosaur at the top was from my sister, Rex from Toy Story was from my fiancé, and the owl was from my fiancé's sister.  Owls, dinosaurs and necklaces are a few of my favourite things, so I was very pleased to receive all three of these beauties.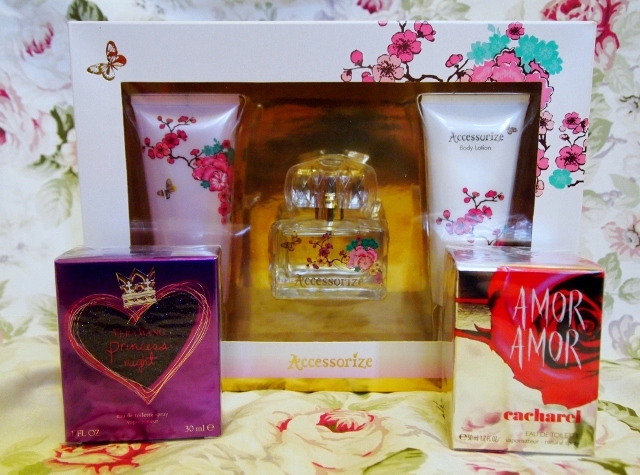 I received three different perfumes this year, all of which are replacements for perfumes I already have.  Cacharel's Amor Amor (one of my all time favourites), Vera Wang Princess Night, and an Accessorize Gift Set.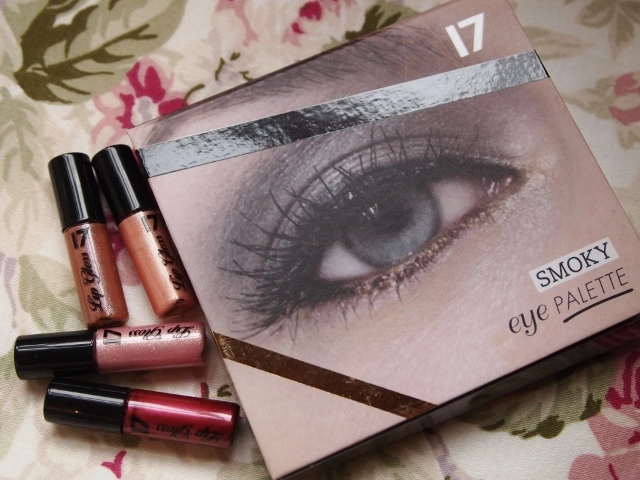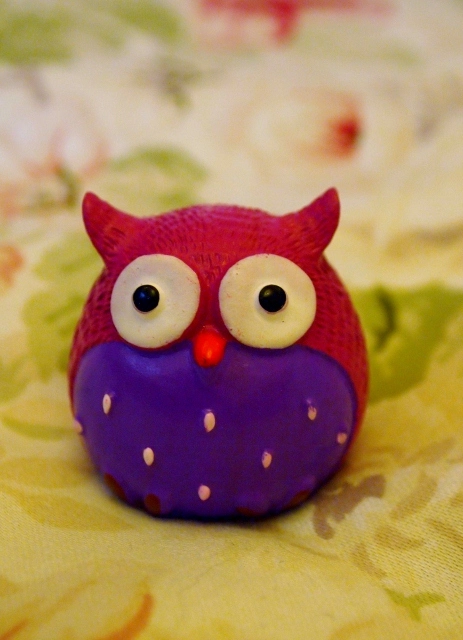 I didn't get much make up this year, but my cousin gave me 17's Smoky Eye Palette and a few little 17 lip glosses.  The red gloss is gorgeous!  The guy at the bottom is a rather cute owl lip balm.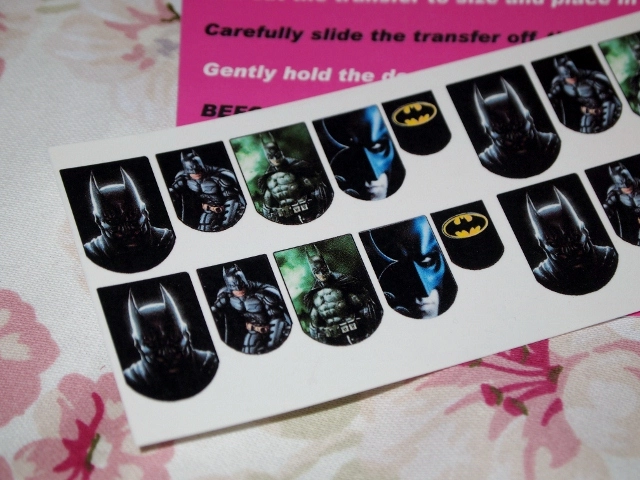 How amazing are these?!  My fiancé's sister gave me these Batman nail transfers.  I was so excited when I opened them and I cannot wait to give them a go.  Definitely expect a review of these soon.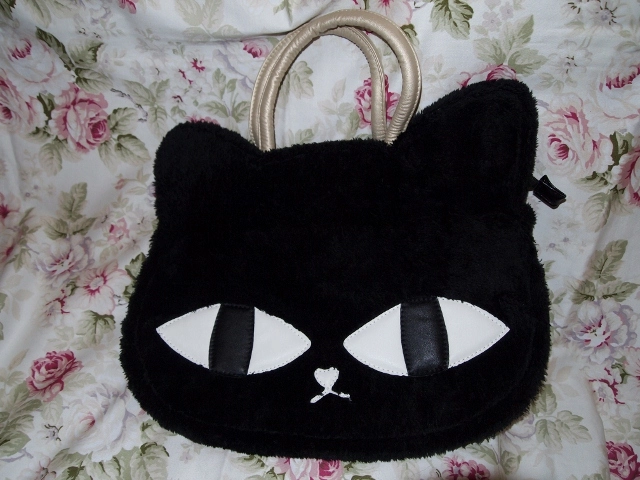 This cat bag from my mum was one of my favourite gifts this year.  It's big and furry and very soft – it needs to stop raining now so I can use it!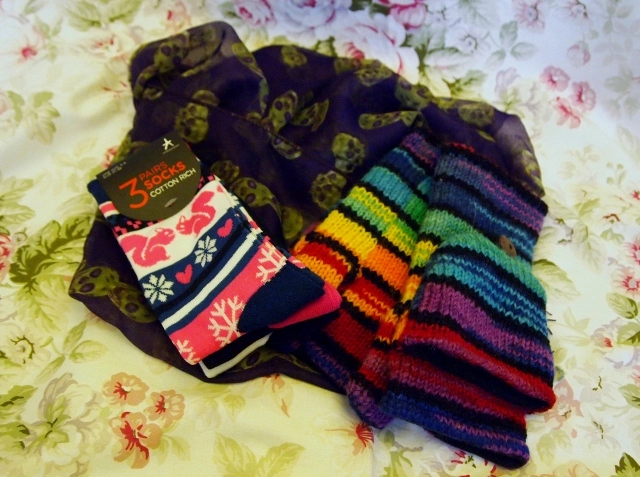 Christmas wouldn't be Christmas without a scarf, gloves or socks, and this year I got all three.  The scarf is purple with green skulls and is nice and light – ideal for spring.  The socks have squirrels on them, one of my favourite animals, and the rainbow mitten gloves are SO SNUGGLY – win!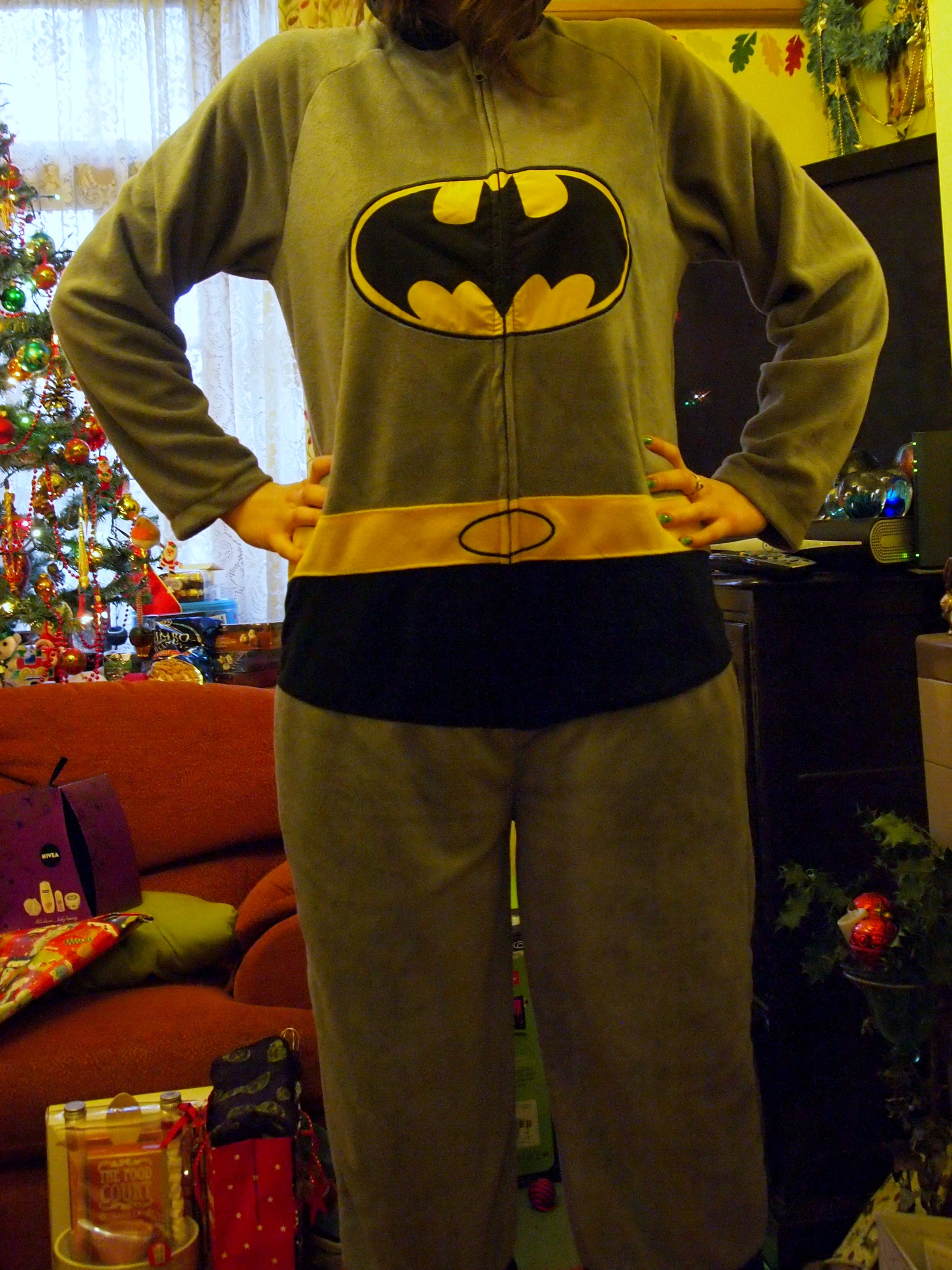 Not the best photo in the world but my mum got me a BATMAN ONESIE!  Amazing, right? <3
A massive thank you to everyone who spoilt me this year, I am extremely grateful.  Did you get anything fashion and beauty related for Christmas this year?  I'd love to see your hauls too!
Naomi x