Posts tagged
Kawaii
5
Earlier this week I received a very special delivery in the post from a fantastic independent jewellery brand called TrueCutie.  TrueCutie is owned by Chatch, who has been making and selling cute, kawaii inspired jewellery and accessories since 2011, and she is extremely talented.  Chatch and I had been talking on Twitter, and she offered to create a piece for me to review based on my suggestions, and what I gave her to work with was bats and cats.  In no time at all, Chatch had worked her magic and made me an absolutely gorgeous Batcat hybrid necklace, and I couldn't be happier with him!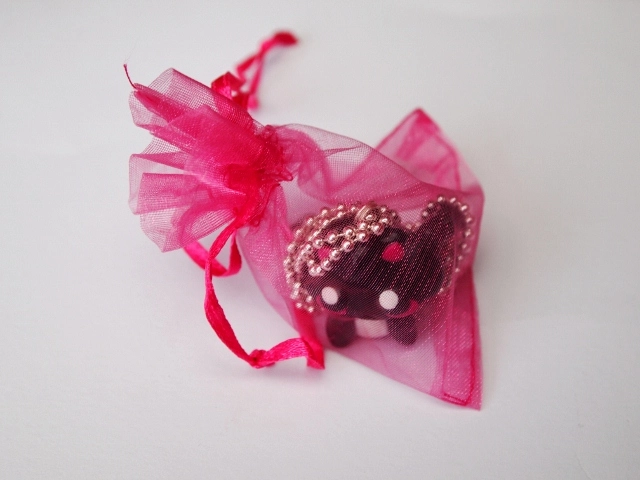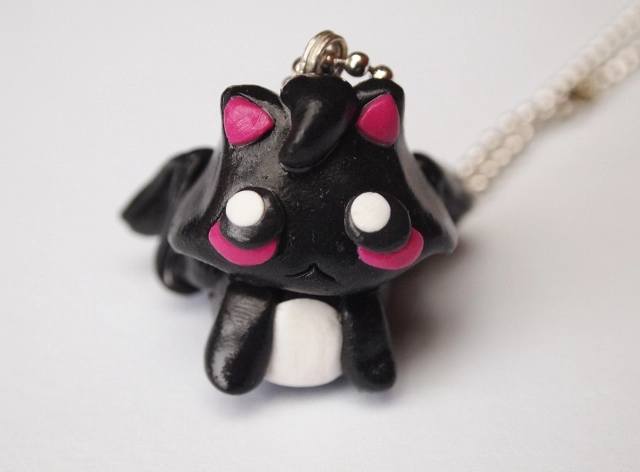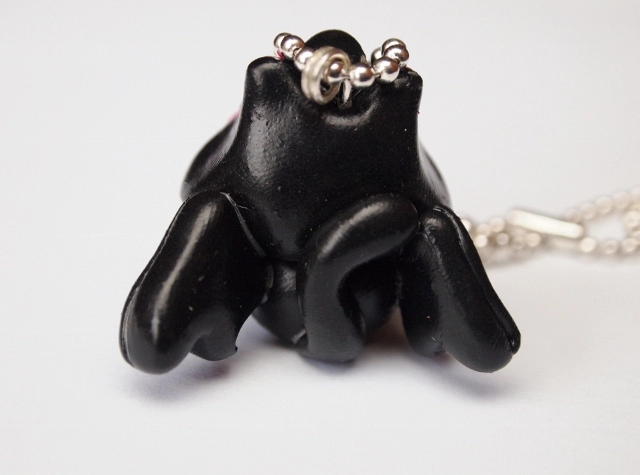 Batcat is extremely well made, and it is obvious that Chatch puts a lot of love and care into her work.  He is also very detailed, with heart melting eyes, blushing cheeks, pink ears, a quiff of hair and a curly tail, all of which add to the little guy's cuteness.  The pendant is quite large (around 1 inch high and 1.5 inches wide), and comes on a 24 inch chain, so it really makes a statement.  I really like how the necklace sits too, as the angle of the bat wings keep Batcat straight, and the length of the chain means he hangs quite low.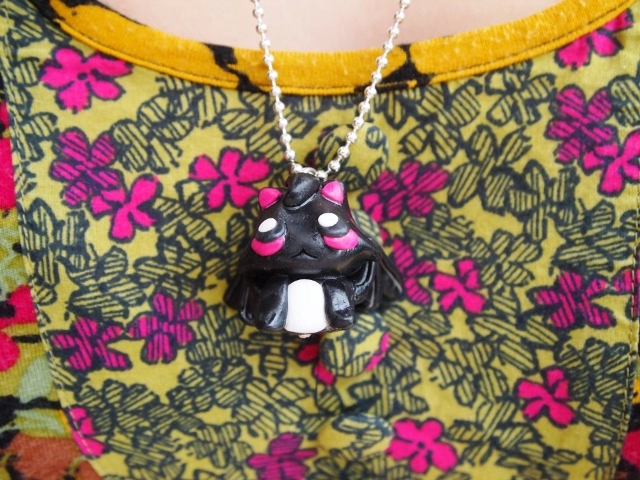 The necklace is also really versatile.  I think it looks great with bright, colourful clothing, such as the dress pictured above, but it also works well with plain outfits and helps to jazz them up a bit, adding a fun, quirky edge.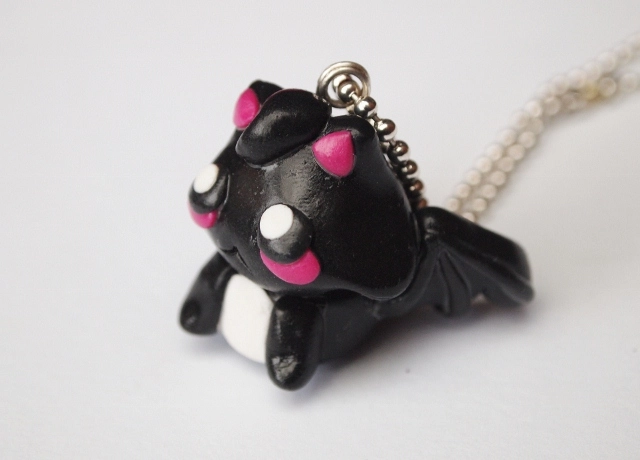 Because Chatch's accessories are all handmade, they are all unique.  She is also happy to do commissions so you really can have a one of a kind piece that is special to you, which is hard to find these days in a world of high street monotony!  Every time I wear Batcat I get so many compliments, and people always ask me where I got him from because they've never seen anything like him before, which is what I love about wearing individual pieces.  I just love him so much!
If you want some TrueCutie goodies for yourself, or as a gift for a loved one, you can view the TrueCutie Etsy shop here.  Everything is so reasonably priced (ranging from £2 to around £15), and if you're looking for a commission you can get in touch with Chatch at cgulashart@gmail.com.  You can also find TrueCutie on Facebook, Twitter and Pinterest, and Chatch will be holding a stall at London Comic Con in May for the first time, which is really exciting!  Chatch is a lovely, friendly girl and her products and service are amazing, so please help support a very gifted maker.  She'll be making more hybrid pieces soon too, so keep an eye out for those.
Here are a few of my favourite pieces from the TrueCutie Etsy store.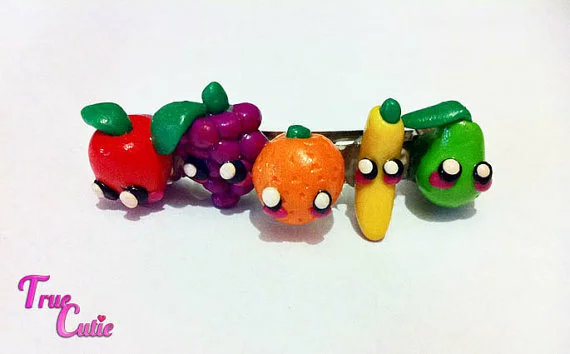 Five-a-Day Fruity Hair Clip – £12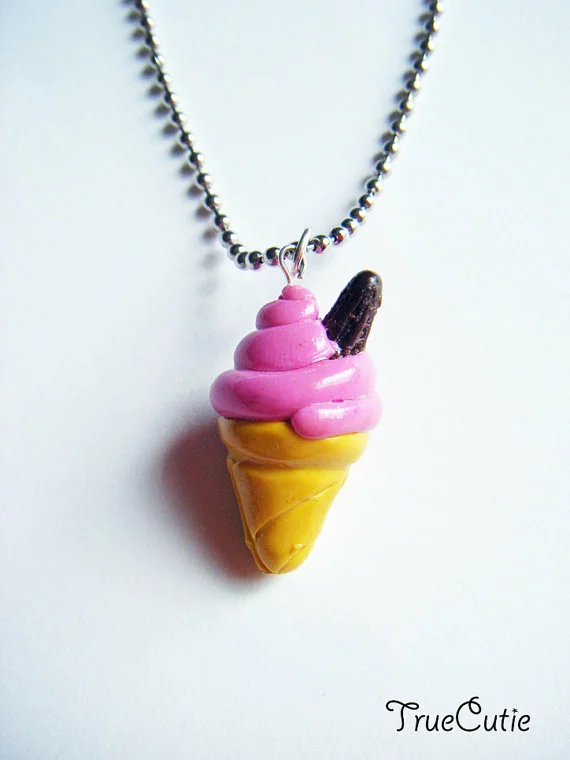 Strawberrylicious Ice Cream Cone Necklace – £8.50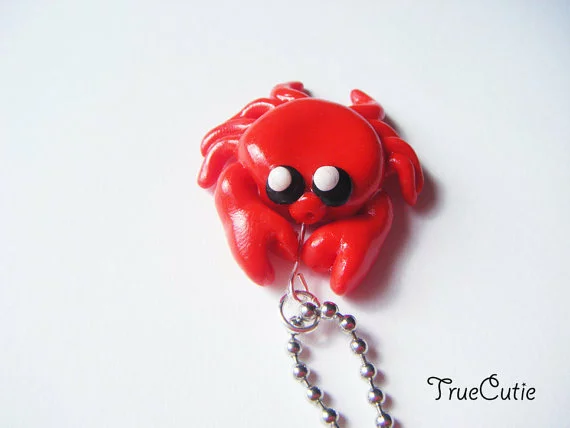 Red the Crab Necklace – £7.50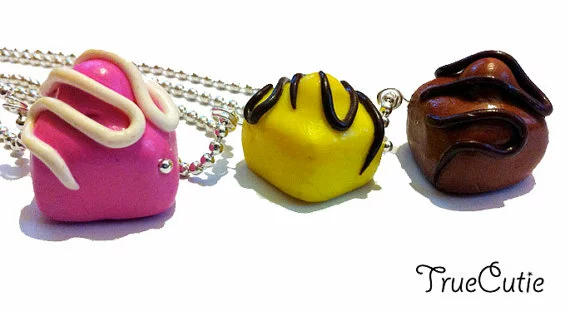 Fondant Fancy Necklace – £10
Which TrueCutie piece do you like best?
Naomi x