Posts tagged
Cat
1
With only three sleeps to go until Christmas Day, I'm sure we've all got our shopping pretty much done and dusted by now.  But have you forgotten anyone?  What about your pets?  I always, always buy my pets a couple of little treats at Christmas, and this year I was kindly gifted a few bits and pieces by Pets at Home to give to my cats, Moo and Moth.  Here's what they received, and here's what the cats think of them…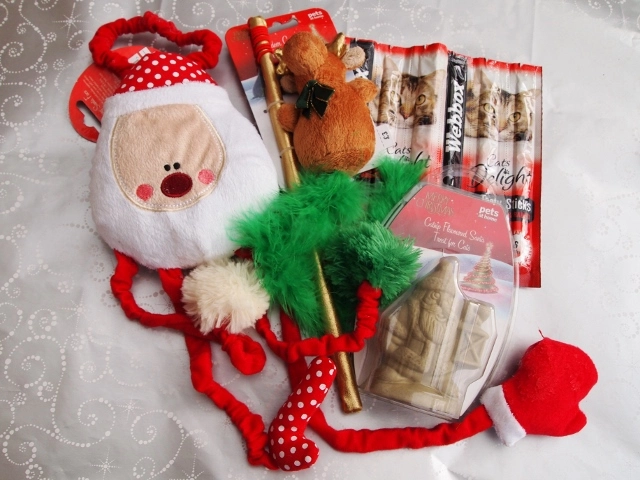 Door Hanging Santa Face – £6.00 / Reindeer Cat Teaser – £3.00 / Webbox Cats Delight Tasty Sticks – £1.00 / Catnip Flavoured Santa – £2.50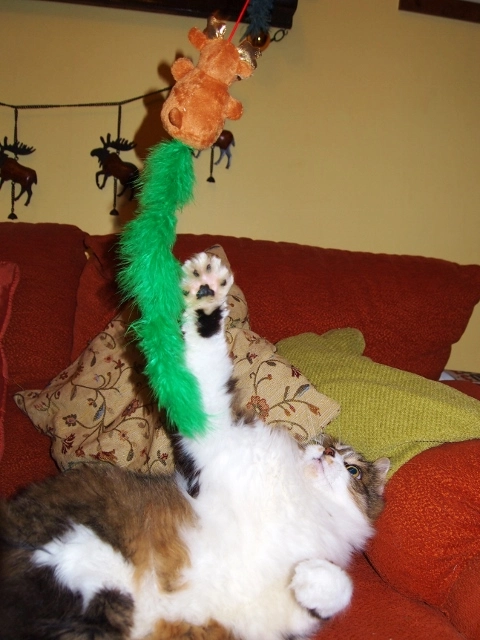 Moth always loves chasing anything dangly, so her favourite toy is the Reindeer Teaser, even if she's too lazy to get up off the sofa to play with it!  This toy seems quite robust so hopefully it will last a bit longer than their toys usually do, and at £3.00 it's reasonably priced too.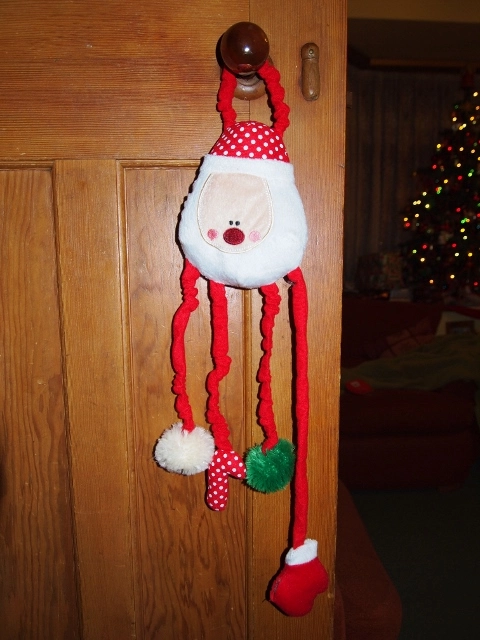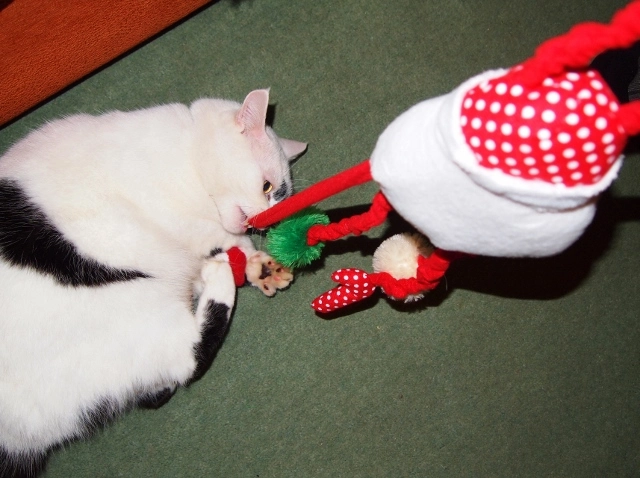 The Door Hanging Santa Face is a firm favourite with Moo, although we aren't too keen on having his claws near the wooden door, so we hold it up for him instead!  This toy is quite large and has multiple, well made strands hanging from it that the cats love to attack, as you can see.  This one costs a bit more at £6, but given its size and quality it's well worth it.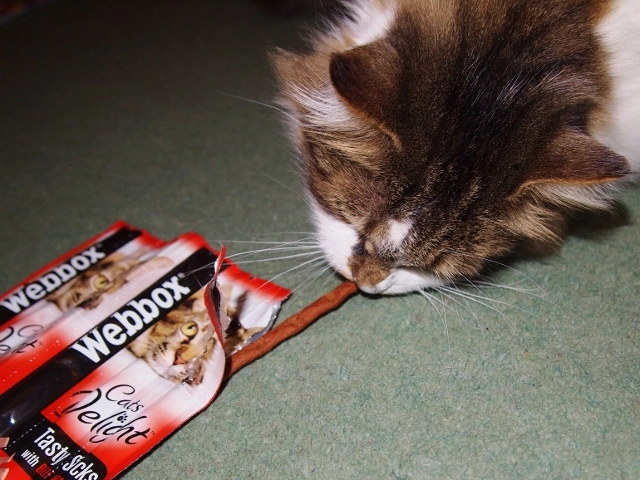 The cats have had these Webbox treat sticks before and they always enjoy them.  They even pull them out of the packet themselves if you open it for them first!  I can't find these on the Pets at Home website but I think they come in at £1 a pack, which if you don't want to spend much is ideal.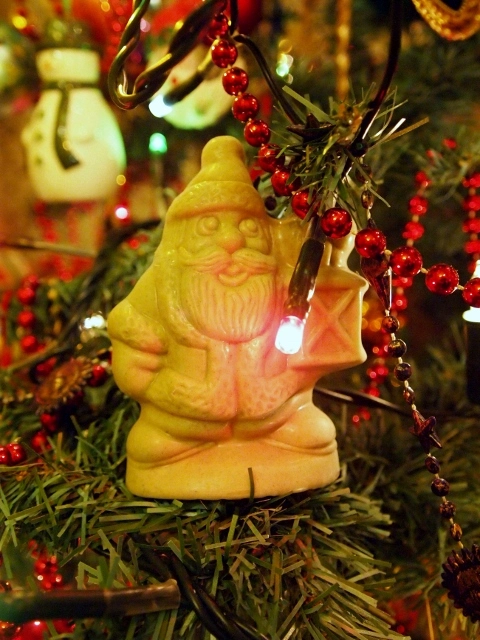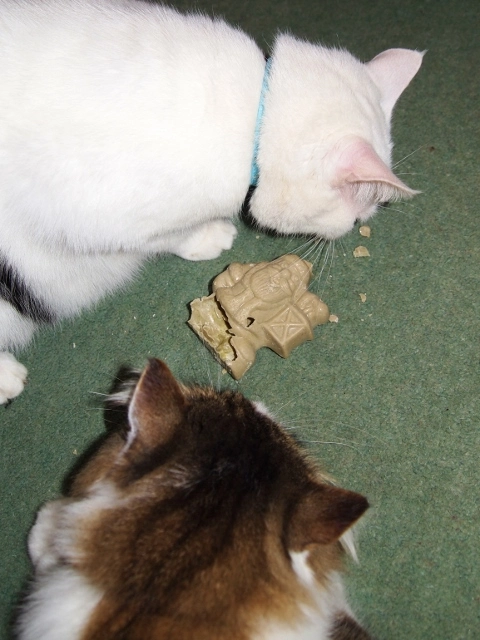 When I first opened this Santa treat all hell broke loose!  It's catnip flavoured and the cats could smell it straight away, and were all over the packaging whilst I photographed it.  When I gave it to them they pounced on it and had a nice little munch before I took it away from them.  They can have more of that at a later date!  These are £2.50 each and they're a good size, and will last a while if you limit how much you give at a time.  It's such a good idea too, being able to give your pet a 'chocolate' santa at Christmas along with the rest of the family.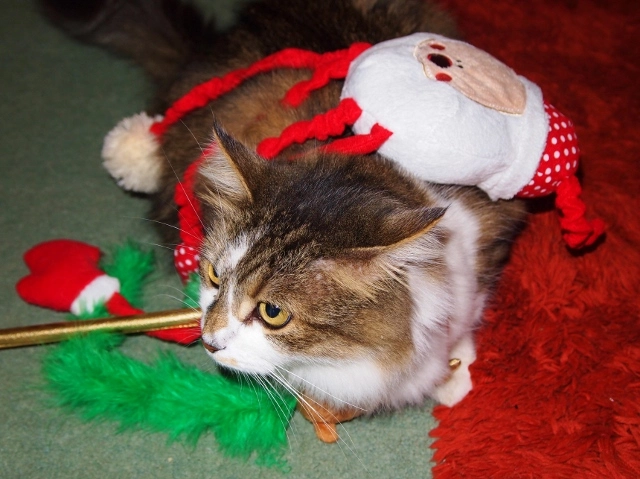 Pets at Home also have a fab Cat Christmas Stocking available for £5.00, which contains a few toy mice, balls and pom-poms, two packets of treats and a carton of cat milk, as well as other gifts for cats, dogs and small pets, to suit all budgets.  So, if you still need to pick up some Christmas presents for your pets, Pets at Home is the place to go!
Naomi x
*These Pets at Home cat Christmas gifts were sent to me for review purposes.  All opinions expressed are honest and my own.*