Posts tagged
Sunshine
2
Today my fiancé and I visited Foxton Locks with my sister and her boyfriend.  Foxton Locks are ten canal locks on the Leicester line of the Grand Union Canal, and the whole area is so lovely and green.  I've always enjoyed visiting the Locks, ever since I was a child, but today's trip was extra special as it was the first time my fiancé had been.  We all had a nice time and had a little picnic whilst we watched the boats go by, before going for a walk along the canal paths.
As April's weather is usually unpredictable, I thought layers would be best, so I wore my favourite Primark skater dress (which is becoming a Spring wardrobe staple of mine), and teamed it with my trusty faux leather biker jacket and some basic leggings.  Over this I wore an oversized but light floral skull scarf which I thrifted last year, for an extra bit of warmth if necessary.  As it happens, the weather was gorgeous and the sun was shining, but luckily it didn't get too hot.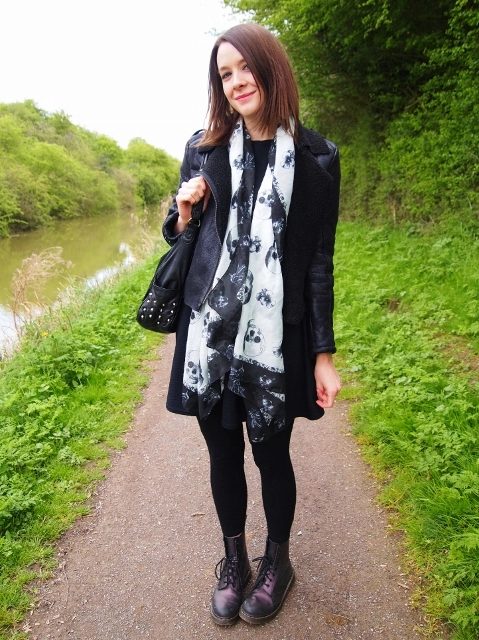 Primark Faux Leather Biker Jacket / Primark Faux Leather Cap Sleeve Skater Dress / Primark Leggings / Dr Martens 1460 W Purple Shimmer Boots / Abandon Floral Skull Scarf (thrifted) / Topshop Leather Stud Bag (thrifted)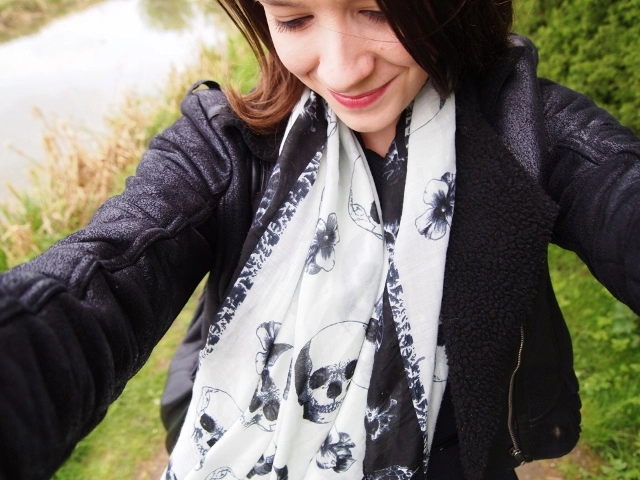 As I knew we'd be walking a lot, I thought it best to throw on my Dr Martens, which was definitely the right call, and I also took another thrifty find of mine – my Topshop leather stud bag.  The perfect size to carry my camera and picnic food.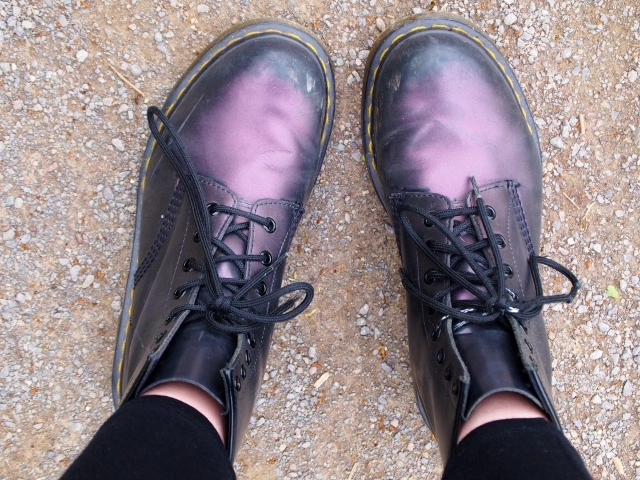 I'm so pleased that Spring is finally underway as I love being out and about enjoying the nice weather, and today was a great opportunity to do so!  Have you been taking advantage of the sunshine lately?
Naomi x
6

On Monday I was nominated for The Sunshine Award by the lovely Adelina!  Her blog is pretty great and I recommend you give it a read some time

Now I'll be honest, I'm not really sure what this award is for but I find this kind of thing quite fun, so here are the rules:
° Include the Award's logo in a post on your blog.
° Answer 10 questions about yourself.
° Nominate 10 other bloggers.
° Link your nominees to the post and comment on their blogs letting them know they have been nominated.
° Share the love and link the person who nominated you.
So here are my answers to the questions…
1. My favorite color : Purple, but you've probably guessed that by now if you read regularly!
2. My favorite animal : I have a few favourite animals, namely bats, cats, owls and donkeys.
3. My favorite number : I like the number 14 as my birthday is on the 14th of February, but I also have a thing about the numbers 17 and 25.  I always seem to look at the clock at 17:25!
4. My favorite drink : Boring I know, but I mostly drink water.  However, on a hot day I usually crave Coca Cola out of a cold glass bottle… Bliss!!  Oh and I'm partial to a cup of tea every morning.
5. Facebook or Twitter : Twitter, definitely.
6. My passion : Literature… Both reading it and writing it

7. Prefer giving or getting presents : I really love putting together thoughtful presents for people, but I also love receiving presents!
8. My favourite pattern : Spirals.  I even have one tattooed on the side of my left foot.
9. My favorite day of the week : Other than the obvious weekend days, for some reason I quite like Tuesday.
10. My favorite flower : Roses, seeing as I'm a Valentine baby!
My ten nominees are going to be ten of the blogs that I read and enjoy regularly –
2. Mo' Adore
4. nailsNAILED
10. Nonfashionista
Thanks for reading!
Naomi x
UPDATE: Amanda over at Mae's Beauty Reports managed to find out that "The Sunshine Award is awarded to bloggers whose positivity & creativity inspires others in the blog world" – very true for all of my nominees!