Posts tagged
Sun
2
Today my fiancé and I visited Foxton Locks with my sister and her boyfriend.  Foxton Locks are ten canal locks on the Leicester line of the Grand Union Canal, and the whole area is so lovely and green.  I've always enjoyed visiting the Locks, ever since I was a child, but today's trip was extra special as it was the first time my fiancé had been.  We all had a nice time and had a little picnic whilst we watched the boats go by, before going for a walk along the canal paths.
As April's weather is usually unpredictable, I thought layers would be best, so I wore my favourite Primark skater dress (which is becoming a Spring wardrobe staple of mine), and teamed it with my trusty faux leather biker jacket and some basic leggings.  Over this I wore an oversized but light floral skull scarf which I thrifted last year, for an extra bit of warmth if necessary.  As it happens, the weather was gorgeous and the sun was shining, but luckily it didn't get too hot.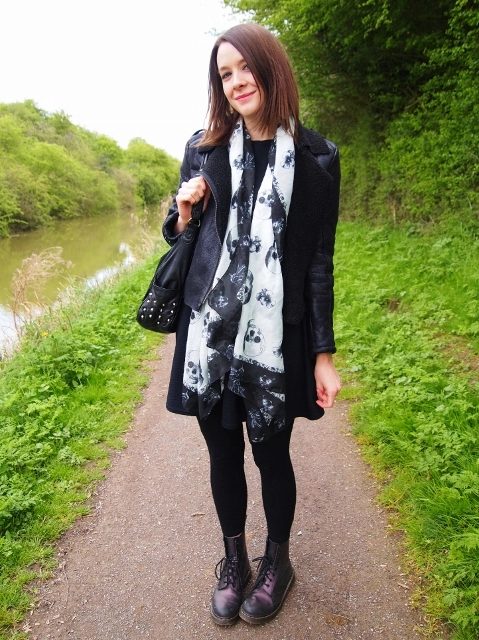 Primark Faux Leather Biker Jacket / Primark Faux Leather Cap Sleeve Skater Dress / Primark Leggings / Dr Martens 1460 W Purple Shimmer Boots / Abandon Floral Skull Scarf (thrifted) / Topshop Leather Stud Bag (thrifted)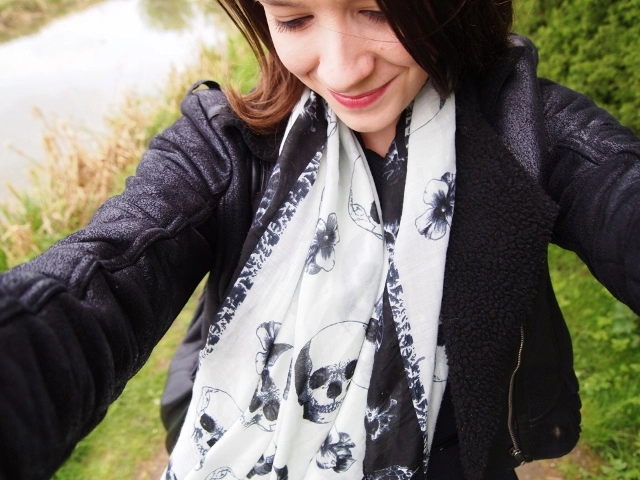 As I knew we'd be walking a lot, I thought it best to throw on my Dr Martens, which was definitely the right call, and I also took another thrifty find of mine – my Topshop leather stud bag.  The perfect size to carry my camera and picnic food.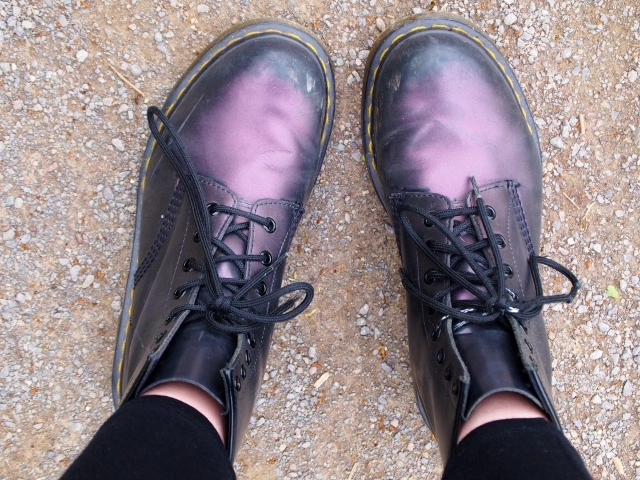 I'm so pleased that Spring is finally underway as I love being out and about enjoying the nice weather, and today was a great opportunity to do so!  Have you been taking advantage of the sunshine lately?
Naomi x
0
Evening everyone, I hope you've all been enjoying the Great British summer so far.  I'm not usually a sun worshipper, but I've actually been really enjoying the hot weather this year…  Probably because it's been so long since we last had a bit of sun!  Get ready for some good ol' summer storms though (my favourite!), they're on their way.
On a different note, I can't quite believe it's been more than a month since I last posted on here.  I guess that just shows how busy I've been though, as I'm not usually one for abandoning my little blog.  I've missed it, and I've missed you too!  Lately my weekdays have been filled with the monotony of writing my postgraduate dissertation, which is twice as long as the undergraduate one I did two years ago.  So as I'm sure you can understand, when considering the planning, supervisor meetings, intensive research and 20,000 word limit I have to reach by September, I'm left with very little free time for other forms of writing.  I'm getting through it though, so hopefully I'll be around a bit more in the near future, and things will definitely be back to normal in less than two months time.
It's not all been hard work though, I've also been having a lot of weekend fun, some of which I'll tell you about now…
30th June – Race for Life
At the end of June I ran the Race for Life in memory of my Grandad, with my sister, her best friend, and her best friend's cousin.  It was a fairly hot day and we were all expecting to walk most of it, but we surprised ourselves and ran around 4 kilometres, on and off, of the 5 kilometre distance, speed walking the rest.  We all had a lot of fun and the atmosphere on the day was really lively and exciting.  I managed to raise over £110 in total for Cancer Research UK, so a big thank you goes out to everyone who sponsored me.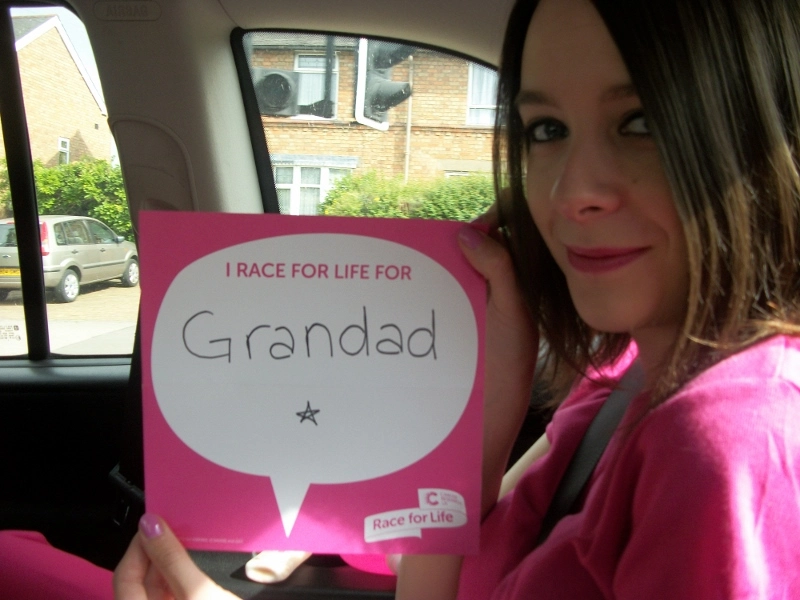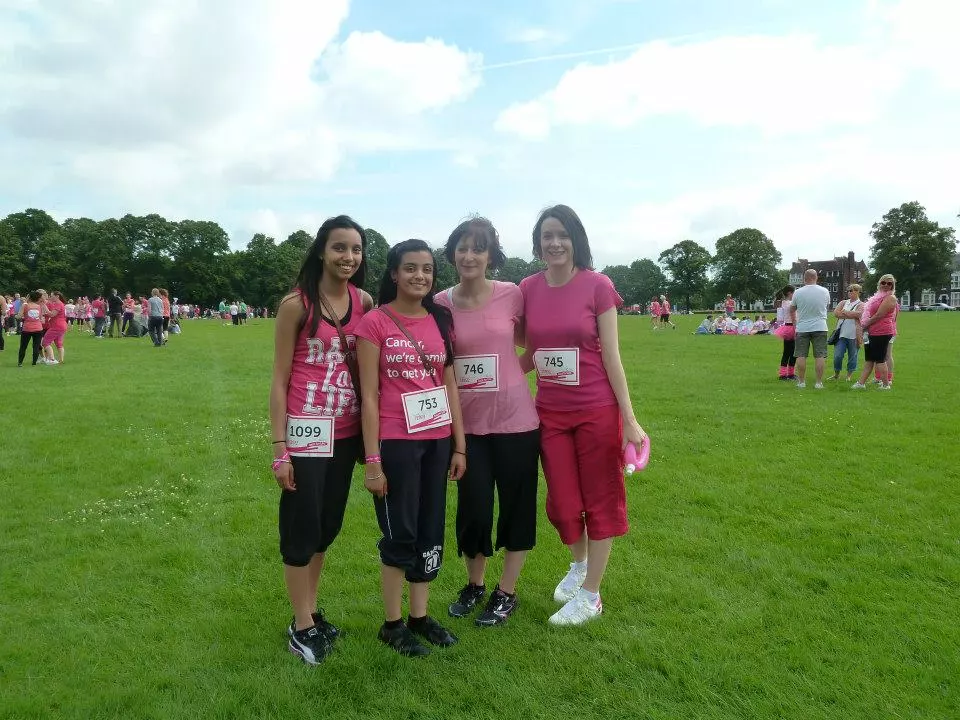 13th July – Friend's Wedding
Last weekend my partner and I went to our friend's wedding reception, and it was lovely and quirky, and all outside.  There was a vintage tea party in the afternoon, a curry buffet at night, pick n mix sweets to help yourself to, great music, sunny weather, huge garden games (I particularly enjoyed the big buzzer game) and brilliant company.
I didn't get any good pictures of my outfit, but this is what I wore…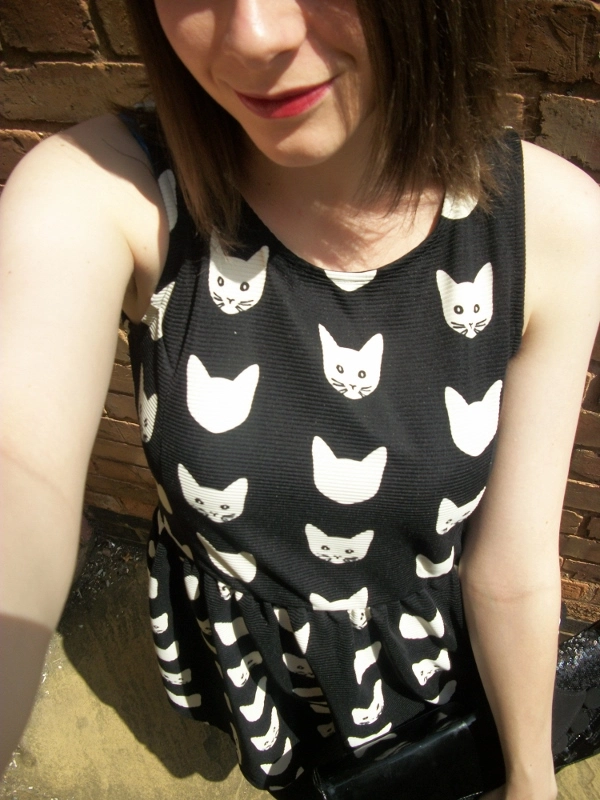 Cat Dress – H&M – £14.99
Clutch – Irregular Choice – £7.00 (from TK Maxx)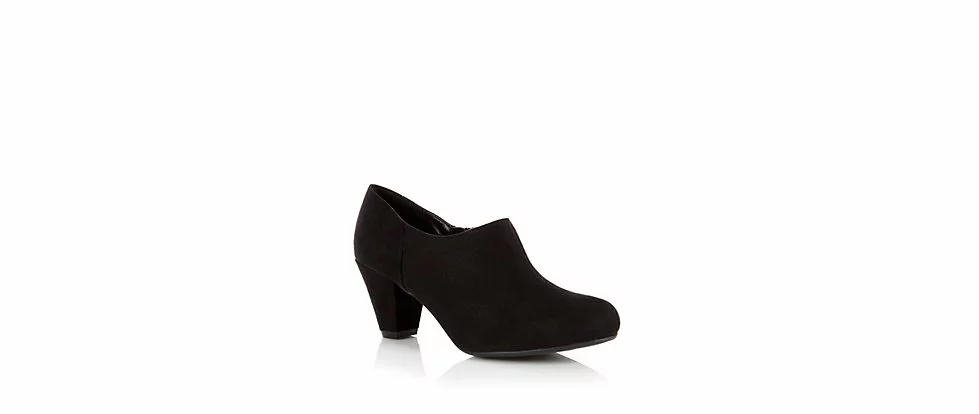 Black Suedette Shoe Boots – New Look – £15.99
20th July – Tramlines Festival
Yesterday, my dad, my partner and I headed up to Sheffield for the Tramlines Festival.  The festival happens every year and is usually free, but it cost £6 this year which is still amazingly cheap.  We went specifically to see two of our favourite bands – Amplifier and 65daysofstatic – but we also saw a few other bands which we enjoyed.  The highlight of the day for me was 65daysofstatic's Sleepwalk City installation at the Millennium Gallery, which involved a half hour live set accompanied by projected videos and surround sound.  According to the Tramlines website, the installation explored 'submersion, noise, and the collapse of everything', and it was absolutely INCREDIBLE.  Such an awe-inspiring experience that I'd love to repeat.  Amplifier were as excellent as ever too, and they sang one of my favourite songs which is always a bonus.
Here are a couple of photos from the day that my dad took on his iPhone…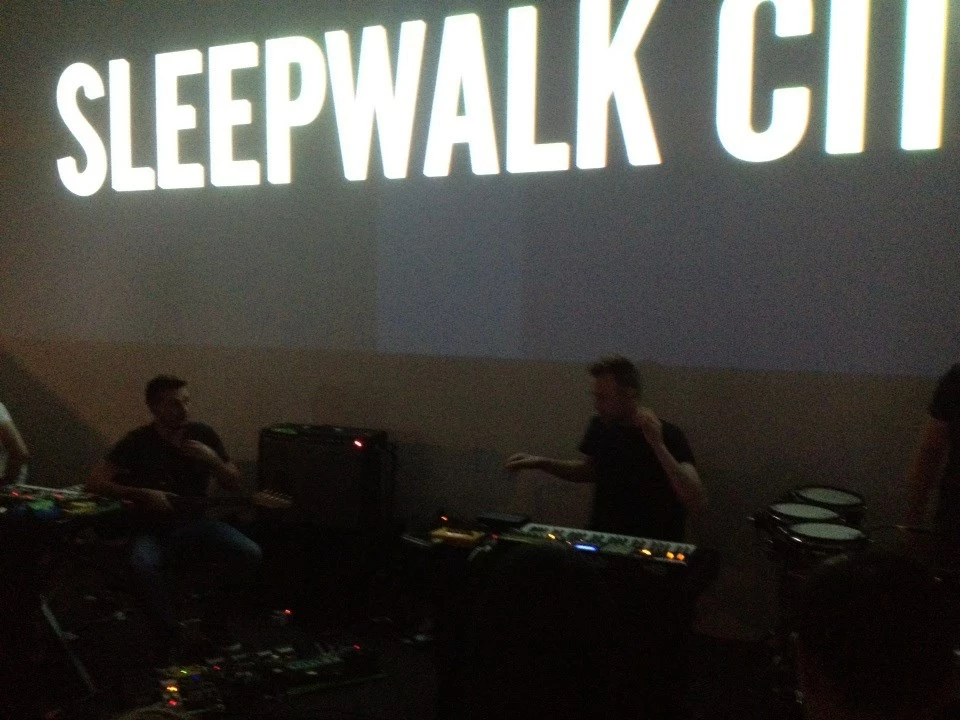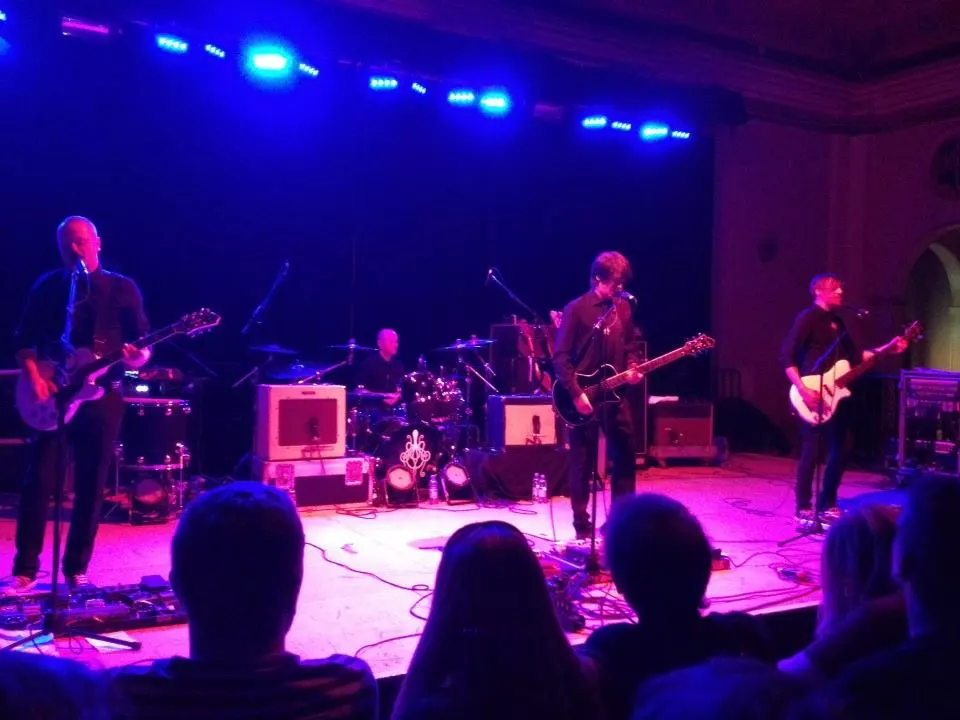 So that's me!  Busy, busy, but I have a backlog of products to review, a few Thrifty Finds to share with you and potentially a VIP event to attend, so keep an eye out for lots of exciting posts coming to Bewitchery soon.
What have you been doing with your summer so far?
Naomi x
2
Hello everyone!
After four days of camping near the beautiful moors of Dartmoor I am finally back in the shire.  I had a great time on my little trip with my dad and sister – I've been camping every year since I was born and I really love being close to nature and away from all the stresses of the city.  We spent a good portion of the holiday hiking on the moors.  We found a couple of stone circles and saw lots of wild horses, and of course some stunning views…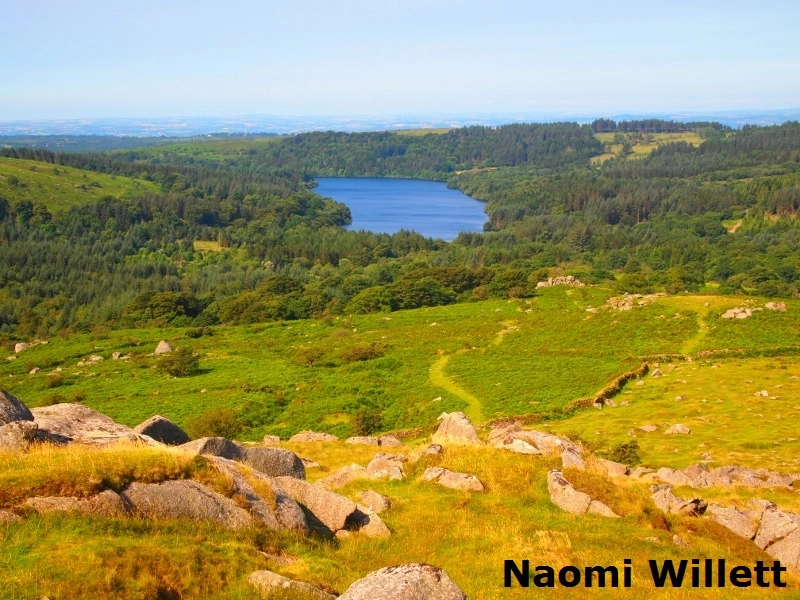 We also spent a day in the beautiful little Cornish town of Boscastle, browsing the shops and sitting on the cliffs overlooking the sea (which was very, very blue).  And, as you do, we ate a lot of decadent meals – not good for the diet but great for the soul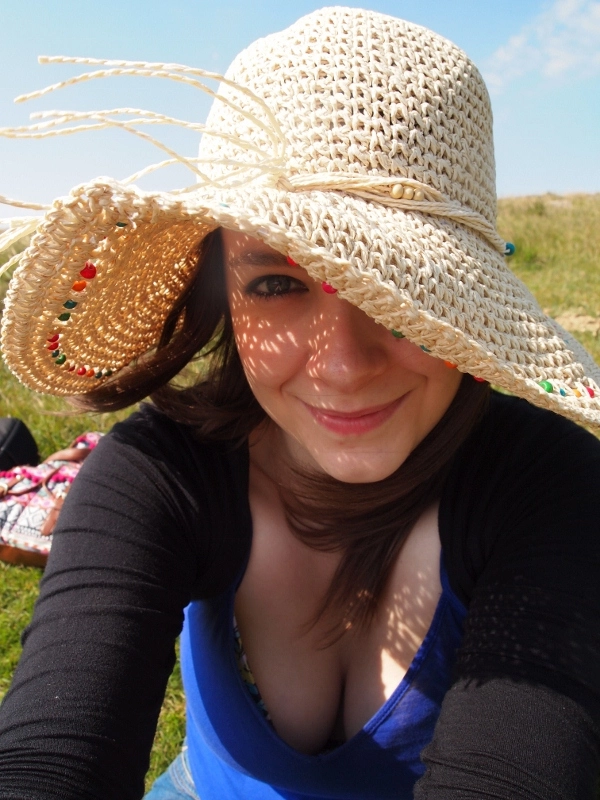 Whilst I was camping it was really hot and sunny – quite unexpected after two months of rain!  I'll admit, I hadn't really thought about buying sun lotion this year because of all the rubbish weather, but I recently received a free sample bottle of Hawaiian Tropic Silk Hydration lotion in the post.  So, before I set off, I chucked it in my suitcase to use if it was sunny… and as I said, it was.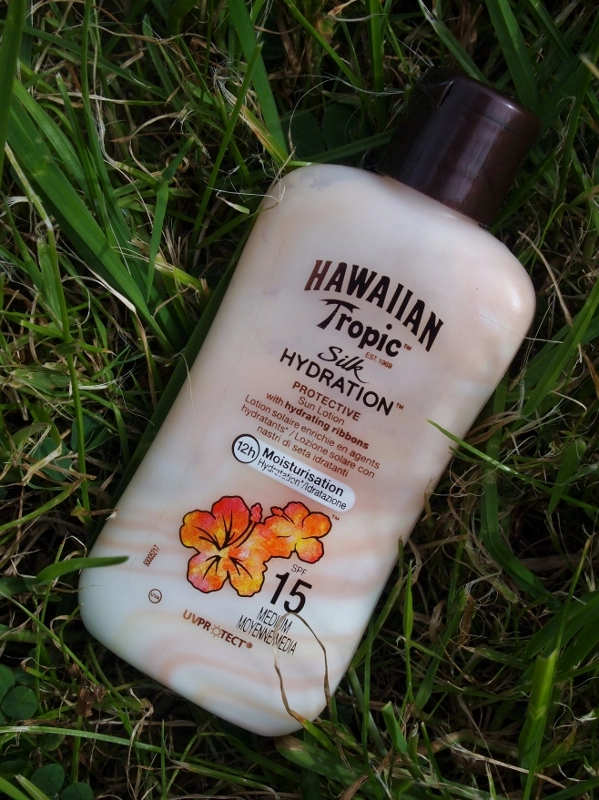 On first impressions I love the look of this lotion.  The flower design on the bottle is pretty and the lotion itself looks different to the boring white stuff you usually see on shelves.  If you look closely, you can see that the lotion in the bottle is white, swirled with orange.  These orange swirls are the 'hydrating ribbons' that the packaging boasts, which are supposed to provide twelve-hour moisturisation.  When you squeeze the bottle the lotion comes out easily and the colours mix into a paler orange shade, as you can see below.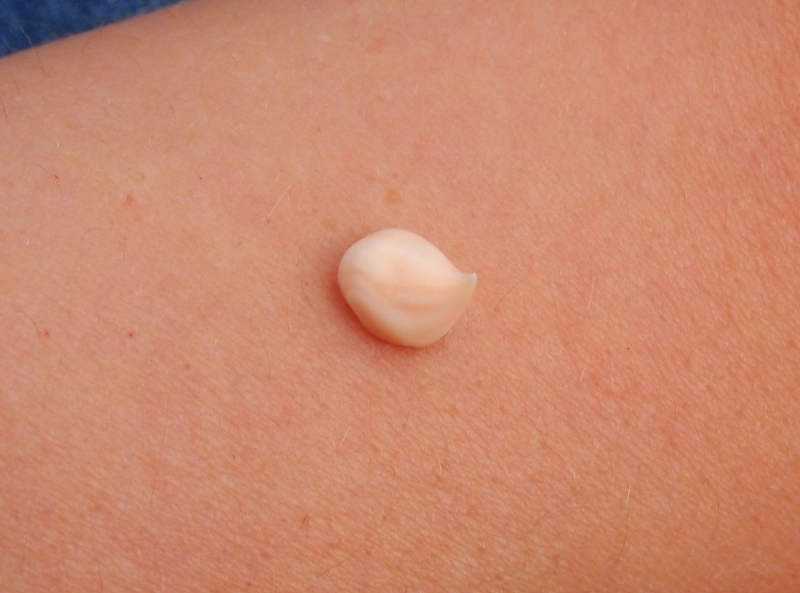 So… does this lotion protect AND moisturise?  In a word, yes!  The lotion is a wonderful consistency – not too runny and not too thick, so it rubs in with ease.  I noticed that it was absorbed very quickly so it didn't leave any streaky white marks and didn't rub off on my clothing.  The lotion has an SPF of 15, so I applied this several times a day to ensure that I was protected at all times.  I usually use SPF 25 or 30, so this did need more regular application, but it's so lovely to apply it didn't matter too much.  As you would expect, I didn't burn whilst using this, not one little bit.  I did get a slight tan on my arms and chest though, but I'm not complaining.  But now for the real test, the hydration factor!  I didn't use any other moisturiser whilst I was camping, which for me is unusual as I suffer from fairly dry skin.  However, the Silk Hydration did just the job

  My skin felt so soft all day and night, even after a shower, and I didn't suffer with any dryness.  I really wish you could buy the moisturising aspect of this on its own to use all year round because it really is impressive.
The absolute best thing about this lotion though is its scent.  It smells so light and fresh…  Slightly fruity but also floral, with a strong creamy overtone of sweet coconut.  The scent lingered on my skin all day, and I couldn't stop sniffing my arm!  Haha.
I would highly recommend this lotion to anybody, especially if you suffer from dry skin and want something hydrating as well as protecting.  I've seen it around in lots of shops, including ASDA and Boots so it's very easy to find, and it has an RRP of £14.99 for 180ml, meaning this 59ml sample bottle is worth about £4.99.  It may be slightly more pricey than other high street sun lotions, but I think the quality of the product reflects the price.  I for one would definitely invest in a bigger bottle.
Have you tried Hawaiian Tropic's Silk Hydration sun lotion?
Naomi x
*I won this product in a 10,000 bottle giveaway and this is an honest review.  I am in no way affiliated with Hawaiian Tropic or any other companies mentioned*