Posts tagged
Theme
2
As my regular readers will know, a few months ago my fiancé and I moved in together.  Since then I've slowly been trying to make the house look more like a home, and though it isn't yet complete (working full-time means very little time to nest!), we're almost there.  As such, I thought it was about time I showed you some of our decor, starting with the living room.
When we moved in the house had been freshly decorated with light brown and white paintwork, and a beige carpet throughout.  Neutral tones aren't usually my thing, but they were easy to work with when it came to adding colour.  The living room has been brightened with purple throws, cushions and curtains, and an ambient orange lamp, but it's the little extras that make it even more homely.
I've always liked small mammals and woodland creatures, and the current trend for such wildlife has meant I've managed to pick up some lovely pieces.  Here are a few of my favourites…
Comfy Cow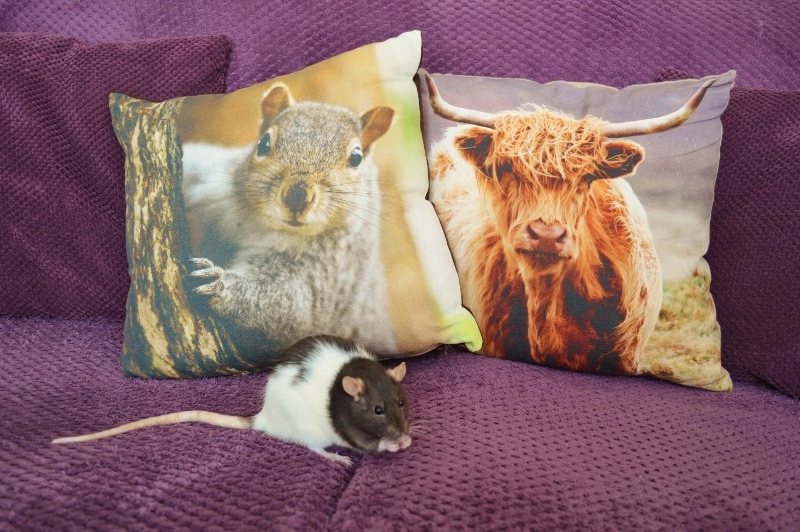 I don't usually like having an abundance of cushions everywhere, but that all changed when I found these awesome animal photo cushions in Asda, for £7 each.  There were several different animals to choose from, but I went for the squirrel, as they're one of my favourite animals, and the Highland cow, as it reminds me of a lovely time spent in the Scottish countryside a few years ago.  These take pride of place on my sofa, and as you can see Miggley approves!
Time for Tea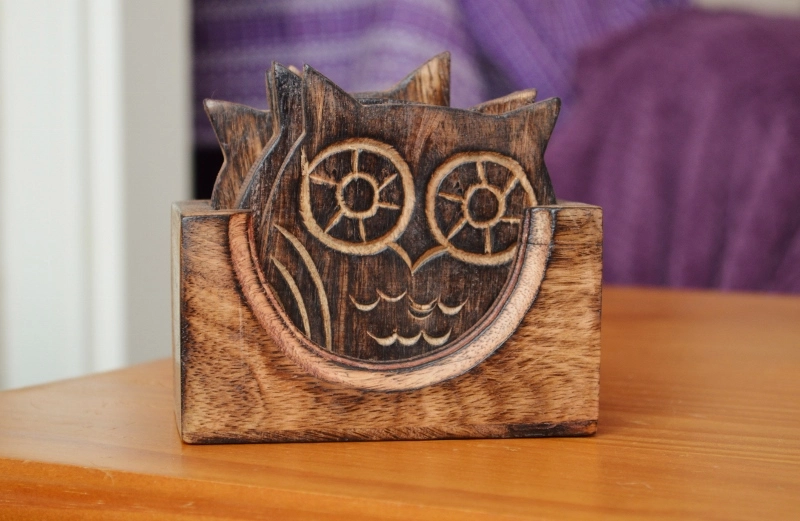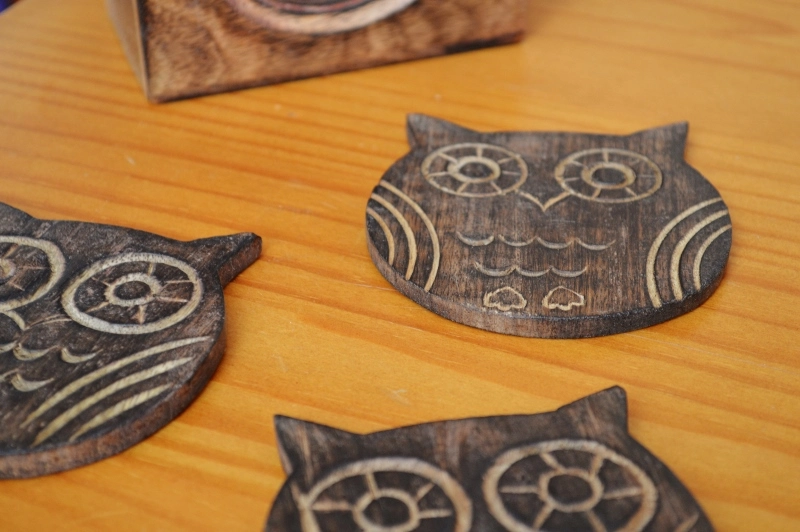 One thing I struggled to find was a nice set of coasters, and then when I was about to give up, I came across these gorgeous Sass & Belle Wooden Owl Coasters from Flamingo Gifts.  There are six coasters in the set (much better than the typical four you usually get!), and they come in a handy stand to prevent clutter when not being used.  The quality and design of the coasters is fantastic, and they look great on my coffee table.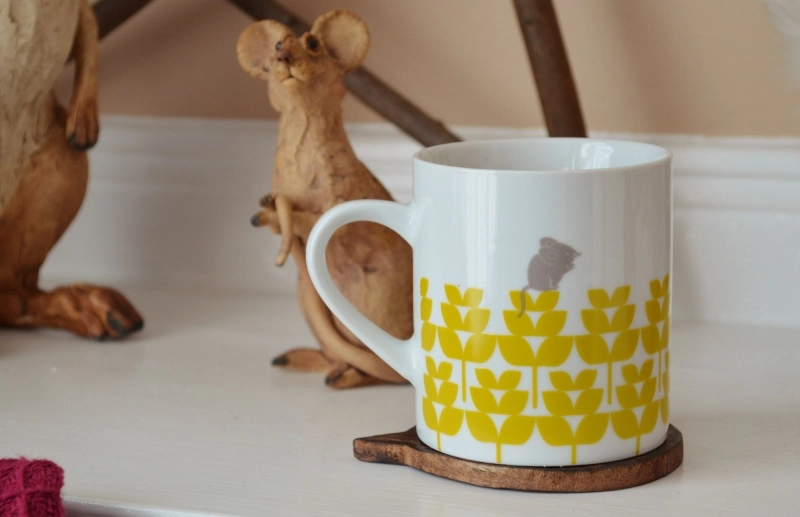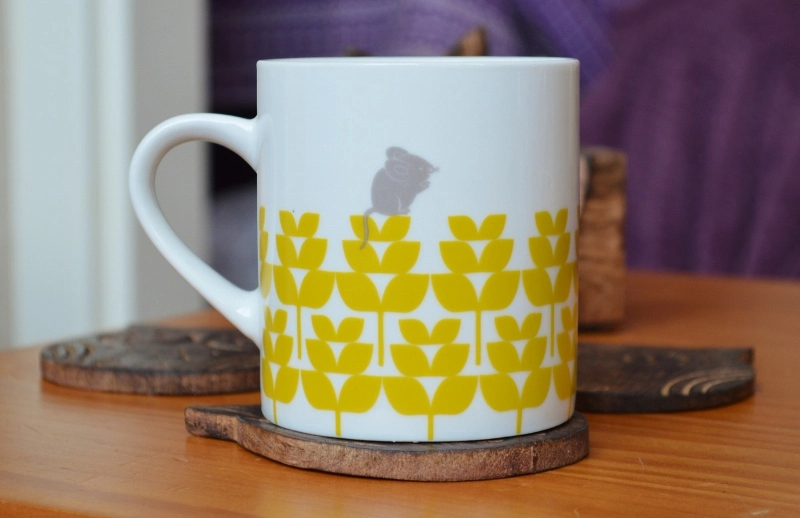 The Abode Mouse & Field Mug is also from Flamingo Gifts, and it caught my eye as soon as I saw it as the little grey mouse reminds me of my Russian Blue rat, Heather.  I prefer a mug to a cup (it holds more tea!), and this is the perfect size for my morning brew.  The simple but eye-catching geometric design is by artist Luzelle van der Westhuizen, and is a good fit for my natural theme.  It would also make a nice present as it comes in a gift box, and costs an affordable £8.50.
By the Fire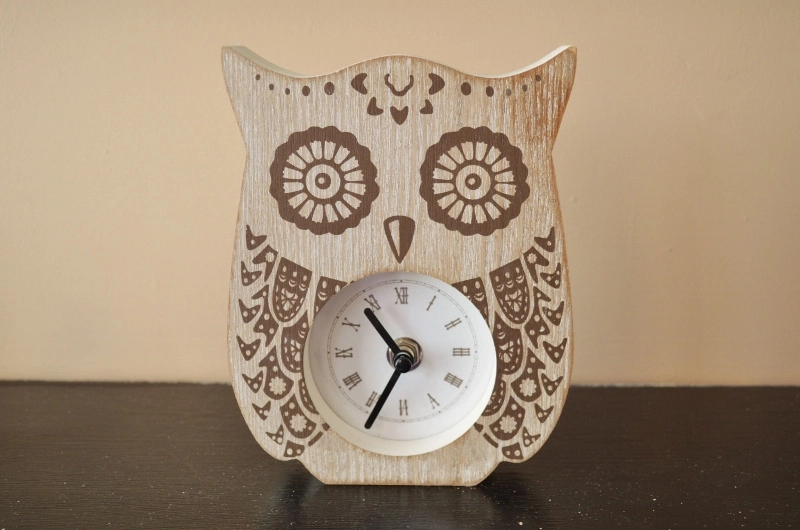 My fireplace features a lot of owls, with the main attraction being this owl clock.  My mum gifted this to me when we first moved in, and I love how it matches the wooden coasters above.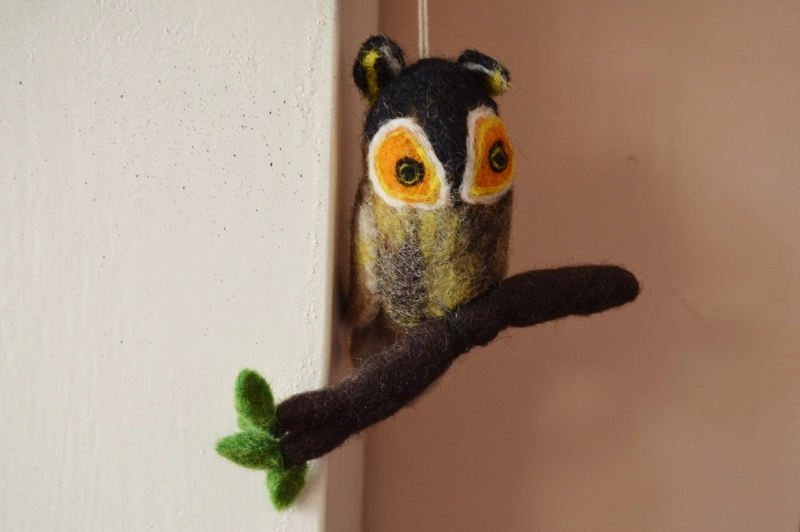 Another of my favourite owls is this lovely felted piece that I bought from a street market in Edinburgh in the summer, during the Fringe.  It took me a while to find the right place for it, but it now has a home at the side of the fireplace.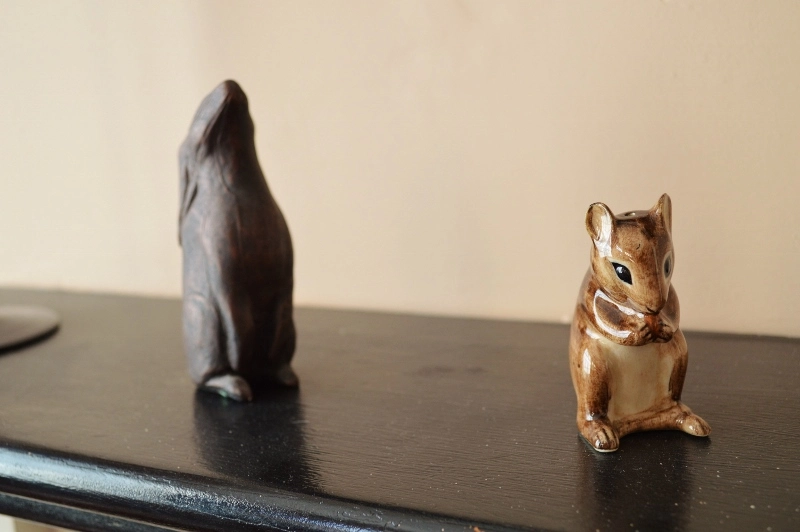 I have two of each of these hares and mice.  I have a thing for hares, and I bought these in Glastonbury about ten years ago whilst on a camping trip.  They're special to me, and it's nice to finally have them on show in my own home!  The mice are actually a salt and pepper set, but I have them on display as ornaments as they remind me of my heart rat Mog (RIP).  Aren't they cute?
The Rat & The Hare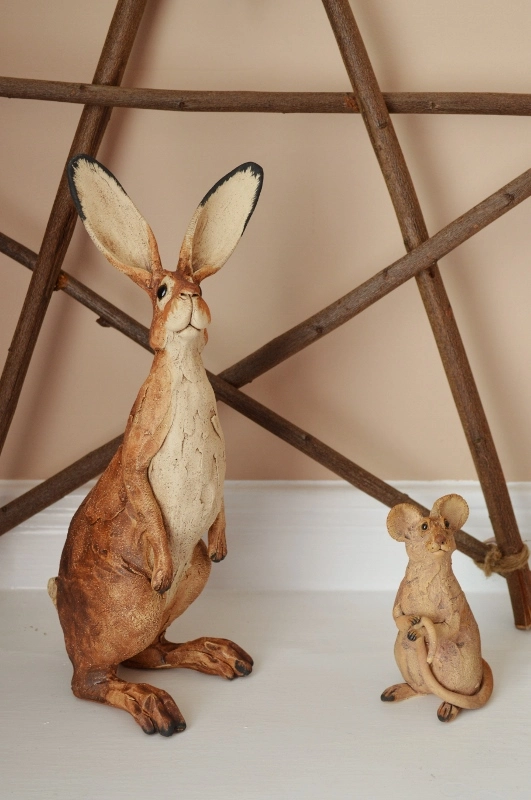 These rat and hare sculptures were Christmas gifts from my dad, and they're incredibly beautiful.  They're by Norfolk-based artist Tracy Whinray, and are wonderfully textured with such expressive little faces.  I think they look great in front of the wooden pentagram, handmade by my step-dad.
What do you think of my woodland theme?
Naomi x
*The Wooden Owl Coaster Set and Abode Mouse & Field Mug were sent to me for review purposes.  All opinions expressed are honest and my own.*
5

In this penultimate Chocolate Treat Week post I will be talking about all things nail related.  I will be sharing my favourite chocolate coloured nail varnish, by Barry M, as well as some new nail art featuring five of my favourite chocolate treats!  See if you can guess what they are.  Oh, and of course there'll be a few words at the end of the post from one of my favourite bloggers, in The Last Rolo.
Nail Varnish… Barry M Nail Paint in 'Chocolate Brown'

Since first discovering them many moons ago, I have always loved Barry M's Nail Paints, so it seemed only natural to include their 'Chocolate Brown' shade in this post.  Like all of their paints, this one has a fantastic formula.  It applies effortlessly easily and leaves no brush strokes or streaking behind, and opaque, even coverage can be achieved in just two coats.  The paint dries impressively quickly too so there's no hanging around for hours waiting for it to dry, and as you'd expect of Barry M it is very long-lasting.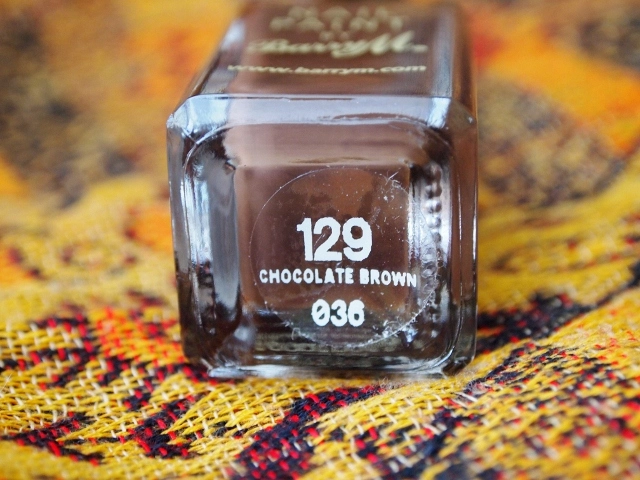 'Chocolate Brown' is a really stunning shade, and it has a high shine, creme finish which gives it a true look of chocolate!  The brown colour is highly pigmented with an undertone of orange so it isn't too dark.  As such, even indoors in dim light it looks rich brown rather than dull black.  I'm sure you'd all agree that 'Chocolate Brown' is perfect for Autumn/Winter 2012 as deep, earthy nail shades are bang on-trend right now.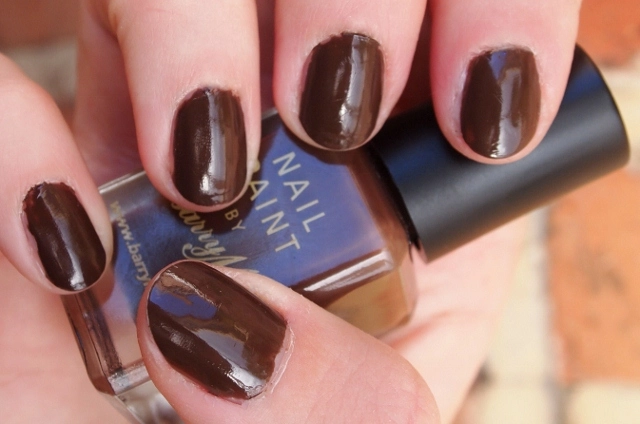 Barry M Nail Paints are available in Superdrug and Boots for £2.99 each, but as far as I know they aren't currently stocking this shade.  However, you can get it even cheaper on a great website I discovered recently called Scentsational.  They are selling 'Chocolate Brown' for £2.95 with free delivery, but if you 'Like' their Facebook page you can get £1 off your order!  That's how I got hold of this shade, so you can definitely trust the website and discount code!
Nail Art… Chocolate Wrappers
After much deliberation about what I would do for a chocolate themed nail art design, I came up with this – the wrappers and logos of five of my favourite chocolate treats!  Can you guess what  they are?

If you said (from left to right) Cadbury's Creme Egg, Terry's Chocolate Orange, Cadbury Twirl, Milky Bar and Maltesers then you are correct!  I had a LOT of fun creating this look and I'm very pleased with the results… Especially the Milky Bar nail!  I surprised myself with how neat and accurate I got the font on that one.  As usual, I used nail dotting tools to draw this design, and the colours I used were:
Avon Nailwear Pro 'Real Red'
Saffron 'Shade 16′ (Purple)
Rimmel 60 Seconds 'Blue My Mind'
Barry M 'Yellow'
Barry M 'Chocolate Brown'
Laval Crystal Finish 'White'
Primark 'Black'
NYC In A Minute 'High Line Green'
Avon Nailwear Pro 'Coral Beat'
Leichner Nail Gloss 'Blueberry'
What do you think?  Which five chocolate bars would you include in this design?
The Last Rolo…
The Last Rolo is where I hand over the last few words of each Chocolate Treat Week blog post to another blogger.  In the run up to Chocolate Treat Week I asked five of my favourite bloggers a couple of questions about their favourite chocolate treats, and today's answers come from Ra of RaRa Reid.
Can you recommend any chocolate scented, flavoured or themed beauty/fashion products?
I would recommend the Soft Coeur masage bar from Lush. It smells incredible and is amazing for your skin. Like most Lush products! It's also heart-shaped which I love.

Lush also have a lip tint called Double Choc. I haven't actually tried this as brown shades don't suit me, but it just smells wonderful! As for fashion, I am a huge fan of kitsch jewellery, especially necklaces. I got a Jammie Dodger necklace a while back from Diamond Lil's and they have a lovely Bourbon Biscuit necklace which I'd also love to add to my jewellery collection.

This is their website. There are plenty of other sites that have similar necklaces to this too.
What is your favourite chocolate treat to eat, and why?
Choosing a favourite chocolate treat is really quite difficult, I love all chocolate!

My absolute favourite has to be a Kit Kat Chunky Peanut Butter, I haven't actually had one for over 2 years now though as Teddi is allergic to nuts. Other than that, I love all the chocolates that I used to have as a child. Like Freddos and Curly Wurlys.

Once again, thank you so much for reading my latest Chocolate Treat Week post.  Please come back tomorrow to read the final chocolate themed post which will focus on fashion and accessories.
Naomi x