Posts tagged
Owls
2
As my regular readers will know, a few months ago my fiancé and I moved in together.  Since then I've slowly been trying to make the house look more like a home, and though it isn't yet complete (working full-time means very little time to nest!), we're almost there.  As such, I thought it was about time I showed you some of our decor, starting with the living room.
When we moved in the house had been freshly decorated with light brown and white paintwork, and a beige carpet throughout.  Neutral tones aren't usually my thing, but they were easy to work with when it came to adding colour.  The living room has been brightened with purple throws, cushions and curtains, and an ambient orange lamp, but it's the little extras that make it even more homely.
I've always liked small mammals and woodland creatures, and the current trend for such wildlife has meant I've managed to pick up some lovely pieces.  Here are a few of my favourites…
Comfy Cow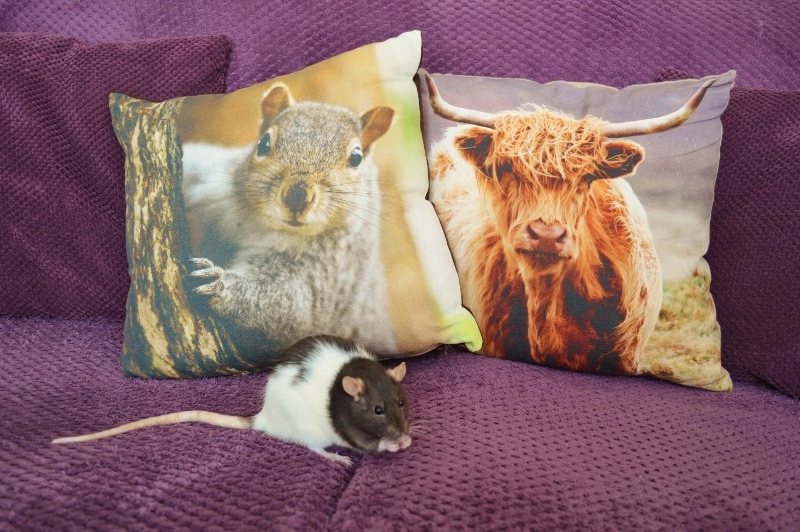 I don't usually like having an abundance of cushions everywhere, but that all changed when I found these awesome animal photo cushions in Asda, for £7 each.  There were several different animals to choose from, but I went for the squirrel, as they're one of my favourite animals, and the Highland cow, as it reminds me of a lovely time spent in the Scottish countryside a few years ago.  These take pride of place on my sofa, and as you can see Miggley approves!
Time for Tea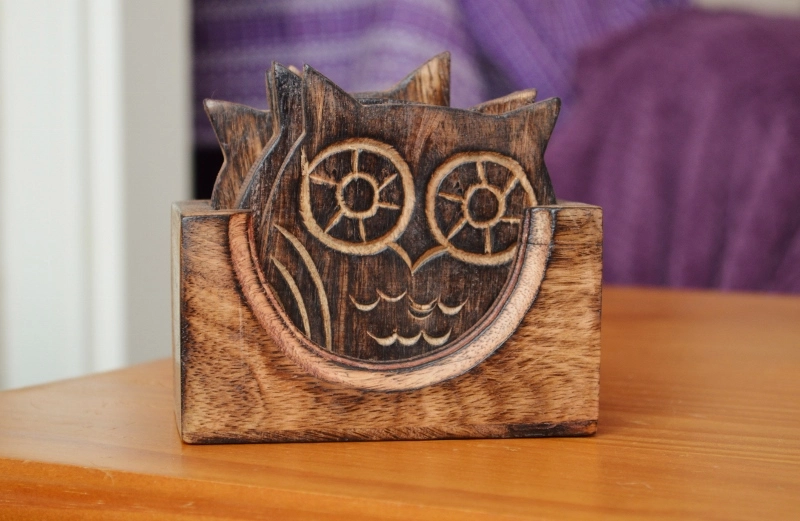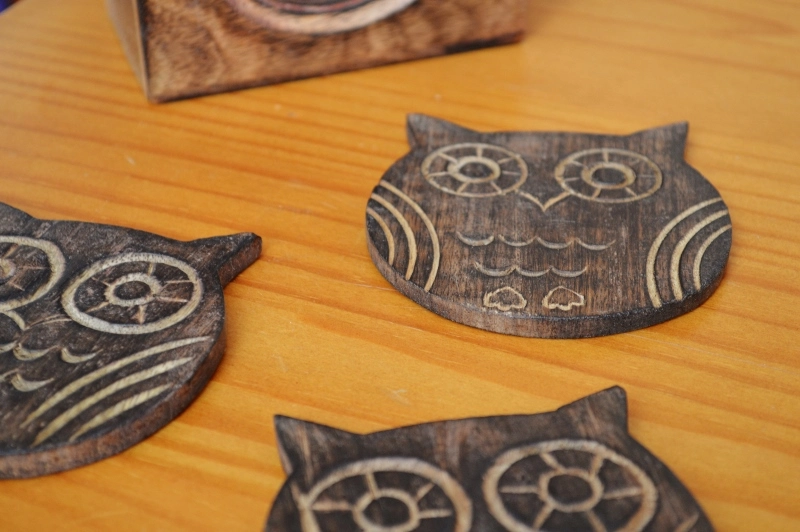 One thing I struggled to find was a nice set of coasters, and then when I was about to give up, I came across these gorgeous Sass & Belle Wooden Owl Coasters from Flamingo Gifts.  There are six coasters in the set (much better than the typical four you usually get!), and they come in a handy stand to prevent clutter when not being used.  The quality and design of the coasters is fantastic, and they look great on my coffee table.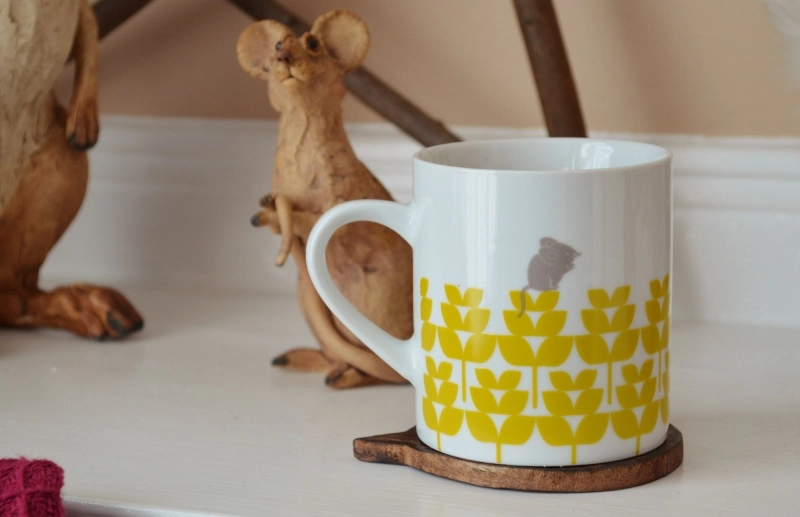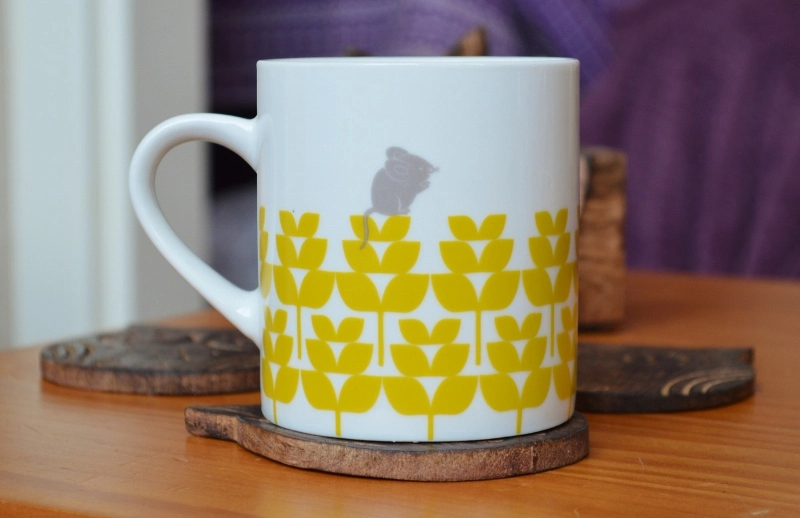 The Abode Mouse & Field Mug is also from Flamingo Gifts, and it caught my eye as soon as I saw it as the little grey mouse reminds me of my Russian Blue rat, Heather.  I prefer a mug to a cup (it holds more tea!), and this is the perfect size for my morning brew.  The simple but eye-catching geometric design is by artist Luzelle van der Westhuizen, and is a good fit for my natural theme.  It would also make a nice present as it comes in a gift box, and costs an affordable £8.50.
By the Fire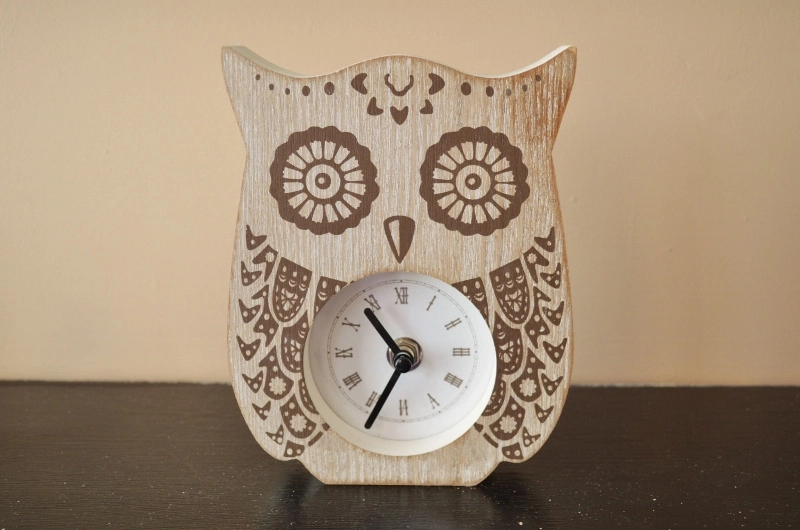 My fireplace features a lot of owls, with the main attraction being this owl clock.  My mum gifted this to me when we first moved in, and I love how it matches the wooden coasters above.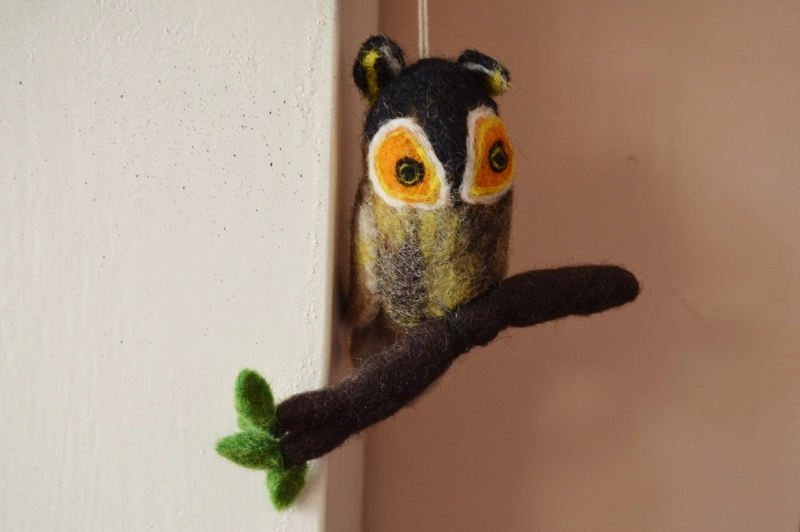 Another of my favourite owls is this lovely felted piece that I bought from a street market in Edinburgh in the summer, during the Fringe.  It took me a while to find the right place for it, but it now has a home at the side of the fireplace.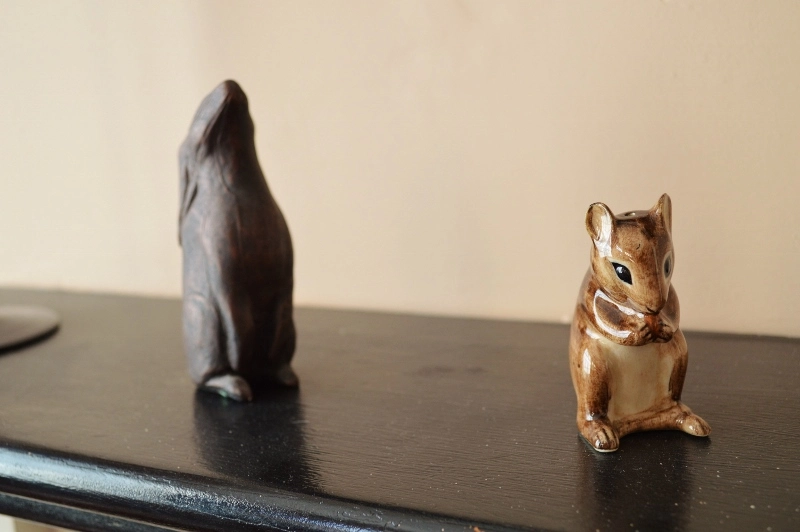 I have two of each of these hares and mice.  I have a thing for hares, and I bought these in Glastonbury about ten years ago whilst on a camping trip.  They're special to me, and it's nice to finally have them on show in my own home!  The mice are actually a salt and pepper set, but I have them on display as ornaments as they remind me of my heart rat Mog (RIP).  Aren't they cute?
The Rat & The Hare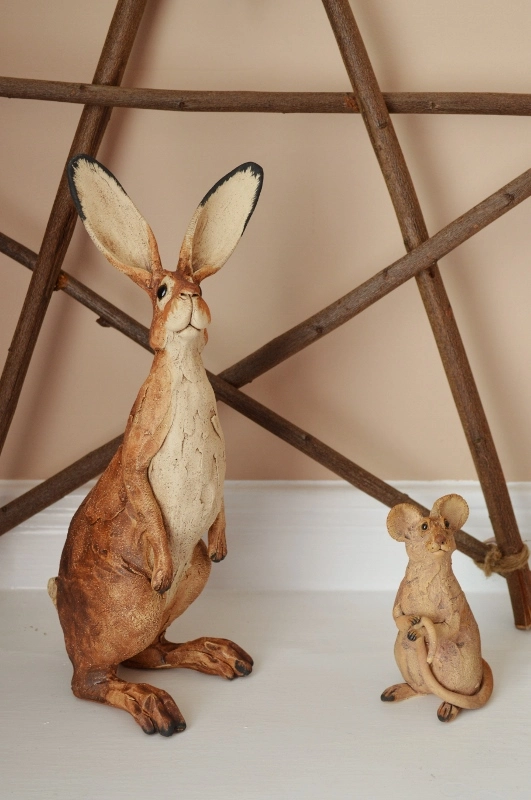 These rat and hare sculptures were Christmas gifts from my dad, and they're incredibly beautiful.  They're by Norfolk-based artist Tracy Whinray, and are wonderfully textured with such expressive little faces.  I think they look great in front of the wooden pentagram, handmade by my step-dad.
What do you think of my woodland theme?
Naomi x
*The Wooden Owl Coaster Set and Abode Mouse & Field Mug were sent to me for review purposes.  All opinions expressed are honest and my own.*
15
A few weeks ago I was asked by Amy of Nails by AB to review a set of her gorgeous false nails.  Amy is a trained beauty therapist and her new business, Nails by AB, specialises in creating personalised designer nails which are painted according to your own specifications, and then posted out to you.  Having seen some of Amy's designs on Twitter I was hugely impressed so, of course, I jumped at the chance to try some of her nails for myself.  The design I asked for and swiftly received was a set of bang on trend owls.
The nails came very nicely packaged in a drawstring bag, and a handy little tube of nail glue was also provided.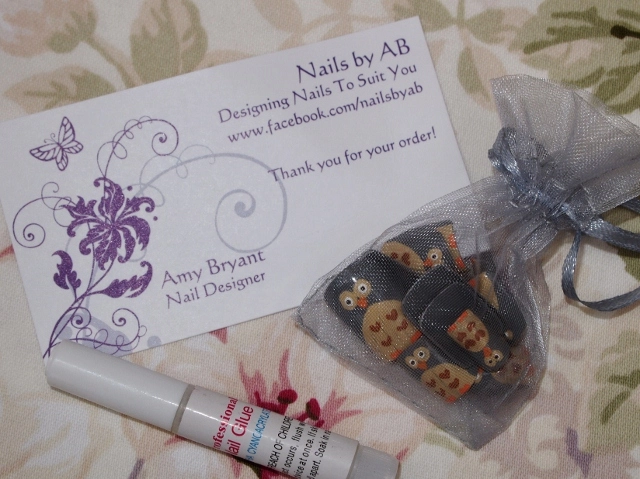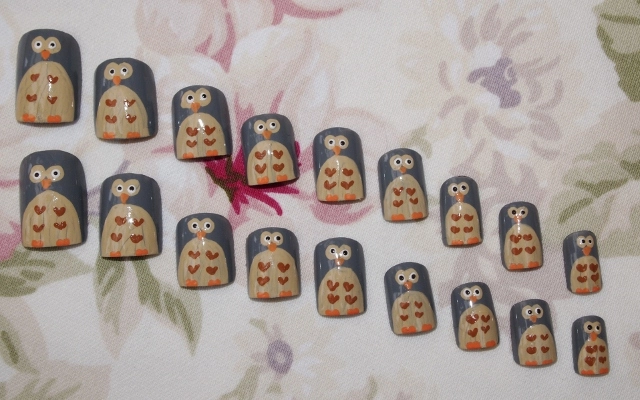 This stunning owly set contains 18 nails (9 pairs of differently sized nails), so you're guaranteed to find a complete set that fits you in amongst them.  A set of 18 owl nails costs £8.50 (including UK postage), which is incredible value for money considering the amount of effort that goes in to painting them!  However, if you want a smaller set (which usually costs less) Amy will ask you to measure the width of your nails upon ordering, so that she can choose, tailor and shape your nails specifically to fit you.  How great is that?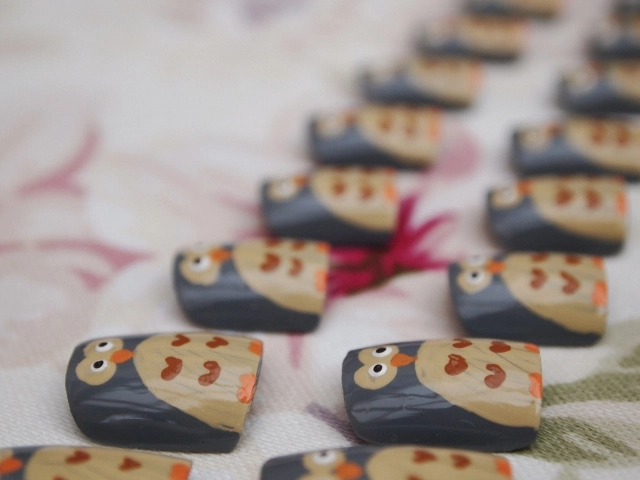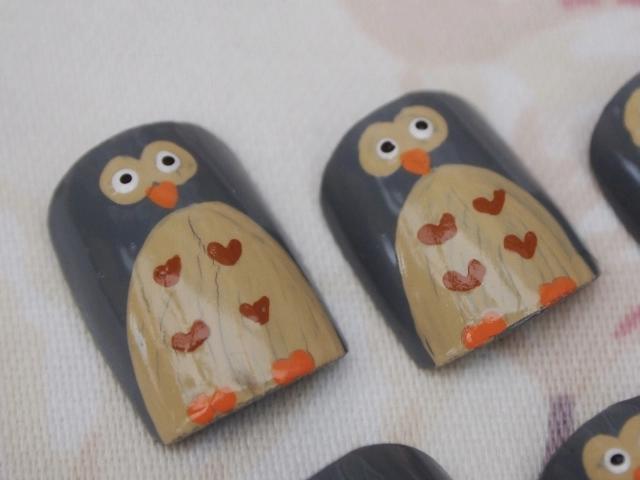 As I'm sure you can tell from my photographs, the quality of these nails is excellent.  The design is simple, yet really carefully and neatly painted, and the colours used are really bold.  I absolutely love these little owls, they're just so cute, and it is obvious that Amy has a real talent for nail art!
Both my sister and I have tried these nails on and we both agree that they are very comfortable.  The nails themselves are made of plastic, which is thin enough to be flexible and look like a natural nail, but not too thin so that they break easily.  The glue that is provided keeps the nails on for a good while (basically until you decide to take them off), so if you want your nails to last longer than just a night out, these will.
The photographs below were modelled by my sister.  She has far shorter nails than me so I thought it would be a good idea to show that the nails stay put even on short nails…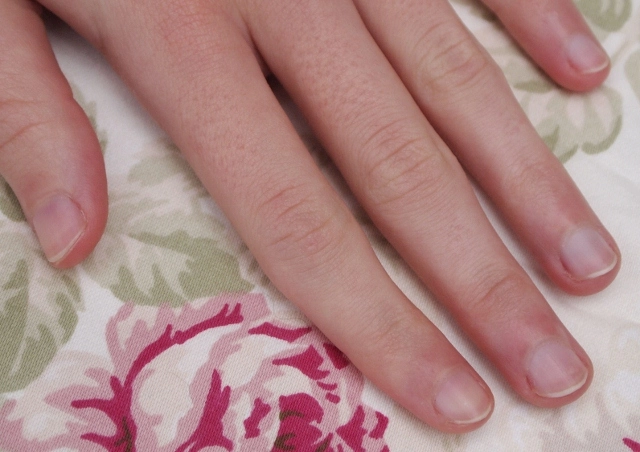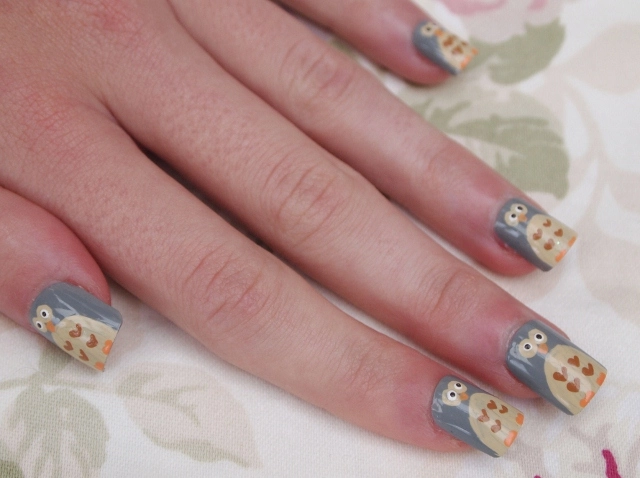 The Nails by AB range features many quirky, bespoke designs, including the latest Moustache Nails which cost £9.50 a set and celebrate Movember, with £4.00 of the proceeds being donated to the Movember charity.  However, Amy is more than happy to paint a set of nails to your own design if you have something specific in mind.  Nails by AB nails start at £6.50 a set, but only go as high as about £10.00, which is so worth it when you consider what you'd pay for a salon manicure.
If you would like to order some pretty little nails from Nails by AB, you can do so via Amy's website, on eBay (under nailsbyab), through the Nails by AB Facebook page, or even through the Nails by AB Twitter account.  Payment can be made through PayPal or Credit/Debit Card, and once payment has cleared your nails should hopefully be in the post to you within 2-3 days, sent FREE by second class post.
Nails by AB's products and service are top class, and it is obvious that so much care and passion is put into Amy's work, so please help to spread the word about this nifty little company!
Naomi x
21
I had a fairly good week for bargains this week and bought quite a few fun things (despite telling myself that I wouldn't spend anything this week!) so for those of you that like a good haul post, I thought I would share my collective haul with you.
First off, on Monday I nipped into town to buy some new boots to wear in the Autumn.  I knew exactly which pair I wanted so I was in and out of Schuh in just a few minutes, which is quite unheard of!  I went for these Blowfish Ranuku Boots in black which are usually £45, but I got them for £40.50 with a 10% student discount – doing a postgraduate degree does have its benefits!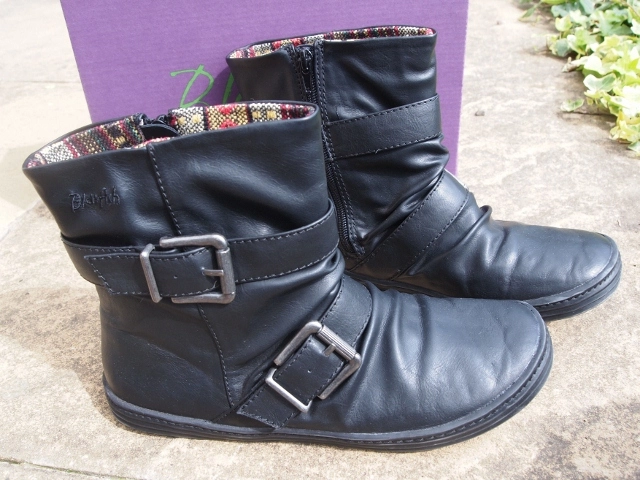 It's been quite cold this week so I've worn the boots a few times already and they are SO comfortable!  They're very versatile too, and look great with dresses or skinny jeans.  A very good buy.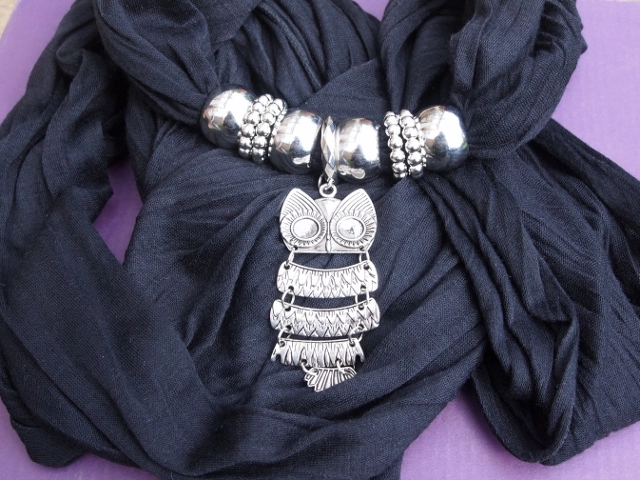 On my way to get the bus home I passed through Primark (always a mistake) and spotted this gorgeous owl scarflace.  I have always loved owls, AND scarves, so I just had to have it.  It was supposed to be £4 but the eyes were missing on most of the scarves so it had been reduced to £3.  I can always just stick some beads on myself if I want it to have eyes!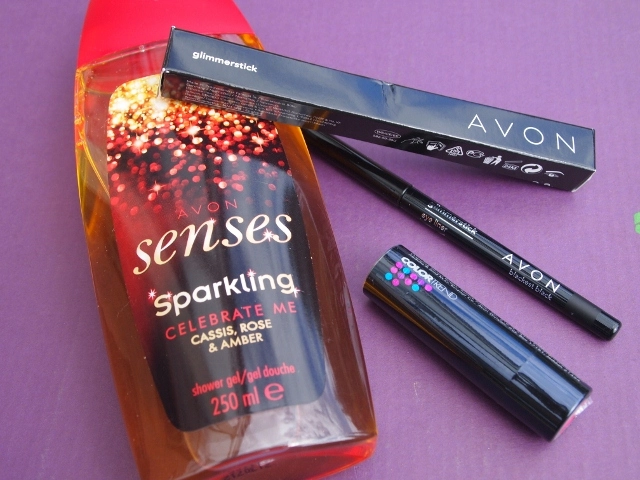 On Tuesday I received my Avon delivery.  In amongst all the items for my customers were a few goodies which I'd ordered for myself, including repurchases of my usual Glimmerstick Eyeliner and Colortrend Concealer, as well as a small bottle of Avon's new Sparkling Senses Shower Gel (look out for it in Brochure 17).  It smells gorgeous!  I also ordered two nail varnishes from the new Colortrend range in Violet Freeze (which I reviewed here) and Peekaboo, and a lovely little star necklace.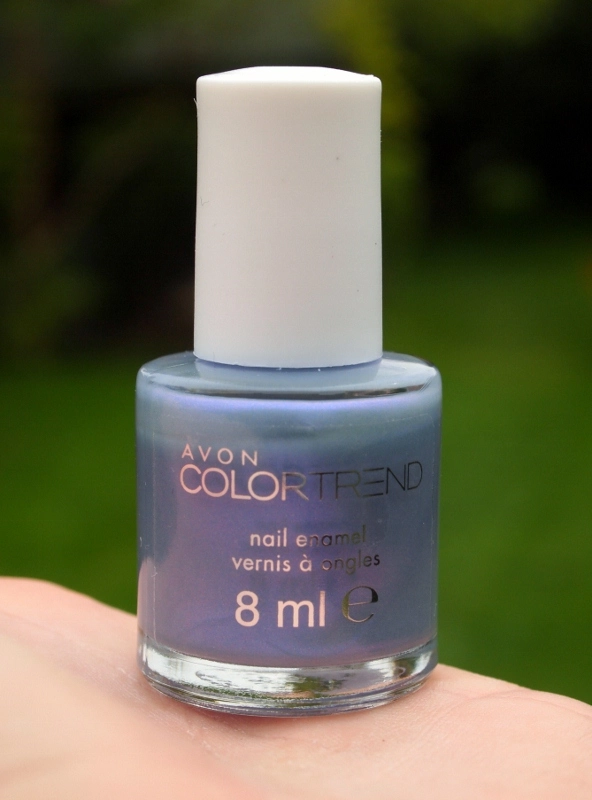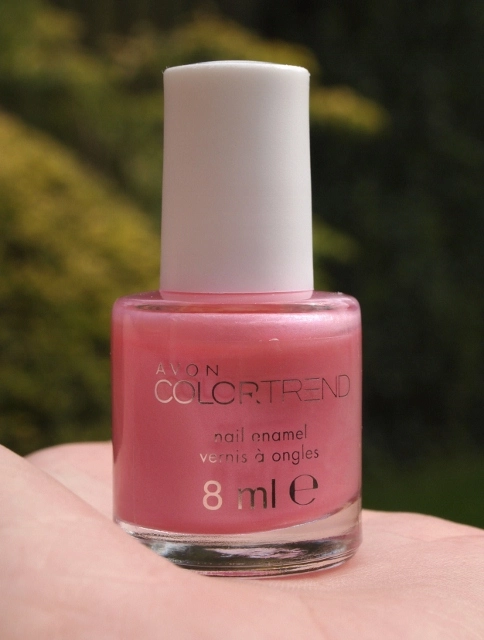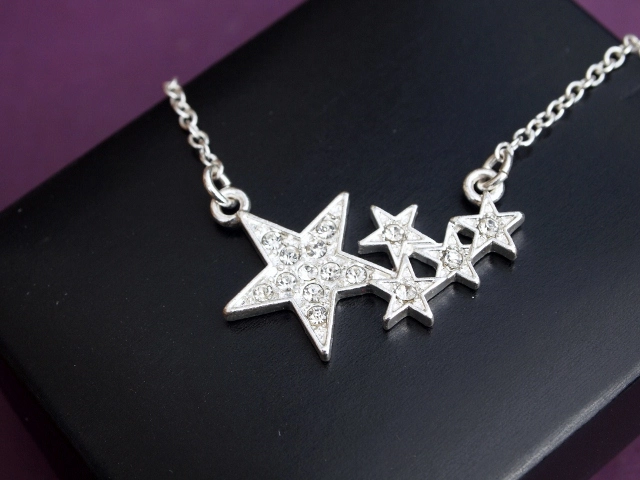 Yesterday I went to see the Paralympic flame pass through Leicester with my mum, and whilst we were in town we also did a bit of shopping.  For the past few weeks I've been checking Superdrug every few days for MUA's new nail varnish shade, Frozen Yoghurt, but to no avail.  However, I managed to pick it up yesterday for £1 (FINALLY), and I also bought an Accessorize Eyeshadow Duo for £2.22.  Isn't the packaging lovely?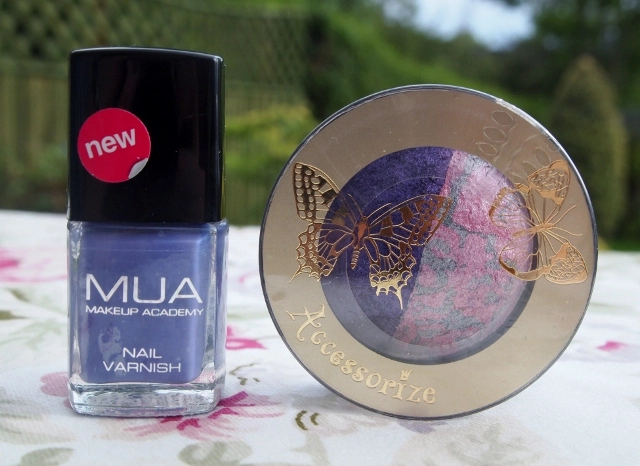 The Accessorize eyeshadow was actually on offer for half price, down from £4.45, as were a lot of their lip glosses, and their nail varnishes were 2 for £5.  I'm not sure when the promotion ends but it's worth having a look because they have some really pretty stuff!
My last few items are all from Primark.  As I mentioned earlier I love owls, so I couldn't resist these £2 owly fingerless gloves, ready for Autumn/Winter.  They're so cute!  And I love that they can be turned into mittens as well.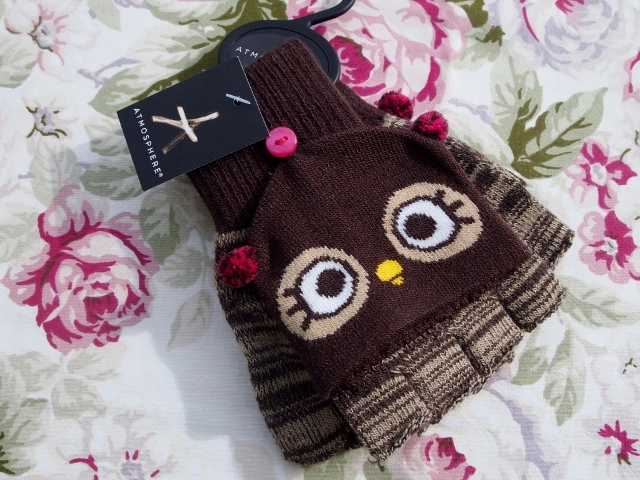 I spotted this Bambi sweater in Primark a few weeks ago for £10, but I resisted.  I was surprised to see it in the sale yesterday at just £5, and luckily one of the two that I found was in my size, so I caved and bought it.  Bambi used to be my nickname when I was younger so it seems quite fitting, and the soft, suede effect elbow patches are quite a nice touch.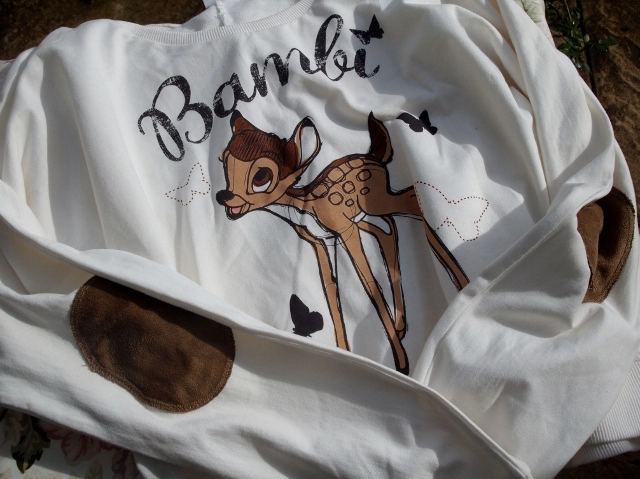 Last but not least, another owl!  This time, a purple owl print t-shirt which only cost £3.  It's quite a long, fitted tee but it looks great on with skinny jeans.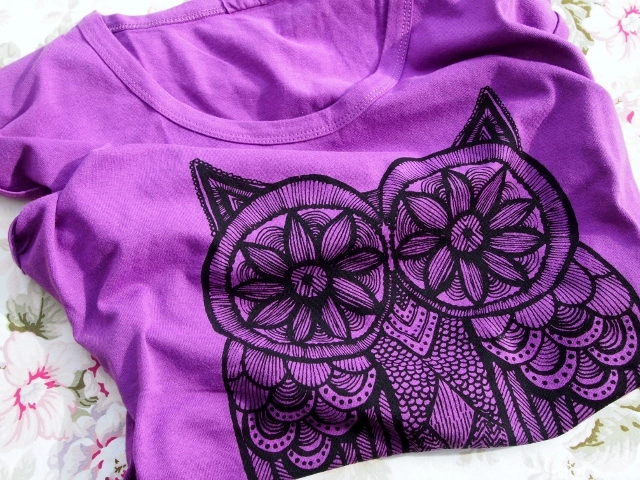 And that's it!  What have you been buying this week?  Are you getting ready for Autumn yet, or are you clinging on to the summer for as long as you can?
Naomi x