Posts tagged
Brown
8

My third Chocolate Treat Week post is all about make up.  Believe it or not, I had to search high and low for chocolate scented and coloured make up products, but I found a couple of great ones in the end.  I've also created a yummy eyeshadow look to share with you, which uses three different shades of chocolate brown.  Enjoy!
For Lips… Palmer's Dark Chocolate & Peppermint Lip Butter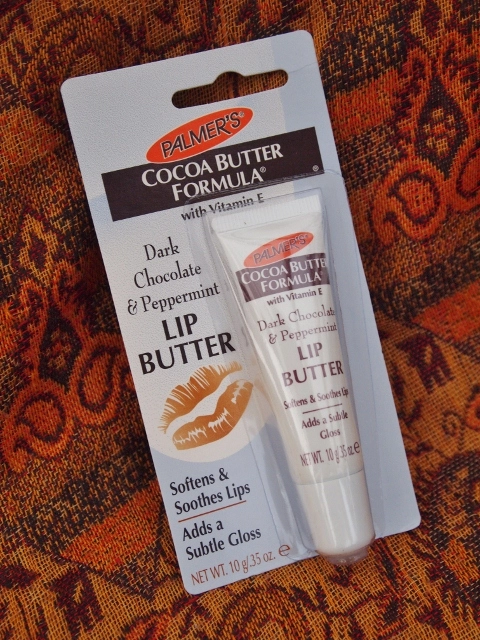 In my high and low search for chocolate lip products I discovered a myriad of chocolate lip balms, but none of them seemed to cut the mustard as a gloss, rather than just a protective balm.  In all honesty I was close to giving up, but then I found this…  Palmer's Dark Chocolate & Peppermint Lip Butter.
The Lip Butter has a lovely creamy formula which feels amazing on the lips.  You can tell from how it feels that it is intensely enriching, and because it's a butter and not a gloss it feels smooth and moisturising rather than sticky.  It  is also light in colour so doesn't leave a tint on the lips, but as the packaging states it adds a 'subtle gloss', which is what makes it makeup in my eyes.  The glossy shine it adds lasts for a long time, and can be worn over lipstick as well as directly on the lips.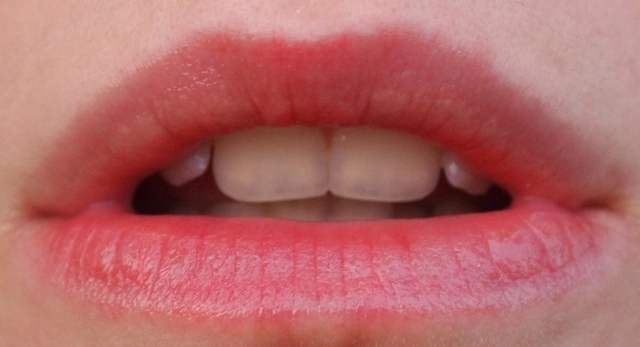 The minty chocolate scent of the Lip Butter is absolutely divine.  The fact that it is dark chocolate means that it isn't too sickly sweet, and the freshness of the peppermint gives it a sharp edge.  The mint also feels wonderful on the lips as it gives the lip butter a pleasant tingle.  Though it doesn't claim to be a plumping product I think it does have a slight, natural-looking plumping effect, but without the pain that some plumping glosses can cause!
Palmer's Dark Chocolate & Peppermint Lip Butter definitely does what it says on the tin.  It 'softens & soothes lips' almost instantly and leaves them feeling protected, but it has a big advantage over most lip balms by adding that 'subtle gloss'.  The Lip Butter is available in lots of high street shops (there's a list here), and usually retails for about £2.75, which is an excellent price considering it is a gloss AND a protective balm in one.
For Eyes… MUA Malt Chocolate Intense Glitter Eyeliner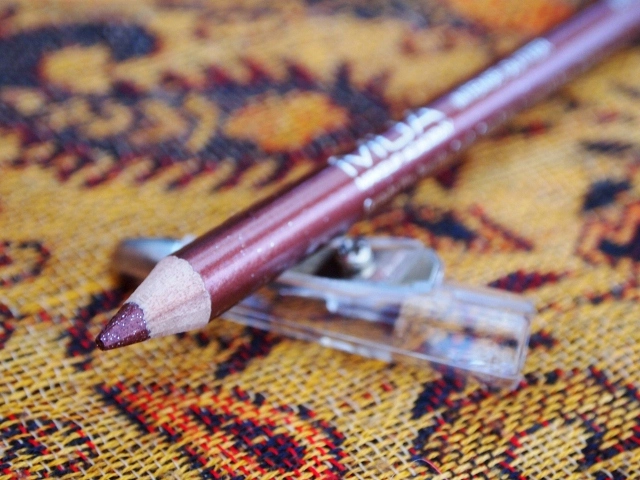 MUA's Malt Chocolate Intense Glitter Eyeliner is another quality MUA product.  Like all of their glitter liners it costs just £1, which is outstanding value as there's even a pencil sharpener incorporated into the lid!  The eyeliner is very creamy so it applies like a dream to both your waterlines and your upper and lower lash lines without pulling the skin at all.  The glitter is very fine too, so it adds a lovely shimmer without causing any irritation or heaviness on the eye.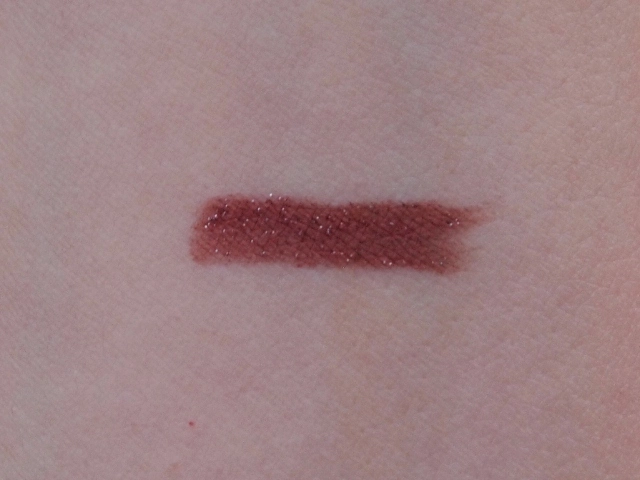 Malt Chocolate is a pretty, highly pigmented shade with a bronze tinge to it, which gives it that 'intense colour finish' – far from the dull, uninspiring look of most brown eyeliners!  What I like about this liner is that, once it dries, it doesn't smudge and it lasts a good long while before it comes off, keeping its bold colour for the duration of wear.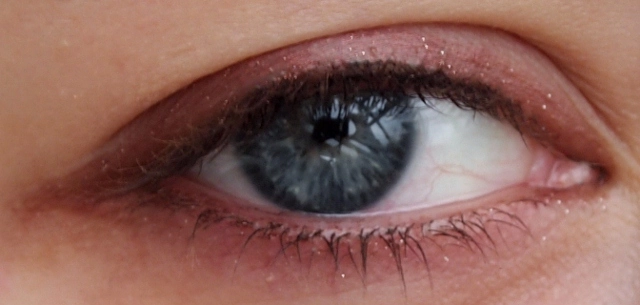 The eyeliner is also impressively versatile.  MUA state that it can be worn all over the eyelid, as a lip liner or as an all-over lip colour as well as an eyeliner, and due to its creaminess I think it would make a great lip product as it wouldn't be drying at all.  What a fab thing to throw into your suitcase for a holiday or into your clutch on a night out!
If you'd like to try any of MUA's Glitter Intense Eyeliners they are available in Superdrug stores or online here.
Create the Look… Triple Chocolate Eyes

The above look was created using three different shades of chocolate coloured eyeshadow.  MUA's Chocolate Box Trio Eyeshadow would be perfect for this, but I actually used their Immaculate Collection Palette.  All you need to use to copy this look is a white chocolate shade as a highlighter, a milk chocolate shade as your main colour, and a dark chocolate shade for shadows and creases.  The shades I used from the Immaculate Collection were these…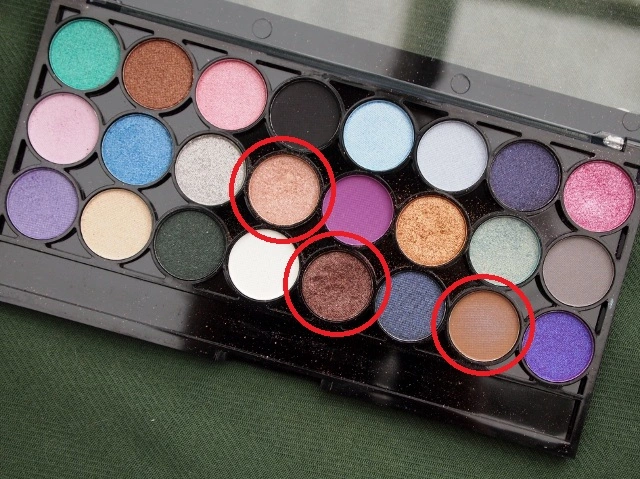 White Chocolate: Shade 12
Milk Chocolate: Shade 23
Dark Chocolate: Shade 21
And here's how you get the look:
Prepare your eyelids right up to the brow bone with your preferred eye primer.
Apply your milk chocolate shade to your eyelid using a flat eyeshadow brush, from corner to corner and up to the crease.
Using another flat eyeshadow brush sweep your white chocolate shade above the milk chocolate shade, up to the brown bone.
Using a shading brush, apply the dark chocolate shade along the crease of your eye, thickening the line at the outer corner and taking it down to the corner of your lashes.
Blend the dark chocolate shade into the edge of the milk chocolate shade with a clean eyeshadow brush.
Using a fine brush, apply a small amount of the white chocolate shade to the inside corner of your eye and a third of the way under your lower lash line.  Fill in the rest of your lower lash line with the dark chocolate shade.
Brush any loose eyeshadow from your face using a clean brush and finish with a generous coat of your favourite mascara, preferably brown.
The Last Rolo…
The Last Rolo is where I hand over the last few words of each Chocolate Treat Week blog post to another blogger.  In the run up to Chocolate Treat Week I asked five of my favourite bloggers a couple of questions about their favourite chocolate treats, and today's answers come from Claire of Nocturnal Beauty.
Can you recommend any chocolate scented, flavoured or themed beauty/fashion products?
I can definitely recommend the Whipstick lip balm from Lush. It's my by far my favourite chocolate scented product that I've tried. It smells just like chocolate orange, and it isn't overly sickly or too sweet, it smells absolutely divine. I do catch myself smelling the tin quite a lot! It feels lovely too and leaves a bit of a brown tint to the lips. It's perfect for anybody who loves chocolate!
What is your favourite chocolate treat to eat, and why?
My favourite chocolate treat to eat is probably chocolate cake. I eat far too much cake and it's a wonder I have any teeth left. I also make some seriously good chocolate fudge!
Thanks for reading today's Chocolate Treat Week installment!  Please check back tomorrow for a post all about chocolate themed nails, featuring some new nail art!
Naomi x