Posts tagged
Truffle Shuffle
2
Christmas isn't Christmas until those heart-warming, 'Holidays are Coming' Coca Cola adverts appear on TV, wouldn't you agree?  To me, they've always signified the start of the festive season and are full of nostalgia, and in my search for Christmassy clothing this year I came across this lovely Coca Cola T-Shirt on the TruffleShuffle website, which I was very kindly gifted by the folks at TruffleShuffle!  TruffleShuffle are an online retro T-Shirt company who stock a myriad of kitsch and quirky designs, and they currently have a fantastic range of Christmas themed T-Shirts, jumpers and gifts available.  Their customer service is fantastic too…  If you order before 4pm you can have your items the next day, and you will always receive a sweet or two in your parcel!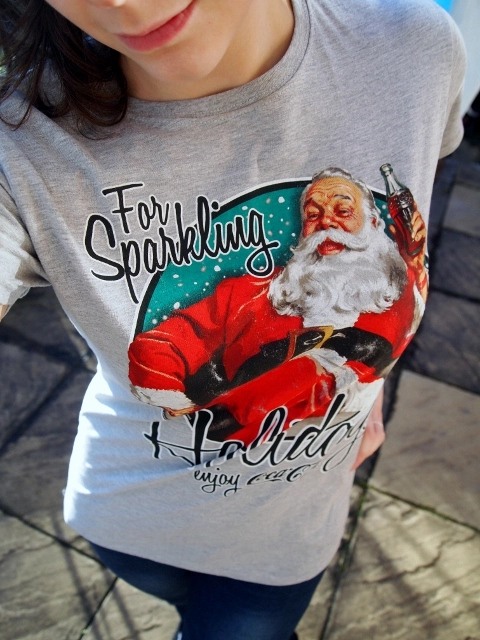 The T-Shirt I was sent is the Coca Cola Santa Sparkling Holidays T-Shirt, which retails for £19.99.  The tee is made of soft grey cotton (90%), and it is extremely comfortable and surprisingly warm, as the fabric isn't too flimsy.  It is from the ladies range so it fits well in all the right places, without being too tight, and it is long in length which is great for me as it doesn't come up short and I am quite tall!
The design on the front of the T-Shirt is absolutely gorgeous, featuring Coca Cola's vintage-style Santa, merrily enjoying a bottle of Coca Cola…  (Don't you think Coke tastes so much better from a cold glass bottle?)  Santa in his bright red costume is such an iconic figure, and instantly recognisable as part of Coca Cola's branding, making this T-Shirt really stand out from the crowd of typical Christmas prints.  The design is also printed to a very high quality, so it won't start to peel or crack in a hurry, and the image is really bold and clear.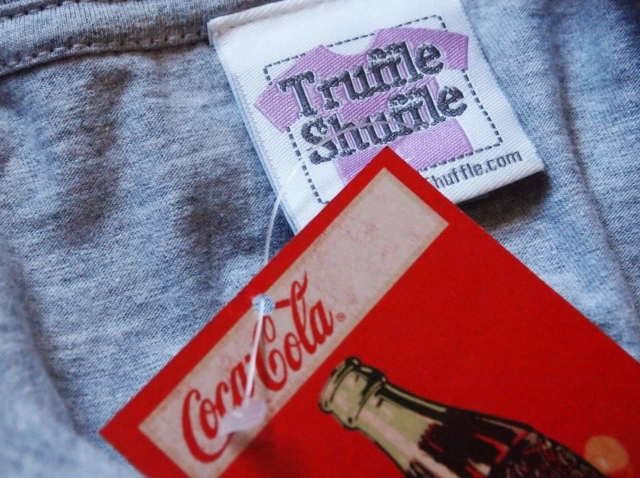 This T-Shirt (and the rest of TruffleShuffle's own range) is available in a wide range of sizes (X Small to X Large), and they're all currently in stock, so if you fancy a Coca Cola T-Shirt for yourself you can grab one here now, whatever the size!
Just to give you an idea of what else TruffleShuffle has to offer this festive season, here are just a few of my favourite Christmas themed items from TruffleShuffle, which would all make fantastic, affordable Christmas gifts!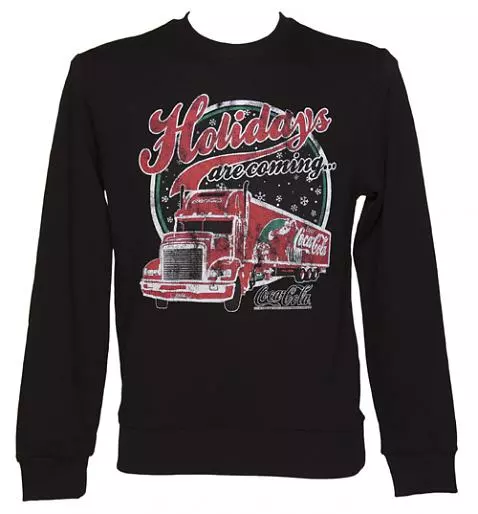 – Coca Cola Holidays Are Coming Truck Sweater – £29.99 –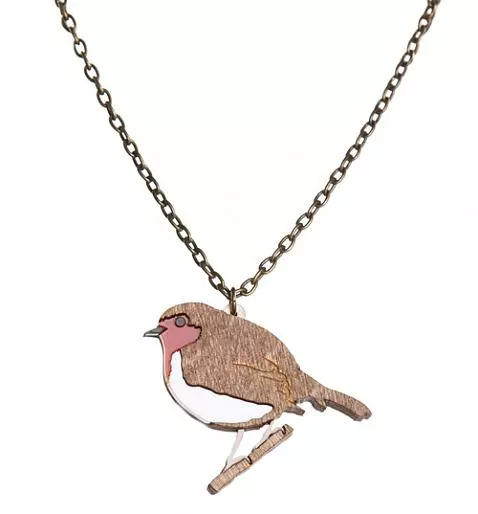 – Vintage Style Christmas Robin Necklace – £11.99 –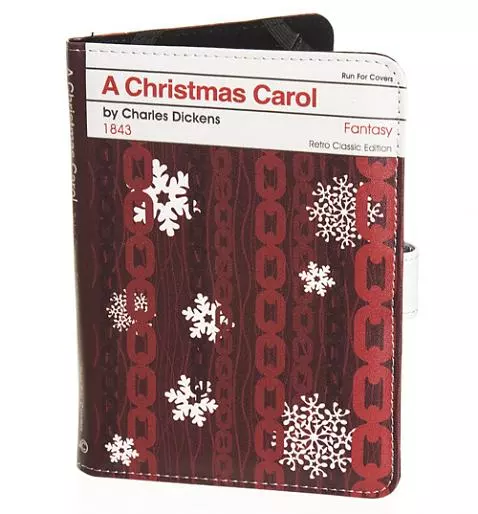 – A Christmas Carol by Charles Dickens E-Reader Cover – £14.99 –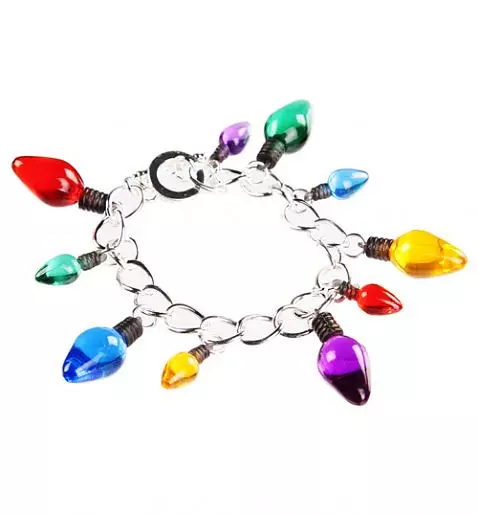 – Limited Edition Retro Christmas Lights Charm Bracelet – £19.99 –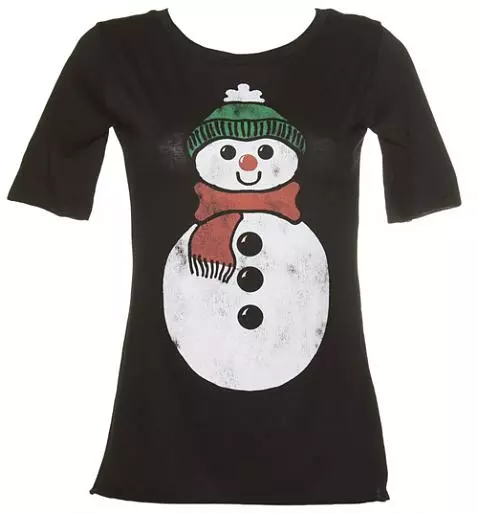 – Snowman Christmas Slouch Scoop Neck T-Shirt – £24.99 –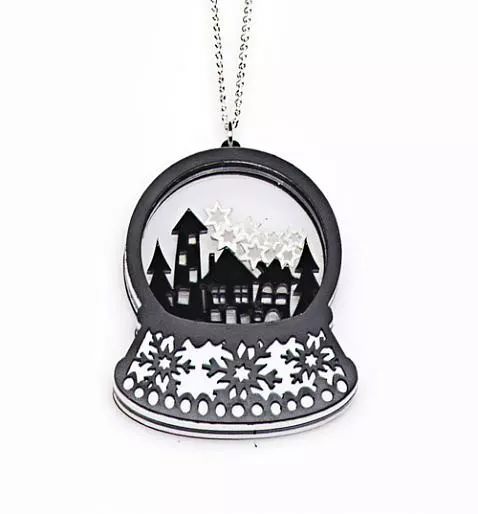 – Fairytale Snowglobe Necklace – £13.99 –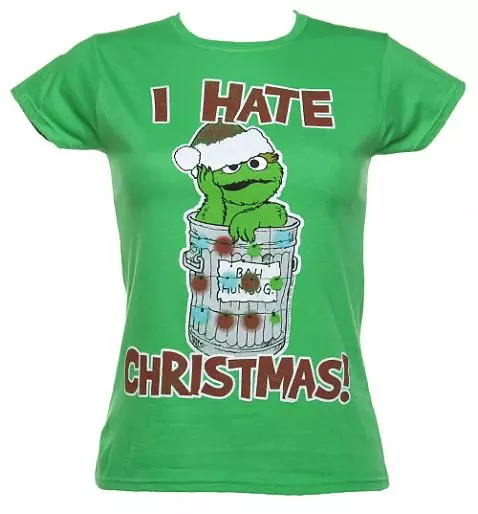 – Oscar the Grouch I Hate Christmas T-Shirt – £19.99 –
Aren't they gorgeous?  I really, really want both of the necklaces pictured above!  Is there anything from TruffleShuffle on your Christmas list this year?
Happy shopping!
Naomi x
*The Coca Cola Santa Sparkling Holidays T-Shirt was gifted to me by TruffleShuffle for review purposes.  All thoughts and opinions expressed are honest and my own.*
8

Welcome to my final Chocolate Treat Week post!  It's been a busy week but I've enjoyed every minute of it, and I hope you have too.  Today's post will focus on chocolate themed fashion and accessories, including a rather nifty T Shirt, a couple of stunning items of jewellery and a cuter than cute pocket mirror.  So, let's begin…
Cadbury's Chicken or Creme Egg T Shirt from TruffleShuffle

I was recently sent this amazingly quirky T Shirt by a fab clothing company called TruffleShuffle, and I absolutely love it.  Creme Eggs have to be one of my favourite chocolate treats (why oh why do they only sell them at Easter??) and, as my regular readers will know, purple is my favourite colour.  As such, this T Shirt really was made for me, especially when you consider my penchant for philosophy!  After all, the fun, clever design takes on one of life's most pressing questions.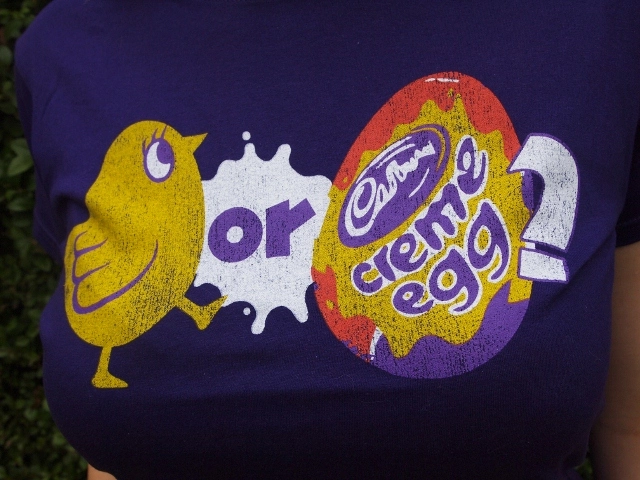 The T Shirt itself is extremely comfortable as it is cut well to fit womanly curves, and you can tell that the fabric is fantastic quality.  It is very soft and quite thick, and has a good stretch to it, and it's also a nice length…  I'm 5'10" so very often I will get T Shirts which are irritatingly too short for me, but this one is just right due to its slightly longer length.
I love how bold the purple shade of the fabric is, and the logo is equally as bright.  The logo is also really well printed, and neither the fabric or the logo have faded since I received the T Shirt.  The fading you can see in the photograph is part of the retro design, and the rest of it isn't going anywhere in a hurry!  This T Shirt has already become a treasured part of my wardrobe and, just like the logo, it's here to stay.
TruffleShuffle's Cadbury Chicken or Creme Egg T Shirt retails for £14.99, which is incredible value for money for such a high quality product, but you'll be pleased to know that you can get an even better deal at the minute as it is on sale for £11.99!  They have a few other Creme Egg designs in various colours too, for men as well as women.  TruffleShuffle specialise in 80s and Retro T Shirts but they also sell jewellery, accessories and gifts.  Their customer service is outstanding as if you order before 4pm your items will be posted the same day.  I actually received my T Shirt the day after it was sent, and it even contained some sweeties which was a nice extra touch!  TruffleShuffe really are 'Officially Awesome' and I'll be going to them from now on for all of my T Shirt needs!
Milk Chocolate Ring from Purple Magpie

This gorgeous statement ring was made by Lynda, an independent jewellery maker who runs a lovely little jewellery company called Purple Magpie.  Lynda is a self-employed artist and has been creating jewellery for the past two years, which she sells at Newcastle's Quayside every Sunday, as well as on Etsy and Folksy.  Most of Lynda's jewellery features food and sweets, and her Milk Chocolate Ring is no exception!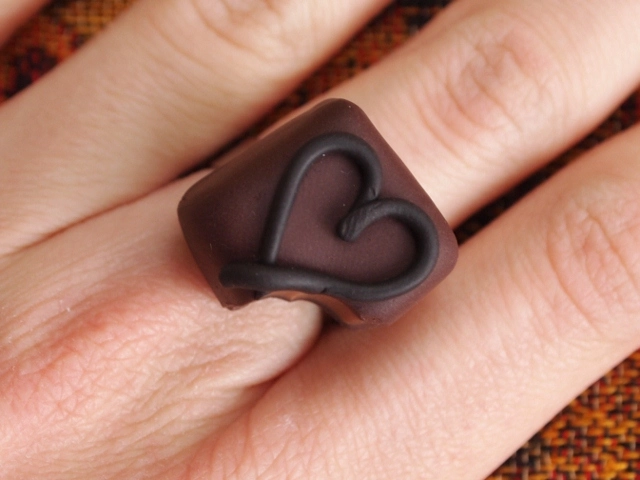 The chocolate fudge-looking ring is handmade using polymer clay and it is very neat.  The detail on it is absolutely incredible too…  From the teeth marks in the 'bite' to the piped chocolate heart on top, it all looks so real!  If I didn't know better I'd want to eat it, but obviously I wouldn't, that's just silly.  The ring itself measures 18mm in diameter at its smallest, but it is adjustable so it is suitable for just about anyone.  It might be chunky and a decent size, but don't let that fool you.  Polymer clay is very light so it doesn't weigh your hand down at all when wearing it which is a massive bonus.
Purple Magpie's Milk Chocolate Ring is available on Etsy for just £4, and there are a few other chocolatey items in Lynda's jewellery range too.  It is clear that all of Lynda's jewellery is carefully made with love, and considering the high quality of her products you are getting an absolute bargain.  If you decide to buy, I'm sure you'll love your chocolate ring as much as I love mine!
Miniature Chocolate Necklace from Sweet n Neat Jewellery

Necklaces are perhaps my most worn accessory, and out of the many that I own this Miniature Chocolate Necklace is one of my favourites.  The necklace is handmade by Laura of Sweet n Neat Jewellery, who started making jewellery last November, and has since started making accessories as well.  All of Laura's jewellery is made from Fimo, and she tells me that she likes using Fimo as it is easy to mould and comes in any colour under the sun!  She also takes pride in making her jewellery as 'sweet' and 'neat' as possible, hence the name.
The chocolate pendant is very dainty and cute, but despite its small size it is still detailed and looks wonderfully realistic!  It is coated with a glaze which makes the chocolate look shiny and yummy, but unfortunately it isn't edible (although the missing corner makes it look like someone's had a nibble!)  The pendant also hangs perfectly as it lies flat and at a slight angle, and since it is on an 18″ chain it sits nicely in the centre of my chest.  I do believe the chain is sterling silver too, so it doesn't leave any green marks on the skin.
Laura's Miniature Chocolate Necklace comes delivered in a gift box and is currently selling on Etsy for only £6.  You can even buy matching Miniature Chocolate Hair Grips!  If you'd like to follow Laura, her Twitter name is @SweetnNeatJwlry, and she also has a Facebook page.
Cocoa Cookie Pocket Mirror and Comb from eBay

My final chocolate themed accessory is this cute pocket mirror which I picked up on eBay for 99p.  The mirror says 'Cocoa Cookies I Like', which isn't fantastic English but that doesn't really matter I suppose.  The mirror is made to look like an Oreo cookie, and is quite a decent size.  It might have been cheap, but the quality is pretty good and I think it looks absolutely adorable!  Probably the most exciting thing about this mirror, however, is what's inside…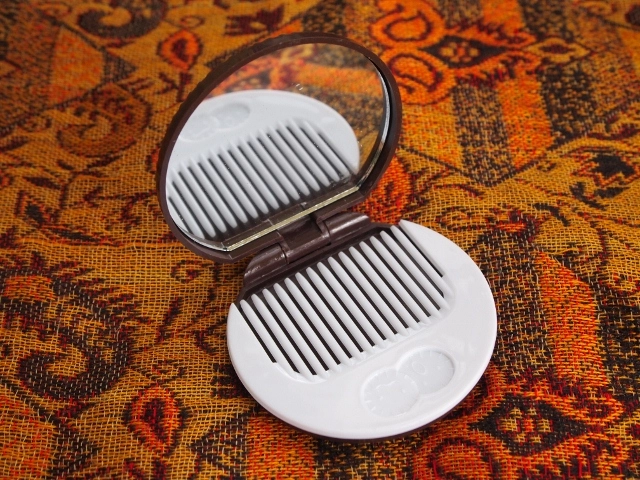 That's right – the cream inside the cookie is actually a little comb!  How innovative is that?
If you'd like one for yourself, you can order your Cocoa Pocket Mirror here.
The Last Rolo…
The Last Rolo is where I hand over the last few words of each Chocolate Treat Week blog post to another blogger.  In the run up to Chocolate Treat Week I asked five of my favourite bloggers a couple of questions about their favourite chocolate treats, and today's answers come from Nonfashionista.
Can you recommend any chocolate scented, flavoured or themed beauty/fashion products?
Well I like the chocomania products from body shop. I've tried the lip butter and it's nice!!!
I'm a fan of their body butters but I haven't tried the chocomania one..i'm sure it's as nice as their coconut one!
One of my friends really likes the chocolate shampoo from carol's daughter.. I think they talked about it at Oprah's.
What is your favourite chocolate treat to eat, and why?
My favorite chocolate treat..that's a thought one..I love chocolate!!! I love anything chocolate..I would probably have to say a good slice of my mother's chocolate cake, that's really moist and creamy inside! Also I make a mean chocolate mousse

and.. ben's cookies: any chocolate or other 😛
So, that's it!  The end of my first ever themed blog week – Chocolate Treat Week.  I really hope you've enjoyed all of my posts, and if you have then please share them with your friends and fellow bloggers!  If you haven't already seen my other chocolate posts, you can do so here:
Thank you so much for reading, and a big thank you to all of those who took part in The Last Rolo!
Naomi x
*The Chicken or Creme Egg T Shirt, Milk Chocolate Ring and Miniature Chocolate Necklace featured in this post were kindly gifted to me by their respective companies, for review purposes.  All thoughts and opinions expressed are honest and my own*